Dreaming of exploring ancient medinas and historic kasbahs? Crossing the rusty dunes of the Sahara Desert and climbing the arid peaks of the Atlas Mountains? Sitting under the swaying fronds on a palm oasis or walking through the blue city of Chefchaouen while listening to the call to prayer? While many people planning a trip to Morocco will only stay a few days in Marrakech, or combine a visit with a trip to Spain or Portugal, this country in North Africa has so much to offer that it is worth visiting on its own and planning a 7 day Morocco itinerary.
Morocco is quickly becoming a hot travel destination not just for young travelers, but many families are choosing to visit Morocco with kids. Yet figuring out the perfect Morocco travel itinerary can be a challenge, especially because there are so many beautiful places in Morocco. We spent so much time researching and plotting out our itinerary with the help of EPIC Travel.
If you want to make it easier to plan your trip to Morocco, I'd highly recommend hiring EPIC Travel to plan and book your Morocco itinerary. Tell them We3Travel referred you and you will receive a free VIP welcome gift on arrival. EPIC excels at planning unique itineraries and experiences using in-country travel planners with close connections to local guides, drivers, and accommodations.
However, if you would rather plan it on your own, keep reading for three options for your Morocco itinerary depending on how much time you have to spend in Morocco. I'll cover how long to spend in Morocco, getting to Morocco, and 7-day, 10-day, and 14-day Morocco itineraries.
7 Day Morocco itinerary (4 days in Marrakech, 3 days in Fes)
10 Day Morocco itinerary (3-4 days in Marrakech, 1 night in Skoura/Ourzazate, 2 nights Merzouga (desert), 3 nights Fes)
14 Day Morocco itinerary (Day 1 Casablanca / Rabat, Day 2 Rabat to Chefchaouen, Day 3 Chefchaouen, Day 4-7 Fes, Day 7-8 Sahara Desert camp, Day 8-10 Skoura, Day 10-14 Marrakech)
Also, be sure to read my Morocco travel tips and suggestions on what to wear in Morocco!
How Much Time SHould You Spend in Morocco?
Two weeks is really the ideal amount of time to visit Morocco. However, you can definitely get a very good feel for the country with just one week or, even better, at least 10 days. Depending on how much time you can spend in-country, you have some tough choices to make about what you keep in and what you have to leave out of your Morocco travel itinerary.
For example, if you dream of riding camels in the Sahara desert and staying overnight in a desert camp, it is hard to fit that into a one-week Morocco itinerary unless you only want to do Marrakech and the desert.
It is at least an eight-hour drive from Fes to Merzouga at the edge of the Sahara, and even further from Marrakech. If you only have 7 days in Morocco, you can still have a camel desert experience without driving that far, it is just going to be the rocky desert.
Similarly, you really can't fit in the gorgeous Blue City of Chefchaouen all the way in the north if you only have a 10 day Morocco itinerary. At least not unless you are willing to give up a trip to the desert! We even had a bit of trouble squeezing it into our 12 day trip to Morocco.
But that is ok, I'm going to walk you through what a 7, 10, or 2-week Morocco itinerary could look like!
Getting to Morocco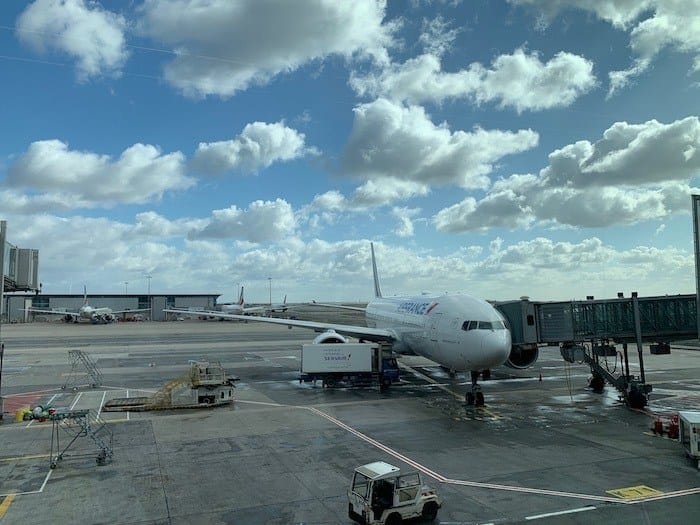 Most visitors coming from the United States will fly into Casablanca, although you may be able to fly into Marrakech if you connect through Europe. U.S. cities with direct flights to Morocco include New York, Washington D.C., and Miami. In Europe, some cities with direct flights to Morocco include Paris, London, Lisbon, and Madrid. Most major airlines offer direct flights to Morocco, including Air France, British Airways, and Royal Air Maroc. There are also several budget airlines that offer flights to Morocco, including Ryanair and Easyjet.
Pro tip: when you arrive in Casablanca or Marrakech, it can be a bit overwhelming with long lines. To save time and get to your destination faster, you can pay for a Fast Track arrival service that will meet you at the gate and bring you through a VIP line to the baggage claim area and assist with your baggage reclamation.
Getting Around Morocco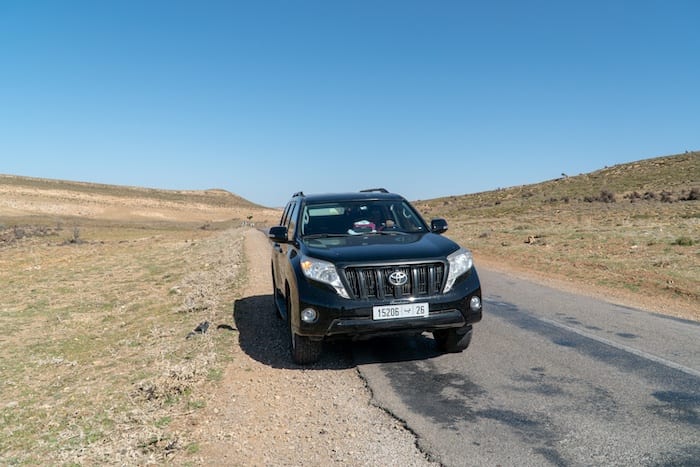 I have a whole post about the pros and cons of driving in Morocco, but the bottom line is that while it is entirely possible to drive yourself safely around Morocco, it is also much more pleasant to have a driver if the budget allows. (Find out how much a trip to Morocco costs.)
If you decide to self-drive, just beware that there are speed traps set up outside of pretty much every town. Many roads are narrow and winding, with many trucks to contend with. Another great benefit of hiring a driver is that they will know the best places to stop and eat, use the bathroom, or sights to visit along the way.
Our driver Hassan (arranged through EPIC Travel) was such a gem. He filled us in on so much local history and customs during our long drives, giving us a deeper appreciation of Morocco during our visit.
Where to stay in Morocco
I will offer up specific hotel and accommodation recommendations as I go through each destination on the Morocco travel itinerary, but I encourage anyone visiting Morocco to seek out authentic riads and boutique hotels. We did have one amazing stay at the Four Seasons in Marrakech, but I loved some of our other stays even more.
A riad is a traditional Moroccan house or mansion with an interior garden or courtyard. Originally built as private homes in the medinas, they were designed to be a retreat from the bustling streets outside. Today, many riads have been converted into small hotels. Staying in a riad can be a wonderful way to immerse yourself in Moroccan culture and get a taste of what it is like to live in a traditional Moroccan home.
Riads are often small and family run, decorated in a traditional style, with intricate tile work, colorful textiles, and hand-carved wood or plaster details. Many riads also have rooftop terraces, which offer views of the surrounding city and are a great place to relax and unwind after a day of sightseeing. At a riad you are also always welcomed with a traditional glass of Moroccan mint tea, a tradition you will come to love.
7 Day Morocco Itinerary (Option 1)
Note: This post contains affiliate links. If you click a link and make a purchase, I may receive a small commission at no cost to you.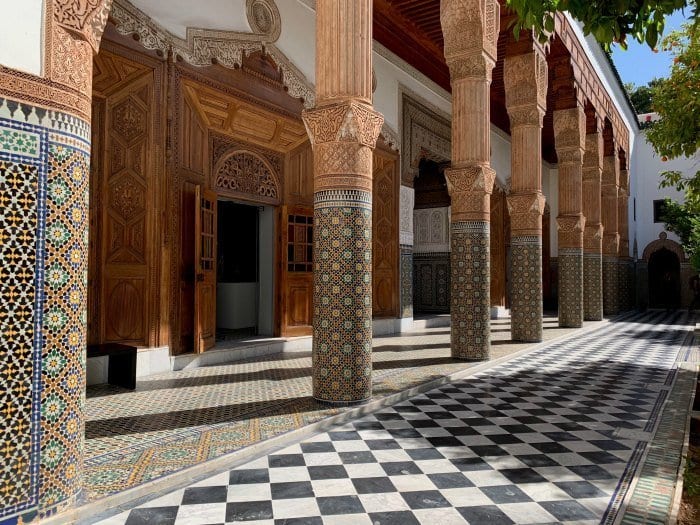 If you only have one week in Morocco, I would recommend that you fly into Marrakech. If you find a better deal or a direct flight flying into Casablanca, just keep in mind that most visitors don't spend much more than an afternoon in Casablanca to see the Hassan II Mosque, and that it is approximately three hours from Marrakech.
With 7 days in Morocco, you will have time to visit two destinations. I would recommend either Marrakech and Fes or Marrakech and Merzouga in the Moroccan Sahara.
Days 1-4: Marrakech
Days 5-7 Fes or Merzouga Desert
Marrakech (Days 1-4)
Plan to spend three nights in Marrakech (four if you want to do a day trip). You may choose to stay in a traditional Moroccan riad, or at one of the resorts like the Four Seasons Marrakech or the Fairmont Royal Palm Marrakech, outside of city center. Some good riad options include: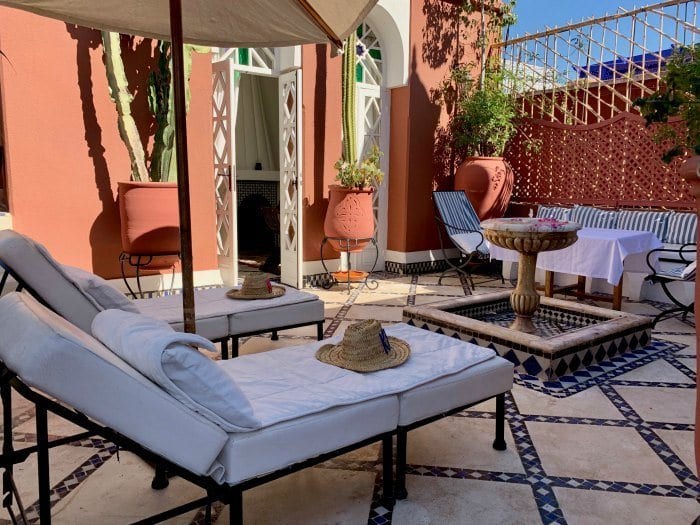 Riad Kaiss in Marrakech – maximum charm (this is where we stayed for two nights and then we split our time between the riad and the Four Seasons for two nights)
Villa des Orangers — for a splurge riad
Riad Kniza — more reasonably priced
Find more places to stay in Marrakech:
Day 1 – Marrakech Souk
Spend your first full day soaking in the city with a half-day tour of Marrakech souk. This will then leave you plenty of time to wander through the medina and shop after the tour. You will be able to see places where they hand-dye textiles, do metal working, and other handicrafts. Just keep in mind that many shopkeepers do not want you to photograph the merchandise without permission or monetary compensation. (Also, it is offensive in the Islamic culture to photograph people's faces.)
While exploring the souk, you may want to stop into one of the pharmacies for herbal remedies and products like rose water, argan oil, or Moroccan tea. A visit to one of the spice vendors is also a visual delight, just be careful when purchasing items like saffron as there are many fakes in the medina too. It helps to ask a local where to shop.
In the evening, be sure to take a walk through Jemaa-el-Fna Square. It can be quite the spectacle, with snake charmers, food vendors, and all sorts of goods on display. Just keep a close eye on your valuables and if you stop to take a picture of the snake charmers, you are going to have to tip them. You will soon learn that tipping is expected in Morocco, even if someone gives you directions or helps you in any way.
Near the square, you can walk by the Kutubiyya or Koutoubia Mosque and Minaret, which is the largest mosque in Marrakesh. Nearby, you can hire a carriage for a ride through the medina (just check and see if the horse looks well cared for as many do not.) You may also want to take a stroll through the beautiful Mamounia Hotel, which is set on a 12th-century estate.
Day 2 – Marrakech Food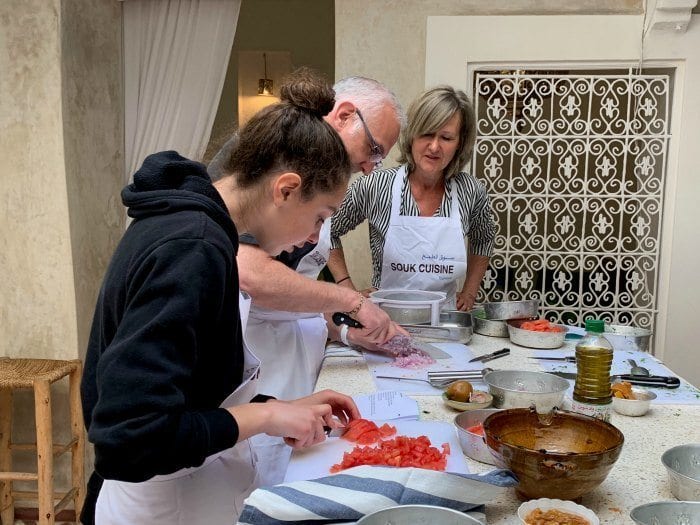 On your second full day, I would suggest that you dig deeper into the cuisine with a cooking class & market visit or food tour with Marrakech Food Tours. We took a cooking class with Souk Cuisine, which was awesome.
It started with a visit to the market where our guide gave us each a shopping list and money and helped us purchase what we would need to prepare a meal. We then went to a local's home to prepare the meal, with their help, including walking our bread to the local bakery oven. Then we enjoyed an authentic Moroccan meal prepared with our own hands.
In the afternoon, take some time to relax at your riad or hotel. There are many great restaurants in Marrakech if you feel like exploring other cuisines as the rest of your time in Morocco you will see the same dishes on the menu, including kefta, couscous, tagine, pastille, and briouats.
Day 3 – Marrakech Museums & Palaces
On your third day in Marrakech, there is still so much to see but two attractions you shouldn't miss include the Dar El Bacha Museum and the Bahia Palace. Located near the entrance of the medina, the Dar El Bacha was once the home of Thami El Glaoui, the pacha of Marrakech.
The architecture of the museum is the main attraction, although there are interesting artifacts inside that represent the various cultures of Morocco including Berber, Arabic, and Jewish. The museum has incredible wooden carvings, beautiful tilework, and a gorgeous courtyard with fragrant orange trees.
Bahia Palace is a beautiful mid to late 19th-century palace that was first built by Si Musa, grand vizier of Alaouite sultan Muhammad ibn Abd al-Rahman, in 1859 and then continued and expanded by his son Si Ba Ahmed ibn Musa, grand vizier of Sultan Moulay Abdelaziz between 1894 and 1900.
There are beautiful mosaics, carvings, and tilework that provide an excellent backdrop for photos. We chose to have family photos here by Flytographer.
If you have more time, you may want to visit some of the major attractions such as:
Les Jardins Majorelle botanical gardens and YSL Museum
Museum of Marrakech
Dar Si Said
Saadian Tombs
Day 4 – Day Trip
If you have a fourth day in Marrakech, I would recommend choosing an excursion that interests you outside of the city. These are primarily full-day excursions, although some could be half-day.
Some day trip options include:
Day trip to Essaouira — Essaouira is a picturesque seaside town. The main square was used in Orson Welles' Othello. The bay is popular with kite and wind surfers, and you can head down to the water to see the fishing boats and then walk along La Skala, one of the port bastions. We planned to do this but unfortunately we got sick and didn't feel up to it and we had to cancel.
High Atlas Mountains / Berber Villages — head into the High Atlas Mountains and visit a few authentic Berber villages, including a stop for lunch at a local's home. You can even include a camel ride.
Ouarzazate and Ait Ben haddou — take a full day trip across the Atlas Mountains to see the ancient kasbah of Ait Ben haddou (you may recognize this from Gladiator or Game of Thrones) and the "Hollywood in the Desert" of Ouarzazate.
Rock Desert and Camel Ride — take a half-day excursion into the nearby rocky desert and climb on board a camel for a ride through a palm grove. This tour will typically stop for traditional mint tea in a local village.
Other options include quad biking, horseback riding, and tours of Marrakech via motorbike sidecar.
Fes (Days 5-7)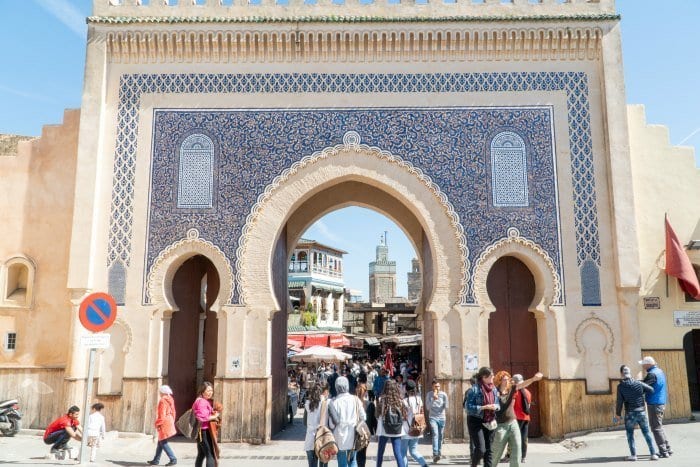 In the interest of time, from Marrakech, I would recommend taking a short one-hour flight to Fes. Another option would be to take a train but that takes 6.5 hours (although it is a good budget option.) The old town of Fes is a UNESCO World Heritage Site and features the best medina in Morocco. It is known as the intellectual and spiritual heart of Morocco, whereas Marrakech is more touristy.
If you don't want to see Fes, you could try to fit in a trip to the desert instead. Day four would take you to Ouarzazate/Skoura. Then day five would bring you to the desert. On days six and seven you would need to reverse the trip. It is a lot of driving to fit into just a week so Fes would really be the better choice!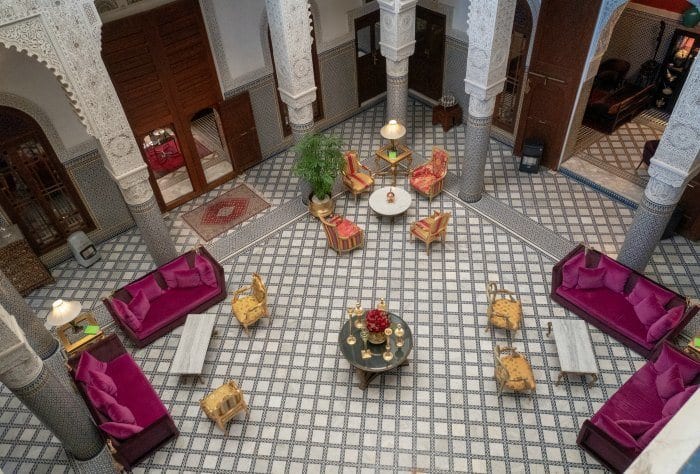 If you continue to Fes, this is where I would definitely recommend staying in a traditional riad in the medina, even if you opted for a resort or a riad outside of the medina in Marrakech. Some great options include:
Riad Fes — Relais & Chateaux luxury riad (this is where we stayed)
Karawan Riad — gorgeous property, best of the best
Dar Roumana — more budget friendly but quite traditional and nice
Find more places to stay in Fes:
Upon arrival, I would head out on a Fes food tour (unless you took one in Marrakech, then maybe try a cooking class with Riad Fes.) If you aren't much of a foodie, then I would suggest taking a medina tour or visiting the tanneries to see this important part of the local culture and economy. Fes is definitely a great spot to do some of your souvenir shopping! We ended up buying pottery, leather goods, and metal products in Fes.
Or, if you just want to relax, try out one of the traditional hammams for a soak, scrub, and massage.
Day 6 – Fes Tour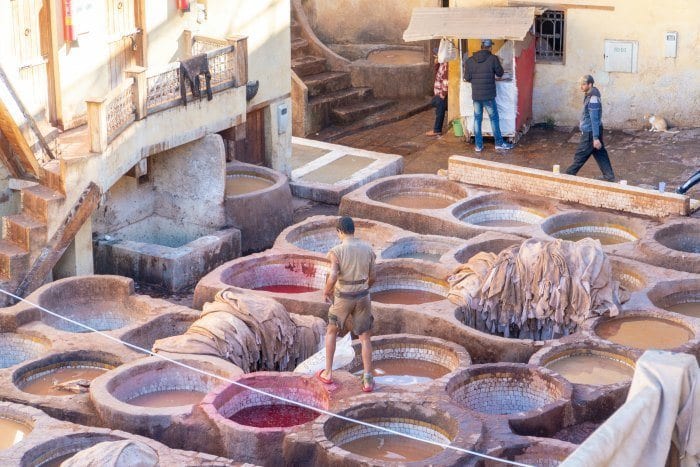 Your second day in Fes is when you should really dig into exploring this amazing city. I would recommend hiring a guide to get the full history and background, but you could certainly explore many of these places on your own. Some of the highlights include:
Ancient Medina – so much more authentic than Marrakech, it is easy to get lost in this labyrinth but also fun to discover the different sections, such as fancy dresses, metal working, spices and food, etc. Just keep in mind that some of the more generic souvenir types of shops near the Blue Gate sell goods that are made in Asia, not Morocco. Look for shops where you can see the artisans at work and be prepared to bargain! It is a sport that Moroccans enjoy.
Royal Palace (Fes Palais Royal Dar El Makhzen) with its golden gates – you cannot go inside but it is fun to take photos in front of the beautiful golden doors
Old Jewish Quarter (or Mellah) – located near the Royal Palace you can walk through a gate into the quarter, visit the synagogue and Jewish cemetery, and visit the shops (this is a big jewelry district.)
Pottery quarter – you can visit a cooperative to see each step of the pottery making process. This is a great spot to by authentic souvenirs.
Nearby fortresses of Borj Sud and Borj Nord – these forts were built in 1582 and offer great views over Fes.
You can see all of these sites in one day but you will need a car to get to many of these spots so hiring a guide is the best way to go.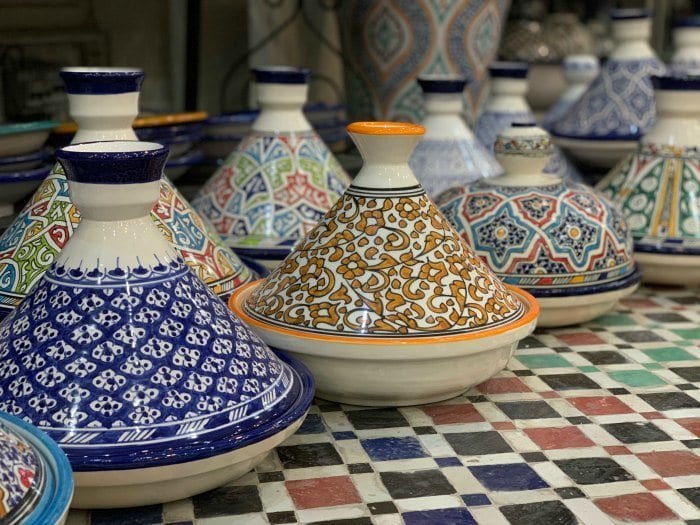 Day 7 – Return
On your last day in Morocco, you need to get back to your city of departure. You could either fly back to Marrakech, or you could hire a driver to take you to Casablanca via Meknes and Rabat.
---
10 Day Morocco Itinerary (Option 2)
With three extra days to play with, you will have time to get to the Sahara desert if you don't mind spending a lot of time in a car. Start your trip out in Marrakech, as I have outlined above, but on your fourth full day (not counting your arrival day), either rent a car or hire a driver for your three-day trip into and out of the desert.
Days 1-4: Marrakech
Day 5: Eit Ben Haddou / Skoura
Day 6-7: Merzouga, Sahara Desert
Days 8-10: Fes
Day 5 – Drive to Eit Ben Haddou & Skoura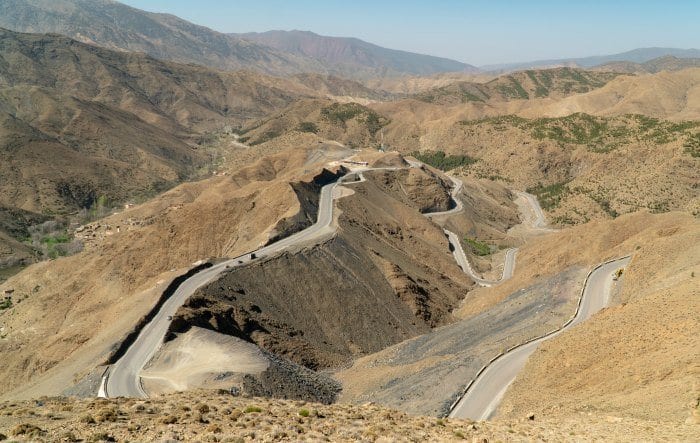 I can't stress enough how long the drive is from Marrakech out to Merzouga in the Sahara Desert. You will want to stop overnight to break up the trip. Even then, the driving can feel a bit endless and it can be slow going, especially if you get behind a truck.
Once you leave Marrakech, you will travel across the plains that surround Marrakech and over the Tichka Pass of the High Atlas Mountains. Be sure to stop for some amazing views of this winding road. The first stop will either be the ancient kasbah of Telouet, or head straight to Ait Ben Haddou.
Ait Ben Haddou is the best preserved kasbah in Morocco. The village is an 11th-century collection of kasbahs that are still inhabited by a handful of families. It will look familiar because it has been used as the backdrop to many movies and TV shows.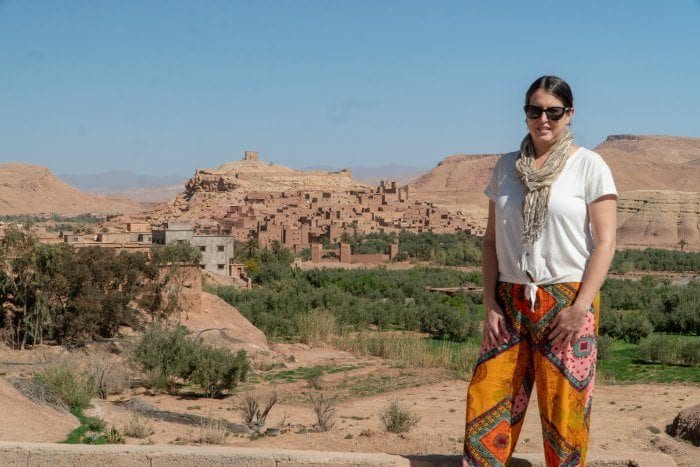 There aren't really any signs or markers within the town, so to get the most out of the experience, I would recommend hiring a local guide. If you have a driver, they can probably help arrange this. Expect to pay around 200 Dirhams (about $20) for a short tour (see my Morocco trip budget to learn more about what a trip to Morocco costs.)
From Ait Ben Haddou, you will go through Ouarzazate. Today this ex-French foreign legion outpost is a bit touristy and the center of the movie industry. You can stop and visit the film studio but I'm not sure if it is worth it.
At the end of the day, you will arrive in Skoura, a palm oasis, where you can spend the night. If you are looking for luxury, Dar Ahlam is the place to stay. However, we stayed at the L'Ma Lodge, which features a large garden of palms and fruit trees with a pool and welcoming relaxation areas. We loved this the most of all of our accommodations on the trip. It was such a relaxing place to chill out.
Day 5 – Drive to Merzouga
Your next day is spent driving from Skoura to Merzouga at the edge of the Sahara desert. You will pass through the Dades Valley and Kelaa M'Gouna (which sits at the head of the "Rose Valley") and Todra Gorge. If you have time, stop at one of the women's rose cooperatives to purchase rose oil, rose water, and other locally-made products.
Stop for lunch near the Todra Gorge and you can take an easy hike through the upper part of the gorge. Todra Gorge is a sandstone ravine with 300-meter cliffs on either side of a very narrow passage.
From there, you will continue on to arrive in Merzouga before sunset. If you choose, you can arrange for a sunset camel trek into the desert to get to your desert camp.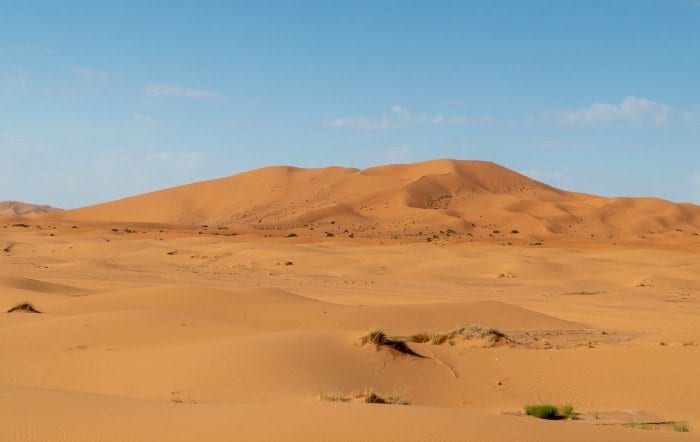 There are quite a few desert camps in this area, so it isn't like you are alone in the Sahara. The one we stayed at was Jaimas Madu, which had luxuriously-appointed tents with private bathroom facilities (a must for us!) We were surprised by how nice our tent was and the food was delicious. It was such a special experience.
Day 6 – Sahara Desert
Spend the day enjoying camp and the activities available in the desert including sand boarding, four-wheel drives, and night time star gazing.
Day 7 – Drive to Fes
This day is dedicated to the long drive over to Fes. You will pass through the Middle Atlas Mountains. Be sure to stop before you get to the Swiss-inspired university town of Ifrane to feed the macaques. You can't miss them as you are driving by and there are vendors selling peanuts.
Once you arrive in Fes, you can pick up from the one-week Morocco itinerary above to complete your trip.
14 Day Morocco Itinerary (Option 3)
If you have two weeks to spend in Morocco — lucky you! When we visited we spent 12 nights in Morocco and it would have been really nice to have those two extra nights to give the trip a more leisurely pace. As it was, we compressed our travel day into a horribly long day to fit in everything that we wanted.
With two weeks, you can take a different approach than the 7 day or 10 day Morocco itineraries outlined above. I would suggest using the following schedule:
Day 1 – Arrival
For your two-week Morocco itinerary, I would try to fly into Casablanca and out of Marrakech, or into/out of Casablanca (unless you are connecting through Europe, then it would be ideal to start in Tangier if you could.)
Upon arrival in Casablanca, you could either spend your first night there (visit the Hassan II Mosque and Rick's Cafe) or head up to Rabat, Morocco's capital city.
In Rabat, you can hit a few of the city's highlights: Hassan Tower, Kasbah des Oudaias, Chellah, and the Medina before the four-five hour drive to Chefchaouen.
Day 2 – Chefchaouen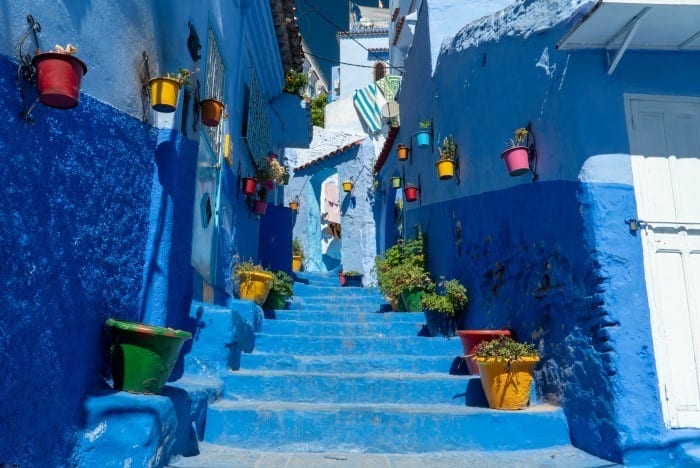 Most of this day will be spent traveling to Chefchaouen as unfortunately, there isn't any easy way to get there. Many people have asked me, "is Chefchaouen worth it?" And if you have less than two weeks in Morocco, then it is definitely not worth all the travel to get there. However, if you do have two weeks or more, I absolutely loved this little gem.
Maybe it was because we were there in March and not "high season" for all the Instagrammers, but I found it charming and authentic, as long as you can ignore those posing for pictures (which wasn't a ridiculous amount.)
Chefchaouen is known as the Blue City and tourism is booming after many have fallen in love with its blue-washed walls and secret alleyways after seeing it on Instagram (confession – I'm guilty!) It is arguably the prettiest city in Morocco, nestled between two peaks of the Rif Mountains.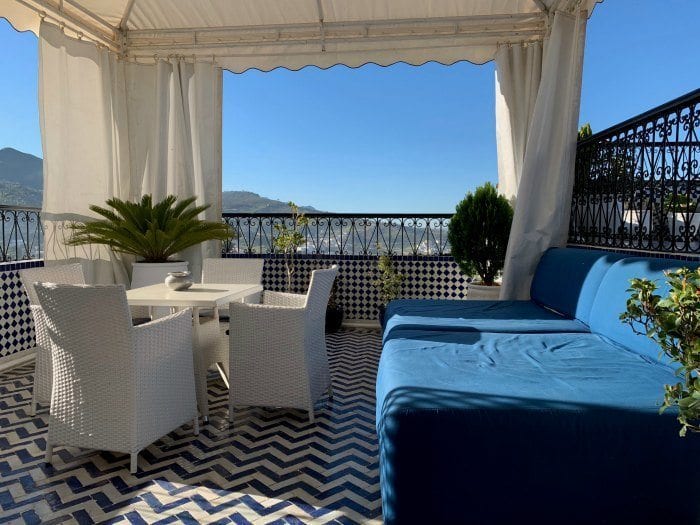 Accommodations are somewhat scarce in Chefchaouen and not the same level of luxury that you can find in other cities. We stayed two nights at the Lina Ryad, and also considered the Riad Cherifa.
Find places to stay in Chefchaouen:
Day 3 – ChefChaouen Exploration
You will have a little over a day to explore the winding alleyways and markets of Chefchaouen. Discover the old Jewish quarter, and visit the Ras El Ma spring, where local women wash their clothes.
If you are feeling adventurous, you can take a hike to the old Spanish Mosque/fort on a hill outside the medina. From here you can see beautiful views of the valley and if you are lucky, catch a beautiful sunset.
We hired a guide, which helped us to not get lost, but honestly I don't think you need a guide to explore as the city is fairly compact and you can usually find your way back to where you came from.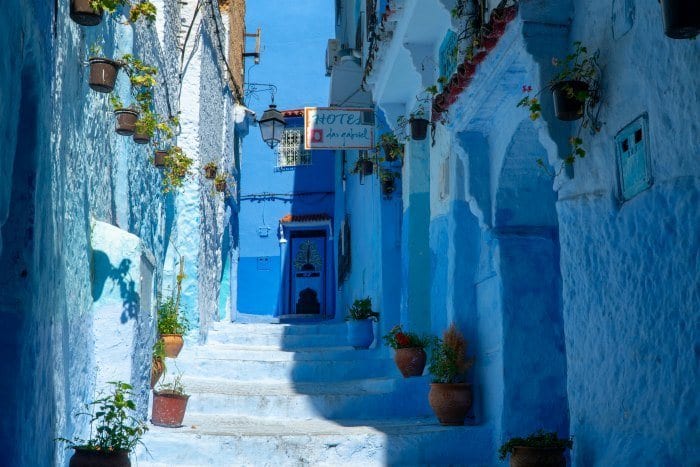 Day 4 – Drive to Fes
From Chefchaouen it is a four hour drive to Fes, where you will pick up from the 10-day itinerary above, but in reverse order.
Day 5-6 – Fes
You will spend three nights in Fes before heading into the desert. You may consider taking a day trip to Meknes from Fes to see the partly excavated Berber-Roman ruins of Volubilis.
Day 7-8 – Merzouga
Since you have time time, I would recommend spending two nights in the desert so that you have more time to do activities like sand boarding and dune busting, as well as the sunset camel ride.
Day 9-10 – Skoura
Then, on your way out of the desert, you can spend two nights in Skoura to break up the driving.
Days 11-14 – Marrakech
You will then continue on to Marrakech via Eit Ben Haddou. You will spend three to four nights in Marrakech and can either fly out of Marrakech, or arrange a three-hour transfer back to Casablanca at the end of your trip.
Looking for more information on your Morocco itinerary?
PIN THIS FOR LATER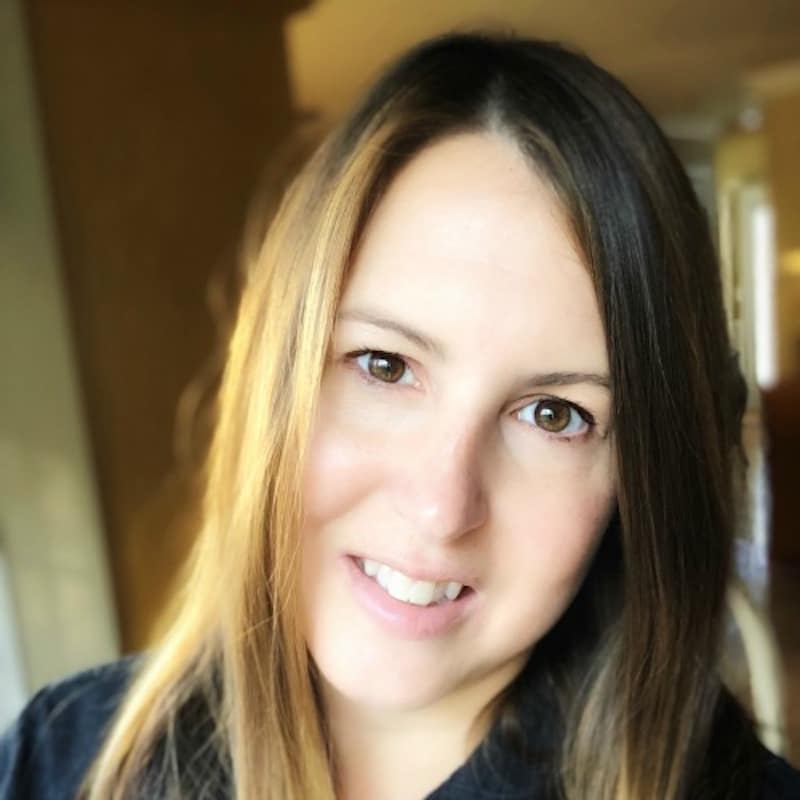 Tamara Gruber is the Founder and Publisher of We3Travel. A former marketing executive and travel advisor, Tamara is an award-winning travel writer and recognized expert in family travel. She is also the publisher of YourTimetoFly and the co-host of the Vacation Mavens travel podcast.