On the way to or from Marrakech and Merzouga, most visitors will spend a night or two in Ouarzazate, the gateway to the Sahara Desert. Ouarzazate is Morocco's little Hollywood, home to a couple of movie studios and many nearby kasbahs have appeared in movies and TV shows like Gladiator and Game of Thrones.
While staying in Ouarzazate to break up the long drive to the Erg Chebbi sand dunes makes sense, you will have a more pleasant stay if you travel a bit further to the palm grove of Skoura and book a room at the L'ma Lodge.
Of all the places we stayed during our two weeks in Morocco, we enjoyed the L'ma Lodge the best (yes, even more than the Four Seasons in Marrakech.) It is the absolutely perfect spot to stay and relax after a lot of driving and busy days sightseeing.
If you want local tips and personalized advice for your trip to Morocco, connect with Said from Go Ask A Local! From his bases in Marrakech and London, Said runs a local travel agency that specializes in luxury adventures to Morocco. He's available for trip planning consultations on Zoom.
L'Ma Lodge in Skoura
Note: This post contains affiliate links. If you click a link and make a purchase, I may receive a small commission
L'Ma Lodge is a traditionally built adobe lodge just on the outskirts of the palm oasis town of Skoura. It is owned and hand-built by a Belgian-French couple, who are raising and home-schooling their kids on property. The lodge is made up of the main house, a riad, and a large garden with hundreds of palm and fruit trees.
We booked for two nights but could have spent a week lazying around beneath the palm trees in one of the many outdoor lounge areas scattered throughout the grounds and on the roof of the riad.
If you don't want to spend your day laying around in a hammock, the property also offers a pool, a badminton court, a bocce/petanque pitch, and multiple playgrounds for young children.
You can also visit with the rescue donkeys, goats, and horses or wander through the organic kitchen gardens. Guests are welcome to visit the kitchen and enjoy the lounge in the main house.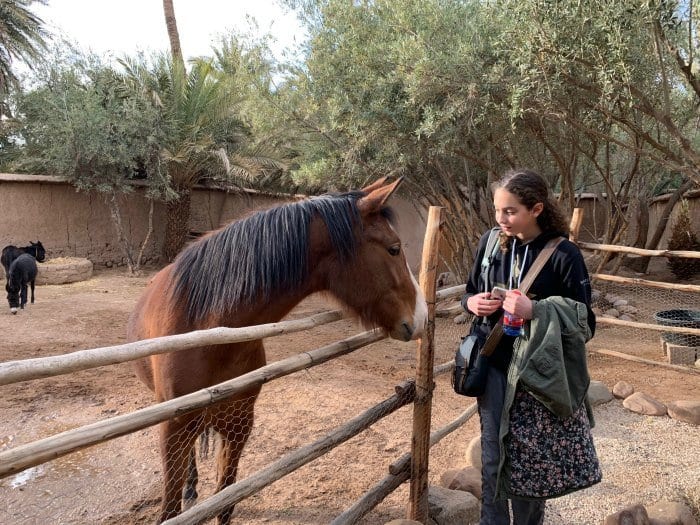 One thing you will immediately notice about L'Ma Lodge is the sense of style and peace. The decor is timeless and stylish, yet authentic in design. The area is so quiet during the day since the few guests typically are out exploring on day trips.
Accommodations at L'Ma Lodge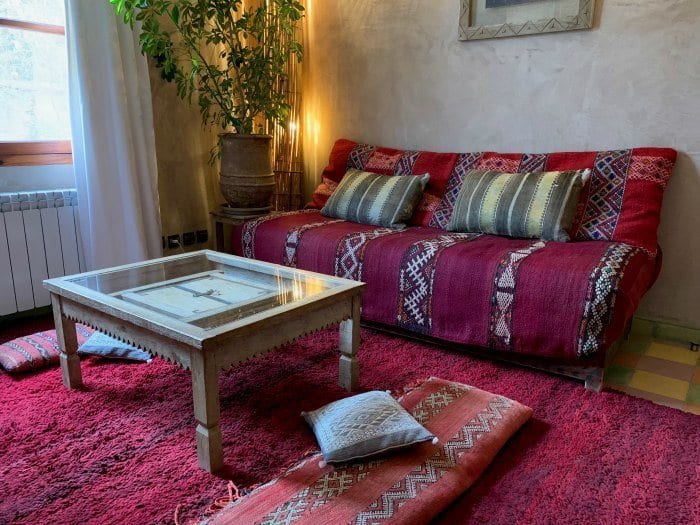 We stayed in a spacious two-bedroom suite on the ground floor of the riad. Again, I fell in love with the stylish decor from the minute we stepped inside. There was a living area with a sofa, coffee table, and scattered floor pillows with a large storage unit.
The main bedroom had a queen bed and was divided by a wall from the lounge and the second bedroom. Hannah stayed in the second bedroom, with two twin beds. While there wasn't a door separating her room, just curtains, the wall offered plenty of privacy.
The bathroom was large, with double sinks, a walk in shower (complete with chandelier), and a separate water closet for the toilet.
Dining at L'Ma Lodge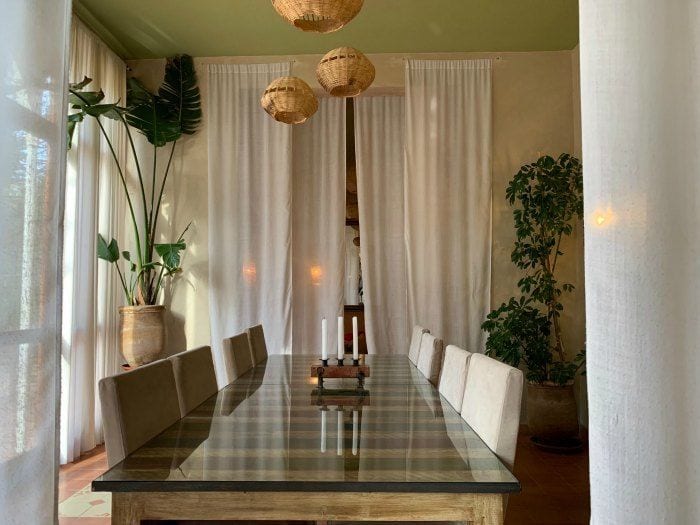 L'Ma Lodge grows its own vegetables and herbs, and even presses their own olive oil. As you would expect, the food is fresh and delicious. Breakfast is laid out each morning from about 8-10am. The buffet consists of an array of fruit, cereal, hard-boiled eggs, crepes, pastries/breads, and a range of spreads from fresh honey to amlou (the "Moroccan Nutella.")
Lunch needs to be pre-arranged, as most guests are out exploring. However, when we were in town we attended the weekly market and then picked up some amazing, freshly made goat cheese at Chez Le Patron Barbu in town that we brought back for lunch and the staff nicely prepared it for us with olive oil and bread.
Dinner is served starting around 7:30, although you can go earlier and enjoy some wine before your meal. There isn't a menu and dishes are served family-style for each group. Everything that we ate during our two nights was delicious, especially the salad with goat cheese. After days of tagine, having something fresh was a welcome change!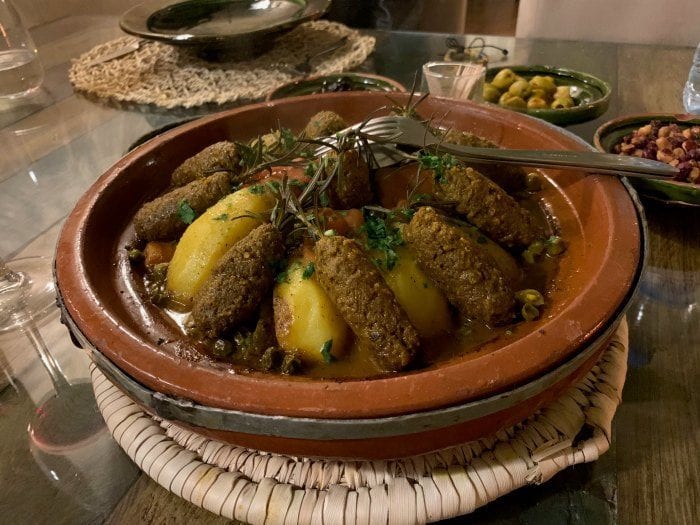 A stay at L'Ma Lodge is certainly a luxury experience, without the luxury resort price tag.
Check current rates and see more pictures on TripAdvisor
Things to do Near Skoura
If you are a film buff, you can visit the film studios in Ouarzazate, but personally I prefer more culturally-relevant experiences when I'm traveling. I would recommend the following:
Ait Ben Haddou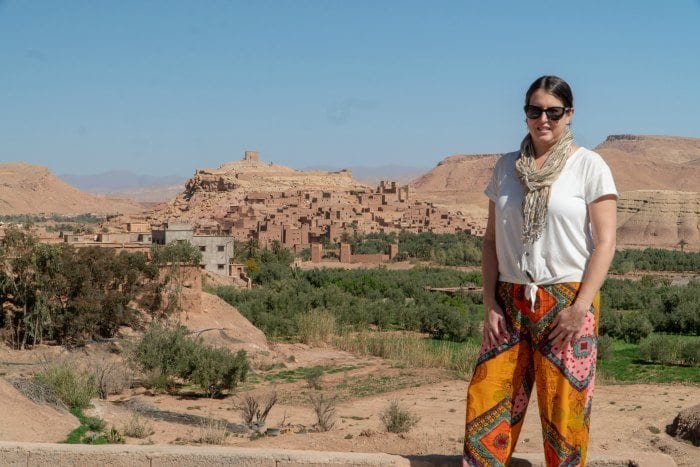 A visit to the UNESCO-heritage site of the kasbahs of Ait Ben Haddou ticks both boxes for film and history buffs.
Ait Ben Haddou was a filming location for films like Prince of Persia and Gladiator. It was also the setting for the slaver city of Yunkai in the Game of Thrones series. However, long before films put it on the map, this 11th century collection of kasbahs were an important stop along the caravan route to the sea.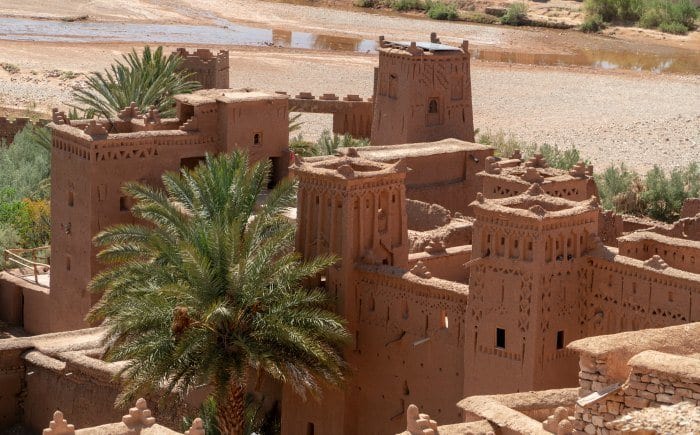 Today you can take a tour of the village and see its excellent examples of mud brick architecture and stop to see some of the artisans living and working in Ait Ben Haddou. If you have time and energy, you can climb to the watchtower at the top of the hill for a superb panoramic view across the Atlas Mountains. A one hour tour can be arranged with a local guide for about 200 dirhams (about $20).
Telouet
A bit further away is another kasbah worth visiting in Telouet. From the outside, it looks like a crumbling ruin and you may wonder if it is worth the detour, but keep going inside and you will be impressed with the architecture.
You can visit the various bedrooms allocated to the wives of the owner, with the room given to the first wife offering the best views and most beautiful mosaics.
After exploring inside, you can also climb onto the roof for views of the mountains. It does cost a few dirham to enter, and there isn't a guided tour, but it doesn't take long to explore on your own.
Rose Valley & Todra Gorge
If you are visiting in April or May, you will enjoy visiting the Rose Valley when the flowers are in bloom. This is where the country's production of rose oil, rose water, and other products is based. Even if the roses aren't blooming, you can still stop at one of the women-run cooperatives in the area, such as the Cooperative Rosamgoun to learn about the process of making the products, sample a few, and purchase some to take home.
A walk through the Todra Gorge is another popular day trip from Skoura or Ouarzazate, which you can also do on your way to/from the desert. After lunch in the nearby town of Tineghir, you can approach the gorge. Try to find a place to park along the road (or have your driver drop you off), so that you can walk through the dramatic sandstone ravine made of 300 meter cliffs.
Market Day in Skoura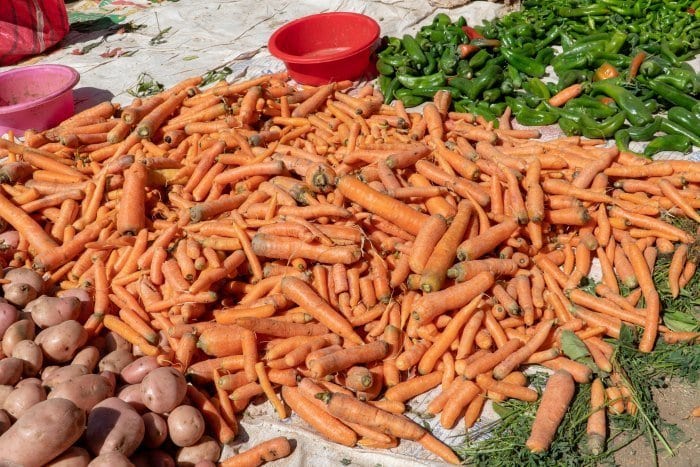 Every Monday is market day in Skoura and vendors and farmers travel from miles away to bring their goods to be sold. Likewise, locals and nearby villagers travel to town to get their supplies for the week. One portion of the market is more of a flea market with second-hand goods.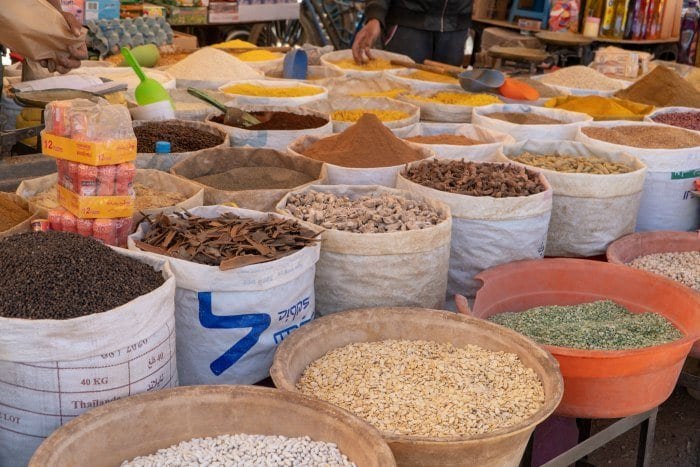 But the majority of the market is dedicated to produce, meat, and spices. You will see everything from live goats to blankets laden with oranges, tomatoes, and other local produce. When you visit, keep in mind that many vendors do not want you to take pictures of their goods and most people likewise get quite upset if you take their picture so be careful where you point your camera.
[plan-trip]
If you are visiting Morocco, you may be interested in these other articles:
[/plan-trip]
PIN THIS FOR LATER