Morocco is a hot travel destination, and with good reason. It offers a degree of cultural immersion that people might seek by visiting the middle east, but with a relatively progressive government and fairly welcoming people. But if you are planning your first trip to this country, there are a few Morocco travel tips that you really should review before you leave.
Not only with these tips for visiting Morocco help ease your travels within the country, they also help you understand and respect the local culture.
Morocco Travel Tips
Money & Tipping
The local currency is the Moroccan Dirham. It is very difficult to get Dirham outside of the country and you can't bring it home. Therefore you should plan on exchanging currency at the airport, or visiting the airport ATM upon arrival or in major cities. There is a currency exchange desk in the baggage claim area in the Casablanca airport.
Currently Canadian, Australian, and Scottish currency notes are not accepted for exchange in Morocco.
Very few restaurants accept credit cards, therefore you need to exchange enough money to get you through as it can be hard to find ATMs outside of the big cities.
Most riads only accept Visa or Mastercard. You don't need to leave your American Express at home (the Four Seasons accepts it), but make sure you have a back up.
When getting money at the ATM, you can withdraw a maximum of 2000 Dirham at a time (about $200), with a maximum of 4000 Dirham per day (you can do two back-to-back withdrawals of 2000 each.)
When exchanging money at the airport, they may try to convince you to put some of the balance onto a debit card. I wouldn't recommend this as most places still won't take it (unless they also take credit cards.) Plus there is a fee so it really isn't a good deal.
Make sure you get as many small bills (20, 50, and 100 Dirham bills) as you can and try to get coins when purchasing tea, coffee, etc. as you will need them for tipping.
At gas stations and some restaurants you will often find there is a bathroom attendant keeping it clean and possibly handing out toilet tissue. Drop 1-2 dirham per person into the dish as you go in.
Tipping is an important part of the culture. Plan on adding about 10% on restaurants. Check the bill first to see if service is included (it usually isn't). If they accept credit cards and you want to add a gratuity using your card, you need to tell them the amount before they run the card. Otherwise you need to leave cash.
Guides and drivers should be tipped 100-200 dirhams per full day (at the end of the service.)
Others that help you should also be tipped including hotel porters, housekeeping, front desk staff if they help you out, etc. We typically gave 50 Dirham to porters and left 5-10 Dirham per day for housekeeping. Pay attention though because some riads share tips (they will let you know and provide an envelope.)
If someone in the souk allows you to take photos of their shop or goods it is polite to give them a small tip (especially if you aren't buying something.) Just be sure to ask BEFORE taking pictures.
You will find street buskers and vendors that will use a gimmick to attract you (like a monkey, snake, etc.) You will be asked to pay for the privilege of taking a picture with them or of them.
Overall, Morocco is very affordable. Please refer to my Morocco trip budget to see how much a trip to Morocco costs and a breakdown by accommodations, meals, activities, transportation, etc.
Getting Around Morocco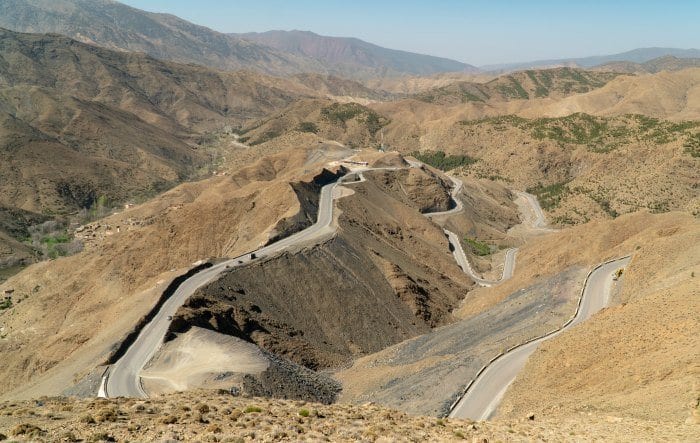 When you travel to Morocco, your itinerary will probably include moving from place to place. So you need to decide how you are going to get around. I wrote a whole post about driving in Morocco, but I would highly recommend hiring a driver, especially if you are going through the High Atlas Mountains and/or out to the Sahara Desert.
I know many people worry if it is safe in Morocco. We always felt safe, especially in the care of our dedicated driver, but if you are driving yourselves or using public transportation, remember to stay alert and take standard safety precautions.
If you decide to drive, be prepared for narrow, winding roads. They are also doing a lot of construction on the roads going through the Atlas Mountains. Don't be surprised to get stuck behind really slow trucks, busses, and even donkey carts.
Driving always takes much longer than predicted so plan for it!
I have never seen as many speed traps in my life as I saw in Morocco. I joked that the government must solve unemployment by hiring police offers. There was a speed trap outside of every town and sometimes it seemed like every five miles along the road and each stop was manned by at least three officers. In addition to speed traps, there are also other police stops to check paperwork. And we saw plenty of tourists pulled over, not just locals. Keep an eye out for drivers coming from the other direction flashing their headlights as a signal of a speed trap ahead.
There are also a lot of tolls on the highways. You can rent a car with an electronic pass. Otherwise, plan on bringing along plenty of change and small bills.
When driving, look out for goats and sheep by the side of the road, donkeys pulling carts, people walking along the side of the road, bicycles, and scooters.
Street signs are usually in French and Arabic but smaller signs and towns may only be in Arabic.
Moroccan Food
Picky eaters and those with dietary restrictions and allergies may find it tough to eat in Morocco. I would recommend talking to your riad ahead of time as menus are very limited.
Don't drink tap water (only bottled water) and be careful about eating uncooked produce, salads, or unpeeled fruits.
Unlike other countries where cuisine varies from region to region, we saw the same few items on the menu throughout our 12 days in Morocco. Even those that love Moroccan food may crave a little variety so I would recommend make reservations at a non-Moroccan restaurant towards the end of your trip if you will be in a larger city.
Breakfast: Traditional Moroccan breakfast is quite a feast, especially for carb lovers. There is usually fresh fruit, delicious orange juice, eggs, yogurt (which is so good with some local honey mixed in), and a mix of pastries, breads, and Moroccan pancakes. There are three types of Moroccan pancakes. One is crepe like, one is spongier (called 1,000 holes), and melawi — which was my personal favorite. Melawi is a layered pancake that is fried, a lot like a Chinese scallion pancake without the scallions.
Moroccan mint tea: Moroccan mint tea is served as a welcome drink and with every meal. Keep in mind that they add a LOT of sugar (probably the equivalent of four cubes), so if you are watching your sugar, ask for it without sugar.
First course: lunch and dinner at most sit-down restaurants are pretty much the same. The first course is usually either Moroccan Harira soup, salads (tomato / onion / cucumber), pickled or marinated vegetables, or briouts, which are either cigar or triangular-shaped phyllo dough filled with cheese, meat, or seafood and deep-fried.
Main course: The main course is typically either a tagine or couscous. Typical tagines are chicken with lemon and olives, Kefta meatballs with egg in tomato sauce, or chicken or meat (beef, lamb, or goat) with prunes and apricots. Sometimes you may also see tangia, which is a stewed meat and vegetable dish cooked in the ashes at the hammam. You may also see pastilla, which is chicken or pigeon meat baked in a "pie" with a crispy crust that is very similar to phyllo. This tends to be very dry.
Desserts: Desserts are typically fairly light. You will see fruit, various mousse / creme, or pastilla with cream, which is layered like a Napoleon.
Keep in mind that the traditional Friday night meal is couscous. Couscous is served in layers. The couscous is on the bottom and it has been steamed over the meat to get the flavor cooked in. Then you have the meat and all around and over the meat you will have large pieces of cooked root vegetables.
Moroccans typically eat dinner late, usually after nine, although it is easy enough to get an earlier reservation. In between lunch and dinner, many people may stop by the souk for a sandwich of grilled turkey, kefta, or sausage, to tide them over.
Moroccan Culture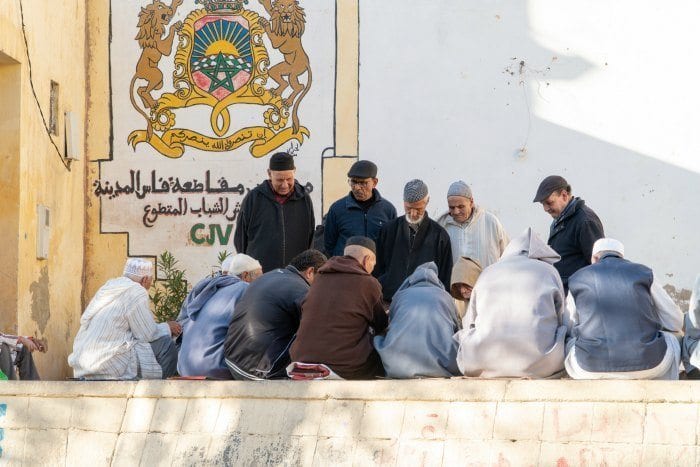 Clothing: I wrote an entire post about what to wear in Morocco, with examples for both men and women, but the most important thing to remember is that this is a Muslim, conservative country and you should dress modestly. Women should cover their shoulders, knees, and cleavage (a scarf works well.) Knees should also be covered and clothing should be loose. So flowy pants or long skirts. If you wear tighter pants, make sure your bottom is covered. Men should wear long pants and short or long-sleeve shirts. The only exceptions I saw to this were in Marrakech, where the tourists were surprisingly ignoring these norms and I saw everything from short shorts to tank tops and cropped shirts. Personally I wouldn't have felt comfortable in that and it is sure to draw some perhaps unwanted attention.
Religion: Obviously Morocco is an Muslim country. This means you will hear the call to prayer throughout the city multiple times a day, starting before dawn. Many shops in the souk and restaurants will be closed on Fridays. And as beautiful as the mosques may be, non-Muslims are not allowed in to most mosques. Only a few restaurants serve alcohol and you will only find pork products at the tourist hotels.
Photos: Photos of people are very uncommon in Islam and if you take pictures with people in them (or look like you are), most will be mad and offended. If you want pictures with people in them, try taking pictures from afar and from the back, not with people in the main focus. If you do want to take a picture of someone, such as a merchant in the souk, ask them first. It is also appreciated to tip your subject 2-10 dirhams. If someone is upset, apologize and delete if requested, or try to show you were taking a photo above or below by making sure the camera isn't pointed at them.
Language: The official languages in Morocco are French, Berber, and Moroccan Arabic. However, most people in restaurants and hotels will speak some English. If you are shopping in the souk, especially for produce and food (versus souvenirs), it may be harder to communicate in English so some French is very helpful.
Hammam: The neighborhood hammam plays an important role in Moroccan culture, giving men and women a place to meet (separately) and talk during a hot steam bath and scrub. Many riads will also have their own hammam. You will first spend time in a steam room and then move to a cooler room for a vigorous scrub with black soap. Women usually go naked, but you can wear a bathing suit. Men should wear bathing trunks.
Shopping in Morocco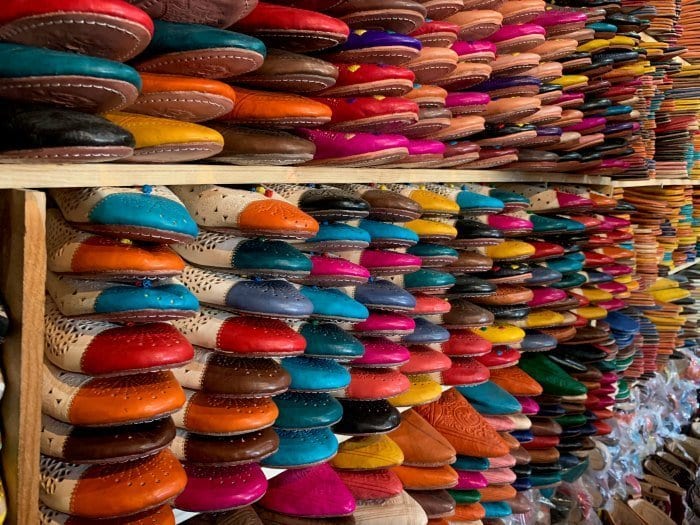 Bargaining is what they call the "national sport" of Morocco. When shopping in the souk, be prepared to haggle. Start around 50-60% of asking price (unless marked fixed price), end around 60-80% depending on how much you want it. If you really want it, tell them your final best price Don't act too eager, be ready to walk away. Often if you buy a lot, they will thrown in a gift. Some places like the pottery cooperative will ship.
In the souk, a lot of products are imported knock offs. Ask to see how things are made and to meet the artisan. If you can find out if the shop is owned by an artisan, you know the goods are authentic. We met a metal worker who did filigree on beautiful lamps and he was fifth generation.
Argan oil is best in Marrakech to Essaouira
Rose products should be purchased from a women's cooperative in the Rose Valley near Skoura These women owned cooperatives are supporting women and therefore the price is fixed (no bargaining.)
Spices and herbs are best to buy in Marrakech. Just watch out for those selling fake saffron. Saffron should have long threads with yellow threads connected to the red. Remember that spices and powders should be packed in your checked luggage (not your carry on.)
Pottery such as tagines should be purchased at the pottery cooperative in Fes (you can bargain there.)
Leather goods such as shoes, bags, and jackets should be purchased at the tanneries in Fes (you can also bargain here.) Those pretty leather shoes will typically be $10-15, a leather jacket can be found for around $200, and nice leather purses around $40-80.
Other Things to Know

Visas are not currently required for U.S. citizens for stays less than 90 days, however you will need a valid passport with at least six months of validity from your date of exit from Morocco.
Fill out the visitor card they give you on the plane before you arrive. If they don't give you one, make sure you get one before you get into the immigration line.
Expect a long line at immigration upon arrival into Morocco. To speed things up, you can pay for expedited entry for approximately 75 euro per person. You will be greeted at the jetway upon exiting the plane and walked to the Diplomat entry line of immigration, which is much shorter. (We paid for this service on arrival because we had such a long travel day.)
At Casablanca airport, when you depart, if your riad/hotel did not give you a visitor card to fill out, make sure you get one and fill it out BEFORE you go scan your boarding pass to go into security. Otherwise you will have to go back out to get one.
It is recommended that you have inoculations against tetanus, hepatitis A, polio, and typhoid at least one month before you travel.
Morocco does not observe daylight savings time and stays at GMT+1 throughout the year. If you put appointments into your calendar before the time change and you are traveling after the time change, this can create some confusion.
Electricity is 220V, 50Hz, so U.S. visitors will need a European adaptor with two-round pin plugs.
WiFi in riads can be limited, so don't plan on doing any big downloads or streaming.
The best time to visit would be from March through May or September and October. April is when the roses will be blooming in Rose Valley. Keep in mind that it can still be cool at night, especially in the north, so bring layers. It will be very hot in the summer. There is a big difference between the temperature in the sun versus the shade. Keep in mind that it is much cooler in the medina when you are out of the sun.
[plan-trip]
If you are planning a trip to Morocco, here are some other articles and travel guides that may help:
[/plan-trip]
PIN THIS FOR LATER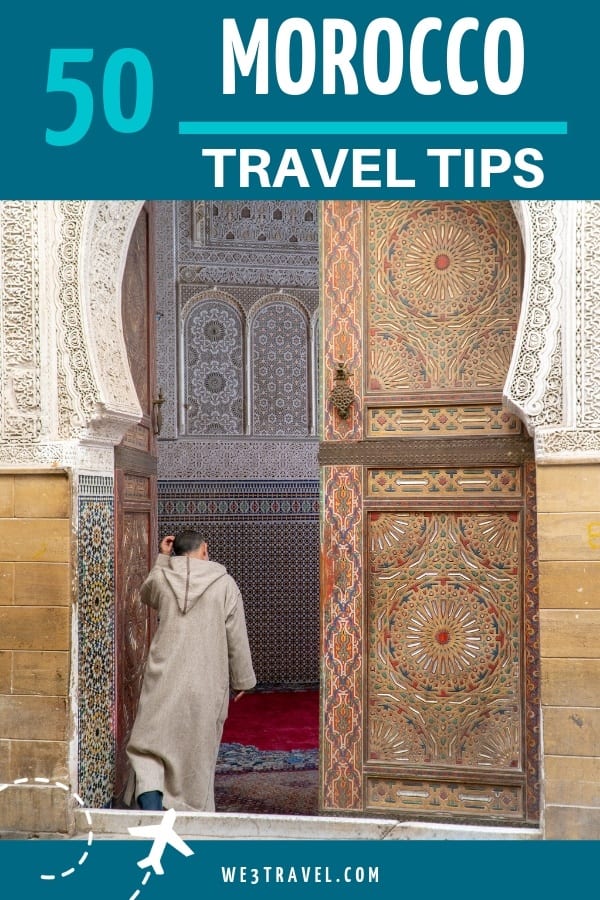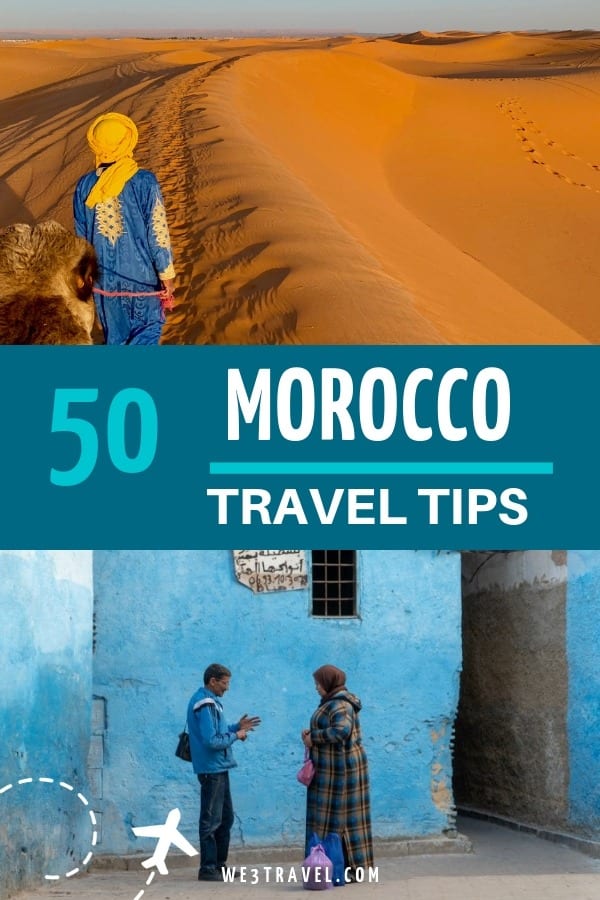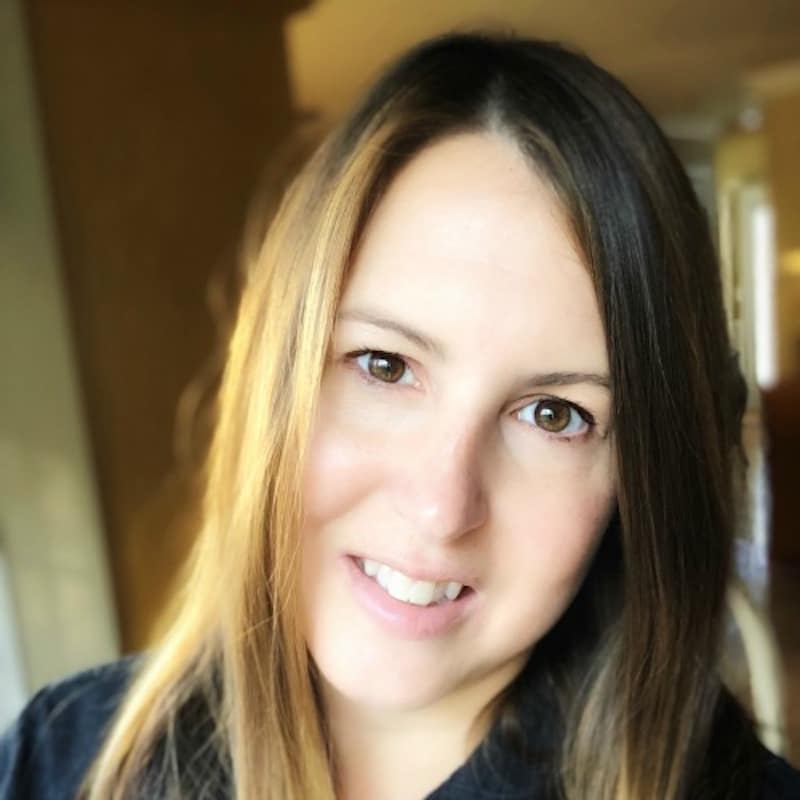 Tamara Gruber is the Founder and Publisher of We3Travel. A former marketing executive and travel advisor, Tamara is an award-winning travel writer and recognized expert in family travel. She is also the publisher of YourTimetoFly and the co-host of the Vacation Mavens travel podcast.