Where to stay in Marrakech depends greatly on how long you are visiting and if the Red City will be your only stop in Morocco. For example, if you are only visiting Marrakech and not traveling around Morocco, you should really get the best cultural experience and stay in a riad in the heart of the Medina.
If you stay at one of the many traditional riads in Marrakech, you get the experience of being within walking distance to shops, restaurants, and cultural attractions. You can also experience the unique architecture and hospitality of a riad, which is so different from a typical hotel experience.
However, if you are traveling around Morocco, it can be nice to take a break from the traditional Moroccan riads and lodges that you will find throughout the country and indulge in more of a luxury resort experience. This especially comes into play if Marrakech is one of your last stops on your trip.
For example, we recently spent two weeks in Morocco and we stayed at riads in Chefchaouen and Fes, plus a desert camp and then a lodge in Skoura. By the time we arrived in Marrakech, we were eager for the comfort and familiarity of a resort hotel. If you were staying in Marrakech first, it may feel different.
However, since we really wanted to experience the best of both worlds, we split our four nights in Marrakech into two different properties. First, we spent two luxurious nights at the Four Seasons Marrakech, followed by two wonderful nights at Riad Kaiss, a luxury riad in the Old City not far from Jemaa El Fna Square. (Note: we received a special media rate for our stay at the Four Seasons.)
Where to Stay in Marrakech
Note: This post contains affiliate links. If you click a link and make a purchase, I may receive a small commission.
Four Seasons Marrakech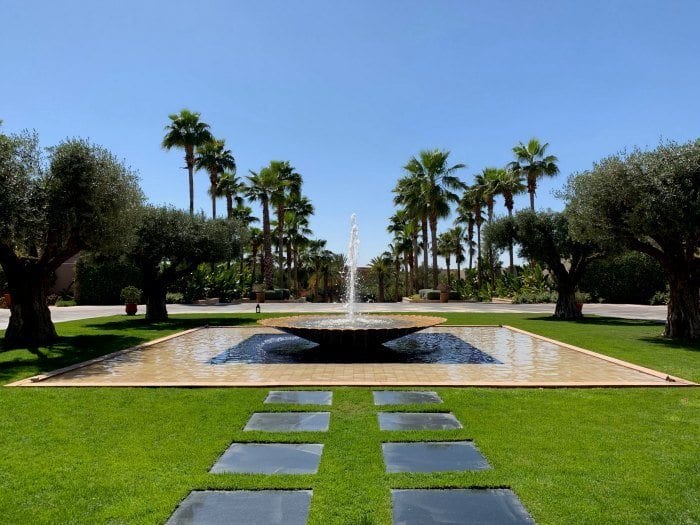 The Four Seasons Marrakech is located outside of the old city, and is about a five-to-ten minute drive to the Koutoubia Mosque and Jemma El Fna Square, where you will find the snake charmers and vendors in the evenings. The downside of being in the "ville nouvelle" (or new city) is that you will need to arrange a driver or take a taxi if you want to go out and explore.
On the positive side, you will have a very strong security presence (to the point of going through metal detectors when entering the hotel after going through the security gate) and extensive grounds to relax. The Four Seasons Marrakech is spread over 40 acres, including a 35-meter family pool and a quieter, adults-only pool.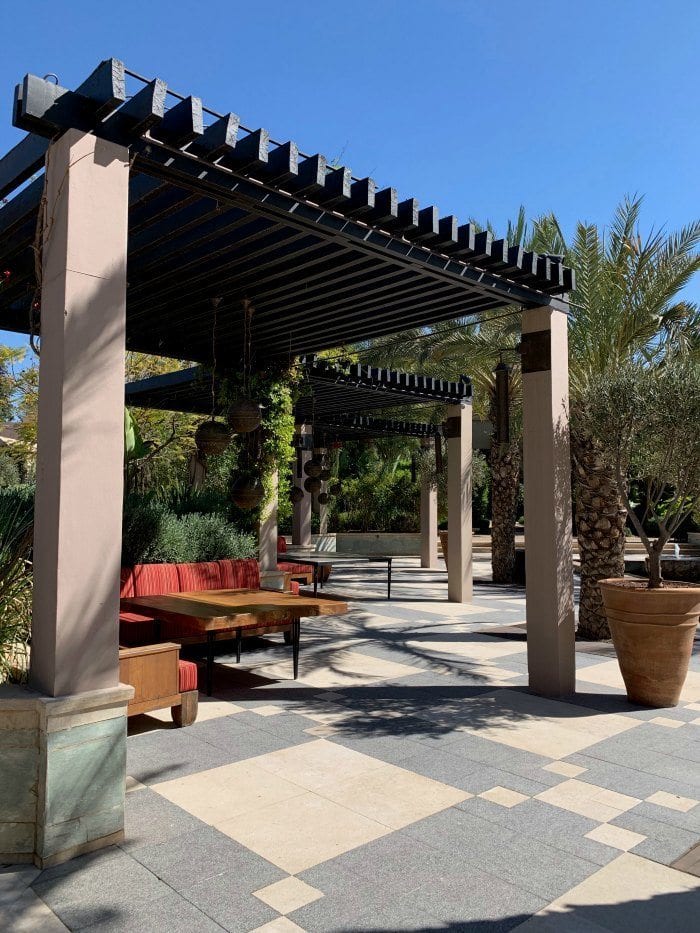 The gorgeous Moorish gardens and fountains link the main building to the spa, where you can find fitness classes, outdoor yoga, and world-class spa services. Glenn and Hannah spent one afternoon lounging by the adults-only pool (I guess she was mature and quiet enough to not raise any eyebrows).
The excellent poolside service reminded me of our stay at the Four Seasons in Costa Rica many years ago. They may not have come around with fresh coconut as they did in Costa Rica, but they did offer popsicles and cold water in cute insulated picnic baskets.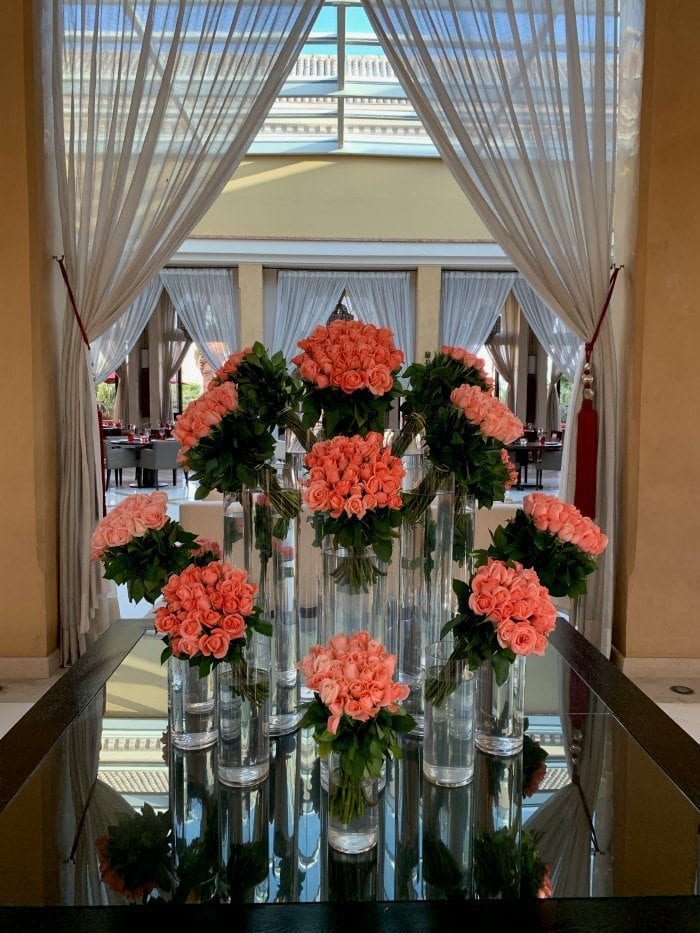 One of the things that I love about the Four Seasons is how well they cater to families. While our 14-year old is past the age of joining the kids club, the Four Seasons Marrakech offers younger kids their very own "kasbah" with a theater, mini-kitchen, and outdoor play areas.
As much as we loved our riad stays in other cities, it was comforting to check in to our room at the Four Seasons. We stayed in a large garden view terrace room, with a king bed and a rollaway cot for our daughter. The room was spacious, tasteful, and relaxing — exactly what you would expect from a Four Seasons property.
I was especially impressed with the local touches. From the Moroccan slippers and sun hats, to the robes and nightgowns/cover ups supplied in the room, and the roses everywhere!
We really enjoyed the spaciousness of our terrace, giving us extra room to spread out. The massive bathroom with tub and walk in shower was also a treat. After making do with the smaller bathrooms in most riads, it was nice to enjoy more modern conveniences.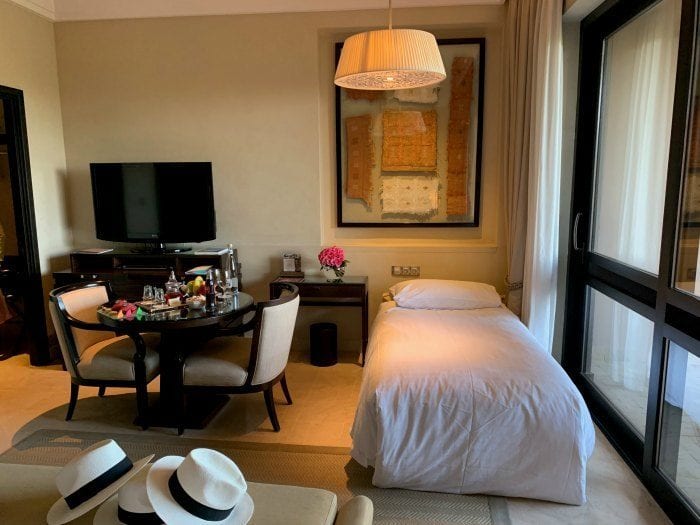 In addition to being able to relax at the pool and appreciate a few days of luxury living, one of the things we appreciated most at the Four Seasons Marrakech is taking a break from Moroccan cuisine. It sounds awful to say but after 10 days of nothing but tagine and kefta, we were ready for a break.
Yes, Marrakech is a very international city and we could have easily gone into town for one of a dozen cuisines (we ate at a Lebanese restaurant on our last night). However, since Hannah and I had both come down with bad colds, we really didn't want to leave the resort. Therefore we tried out just about every dining option on property.
Glenn and Hannah had a pizza and quinoa salad at the pool. We ate at the breakfast buffet each morning, since breakfast was included in our room rate and they even have bacon and other international dishes. We ordered room service one night when I was really sick, and we had lunch on the terrace of Inara, the Middle Eastern-themed restaurant off the lobby.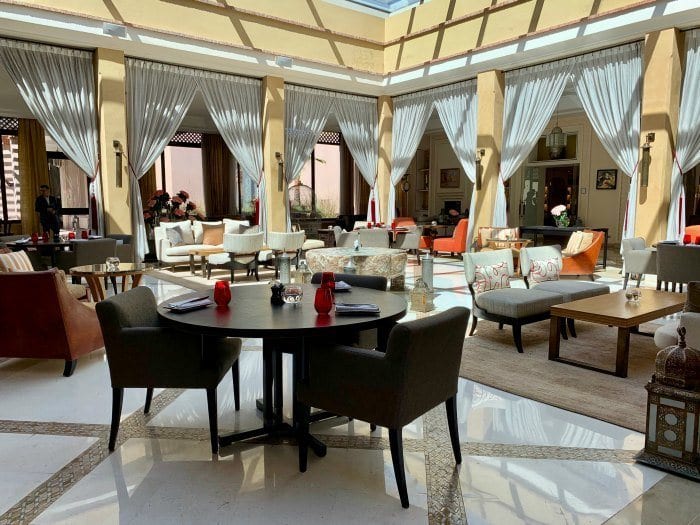 However, my favorite restaurant in the hotel was certainly Quattro, the Italian restaurant on the lower level. Maybe it was my desperation for something other than a braised meat, but their Southern Italian cuisine was excellent for a hotel restaurant in Morocco. I ate more than my fill of burrata and pasta, while sipping a fine Italian wine.
I wholeheartedly recommend the Four Seasons Marrakech, particularly if you are looking for a break from staying at traditional riads and want a resort experience with amenities like pool-side service, which you may not find at a riad. We were so glad we made the decision to stay at a resort hotel for at least a couple of nights during our trip.
Riad Kaiss
If you are looking for a luxury riad experience that is authentic, yet caters to English-speaking visitors, look no further than Riad Kaiss. Located in the heart of the old city, it is only about a five minute walk from local transportation and the Jewish quarter, and 10-minute walk to Jemaa El Fna Square.
When you enter Riad Kaiss, you are immediately made to feel at home with the traditional welcome drink of Moroccan mint tea in the beautiful courtyard. Even though Riad Kaiss is located on a side street, the courtyard is still surprisingly quiet and peaceful, and even has a resident pet turtle named Couscous.
This hushed atmosphere is perfect for afternoon tea or a pre-dinner cocktail. The riad also has a restaurant serving traditional Moroccan cuisine for breakfast and dinner. Although for breakfast, we also took advantage of having our meal brought up to our private rooftop terrace.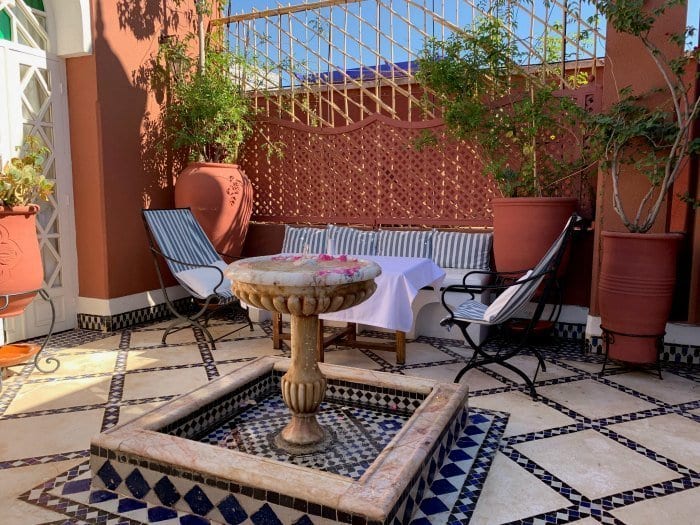 The staff couldn't be more helpful, both in guiding you wherever you need to go so you don't get lost in the medina, and catering to your needs at the hotel. We had a very early departure for our flight from Casablanca and the staff even packed us up generous breakfast/lunch packages to go for our ride to the airport and left us with a thank you gift as well.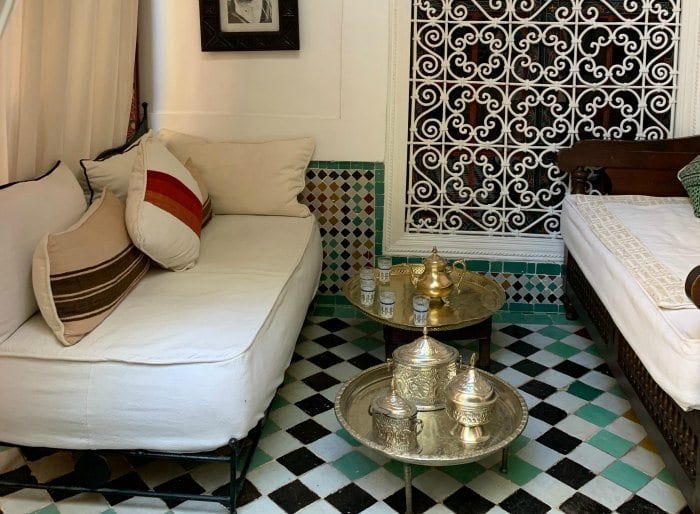 Riad Kaiss is a 16th century building which was once the home of Sultan Moulay Yacoub, ruler of Marrakech. Today, this nine-room riad offers a mix of deluxe and superior rooms, as well as suites. We stayed in a two-room suite on the top floor with a private terrace.
The first room as you make your way up the stairs offers a single bed, table, chairs, and a fireplace. Open the French doors and you will step out onto the private roof terrace, complete with two lounge chairs, a sitting area with table, and a small fountain in the middle.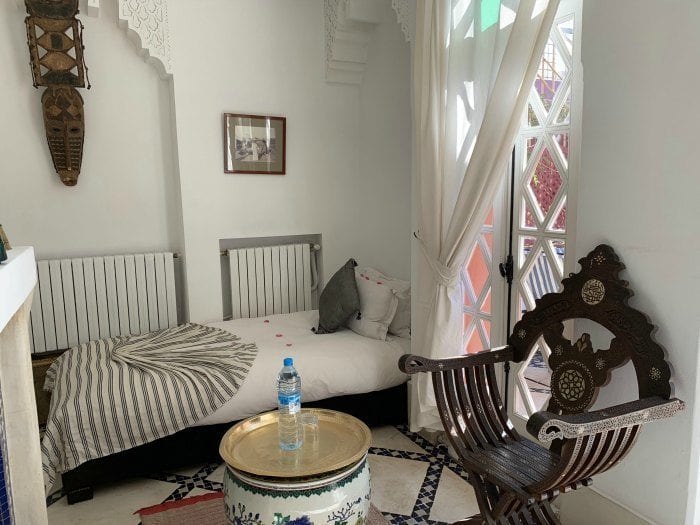 Another set of French doors brings you into the master bedroom and bathroom. While the WiFi may be slow all the way at the top of the riad, it does offer other modern conveniences such as air conditioning, which would be essential for a summer visit.
Riad Kaiss is a full-service riad, complete with a small rooftop pool and hammam. The staff can arrange for a massage, make dinner reservations, or help you set up local excursions. We really enjoyed our time here too.
It is hard to choose which experience we liked better, since both were different. I'm glad we had the opportunity to get a taste of each on this trip. Just keep in mind, if you are only visiting Marrakech, go for the authentic riad experience. If you are visiting Marrakech at the end of your trip, considering relaxing at a luxury resort property. You can't go wrong either way!
[plan-trip]
Visiting Morocco? These articles may also help you plan your trip:
[/plan-trip]
PIN THIS FOR LATER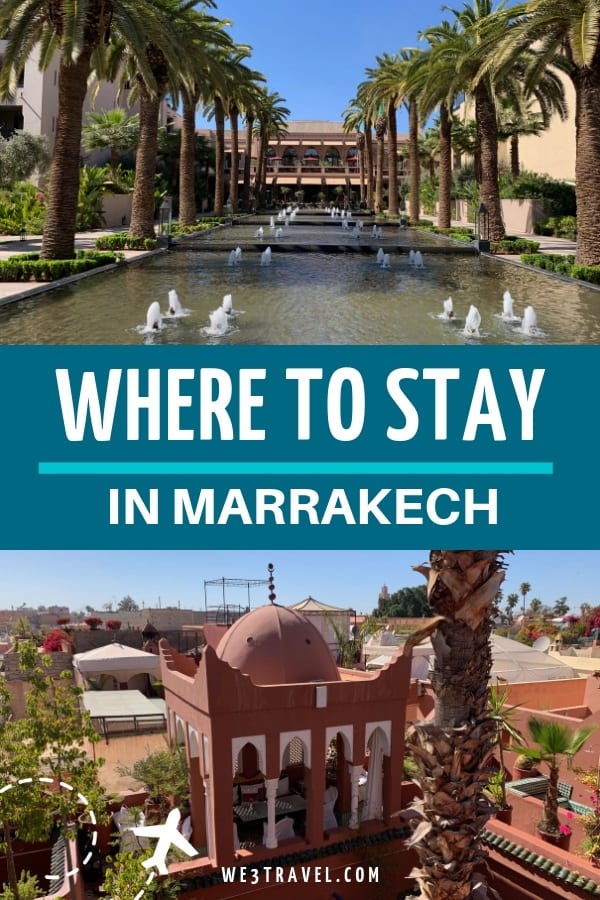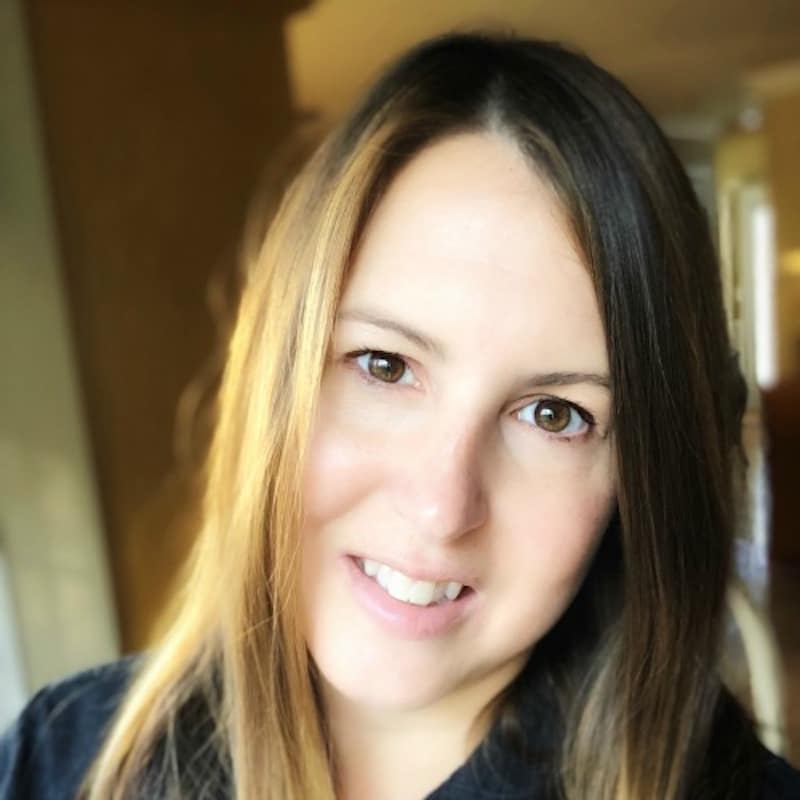 Tamara Gruber is the Founder and Publisher of We3Travel. A former marketing executive and travel advisor, Tamara is an award-winning travel writer and recognized expert in family travel. She is also the publisher of YourTimetoFly and the co-host of the Vacation Mavens travel podcast.