If you are looking for information on Chefchaouen Morocco, you likely have seen pictures on Instagram or Pinterest of this Blue City. It is easy to be captivated by this picturesque town, often called the "Blue Pearl" of Morocco. It is tempting to add it to your Morocco itinerary, but there are a few things that you need to know before you book a trip.
1. Chefchaouen is hard to get to
Note: This post contains affiliate links. If you click a link and make a purchase, I may receive a small commission. All opinions are my own.
We visited Morocco for 12-days in March and I was determined to fit the Blue City Chefchaouen into our itinerary. After all, I too am prone to finding travel inspiration on Instagram. The only way to make this happen was to head straight to Chefchaouen upon our arrival into the country in Morocco.
Because we had scored a good deal on Air France, this meant flying from the USA to Paris, Paris to Casablanca, and then spending six-and-a-half hours in the car getting to Chefchaouen.
As we wound through narrow mountain roads, usually stuck behind slow-moving trucks and the occasional donkey-drawn cart, the journey felt endless! As tired as we were, we were equally glad that we had hired a driver through Epic Morocco for our journey.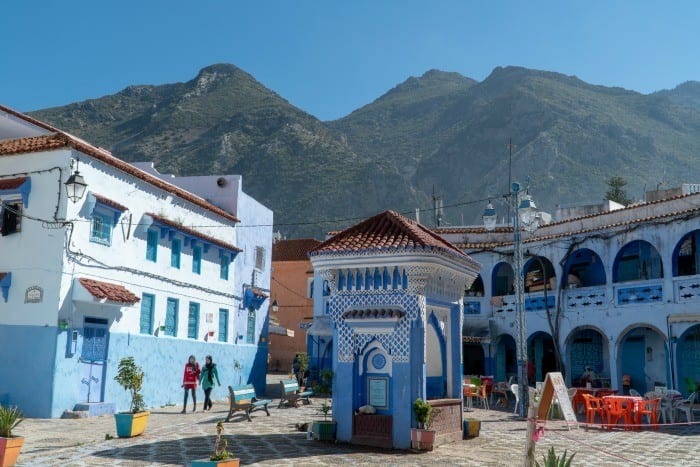 Because of Chefchaouen's location in the Rif Mountains, in the northern part of Morocco, it isn't easy to get to. You can't fly in or take the train. The options are to take a bus from Casablanca, Rabat, Tangier, Fes, or another local town, rent a car, or hire a driver.
Chefchaouen is about 6.5 hours from Casablanca, 4+ hours from Rabat, and 3.5-4 from Fes. One thing we learned in our journey through Morocco is always to expect it to take much longer than they say.
2. There aren't a ton of things to do in Chefchaouen
After taking all that time to get there, you would expect that it is a place that you can stay for days and there is tons to do, right? Not so. Chefchaouen is a great place to spend a day, maybe two. If you also wanted to hike in the surrounding national parks, you could maybe stretch that out a bit.
Visiting Chefchaouen isn't so much about doing, it is really about wandering and enjoying. The Chefchaouen medina isn't as large and confusing as it is in Fes or Marrakech so it is the perfect place to wander, explore the narrow streets, and then stop and sip some mint tea and soak up the culture.
If you are looking for things to do in Chefchaouen, here is what I recommend: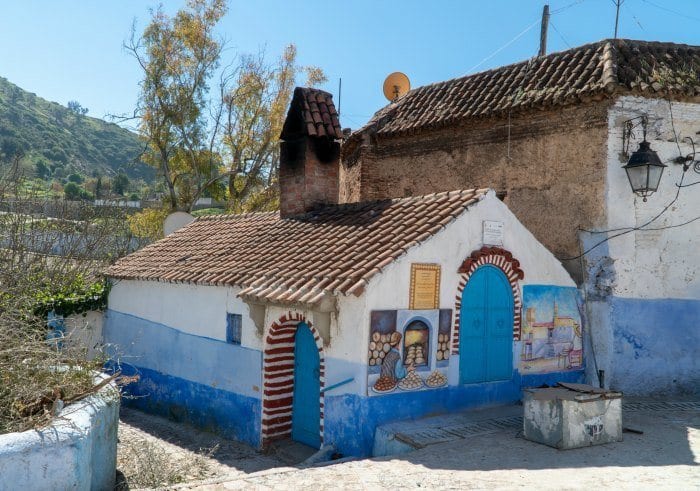 Half-day guided tour – we kicked off our visit with a half-day guided tour with a local guide. He made it clear that this was a cultural tour, not a shopping tour, and we learned so much about local history and culture. For example, they repaint the town blue twice a year in coordination with festivals and keeping the medina clean is a way of showing piety. He was able to point out some of the cultural sites that we may not have found on our own, as well as help us find some of the more Instagram-worthy spots.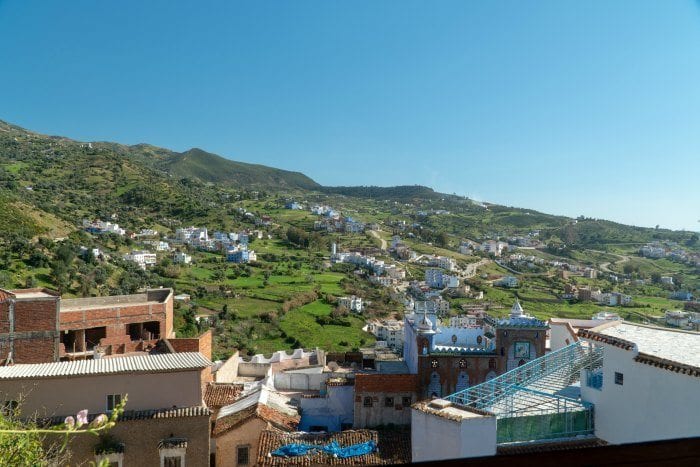 Visit the kasbah – a visit to the kasbah was not included in our tour so we decided to visit on our own. It was only 60 dirhams per person (about $6.00) to enter. There isn't a lot to see inside except the gardens, but it is worth climbing the tower for views of the mosque, the town, and the countryside.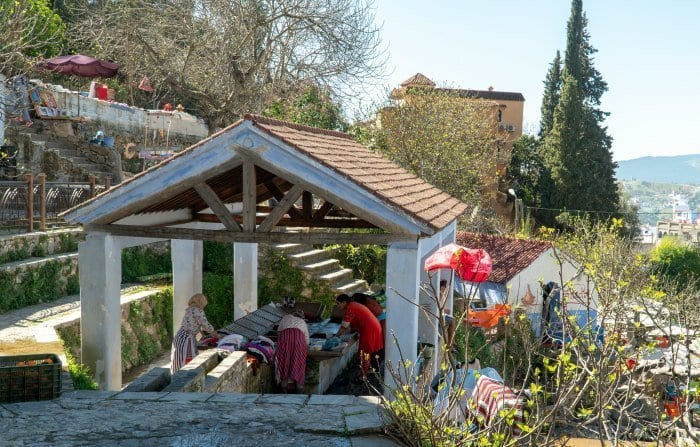 Find the Ras El Ma natural spring – if you follow the river out of town and up the hill, you will find its source at a natural spring. This is also where the local women gather to do laundry. It was interesting to learn the EU was involved in building washing facilities for them as part of an effort to improve life in Morocco and minimize immigration to the EU.
Catch a sunrise and/or a sunset – it isn't hard to wake up early in Chefchaouen if you are staying inside the city as the call to prayer is pretty tough to sleep through (except when I was using my SleepBuds.) I was able to go up to one of the rooftop terraces at Lina Ryad, where we were staying, to watch the sunrise over the city and listen to the roosters crowing from the nearby roofs.
If you are feeling energetic, for sunset you can hike up to the "Spanish Mosque", which is a ruin situated on a hill outside of the medina. From there you will have a beautiful panoramic view across the city.
Limited shopping – it is hard not to shop when you are wandering around the medinas in Morocco. However, you need to be aware that a lot of the goods for sale are imports. If you want to get the real deal, make sure you are buying goods that are produced locally. For example, the best argan oil is found between Marrakech and Essaouira. Fes is the place to get leather goods and pottery — but from the craftsmen and co-ops, not just any old shop in the souk.
The only goods made locally in Chefchaouen are woven items such as rugs, blankets, and jellabas (traditional long robes with pointed hoods.) Many are woven by the blind at a local cooperative (you can peek in and see them at work if you want.)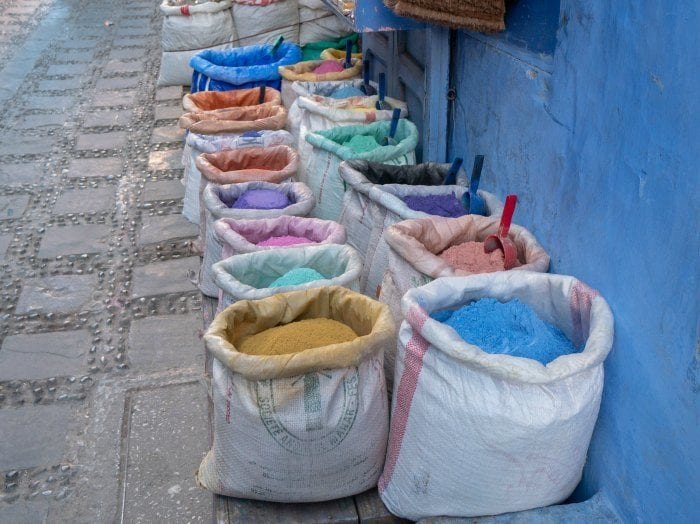 Visit a hammam – Lina Ryad has its own hamman, and it was nice to peek in there on chilly mornings to let the steam warm you up.
If your riad or hotel doesn't have a hammam, you can visit the local baths for a scrub and a soak, including one that dates back to 1549!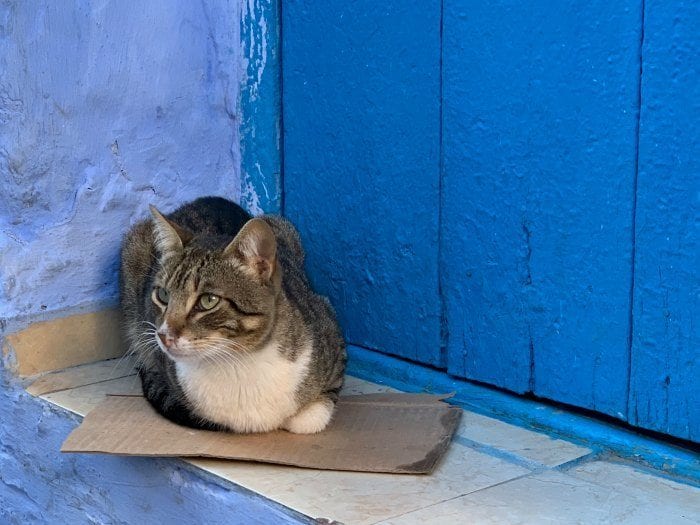 Take a ton of pictures – duh! That is why most people visit Chefchaouen and finding photogenic spots is not too hard. When you are heading out of town, don't forget to pull off at the overlook to get a great shot looking back at the city.
Chefchaouen, Morocco is cheap and great for budget travelers
Morocco is not an expensive country (see my Morocco trip budget), but in cities like Marrakech you can easily spend $500-1000 a night at a luxury resort. However, you will be very pleasantly surprised by the prices in Chefchaouen.
On the flip side, it isn't the best town for those seeking luxury and amazing food experiences. We stayed at Lina Ryad, which many say is the nicest riad in Chefchaouen. We were more than pleased with our stay, but it certainly wasn't at the same level as Riad Fes where we stayed at the next stop. But you can also book it for around $150 a night. Quite a steal for what you get!
Food was also inexpensive. Our lunch with three main courses was only about $25. Similarly, dinner for two was around $30-40. And there is only one place to drink alcohol in town, so that saved us some money too.
Don't go for a day trip
We visited in March, which is the beginning of high season. For a small town whose tourism has quintupled in the last 20 years since they began repainting the buildings blue to attract visitors, I didn't think that the crowds were too bad.
There were certainly tour groups coming through the narrow streets in the middle of the day, and some lines at the hottest Instagram spots, but it was manageable. Some busses come into town just for a day trip and I think visiting for such a short period would really be a waste. It is too much time on the road for a quick visit.
I would definitely encourage you to stay two nights so you have one full day to enjoy the town without the day trippers. Just keep in mind that there are not a lot of hotels, so you really should book early if you want to stay overnight.
It really is as pretty as you see on Instagram
The Blue City of Morocco really is as pretty as you see on Instagram. No lie. When you see it from a distance, or if you are only looking at the rooftops, it is going to look white. But when you walk through the medina and see the vibrancy of the blue walls and take in the many shades of blue painted throughout the town, you can really see its charm.
My husband was expecting the blue color like the roofs of Santorini in Greece so he felt a little let down. But honestly, I don't know how. I thoroughly enjoyed wandering the streets, looking at all the blue buildings, and getting to appreciate the uniqueness of Chefchaouen.
Where to stay in Chefchaouen
As I mentioned, we really enjoyed our stay at Lina Ryad. I saw some reviews of people complaining that it wasn't as luxurious as they expected, but I think they just had the wrong expectations. The people were very friendly and helpful, the included breakfast was delicious, and I absolutely loved the rooftop terraces.
Our room was large and while the decor wasn't fancy, it felt very authentic. And we really appreciated the little alcove with a single bed for my daughter to have her own little hideaway. J
Just keep in mind when you are staying in a riad that there is a lot of tile and stone so noise echoes within the building, and you will hear noise from outside as well (kids playing, call to prayer, etc.) A good pair of ear plugs or Sleep Buds can help with that.
There are also going to be a lot of steps to climb. However, the staff will bring your luggage up and down and frankly, I found this to be a lot of the charm of staying in a riad.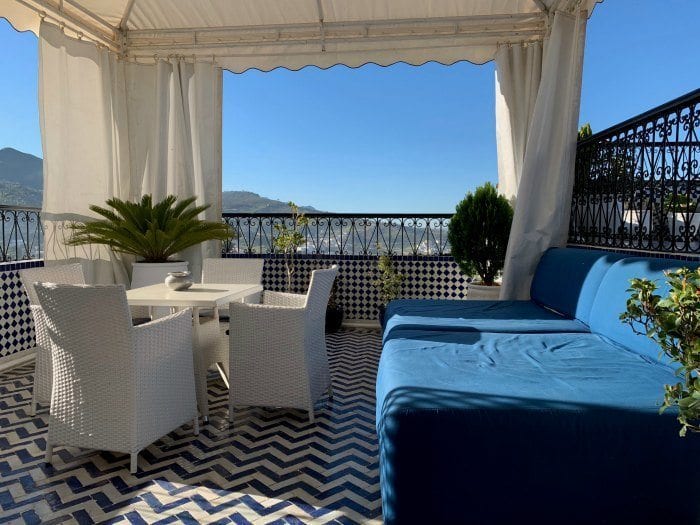 See more pictures and check other reviews on TripAdvisor
Where to eat in Chefchaouen
We asked both our driver and our local guide for recommendations on where to eat in Chefchaouen. I have a feeling most tourists tend to flock to the main square, because there are so many restaurants there inviting people in and it makes for a great people watching spot. However, we were advised to go elsewhere for a more authentic experience (although I still regret not trying a camel burger at Cafe Clock.)
We had lunch at Lala Mesouda, which had a very friendly staff and quirky yet authentic feeling decor. You could tell the Spanish influence on Chefchaouen with the Gypsy Kings playing in the background. This is where I started my love affair with kefta tagine (meatballs in a tomato sauce with egg), which was brought out still sizzling to the point that I needed a napkin to shield me from the splatter.
We opted for a quieter, slightly more upscale dinner at Casa Hassan (don't be surprised by the mixture of Spanish, French, and Arabic in Chefchaouen.) Here are three-course dinner is only about $15 each.
Our tour guide also recommended Pizzeria Mandala if you need a break from Moroccan food or want something lighter like a salad.
Whether or not a visit to Chefchaouen is worth including in your Morocco itinerary is really a matter of how many days you have in Morocco and how much time you are willing to spend in a car or on a bus to see this charming town. But will you love it when you get there? I'm betting you will.
PIN THIS FOR LATER