Salem, Massachusetts is best known for the Salem Witch Trials which took place in this Coastal Massachusetts town over 325 years ago. Today, more than one million people visit Salem each year, especially during October, for all things witchy. But this charming seaport town doesn't need to be spooky or creepy. In fact, there are plenty of things to do in Salem with kids that don't have anything to do with witches.
Personally, we aren't into the macabre, spooky, or haunted; nor am I drawn to the Halloween-themed shops or New Age and Wiccan boutiques scattered throughout the town. However, we do enjoy the history of the town, the museums, the harborfront, the cute shops, and the good restaurants. Together, these make Salem a great day trip destination.
Located just 30 minutes north of Boston, Salem is an easy day trip from Boston, Portland, ME, Portsmouth, NH, or even our home in Rhode Island. You can also combine it with a day in nearby Gloucester.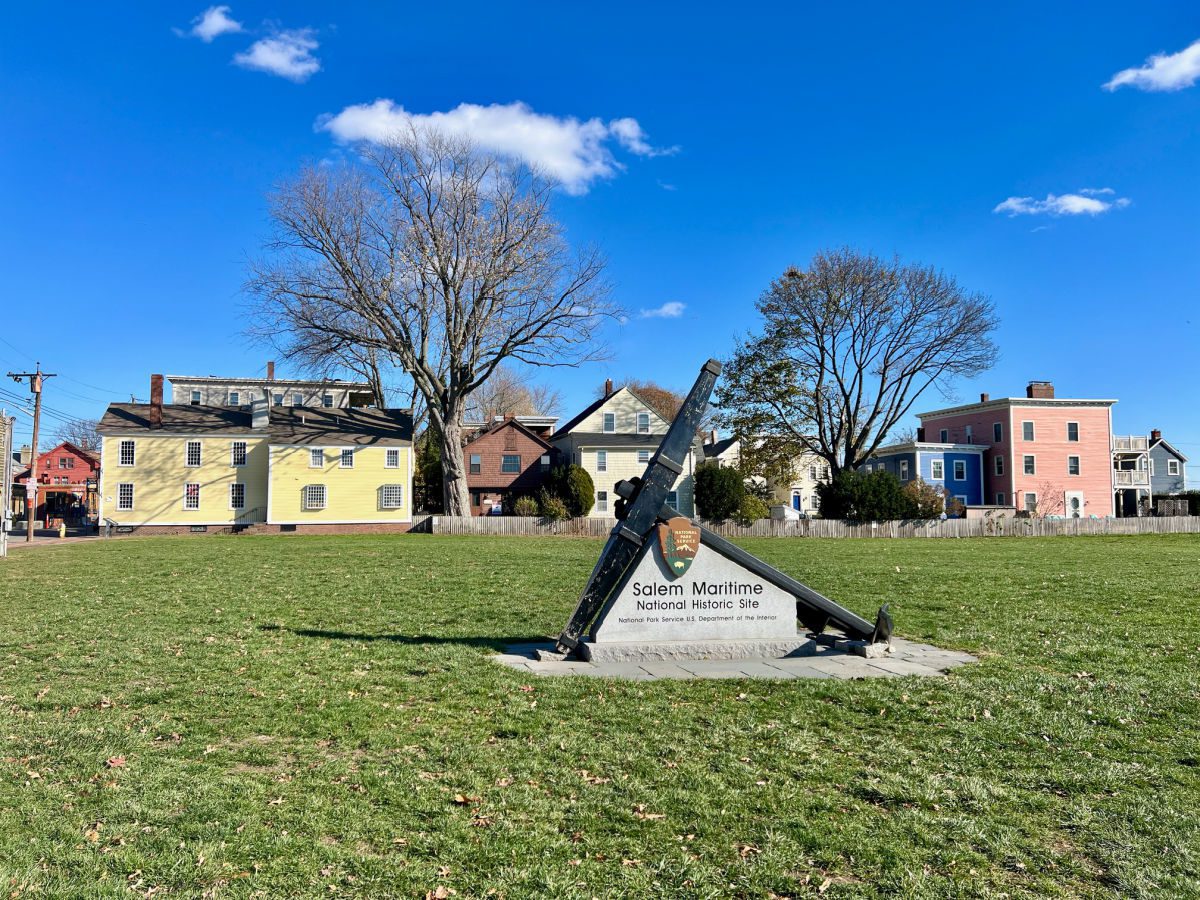 What is the Best Time to Visit Salem, MA?
If you do like all things spooky, Salem is still a great Halloween destination during the town's month-long "Haunted Happenings" in October, with events like parades, street fairs, family film nights on the common, lantern tours, costume balls, haunted houses, live music, and chilling theatrical performances.
Personally, we like to visit in September or early November, when the leaves are changing color and the Salem Common is lined with yellow Ginkgo leaves. Just keep in mind that if you visit during the off-season, some of the town's prime attractions, like the Salem Trolley and harbor boat tours on the Schooner Fame will be closed for the season.
Things to do in Salem with Kids
Note: This post may contain affiliate links. If you click a link and make a purchase, I may receive a small commission. All opinions are my own.
Salem Maritime National Historic Site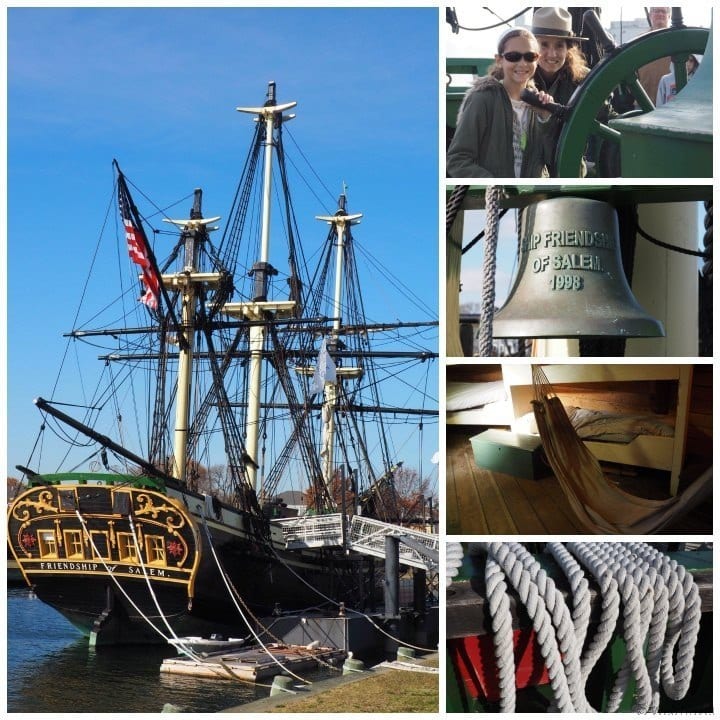 One of our favorite things to do in Salem with kids is to spend time on the waterfront at the Salem Maritime National Historic Site (one of Massachusetts' famous landmarks). I would recommend stopping into the Salem Visitor Center when you arrive and sign up for a tour of the Friendship of Salem, a replica of a 1797 East Indiaman sailing vessel now operated by the National Park Rangers.
They only allow 25 people at a time onto the Friendship on guided tours only so it is a good idea to make the Visitor Center your first stop in Salem to get signed up. You can also pick up a Junior Ranger booklet to complete and return for a Junior Ranger badge.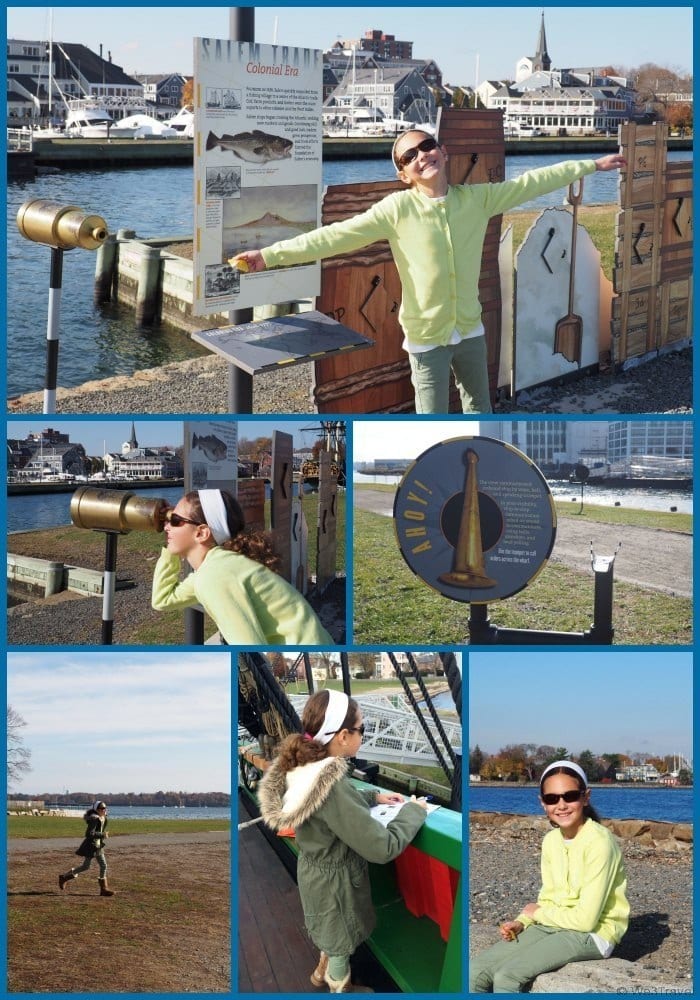 The Salem Maritime National Historic site is also a great place for kids just to run around and have fun. We were quite bewitched by the wharf and ended up spending at least an hour here chasing pigeons, taking in the view, and exploring all the educational exhibits along the wharf that explain the site's history in trade and cotton production.
Salem Witch Museum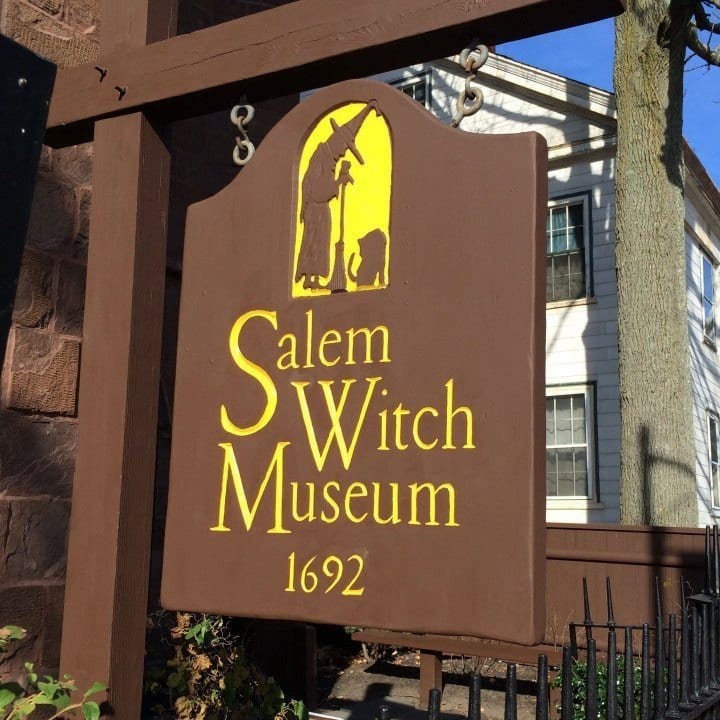 Because Salem's main draw is the witch trials, we have made the obligatory stop at the Salem Witch Museum. While there are many museums in Salem dedicated to the witch trials — the Witch House, the Witch Dungeon Museum, the Witch Trials Memorial, the Witch History Museum — the Salem Witch Museum is heralded as Salem's most visited museum. If you want to learn more, you can also take a Salem Witch Trials walking tour.
Not quite a museum in the traditional sense, when you first enter you join a "presentation" that begins at regular intervals. I have to say, it wasn't at all what I expected. My assumption was that there would be some sort of movie or interactive presentation that told the history of witch trials without sensationalizing or over-dramatizing the devil worship/witchcraft aspect since it was later proven to be all a falsehood started by a group of girls that were either bored or caught up in mass hysteria.
Instead, when we entered the presentation we were seated in chairs set surrounding a witch's circle in red on the floor in the center. The lights go out and the soundtrack comes on, lighting up a series of dioramas on the outskirts of the room. The presentation starts out by highlighting a statue of Satan with a creepy voice talking about devil worship and witchcraft — dramatic and a bit much for younger kids.
It then goes on to talk briefly about how they assume the rumors of witchcraft started, the trials, the conditions in the prisons, and how the accused were tortured and then hung or pressed to death. It concluded with a discussion about how the accuser later recounted and the victims were declared innocent.
After the presentation, the group moved to a second area where we were told about the history of witches and the perceptions of witches through the ages and reminded how "witch hunts" of various forms still take place today. After chatting with my daughter after our visit, we both agreed that we wouldn't recommend it for kids under 10, depending on their maturity and how easily they scare.
The Salem Witch Museum is located at 19 1/2 Washington Square North, Salem, Massachusetts and is open daily 10 am – 5 pm, with longer hours in the summer and during Haunted Happenings. Same-day tickets are sold online only beginning at midnight.
Peabody Essex Museum
The Peabody Essex Museum should be on your "must-visit" list for our day in Salem with kids. The roots of this museum go back to 1799 and the East India Marine Society, and much of the art found at the PEM reflects those roots, with a wide selection of maritime art including model ships, maritime artifacts, and art objects from Asia, Oceania, India, and elsewhere.
The Maritime art and history were interesting, but I really loved how well the Peabody Essex appealed to families. The Dotty Brown Art & Nature Center has hands-on activities, discovery drawers, games and computer stations, to engage and explore. Complimentary Gallery Discovery Kits sends kids on treasure hunts throughout the museum. Plus, kids under 16 are free and there is even a room for nursing mothers.
The Peabody Essex Museum is located at 161 Essex St in East India Square.
The House of Seven Gables
Made famous by American author Nathaniel Hawthorne's 1851 novel of The House of the Seven Gables, this home and grounds is now a National Historic Landmark District. Built in 1668 by merchant and shipowner John Turner I and his wife Elizabeth Robinson Turner, you can learn the full history and tour the rooms of this historic home on a guided tour.
Officially called the Turner-Ingersoll Mansion, same-day tickets are available on site when not sold out, or they can be purchased in advance online.
The House of the Seven Gables is located at 115 Derby Street, Salem, MA
New England Pirate Museum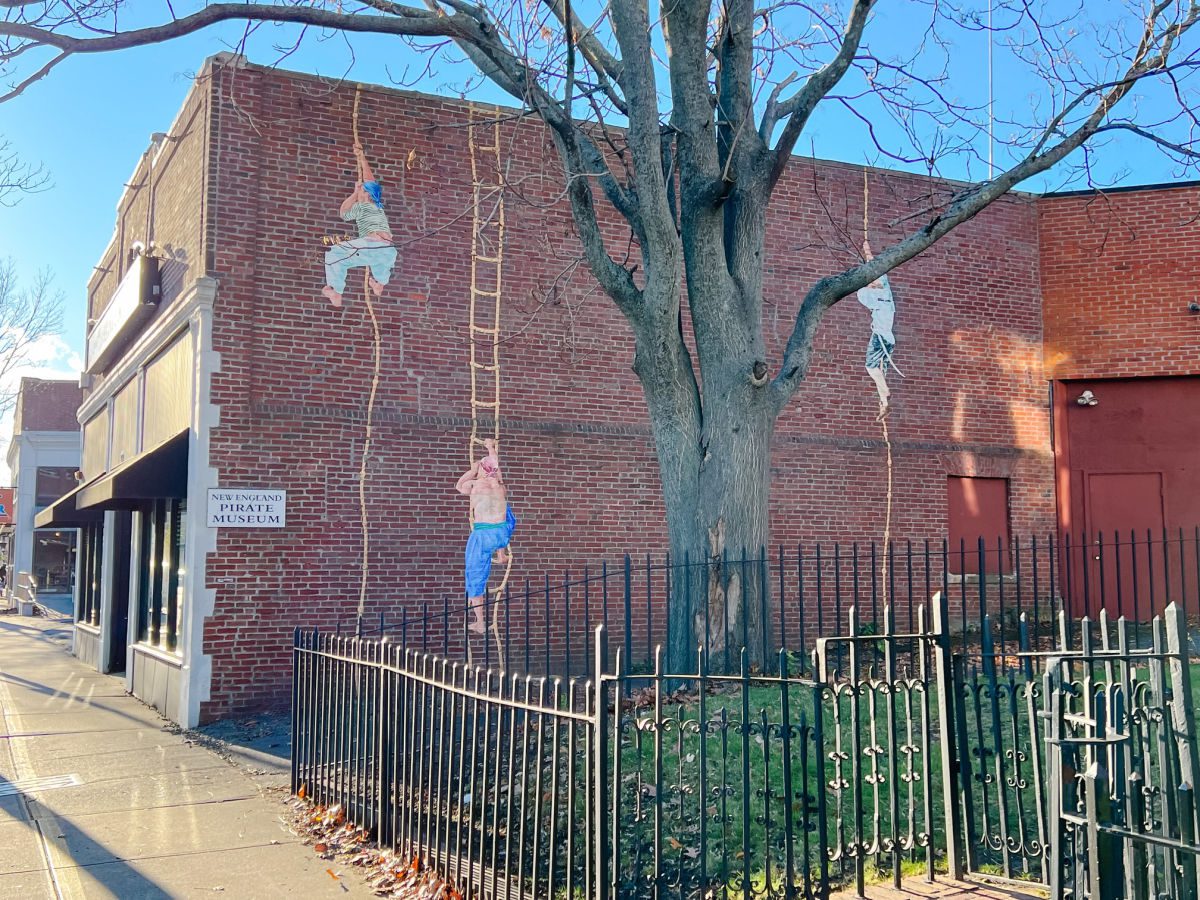 This small museum, located just a short walk from the harbor or the Peabody Essex Museum, tells the unique and little-known history of New England sea-robbers. Visitors can take a guided tour and explore pirate artifacts and authentic pirate treasures. You will stroll through a recreation of a colonial seaport, climb aboard a pirate ship, and explore an eighty foot cave.
Guests will learn about some 60 buccaneers on a 20- to 30-minute walking tour. This museum is only open from May through October 31st.
The New England Pirate Museum is located at 274 Derby St, Salem, MA
High Tea at Jolie Tea Company
One of the special things I just discovered to do in Salem with kids is to enjoy high tea at the Jolie Tea Company. This lovely tea shop offers a wide selection of tea and pastries to in-cafe dining or to go. However, the high tea set up is simply darling and such a memorable top off to your time in Salem.
The Jolie Tea Company offers a Children's High Tea at Jolie on Friday afternoons for children 6-12. You can also make standard high tea reservations at other times.
The Jolie Tea Company is located at 316 Derby Street, Salem, MA
Salem Witch Memorial
Dedicated in 1992, the Salem Witch Memorial consists of 20 benches, each engraved with the name, date of execution, and method of execution for each of the wrongly condemned. Outside the memorial, you will find a plaque with the words of the victims engraved on it. Nearby, you can walk through the Old Burial Point and Charter Street Cemetary.
It can be a bit spooky visiting here at night and I can see why people into ghost tours would enjoy coming to Salem.
The Salem Witch Memorial is free to enter and is located at 24 Liberty St, Salem.
The Witch House
The Witch House, which was the former home of Judge Jonathan Corwin and is one of the few structures you can visit in Salem with direct ties to the Salem witch trials of 1692. This is also where Roger Williams, founder of Rhode Island, once stayed before being ousted from Massachusetts.
You can take a self-guided tour of the house, but what many people like to do is take a fall photo in front of the house as it gives those perfect spooky, hocus pocus vibes.
The Witch House at Salem is located at 310 Essex St, Salem, MA
Our day in Salem, MA definitely bewitched us…but it was the Friendship, the Wharf, the Peabody Essex, and this quaint colonial seaside town that captivated us…not the witches.
If you are visiting Salem with teens, they may be interested in the Salem Witch Village, which is guided by a practicing witch and covers the myths and the facts surrounding legends of witches and their craft. You could also try the Salem Wax Museum. Personally, I find all wax museums a bit creepy so that isn't my cup of tea.
You could also try a Salem ghost tour with teens or you could try a self-guided tour of Salem's Hocus Pocus filming locations.
Where to Eat in Salem, MA
If you are hungry for some seafood, head over to Pickering Wharf to Finz Seafood and Grill for a lunch of lobster mac n' cheese, a lobster roll, calamari, or oysters. On the Wharf, you can also try Longboards Restaurant and Bar or Sea Level Oyster Bar, all of which offer some waterfront views.
If you are looking for something a bit more casual, inexpensive, and family-friendly, you could also try Witch's Brew or Mercy Tavern for sandwiches, salads, and burgers. You can also try Notch Brewing and Biergarten for a lively atmosphere.
Bit Bar is another great choice with kids as it offers classic arcade and pinball games along with comfort food, and a full bar.
For treats, stop into the Ye Olde Pepper Companie, America's oldest candy company, near the House of Seven Gables, or Goodnight Fatty, a cookie bakery near the Salem Witch Museum.
Frequently Asked Questions
Is Salem, MA good for kids?
While Salem, MA is known for the Salem Witch Trials and the Haunted Happenings which occur in October, there are plenty of other things to do in Salem with kids including the Peabody Essex Museum, the Salem Maritime National Historic Site, the Pirate Museum, high tea at Jolie Tea Company, and games at the Bit Bar. I would recommend avoiding visiting in October when the town is very crowded with visitors looking for all things witchy.
Is Salem Witch Museum too scary for kids?
I would not recommend the Salem Witch Museum for young children under 10 or those that are sensitive to scary movie scenes or subject matter. Most of the museum is not scary but the initial dramatic presentation about devil worship and sorcery is a bit much. We went when my sensitive daughter was 10 and she did not like that at all and didn't find the rest of the museum particularly interesting either.
How many days in Salem is enough?
Salem makes a perfect day trip from Boston or neighboring areas. Unless you wanted to take an evening ghost tour and you were coming from far away, you don't need to stay overnight unless you want to visit more than three attractions. In a weekend, you can easily see all Salem has to offer. If you do decide to stay in Salem, you can also visit nearby towns of Gloucester, Rockport, or even Newburyport.
What were the Salem Witch Trials?
In 1692, 20 innocent men and women were put to death because they were believed to be witches. While this temporary outbreak of hysteria and witch hunting was tragic, it pales in comparison to the number of "witches" burned at the stake or tortured in Europe during the early Modern Period, yet it is a stigma and a history that has hung over the town ever since. These witch trials, which were portrayed in Arthur Miller's The Crucible, overshadow the town's rich history as an important seaport.
Where to Stay in Salem
If you decide to stay overnight in Salem, the Hawthorne Hotel is a great option in a central location within easy walking distance to all the main attractions. Another good option for waterfront views and easy access to the Maritime Site, House of Seven Gables, and the seaport area is the Salem Waterfront Hotel & Suites.
Books to Read Before You Go
Books About Salem, MA
Here are some recommended books to read before visiting Salem, MA.
Save this to Pinterest