The historic fishing village of Gloucester makes an excellent day trip from Boston, or a perfect destination for a weekend getaway in New England. America's oldest seaport, Gloucester oozes historic charm with an authentic mix of working fishermen, artists, and visitors.
While people used to come to see the port made famous by the movie The Perfect Storm, today TV fans visit to see the bluefin fishing boats featured in the Nat Geo show Wicked Tuna. There are plenty of fun things to do in Gloucester to fill a day or even a weekend, depending on how much time you might want to spend on the beach or the season when you are visiting.
Best Things to do in Gloucester, MA
1. Get Out on the Water
It is impossible to appreciate a historic, fishing village such as Gloucester without getting out on the water, following the path of so many that have come before. Luckily there are many options available, depending on your budget, interests, and time available, and many of these are available still in 2020.
Whale Watch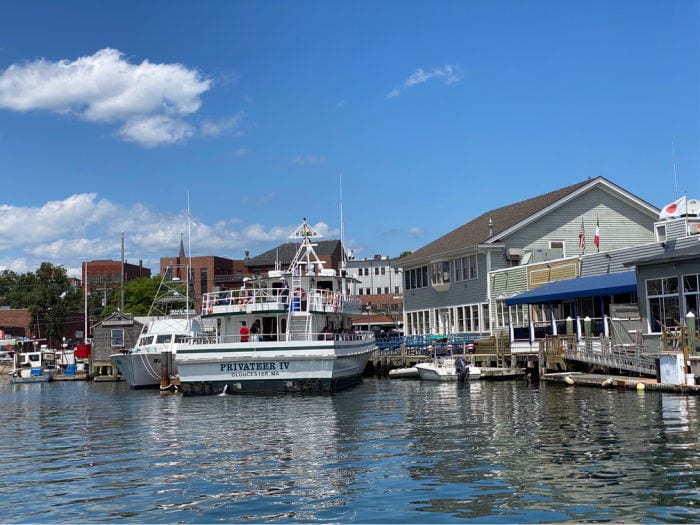 Gloucester offers some of the best whale watching in the world, with humpbacks and minke whales making regular appearances. 7 Seas Whale Watch, which leaves right from downtown Gloucester, is currently offering two sailings a day to Stellwagen Bank National Marine Sanctuary — with guaranteed whale sightings! This family-run business has been offering whale watching tours for three generations over seven decades.
7 Seas typically offers sailings from mid-April through mid-October but be sure to check the website for current schedules.
Whale watching is also available from Cape Ann Whale Watch aboard the largest, fastest ship in Gloucester.
Schooner Sail
There are a number of historic schooners that offer private or public sailings out of Gloucester. Schooner Ardelle is currently offline received renovations during this period but sailings are still available on Schooner Thomas E. Lannon.
The Schooner Thomas E. Lannon is currently running 1.5-hour public cruises once or twice a day (weekends). Be sure to check the website for the schedule and their social distancing and mask use policies.
Harbor Shuttle
If you want a cheap way to get out on the water or you are taking an impromptu trip, the water shuttle is a perfect option. It leaves from two downtown ports and The Studio restaurant in Rocky Neck. Adult tickets are $10 for all-day hop-on / hop-off privileges, or you can stay on for a harbor tour as it moves from port to port.
Advance tickets are not required, you can check out the schedule at the dock at St. Peter's Marina or Solomon Jacobs Public Landing in Harbor Loop.
Fishing
Of course, if you really want to feel the connection to Gloucester's fishing culture, you can go deep-sea fishing. Half and full-day public and private charters are available from Adventures at Yankee Fleet.
Fishing charters head out to Stellwagen Bank and Jeffrey's Ledge, where you can catch haddock, pollock, cusk, hake and redfish, and halibut, and currently one cod per person.
2. Visit the Artist Colony on Rocky Neck
Located in Gloucester's Inner Harbor, Rocky Neck is the oldest working art colony in the United States. You can visit to browse the shops and art galleries that line the streets or pop into the studios that might be open to watch the artists at work. Keep in mind that right now, some galleries may be temporarily closed.
To get to Rocky Neck, you can take the water shuttle to the stop at The Studio restaurant (and have lunch before or after exploring the area.) If you are driving, free parking is available in a parking lot on Rocky Neck just after turning onto Rocky Neck Ave. Street parking is also available.
3. Walk Along the Harbor
When you arrive in Gloucester, stop by the Visitor Welcome Center at Stage Fort Park. You can then park along the road and walk along the Harbor Walk along Stacy Blvd. towards downtown. Kids especially will love watching the drawbridge go up and down to let through boats at the Cut Bridge.
This is also where you will find the iconic Gloucester Fishermen's Memorial. Designed by English sculptor Leonard F. Craske, this eight-foot-tall, bronze statue of a fisherman dressed in oilskins stands braced at the wheel on the sloping deck of his ship and is looking out over Gloucester Harbor. The memorial is dedicated to "They that go down to the sea in ships" from 1623 to 1923. The plaques surrounding the memorial remember fishermen from Gloucester who were lost at sea.
Before you get to that more famous memorial, you will also come upon the Fishermen's Wives Memorial. This statue honors the women who have been the soul of fishing communities.
4. Take a Foodie Tour
It is without question that Gloucester is home to some of the freshest and tastiest seafood. But if you take some time to explore downtown Gloucester along both Rogers and Main Street, you will find cool coffee shops, an Italian bakery that will have you following your nose as your mouth waters, and all sorts of restaurants offering outdoor dining.
Either explore on your own or take a food tour with Cape Ann Foodie Tours. I always love a good food tour, and the Taste of Gloucester tour stops at five or six local vendors to try chowder, bacon-wrapped scallops, beer tastings, Italian cannoli, and a sandwich that is a favorite of locals. Along the way, you can learn more about the 400-year history of Gloucester.
5. Cape Ice
Cape Pond Ice Company has been icing Gloucester's fleet since 1848, producing up to 150 tons of ice a day, including 300-pound blocks. Typically they offer tours of the facility.
Instead, you can also purchase ice or visit the gift shop. Plus, you can check out any fishing boats being loaded with ice and peek inside the refrigerated "icehouse".
6. Good Harbor Beach
There are a number of small beaches accessible from the downtown area, including Half Moon Beach out by Stage Fort Park. However, the most famous and arguably nicest beach is Good Harbor Beach, located out of town. Keep in mind that parking is restricted to town residents with permit stickers only and streets are blocked off for parking to limit out-of-town visitors crowding local beaches.
However, if you are staying for the weekend, you may want to consider a vacation rental within walking distance to the beach or one that comes with a permit.
7. Drive Atlantic Rd. to Rockport
If you enjoy a scenic drive, or shopping, drive along the coast on Atlantic Road up to the nearby town of Rockport. The drive offers beautiful views of the rocky coast of Cape Ann, including lighthouses, and the houses that line the cliffs will give you serious house envy! Keep in mind that there is no street parking along this stretch.
Once in Rockport, there is plenty of paid parking throughout town (pay at the kiosk) for you to get out and explore. If you just have a short time, spend it in Bearskin Neck. This highly-touristic area offers so many cute shops, galleries, and restaurants. Grab some ice cream at Sunday's (go early for their homemade waffle cones!) or pick up a lobster roll to go at Roy Moore Lobster Co.
Leave yourself time to walk to the end of Bearskin Neck and across the breakwater jetty for a great photo opp of the Rockport Harbor.
Where to Eat in Gloucester, MA
Blue Collar Lobster
If you are looking for a casual lunch option, eat on the deck at Blue Collar Lobster company for the freshest seafood. Order at the pickup window and then find a table on the covered patio on the water. Bar service is also available. Check for daily specials and pricing, but I can attest to the fried clams being excellent. The batter is very light but crispy, just the way I like it.
Blue Collar Lobster is located at 63 Rogers St, Gloucester, MA 01930 next to the Gloucester House.
Minglewood Haborside
If you want something a little more upscale, but still would prefer to dine outside on the water, Minglewood Harborside is the pick for seafood and sushi. Open for dinner during the week and lunch and dinner on the weekend, Minglewood offers live music, fun drinks, and a stylish setting.
Minglewood Harborside is located at 25 Rogers St, Gloucester, MA 01930.
The Studio
When you are visiting Rocky Neck, stay for lunch or dinner on the outdoor patio at The Studio. Located right where the water shuttle picks up and drops off for your convenience, The Studio offers seafood, sushi, cocktails, and frequent half-price specials on appetizers.
The Studio is located at 51 Rocky Neck Ave, Gloucester, MA 01930.
Where to Stay in Gloucester
If you decide to make a weekend out of your trip to Gloucester, there are many vacation rental options, some within walking distance to the beach. If you are looking for hotel options, you can't beat the location of the Beauport Hotel. This upscale property is located right on the beach in downtown Gloucester, offering the best of both worlds in terms of water views and an easy walk through town.
For a romantic getaway, you may want to try the Harborview Inn located downtown. This small inn offers cozy charm with easy access to restaurants and shops in town.
Getting to Gloucester and Parking
Gloucester is 45 minutes north of Boston on Cape Ann. You can take an MBTA train from Boston's North Station to Gloucester. From the train station, it is a five-minute walk into downtown.
However, if you are arriving by car, you will want to take Interstate 95 to Rt. 128 North to Gloucester. Make your first stop at the Visitor Welcome Center at Stage Fort Park to pick up maps and brochures, ask questions, and plan your day. There is short-term parking at the Visitor Center and a paid parking lot across the street for those who want to spend time on the beach or park. Keep in mind that currently beach parking around Gloucester is restricted to residents with permits only.
There are multiple places in town. Street parking is available along Western Avenue for one or two hours if you can find it. Street parking downtown requires you to pay at the kiosk. There is one small free parking lot downtown and another, larger paid lot off Rogers Street where $5.00 will give you 10 hours of parking.
Have you visited Gloucester? Do you have anything to recommend? You may also want to consider adding a day trip to nearby Salem to your trip.
Save this on Pinterest