Are you a true Bay Stater? You don't need to pahk the cah or have gone to Hahvid to be a Massachusettan. You don't even need to cheer for the Sox or Patriots, but you better hold your tongue if you don't.
If you really want to get to know your home state, or see the best of the Bay State on your visit, take our Massachusetts bucket list challenge. We have even created a downloadable PDF to print and track your progress!
There is so much to see and do in Massachusetts. With centuries of history, a robust arts scene, beautiful outdoors from legendary beaches to mountains, fishing harbors to farmlands, Massachusetts has a little bit of everything.
50 Things to put on your Massachusetts Bucket List
With so much to explore it may take years to see it all. This is where to start. How many of these have you already done?
Please note that if you are reading this during a time of physical distancing, please stay home! You can print off the checklist and see how many you have already done and then make a plan for day trips once guidelines change. Just keep in mind to double check that attractions are open and if there are any restrictions in place before venturing out.
1. Walk the Freedom Trail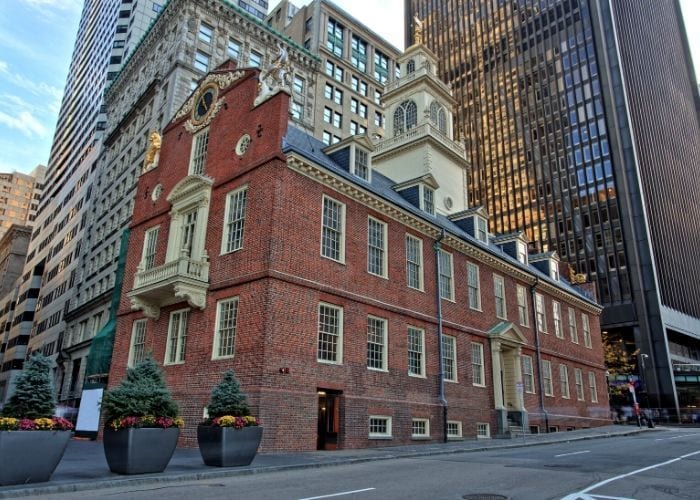 This 2.5 mile historic Freedom trail through Boston stops at 16 historic sites. Take a tour with a costumed guide or explore it on your own. Just tie up your walking shoes and give yourself a full day, or maybe a weekend, if you want to see it all.
2. Go whale watching
Head out into the Atlantic to see humpbacks, minke, and other species on a whale watching cruise. You can find them heading out of Cape Ann, Boston, Provincetown, and other spots along the coast.
3. See the Boston Pops at Tanglewood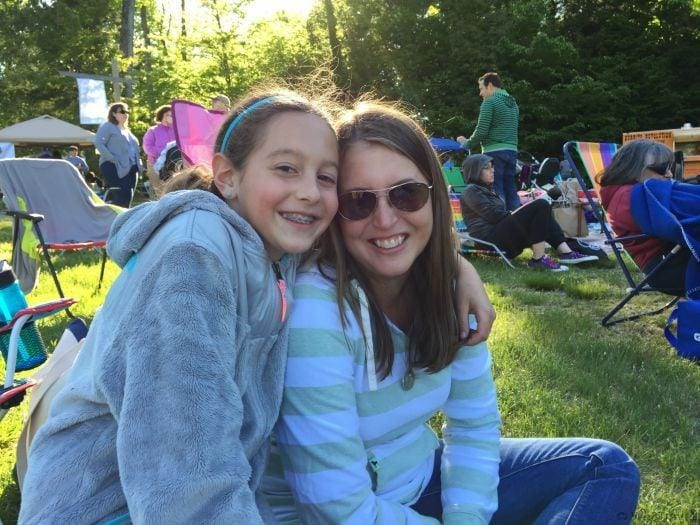 Listening to live music in the outdoor amphitheater at Tanglewood in the Berkshires is an ultimate summer bucket list experience. Go early and bring a picnic to enjoy on the lawn!
4. Take a photo at the Boston Marathon finish line
You may not be able to run the Boston Marathon, although you can walk the course during the annual Jimmy Fund Walk in September, but you can take a photo at the finish line near Copley Square.
5. See Plymouth Rock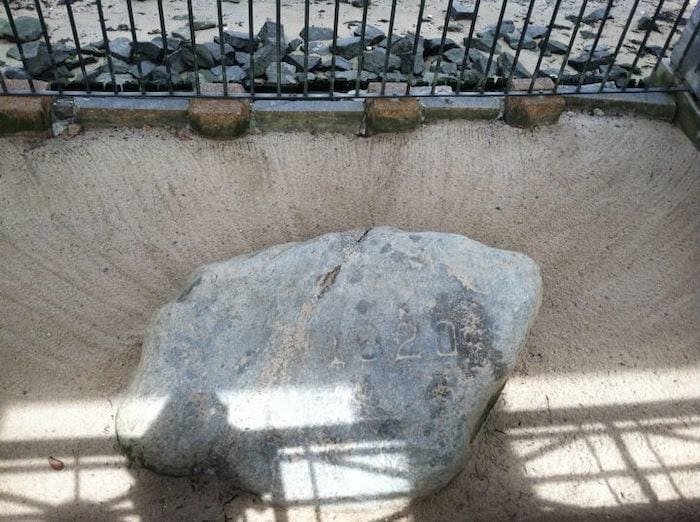 Yes, Plymouth Rock is completely overwhelming. But what it represents is an important part of U.S. history — plus the town of Plymouth is pretty cool to explore.
6. Walk on the beach at low tide on Cape Cod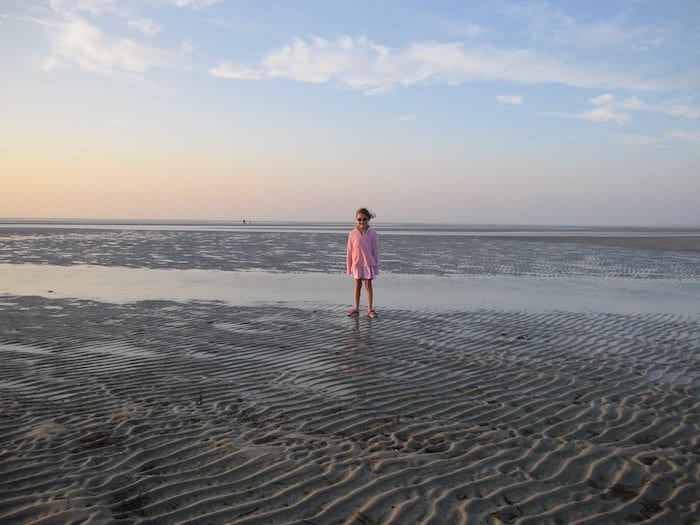 Cape Cod offers 400 miles of coastline to explore from sweeping Atlantic-facing beaches to calm beaches of Cape Cod bay. If you walk out on a bayside beach at low tide you can search for wildlife in the tide pools and walk on the sea floor. It is one of our favorite things to do on Cape Cod.
7. Take a photo of a lighthouse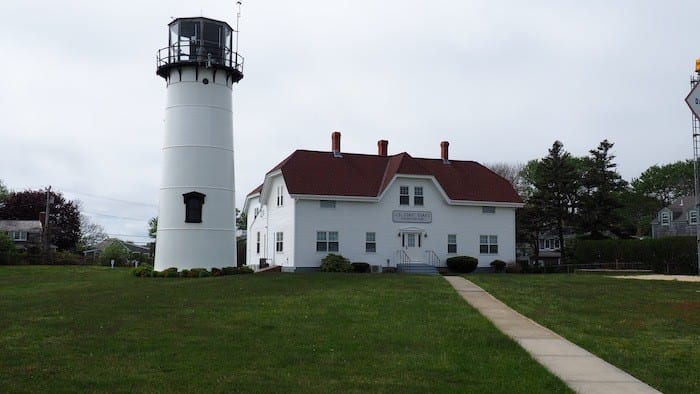 There are dozens of lighthouses in Massachusetts, especially on Cape Cod and the Islands. Make a road trip to find a few!
8. Visit the Naismith Memorial Basketball Hall of Fame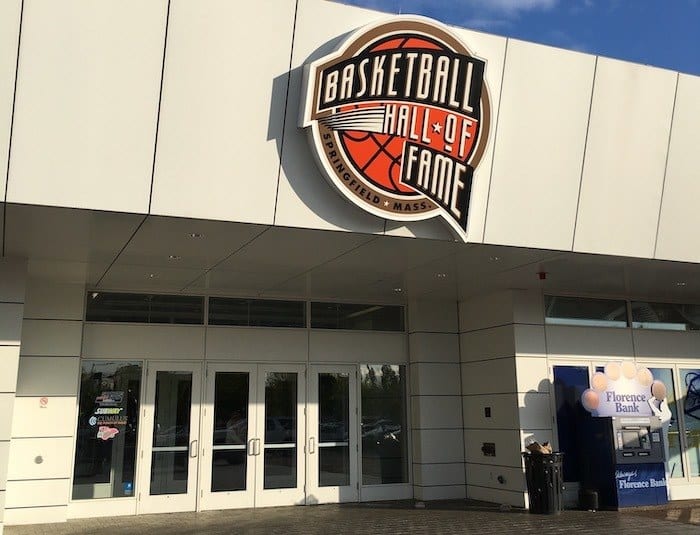 Basketball fans will love exploring the memorabilia at the Basketball Hall of Fame in Springfield. There are also interactive exhibits on sportscasting, jumping, and, of course, a basketball court to test your skills.
9. Climb the ropes course at Ramblewild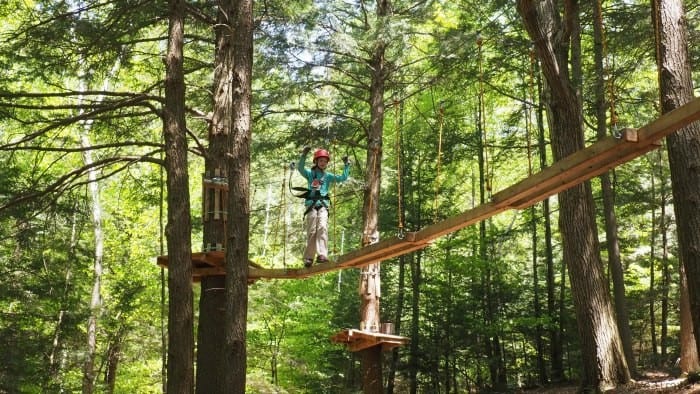 Adventure seekers will love the various levels of treetop adventure courses at Ramblewild in Western Massachusetts. This is a true workout and a great outdoor activity.
10. See a Red Sox game
Even if you aren't a baseball fan, you can't help but get caught up in the excitement of seeing a game at the legendary Fenway Park. If you aren't in town to catch a game, you can still tour the stadium and sit on top of the famous "Green Monster."
11. Visit the Dr. Seuss Museum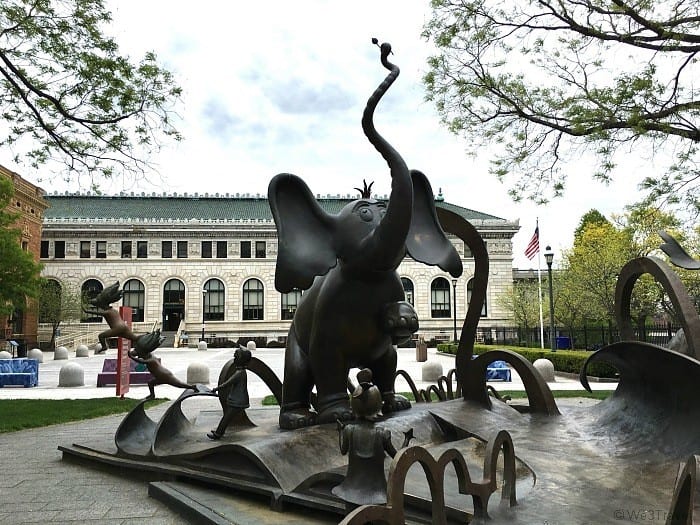 The Springfield Museums have recently expanded the Dr. Seuss Sculpture Garden to also include The Amazing World of Dr. Seuss Museum. Perfect for young and old alike, the museum features interactive museums that bring his treasured books to life.
12. Explore Naumkeag House and Gardens
This classic country estate of the Gilded Age is one of many in the Berkshires, but Naumkeag House is also famous for its stunning collection of gardens. Walk through the Afternoon Garden, Tree Peony Terrace, Rose Garden, Evergreen Garden, and Chinese Garden.
13. Visit the Eric Carle Museum of Picture Book Art
This is a perfect stop for anyone that loves the work of Eric Carle, from The Very Hungry Caterpillar to Brown Bear, Brown Bear, What do you See? Kids will love the interactive reading room and adults will gain a deep appreciation of the art of picture books by studying Eric Carle's drawings and learning about his inspiration.
14. Visit the Mass Moca Museum
The Massachusetts Museum of Contemporary Art, also known as Mass Moca, features large-scale, immersive installations from both well-known and emerging artists, as well as 75 performing arts events throughout the year.
15. Make your own candle at the Yankee Candle Factory
Yankee Candle Village in South Deerfield in Western Massachusetts, is more than just a factory store. There are hours of family fun available including shopping, candle making and other crafts, and exploring the festive Christmas Village.
16. Eat Italian food in Boston's North End
Boston's North End neighborhood, also known as its Little Italy, is famous for its Italian heritage and old-style Italian cuisine. You can join the debate on whether you prefer cannoli from Mike's Pastry or Modern Pastry better. Or join a North End food tour with a local!
17. Ride a rollercoaster at Six Flags New England
Six Flags is the biggest amusement park in New England, offering dozens of rides, roller coasters, and water slides. With new rides being introduced every year, there is always something new to try.
18. Visit the Norman Rockwell Museum
The Norman Rockwell Museum in Stockbridge houses the world's largest collection of original Norman Rockwell art, as the best of American illustration. The museum hosts daily tours and, when closed, offers virtual experiences.
19. Throw "tea" overboard at the Boston Tea Party Ships & Museum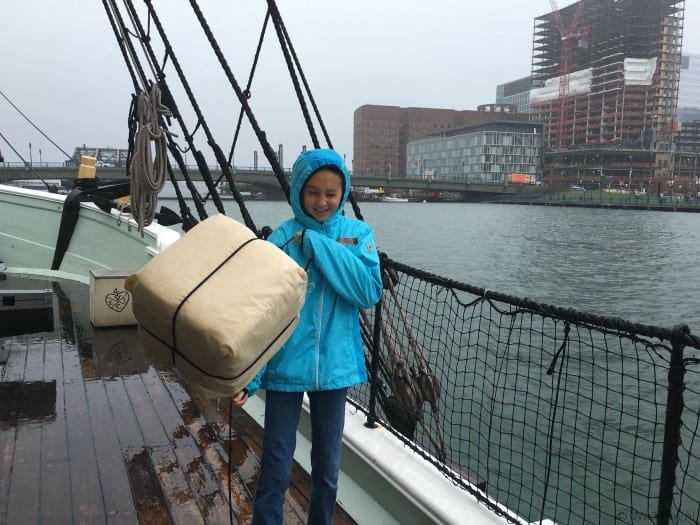 The Boston Tea Party Ships and Museum features costumed-reenactors depicting the events leading up to the night of the Boston Tea Party that was instrumental in instigating the Revolutionary War. Visitors have a chance to go on board the ship and throw the "tea" overboard before explore the rest of the museum and the tea shop.
20. Ski at Wachusett
Head to Wa, Wa, Wachusett this winter for a fun day on the slopes. Make a stop mid-mountain at the sugar shack for hot apple cider and donuts or enjoy a Wachusett Blueberry brew back at the lodge at the end of the day.
21. Feed the animals at Davis Farmland
Davis Farmland is a discovery farm for families with children 12 and under. At the farm, you can ride a pony, take a hayride, meet the animals, and be a junior farmer. Davis Farmland also offers apple and pumpkin picking in the fall, along with a massive corn maze.
22. Take a swan boat ride in the Boston Public Gardens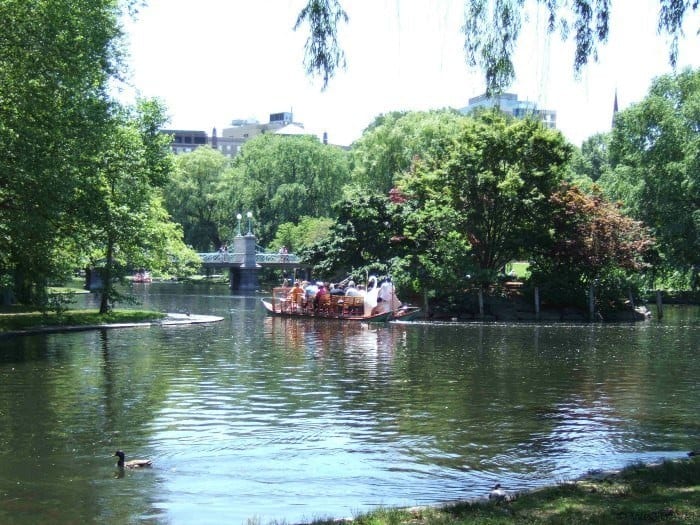 As you explore Boston, be sure to take a break to enjoy the Boston Public Gardens and take a Swan Boat ride. These pontoon-style boats, bedecked with a giant swan, make a short spin around the pond.
23. Visit Hancock Shaker Village
Hancock Shaker Village in the Berkshires in Western Massachusetts is a A living Shaker history museum with restored buildings, crafts & activities plus a cafe & shop. During a visit you can explore the gardens, learn about Shaker style, and visit the Discovery Barn where children can spin wool, construct a Shaker chair, or weave on a loom that's sized just for them.
24. Take a photo at the Make Way for Ducklings sculptures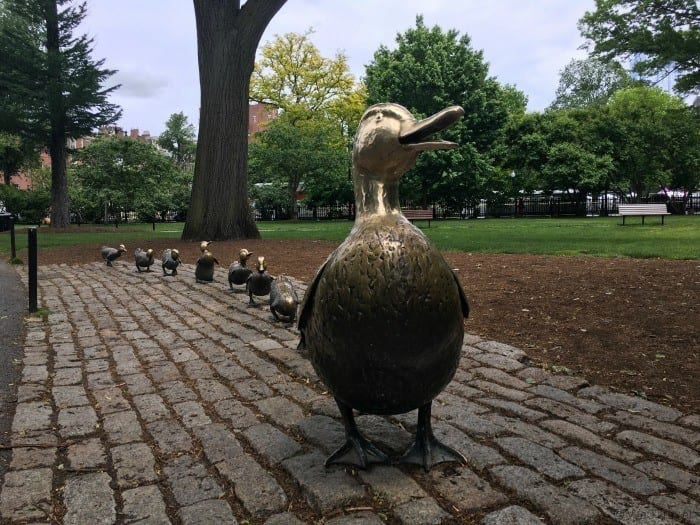 After your Swan Boat ride, explore the rest of the Boston Public Garden to find the famous Make Way for Ducklings statue. They are always ready for an Instagram photo opportunity!
25. Walk through the Arnold Arboretum at Harvard University
The Harvard University Arnold Arboretum is the oldest public arboretum in North America, located in the Jamaica Plain and Roslindale neighborhoods of Boston. Occupying 281 acres, the Arboretum's living collection of trees, shrubs, and woody vines is recognized as one of the most comprehensive in the world. Used for research purposes, it is also open for public enjoyment as part of Boston's Emerald Necklace.
26. Take a ghost tour in Salem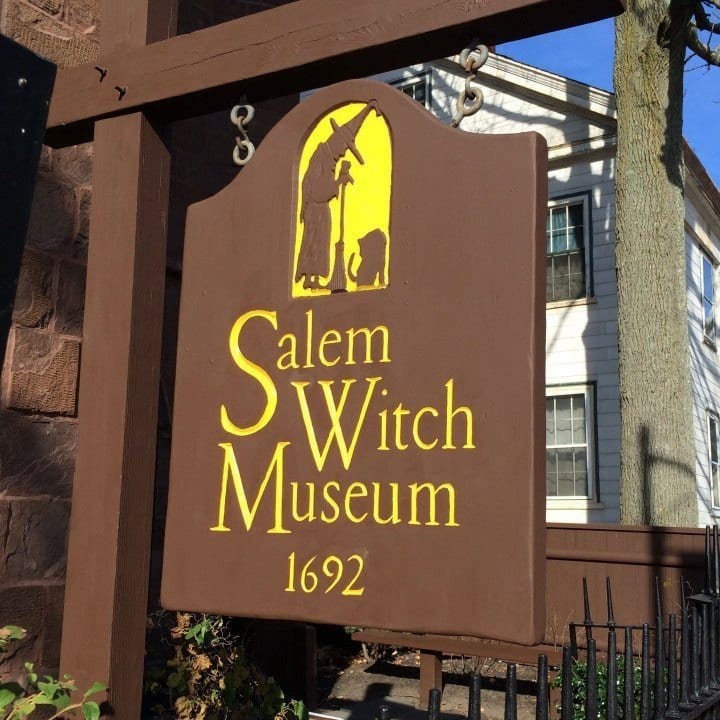 There is so much more to Salem than its history of the Salem Witch Trials, but if you are into the mystical or enjoy a good scare, visit during the weeks leading up to Halloween. No matter when you visit, a ghost tour is a fun way to learn this town's unique history.
27. Jump off "Jaws" bridge on Martha's Vineyard
A trip to Martha's Vineyard should be on all Massachusettans bucket list and one of the quintessential experiences is jumping off of "Jaws" bridge. This is the bridge that appears in the classic movie Jaws, which was filmed in Martha's Vineyard.
28. Watch the Fourth of July parade on Nantucket
Nantucket is famous for its Independence Day celebration. Main Street activities culminate with a water fight between Town of Nantucket's Fire Department and the Boynton Lane Reserves. At the beach, children enjoy potato sack races, three legged races, wheel barrow races and tug-of-war, followed by music on the bandstand.
29. Ride the Cape Cod Rail Trail
The Cape Cod Rail Trail is a 25.5-mile paved rail trail that passes through the towns of Yarmouth, Dennis, Harwich, Brewster, Orleans, Eastham, and Wellfleet. This is a great way to explore the Cape off the beach, without dealing with the highway traffic.
30. Take a dunes tour in Provincetown
Provincetown at the tip of Cape Cod is a colorful and fun town to explore, but it can also get very crowded in high season. A fun way to get away from the crowds, or a great thing to do in the off-season on the Cape, is to take a dunes tour with Art's Dunes Tour. These dunes are protected and you can only explore on an organized tour. You may even want to sign up for a lobster bake on a beach after your tour.
31. Grab for the golden ring at the Flying Horses Carousel in Oak Bluffs
While on Martha's Vineyard, head into the town of Oak Bluffs and take a spin on the Flying Horses Carousel, America's oldest. See if you can get lucky enough to grab the golden ring and win a free ride.
32. Visit the JFK Presidential Library
The Kennedy family has a deep history in Massachusetts and what better way to honor the memory of our 35th president than a visit to the JFK Presidential Library just south of Boston?
33. Learn living history at Old Sturbridge Village
Old Sturbridge Village is the largest living history museum in New England, covering over 200 acres. This site recreates life in rural New England during the 1790s through 1830s. Families can take part in colonial crafts, learn about farm life, explore nature trails, and visit historical buildings, many staffed with costumed interpreters.
34. Climb through the rocks at Purgatory Chasm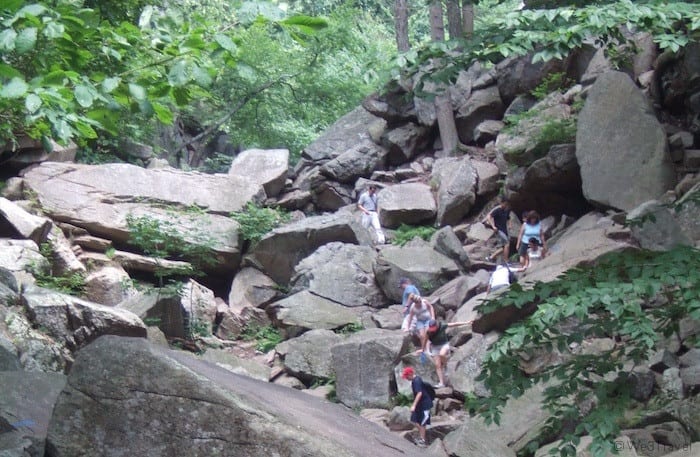 A day trip to Purgatory Chasm is perfect for those who loves scrambling over rocks and hiking. This natural phenomenon offers 2 miles of trails and interesting rock formations. Keep in mind that a parking fee is charged from Memorial Day through the end of October.
35. Taste test at a local winery or brewery
Massachusetts is home to 55 wineries and one designated American Viticultural Area, the Martha's Vineyard AVA. There are also 130 local breweries. Whether you join a wine or beer tour of multiple establishments, tour a local winery or brewery, or just stop in for a tasting, make time to sample locally.
36. Buy apple cider donuts at Red Apple Farm
Red Apple Farm in Phillipston features pick your own fruit, animals, and a country store. You can also pick up Red Apple Farm's famous apple cider donuts at the Boston Public Market outpost or, in season, at Wachusett.
37. Test your skills at Bodaborg
Gather a team and go on a quest at Bodaborg in Malden, south of Boston. More than an escape room or an adventure course, you will be transported into other worlds to steal a diamond from a museum or go into a mine where hidden dangers lurk far beneath the grounds.
38. Take a Boston Duck Tour
Hop onto a Duck Boat for a fully narrated, historic tour that drives (or floats) past the city's most notable landmarks, including a dip into the Charles River.
39. Learn colonial and Native American history at Plimouth Plantation
Plimoth Plantation is a living history museum in Plymouth, which replicates the original settlement of the Plymouth Colony established in the 17th century by the English colonists who became known as the Pilgrims. There is also a Wampanoag Homesite, where Native Americans describe the life of the 17th-century Wampanoag.
40. Walk on Crane Beach
The Crane Estate is a popular spot for destination weddings and special events, with sweeping views across the estate down to the beach. However even if you aren't visiting for an event, you can still enjoy Crane Beach. There are also five miles of trails that wind through coastal dunes.
41. See the ships at Battleship Cove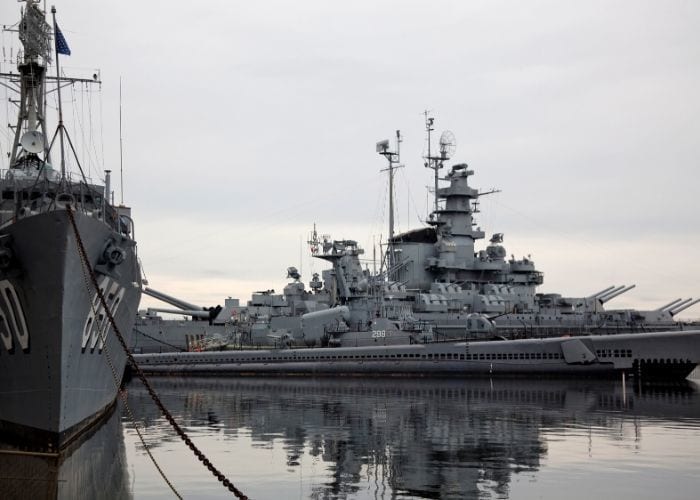 Battleship Cove is home to five National Historic Landmark US Naval ships. Getting to walk through the USS Massachusetts and the USS Joseph P. Kennedy Jr. lets you experience what it was like to serve on board a Navy warship in WWII and the Vietnam War era.
42. Shop and eat in Newburyport
Newburyport is a cute, coastal town northeast of Boston that makes a great day trip. You can walk the boardwalk along the harbor or explore the shops and restaurants in town.
43. Learn Revolutionary history at the Lexington Battle Green
Lexington's Battle Green earned its spot in history as the place where the first shot of the American Revolutionary War was fired. You will want to check out the Minuteman Statue and the Hancock-Clarke House, which documents the town's role in the revolution. Typically on Patriot's Day Weekend in April the town hosts reenactments and other special events.
44. Get medieval at King Richard's Faire
Every fall, King Richard's Faire returns to Carver and recreates a 16th-century marketplace, including handmade crafts, foods, musicians, singers, dancers, minstrels, mimes, and more. Keep an eye out for family-friendly weekends and dress up theme weekends.
45. Ride Thomas the Train at Edaville Family Theme Park
Edaville is the perfect theme park for toddlers and youngsters, especially those that have a slight obsession with trains. Edaville is home to Dino Land and Thomas Land — where you can ride Thomas the Train.
46. Visit the New Bedford Whaling Museum
Learn about Massachusetts' history in whaling and fishing at the New Bedford Whaling Museum. By the way, this is even one museum you can visit from home.
47. Climb Mount Greylock
Mount Greylock is the highest point in the state, offering views as far as 90 miles away. You can drive the Auto Road to the summit of Mt. Greylock, Bascom Lodge, and the War Memorial Tower. You can find hiking trails, camping sites, and snowmobiling in the winter months.
48. Complete the Rolling Acres Corn Maze
Rolling Acres Corn Maze in Southampton is a fun zone in the fall. Each year, the maze is designed according to a different theme. The 12-acre field is transformed into over 2.5 miles of maze, with games and checkpoints along the way. While there, you can also enjoy a hay ride, barrel train ride, or zipline (on the weekends.)
49. Get a spa treatment at Canyon Ranch
Canyon Ranch in Lenox is one of the premier wellness resorts in the country. Whether it is a girls' trip, baby moon, or a digital detox that you need, Canyon Ranch offers experiences in fitness, spa, and overall health and wellness.
50. Ride the mountain coaster at Jiminy Peak
The Jiminy Peak Adventure Park offers a full-day of family fun. From the mountain coaster to the alpine slide and the zipline, there are so many ways to enjoy the mountain. You will also find a giant swing, scenic chairlift, rock climbing wall, Euro bungy, and bounce house to thrill the kids.
Download the Massachusetts Bucket List
Ready to see how many places you have already visited and get ready on your bucket list? Download the Massachusetts bucket list check list here.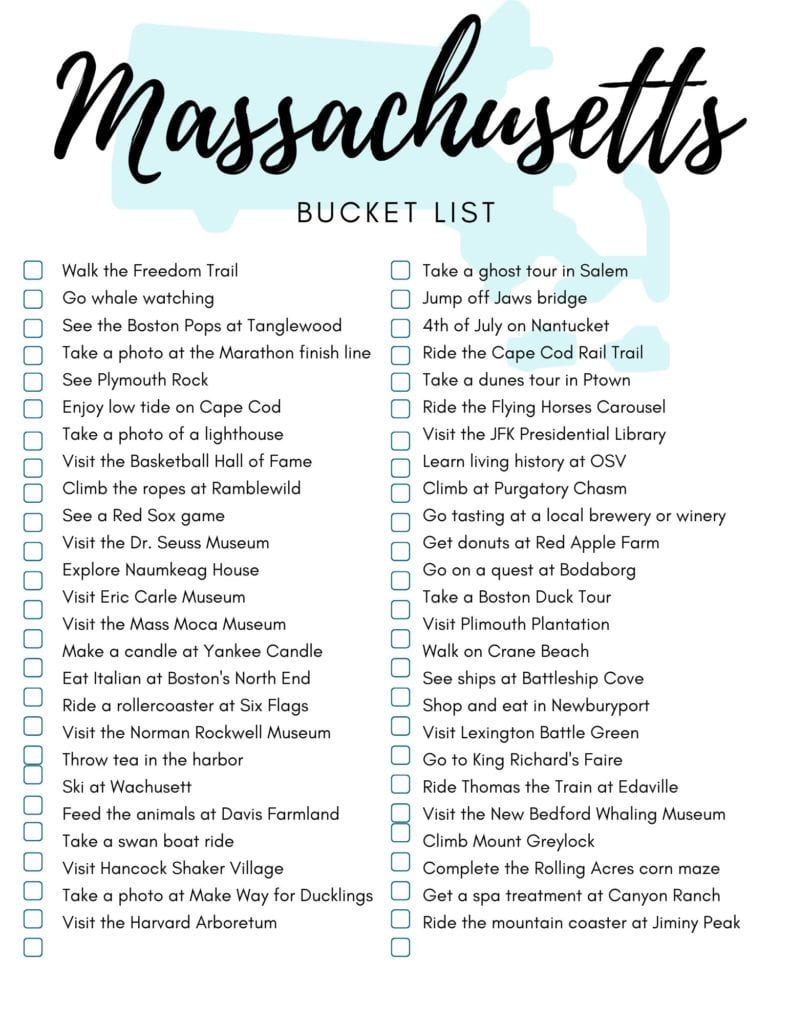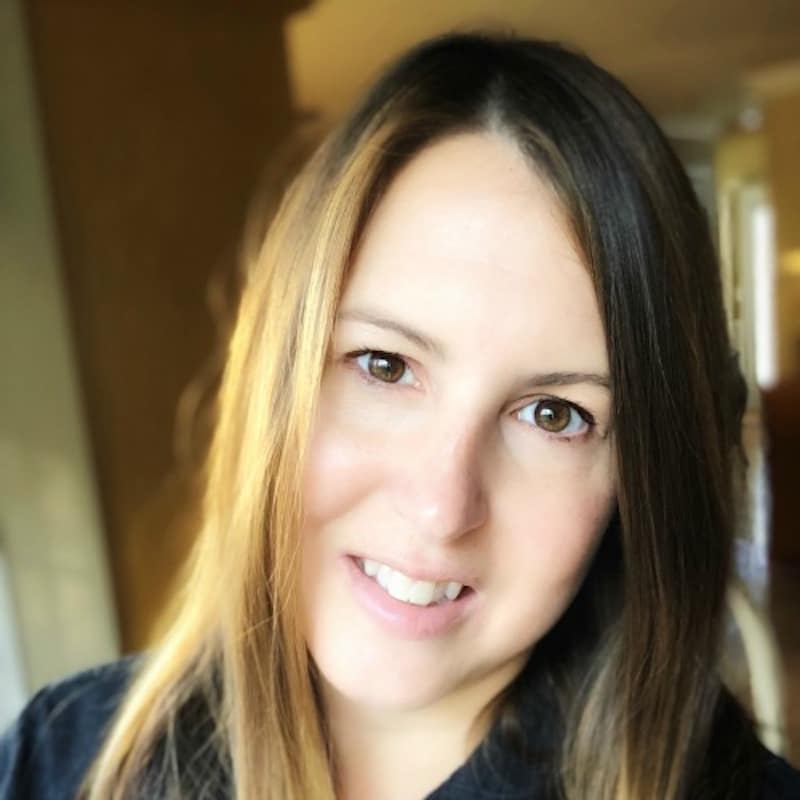 Tamara Gruber is the Founder and Publisher of We3Travel. A former marketing executive and travel advisor, Tamara is an award-winning travel writer and recognized expert in family travel. She is also the publisher of YourTimetoFly and the co-host of the Vacation Mavens travel podcast.