The Berkshire Mountains in Western Massachusetts have long been a hub for arts and culture, with famous American writers such as Nathaniel Hawthorne, Herman Melville, and Edith Wharton calling this area home. This rich tradition continues today with world-class museums such as the MASS MoCa and the Norman Rockwell Museum; gilded age mansions and homes of famous authors such as Naumkeag and The Mount; and, of course, Tanglewood, the outdoor music center and summer home to the Boston Symphony Orchestra.
The Berkshires also have plenty to offer families in terms of year-round outdoor adventure, from skiing, hiking, ziplining, white water rafting and treetop adventure parks. It was a summer music festival at Tanglewood that first drew us to the Berkshires over Memorial Day Weekend, but we quickly found so many more things to do in the Berkshires with kids.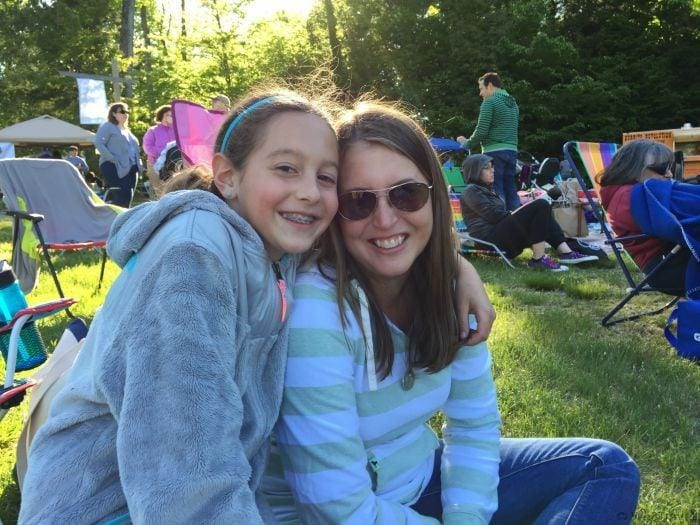 Tanglewood
We started off our stay with an afternoon visit to Tanglewood for the SummerSound Festival, where the Indigo Girls, one of my favorite bands from my 20s, were the headliners. On the way we stopped off at Nejaimes Wine Shop in Lenox to stock up our picnic basket with a selection of cheeses, crackers, prepared foods, and, of course, wine. One of the nicest things about watching the orchestra or another show at Tanglewood is picnicking on the lawn. Everyone sets up blankets, low beach tables, and a spread of food and drink to just relax and enjoy the music and outdoors. Of course, if you don't have time for a picnic, there are food trucks and tents also available. (For some great tips of visiting Tanglewood with kids, check out this post from Celebrate the Weekend.)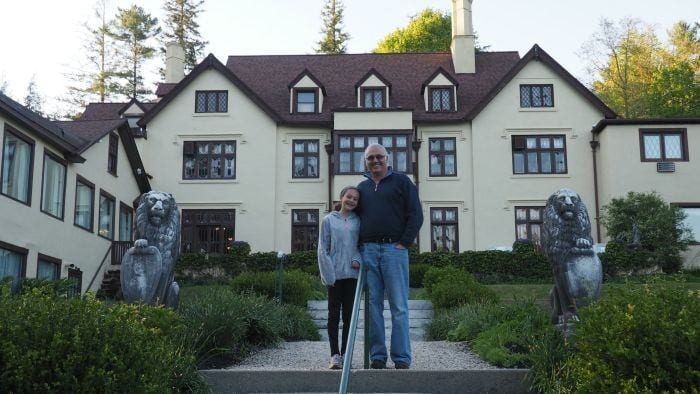 Seven Hills Inn
While there are many luxury hotels in the Berkshires, like the Cranwell and Canyon Ranch, and tons of bed and breakfasts, finding a place for a family can be a challenge. There are some chain hotels along Route 7, but we were searching for something with a bit more character that wouldn't break the bank. Luckily the Seven Hills Inn, located next door to Edith Wharton's The Mount in Lenox, offers family-size rooms in their Carriage House. While not as elegant as the main inn, we enjoyed the extra space of a one-bedroom suite with a pull-out couch and kitchenette (for storing our picnic leftovers!) in the living area.
Ramblewild
After a filling breakfast buffet at the Seven Hills Inn, we headed off to Ramblewild, near Jiminy Peak in Lanesborough for a three-hour adventure on their aerial adventure course. For families that crave adventure, Ramblewild is exhilarating, rewarding, and perhaps a little intimidating. You can read all about our adventure at Ramblewild or watch the video here.
Berkshire Museum
After our adventure at Ramblewild, we stopped for lunch in Pittsfield at the Marketplace Café, which offers tasty and healthy soups, sandwiches and salads, including gourmet grilled cheese options. Practically across the street is the Berkshire Museum. Great for kids about 14 and under, the Berkshire Museum offers a little bit of everything. Downstairs we explored a small aquarium, while on the main floor we got acquainted with local wildlife in its small natural history exhibit. For young kids, the museum offered a hands-on Spark! Lab, but we enjoyed learning about local inventors and entrepreneurs in the Feigenbaum Hall of Innovation. When we visited, the museum had a special exhibit, "Immortal Present: Art and East Asia," with modern takes on traditional Asian art, like a Buddha collage constructed from representations of pop culture. This was a really interesting exhibit to explore, just unfortunately no pictures were allowed!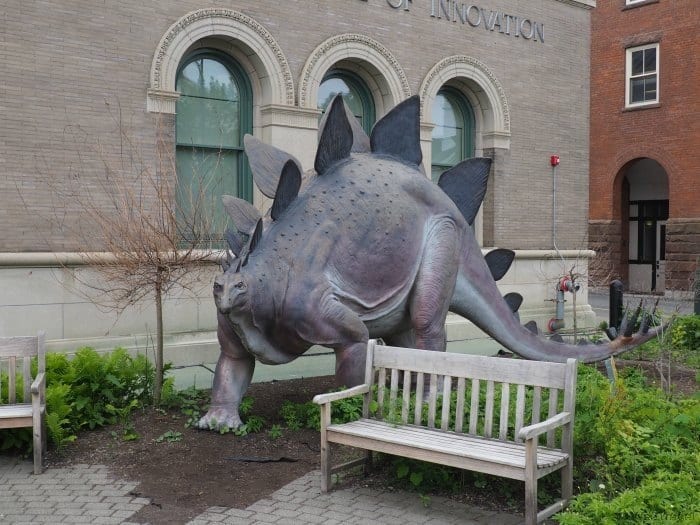 Church St. Café
After our busy day at Ramblewild, we opted for a casual dinner at the Church St. Café in Lenox. It was family friendly with outdoor dining on the deck and kid-friendly options, but the adult entrees were a little disappointing for the price. For more gourmet dining we probably should have tried Alta down the street or hopped over to Stockbridge or Great Barrington to explore a little more.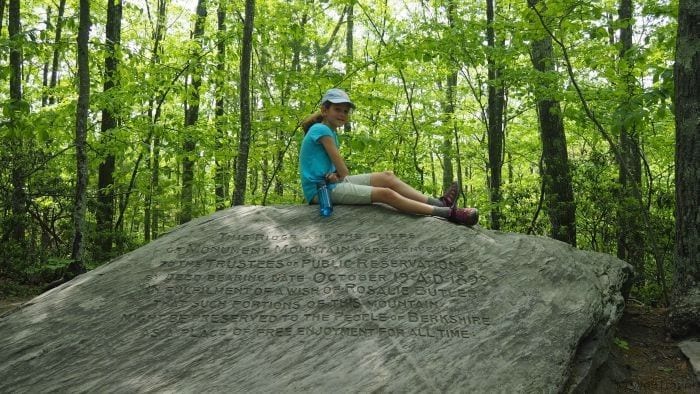 Monument Mountain
On our last day of our three-day weekend in the Berkshires, we decided we were up for a bit more adventure and activity and headed down to Monument Mountain in Great Barrington. Monument Mountain is the site where Nathaniel Hawthorne and Herman Melville enjoyed a picnic and had a discussion that helped inspire Moby Dick. This mountain offers views all the way west to the Catskills in New York on a clear day. For the easiest hike, start off on the Indian Monument Trail to the left of the parking lot for a 1.51 mile hike toward the summit. The trail guide said we'd pass the remains of Native American trails but we clearly missed those.
To get any view, you need to take the steeper Squaw Peak Trail, but just use caution with kids as there are some steep drop offs. Hannah and I then took the steeper .83 mile Hickey Trail on the way down (better than on the way up!) to complete the loop, while Glenn went back the way we came. Just off the path of the Hickey Trail we found small waterfalls and narrow streams – much prettier than the less scenic hike through the forest on the way up.
We definitely just got a taste for all there is to do in the Berkshires with kids, but what I loved about the area is that it isn't just outdoorsy or just artsy – you can have something for everyone with shopping, art, music, dining, and plenty of adventure.
Have you been to the Berkshires with kids? What would you recommend?
PIN THIS FOR LATER
Note: We were hosted by Ramblewild and the Berkshire Museum for purposes of facilitating this review. All opinions are our own. For more information on what to do in the Berkshires, visit Berkshires.org.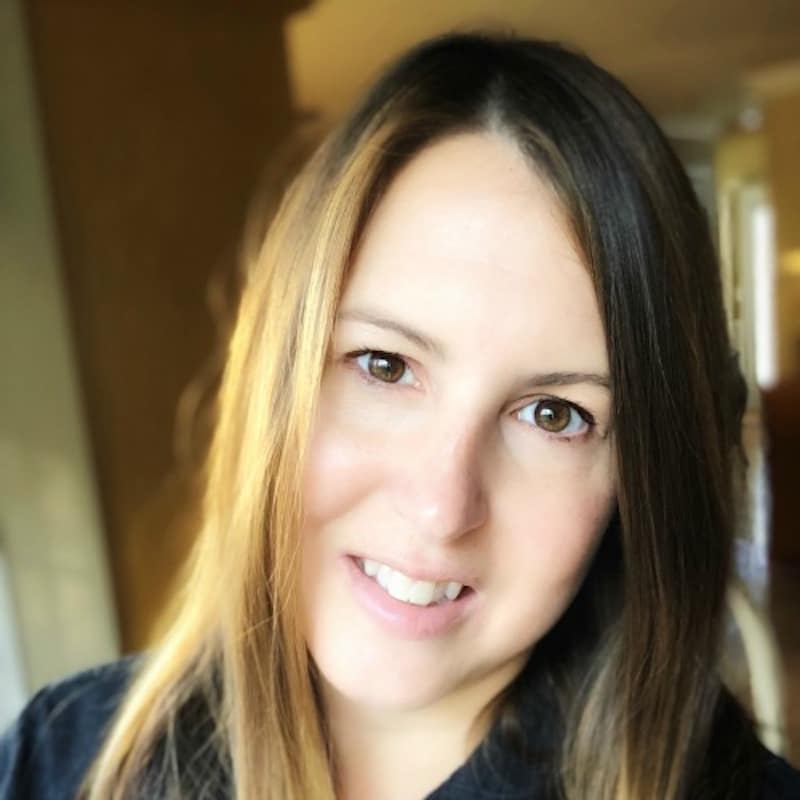 Tamara Gruber is the Founder and Publisher of We3Travel. A former marketing executive and travel advisor, Tamara is an award-winning travel writer and recognized expert in family travel. She is also the publisher of YourTimetoFly and the co-host of the Vacation Mavens travel podcast.