New England is one of the prettiest regions of the United States, with rolling mountainsides, rocky coasts, and picturesque towns. There are so many things to do in New England, with its rich history and plentiful outdoor activities. You will never fit everything into one visit, or maybe even one lifetime, but you can try.
To build your New England wish list, I've put together a list of some of the best things to do with kids in each state, including many of our family's favorites. From amusement parks to museums to note-worthy hikes and outdoor adventures, there is something for everyone on this best of the best of things to do in New England.
Things to do in Connecticut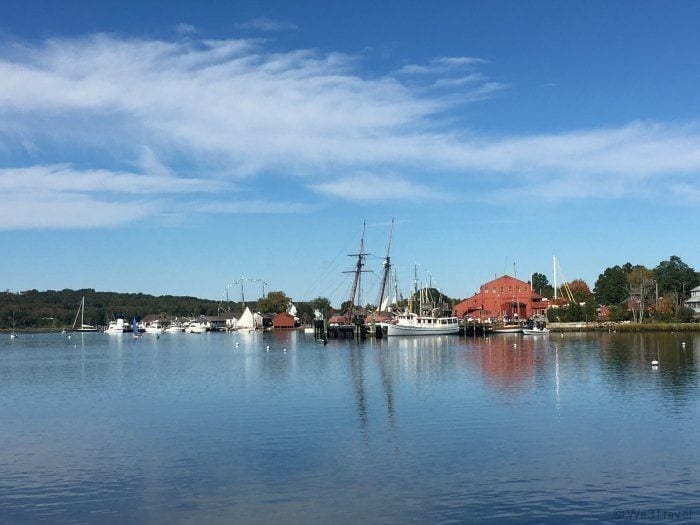 Get hands on with history at Mystic Seaport
There is enough to do in Mystic to plan a whole weekend, but Mystic Seaport is a true gem that deserves at least a day trip. This historic seafaring village is now a living history museum, complete with costumed interpreters. Kids will love visiting the blacksmith, stopping into the various buildings and shops, climbing on board the restored ships, and learning about how early seafarers navigated by the stars in the planetarium.
See beluga whales at Mystic Aquarium
Mystic Aquarium isn't the largest or grandest, but it offers indoor and outdoor exhibits for at least a half-day of fun. Kids will enjoy educational presentations about sea lions, dipping their hands into the touch tank, but most of all they will appreciate seeing the less-easily found beluga whales.
Take the Essex Steam train
Train enthusiasts will love hopping on board the old-time Essex Steam train. With open air windows, you can poke your head out and listen for that classic steam whistle. You can either take a ride up and back or stop off at Gillette Castle before returning. The Essex Steam train also hosts seasonal or themed rides, and it is pretty to take during the fall foliage season.
Visit Gillette Castle
Whether you get there by car or train, Gillette Castle looks a bit like a medieval castle, set in the hills of Connecticut. Inside you will find the genius inventions and architecture of the original owner, William Gillette, including fascinating wood carvings.
Eat Frank Pepe's famous thin-crust pizza
New Haven, Connecticut is known for its thin-crust pizza and none is more famous than Frank Pepe's. Baked in a coal-fired oven, these tomato pies are sure to go on your list of best pizza you have ever tasted. If you are adventurous, give the white clam pizza a try. You can now find Frank Pepe locations throughout Connecticut and southern New England.
Take a New England lighthouse cruise
There are so many lighthouses along the New England coast that it can be hard to see them all. However, if you take a lighthouse cruise on the Cross Sound Ferry from New London, you are guaranteed to see at least eight or nine. On these narrated cruises you will learn about haunted lighthouses to those on islands that have seceded from the United States. It is a fun way to spend an afternoon.
Visit the Mashantucket Pequot Museum
The Mashantucket Pequot Museum is one of the best museums in New England, and does an excellent job telling the story of the Pequot Native Americans. Adjacent to the Foxwoods Resort & Casino, you can also visit an observation tower overlooking the woods below. Just double check the opening dates and hours before you plan your trip.
Spend the day at Hammonasset Beach State Park
Hammonasset Beach State Park is one of the nicest beaches in Connecticut to spend the day with kids. This two-mile long beach also has a nature center with interpretive programs. In season, you will find bike rentals, concessions, and even camping options.
Visit the Submarine Force Museum
Groton and New London have a strong submarine history, with a Naval submarine base and nearby submarine builders. Here is where you will find the Submarine Force Library and Museum. The main attraction is the historic USS Nautilus, the world's first nuclear powered vessel. It is also the first ship to go to the North Pole and first submarine to journey "20,000 Leagues under the sea." Kids will loving exploring the spaces where the crew worked, ate, slept, and played.
Take a scenic drive through Litchfield County
Autumn is the perfect time to take a scenic drive through Litchfield County in Western Connecticut. Litchfield County is known for its rolling hills and quaint villages, such as the town of Kent, which has been named one of the top foliage towns in New England. Far from rustic, you will find restaurants to satisfy foodies, antiquing and shopping, as well as outdoor activities such as hiking and canoeing.
Visit the Mark Twain and Harriet Beecher Stowe houses
If you have kids that appreciate literature or are budding authors, plan a trip to Hartford to visit the Mark Twain and Harriet Beecher Stowe houses. If you plan ahead, you can join one of the living history tours, see an author reading, or enjoy one of the many seasonal and special events taking place at these landmarks. The Harriet Beecher Stowe house is a great way to learn about social justice and inspire change.
Go to Lake Compounce Amusement Park
Lake Compounce is the oldest continuously operating amusement park in North America. Even with that history, this park continues to entertain. The park spans 332 acres and includes a beach and waterpark. There are plenty of rides for younger kids, as well as thrill coasters and Boulder Dash, which has been voted the world's number one wooden coaster.
Visit Kidcity Children's Museum
Located in Middletown in Central Connecticut, Kidcity Children's Museum is small but packed with fun. The museum spans three floors, offering imagination play for kids ages one to seven. There are themed exploration areas including a pirate ship, farm, and underwater cave.
Hike the Bear Mountain Trail at Mount Riga State Park
Mount Riga State Park is located in Northwest Connecticut, near the Massachusetts border. Bear Mountain is the tallest mountain in Connecticut and a popular trail for hikers. Some find this six-mile loop the best mountain hike in Connecticut, offering fields of seasonal wildflowers and great views from the peak.
Enjoy the Pez Visitor Center
When you have been stuck in traffic on Interstate 95, the Pez Visitor Center can make a fun pitstop. Where else can you find 4,000 square feet all dedicated to this classic candy? As you may expect, there is a comprehensive collection of PEZ memorabilia on display, along with a motorcycle built from PEZ. Visitors can view the production area, play a PEZ trivia game, and explore the interactive historical time line.
Things to do in Rhode Island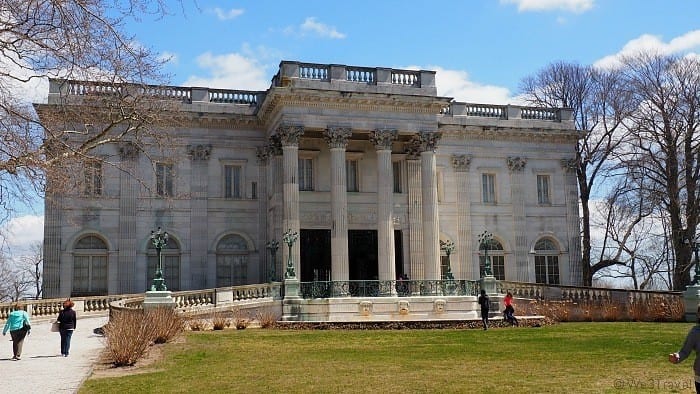 Experience Waterfire in Providence
Waterfire is unique to Providence and one of the must-do things when visiting Rhode Island. Plan a weekend in Providence when Waterfire is taking place in the summer or fall. You will get to experience the river alight with bonfires, enjoy street performers, taste local foods, and appreciate the world music and special side-stage events taking place throughout the night. If you book in advance, you can even take a gondola ride or boat cruise along the river.
Ride the bumper boats at the Providence Ice Rink
There are not as many things to do in Rhode Island in the winter, but Providence is the first city to offer bumper boats on ice. The downtown ice rink offers both ice skating and bumper boats, just be sure to reserve in advance because tickets book up fast. Afterwards, head over to Ken's Ramen for some warming noodle soup.
Visit the Newport Mansions
Back in the early Industrial Age, the oil and railroad tycoons would escape the heat of New York City for their "summer cottages" in Newport, Rhode Island. Today, many of these cottages, which are really mansions, are part of the Newport Preservation Society and are open to the public. Touring the Newport Mansions is one of the quintessential things to do in Newport in the summer, and some even offer special audio tours for kids.
Walk on the Newport Cliff Walk
After touring the Mansions, it is time to get some fresh air with a stroll along the 3.5 mile Newport Cliff Walk. The Cliff Walk stretches along the coast, with a back yard view of the mansions. The views are beautiful and it is a great way to burn off some energy.
Sail on the Narragansett Bay
Rhode Island is called the Ocean State and Newport is the sailing capital of the world. So you can't leave without getting out on the water. There are many sailing cruises available from Newport Harbor, assuming you didn't bring your own yacht.
Fly a kite at Breton Point State Park
Breton Point State Park sits at the tip of Aquidneck Island in the town of Newport, right where Narragansett Bay meets the Atlantic Ocean. The winds off the water make this a perfect spot to fly a kite. It is also a fun mid-way point when driving or biking scenic Ocean Drive. If you plan ahead you can bring a picnic and stay to watch the sunset.
Climb on the rocks at Beavertail State Park
One of our favorite things to do in Rhode Island in the summer is to head down to Jamestown to spend the day at Beavertail State Park. Situated at the tip of Jamestown Island and surrounded by rocky coast, it is a great spot for a picnic. You can climb on the rocks and explore tide pools for hours. Or fly a kite and visit the small aquarium and lighthouse on the grounds.
Take the ferry to Block Island
Block Island sits in the Block Island Sound, nearly equidistant between Point Judith, Rhode Island and Montauk, New York. Although the island is less than 10 square miles, you will find beautiful beaches, scenic bluffs, and quaint lighthouses. Block Island offers a slower pace of life and a beautiful natural setting for a family vacation or beach day trip.
Sip a Del's Frozen Lemonade
Del's Lemonade is a classic Rhode Island food and this frozen concoction can be found at food trucks, beach carts, and lemonade stands around the state. Sipping a Del's on a summer trip is a must-try. And if you don't like lemon, it also comes in watermelon, mango, and other flavors.
Spend a day at the beach at Roger Wheeler State Park
Roger Wheeler State Park in Narragansett, known by locals as Sand Hill Cove, is one of the best beaches in Rhode Island for families. In a semi-protected cove, the waves are great for body surfing. The beach features a large parking area, showers and changing rooms, concessions, and even a small playground.
Experience the Jack-O-Lantern Spectacular
Every fall, the Roger Williams Park & Zoo hosts the Jack-o-Lantern Spectacular, featuring over 5,000 intricately carved pumpkins. It is a fun way to experience the zoo after dark. You can't help but be wowed by the artistry of the carvings!
Attend the Providence Children's Film Festival
In February, Providence hosts a Children's Film Festival presenting independent and international films made for children. The Festival offers viewings in multiple locations within walking distance around the city and features an average of 18 feature-length films and over 100 short films.
Take a tour of the Rhode Island Capitol Building
Free guided tours of the Rhode Island Capitol Building in Providence are offered hourly on Monday through Friday. Tour guides cover the history and architecture of the building, as well as an introduction to state government. You will learn facts about the Independent Man that stands at the top of the dome, and how the building is made of Georgia marble (while the Georgia Capitol is made of Rhode Island granite.)
Bike along the East Bay or Blackstone Valley Bike Path
Rhode Island offers a few scenic bike paths and two of my favorites are the East Bay and Blackstone Valley Bike Paths. The East Bay bike path is 14.5 miles and runs from India Point Park in Providence down to Colt State Park in Bristol, passing through towns and pretty coastline along the way. The Blackstone Valley bike path is currently a total of 17 miles and runs from Cumberland through Woonsocket along parts of the Blackstone Valley canal and train tracks. It can be especially lovely in the fall.
Watch Bristol's Fourth of July Parade
Founded in 1785, Bristol offers the longest running Fourth of July parade in the country. People camp out early to get a spot along the parade route and go all out to display their patriotism.
See a movie at the Rustic Drive-in
There are so few drive in movie theaters left that it is a special treat to get to experience this American past time. In the summer months you can catch a double, or even triple feature, at this classic drive in in Lincoln, Rhode Island.
Things to do in Massachusetts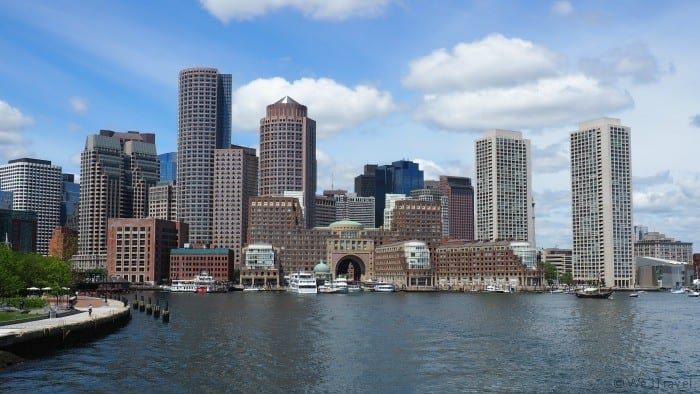 Walk the Freedom Trail
For history lovers, a guided or self-guided tour of the Freedom Trail in Boston is a great way to learn about the events that started the American Revolution. You will explore churches, museums, parks, cemeteries, and other sites that tell the story of our country's fight for freedom.
Visit the Boston Tea Party Museum & Ships
For families that may not want to do so much walking, the Boston Tea Party Museum and Ships is another way to learn about the events that started the American Revolution. You will take part in a living history re-enactment and even get a chance to throw some tea into the Boston Harbor.
Take a whale watching cruise
If you are visiting New England, you should try to fit in a whale watching cruise. In Massachusetts, whale watching cruises are offered from Boston (from the New England Aquarium) and from different ports on Cape Cod, including Provincetown. If you are lucky you will see multiple species of whale, including humpback and minke.
Watch the street performers outside of Faneuil Hall
One of the stops along the Freedom Trail in Boston is Faneuil Hall. Make sure to take time to stop and enjoy the food stalls at Quincy Market next door and then take your treats outside to watch the street performers. Then walk over to the Rose Kennedy Greenway and take a ride on the carousel or splash in the water fountains.
Eat a cannoli from Mike's Pastry
Everyone has their favorite pastry shop in Boston's North End neighborhood, but many agree that Mike's is the best. You may find a line out the door but the cannoli and other Italian pastries are worth the wait.
See a Red Sox game at Fenway Park
Whether or not you are a Red Sox fan, or even a baseball fan for that matter, everyone can enjoy a game at the legendary Fenway Park. Of course, if you can't make a game, you may still be able to join in an afternoon tour of the stadium. Go Sox!
Step back in history at Plimoth Plantation
If you want to learn about Colonial times, early settlers, and local Native Americans, the best place to do it is at Plimoth Plantation. Sure you can stop in Plymouth to see the terribly unexciting Plymouth Rock, but a visit to Plimoth Plantation will be much more interesting. You can meet living history interpreters, explore a Colonial village, and perhaps get a chance to see a dugout canoe being built or join in a traditional dance with local members of the Wampanoag nation.
Visit the Minute Man National Historical Park
After visiting the Boston Tea Party Museum or walking the Freedom Trail in Boston, head to the suburbs of Concord and Lexington and the Minute Man National Historical Park. Here the opening battle of the Revolution is brought to life. A perfect time to visit is on Patriot's Day in April.
Walk through the tide pools on Cape Cod at low tide
There are so many fun things to do on Cape Cod during any season but one of the best is visiting one of the bayside beaches at low tide. You can walk out for ages and search for crabs and shells in the tide pools. Just remember to keep an eye on the tide coming back in!
Take a Dunes Tour in Provincetown
If you head all the way out to the tip of Cape Cod, you will arrive at the colorful and charming town of Provincetown. Just before you arrive, you will see large dunes stretching as far as you can see. The only way to explore these dunes is with a Dunes Tour, which will take you into this preserve, teach you the ecology, and yes, let you scramble up the dunes. You can even have a lobster bake on the beach!
Watch the sunset from Menemsha Beach
The island of Martha's Vineyard off of Cape Cod is the vacation destination for many locals, as well as the likes of the Kennedys and Obamas. You can take a ferry for the day or stay for a week. But the best place to watch the sunset is from Menemsha Beach. Pack a picnic or pick up some seafood at the local fish market and be sure to stake your spot out early!
Scramble through the rocks at Purgatory Chasm
Purgatory Chasm is not quite as bad as it sounds. But this chasm, which is piled high with giant boulders, is a playground of a different kind for active families. You can hike, boulder, climb over and under the rocks, and even delve into a few caves if you are daring, at this Massachusetts State Park. Just don't forget to pay for parking!
Listen to the Boston Pops at Tanglewood
The number one reason to head to the Berkshire Mountains in the summer is to catch an outdoor performance of the Boston Symphony at Tanglewood. There are plenty of places to stop for a bottle of wine and a picnic if you have lawn seats.
Hike Monument Mountain in the Berkshires
Of course the Berkshires are also ripe with charming towns, outdoor activities, and world-class museums. Plan to mix things up on a weekend in the Berkshires with a hike up Monument Mountain for the views from the top!
Ride the Mountain Coaster or Alpine Slide at Jiminy Peak
Winter in the Berkshires means skiing, snowshoeing, or family fun at Jiminy Peak Ski Resort. But winter or summer you can also ride the mountain coaster or climb through the aerial adventure park. In the summer, you can also glide down the alpine slide, ride the giant swing, climb the rock wall, glide on the Soaring Eagle, or jump on the Euro Bungy at the Mountain Adventure Park.
Visit Mass MoCa
Mass MoCa proves that you don't need to be in a large city to find a world-class art museum. Contemporary art lovers should definitely plan a trip to this museum and performing arts center in Northern Massachusetts.
Spend a day at Six Flags New England
Located in Western Massachusetts, not far from Springfield, this New England amusement park is the oldest of the Six Flags parks. It offerings plenty of thrills, but also family rides and entertainment for everyone. There are also plenty of ways to cool off at the Hurricane Harbor waterpark.
Visit the Eric Carle Museum
All fans of the Very Hungry Caterpillar will enjoy a stop at the Eric Carle Museum of Picture Book Art in Western Massachusetts. There is an entire gallery of his early illustrations, as well as a reading room and other special exhibits.
Get medieval at King Richard's Faire
Each fall, King Richard's Faire returns to Carver, Massachusetts in all of its medieval finery. You can see jousting, juggling, and all sorts of shows while enjoying tasty treats like giant turkey legs. If you don't come decked out in your medieval dress, you can always buy or rent on site. Be sure to check for special theme and family days.
Visit the Amazing World of Dr. Seuss Museum
Part of the Springfield Museums quad, the Amazing World of Dr. Seuss Museum is now open! The first floor features interactive exhibits that experiment with sound and vocabulary, as well as rhyming games and the chance to invent your own story. Upstairs you will find a recreation of Springfield-native Theodor Geisel (aka Dr. Seuss)'s studio and living room. Outside, you can also enjoy the Dr. Seuss Sculpture Garden.
Visit Old Sturbridge Village
Old Sturbridge Village is New England's largest outdoor living history museum. This museum recreates a 19th century village, complete with carriage rides, a blacksmith shop, covered bridges, a bank, cider mill, law office, and many shops. You can get hands on with history in various activities like candle making and tin stamping, and be inspired by the costumed historians you meet throughout your visit.
Swing from the treetops at Ramblewild
Not every aerial adventure course is created equal and Ramblewild is clearly one of the best. With multiple courses at different levels, from easy to expert, there is something to challenge everyone as you learn about the forest trees.
Hop on board a train at Edaville theme park
Edaville in Carver is ideal for young tykes that are train-obsessed. Hop on board Thomas the Train, and also explore Dino Land and Cran Central. This amusement park is perfect for younger kids and offers holiday fun for the whole family at Christmastime.
Get lost in the MegaMaze at Davis Farmland
Davis Farmland is way more than just a pick-your-own farm. Ideal for children 12 and younger, Davis Farmland is home to over 100 breeds of animals, including North America's largest sanctuary of endangered farm animals. There is also pretend and nature-based play areas, a water spray park, hay and pony rides, and seasonal apple & pumpkin picking.
Take a ghost tour in Salem
Salem is known for the Salem Witch Trials but there is so much more to see and do in this quaint seaside town including boarding a historic ship, visiting the Peabody Essex Museum, and, of course, the Salem Witch Museum. If you want to get creeped out, Salem is also a perfect spot for a ghost tour.
Go deep at Battleship Cove
Battleship Cove in Fall River is home to the world's largest collection of World War II naval vessels. You can also climb aboard the battleship USS Massachusetts and learn what it is like to be a sailor in the Navy.
Shoot hoops at the Basketball Hall of Fame
Basketball fans will appreciate the memorabilia from coaches and players from their favorite teams at the Naismith Memorial Basketball Hall of Fame. You can practice your jump shot and shoot hoops in the center court. If broadcasting is more your style, you can see what it is like to call a game and be a sportscaster. Just don't miss the chance to see Shaq's giant shoes up close!
Things to do in Vermont
Visit the Ben & Jerry's Factory
There is a reason why you see so many cows in Vermont. Between the Vermont cheddar cheese and fresh ice cream, it is a great state to taste dairy products. A fun day trip on a Vermont vacation is to the Ben & Jerry's factory in Waterbury. You can take a factory tour, sample ice cream, and visit the "graveyard" of retired flavors. Nearby, don't miss the Cold Hollow Cider Mill and Cabot Cheese Annex Store.
Search for Champ on Lake Champlain
When I was a kid I loved when we would take the ferry across Lake Champlain as I would spend the entire boat trip at the rail, peering into the mist and looking for Champ, Lake Champlain's version of the Loch Ness Monster. Apparently Loch Ness and Lake Champlain are on the same latitude so could it be true? Who knows, but it is worth a look.
Drive the Skyline Drive up Mt. Equinox
While not as famous or as precipitous a drive as the trek up Mount Washington in New Hampshire, the journey up Skyline Drive to Mount Equinox is Vermont's version of the classic car trip. It is the longest privately owned paved toll road in the USA at 5.2 miles long. The journey will bring you up an elevation rise of 3,235 feet. At the top you can enjoy the views and there are places to stop and enjoy a picnic along the way.
Swim in Emerald Lake
I have many happy memories of childhood visits to my Grandmother's house in Vermont and many involved wading through bubbling brooks and swimming at Emerald Lake State Park. Located between Manchester and Rutland, it is easy to combine a day at the lake with other stops along the way.
Taste maple syrup at a farm
When I was young, my grandmother tapped her own maple trees and each Christmas we were gifted a galloon of delicious Vermont maple syrup. If you have a chance to visit in the spring, try to visit a sugar house to see the process. Today, maple syrup producers have set up shops that rival wineries, complete with tasting rooms and tours. It is fun to sample the goods and see if you are an amber fan or prefer a darker, less refined syrup.
Take a scenic drive and search for covered bridges
Back in the day, we couldn't afford much in terms of a family vacation but when we visited my grandmother, we would pack a picnic and spend a day searching for covered bridges. It isn't hard in Vermont with 100 to choose from! Along the way you will drive through the prettiest country, especially if you visit in the fall during foliage season.
Follow the Vermont Cheese Trail
Vermont has gotten smart and jumped on the agritourism bandwagon and introduced its own Vermont Cheese Trail. There are over 40 stops throughout the state, many of which are open to the public either daily or by appointment.
Visit the ECHO, Leahy Center for Lake Champlain
The ECHO Leahy Center for Lake Champlain is an innovative science and nature center located in Burlington in northern Vermont. This fun museum gives kids a chance to play, explore, and learn through more than 100 interactive exhibits. ECHO is home to 70 species of fish, reptiles, and amphibians.
Wander through the Shelburne Museum
The Shelburne Museum has expanded from back in the day when I was a kid. This museum of art, design, and Americana has over 150,000 works exhibited in 39 exhibition buildings. Twenty-five of these buildings are historic structures that were relocated to the Museum grounds. You can find a circus building, a covered bridge, a blacksmith shop, barns, a schoolhouse, and even a train!
Visit the Vermont Teddy Bear Company
Not far from Shelburne Museum you will find the Vermont Teddy Bear Factory. Kids will love visiting and taking a tour of the factory, where you can watch Bears being created by hand. You can even see the Bear Hospital and meet the Bear Doctor, Dr. Nancy. Of course, expect to pick up a souvenir from this visit.
Play in the snow or sun at Smugglers' Notch
There is a reason (or many) why Smuggs has been voted the best ski resort for families in the East. But as amazing as it is in the winter, Smugglers' Notch is also fun in the summer. Enjoy the FunZone, eight heated pools, four waterslides, daily guided hikes, disc golf, mountain biking, and more.
Ride the alpine slide at Bromley Mountain
Bromley Mountain is another great three-season mountain. I can't get enough of the alpine slide, but they also offer a giant swing, Euro bungy, aerial adventure park, rock wall, and other fun attractions.
Get lost in the Great Vermont Corn Maze
Open from August through October, this Vermont Corn Maze is the largest maze in New England. In fact, it is so large that they recommend arriving by 1pm if you want to solve the Big Maze before close. It covers 24 acres and is an over two-hour hike with three miles of dirt trails lined with 10 foot tall walls of corn. There is also a smaller, scenic maze and plenty of play areas for kids.
Browse in Northshire Books in Manchester
One of my favorite independent book stores, Northshire Books is a book lover's paradise. The store covers 10,000 square feet, with a floor dedicated to children's books. When you get tired of browsing, the cafe offers coffee, baked goods, and lunch. Be sure to check the calendar for special events and author book signings.
Take a sleigh ride at Trapp Family Lodge
If you are a fan of the Sound of Music, you will want to visit the Trapp Family Lodge. This Austrian-inspired resort is owned and operated by the Von Trapp family (yes, from the Trapp Family Singers.) It is lovely in the summer and fall, but especially dreamy when viewed from the back of a horse-drawn sleigh.
Enjoy the quaint downtown of Woodstock
Woodstock and Manchester are my favorite towns in New England. Both are quaint, quintessential New England. In Woodstock, Vermont you will find a town green, along with cute shops and restaurants. Enjoy a stay at the beautiful Woodstock Inn and use Woodstock as a home base for exploring the state.
Hike along Quechee Gorge
Quechee Gorge is the "little Grand Canyon" of Vermont and a great day trip from Woodstock. Nearby you can visit Quechee Gorge Village for some antiquing and Simon Pearce Glassworks for a glass-blowing demonstration and lunch at the fabulous restaurant. Formed from a glacier receding, Quechee Gorge features a bedrock ridge that towers 168 feet above the Ottaquechee River. You can enjoy a mile-long hike and a picnic overlooking the waterfalls.
Ski Okemo, Smuggs, or Bromley
Everyone seems to have their favorite Vermont ski resorts, but the ones I really love for families are Okemo and Smuggs. I've already talked about Smuggs, but Okemo also is a great spot for families. If everyone doesn't ski, you can also enjoy the mountain coaster, ice skating rink, snow tubing, and family activities. Plus they have bubble lifts with heated seats!
Things to do in New Hampshire
Spend a day at Story Land
If you have young kids, Story Land is the perfect entry-level amusement park for toddlers and preschoolers. This park features rides themed on classic fairy tales, complete with their own version of Cinderella's castle. Have older kids? Try Santa's Village instead.
Splash in Diana's Baths
Located near North Conway in the White Mountains, Diana's Baths waterfalls are a perfect way to cool off on a summer day. After a short hike you can walk on the rocks and splash in the water. Just watch your step, bring a towel and wear water shoes to protect your feet.
Drive to the top of Mount Washington
One of the more harrowing drives I have ever done, there is a reason they give you a "This Car Climbed Mount Washington" sticker when you complete your journey on the Mount Washington Auto Road. You can drive yourself or take a guided tour to the 6,288 foot summit. In the winter, you can ride up in a snow coach. Just be prepared for cold, clouds, and lots of wind at the top.
Swim or boat in Lake Winnipesaukee
Have you ever seen the movie What About Bob? In this film, Bill Murray's character follows his psychiatrist Richard Dreyfus on vacation to Lake Winnipesaukee. Hilarity and shenanigans ensue. This lake and many others in New Hampshire's lakes region are popular destinations for families because they offer scenic beauty and a laid back pace of "lake life." Rent a cabin and spend a week swimming, boating, and watching the sun set over the water.
Go on a waterfall hunt at Flume Gorge
Located in the White Mountains, Flume Gorge is a natural gorge extending 800 feet from the base of Mount Liberty. The granite walls rise 70 to 90 feet only 12 to 20 feet apart. You can just walk through the gorge or do a two-mile loop with views of Mount Liberty and Mount Flume. Along the way you will see a beautiful waterfall. Just be sure to wear sturdy shoes for climbing stairs and walking uphill on slippery rocks.
Take a scenic drive on the Kancamagus Highway
Summer or fall, a drive along the 34.5 mile scenic Kancamagus Highway through the White Mountain National Forest is a beautiful drive. Just don't try it in the winter as it will likely be closed! This American Scenic Byway takes you past the Swift River, Sabbaday Falls, Lower Falls and Rocky Gorge, offering spots for stops along the way.
Take a sleigh ride at Omni Mount Washington Resort
The glorious Omni Mount Washington Resort is like a throwback to an earlier time. In the winter you can ski or go snow tubing or ice skating. But the nicest way to explore the grounds is tucked into the back of a sleigh for a horse-drawn ride.
Go white water rafting on the Androscoggin River
The Androscoggin River offers class II and III rapids, which are perfect for families. You can take a half-day excursion with an experienced guide, with opportunities to swim and float and look for wildlife along the shore. If you are looking for thrills, there are other rivers that offer up to class IV rapids.
Get off road with Bear Rock Adventures
New Hampshire offers over 1,000 miles of ATV trails, perfect for families that like to get off road. Bear Rock Adventures, up by the Canadian border, offers ATV rentals, equipped with GPS navigation, but also full and half-day guided tours. You can even cross over into Vermont for lunch at a maple sugar farm and search for moose.
Stroll through historic Portsmouth
If you are traveling up the New Hampshire coast to Maine, stop for lunch at the historic port town of Portsmouth. There are a number of historic homes, museums, and buildings along the cobblestoned downtown. There are also plenty of shops and restaurants to explore.
Hike Pitcher Mountain for amazing views
There are many mountains to summit in New Hampshire, but Pitcher Mountain offers a family-friendly two-mile loop hike. At the summit, you can enjoy the 360 degree views all the way to the Green Mountains from the climbable fire tower.
Get spaced out at the McAuliffe-Shepard Discovery Center
The McAuliffe-Shepard Discovery Center in Concord is a science center that lets children explore the worlds of astronomy, aviation, Earth, and space sciences. There are interactive exhibits, workshops, and a high-tech planetarium. The center is named after astronauts Alan Shepard and Christa McAuliffe.
Visit Ice Castles
There are six cities across North America with Ice Castles installations and Lincoln, New Hampshire is one of them. This award-winning frozen attraction is built using hundreds of thousands of icicles and then lit up at night. You will find frozen thrones, ice-carved tunnels, slides, and more. Opening dates vary depending on the weather but generally opens in early January and runs through early March.
Ski Loon or Bretton Woods
There are 33 alpine and downhill ski resorts in New Hampshire. Two of the most family-friendly are Loon and Bretton Woods. Loon also offers snow tubing, snow shoeing, cross country skiing, ice skating, and a zip line. Bretton Woods also has a small snow tubing hill, and, of course, those sleigh rides.
Be a musher at Muddy Paw Sled Dog Kennel
If your kids have dreamed of going dog sledding, you don't need to go to Alaska or Canada to make that dream a reality. Muddy Paw Sled Dog Kennel in Jefferson offers year-round, family-friendly, dog sledding adventures. They are more than just a ride. You can learn to be a musher and meet some of their 80+ sled dogs.
Get underground at the Lost River Gorge & Boulder Caves
If you have already enjoy Flume Gorge, you should also try the Lost River Gorge & Boulder Caves. Located in Kinsman Notch in the White Mountains, the gorge was shaped by glaciers 300 million years ago. You can take hikes and walks, mine for gemstones and fossils, or take an evening lantern tour. Just wear sturdy shoes as the one-mile hike includes 1,000 steps.
Visit Clark's Trading Post
I'm not a huge fan of the way they keep trained bears in captivity at Clark's Trading Post, but this is a popular tourist attraction for families. Besides the bear show, there is also a steam train, water blaster boats, a water raft ride, and a climbing tower. There are also museums to explore and shops to browse.
Also check out this post from Outdoor Families Magazine on more things to do in the White Mountains!
Things to do in Maine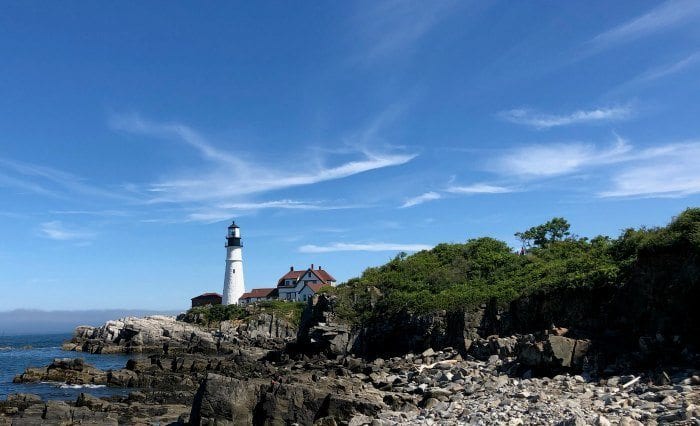 Take a lobster boat cruise
The kids will love learning how to be a lobsterman on a lobster boat cruise from Portland. You will learn how to set a lobster trap, throw it out, and get to haul up the traps and check for lobsters. The best part? If you catch anything you can have a local restaurant cook them up for you for dinner.
Stop at Bob's Clam Hut
There are no shortage of lobster pounds and clam huts along the Maine coast, and Bob's Clam Hut in Kittery is one of the best. Be prepared for a line and a long wait for your food if you visit in the summer. The fried clams are crispy and tender and the lobster is sweet and tasty. It is worth the wait (and the cost!)
Explore Portland's Old Port
Portland is one of my favorite small cities in the U.S. Not only does it have an amazing food scene, it is so fun to walk the quaint cobblestone streets of the Old Port downtown area. This area can be hopping in the summer, with tourists jamming the streets and the restaurants.
Eat homemade blueberry ice cream
While everyone talks about Maine lobster, the state is also quite famous for its Maine blueberries. These aren't usually the big, fat blueberries you see in the market, but more the smaller, wild blueberry variety. You will find everything from blueberry soda to homemade blueberry ice cream. You can find some at Mount Desert Island Ice Cream in Portland and Bar Harbor.
Stroll through quaint Kennebunkport
Kennebunk, Maine was put on the radar for many as the vacation home for the Bush family. The small town of Kennebunkport certainly caters to vacationers. You will find nice shops and restaurants nestled along the water. Make time to have lunch at Cape Porpoise Lobster Co.
Shop at the original L.L. Bean Store
The flagship L.L. Bean Store in Freeport is the largest store in the country, complete with the giant boot out front. Some people use it as an excuse for a day trip, or at least a side-trip from Portland. However, there are also a few great Maine breweries nearby if you need some refreshment after shopping.
Take a hut-to-hut hike with Maine Huts & Trails
Maine is a really big state and all the fun isn't at the coast. With mountains and lakes, there is so much in "Vacationland" to explore. With Maine Huts & Trails you can take a hut-to-hut hike and spend your time off the trail in comfort. Each hut has hot showers, toilets, heated bunk rooms, a spacious great room, and a screened-in porch. Private bunk rooms are available, but you need to reserve them in advance.
Swim in a lake
Maine has over 2,600 lakes and ponds to enjoy. One of the most famous is Sebago Lake, located about an hour from Portland. Plan a trip to relax and enjoy the lake life — from boating, kayaking, water skiing, and swimming. You can even take a sea plane ride in Naples, Maine.
Take a moose safari
Maine has quite a sizable moose population, although with all my trips to Maine, I still haven't seen one. It is on my bucket list to take a moose safari tour and see them in the wild. The best time to see them is at dusk and dawn from mid-May through July, and again in the fall during their breeding season.
Explore Acadia National Park
Up by the bayside town of Bar Harbor you will find Acadia National Park. The park is situated on 47,000-acres primarily on Maine's Mount Desert Island. It is also home to Cadillac Mountain, the highest point on the U.S. East Coast. You will also find moose, bear, whales and seabirds, along with carriage roads and stone bridges.
Spend a day at Funtown Splashtown USA
My daughter goes to summer camp in Maine and each year they take a day trip to Funtown Splashtown USA. This timeless, family-run amusement park offers a wooden roller coaster, drop ride, log flume, water slides, and more.
Go animal watching at the Maine Wildlife Park
If you aren't lucky enough to spot any moose in the wild, you are guaranteed to see them at Maine Wildlife Park. This sprawling reserve is home to moose, black bears, bald eagles, big cats, and more.
Play in the surf at Ogunquit
While much of Maine's coast is rocky, the beaches along the southern coast are quite lovely. Ogunquit means "beautiful place by the sea" and many feel it is the best beach in Maine. Luckily it is just a short drive from Boston and doable as a day trip, but give yourself time to enjoy splashing in the surf.
Climb over the rocks at Portland Head Light
Portland Head Light on Cape Elizabeth, just south of Portland, is likely one of the most photographed lighthouses on the Maine coast. Situated on a large park, you can spend most of the day here scrambling over the rocks and watching the tide roll in or out. If you forget to pack a picnic
Sample the goods at the Maine Whoopie Pie Festival
Maine is also the original home of the whoopie pie. If you don't know what a whoopie is, imagine an Oreo made of dense chocolate cake filled with cream about the size of a donut. While you can find them throughout Maine, but if you want to sample quite a few at once, visit during the Whoopie Pie Festival in June.
Go sailing on a Maine Windjammer
Maine's MidCoast is also lovely, with charming towns such as Boothbay Harbor, Camden, and Rockland. A fun way to explore the coast is on a Maine Windjammer cruise. Imagine lobster bakes on the beach, days spent sailing the coast, and nights on the boat enjoying the stars.
Hike in Baxter State Park
Baxter State Park is a large wilderness area permanently preserved as a state park. It is also where you will find Mt. Kathadin and the last 10 miles of the Appalachian Trail. This makes it quite a popular hiking and camping destination. Even if you aren't hiking the AT, you can enjoy seeing the hikers that are celebrating completion.
PIN THIS FOR LATER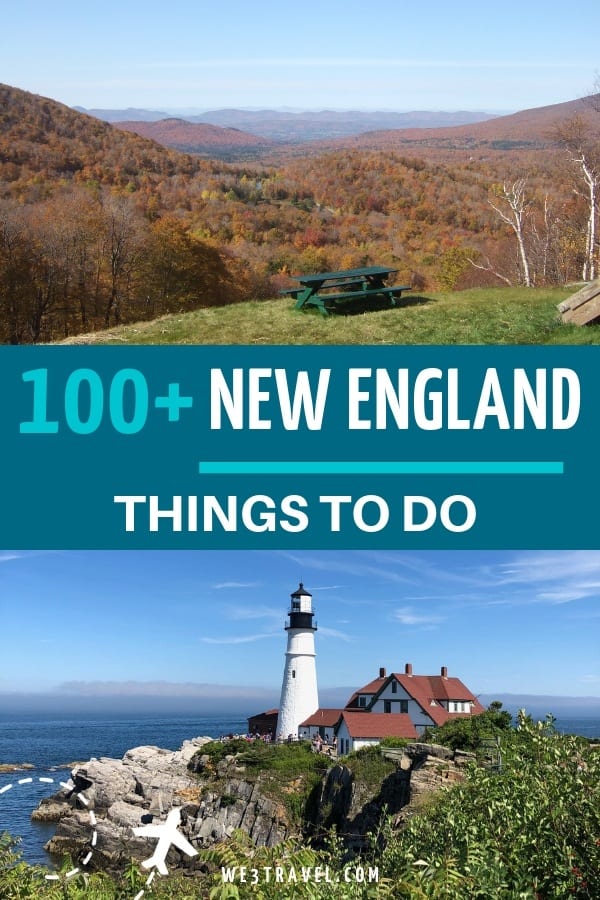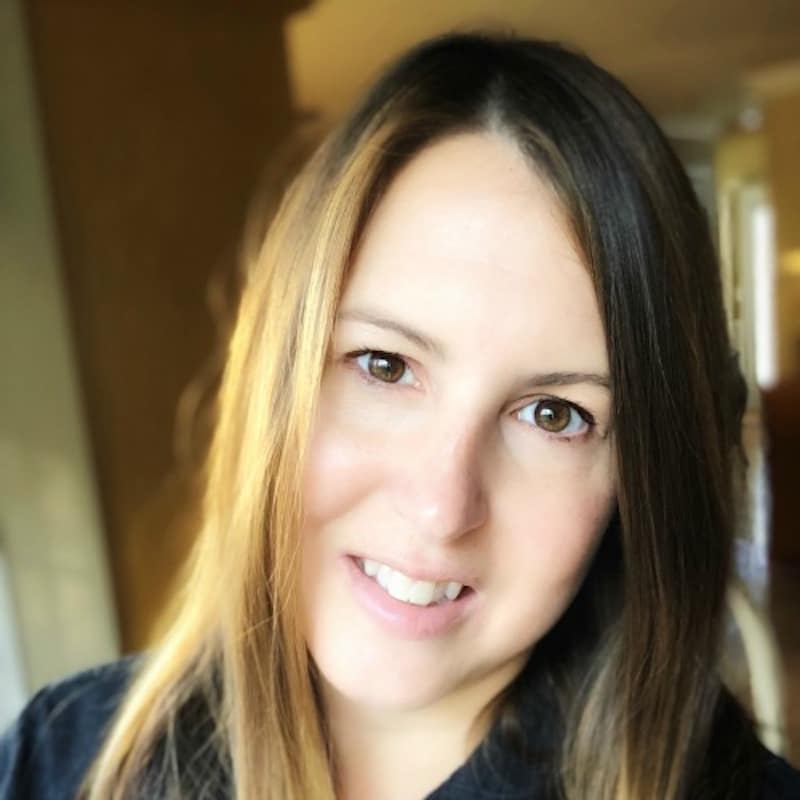 Tamara Gruber is the Founder and Publisher of We3Travel. A former marketing executive and travel advisor, Tamara is an award-winning travel writer and recognized expert in family travel. She is also the publisher of YourTimetoFly and the co-host of the Vacation Mavens travel podcast.