A Route 100 Vermont road trip is often considered one of the most scenic drives in the Green Mountain state and the prettiest fall foliage road trips in New England. At just over 200 miles, Vermont's Route 100 meanders through small towns, follows the path of winding rivers, and travels past both ski resorts and splashy waterfalls.
You can travel this route in just over five hours, but to fully enjoy this scenic drive, you will want to spread it out over a long weekend or more. This scenic Route 100 road trip itinerary will introduce you to what makes Vermont so special with stops at maple sugar houses, craft breweries, country stores, cheese makers, historic sites, gorgeous waterfalls, and charming Vermont villages.
Growing up, I spent all of my family vacations in Vermont, taking day trips and scenic drives throughout the state. More recently, I have driven this route many times in the last couple of years on various trips to Vermont. After exploring all of its nooks and crannies, I'm excited to share some of my favorite stops along the beautiful Route 100 Scenic Byway.
Vermont Route 100 Road Trip Stops
Note: This post may contain affiliate links. If you click a link and make a purchase, I may receive a small commission. All opinions are my own.
This Vermont Route 100 road trip itinerary covers the section from Wilmington, in Southern Vermont, up to Stowe. While Route 100 continues up into the Northeast Kingdom, the section covered here is the most popular and you can easily extend your trip or take a day trip from a home base in Stowe if you want to explore further.
Vermont Route 100 Route Trip Map
This map was created using Google My Maps and covers your Route 100 road trip and the stops suggested below. You can click on the star next to the title and save this to your Google Maps account or click on the share icon to send it to yourself via email. Click on any of the icons to learn more about that destination or attraction.
Wilmington, Vermont
Wilmington is located on the Molly Stark Byway, halfway between artsy Brattleboro and historic Bennington in Southern Vermont. Located near the base of the Scenic Route 100 Byway, this charming town makes a perfect starting point for your road trip itinerary.
The Wilmington Village Historic District is on the National Register of Historic Places with a number of well-preserved 18th- and 19th-century buildings. Downtown you will find a statue of Molly Stark, a local figure made famous by her husband, General John Stark, a Continental general of the American Revolution, who famously gave the battle call of "There are your enemies, the Red Coats and the Tories. They are ours, or this night Molly Stark sleeps a widow!" before engaging with the British and Hessian army in the Battle of Bennington.
In downtown Wilmington, you will find gift shops, boutiques, cafes, and independent book seller Bartleby's Books. For a simple meal, try the old-school diner vibe of local favorite Dot's, or the Village Roost is a trendier coffee shop and cafe in the heart of downtown.
Be sure to take a walk across Reardon's Crossing bridge for lovely views of the Deerfield River. In the summer, you can also explore the shores of Lake Whitingham and in the winter, you will find skiing nearby at the private Hermitage Club at Haystack Mountain or Mount Snow a bit further north.
If you want to stay overnight before starting this road trip, The Vermont House is located right in downtown, and the White House Inn is very close by.
Mount Snow, Dover or Okemo, Ludlow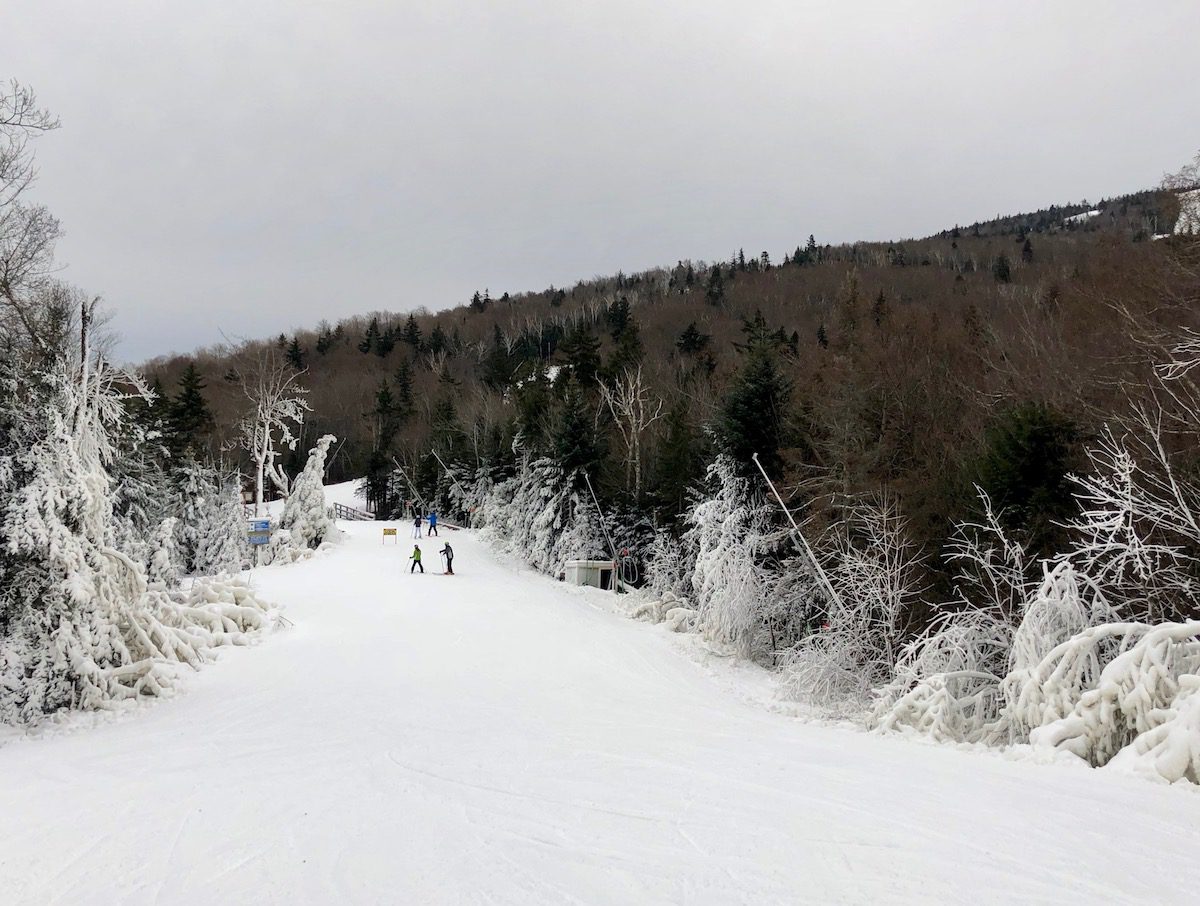 As you head north on Route 100, you will know you are near the ski resorts when instead of barns beside the road, you start to see ski shops and restaurants. If you get hungry, you can stop for some wood-fired pizza at American Flatbread, a popular New England chain. Sticky Fingers Bakery is the place to go for homemade cinnamon rolls, croissants, danish, cookies, breads, and more.
You can easily pass these right by, but if you are splitting your trip up over multiple days, you might want to make time for a stop at either Mount Snow in Dover (15 minutes north of Wilmington) or Okemo, further north in Ludlow. Luckily, these are both located right off of Route 100 and offer great skiing and winter snow sports in the winter, but in the summer or select days during leaf peeping season you can still enjoy hiking, mountain biking, or scenic chairlifts.
If you hold out until you get to Okemo, you can also enjoy additional activities such as the Timber Ripper Mountain Coaster, Haulback Ropes Challenge Course, Coleman Brook Mining Company, or Lumberin' Cal Miniature Golf. Winter also brings ice skating, snow tubing, snow shoeing, or fat biking.
Jamaica State Park & Hamilton Falls, Jamaica
As you head north on Route 100 from Dover, you will pass through the outskirts of the Green Mountain National Forest. This scenic stretch of road is some of the prettiest, especially when it follows the course of the West River, cascading over the rocky river bed. If you want to stretch your legs and enjoy nature, make a stop at Jamaica State Park (30 minutes north of Dover.) Before you get there, you may want to stop at the Scott Covered Bridge.
From the campground, it is a three-mile (one-way) hike to Hamilton Falls, one of Vermont's largest waterfalls. Here Cobb Brook cascades 125 feet down a mountain slope, through a woodland, and into a series of large potholes. There are several falls here, one of which drops 40 to 50 feet into a large pool. While this is a popular swimming spot, it is also quite dangerous and many have lost their lives so I wouldn't risk it.
Jamaica State Park is located at 48 Salmon Hole Ln, Jamaica, VT 05343
If a hike makes you hungry, 10 minutes further up the road you should stop at Honeypie, a local fast food restaurant specializing in burgers, sausages, sandwiches, and milkshakes from the couple behind James-Beard nominated SoLo Farm and Table. You can also pick up some local Vermont beers at Meulemans' Craft Draughts across the street. If you just want something sweet, stop at Grandma Miller's Pies and Pastries instead.
Honeypie is located at 8811 VT-30, Jamaica, VT 05343. Meulemans' Craft Draughts is located at 8814 VT-30, Rawsonville, VT 05155. Grandma Miller's Pies and Pastries is located at 52 Hearthstone Ln, South Londonderry, VT 05155
Taylor Farm, Londonderry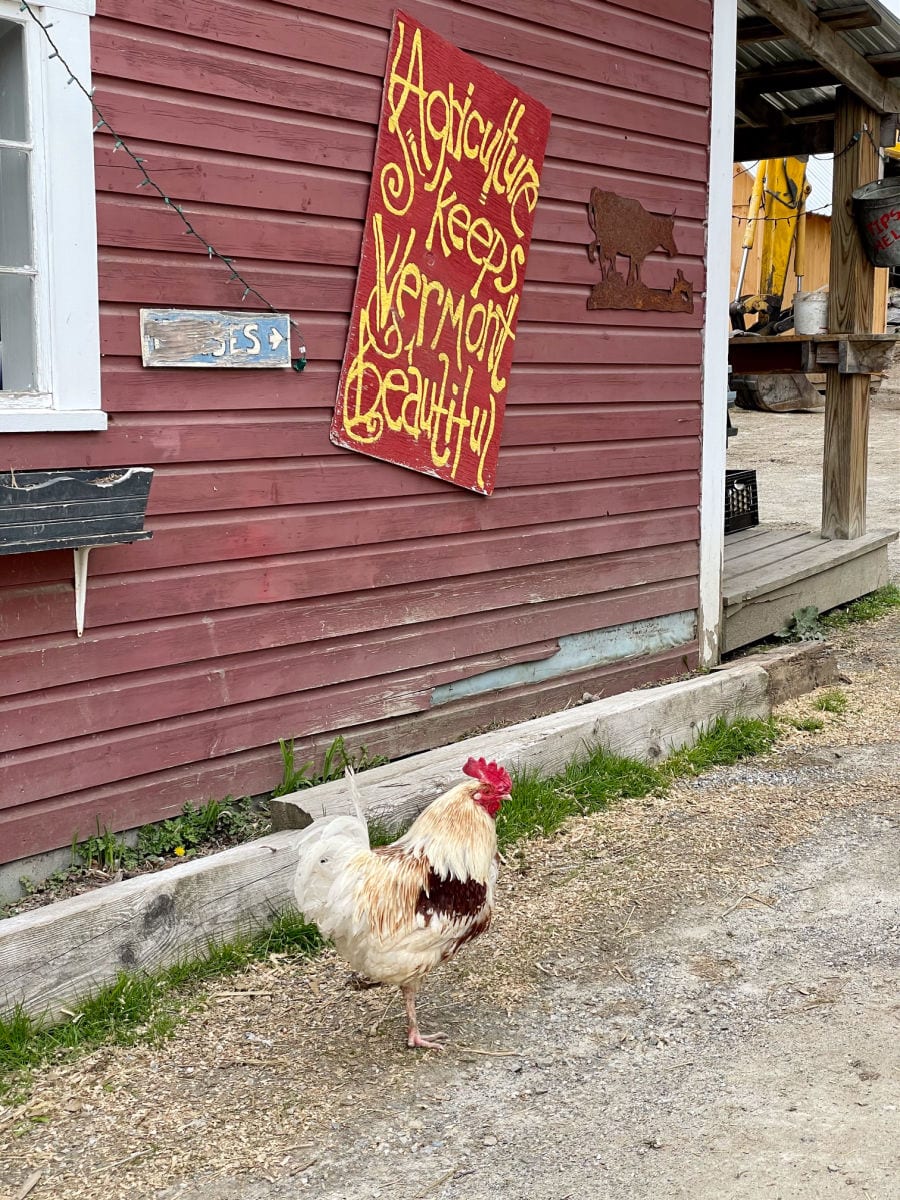 When you get to Londonderry, take a short side trip on Route 11 to Taylor Farm. The farm store features a variety of local and artisanal products including an extensive selection of Vermont cheeses, homemade bread, Vermont maple syrup, jams, and handcrafts.
Each season brings something new to Taylor Farm. Summer brings concerts, animal visits, lawn games, and maybe even a wagon ride. In the fall, the farm is bursting with farm-grown apples and pumpkins and in the winter, Taylor Farm offers sleigh rides. These 45-minute rides travel through the fields and into the woods to a fire and warming hut where you can enjoy some hot cider.
If you really want to break up your drive, take a day to enjoy nearby Manchester and stay overnight at one of the village's many charming inns and hotels.
Taylor Farm is located at 825 VT-11, Londonderry, VT 05148
Vermont Country Store, Weston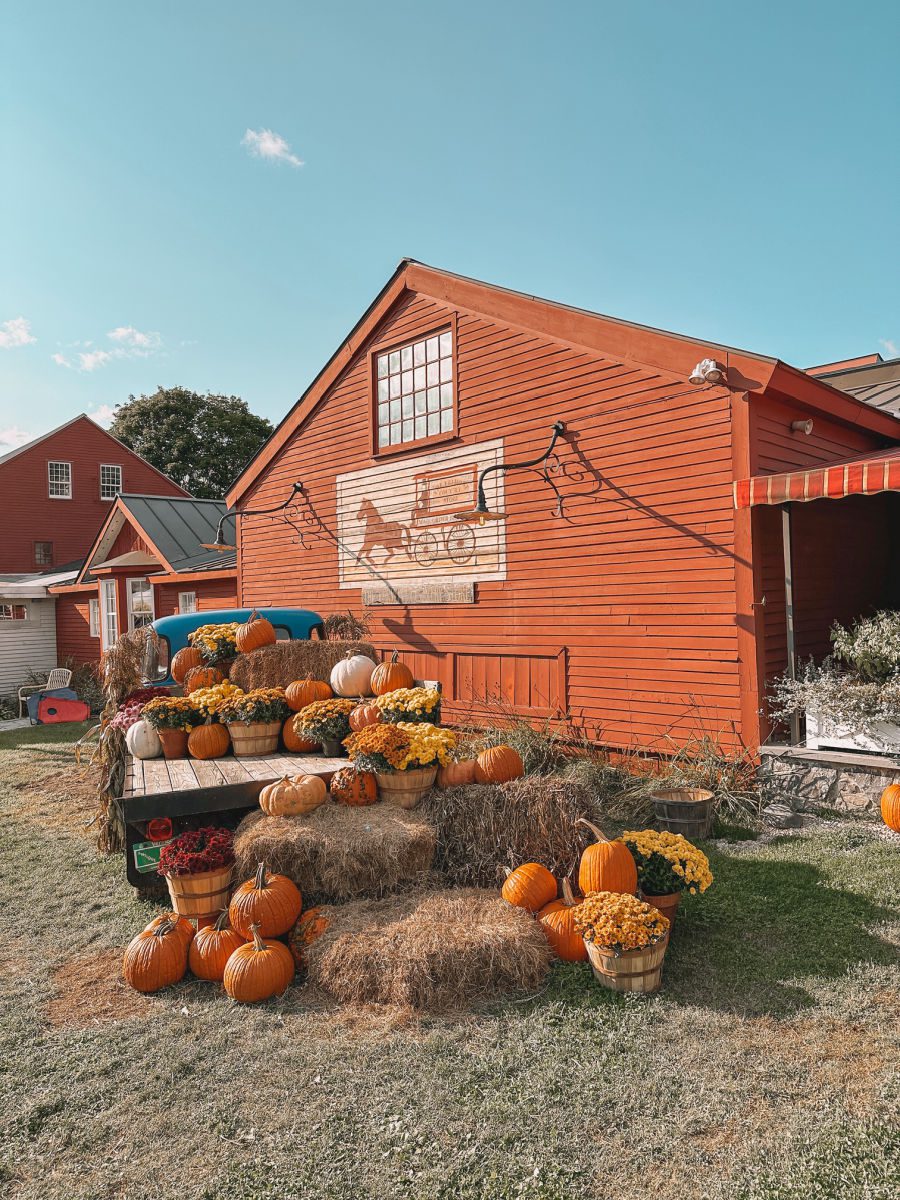 From Londonderry, it is only 10 minutes further up Route 100 to Weston and the Vermont Country Store. Established in 1946 by the Orton family, this iconic spot is like visiting the L.L. Bean of Vermont. You will find a huge array of Vermont-made products including clothing and housewares, along with food products.
This is a spot to buy Vermont maple syrup, Vermont cheeses, jams, and other specialty products. It is fun to wander the wood-planked rooms to discover what treats await…like hard candy sticks and old-fashioned hard candies and fudge.
The Vermont Country Store also has a snack bar and cafe, along with picnic tables. So pick up a treat, grab a rocking chair on the porch, and travel back in time at this quintessential country store.
The Vermont Country Store is located at 657 Main St, Weston, VT 05161
Buttermilk Falls, Ludlow
Just north of Okemo Mountain Resort, 20 minutes north of Weston, turn left onto Route 103 to Buttermilk Falls. You can access the falls via a short walk. While it is a popular swimming spot in the summer, it is especially beautiful in the fall.
Green Mountain Sugarhouse
Back on Route 100, it is only a couple of minutes further to Green Mountain Sugarhouse. This red-roofed sugarhouse overlooks the beautiful Lake Pauline so order a maple creemee (maple-flavored soft ice cream) and grab a seat on an Adirondack chair to enjoy the view. They make and sell everything from maple syrup to maple fudge, and it is also a Vermont country gift shop (albeit much smaller than the Vermont Country Store.)
Green Mountain Sugarhouse is located at 820 Route 100 N, Ludlow, VT 05149
Calvin Coolidge Historic Site
When you get to Plymouth Notch, take a side trip up Route 100A towards Bridgewater for a visit to the President Calvin Coolidge Historic Site. Also known as the Coolidge Homestead, this was the childhood home of the 30th president of the United States and the place where he first took the presidential oath of office.
Visitors can see the Coolidge Birthplace, Coolidge Homestead, Union Christian Church, Schoolhouse, and Plymouth Cemetery, along with permanent exhibits and enjoy the nature trails throughout the grounds.
Calvin Coolidge Historic Site is located at 3780 VT-100A, Plymouth, VT 05056
Plymouth Artisan Cheese
Plymouth Artisan Cheese is home to America's oldest cheddar, made from the original 1890 Vermont recipe. The Plymouth Cheese Factory was built in 1890 by Colonel John Coolidge, a dairy farmer who was looking to extend the shelf life of his milk. Today, the company makes multiple flavors of cheddar including Farmer Fred's Favorite, black truffle, sage and herb, hot pepper, and cheese curds. The shop is open 11 – 4 everyday, keep that in mind because somehow I always seem to get there minutes after they close!
Plymouth Artisan Cheese is located at 106 Messer Hill Rd, Plymouth, VT 05056
Killington, Vermont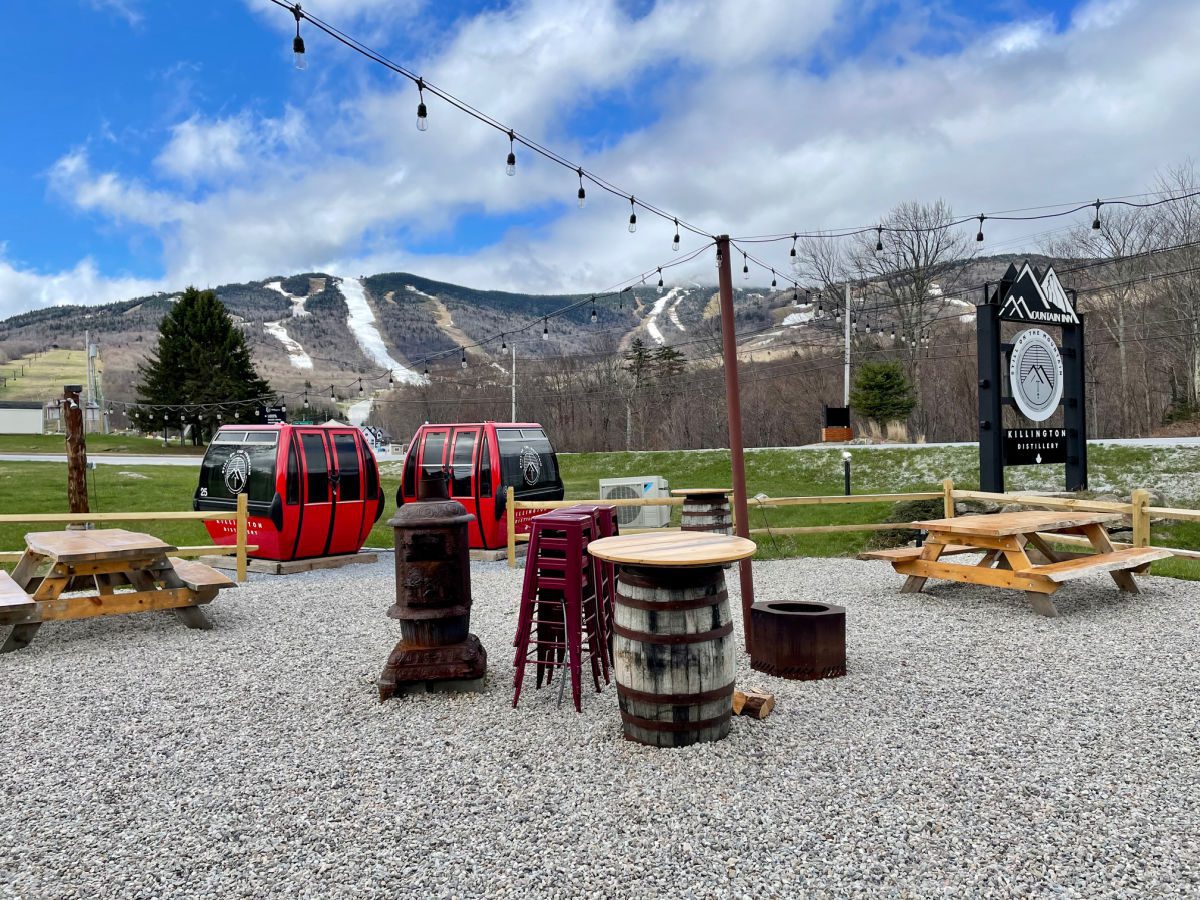 Killington is the perfect halfway point on your Route 100 Vermont road trip to stop for the night, as there are so many options for places to stay (although it will be pricier during ski season.) I've stayed at The Mountain Inn in Killington. It is a newly renovated hotel that sits on top of a distillery and restaurant. It wasn't fancy but it had modern decor and a fun vibe (and good price!)
Find more places to stay in Killington:
---
Long Trail Brewing Co.
Brewing since 1989, Long Trail Brewing Co. is one of Vermont's early craft brewers, specializing in German-style beer. I first visited Long Trail in the early 1990s, but today you can eat and drink at its spacious riverside pub and restaurant, which was inspired by the Hofbräu House in Munich, Germany. You can either continue up Route 100A to Long Trail for a drink before checking in to your hotel at Killington, or go back out for dinner.
Long Trail Brewing Co. is located at 5520 US Rte. 4, Bridgewater Corners, Vermont 05035
---
Thundering Brook Falls, Killington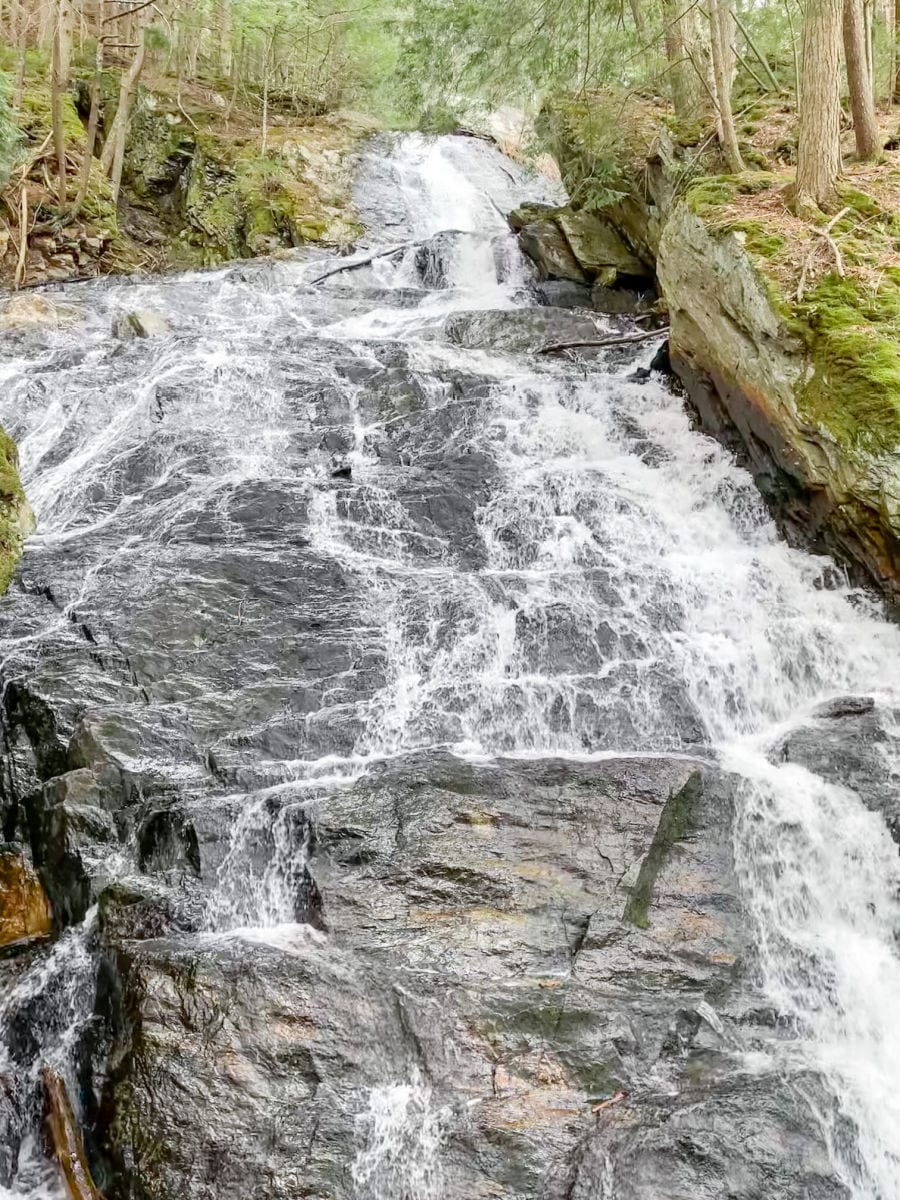 Start off your day with a short hike to Thundering Falls, which is said to be the sixth tallest waterfall in Vermont. Start at the River Road parking area and follow a boardwalk over the Ottauquechee River and through the open Ottauquechee River floodplain. The trail then ascends to a viewing platform overlooking the Falls via an accessible switchback and spur trail.
Thundering Brook Falls is located at 2295 River Rd Fork, Killington, VT 05751
Rochester Country Store, Rochester
Thirty minutes north of Killington you will come across the small town of Rochester, home to the Rochester Cafe and Country Store. This homey cafe has been serving up breakfast, brunch and lunch favorites for over 30 years. Even if you aren't hungry yet, the quaint country store is filled gifts and local goodies. It is also a good spot to pick up a picnic for your next stop!
The Rochester Cafe and Country Store is located at 55 N Main St, Rochester, VT 05767
Texas Falls Recreation Area, Hancock
It is only 10 minutes from Rochester to the Texas Falls Recreation Area, but there isn't cell service in the area, so be sure to map it in advance. You will need to turn off Route 100 at Route 125 West to reach the falls. This area features a one-mile nature hike through the woods, but you don't even need to do that to see the stunning waterfalls that have been carved through the rock over the generations. The best views are right at the beginning of the hike, just past the bridge that connects the trail to the parking lot.
Moss Glen Falls, Granville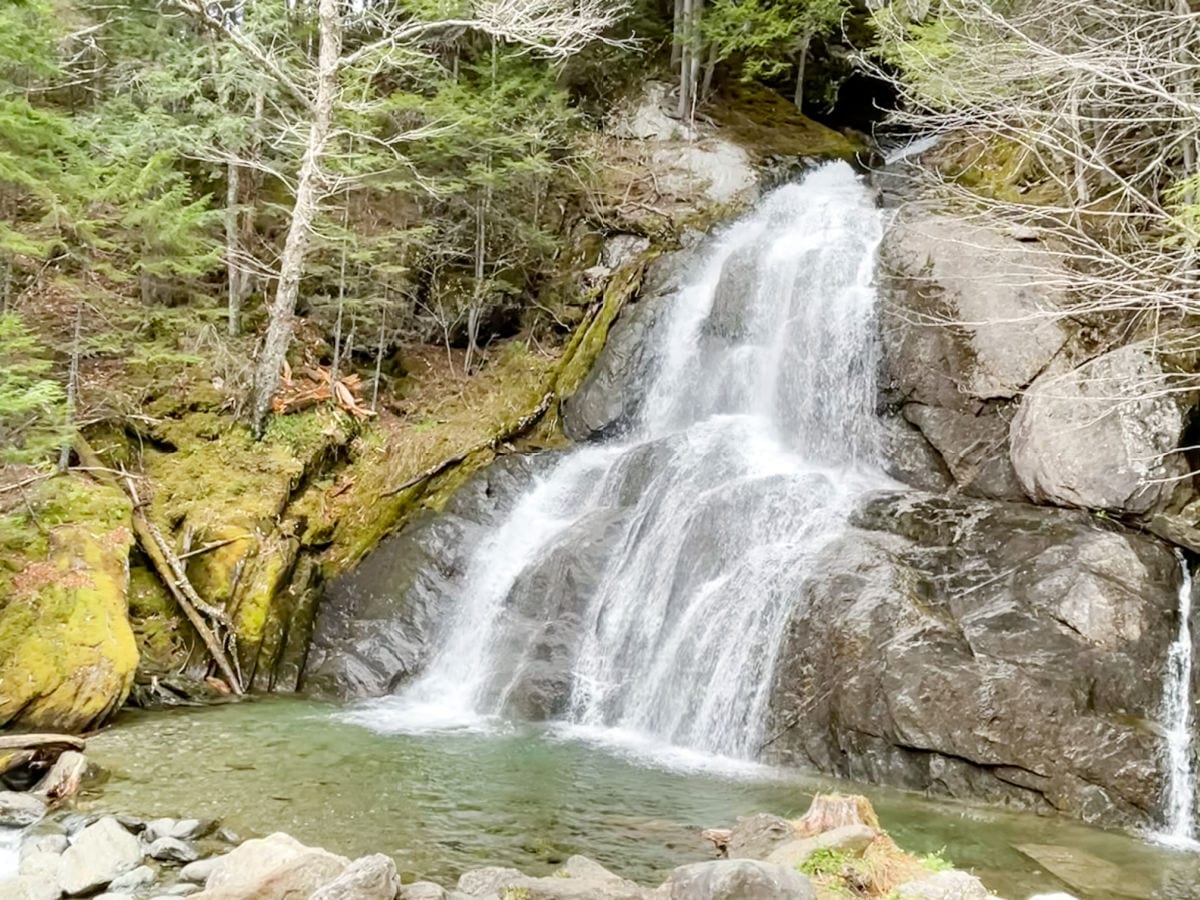 Head back to Route 100 North and continue 15 minutes further to Moss Glen Falls, a pretty 30-foot waterfall. The Falls are located on the west side of Route 100, so the parking lot is easier to access from the southbound side. When traveling north, you will need to keep your eyes peeled or you will miss it.
Warren Falls, Warren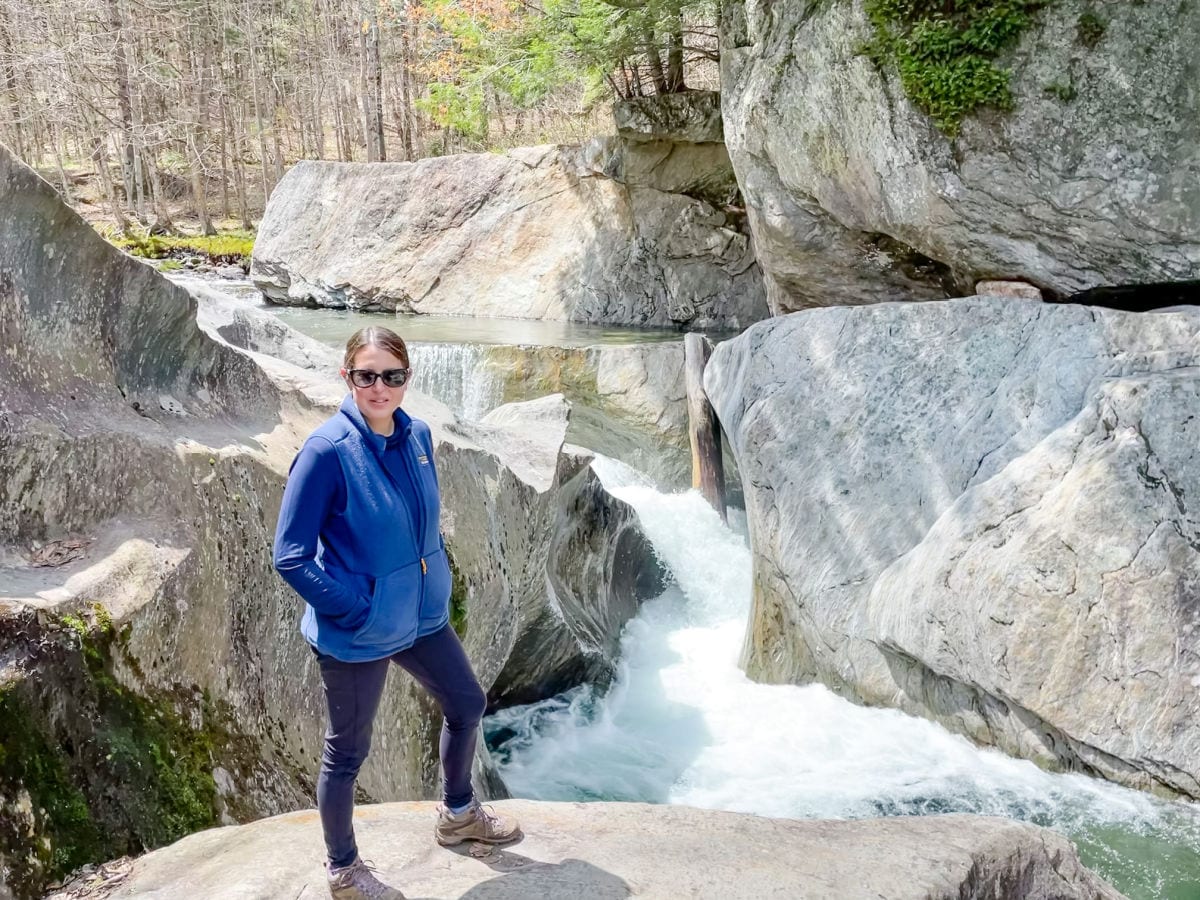 Another 10 minutes further north, you will come to Warren Falls. This is a series of waterfalls, rather than a tall and more dramatic waterfall like Moss Glen Falls, however, it is still a beautiful spot to stop if you love waterfalls. If you have already had your fill, feel free to skip this spot. The parking lot can get a little crowded on a busy day because this is a popular spot for families, picnickers, and hikers. But a short walk towards the cascades will bring you to a beautiful view of the water rushing through rocks. Stake out a spot on the rocks and sit and enjoy a picnic or just take in the view.
A bit further north brings you to the Warren Store, a former stagecoach inn and boarding house that is now a charming general store.
Warren Falls is located at 3919 Vermont Rte 100, Warren, VT 05674
Lawson's Finest Taproom, Waitsfield
The cute, artsy town of Waitsfield, near Mad River Glen Ski Area, is the beginning of the Mad River Scenic Byway. This is a great spot to stop for lunch, or even stay the night if you have more time for your Vermont road trip itinerary. You will find art galleries as well as pottery and glass artisans. You can grab lunch at the Three Mountain Cafe, American Flatbread, or Mad Taco, or treat yourself to a maple ice cream cone at Canteen Creemee.
Waitsfield is also home to Mad River Distillers and a few craft breweries, including one of my husband's favorites, Lawson's Finest Liquids. The taproom serves up tasting flights and light bites and is a must stop for New England IPA lovers.
Lawson's Finest is located at 155 Carroll Road, Waitsfield, VT 05673
Waterbury, Vermont
Waterbury also offers plenty of options for lunch or dinner, including Prohibition Pig or Maxi's, a local favorite for breakfast and brunch. If you stick around for dinner, try to get a reservation at Hen of the Wood. I've eaten at their location in Burlington and this farm-to-table restaurant is fabulous.
Ben & Jerry's Factory, Waterbury
Ben & Jerry's Factory is one of the most popular attractions in Vermont and a must visit for ice cream fans. You can take a 30-minute guided tour through Ben & Jerry's first factory. Built in 1985, this factory continues to manufacture upwards of 350,000 pints per day and you may get lucky to see the production in action during the tour. The tour ends in the Flavor Room with a tasting of one of the famous flavors.
Even if you don't take a tour, you can still visit the small Scoop shop and retail area. One thing you do NOT want to miss is a stroll through the Flavor Graveyard. I know it sounds a little creepy, but it is actually quite fun to see all the flavors that have been "de-pinted." Just keep in mind that tour tickets are released two weeks in advance and pre-purchasing is highly encouraged.
Ben & Jerry's Factory is located at 1281 Waterbury-Stowe Rd Route 100, Waterbury Village Historic District, VT 05676
Cabot Creamery, Waterbury
Any cheddar cheese fan will want to make a stop at the Cabot Creamery Store in Waterbury, just up the road from Ben & Jerry's. In addition to a selection of delicious cheeses, the store sells many other Vermont specialty foods including maple products, Vermont microbrews, and hard ciders. While you are there, grab some extra creamy sea salted butter to spread on freshly baked bread.
Cabot Creamery is located at 2657 Waterbury-Stowe Rd, Waterbury Center, VT 05677
Lake Champlain Chocolates, Waterbury
Located right next door to Cabot Creamery is the Waterbury location of Lake Champlain Chocolates. Not only is this a chocolate shop, but it is also a chocolate cafe offering hot chocolate, coffee, and ice cream. I've visited the main Lake Champlain Chocolate store in Burlington and I was so impressed with the quality and ethical-sourcing offered by this family run company. You can also grab some factory seconds for a steal!
Lake Champlain Chocolates is located at 2653 Waterbury-Stowe Rd, Waterbury, VT 05676
Cold Hollow Cider Mill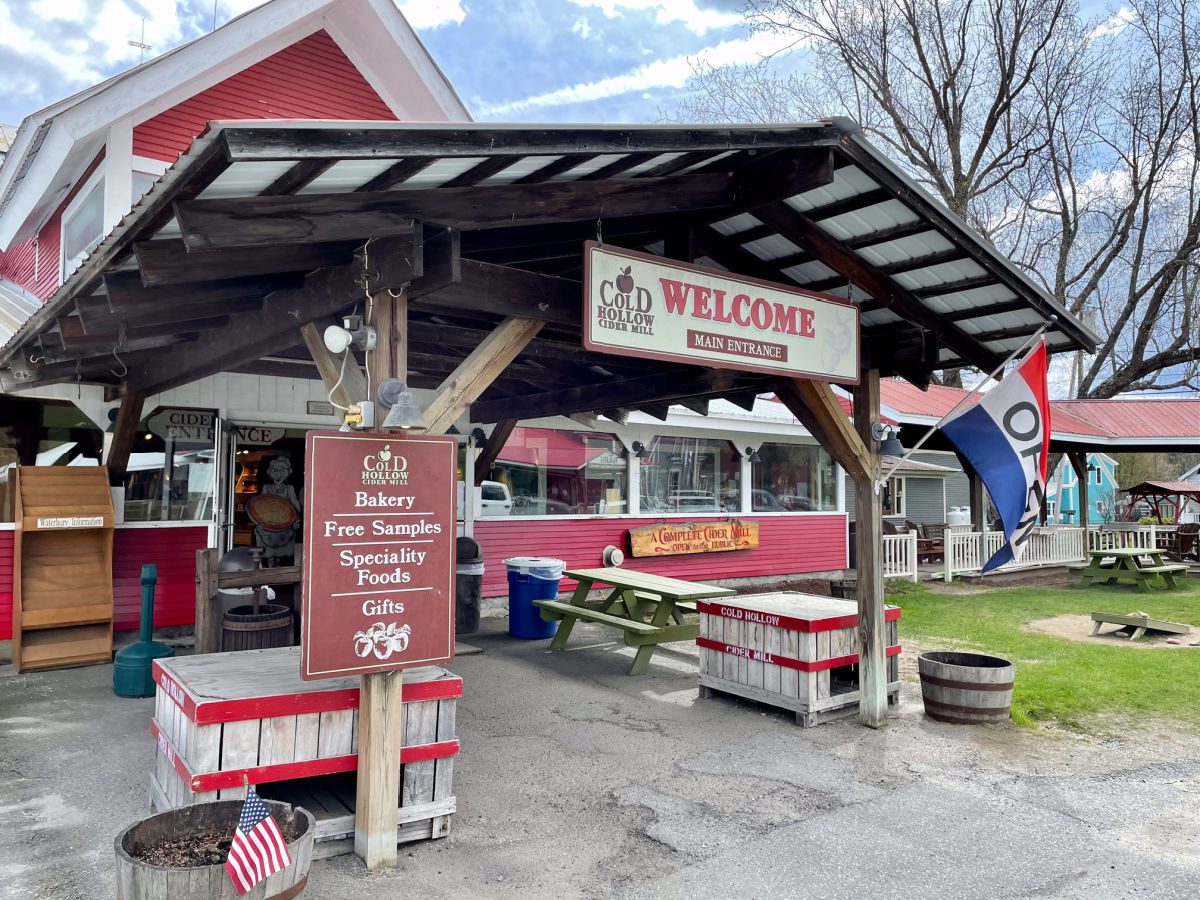 Just thinking about the freshly cooked apple cider donuts from Cold Hollow Cider Mill makes me hungry! I'd suggest starting at the hard cider tasting room. When I visited, if you purchased a tasting flight you got a coupon for six free donuts next door. After your tasting, visit the main store for apple cider, apple cider donuts, and a wide selection of Vermont products.
The restaurant also serves breakfast and lunch with breakfast sandwiches on homemade cheddar cheese biscuits, wraps, fresh salads, our homemade soups, grilled Paninis, and sandwiches served on homemade white or sweet potato bread.
Cold Hollow Cider Mill is located at 3600 Waterbury-Stowe Rd, Waterbury Center, VT 05677
Stowe, Vermont
I'd suggest finishing up your Route 100 road trip in the ski town of Stowe. There are many places to stay nearby that offer a great selection of outdoor mountain activities including Topnotch Resort, Stoweflake Lodge, and the Trapp Family Lodge. The Bench in Stowe is a great spot for lunch or dinner.
From Stowe, you can enjoy hiking and outdoor summer or winter activities at Stowe Mountain Resort. You can also take day trips to shop at the Vermont Flannel Store and Johnson Woolen Mills in Johnson
Find more places to stay in Stowe:
---
Vermont Route 100 Road Trip Tips
Charge Up
If you are driving an electric vehicle, you will want to be strategic about where and when you charge. While Vermont has the highest per capita rate of public charging availability in the United States, you need to know where to look. There is a large bank of Tesla super chargers in Brattleboro, which you could use to charge before starting out. You will also find chargers in Wilmington, Ludlow, Killington, Rochester, Warren, Waitsfield, Waterbury, and Stowe, along the route.
Gas powered cars should also keep an eye on the fuel gauge when driving the scenic byways of Vermont, but you will find gas stations in small towns along the way. Just keep in mind that some may have limited hours.
Drive South to North
It really doesn't matter which direction you drive Vermont's Route 100, but unless you are flying into Burlington, I think it is more fun to drive the scenic route north and then take the highway back south. Plus, if you start in Wilmington, you are closer to more airports if you are flying in (3 hours from Boston, 1.5 hours from Hartford CT, 2 hours from Manchester NH, and 1.5 hours from Albany NY.)
Be Weather & Traffic Ready
Route 100 is known as the "Skier's Highway" since there are so many ski resorts located on or near the scenic byway including Mount Snow, Okemo, Stratton, Killington, Pico, Mad River Glen, Stowe, and others. If you are taking this trip in the winter, be prepared for crowds and for snow. Make sure you have good all-weather tires (or consider snow tires) and bring along an ice scraper and portable snow shovel. Twice I've gone on a ski trip and had to shovel out my car with my hands so don't make my mistake!
Plan Early for Leaf Peeping
In the autumn, leaf peepers line the scenic byways of Vermont and crowd the small trail parking lots and attractions. If you want to visit during prime fall foliage season, you need to book your accommodations in advance! Peak foliage times vary but typically the last week of September through Columbus Day Weekend / Indigenous People's Day is the busiest. You should use a fall foliage tracker to follow the color change progress each year.
Bring a Map
Many portions of Route 100 do not have cell service so it helps to bring along a paper map, which you can pick up at a Vermont visitor center or many country stores and attractions. If you don't have a map, be sure to map out your route, with the stops, before you leave WiFi or cell service. Technically you don't need a map if you stick to Route 100, but it does take a few twists and turns, and there are a few stops that are slightly off the route that are still worthy of a stop.
---
VISITING VERMONT? YOU MAY BE INTERESTED IN…
Save this to Pinterest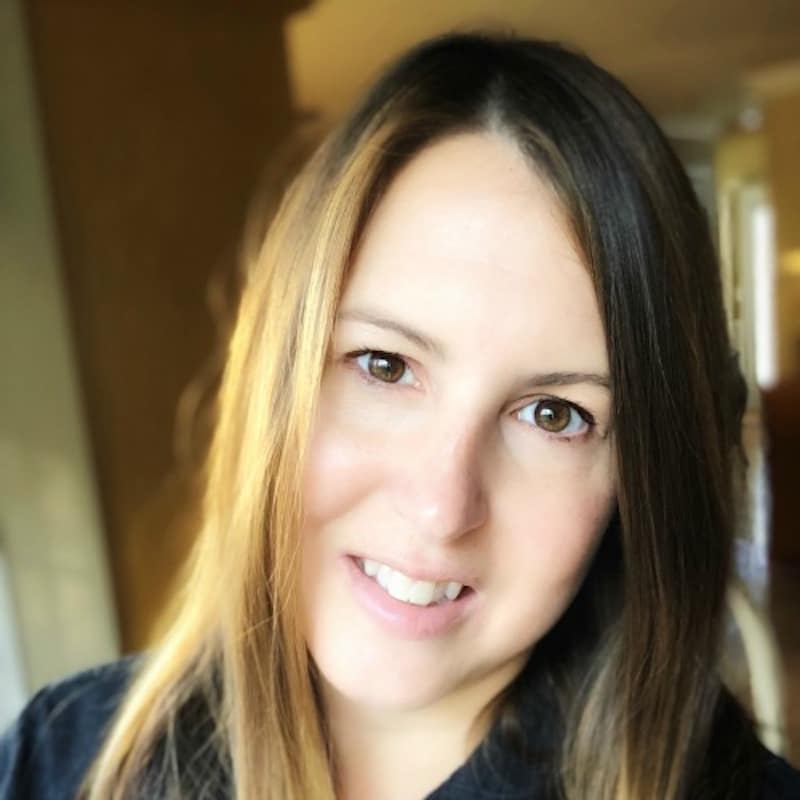 Tamara Gruber is the Founder and Publisher of We3Travel. A former marketing executive and travel advisor, Tamara is an award-winning travel writer and recognized expert in family travel. She is also the publisher of YourTimetoFly and the co-host of the Vacation Mavens travel podcast.