As a kid, I spent all my family vacations visiting family in Vermont and I developed a great fondness for the charming shire of Manchester. Since that time, the village has grown into a sizable and upscale town, attracting many people from the big cities, while still holding onto its classic Vermont style. Nestled between the Green Mountains to the East and the Taconic Range to the West, visitors will find an abundance of things to do in Manchester VT.
In the summer's warmer months, visitors can take full advantage of the stunning scenery, local festivals, farms, and outdoor adventure pursuits. By early fall, the state's stunning foliage appears and Mother Nature begins to show her vibrant colors, attracting armies of leaf peepers. Families enjoy agritourism from corn mazes, apple picking, pumpkin farms, harvest festivals, and the popular Peru Country Fair.
Of course, winter months attract the skiers and riders, swooshing down the trails at nearby Bromley, Stratton, and Magic Mountains and coming into town to shop, eat, and enjoy its cultural attractions. Spring brings mud season, the last of the spring ski runs, and, of course, maple sugaring. While the snow melt can turn the ground to mud, it also is prime time to see waterfalls at their fiercest.
Things to do in Manchester, Vermont
I've visited Manchester in all four seasons, and each time I return, I find something new to fall in love with in this New England town and visiting Manchester is one of my favorite things to do in Vermont. So whether you or stopping in as part of a Vermont road trip, coming for a ski trip, or just planning a Vermont weekend getaway, I'm sure you will find more than enough things to do in Manchester to your liking.
What to do Outside in Manchester VT
Manchester is a popular tourist destination year-round, offering a variety of outdoor activities for every season.
Mount Equinox Skyline Drive
As a kid, I was always a bit jealous of all those cars with a "This Car Climbed Mount Washington" bumper stickers, since, at the time, I'd never been to New Hampshire. But as frequent Vermont visitors, we had driven the Mount Equinox Skyline Drive. Mount Equinox is the highest peak in the Taconic Range. Mount Equinox Skyline Drive is the longest privately owned, paved toll road in the United States. It ascends 3,248 feet over 5.2 miles to the top of Mount Equinox, with several vistas and picnic areas along the way. Note that this road is only accessible from Memorial Day through October 31st.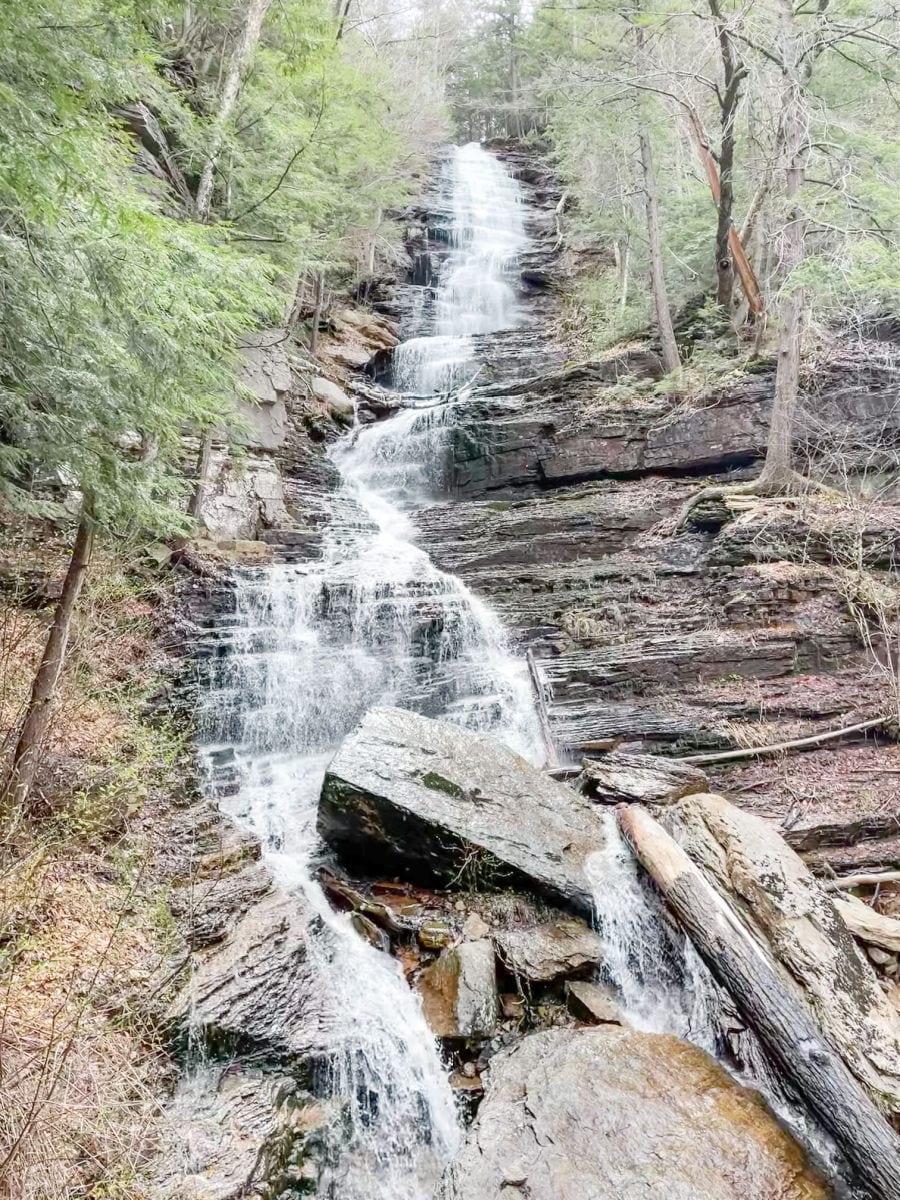 Lye Brook Falls
The Lye Brook Falls trail just outside of Manchester is about a 5 mile out and back, moderately-rated trail that has a fairly steady climb, some over rocks and roots, with a few small stream crossings and downed trees to get over along the way. You will want to wear waterproof hiking boots and use trekking poles or carry a walking stick to make the stream crossing easier, especially if you are visiting during the high water season in the spring. At the top, you have a fantastic view of the 125-foot high Lye Brook Falls, one of the highest in Vermont. The slippery rocks make it very dangerous so don't try to climb the falls.
Equinox Pond
If you are looking for an easier, family-friendly hike, try the Equinox Pond Trail. This flat, one-mile "Flatlanders Path" loops around the pond. Keep an eye out for wildlife and if you want to explore more of the Preserve, pick up a map at the trailhead and look for Robin's Lookout off the Red Gate Trail for a great view of the Battenkill Valley.
Fly Fishing
If you are new to angling, sign up for a lesson at the Orvis Fly-Fishing School, where you can learn casting, how to tie knots, proper fly selection, and how to play, land, and safely release fish. If you already know the basics, you can hire a guide like Young's Fly Fishing to take you out to the locally-known spots.
Bromley Mountain Adventure Park
As a kid, I relished the days we spent whipping down the mountain on Bromley's Alpine slide. I've been able to pass that thrill on to my daughter on a recent visit to Bromley's Mountain Adventure Park, which is open from Memorial Day weekend through early October. In addition to the triple track Alpine Slide, there is a four-story Giant Swing, waterslide, scenic chairlift ride, Kidzone, Zip Rider zip line, and an Aerial Adventure Park to traverse. You can even try your hand at disc golf on the Woods & Meadows 18-hole, lift-served course. ​
Golf
Speaking of golf, The Golf Club at Equinox offers beautiful mountain views. This scenic 1927 Walter Travis design course is a Par 71, 6,423 yard Vermont gem of a course. It has been named one of the "Top 75 courses in the U.S." by Golf Digest and ranked in the "Top 3 Golf Courses in Vermont" by Golfweek.
Horseback Riding
For equestrians, guided trail rides are available at Mountain View Ranch in nearby Danby, Vermont.
Arlington Covered Bridge
If you travel south on Route 7A, or The Shires of Vermont Byway, you will find a few covered bridges before you get to Bennington. The Arlington Green Covered Bridge is located off Vermont Route 313 in Arlington, Vermont. Built in 1852, this lattice truss bridge spans the Batten Kill River and has been listed on the National Register of Historic Places since 1973.
Chiselville Covered Bridge
Tucked down and around a bend on Sunderland Hill Road, in Sunderland between Route 7 and Scenic 7A, it is easy to miss the Chiselville Covered Bridge, which stands 40 feet above the Roaring Branch. Built in 1870, apparently the bridge had a cameo in the 1987 movie Baby Boom.
Land Rover Experience
Want to learn how to drive off road? Located at The Equinox Resort, the Land Rover Experience Driving Center helps you hone your skills on icy hill climbs, side tilts, and rocky terrain. They offer one, two, half-day, or full-day experiences with your own car or one of theirs. There are even teen driver and family experiences.
Winter Sports
Manchester is surrounded by plentiful options for winter sports including downhill skiing, cross country skiing, ice skating, snowshoeing, sleigh rides, and snowmobiling. Bromley Mountain is less than 20 minutes outside of Manchester and is a very family-friendly ski mountain offering 47 trails and nine lifts. Stratton Mountain is only 30 minutes away and is Southern Vermont's highest peak, with 99 trails and 11 lifts. Magic Mountain, located 30 minutes away, brings back the golden age of skiing with a rustic lodge servicing 39 trails.
Swimming
Located just 20 minutes north of Manchester on Route 7, Emerald Lake State Park is the perfect spot for swimming and cooling off in the summer. As a kid, I used to love our day trips to Emerald Lake. This 430-acre state park in East Dorset is the home of 20-acre Emerald Lake, called such because of its emerald color. There is a wooded hillside campground, beach and swimming area, and is also a good spot for fishing and hiking.
Manchester Riverwalk
In the heart of Manchester Center is the pedestrian Riverwalk. This work in progress aims to allow locals and visitors to enjoy trails along the Batten Kill River, away from the noise and traffic of passing cars, but still offer easy access to shops and restaurants in town.
Manchester Farmers Market
If you are visiting during the week, the Manchester Farmers Market runs from early June through early October every Thursday from 3 to 6 pm in Adams Park. This producer-only market now features over 30 vendors from local farmers to artisans.
Indoor Pursuits in Manchester VT
While a visit to Vermont should undoubtedly be filled with time in nature and the great outdoors, there are plenty of indoor pursuits too for those colder or wetter days. Of course Vermont is known for its antiquing, farm visits, and all types of artists and craftspeople from basket weaving to woodworking to glass blowing. Here are just a few of the indoor attractions in and near Manchester.
Hildene
I remember visiting the Lincoln family home as a child on one of our many day trips to Manchester. Once the home of Robert Lincoln, the only surviving child of Abraham and Mary Todd Lincoln, today Hildene exists to carry the values of Abraham Lincoln to future generations by educating and inspiring others to put those Values into Action.
Built as a summer home when Robert was president of the Pullman Company, the largest manufacturing corporation in the country, the 412 acre estate includes a Georgian revival mansion and 14 historic buildings includes the formal garden and observatory. Visitors can also see the historic carriage barn, a 1903 Pullman car, and a new solar-powered goat dairy and cheese-making facility. Today you can take a self-guided tour of the inside of the mansion, the grounds and trails, and take a peek into the Sunbeam restored Pullman car.
Southern Vermont Arts Center
Vermont is home to artists of all types, and the Southern Vermont Arts Center showcases that work with a rotating calendar of exhibitions. But the center also offers first-class cultural, educational, and creative opportunities through classes and programming for all ages, from figure drawing to watercolors, to performing arts events including classical music and live theater. The Center is also home to the largest sculpture park in Vermont and the Boswell Botany Trail for woodland hiking.
Manchester Hot Glass
Manchester Hot Glass is a glass studio and gallery nestled between Manchester's many designer outlets. In addition to shopping, you can also book a private glass blowing class. If you have never tried this craft, a class will lead you to a new appreciation for the works of art and common glass items you use.
Pastime Pinball
For a little indoor fun and a giant dose of nostalgia, check out the Pastime Pinball arcade. Pay an entry fee and then have a blast trying your hand at 60 of the hottest pinball games from the 1950s to today. This multi-level arcade with a snack bar also features vintage games like a 1950's shuffle bowler, 1960's shooting game, 1970's basketball game and other arcade classics, along with retro video games like Ms. Pacman, Galaga, Frogger, and Donkey Kong.
Orvis
Charles F. Orvis founded the Orvis Company in Manchester, Vermont, in 1856 to offer superior fly-fishing equipment and excellent customer service. Today, Orvis is the trusted source for clothing, home and pet goods, and, of course, fly-fishing gear. Going to Manchester and not stopping at the Orvis flagship store is like going to Freeport and not going to L. L. Bean.
The American Museum of Fly Fishing
With Orvis in town, it isn't a surprise to find The American Museum of Fly Fishing in Manchester. The museum was established in 1968 to preserve the rich heritage of fly fishing. Today, this small Museum serves as a repository for and conservator to the worlds largest collection of angling and angling-related items, and documents the evolution of the sport. You will also find art, photographs, manuscripts, and books related to fly fishing.
Northshire Bookstore
I make a stop at the Northshire Bookstore every time I pass through Manchester. This family-run, independently-owned bookstore offers two floors of hand-curated book selections, including a large children and teens section upstairs. It pays to check the store's event calendar before you go to see if you can stop into any author signings or readings while you are visiting. This is the type of shop I wish could be found in every neighborhood and it is no wonder people think it is the best bookstore in Vermont.
Boutique Shopping
There are plenty of boutiques, artisans, galleries, and specialty food makers to visit in Manchester. For your Vermont souvenirs, stop into the country store at Above All Vermont. Stop into Fortuna Sausage and Italian Market to sample the company's acclaimed signature salami, a Calabrese soppressata. For special gifts, pop into the Epoch Artisan Gallery, and, for the home, try Vermont Kitchen Supply.
Outlet Shopping
If you enjoy outlet shopping, you will find yourself warming up your credit card in Manchester. While it seems a bit of a modern intrusion on this small village, the Designer Outlets are always a tempting stop. You will find a range of outlets including Tumi, Vineyard Vines, Kate Spade, Michael Kors, Armani, Eddie Bauer, and more.
Sugar Shack and Norman Rockwell Exhibit, Arlington
If you drive south down Scenic Route 7A toward Bennington, Vermont, you should plan to stop in Arlington at the Sugar Shack and Normal Rockwell Exhibit. Norman Rockwell as a resident of Arlington from 1939 to 1953, during which time he used over 200 local people as models for his work. The exhibit focuses on these works and profiles of the people used in his paintings. Of course you can also pick up some locally produced pure maple syrup, along with maple frosted sugar cookies, fresh baked pies, and their famous homemade cider donuts.
Taylor Farm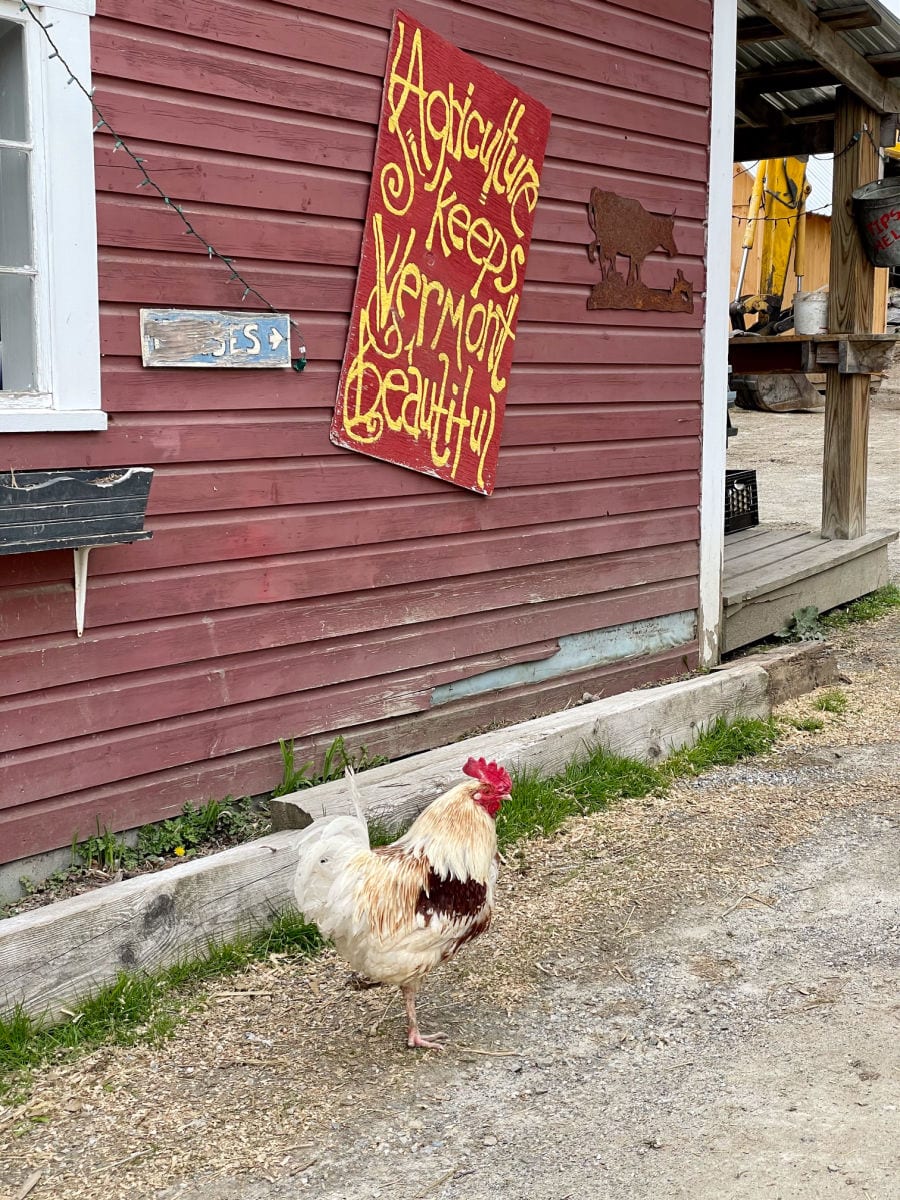 Just out of town, you will find a number of farms and artisanal food producers that are worth a visit, including Taylor Farm in nearby Londonderry. This 180-year old working dairy farm now offers cheese making, lodging, a farm stand, and sleigh rides in the winter. The farm's signature products include a selection of gouda cheeses, maple syrup, preserves, and mustards. If you visit in the spring, make sure you stop by to see the farm babies!
Where to Eat in Manchester, Vermont
Manchester is home to many cafes and restaurants, but here are some recommendations on where to eat in Manchester.
Breakfast at the Little Rooster Cafe
A good pick for breakfast is the Little Rooster Cafe. This cozy roadside diner serves up down-home breakfast and lunch dishes in an old-fashioned country decor setting. If you are staying at the Hampton Inn, this is also a quick and easy walk in downtown Manchester Center.
Little Rooster Cafe is located at 4764 Main Street, Manchester, VT.
Dinner at Silver Fork
Owned and operated by Melody and Chef Mark French, Silver Fork offers elegant, upscale dining in the heart of town, located in the former Mark Skinner Library. This gorgeous, art-filled setting pays a subtle tribute to the building's former occupant, with wood from the shelves used in the bar and the card catalog adding a whimsical design touch. The food is as interesting at the dining room, with the eclectic menu showcasing the travel and experience of Chef Mark — with dishes from his native Baltimore, Germany where he started his career, and Puerto Rico, which he called home for many years. The presentation is beautiful, the service attentive, and the taste delivered on its promise. Silver Fork is a perfect choice for a special night out.
Silver Fork is located at 48 West Rd, Manchester, VT.
Mother Myrick's Confectionery
If you need to satisfy your sweet tooth, stop in to Mother Myrick's Confectionery. This little chocolate and pastry shop is famous for its butter crunch toffee, but you can also find truffles, turtles, fudge, and other specialty candies. If you want more than a small bite, pick up a Lemon LuLu cake, a light and moist lemon pound cake covered with a delicate fresh lemon glaze.
Mother Myrick's Confectionery is located at 4367 Main Street Manchester Center, VT.
Where to Stay in Manchester, Vermont
Note: This post may contain affiliate links. If you click a link and make a purchase, I may receive a small commission. All opinions are my own.
Note: This post may contain affiliate links. If you click a link and make a purchase, I may receive a small commission. All opinions are my own.
The Equinox Resort
The Equinox Resort and Spa used to be the best place to stay in Manchester and I used to gaze at it longingly when we would drive by, headed back to my grandmother's log cabin outside of Rutland. This five-star luxury resort offers golf, a full spa, falconry, an Orvis Shooting and Fly Fishing School, and even an off-roading Land Rover Experience. However, recent reviews show that it is having a tough transition from Marriott to private ownership and quality may not be up to its old standard.
If you do choose to stay on property, you will be greeted by Cooper, a Golden Retriever and the resort's Chief Happiness Officer and even get to take a hike with him through the Equinox Preserve. It still looks like a great option for families seeking a range of recreational activities on property and I'm still hoping to give it a try sometime once the reviews look more positive.
Kimpton Taconic Hotel
The Kimpton Taconic Hotel is a bit newer to the area, and offers the style and sophistication you expect from the Kimpton brand (part of IHG). It is a luxury, boutique hotel that offers rustic elegance appropriate for the environment. They may not have a dog greeter, but Kimpton-brand properties always welcome you to bring your own pooch and even provide dog beds and bowls on request. The hotel's on-property restaurant and bar, The Cooper Grouse, serves up elevated, yet unfussy cuisine.
Hampton Inn and Suites
If you are looking for an affordable yet dependable option, the Hampton Inn and Suites is reliable and won't break the budget. Located right in the center of town, you also can't beat the convenience for walking to shops and restaurants. I stayed here recently on a girl's trip to Vermont and found it to be clean, spacious, and nicely decorated. Amenities including free hot breakfast and a fitness room and indoor pool. There are also electric car chargers available.
If you are looking for an affordable yet dependable option, the Hampton Inn and Suites is reliable and won't break the budget. Located right in the center of town, you also can't beat the convenience for walking to shops and restaurants. I stayed here recently on a girl's trip to Vermont and found it to be clean, spacious, and nicely decorated. Amenities including free hot breakfast and a fitness room and indoor pool (currently used by reservation only.) There is are also electric car chargers available.
Reluctant Panther
One of my picks for a romantic getaway to Vermont, the Reluctant Panther is also a good choice for foodies. This small luxury hotel offers just 20 rooms and suites featuring antique furnishings, fireplaces, marble baths, and original artwork. The restaurant features contemporary American cooking with an emphasis on locally sourced products in an elegantly upscale atmosphere.
Wilburton Destination Resort
On a previous mother-daughter trip to Vermont, Hannah and I stayed at the lovely Wilburton Inn just outside of town. This historic mansion offers a mix of elegant guest rooms and vacation homes. The 30-acre hilltop grounds offer breathtaking views, as well as an outdoor pool, tennis court, lawn games and sculpture gardens.
Save this to Pinterest