Imagine snuggling with your honey under cozy blankets on a luxurious bed, the crackling fire in the wood stove staving off the brisk mountain air. You pull back the covers and slip on your soft waffle robe and prepare a cup of locally-roasted pour-over coffee using the electric kettle and carry it out onto the porch deck to take in the morning mist still clinging to the meadow and the hills beyond. You turn and pull back the flap of your tent…
Wait, what? Yes, you just read tent. But I'm not talking about standard tent camping (obviously). Nope, I'm talking about Highwood Retreat, one of the newest and most luxurious places to go glamping in Vermont.
I've gone glamping all over New England, and I can tell you that Highwood Retreat offers something special. It combines the design aesthetic and thoughtful touches of a boutique hotel with an off-grid peace and quiet that is tough to obtain without trekking into the backcountry.
If you are looking for a romantic getaway in Vermont or in need of a peaceful nature retreat, let me tell you about my recent experience at Highwood Retreat. It may be just the thing you are searching for.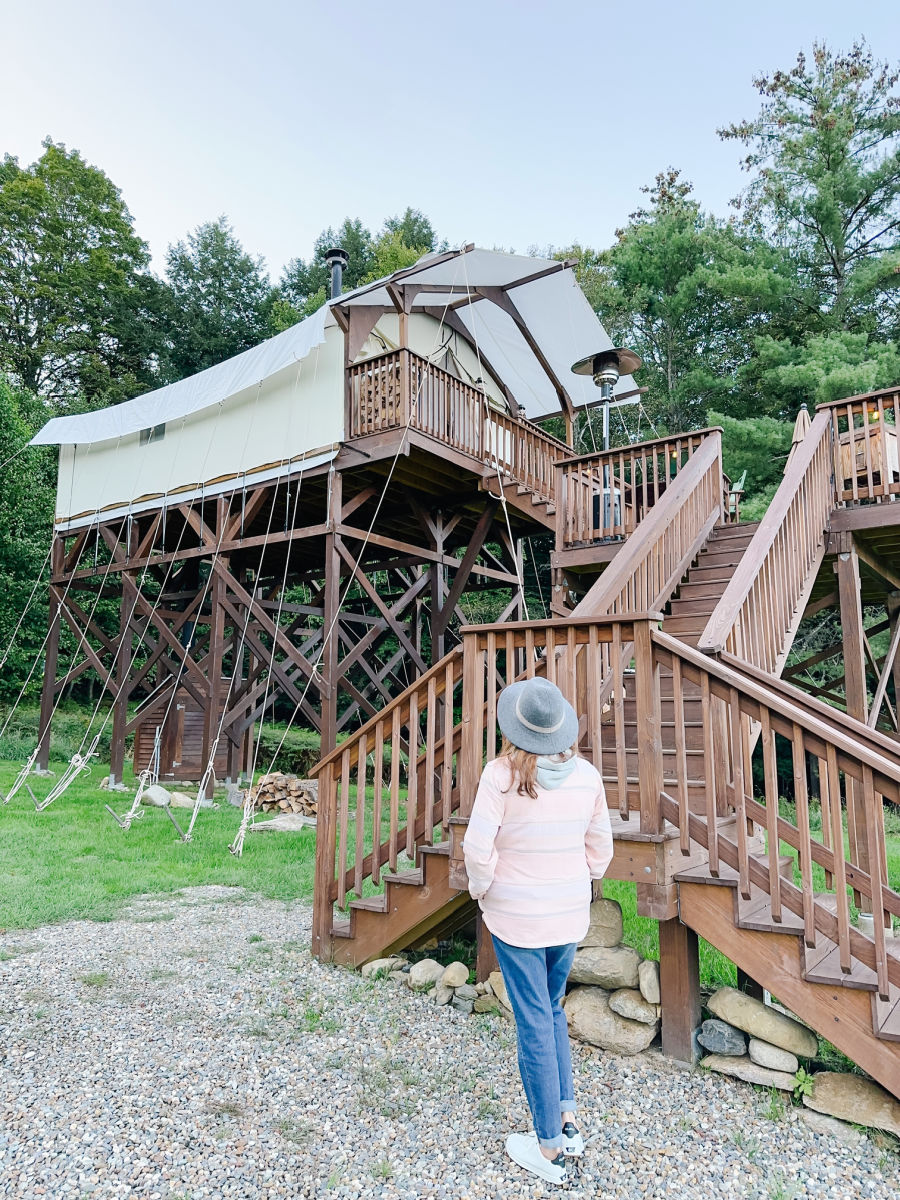 About Highwood Retreat
Highwood Retreat is a luxury camp in Southern Vermont, which opened in late 2022 and has been selling out ever since. It is the brainchild of Sam Parsons and Katharine Mangold, who traded the lights of Hollywood for the Green Mountains of Vermont with a dream of building a nature retreat unlike any other. There is currently one luxury safari tent accommodation at Highwood Retreat, but two more treehouse-like structures are planned and there is plenty of space to add additional forms of glamping accommodations in the future.
The off-grid glamping tent was handbuilt by Sam, who soon learned all about installing solar panel batteries and composting toilets to create a glamping experience that had all the amenities expected by discerning guests. Meanwhile, Kat hand selected the finishes, which would look just as at home in one of Vermont's finest inns. Together, they provided the warm hospitality you expect from a country bed and breakfast, from the quad ride out to the glamping spot from the guest parking, to morning breakfast basket deliveries of freshly baked croissants.
Glamping in Vermont: Highwood Retreat Review
Note: My stay at Highwood Retreat was complimentary in order to facilitate this review. I'm sharing my honest opinion about my stay.
Highwood Retreat's luxury canvas tent may not have all the amenities of some other glamping resorts (like the gorgeous rain shower at Terramor or the Nordic saunas of Lumen Nature Retreat), but it offers something that you won't find at many others — privacy. Even when one tent expands to three, there will be ample space and unblemished views so that no one will feel crowded.
Trust me when I say that the solitude is special. You may be a little nervous being out there in nature all alone, but the peace and quiet is just the forced disconnect and relaxation that is so hard to find in day to day life.
Accommodations at Highwood Retreat
Unlike many glamping tents that are built just off the ground on a wood platform, the luxury safari tent at Highwood Retreat has been raised up to the tree line, offering views and a unique nature experience. You reach the tent by way of a five-minute walk along a gravel path through a wooded land bridge and across a tranquil meadow, although Sam or Kat will happily transport you and your luggage at check in and check out.
A set of stairs leads up to a large deck, featuring two umbrella-shaded lounge chairs, a bistro table and chairs with a patio heater, and an outdoor cooler for your beverages and perishables. Another short set of stairs brings you to the tent's porch and a beautiful viewpoint across the glade.
The inside of the tent resembles a gorgeous New England inn room, it just covered with canvas instead of solid walls and a roof. As soon as you unzip the flaps, your eyes are immediately drawn to the plush bed, with its tall wooden headboard, which has been outfitted with Brooklinen's Luxe Sateen Sheets, an over-stuffed down comforter, layers of soft quilts, and an electric mattress heater that will keep you cozy on even the chilliest nights.
In front sit two oversized upholstered chairs in a luxe gold velvet, all perched on a beautiful woven carpet. As your eyes move around the room, you soon notice some of the other touches, like the cut crystal water cooler, the electric gooseneck kettle and pour-over carafe sitting next to small canisters of tea, fresh ground coffee, and accompaniments.
Two nightstands sit beside the bed, each with a small light and outlets for charging your devices. That's right, the tent is off-the-grid but you still have electricity thanks to the solar panels out front. Just don't bring a hair dryer or curling iron, as those are not allowed. I'd also leave your computer at home since there isn't any WiFi provided but cell service is more than adequate for staying connected if needed. The tent is heated by a small wood stove in the corner, and a full supply of firewood is just outside the door. A heater is also provided in the winter, making Highwood Retreat a year-round retreat.
The more time you spend cozied up in the tent, the more you notice the other fine touches such as the fresh flowers on the small table and a bookcase with a curated collection of books and collectibles. The back of the tent is sectioned off by a partial wall and curtains. One side leads to a closet area, with a clothes hanging rack and luxurious touches such as two waffle robes, rubber shower sandals, extra blankets, and hot water bottles to bring to bed.
On the other side you will find the bathroom. While there isn't any running water at the tent, the compostable toilet doesn't emit any odor and a large water dispenser is perched on the sink to provide water for washing your hands and brushing your teeth. This and the water in the beverage area can be replenished with water deliveries if needed.
The bathroom also has a small vanity with a mirror along with necessities like lotion, cotton swabs, and body wipes. You may have noticed that I didn't mention a bath or shower. That is because the shower is actually outside. While rustic and natural, the outdoor shower facility still pays close attention to detail. An armoire holds fresh fluffy towels and there are full-size bottles of shampoo, conditioner, and body wash. Not only are there plenty of hooks for towels and clothes, there is even a mirror and a bench for dressing.
Throughout the property you will find battery-powered lanterns, which you are welcome to bring with you to light your path if you plan on returning to the tent after dark. Outside the tent, you will also find a picnic table and a small fire ring circled by benches and tiki torches, creating a lovely outdoor space to enjoy the natural setting.
Room Service
That's right. Room service. To a glamping tent. Now that was a first. I've stayed at glamping resorts that offered lodges with restaurants or food trailers, others that offered meal kits that you could cook yourself over a fire or camp stove. But while Highwood Retreat doesn't have any cooking capabilities, they do have a small room service menu that is perfect for the setting.
You can choose from an extensive drink menu of flask cocktails, bottles of wine, and local beers and ciders. There is also an incredible cheese and charcuterie board offering, with some delicious Vermont cheddar of course. Or, if you go out to dinner you can always enjoy the s'mores kit over the fire later. The morning breakfast basket offers a choice of a bagel, freshly baked croissant, or other baked good with a carafe of freshly-squeezed orange juice.
Take a look at my video tour:
Location
Highwood Retreat is located just a couple miles south of the little town of Springfield, Vermont, just minutes off Interstate 91 halfway between Brattleboro and Woodstock. I took Kat's recommendation and had dinner at the Copper Fox in Springfield, a local farm-to-table restaurant, and it was delicious. Highwood is very easy to get to from throughout the northeast, only 2.5 hours from Boston and four hours from New York City by car.
Visitors can also take the Vermonter Amtrak train to the Bellows Falls station and Highwood will arrange a pick-up and drop-off at the station for a flat rate of $30. The Vermonter train route travels daily between Washington D.C. and St. Albans with stops including Philadelphia and NYC.
Bottom Line
I can honestly say that I found my stay at Highwood Retreat absolutely charming from start to finish. I lucked out with gorgeous September weather that got just chilly enough to want to get a fire roaring in the wood stove and cuddle up under layers of covers. The bed was comfy, I saw nary a sight of any unwelcome insects or furry creatures, and the bathroom situation was perfectly fine for a short stay. It was a bit chilly taking a shower in the morning, but it was also a unique experience and I didn't have to worry a smidge about privacy or noise.
Highwood Retreat is perfect for a unique romantic getaway with your special someone, but it was also lovely as a solo retreat. Unlike other glamping trips, I didn't feel nervous at all as a solo female traveler. I'm eager to see what the future holds as Highwood Retreat expands its offerings.
Things to do Nearby
Highwood Retreat has a great location for taking day trips to some of Vermont's most charming towns.
Brattleboro
Brattleboro is just forty minutes south of Highwood Retreat. On the way, you can make stops at Hidden Springs Maple for a maple syrup tasting and delicious maple creamees (because what is a trip to Vermont without it!). Just down the road you can also load up on apple cider donuts and other baked goods at Green Mountain Orchards.
The town of Brattleboro is known for its vibrant arts scene and downtown you will find galleries, boutiques, and restaurants. There is also a burgeoning craft beer scene with Whetstone Brewery on the Connecticut River and the Brattleboro River Garden Marketplace, serving up local beers and casual bites alongside booths from local artists and makers.
Of course, I never leave Brattleboro without a stop at my favorite cheese shop, Grafton Village Cheese Shop, where you can sample to your heart's delight. I recommend bringing along a soft cooler to bring some purchases home (they do sell ice packs!)
Manchester
Highwood Retreat is also only one hour from Manchester, one of my favorite towns in Vermont. Manchester is home to the fantastic Northshire Bookstore, the Orvis fly fishing school, Land Rover driving experience, Robert Lincoln's Hildene historic home, Pastime Pinball Arcade, the Southern Vermont Arts Center, and more. See my picks on the best things to do in Manchester.
Woodstock
Highwood Retreat is also only 40 minutes south of Woodstock, one of Vermont's poshest towns and another one of my favorites. Here you will find the luxurious Woodstock Inn, a charming town square, and picturesque streets lined with restaurants, boutiques, and those quintessential New England colonial homes. You can visit the Billings Farm and Museum, enjoy a New England falconry experience, visit Farmhouse Pottery, hike Mt. Tom, or enjoy a culinary experience at the Woodstock Inn.
Visiting Vermont? You may also be interested in…
Save to Pinterest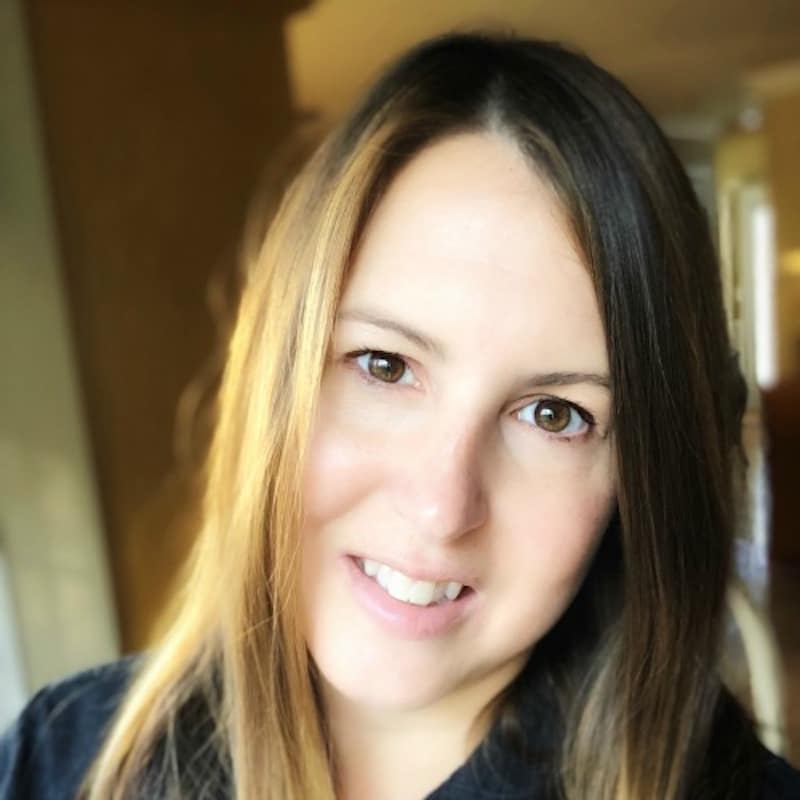 Tamara Gruber is the Founder and Publisher of We3Travel. A former marketing executive and travel advisor, Tamara is an award-winning travel writer and recognized expert in family travel. She is also the publisher of YourTimetoFly and the co-host of the Vacation Mavens travel podcast.