Nestled on the shores of Lake Champlain in Northern Vermont, you will find a family resort that is in some ways unchanged for generations. It is a place where families gather, year-after-year. It is also a place where friendships are made and romances blossom. And that very special place is the Basin Harbor Resort & Boat Club in Vergennes, Vermont, which Hannah and I had a chance to visit for a mother-daughter getaway in June.
Although our little family unit of two felt small compared to the many family reunions and multi-generational trips at the Resort during our stay, it was immediately clear how well the Basin Harbor caters to families. I'd already heard amazing things about their kid's club but we also saw packs of teens strolling the property and the lawns are dotted with games from horseshoes to a giant Connect 4 and chessboard. There were even plenty of dogs about, noting Basin Harbor's pet-friendly policy.

Basin Harbor Review
Lake Champlain Cottages
Although the Basin Harbor is one of the Historic Hotels of America, most of its 45 guest rooms and 74 cottages have been updated to reflect a clean, nautical feel. The decor utilizes earth tones and artifacts from the resort's 131-year history.
The resort offers studio, one-bedroom, two-bedroom and three-bedroom cottages with lake, golf course or garden views. We stayed in the lakefront Greenledge, two-bedroom cottage, which offers amazing lake views from the living room and master bedroom. Because of its perch on the edge of the cliff, there wasn't any outdoor space with much of a view, but each cottage is different. Although keep in mind that none will be the sort where you can just walk out and jump in the lake, but no worries, you have the harborfront for that!
Click on gallery to expand
I loved the decor of the cottage, with a blend of comfortable brown leather couches, comfy beds and nautical elements like oars and old-fashioned water skis adorning the walls. There was also a mini kitchen with a sink and small fridge, but no cooktop.
Each bedroom had its own bathroom with two sinks, making it easy to negotiate the family bathroom time. The master bedroom offered a king bed, large closet, and dresser. As usual, my only complaint is finding a suitable outlet near the bed for charging devices, but even the complimentary WiFi worked just fine in the cottage.
The second bedroom featured twin beds and its own en-suite bathroom. Of course, once a moth fluttered in Hannah's face on the first night she climbed into my bed and the second room was sadly deserted but who wouldn't love a little extra snuggle time with their 13-year old before they head off to sleep away camp for a couple of weeks? One thing I've learned about lake cabins through our travels is that no matter how nice, don't be surprised by a couple of winged or eight-legged creatures that make the banks of the lake their home.
Lake Champlain
The one creature we were disappointed not to spy was Champ, the mysterious lake creature that is said to resemble the Loch Ness monster and live in Lake Champlain. As a kid, I always kept my eyes peeled when we visited Lake Champlain but alas, I've never caught a glimpse. No surprise because, outside of whether or not you believe in mythical creatures, Lake Champlain is the sixth largest lake in the United States so she has plenty of room to hide.
The lake is 12 miles wide at its widest and can get up to 400 feet deep. However, where the Basin Harbor is located, you can plainly see the Palisade cliffs of New York and the distant Adirondack Mountains across the lake.
Click on gallery to expand
Basin Harbor offers many ways to get out on the lake, from the complimentary pedal boats you can borrow to kayaks, paddle boards and canoes that you can rent. If you plan ahead, you can also hire a motorboat for some water skiing or tubing.
The harbor front also offers a swimming area, with chairs that line the dock and rocks on shore, and two large water trampolines. When we visited in late June, the water was still a little too chilly for us to brave but there were many who didn't let the cold stop them.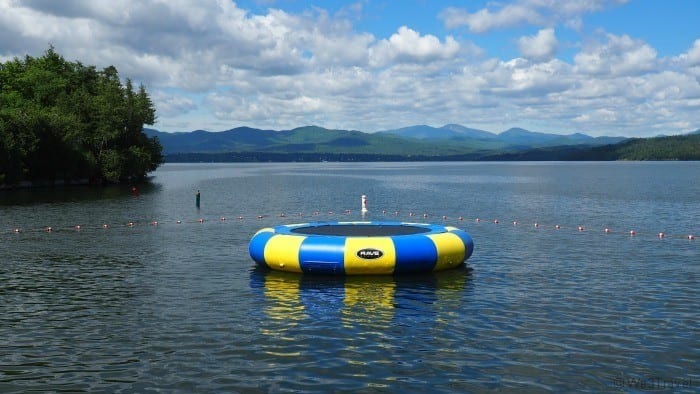 We also went out on a 1-2 hour narrated lake cruise, which taught us about the history of the lake and its natural surroundings. We even spied a couple of bald eagles!
Pool and Activities
In addition to the lake, Basin Harbor has a heated (yay!) swimming pool, with towels and bar service. It isn't that large but when we visited the resort wasn't very crowded and we were able to get lounge chairs without a problem. We even returned one evening for the "Dive in movie night" to watch Moana from a lounge chair.
Click on gallery to expand
Every night the resort offers some form of family-friendly entertainment from outdoor movies to bingo nights and bonfires. They always post a weekly calendar of activities so you can plan your time. Just make a note that not all activities are included and choose accordingly.
You can also play tennis, golf, rent bikes, play volleyball or hit the spa. You definitely won't get bored at Basin Harbor!
Dining at Basin Harbor
Breakfast at Ardelia's in the main dining room is quite the affair with everything from homemade jams to omelet stations and everything in between. In the evenings, Ardelia's transforms to fine dining where, even though jackets aren't still required, the tendency would still be to dress for dinner.
It is almost hard to believe you could possibly be hungry for the rest of the day, but when lunch rolls around, it is time to head to the Red Mill Restaurant.
The Red Mill, which operates out of a renovated saw mill and backs up on a small airstrip, serves both lunch and dinner with a mix of burgers/sandwiches and full entrees. If kids get too antsy waiting for their food, there is always the playground out back and the horseshoe pit beside.
Click on gallery to expand
None of the food disappointed but one of the most enjoyable meals was the Thursday night Shore Dinner out on the North Dock. Featuring live music right on the banks of Lake Champlain, this is a perfect way to kick off or capstone your summer. The feast includes chowder, mussels, salad, cheddar bay biscuits (so good), beef, fish, and one big ole pre-cracked lobster! Just make sure you make reservations in advance and take an earlier seating so you don't miss out on the dessert buffet.
Even though Basin Harbor is so great for large family groups, it was also a special place for a mother-daughter getaway. I find that when traveling with kids, the best connections are made in the simplest of places. Even though there was so much to do, it doesn't distract from the beauty of nature and the old-fashioned fun. We look forward to returning again when we have even more people to share it with.
PIN THIS FOR LATER
Note: We were guests of the Basin Harbor Resort & Boat Club for purposes of this review, all opinions are my own.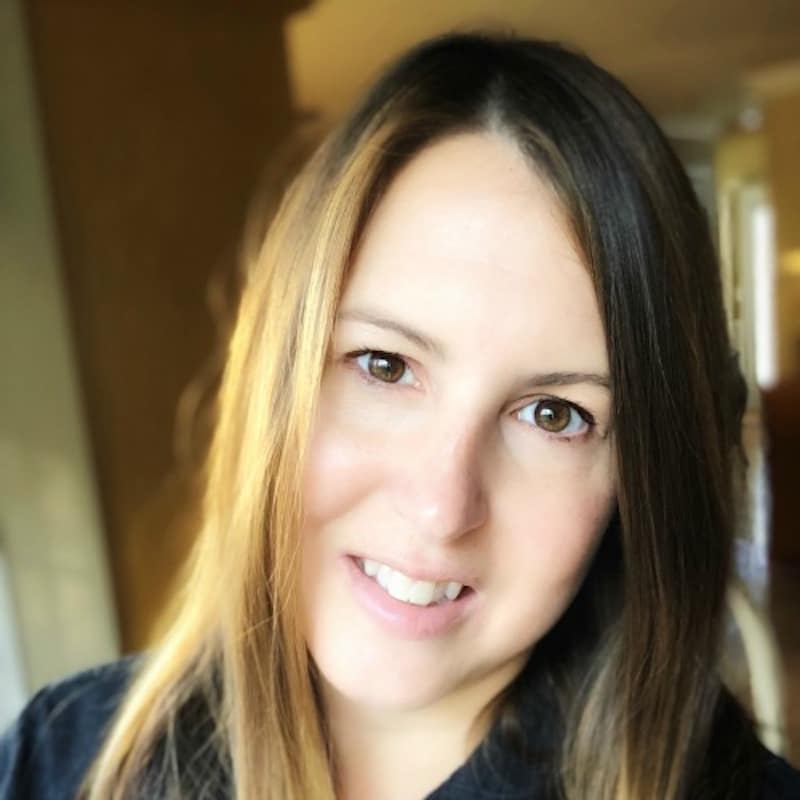 Tamara Gruber is the Founder and Publisher of We3Travel. A former marketing executive and travel advisor, Tamara is an award-winning travel writer and recognized expert in family travel. She is also the publisher of YourTimetoFly and the co-host of the Vacation Mavens travel podcast.