According to a recent family travel study, 73 percent of respondents have taken their children to a theme park, and 68 percent would like to take their family to a theme park in the future. While many families save up for a trip to Disney, there are actually many theme parks for toddlers and preschoolers scattered throughout the United States.
These theme parks are geared toward the under eight crowd (or at least under 12), with a focus on age-appropriate rides and theming. These amusement parks aren't just a toddler section of a larger park, but built exclusively for younger kids. If you do decide to take your toddler to a larger park like Disneyland, follow these tips for Disneyland with toddlers.
Story Land, Glen, NH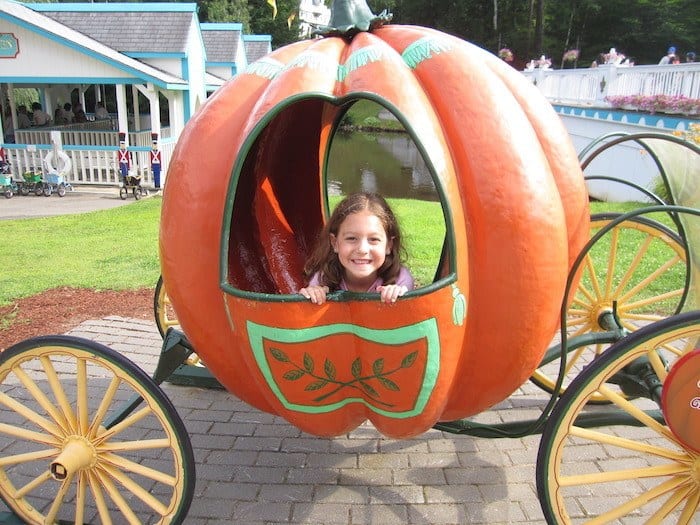 Story Land is a theme park based on classic fairytales and has been welcoming families since 1954. The park features over 30 kid-friendly attractions for the younger set.
Signature rides including Dr. Geyser's Remarkable Raft Ride, Splash Battle, Flying Fish, Turtle Twirl, Oceans of Fun Sprayground, Roar-O-Saurus, Dig-em Deeper Playground, Crazy Barn, and Farm Tractors. Our family favorites are the Polar Coaster (an easy roller coaster that didn't scare any of us) and the Bamboo Chutes flume ride.
There is even a Cinderella's castle! It may not compare to the castle at Walt Disney World, but for those that haven't yet had that experience, it is perfect. The location near North Conway, New Hampshire makes it easy to incorporate Story Land into a vacation to the White Mountains.
Edaville, Carver, MA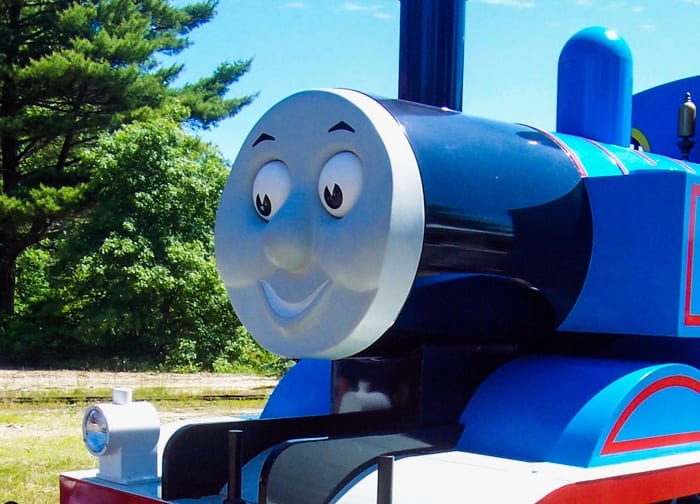 As a kid growing up in New England, I always had fond memories of visiting Edaville Railroad, a small theme park in Carver, Massachusetts focused on trains. In recent years, Edaville Railroad has expanded to become Edaville Family Theme Park, offering new areas including Thomas Land, Dino Land, and Cran Central.
Edaville Family Theme Park really caters to younger kids – you won't find any thrill rides here! The highlight of the park is the Thomas the Tank Engine Train Ride, which takes you on a ride around the park and through the cranberry bogs. Train-lovers will especially enjoy riding Thomas. For the best availability, arrive at the train early to board. It can get busy, especially when the park is crowded.
Edaville Family Theme Park opens in the spring, and stays open on a limited basis through January 1st. Discounts, including a Massachusetts Residents rate, are sometimes available.
By Jodi Grundig from Family Travel Magazine
Sesame Place, Langhorne, PA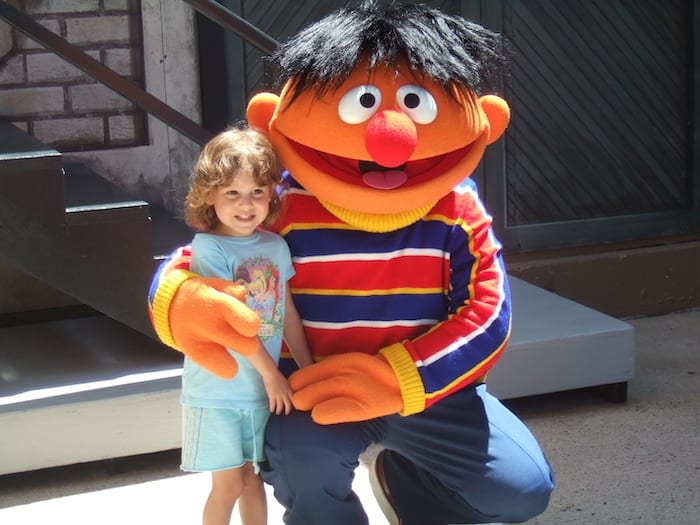 I'm not sure there is a better theme park for toddlers than Sesame Place amusement park and water park. The park recreates Sesame Street, complete with our favorite characters to meet and greet.
There are also kid friendly rides including Oscar's Wild Taxi Roller Coaster, Captain Cookie's High C's Adventure, Elmo's Cloud Chaser, Flying Cookie Jars, Peek-a-Bug, Monster Mix Up, and more. Kids will also love climbing through the Monster Clubhouse and slipping down Snuffy's Slides.
The water rides open in late May and run through the summer. They include tube slides, body slides, a wave pool, lazy river, Ernie's Waterworks, and The Count's Splash Castle.
Dutch Wonderland, Lancaster, PA
Tucked in the heart of Amish Country is Dutch Wonderland, the ideal first amusement park. This family fun park offers 35 attractions, a water play area, games, live shows and tasty treats. Almost all of the attractions are for kids under the age of 8, with the exception of two roller coaster rides. Dutch Wonderland is a quaint park nestled on 43 acres, which makes getting around easy with little ones.
The Wonderland Special train has been there since the park opened in 1963, and offers a great tour of the park. We ride the train with every visit. If you want to get a birds eye view of the park, hop on the monorail. When the kids tire of rides, be sure to catch a dive show in the aqua theater or story telling with the Princess. Kids can also cool off in Duke's Lagoon water area, or come face to face with dinosaurs on Exploration Island.
When you work up an appetite, grab a snack from the Potato Patch, or an ice cream at Dole Whip Junction. There are lots of great choices in the park, or you can pack a lunch and dine at the picnic tables in the parking lot.
Dutch Wonderland is truly a kingdom for kids!
By Jennifer Greene from Journeys with Jenn
Legoland Florida, Winter Haven, FL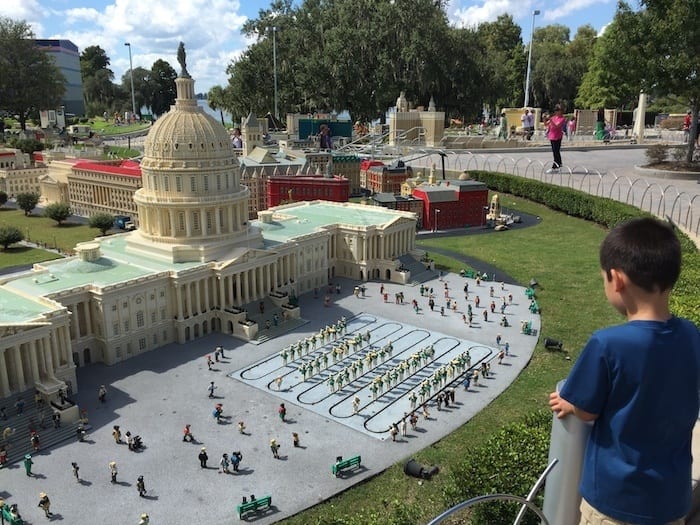 Legoland Florida offers an enjoyable break from the hustle and bustle and the extreme crowds you often find at Disney. We went in not knowing if Legoland was worth it, but we ended up having a fabulous time! My older son, age six, was new to rollercoasters and loved being able to throw his hands up in the air.
We also had a fabulous time walking around Miniland, which is full of famous buildings from around the world all made out of Legos. My younger son, only 10 months old at the time, did not go on the rides, but definitely enjoyed the live action water show offered at the site of the historic Cypress Gardens.
Legoland's rides are much more compatible with the young child set, and toddlers and preschoolers are perfectly suited for a number of the attractions including the DUPLO Tot Spot, Splash and Play, and DUPLO Farm.
Our multigenerational group, ranging from 10 months – 62 years old, enjoyed our day spent at Legoland and highly recommend it for anyone looking for a lower-key themed park geared towards younger children.
By Nancy Canter, We Go with Kids
Holiday World, Santa Claus, IN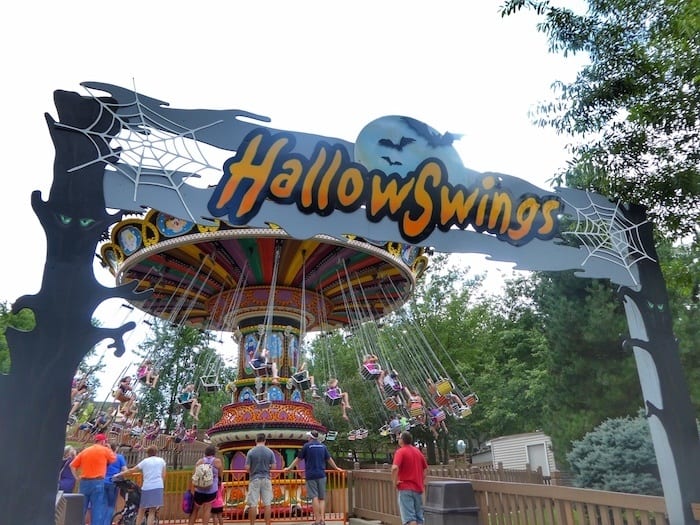 f you're looking for the perfect theme park for little ones, don't miss Holiday World in Santa Claus, Indiana. One of the best things about this amusement park is that it comes with free parking, sunscreen, wi-fi, and soft drinks. Yes, this is not a misprint, these things are all included in admission, as well as entry to the adjacent water park, Splashin' Safari. It is also one of the cleanest amusement parks we've ever visited.
The park is divided into four main areas: Christmas, Halloween, 4th of July, and Thanksgiving. Food, music, and rides are themed accordingly, so little kids will love seeing their favorite holidays turned into attractions.
Some of the favorite rides include the Tippecanoes and Prancer's Merry-Go-Round. There's also a designated playground called Holidog's FunTown where kids can slide and swing while parents catch a break. If you want to experience the water park too, there's a huge water play area (and water slides they can ride with an adult) called SafariSam's Splash Land. One thing is for sure, kids will never want to leave Holiday World.
By Kirsten Maxwell, Kids Are A Trip
Enchanted Forest, Salem, OR

Enchanted Forest in Salem, Oregon, is a fantastic theme park for the under 8-year-old crowd. While kids of all ages can enjoy the park, the vast majority of the rides and attractions are really geared toward younger kids.
Take a stroll through Storybook Town, journey down Alice's Rabbit Hole, and enjoy rides like The Frog Hopper, Kiddy Bumper Boats, Kiddy Ferris Wheel, and Tiny Tune Train, which are all perfect for preschoolers and early elementary school-aged kids.
There are a few attractions such as the Haunted House scattered throughout the park that are aimed toward older kids, but many of the rides are grouped together in sections of the park and definitely aimed toward the wee ones.

By Jana Seitzer from Whisky & Sunshine
Fairytale Town, Sacramento, CA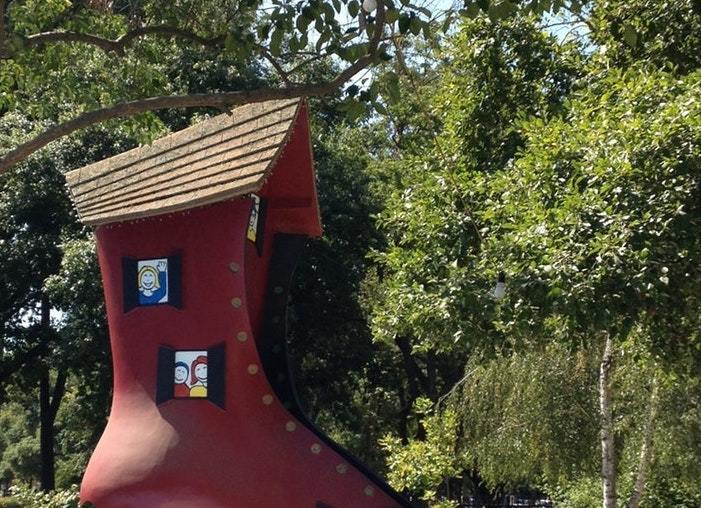 Every kid who lives in Sacramento loves Fairytale Town, and once you enter, you can see why. From a knight's castle complete with a roundtable and moat to Peter Rabbit's garden, this park ignites wonder in little ones but is small enough for parents to keep their cool.
Nursery rhymes and fairytales come to life here: there's a giant "old woman and the shoe" slide, farm animals like the three little pigs, a "crooked mile" that twists and turns through a tiny forest, Cinderella's carriage, and much more.
Admission is $5 on weekdays and $6 on weekends and can be combined with the zoo just across the street. Free parking is available on the streets surrounding the park.
By Jenna Francisco from This is My Happiness
SkyPark at Santa's Village, Lake Arrowhead, CA
SkyPark at Santa's Village near Lake Arrowhead, California creates a memorable experience for guests to savor the nostalgia of an "Old World Christmas in the Woods" with family and friends.
There are many things to do and see at Santa's Village which are included in the general price of admission including rock climbing, ice skating, zip lining, riding the train and meeting Mr. and Mrs. Claus in Santa's Cabin. The best part is that SkyPark at Santa's Village is open year round!
By Jilleen Butler from SoCal Field Trips
Gilroy Gardens, Gilroy, CA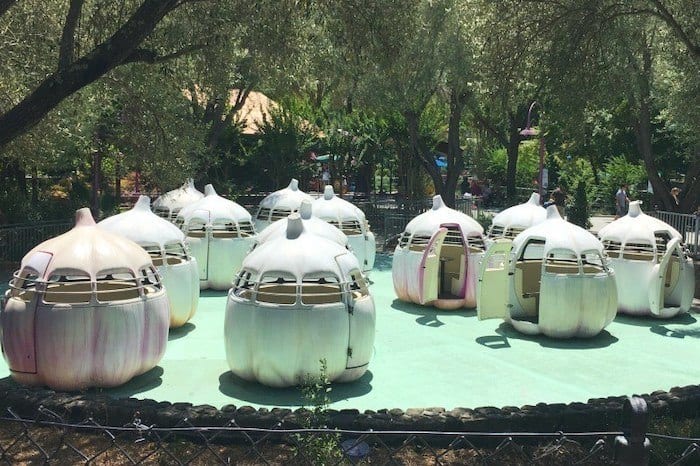 Just south of the San Francisco Bay Area in California, the small town of Gilroy is home to Gilroy Gardens, an amusement park that caters exclusively to families with young children. Gilroy is known for its agriculture and in particular, its garlic.
The park runs with the agricultural theme in a way that might just encourage toddlers and preschoolers to eat their vegetables. Ride vehicles are shaped like artichokes, strawberries, and mushrooms. The park's mascot is is a giant head of garlic. Young kids will especially enjoy going on a hunt for the park's "circus trees" which are unique and weirdly wonderful horticultural works of art created using tree grafting techniques.
The thrills at Gilroy Gardens are mild, with only two small coasters that aren't even as fast as Disney's Big Thunder Mountain. In fact, a number of rides have height maximums because they are intended for toddlers and preschoolers to ride alone. There are a number of other low-speed attractions that families can ride together, from a carousel to paddle boats to a monorail through a butterfly garden.
On hot days, families will also love spending time at the park's two water playground areas, with slides of different sizes and a number of splash pads for every age.
By Leslie Harvey from Trips with Tykes

Adventure City, Anaheim, CA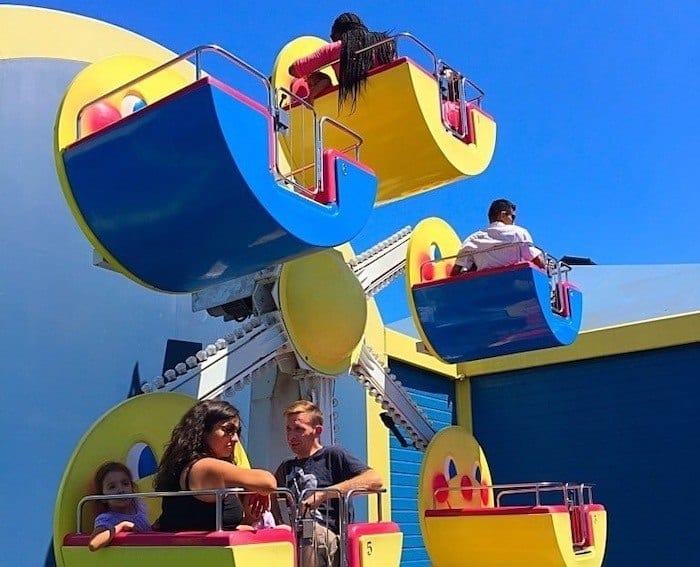 Adventure City in Anaheim, California is famously known as the little theme park that is BIG on fun! They have theme park rides for all ages, especially for children ages 2-10 years old and parking is always free.
The best part is that admission is less than $20 per person, which makes it one of the least expensive theme parks in all of Southern California.
By Jilleen Butler from SoCal Field Trips
Legoland California, Carlsbad, CA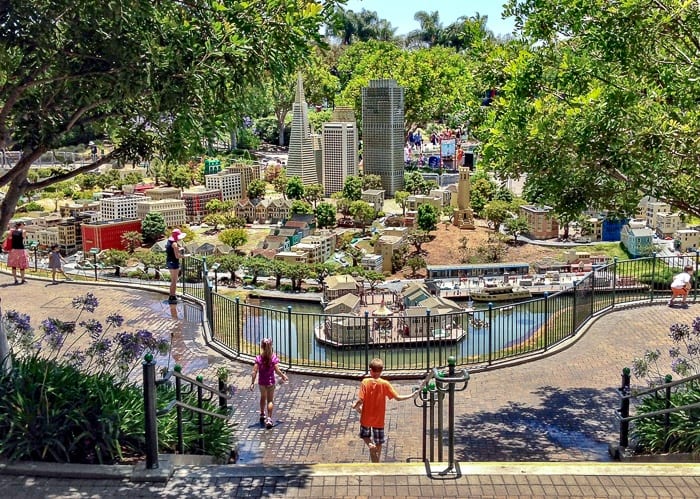 LEGOLAND California is a fun way for families with young children to spend a day, and is a nice change of pace from the more hectic and crowded theme parks in the area. We loved LEGOLAND's relatively tame rides, themed lands, and, of course, the Legos! It's a great park for preschoolers and elementary-aged kids alike.
Our kids loved driving their own cars in the Fun Town Driving School, Riding the Dragon Coaster in Castle Hill, and touring the amazing cityscapes made of Legos in Miniland USA. Star Wars fans will be in awe of the incredible scenes created from the movies – all built from thousands of Lego bricks.
There are two water parks at LEGOLAND, perfect for splashing around and enjoying the perfect Southern California weather. For some added fun, consider staying right at the park in the LEGOLAND Hotel. Themed rooms include Adventure, Kingdom, Lego Friends, Pirate, and Ninjago. Guests receive early entry to the park along with other great perks that the whole family will love.
By Carrick Buss from Along for the Trip
PIN THIS FOR LATER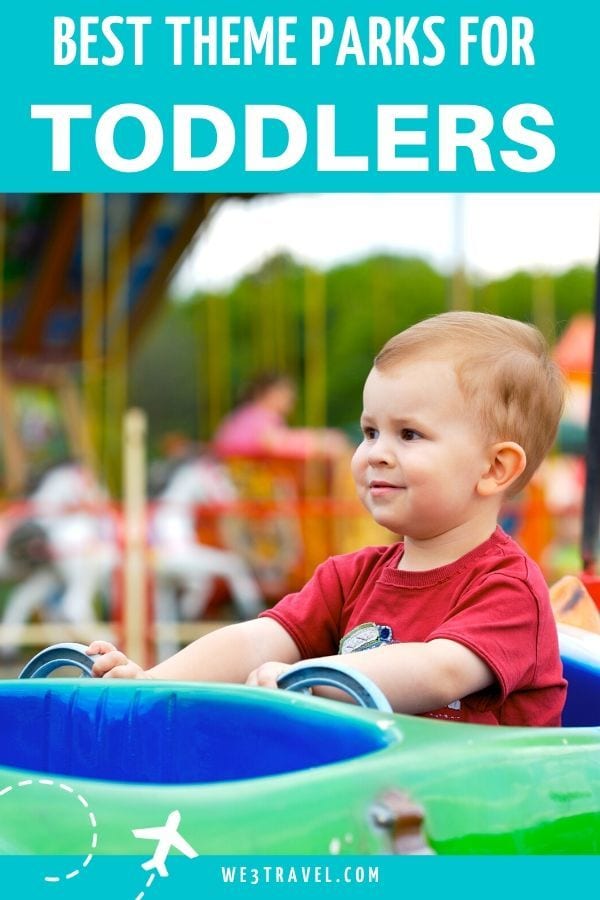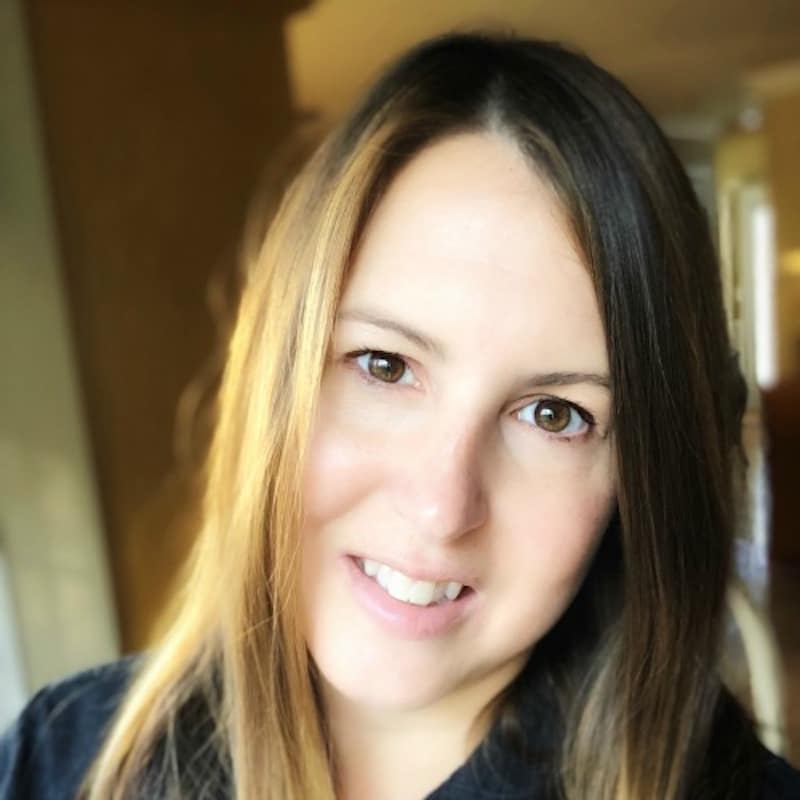 Tamara Gruber is the Founder and Publisher of We3Travel. A former marketing executive and travel advisor, Tamara is an award-winning travel writer and recognized expert in family travel. She is also the publisher of YourTimetoFly and the co-host of the Vacation Mavens travel podcast.