When I told my readers that I was going to LEGOLAND Florida and asked them what they wanted to know, the most frequent answer was…is LEGOLAND worth it? I can understand the question and frankly, I wondered the same thing. After all, there is so much to do in Orlando between Disney, Universal, Sea World, and all the other Orlando activities. Is it really worth driving an hour to visit LEGOLAND? I went to find out and write this LEGOLAND Florida review.
With mega Florida theme parks like Disney World and Universal Orlando nearby, we get accustomed to the best-of-the-best when it comes to theming, rides, and entertainment on a family vacation to Florida. Our expectations are high and anything short of an amazing experience is going to be a disappointment. So if you want my short answer, then yes…LEGOLAND is totally worth it.
IF (you knew there was a "but" or an "if" in there, right?)…you are Lego fans, you aren't looking for big thrill rides, you are doing other things in the area, and your kids are between 2-12 years of age (see the best theme parks for toddlers and preschoolers.) Let me explain.
What is the best age for Legoland?
Note: My trip was hosted by Visit Florida. We received free admission and meals from LEGOLAND Florida and Visit Central Florida and complimentary lodging at the Holiday Inn Winter Haven for purposes of this review. All opinions are my own. The featured image is courtesy of Summer Gonzalez-Mendez.
LEGOLAND Florida promotes itself to a target audience of families with children ages two to twelve, but when I heard that I thought…why? After all, everyone loves Legos, even older kids right? My 12-year-old adored building with Legos, surely she would have a great time on a trip to the LEGOLAND Resort…right?
Well, after visiting the park I'd have to say that the ideal age is likely 4-8 year olds, when they are old enough to enjoy rides and an amusement park, but young enough that they aren't looking for thrill rides. But as with all things, it is all about setting the right expectations.
If your twelve-year-old has already moved on to the "big" roller coasters and can't get enough excitement, they will likely be disappointed with the thrills at LEGOLAND. However, if you are a big chicken like me, then the coasters are just perfect — thrilling enough but not pee-your-pants terrifying.
If your three-year-old is still scared by anything more than the choo-choo train, then you are also in luck. There are a number of rides and a play area designed just for the smaller kids, especially over in Duplo Valley.
But if you are visiting Orlando with teens, you may want to split up the entire family or at least split your time between some of the more thrilling parks and visit to Legoland for the young kids (see our recommendations on the best Disney rides for teens).
What sorts of rides are at Legoland Florida?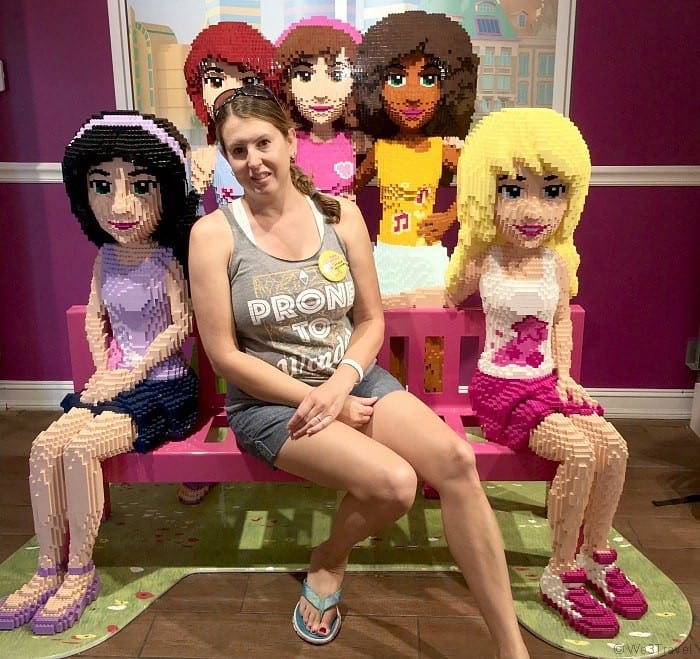 LEGOLAND does its best to offer something for the whole family at LEGOLAND Florida. First of all, they try to bring in all your favorite Lego characters…from the Lego Friends in Heartlake City "land", to Lego Kingdoms, Chima, and the Lego Ninjago World. Even the water skiers in the show are dressed as Lego guys (how they ski in those outfits, I have no idea.)
The main "thrill" rides are:
Coastersaurus – one of the most popular rides, this family wooden coaster winds its way through a prehistoric jungle of animated and life-sized LEGO® brick dinosaurs. It is a great "intro" to roller coasters for first time riders to test the waters with your young children. Children need to be at least 42 inches to ride. (note: as of February 2022 this attraction is currently offline for annual maintenance, check the LEGOLAND website for updates.
The Dragon – this indoor/outdoor steel roller coaster goes through the LEGOLAND Florida Resort castle where riders will feel the breath of the dragon on their face and soar through the sky on the friendly green dragon. Riders must be at least 40 inches to ride, but children between 40″ and 48″ must ride with a responsible person 14 years or older.
Flying School – if you are ready to step it up, this suspended coaster will satisfy the little thrillseekers as their legs dangle while flying through the sky. Minimum rider height is 44 inches, but guests below 52 inches in height must be accompanied by a responsible rider of this height or taller.
The Great LEGO Race – previously located at LEGOLAND Windsor and formerly called Project X, it reopened in 2018 with the option to wear headsets as a virtual reality (VR) coaster. Riders must be 42 inches in height and 42-47 inches can only ride when accompanied by a responsible rider 14 years or older and at least 48 inches tall.
Some of the "good for anyone" rides that will make the younger kids include:
Island in the Sky – which just slowly goes up and turns around to provide a bird's eye view of the park
The Grand Carousel – which is a two-level carousel
LEGO Ninjago The Ride – train to be a ninja by blasting animated fireballs, lightning and more at villains. Similar to rides at Disney or Universal, you can track your score against others
Lost Kingdom Adventure – which is similar to the rides at Legoland Discovery Centers where you ride through a track on a cart and shoot at targets
Merlin's Challenge – goes up and down as it loops around on a wooden train
The LEGO Movie Masters of Flight – hop aboard Emmet's Triple Decker Flying Couch on a Soarin-style flying theater ride that whisks guests away on an action-packed adventure on a suspended ride with a full-dome virtual screen. You will see both familiar and new faces like Sweet Mayhem, a character from The LEGO Movie 2: The Second Part. This one-of-a-kind experience is the first attraction at a major theme park in the United States that embeds a 180-degree turn in the ride experience
Technicycle – this high flying ride users pedal power to soar high into the air
Safari Trek – drive a safari jeep past elephants, lions, and tigers (oh my!)
Beetle Bounce – which will bounce you 15-feet up toward intricate, brightly jeweled LEGO scarab beetles and drop you down into the Land of Adventure
Kid Power Towers – kids use their own strength to pull themselves up to the top of the towers to enjoy and aerial view of the beautiful Lake Eloise before dropping into a fun "free-fall" to the bottom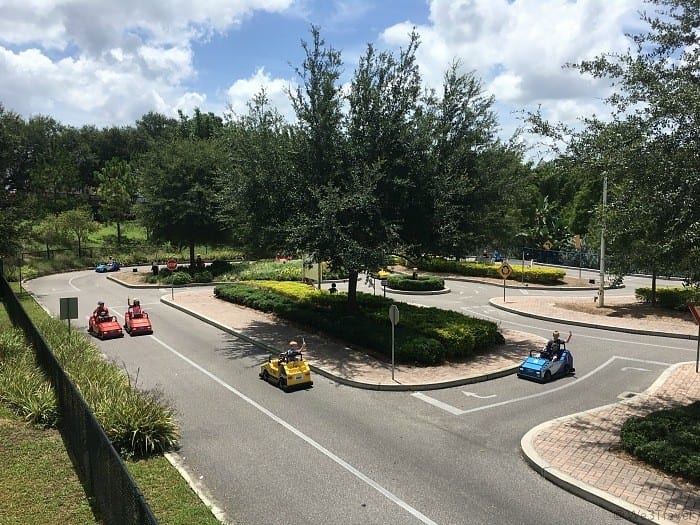 There are other rides that seem appealing, but adults and big kids may actually be too large for, like the Ford Driving School. Still others are in that middle range where budding thrill-seekers may love them, like AQUAZONE Wave Racers or Mia's Riding Adventure, which swings back and forth and gets me a bit nauseous just looking at it.
There are also plenty of attractions for little kids such as:
Battle of Bricksburg — perfect for a hot day, have a good time getting wet by spraying the evil DUPLO alien invaders and help stop them from invading and stealing LEGO bricks
Boating School – captain your own boat through the waters on fun-filled LEGO themed boats
DUPLO Train and DUPLO Tractor – perfect for preschoolers
LEGOLAND Florida Attractions
In addition to the rides, there are other attractions and shows, including some character meet and greets. I mentioned the water skiing show, but another fan favorite is Miniland.
Just like at the LEGOLAND Discovery Centers, but much larger, this section of the park is dedicated to LEGO creations of local and national landmarks. Some of the Florida landmarks include Kennedy Space Center and Daytona race track, but there are also landmarks from California, Las Vegas, New York City, Washington D.C., and more…all built out of Legos.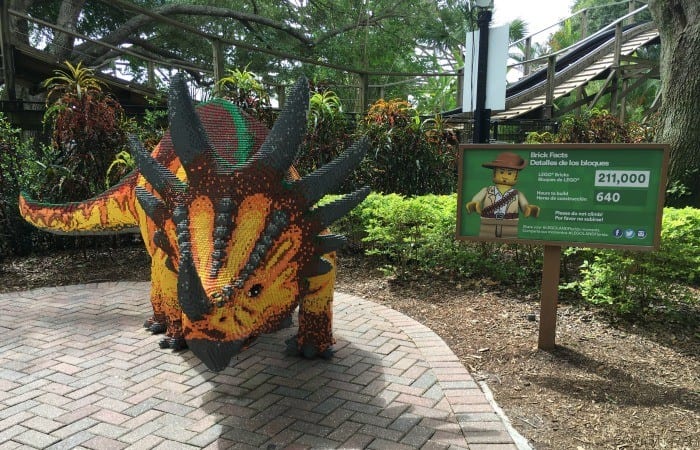 And it isn't just landmarks that you will see built out of Legos, throughout the park you will find dinosaurs, dragons, characters, historical figures, and even cars, all made out of Legos with signs to tell you how many blocks and how many hours it took to create these masterpieces.
True Lego fans will not be disappointed with the theming at Legoland Florida. Everywhere you turn, you are amazed by another Lego masterpiece from a Star Wars R2D2 to Einstein made of Lego bricks. Don't just think of it as a theme park where it is all about the rides…think of it as a playground for Lego fans.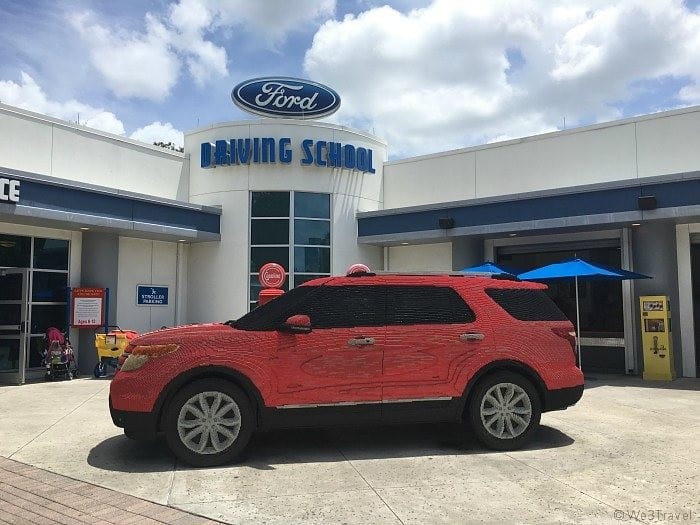 What about playing with Legos?
There are also splash areas, playgrounds, and much more to explore including the Imagination Zone. The Imagination Zone is filled with hands-on LEGO activities. This indoor space (a great place to cool off in the hot and rainy summer months), there are themed "zones" and thousands of LEGO bricks for building.
Kids can check out Lego Mindstorms to start learning basic programming. There is also the Warner Bros. Game Zone with all the latest Lego video games, and then Water, Wheels, and Flight Zones for building sea creatures, things on wheels and things that fly. Kids could spend hours in here!
Botanical Gardens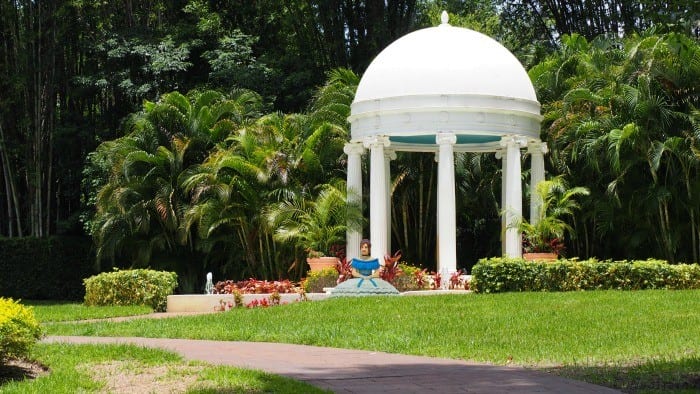 The park's botanical gardens is is built on the site of Cypress Gardens, which has been a Florida attraction since 1939. The gardens include exotic plants from all over the world, such as over 30 kinds of palms, 10 varieties of banana trees, 15 types of azaleas, 10 kinds of camelias and more. The gardens are also home to a giant Banyan tree that was planted as a seedling in 1939.
The signs in Cypress Gardens did warn about the possibility of alligators though, so I would say to stay alert if you choose to walk through the gardens. Altogether, there is plenty to keep a family with kids in the target age bracket busy for a day, especially if you add in the waterpark.
Legoland Waterpark
LEGOLAND Florida's waterpark is a separate park from LEGOLAND park with its own admission ticket. However, LEGOLAND water park is only available to guests of LEGOLAND Resort. (See other Orlando water parks.)
In other words, you can't just go to the waterpark and not the theme park. If you are visiting in the summer, I'd highly recommend adding in the water park and spending a few hours cooling off at the water rides there in the afternoon.
Here you will find two big slides, three medium slides, a lazy river, a wave pool, and a giant play structure and splash area. We also found plenty of lounge chairs around (even some in the shade), as well as lockers and changing rooms.
If you are worried about finding a place to sit or getting some shade, you may want to rent a cabana for the day. There are two types of Cabanas for rent in the LEGOLAND Water Park: Duplo Splash Cabanas and Joker Soaker Cabanas. The Duplo Splash Cabanas are the most private, near the Beach & Brick Grill, restrooms, lockers and changing stations. The 10 Joker Soaker Cabanas offer the best access to the Joker Soaker water playground and best for families with young kids. The LEGO Wave Pool, Twin Chasers slides and restrooms are also nearby for convenient access.
How long should you stay at Legoland?
You can definitely do LEGOLAND in a day. If you really want to delight your LEGO fan, then go for two days but don't plan on more than that unless there is a special event going on…otherwise you might be pulling your hair out. Although, if you have toddlers or preschoolers, you may want to add in a visit to the brand new Peppa Pig Theme Park Florida (opening February 2022.)
LEGOLAND Florida does also offer a few seasonal events, which can be great times to visit. These include:
LEGO Ninjago Days – taking place in May, these special events days feature exclusive in-park activities and meet-and-greets where you can "become the ninja"
AWE-Summer – from June through August there are six weeks of family fun-packed activities, special weekend events, new LEGO friends, and colorful LEGO fireworks
Heroes Weekend – presented by the National Fire Protection Association, this entertaining and informative event in early September teaches kids about safety with a variety of fun activities in the theme park, including information from NFPA's annual Fire Prevention Week theme
Brick or Treat – from late September through the end of October, Brick or Treat will bewitch LEGOLAND Florida with candy, new shows, exclusive LEGO characters, and a cinematic experience to create the ultimate family Halloween celebration
Holidays at LEGOLAND – from late November through December, LEGOLAND rings in the holiday season with a giant LEGO Christmas tree, seasonal shows, holiday characters, special treats, LEGO activities, twinkling lights and more
Peppa Pig Theme Park
A visit to Peppa Pig Theme Park is like walking through a television episode with attractions like Grandpa Pig's Greenhouse, Muddy Puddles Splash Pad, Mr. Potato's Showtime Arena, and Madame Gazelle's Nature Trail. Youngsters will love playing at the Rebecca Rabbit's Playground, Pirate Island Sand Play, and Peppa Pig's Treehouse.
New rides include Peppa Pig's Balloon Ride, Grampy Rabbit's Dinosaur Adventure, Grandad Dog's Pirate Boat Ride, and Daddy Pig's Roller Coaster. Most rides are open to riders 34 or 36 inches high, although some have no height restrictions.
Peppa Pig Theme Park tickets can be purchased individually, or as a LEGOLAND combination ticket, with just LEGOLAND or with the LEGOLAND Waterpark too.
Where should you stay?
Note: This post contains affiliate links. If you click a link and make a purchase, I may receive a small commission.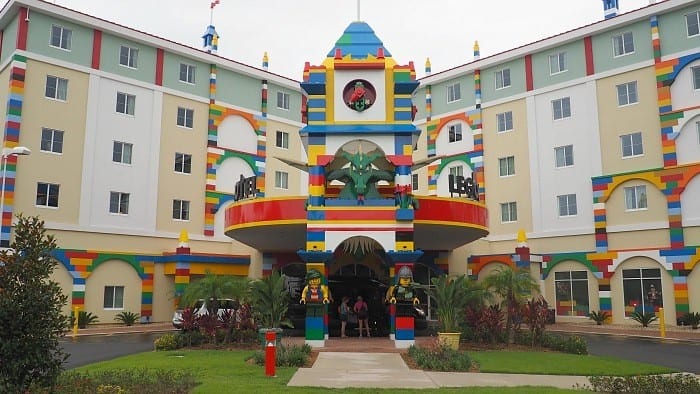 LEGOLAND Hotel
There are a few Legoland hotel options. If you can afford it, splurge for one of the themed rooms right next door at the LEGOLAND Hotel. After a quick tour through the hotel, I want to go back just to bring Hannah and stay at the hotel. It is super cute and doesn't miss a beat when it comes to theming.
The LEGOLAND hotel features 152 rooms and suites, each with its own immersive LEGO theme designed just for kids. Downstairs is a LEGO pit, meet and greets with LEGO characters, and family-friendly dining…that is if you can pull yourself away from staring at the massive collection of Minifigures behind the check-in desk.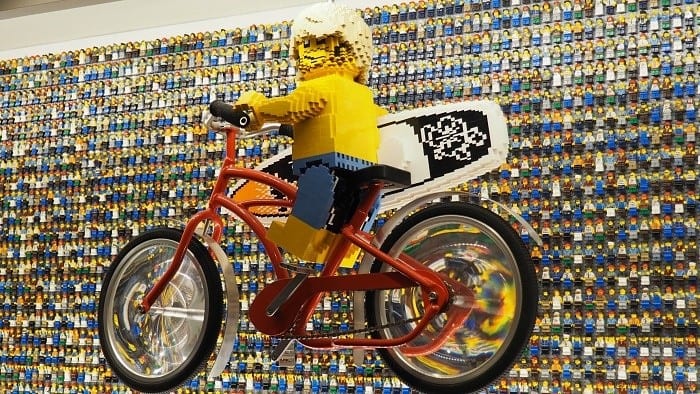 But head upstairs and have a disco party in the elevator…I mean seriously…shouldn't every hotel have a disco ball in the elevator and a whoopie cushion to fart around with while you are waiting? Each floor has a different theme and those themes are carried down the hall and into the rooms…including pirate, kingdoms, adventure, LEGO Friends, LEGO Ninjago, and LEGO Movie rooms. Many rooms even feature bunk beds that the kids will love!
Amenities include a free breakfast buffet, resort pool, nightly entertainment, and in-room treasure hunts.
Check rates and see more photos of Legoland Florida Hotel
LEGOLAND Beach Retreat
In 2017, the resort also opened the LEGOLAND Beach Retreat, which sits on Lake Dexter. This resort has 83 single-story duplex units, offering 166 separate accommodations that sleep up to five with a separate kid's sleeping area in every room.
The LEGOLAND Beach Retreat offers free breakfast daily, free self-parking and a shuttle to LEGOLAND Theme Park + Water Park, and a giant resort-style pool with lake views and a kid's outdoor play area in every cove. There is also a full size bar and a restaurant that services lunch and dinner daily.
LEGOLAND Pirate Island Hotel
In 2020, LEGOLAND Orlando opened a new hotel, the LEGOLAND Pirate Island Hotel. The hotel offers 150 pirate-themed rooms, a heated pool, and a boat-load of interactive activities. Like all of its hotels, the Pirate Island Hotel offers free breakfast daily (what a great savings for a family!) and free self-parking. The Pirate Island Hotel is just a short 130 steps away from LEGOLAND Park.
The rooms feature separate sleeping spaces with bunk beds and in-room treasure hunts with daily LEGO treasures. Families also enjoy the nightly pirate entertainment and free creative workshops.
ParTner Hotels
There are also "Bed and Brick" partner hotels, with room packages that include tickets to the park. We stayed at the Holiday Inn Winterhaven, which also offers free transportation to the park, saving you $17 on parking! It was a comfortable hotel with great rates for budget travelers.
What else can you do near Legoland Florida?
I was surprised to learn that Central Florida has been rated the 16th best golf destination in the country and is the largemouth bass fishing capital of the world! There is plenty to do for families in this area, including the Safari Wilderness Ranch, rodeos, and the only dude ranch in Florida, the Westgate River Ranch Resort. Plus, let's not forget that Orlando is only 45 minutes away with all the Orlando theme parks.
PIN THIS FOR LATER