When most people think of Walt Disney World, they think of Princesses and Mickey Mouse. So many people have fond childhood memories of riding It's a Small World and watching the Country Bear Jamboree. In fact, competing theme parks like Universal have capitalized on the perception that Disney is for little kids. However, we can assure you that Disney Parks are also a lot of fun for older kids too — and we'll tell you about the best Disney rides for teens (at least in our opinion!)
I first visited Walt Disney World when I was three and obsessed with the Disney Princesses. At that time, our visit was all about the photo opps, lunch in Cinderella's castle, and getting all the Princesses to sign my autograph book. The scariest ride I could handle at the time was Goofy's Barnstormer roller coaster (if you can even call it that!)
Over the years, I got a little braver, but wasn't interested in returning to Disney because in my mind, Disney was for little kids that loved Princesses. Instead, I parlayed my love of all things Harry Potter into a love for Universal Orlando.
It wasn't until the opening of Pandora – The World of AVATAR in Animal Kingdom that my mom convinced me to give Disney another try. What I found blew me away! That is why when we returned to Orlando this summer, my friend and I voted to return to Disney World over Universal to see what else I have been missing.
Within the four theme parks of Magic Kingdom, Disney Animal Kingdom, Epcot, and Disney Hollywood Studios, there are plenty of high-speed thrill rides and big drops to satisfy action-craving teens, while still providing fun for all other age groups. Teens at Disney will be able to thoroughly enjoy themselves, doing everything from roller coasters such as the Expedition Everest to immersive VR-type experiences like Flight of Passage or Star Tours.
Plus, teens can stay up later (perfect for our night at Animal Kingdom After Hours), walk faster, and entertain ourselves in line a little better. And, my mom likes that she doesn't need to go on the rides with us and can just wait for us at the end.
Best Disney Rides for Teens
Note: This guest post was written by Hannah and Genevieve, age 15 and 14, based on a visit to Walt Disney World in June 2019. Two one-day Park Hopper tickets were provided by Disney for purposes of this review. All opinions are our own.
On our recent trip, we visited Magic Kingdom, Animal Kingdom, Epcot, and even Disney Springs. (See tips for how to spend one day in Disney!) However, we have both visited Hollywood Studios on other trips when we were teens (and can't wait to return when Star Wars: Galaxy's Edge opens!) Based on these experiences, these are our favorite rides for teens.
Magic Kingdom Rides for Teens
Space Mountain
Space Mountain is a fast-paced roller coaster in near darkness, packed with high-speed turns. Waiting in line, the space theme is set with wall decor, and when you first set off down the track, you glide down a tunnel filled with neon lights. Don't get psyched out by the dim lighting and rapid twists though, as this ride is sure to thrill any coaster-loving teen at Disney.
Even though we were a little nervous the first time we rode it, it really isn't as scary as a roller coaster in the dark seems like it would be. While we had a morning Fast Pass for Space Mountain, we noticed that when the park opens, everyone makes a beeline for Seven Dwarfs Mine Train but the line for Space Mountain doesn't get long until closer to noon. If you don't have a Fast Pass, use this to your advantage and go there first when you enter the park.
Big Thunder Mountain
While the wait is long for Big Thunder Mountain if you don't have a Fast Pass, it feels deceptively short because of the continuous movement, and interactive knobs and wheels along the way. The scenery is that of a mine track within large rock piles, like something you would see in Utah or Arizona, and the ride weaves in between the rock formations at high speeds.
There aren't any large drops so you may either feel relieved or disappointed, but it is still a fun roller coaster if the line isn't too long.
Splash Mountain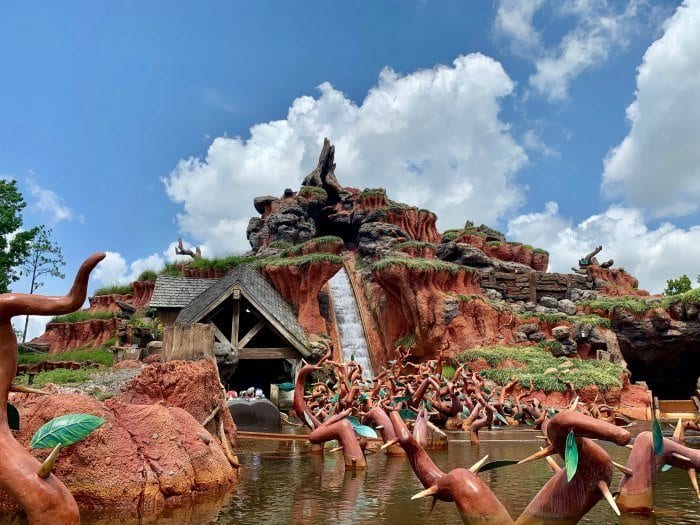 For most of the Splash Mountain ride, you glide gently through a story of Br'er Rabbit on an adventure, escaping the traps set by Br'er Fox and Br'er Bear before he returns home, to the delight of his friends and family. The ride has three drops, starting off small before you get to the biggest, exhilarating drop at the end, plunging down into and below a large briar patch.
You aren't guaranteed to get soaked, but getting wet can feel really good on a hot day. When we visited we saw the line for this ride get over three hours (Big Thunder Mountain was closed for a time) so you should definitely try to get a Fast Pass in the middle of the day when you are the hottest.
Pirates of the Caribbean
This slow boat ride through a pirate-infested port town is perfect for any Pirates of the Caribbean fan. The lantern lighting and jaunty songs make the ride enjoyable and entertaining, as you watch Jack Sparrow hide from the authorities and sneak into banks.
There isn't anything thrilling about the ride, but we see how it could be a little scary for younger kids as it is so dark and there are skeletons and pirates. The nice thing about this ride on a hot day is that it is cool and most of the queue is covered. This is a relief if you don't have a Fast Pass and you have to wait on the stand by line.
Big Thunder Mountain, Splash Mountain, Pirates of the Caribbean, and the Jungle Cruise are all very close to each other so try to arrange your Fast Passes back to back if you can. We didn't include the Jungle Cruise because it was pretty slow and full of groan-worthy Dad jokes. Unless you can grab an extra Fast Pass, I wouldn't wait in a long line for it.
Buzz Lightyear's Space Ranger Spin
Buzz Lightyear's Space Ranger Spin is in Tomorrowland, near Space Mountain, so it is easy to fit in before or after you ride Space Mountain. Lines can be long but if you go early, it shouldn't be too bad. On the ride, you sit in a ride vehicle and blast at targets on aliens, key points, and, of course, the evil Emperor Zurg.
The goal is to rack up points with your laser gun, and try to get the highest rank you can. This ride is simple but fun, and reminds us a lot of the Men in Black ride at Universal. Just remember to use the spin function to turn the car and get a good aim at your targets.
Animal Kingdom Rides for Teens
Avatar Flight of Passage
The Flight of Passage ride in Pandora is like no other ride I have ever experienced. You put on glasses and straddle the ride vehicle, sort of like riding a motorcycle or a horse, but it is supposed to be a banshee.
Once the walls drop away, you feel like you are actually flying around the planet of Pandora on the back of a banshee. The ride's visuals are beautiful, and during the ride, you get a 4-D experience as you fly through mist or into the wind.
Although the queue can be up to two hours, it feels faster because of the detail put into the areas around the line: for instance, you feel as if you are walking through a cave system or an abandoned science base. It helps to have seen the Avatar movie, but it isn't necessary. If you can't get a Fast Pass, be sure to arrive at Animal Kingdom BEFORE they open to get in line right away, or get tickets to Animal Kingdom After Hours. When we did Animal Kingdom After Hours the line was never longer than 20 minutes but most of that was walking through the queue and the rooms you go through before getting on the ride. The actual wait was less than five minutes.
Expedition Everest
Expedition Everest is a fast-paced roller coaster that takes you up a mountain and into a confrontation with a yeti! Much of the ride is in the dark, but that just makes all the fast twists and turns even more fun. There is not a big drop, as you might expect, but you do go backwards for a few seconds during the ride.
This is one roller coaster that looks scarier than it is. But even though there aren't any huge drops or loops, it is so much fun you will want to ride it over and over.
Na'vi River Journey
The Na'vi River Journey is a calm boat ride that takes you through the dark and into the world of Pandora at night. You float past night-time scenes of animals and scenery, and you even get to see singing Na'vi people. It is a pretty simple ride and may not appeal to some teens, but the level of detail and cool effects make it more than worthwhile if the line isn't too long.
Kali River Rapids
If you have ever ridden a raft ride at Six Flags or Popeye and Bluto's Bilge-Rat Barges at Universal, you know what to expect from Kali River Rapids. These rides are always a lot of fun if you don't mind getting wet (or soaked) and a great choice when it is hot.
Epcot Rides for Teens
Soarin
Soarin' is a virtual reality-esque ride that takes you past different wonders of the world. Once you're buckled into the seat alongside a few others, you are lifted off the floor and towards the giant screen, onto which everything from the islands of Fiji to Monument Valley is projected.
You feel like you are flying and some of the visual dips may have you stomach jumping or cause you to lift your feet, but even if you get motion sick you will probably be ok on this ride.
Frozen Ever After
Frozen Ever After isn't a thrill ride, but you can't help but like this ride. The Frozen Ever After ride is located in the Norway section of the World Showcase and even the waiting area offers some heavy theming.
You board a boat that takes you past characters from the Frozen movie, who are singing some of the songs from the soundtrack. There are a couple of very small drops (you even go backwards over one!) but, despite that, you don't really get wet. It is cute and fun, and indoors, giving you a nice break from the heat when walking through the World Showcase.
While you are at Epcot, make sure you visit the store in the Japan Pavilion of World Showcase. They some really great Pokemon and other finds for teens — and try one of the melon sodas with the ball pop tops. Here is a guide for visiting all 11 countries in Epcot.
Hollywood Studios Rides for Teens
I imagine that once Star Wars: Galaxy's Edge opens in August 2019, Hollywood Studios will soon become the most popular park for teens. Even now, there is still fun for Star Wars fans. We will be sure to update this once we get a chance to check out the new rides later this year.
Star Tours & Character Meetings
Even before the Galaxy's Edge area opens later this year, you can get to experience the intergalactic world(s) of Star Wars through an area that, in addition to housing the Star Tours ride, is themed to contain elements of the Star Wars universe. The Star Tours ride is a 3D, flight simulation ride that flies you to various iconic places while encountering key characters.
Star Tours is fun, but I really loved getting to meet Kylo Ren, BB-8, and, of course, Chewbacca at the Character meet and greets. If you are a huge Star Wars fan, you can also do the Star Wars Dessert Party and fireworks VIP experience.
Tower of Terror
The Tower of Terror is a sit down ride in which you travel through the different floors in a haunted hotel. It may be frightening to younger children, as there's a lot of dim lighting, creepy noises, and even ghost sightings!
At the end of the ride, you shoot up into the upper levels, with a beautiful view of the park from above, and then drop back down to the start, where you are received by a bellhop. If you don't like big free-falling feeling drops, this ride may not be for you.
Disney Springs for Teens
The VOID
The VOID is an amazing virtual reality experience, in which we did Star Wars: Secrets of the Empire. The intro sets the scene, before you put on the headset and backpack, and tells you that you are a rebel spy sent to infiltrate the Empire and steal a potential weapon.
When you put on your gear and step into the first room, you see that you and the others are dressed like Stormtroopers. Cameras in the corners of the room track your movements and radios in your ear let you hear what your friends are saying.
During the game, you get a blaster, and get to shoot at other stormtroopers and even Darth Vader, before the game ends and you return to reality. It is so much more realistic feeling than other virtual reality games that I have played and so much fun.
Best Disney Park for Teens
The park I enjoyed the most was probably Animal Kingdom, although it was very closely tied with Epcot and the Magic Kingdom. In my opinion, Epcot is good for when you want to learn more about different cultures, eat foreign food, and go on a few cool rides. Magic Kingdom was also very fun, with many different rides to go on, and for meet and greets with Disney characters.
However, Animal Kingdom was my favorite because of the new Pandora section and rides. The entire area was set to look like you could've been on the world in which Avatar set place, and it was beautiful, with glowing exotic plants and floating islands. The rides they had in that section were amazing, very well done and realistic.
I also really enjoyed Expedition Everest, the roller coaster was so fun that my friend and I went on it twice, and would've gladly done it three times if the ride hadn't been shutting down for the night. There wasn't a whole ton of walking to do in Animal Kingdom, and the walking you did do was enjoyable because the scenery was done so well, between the Tree of Life, the river, the lush vegetation everywhere, and, of course, the Avatar world. There are many places to eat, all of them good, and you never have to look far for one.
For me, the best Disney Park for teens was Animal Kingdom, because there are amazing rides and scenery, good food, and not a whole lot of walking in comparison to other parks.
PIN THIS FOR LATER