If you are taking a family trip to Florida, visiting Kennedy Space Center with kids needs to go on your itinerary. This post will cover the best things to do, what to know before you go, and tips for visiting on a launch day!
Have your kids ever dreamed of being an astronaut? When our daughter was in preschool, she had her sights set on space. That is, until she read about the centrifuge all astronauts have to go through as part of training. She didn't think spinning in circles at high speeds sounded very fun. Yet now, she is studying astrophysics in college and working on NASA-funded research.
Did taking her to Kennedy Space Center as a kid make an impact? Undoubtedly. While we can't claim visiting NASA's Kennedy Space Center with kids will set your child's career trajectory, it can certainly instill and foster an interest in space travel, engineering, and science.
If you are thinking of taking kids to Kennedy Space Center, I say DO IT! And if you can't make it to Florida, here are some other space museums and space centers to visit around the United States.
What is the Kennedy Space Center?
The John F. Kennedy Space Center (KSC) is the U.S. launch site that has been used for every NASA human space flight since December 1968. I first visited KSC in maybe 1982…so things have certainly changed a lot since those early days and it continues to evolve with the next generation of space exploration now underway.
The main Kennedy Space Center Visitor Center is an expansive complex that resembles a modern-day theme park, especially with the recent opening of Gateway: The Deep Space Launch Complex. An included Kennedy Space Center bus tour will take you outside the Visitor Center to catch views of the legendary launch pads and to the Apollo/ Saturn V center.
How Long Should You Spend at KEnnedy Space Center?
For those that aren't familiar with the KSC Visitor Center, they often make the mistake of assuming you can easily see everything in half a day. Not true! You will easily fill at least eight hours exploring the Kennedy Space Center. If you aren't staying nearby to easily spend a full day, I would recommend staying overnight and purchase a two-day admission ticket.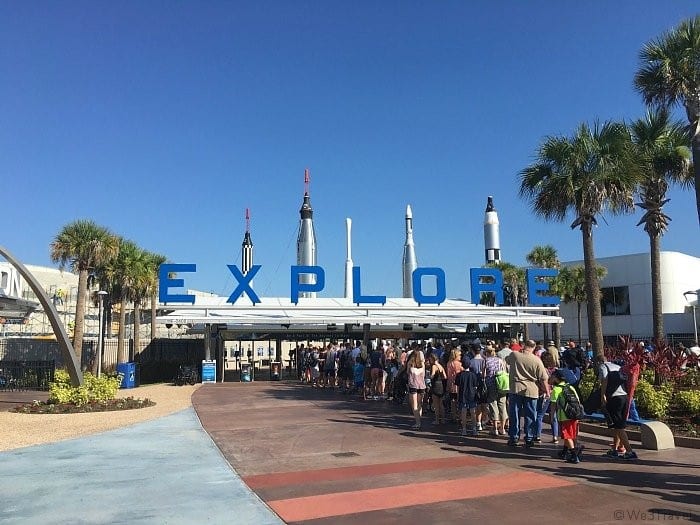 How Do You Get to the Kennedy Space Center?
The Kennedy Space Center is located on Merritt Island, and approximately halfway between Jacksonville and Miami at the heart of Florida's "Space Coast." It is easily accessible from the Orlando area and Port Canaveral, where many cruise ships dock. It is about an hour drive from Orlando, so it is definitely possible to do as a day trip if you are visiting Walt Disney World or Universal Orlando.
If you are visiting Kennedy Space Center with kids as a cruise ship excursion, you may want to arrange transportation in advance as my friend Kim visited recently from a cruise and had a hard time finding an Uber to get back to the ship in time.
For those staying overnight, I would recommend looking for accommodations in nearby Cocoa Beach, to combine your visit with a little beach time, a stroll on the Cocoa Beach pier, and possibly some surfing lessons.
Find a place to stay near Kennedy Space Center:
Visiting Kennedy Space Center with Kids: Know Before You Go
KSC offers many different types of tours and experiences, so you will want to check out the website prior to departure to see what options are of interest to your family and fit into your timetable (and budget!)
You might want to purchase your tickets and book tours online to avoid the lines on-site, because if you are visiting around a school holiday or for one of the rocket launches, the lines will be massive! If you are unsure of your plans, there are self-service kiosks at the entrance if you know what you want.
There are also some amazing experiences you can enroll in such as Fly with an Astronaut, Kennedy Space Center Explore Tour, and the Launch Director Tour. These are all ticket enhancements for an additional cost, so you will want to plan ahead to plan enough time and budget accordingly.
My husband, a self-admitted space nerd, really wanted to splurge for a once-in-a-lifetime Astronaut Training Experience (ATX), which includes a half-day of astronaut training including riding simulators, and building our own rockets. Unfortunately, the timing didn't work out for us though.
Another thing you might want to look at is whether or not a launch is scheduled. When we visited, a SpaceX launch was scheduled for the next day. We did catch a distant glimpse of the rocket on the active launch pad from our KSC Explore Tour (formerly the Launch Pad Tour), although the SpaceX rockets are so narrow it was nearly indistinguishable from the tower next to it.
We were bummed we couldn't visit the day of the launch but it turns out it was scrubbed and pushed back to the following week anyway. If you are lucky enough to visit KSC on a launch day, be sure to follow my tips below.
Best Things to do at Kennedy Space Center for Kids
When you arrive, you will probably want to head in one of two directions, the Shuttle exhibit or the terminal for bus tours and the Apollo/Saturn V — as these are the biggest attractions at KSC. We went right over the to the 90,000 square-foot, marquee Shuttle exhibit, home to the actual space shuttle Atlantis.
Heroes & Legends
When you first enter Kennedy Space Center, you will see the Rocket Garden, which has examples from NASA's Mercury, Gemini and Apollo programs. This is part of the Heroes & Legends area, which includes the U.S. Astronaut Hall of Fame, a Redstone rocket suspended overhead along with the Sigma 7 capsule, and a Gemini 9 capsule.
One thing I didn't get to see on my visits was the Space Mirror Memorial, which is a tribute to NASA's fallen heroes and is designated as a national memorial on the National Register of Historic Places. A shiny black granite slab is engraved with the names of 24 astronauts, including the crews of Apollo 1, STS-51L Challenger and STS-107 Columbia.
This area is also where you can join an Astronaut Encounter in the Universe Theater, but be sure to check the daily schedule when you arrive for times and which astronaut will be presenting. Astronauts are a mix of commanders, pilots, mission, and payload specialists who share their experiences during a live presentation and question & answer session. You may also visit the Astronaut of the Day at The Space Shop or Shuttle Express for his or her autograph.
Shuttle: A Ship Like No Other Exhibit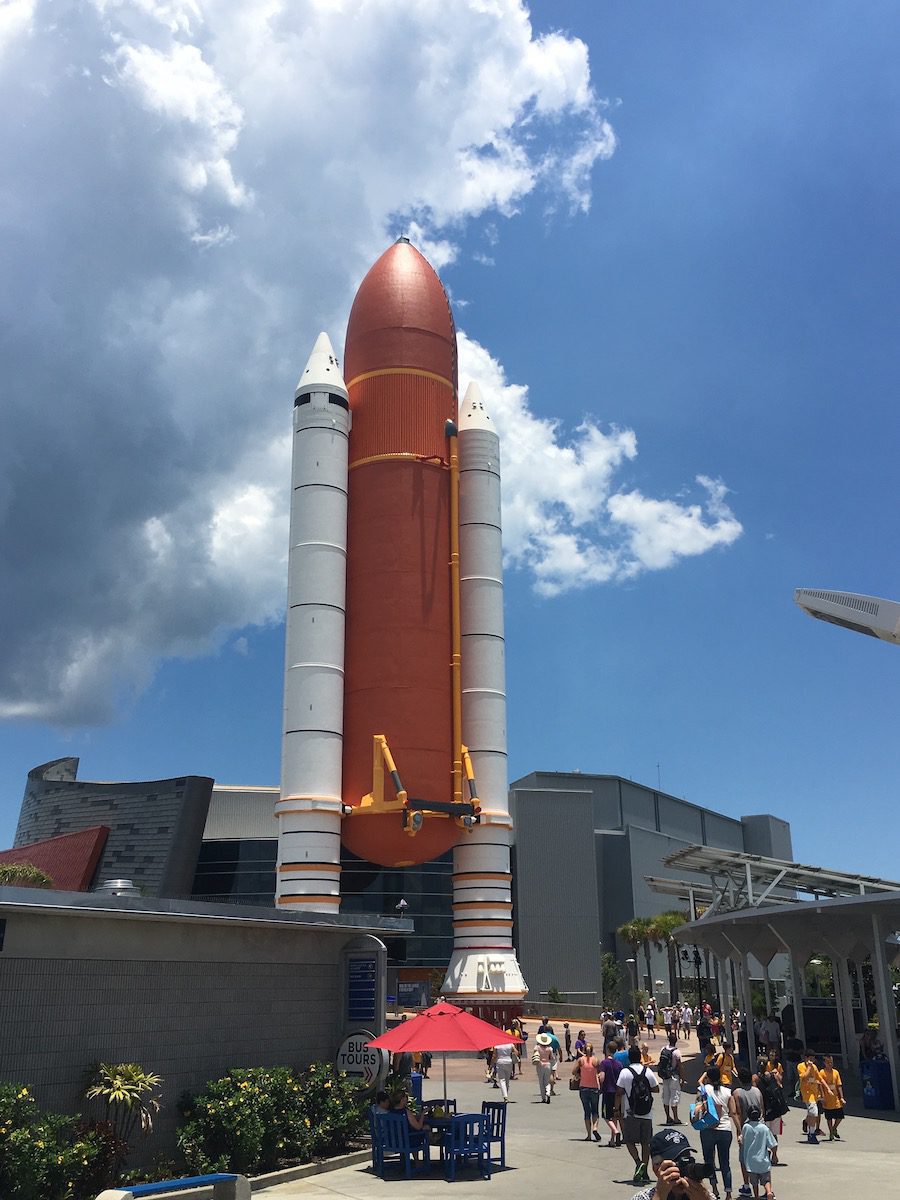 On approach of the Shuttle exhibit, you are greeted with a full-scale, 184-foot space shuttle stack, including external tank and two solid rocket boosters. We were lucky and we walked right through to the first multimedia exhibit without a wait. KSC does a great job of moving people through, by starting with a short-film and then moving you on to another area to finish telling the story of NASA's 30-year Space Shuttle Program.
The doors are then opened to reveal the Space Shuttle Atlantis, hanging in mid-air with the cargo bay open for viewing. Space Shuttle Atlantis features state-of-the-art multimedia presentations and more than 60 interactive experiences and high-tech simulators.
We had fun using touchscreen monitors to find the right speed to attaining low earth orbit, using Microsoft Kinect technology to accomplish a space walk mission, and operate simulations of the space arm.
It was easy to spend two hours in this exhibit alone…learning about the Hubble telescope, International Space Station, what life in space is like, and about all the decades of shuttle missions and astronaut heroes. We could even crawl through a space station model and kids can zoom down a slide that showcases how the shuttle glides in for a landing.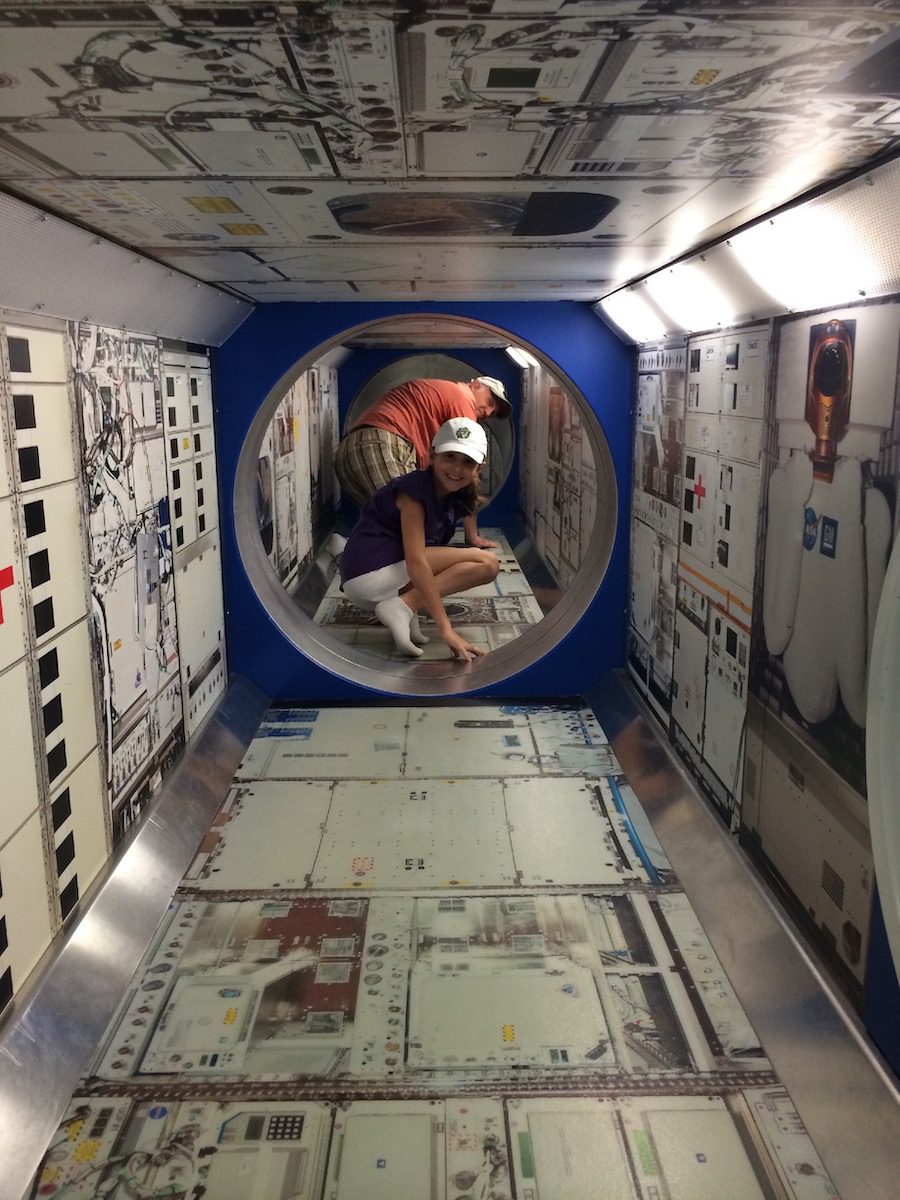 Once you finish with all these exhibits, you can partake in the Shuttle Launch Experience simulator. This is the crown jewel of the Atlantis exhibit. It looks like lines can sometimes be long, but again we were lucky and walked right up to the entrance. As throughout the exhibit, they do a good job of keeping waiting crowds entertained with interviews from actual astronauts.
They did such a good job of convincing us that the launch simulator is very like the real thing that my daughter got too nervous to go through with the simulator. We still could take part by watching the film and the closed-circuit camera into the simulation room to watch Daddy bouncing and shaking along with the rest of the participants. He loved it and I'm sure she would have too if they didn't have such a dramatic build up.
After a quick lunch at the well-organized Orbit Cafe in the Shuttle exhibit, one of quite a few conveniently located options, we headed over to catch our bus tour.
Kennedy Space Center Bus Tour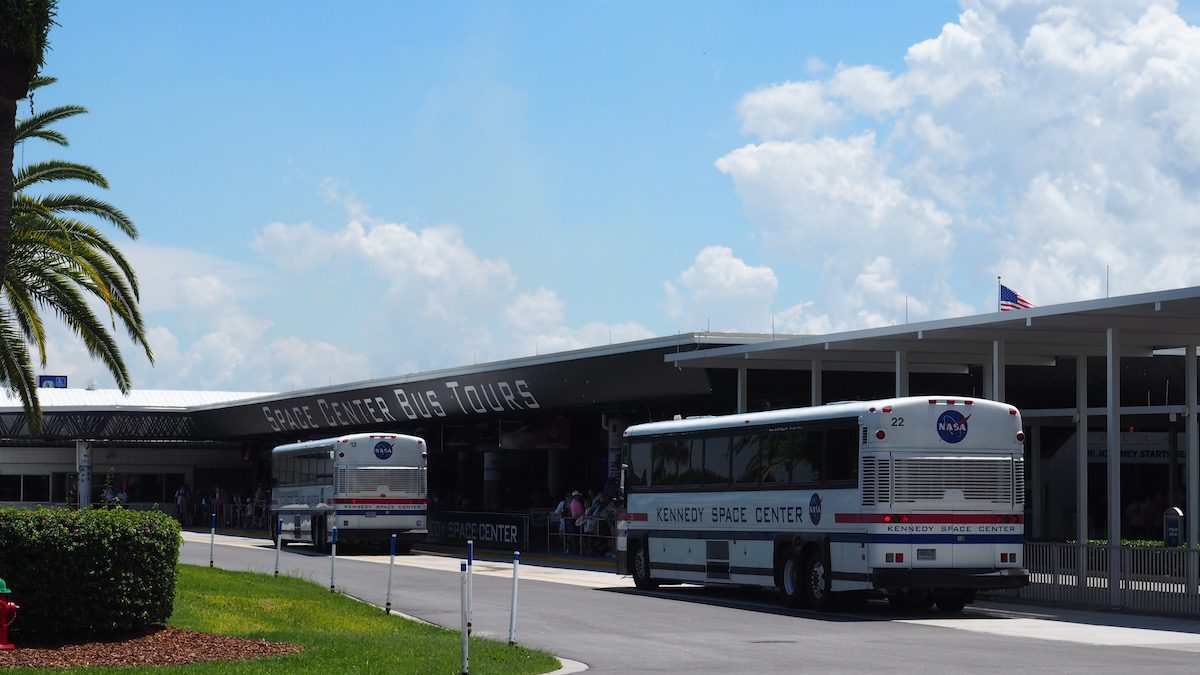 The Kennedy Space Center Bus Tour is included with your admission ticket and takes you "beyond the gates" to restricted areas of the spaceport. On the way to the Apollo/Saturn V Center, this narrated tour takes you past the Vehicle Assembly Building or areas like launch complex 39B. The route can vary though depending on what is going on currently at the spaceport and upcoming launches.
The tour drops you off at the Apollo/Saturn V center, where you can stand under the largest rocket ever made, 363-feet long. Even if you can't take a tour to a launchpad, everyone can catch the bus shuttle to the Apollo/Saturn V Center.
When you first enter, you view a short multimedia presentation about JFK's goal of putting a man on the moon. From there, you enter into a viewing area overlooking the control center for the Apollo 8 mission and see what it was like to manage the mission here on land.
You can easily spend at least an hour at the Apollo/Saturn V center, taking in the show, touching a moon rock, and examining the Saturn rocket. Once you take the bus back to the visitor center you can fill your time with some of the other exhibits.
KSC Explore Tour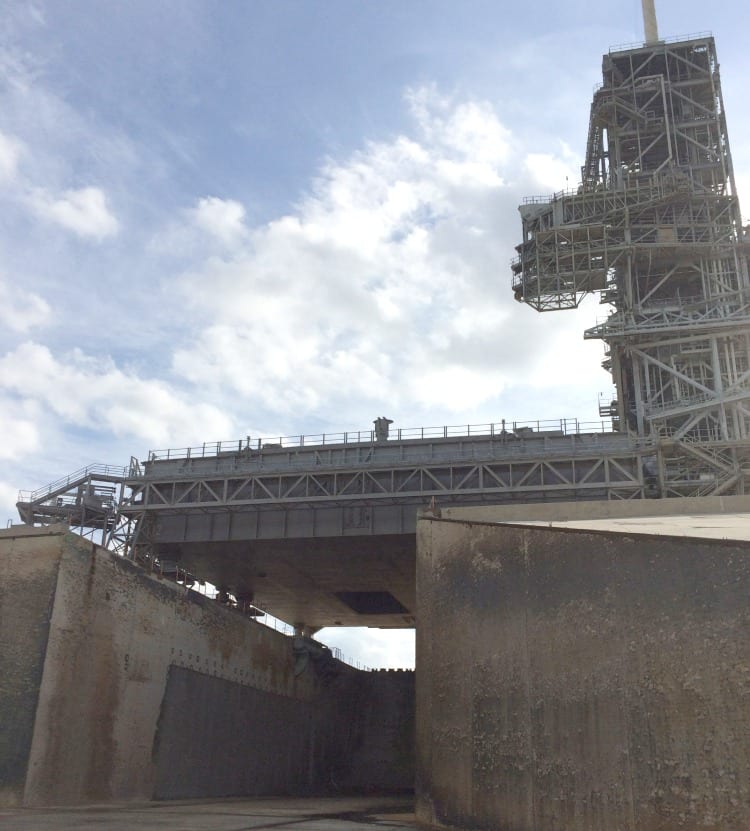 If you want to see more of the spaceport beyond the standard bus tour, you can add on the KSC Explore Tour to your ticket. The KSC Explore Tour takes a similar route to the standard tour, but it makes several stops for photo opportunities on the way to the Apollo/Saturn V Center.
When we took this tour back when it was called the Launch Pad Tour, it was a 90 minute tour that took you within the security perimeter fence of Launch Pad 39-A, the launch site for most space shuttle missions and Apollo moon launches.
We also passed by gigantic Vehicle Assembly Building and had drive-by views of Launch Pad 39-B (which is where the current tour goes). The highlight of the tour was the photo opportunities in front of the Launch Pad and up close to the flame trench.
Gateway: The Deep Space Complex
When you return to the main Visitor Center complex, there are still many exhibits to explore, including the new Gateway: The Deep Space Complex. This area explores the future of space travel, as well as what is happening right now in the space program. In the Gateway exhibit you can see:
The Orion Exploration Flight Test-1 (EFT-1), that was launched in 2014 for Lockheed Martin's capsule's maiden voyage test mission
SpaceX Cargo Dragon COTS-2, which was the first commercial spacecraft to deliver and return cargo from the International Space Station in 2012
SpaceX Falcon 9 Booster
Sierra Space Dream Chaser, which will be a reusable space plane
Mock up of the Boeing CST-100 Starliner capsule
The new Boeing space suit
James Webb space telescope holotube
and much more
KSC Spaceport
The KSC Spaceport motion theater ride features four different journeys: Cosmic Wonders, Daring Explorers, Red Planet, and Uncharted Worlds. Note that this ride has a height minimum of 39 inches, but there is a child swap option and an optional observation area.
Journey to Mars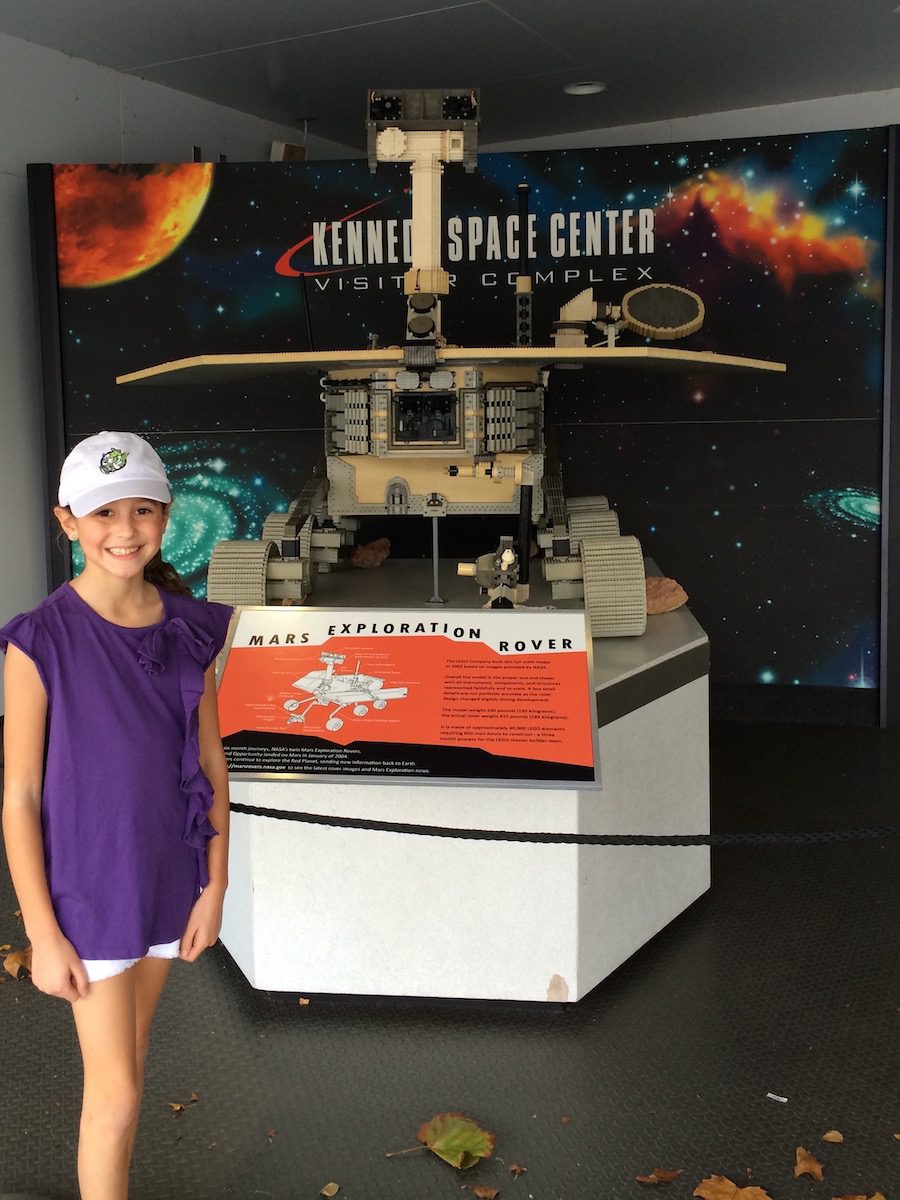 In this area, you can also learn more about the journey to Mars, the Mars rover program, and see the mockup of the newest concept vehicle, the Mars Rover Vehicle Navigator (MRVN.)
IMAX Theater
The IMAX theater at Kennedy Space Center is included with admission and shows space movies daily. These vary (we have seen a couple that were excellent) but are generally under an hour. There is even a snack bar for popcorn, candy, or drinks.
NASA also gives a persuasive sell to becoming a NASA engineer (worked for my daughter) at the recruitment center, I mean, Exploration Space exhibits.
As you can see, it is very easy to fill a full day at the Kennedy Space Center, or maybe even two if you want to participate in some of the add-on enhancements. Read on if you are planning (or hoping) to visit Kennedy Space Center on a rocket launch day.
Tips for Visiting Kennedy Space Center on Launch Day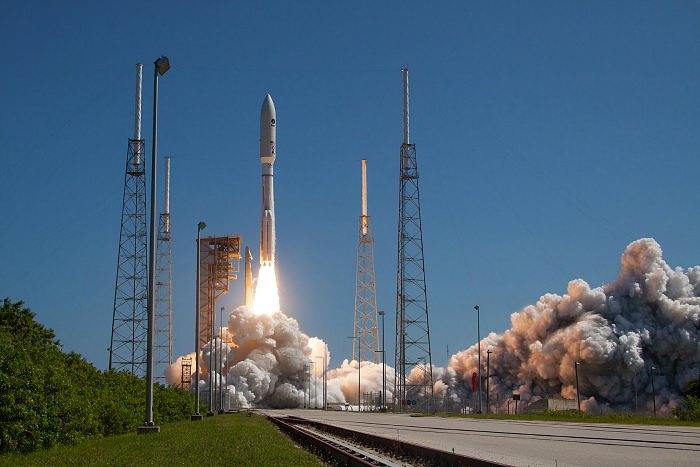 The MUOS 5 Atlas V rocket rises above the trees to the shouts and cheers of the crowd gathered on the grounds of the Kennedy Space Center, but it is many seconds before the rumble of the launch and vibration of the ground reaches us from the launch pad seven miles away.
People of all walks of life are united in the excitement and wonder of the accomplishment of another successful space launch. There was a time when we got a little jaded and nonchalant about the space program, but the throngs of people visiting Kennedy Space Center on launch day shows that the innovations of SpaceX and United Launch Alliance continue to ignite an interest about space. For me, being there to see a live launch was definitely a dream come true.
Being there for a launch definitely taught me a thing or two, so I'd like to share with you my tips for visiting Kennedy Space Center on launch day.
PICK YOUR VIEWING LOCATION
There are a few different options when it comes to viewing a launch at a variety of price points and experiences. First, you can grab a spot at one of the many public viewing areas on nearby beaches and parks including: along the Indian River on U.S. Highway 1 in Titusville, the U.S. Space Walk of Fame, Port Canaveral, Jetty Park in Cape Canaveral, SR-A1A in Cocoa Beach, and the Cocoa Beach Pier.
If you go this route, be prepared to get there a few hours early (or camp out overnight) for a prime spot. Alternatively, you can see the launch from the Kennedy Space Center itself. The rocket rises above a line of trees just across the road from the main entrance. Visitors pack the lawn beside the Atlantis and other viewing areas throughout the park. The only downside is that you will only see the rocket as it rises above those trees.
If you really want a splurge for a dream-come-true experience, you can buy tickets to exclusive launch viewing areas within Kennedy Space Center. Locations can vary depending on launch but are generally available at the NASA Causeway, LC-39 Observation Gantry and Apollo/Saturn V Center. Each offers bleacher seating, live commentary and close up views.
Tickets are available online for scheduled launches and if you want to do this, be sure to purchase tickets as soon as possible as they do sell out quickly. I would have gladly paid the extra for this if they were still available.
GET THERE EARLY
If you are watching from the Kennedy Space Center, plan on arriving when the gates open if you are waiting for a morning launch. Expect long lines for parking and at the gate so be sure to buy your tickets online in advance to avoid queues.
Also, don't bother waiting your turn for a selfie at the NASA globe outside the entrance…if you stop by later the crowds will be gone. You will want to head over to the viewing area 45-60 minutes prior to the scheduled launch window, more if you purchased those special viewing location tickets. If you want to find a place to wait in the shade, those spots are limited so you'll need to stake your claim early.
BE PREPARED!
That Florida sun can be hot. You will want to bring water, a hat, and plenty of sunscreen…maybe even an umbrella for shade while you are at it. I seriously thought I was going to melt and protected my tiny slice of shade like a knight defending his castle.
EXPECT CROWDS
If you are visiting the Kennedy Space Center on launch day, expect heavy crowds and a less-than-ideal experience. When we visited last, our wait for the Shuttle Launch Experience in the Atlantis exhibit was a short 5-10 minute wait.
This time, we skipped it entirely because it was a good 1+ hour wait. Lines for busses will be longer, crowds in exhibits will be thicker, etc. It doesn't mean that you won't enjoy your visit, but if this is your first time visiting, I would suggest one of two things.
Either visit over two days…on the day of the launch and the day after. Or, view the launch from a nearby public site and then visit the Kennedy Space Center the next day. If those aren't possible then by all means go and enjoy the experience and make the best of it despite the crowds.
A visit to Kennedy Space Center is a fantastic experience, especially for kids with a burgeoning interest in space and science. The ability to get hands-on with so many interactive exhibits, learn about the past, present, and future of the space program, and get to be in a place where launches still occur is just an unbeatable learning experience.
PIN THIS FOR LATER