Have your kids ever dreamed of being an astronaut? When our daughter was in preschool, she had her sights set on space. That is, until she read about the centrifuge all astronauts have to go through as part of training. She didn't think spinning in circles at high speeds sounded very fun.
Regardless, she was still eager to learn more about space and would now like to be an astrogeologist when she grows up. Which is why when we were visiting family in South Florida and searching for something to do for a "vacation within a vacation," visiting Kennedy Space Center in Cape Canaveral came to mind.
If you are thinking of taking kids to Kennedy Space Center for a day trip, I say DO IT!
The John F. Kennedy Space Center (KSC) is the U.S. launch site that has been used for every NASA human space flight since December 1968. KSC has changed a lot since I last visited in…let's see…1982?
The main Kennedy Space Center Visitor Center is an expansive complex that resembles a modern-day amusement park. Its attractions feature an Early Space Exploration exhibit, Rocket Garden, children's playspace, 2 IMAX shows, an Astronaut Hall of Fame and Astronaut Memorial, the popular (with the younger set) Angry Birds hands-on exhibit, multiple cafes, gift shops, and much more.
A bus tour will take you outside the Visitor Center to catch views of the legendary launch pads and up to the Apollo/ Saturn V center. The website recommends some sample itineraries, but I can attest that it is easy to spend eight hours at KSC without seeing everything.
Visiting Kennedy Space Center with Kids: Before You Go
KSC offers many different types of tours and experiences, so you will want to check out the website prior to departure to see what options are of interest to your family and fit into your timetable (and budget!) You might want to purchase your tickets and book tours online to avoid the lines on-site, because if you are visiting around a school holiday or for one of the rocket launches, the lines will be massive! If you are unsure of your plans, there are self-service kiosks at the entrance if you know what you want.
There are also some amazing experiences you can enroll in, such as Lunch with an Astronaut. I actually did this on a follow up visit. I was a little disappointed by the limited Q&A time and the quality of the lunch food, but it can be very exciting for kids to meet a "real astronaut" in person.
My husband, a self-admitted space nerd, really wanted to splurge for a once-in-a-lifetime Astronaut Training Experience (ATX), which includes a half-day of astronaut training including riding simulators, and building our own rockets. Unfortunately, when we called to schedule our experience, we discovered that it was only offered on weekends and we were planning on visiting on a Thursday just after New Years. It worked out for the best because it turns out that our daughter was too nervous to try to Atlantis flight simulator so I have a feeling the ATX would have been too much.
Another thing you might want to look at is whether or not a launch is scheduled. When we visited, a SpaceX launch was scheduled for the next day. We did catch a distant glimpse of the rocket on the active launch pad from our Launch Pad Tour, although the SpaceX rockets are so narrow it was nearly indistinguishable from the tower next to it.
We were bummed we couldn't visit the day of the launch but it turns out it was scrubbed and pushed back to the following week anyway. It made a great follow-up to our visit to view the livestream of the launch a few days later. [Update: I recently had a chance to visit Kennedy Space Center on launch day and you can read my tips here!]
Getting There
Cape Canaveral is only about a 45-minute ride from Orlando and approximately halfway between Jacksonville and Miami at the heart of Florida's "Space Coast." Cape Canaveral is home to Port Canaveral, the departure point for many cruises, as well as Cape Canaveral's Air Force Base, but its real jewel is the Kennedy Space Center.
We were in Delray Beach (between West Palm Beach and Fort Lauderdale) and drove to Kennedy Space Center (KSC) in about 2.5 hours straight up Rt. 95.
If you want to stay nearby, I would recommend the Hampton Inn in Cocoa Beach/Cape Canaveral.
Kennedy Space Center for Kids
When you arrive, you will probably want to head in one of two directions, the Atlantis exhibit or the terminal for bus tours and the Apollo/Saturn V — as these are the biggest attractions at KSC. We went right over the to the 90,000 square-foot, marquee Space Shuttle Atlantis exhibit, the new $100 million home of the historic spacecraft.
On approach, you are greeted with a full-scale, 184-foot space shuttle stack, including external tank and two solid rocket boosters. We were lucky and we walked right through to the first multimedia exhibit without a wait. KSC does a great job of moving people through, by starting with a short-film and then moving you on to another area to finish telling the story of NASA's 30-year Space Shuttle Program.
The doors are then opened to reveal the Space Shuttle Atlantis, hanging in mid-air with the cargo bay open for viewing. Space Shuttle Atlantis features state-of-the-art multimedia presentations and more than 60 interactive exhibits and high-tech simulators.
We had fun using touchscreen monitors to find the right speed to attaining low earth orbit, using Microsoft Kinect technology to accomplish a space walk mission, and operate simulations of the space arm.
It was easy to spend two hours in this exhibit alone…learning about the Hubble telescope, International Space Station, what life in space is like, and about all the decades of shuttle missions and astronaut heroes. We could even crawl through a space station model and kids can zoom down a slide that showcases how the shuttle glides in for a landing.
Once you finish with all these exhibits, you can partake in the Shuttle Launch Experience simulator. This is the crown jewel of the Atlantis exhibit. It looks like lines can sometimes be long, but again we were lucky and walked right up to the entrance. As throughout the exhibit, they do a good job of keeping waiting crowds entertained with interviews from actual astronauts.
They did such a good job of convincing us that the launch simulator is very like the real thing that my daughter got too nervous to go through with the simulator. We still could take part by watching the film and the closed-circuit camera into the simulation room to watch Daddy bouncing and shaking along with the rest of the participants. He loved it and I'm sure she would have too if they didn't have such a dramatic build up.
After a quick lunch at the well-organized Orbit Cafe, one of quite a few conveniently located options, we headed over to the bus depot to catch our 1:30 Launch Pad Tour. This 90 minute tour takes you within the security perimeter fence of Launch Pad 39-A, the launch site for most space shuttle missions and Apollo moon launches. You also pass by the gigantic Vehicle Assembly Building and drive-by views of Launch Pad 39-B. The highlight of the tour is the photo opportunities in front of the Launch Pad and up close to the flame trench. (Update: these tours may not be offered any longer, check the KSC website for updated tour options.)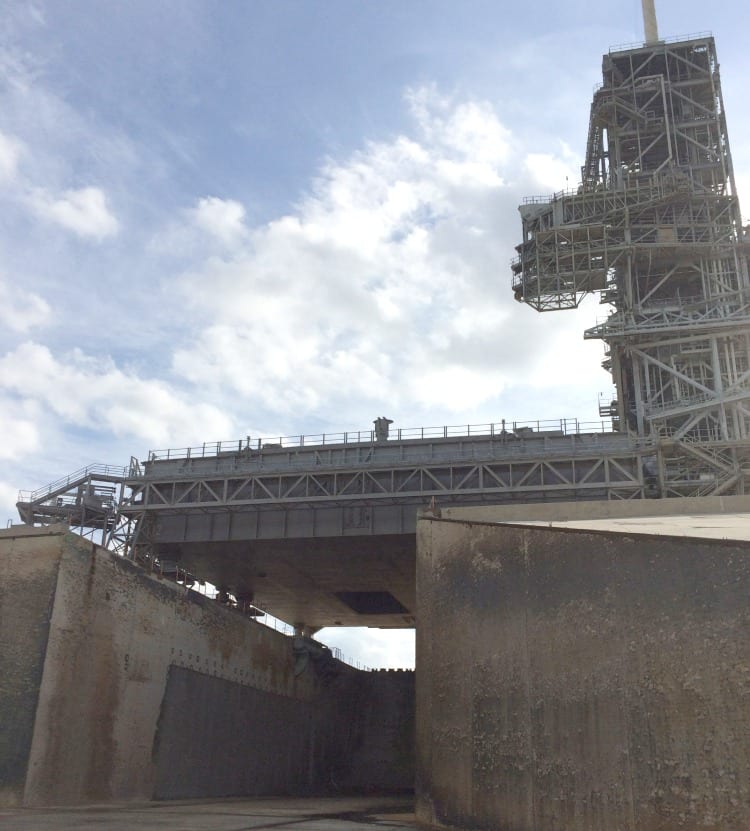 The tour drops you off at the Apollo/Saturn V center, where you can stand under the largest rocket ever made, 363-feet long. Even if you can't take a tour to a launchpad, everyone can catch the bus shuttle to the Apollo/Saturn V Center.
When you first enter, you view a short multimedia presentation about JFK's goal of putting a man on the moon. From there, you enter into a viewing area overlooking the control center for the Apollo 8 mission and see what it was like to manage the mission here on land.
You can easily spend at least an hour at the Apollo/Saturn V center, taking in the show, touching a moon rock, and examining the Saturn rocket. Once you take the bus back to the visitor center you can fill your time with some of the other exhibits.
Your younger ones might enjoy shooting Angry Bird slingshots, while your Lego fanatics might want to check out the full-size Mars Rover built out of Legos outside of the Robot Scouts exhibit, and learn more about the role robots play in space.
NASA also gives a persuasive sell to becoming a NASA engineer (worked for my daughter) at the recruitment center, I mean, Exploration Space exhibits. And, be sure to check the daily schedule for a chance to meet a real-life astronaut.
PIN THIS FOR LATER