2019 is the 50th anniversary of the landing on the moon and the perfect time to take your aspiring astronaut or NASA engineer to an air and space museum. Since I have a want-to-be astrophysicist, we make a point of visiting the best space museums on our travels.
There are many space centers in the U.S. so you may not need to travel across the country to work a little astrotourism into your travel schedule. We have visited quite a few, but still have many to see on our list. So I have asked some of my fellow travel bloggers about their local or favorite space museums and air and space centers in the United States.
Best Space Museums & Space Centers in the United States
Eastern States
Kennedy Space Center, Cape Canaveral, FL
We absolutely loved our visit to the Kennedy Space Center in Cape Canaveral, Florida. And this was before Hannah was a major space nerd! You think it won't be great for kids, but it is, I would recommend it for kids six and up and definitely plan on spending the whole day there because there is so much to see.
I would start off at the Shuttle Atlantis exhibit, as this is one of the most exciting for kids. The build up video explaining the background of the Shuttle Program gives way to a big "ah ha" moment when the doors open and you see the actual space shuttle in front of you. Kids get to play with simulators operating a space arm, learn about the Hubble Telescope, slide down the evacuation slide, crawl through a model space station, and learn how astronauts eat, sleep, and poop.
Of course that is just the beginning. If you get a chance, sign up for lunch with an astronaut or plan your visit on a rocket launch day.
Steven F. Udvar-Hazy Center, Chantilly, VA
While the
Steven F. Udvar-Hazy Center
may not be located in Washington, DC's National Mall or as well-known as its sister museum of the National Air and Space, it is definitely worth the trip for families. Located in Chantilly, Virginia, this museum offers two large hangars with many aviation treasures and thousands of artifacts inside.
Our family's favorite exhibit was the Space Shuttle Discovery. This was such an incredible and impressive sight to see. The Discovery was the most accomplished space shuttle orbiter in the fleet with 133 successful missions and spent 365 days in space. We loved walking around and seeing the shuttle's details. The Human Spaceflight exhibit also had over 140 space related artifacts including exhibits on how the astronauts lived in space.
But, there was also another hangar filled with various aircrafts used for different types of aviation over the years. This includes military, commercial and even planes used for aerobatic flights. It was amazing to see the Concorde, which was first supersonic airliner up close.
We liked that the exhibits were in spacious hangars to accommodate visitors so it didn't feel crowded. There were plenty of informative signs for a great educational experience. Let the kids lead the way and see which aircraft catches their eyes. Don't miss these other activities:
Visit the observation tower to watch planes departing and landing at adjacent Dulles International Airport. Kids will enjoy the wonderful 360-degree bird's eye view.
Watch a movie at the five-story-high IMAX theater if you need some downtime.
View current projects at the restoration hangar where specialists restore and preserve aircraft and space objects.
By Mary, The World is a Book
Smithsonian National Air and Space Museum, Washington DC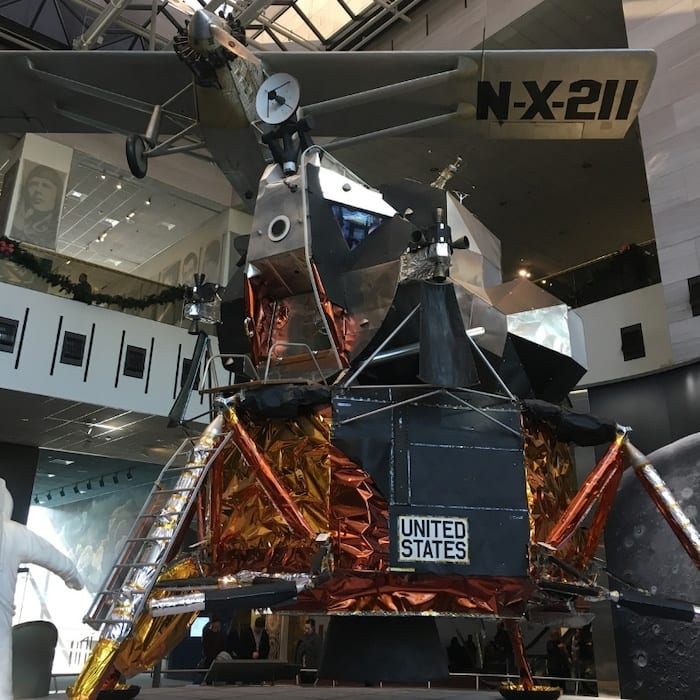 Visiting the National Air and Space Museum should be high on the to do list for any family trip to Washington, D.C. (when there is not a government shutdown of course!) Kids of all ages are fascinated from the moment they walk in and are surrounded by aircraft in all shapes and sizes.
Over the years, our family has taken advantage of the free admission to visit the museum on numerous occasions. One of the coolest exhibitions is the Boeing Milestones of Flight Hall, which contains items like the historic spacecraft that carried the first American to orbit Earth.
Don't miss Exploring the Planets with its full scale replica of a Voyager spacecraft, and the hands-on How Things Fly exhibit, great for kids who love to see how things work. For an additional fee, you can hop on the Ride and Flight simulators, which were always popular with my kids. Many people don't realize that the Phoebe Waterman Haas Public Observatory is located just outside the southeast side of the museum, and is open to the public from 12-3 p.m. Wednesday – Sunday.
Be sure to purchase tickets on arrival if the Einstein Planetarium and the IMAX theater are on your schedule. Other tips include downloading the helpful one page guides on the museum website, arriving as close to 10 a.m. as possible, and taking advantage of the extended closing time during the summer months. Note that the museum just begin a seven year renovation project, with intermittent closing of galleries, shops, theaters and cafe. Check their website before you go for the most updated information.
by Kath at familyTravelsUSA
Virginia Air and Space Center, Hampton, VA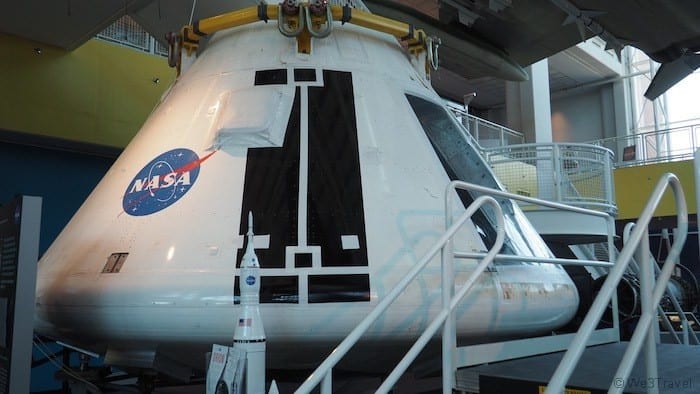 The Virginia Air and Space Center was an unexpected surprise when visiting Hampton, Virginia. I imagine this site is now more popular and well-known for being the setting of the movie Hidden Figures, about the female "computers" who were the force behind launching John Glenn into orbit.
At the Virginia Air and Space Center, you can see the original Orion and Apollo capsules. When you look at those metal capsules and you think about the bravery it took to be bolted into those for days without room to even move around — it is astounding.
We took an excellent tour with a guide who remembered the days when the space men were based in Hampton and the attention of the nation was focused on the space program. Getting that insight added so much to the experience and is highly recommended.
We also visited the IMAX Theater to learn about the planning for the mission to Mars. Overall I think the Virginia Air and Space Center was a close competitor to the more widely visited National Air and Space Museum in Washington D.C.
Central States
U.S. Space and Rocket Center, Huntsville, AL
Huntsville, Alabama is home to the U.S. Space & Rocket Center (and space camp!) It's truly an experience you don't want to miss out on. The exhibits are family friendly and offer experiences that show how life is in space. A highlight of this attraction was the Marshall Space Flight Center Bus. On this tour, you must have some form of identification on you, as all guests must be United States citizens. A stop at the Payload Operations Center was an experience I will never forget. Here we were able to watch astronauts while they worked on board the International Space Station.
The U.S. Space & Rocket Center also offers several educational opportunities for homeschooling families. Homeschooling Adventure Days are held throughout the year and walk in participants are welcome. No pre-registration is required. I was also intrigued to learn that many students from all around the globe come to Huntsville, Alabama to participate in the STEM (science, technology, engineering, art & mathematics) classes that they offer.
Several indoor and outdoor exhibits are located throughout the facility. The Moon Shot is a popular attraction, as participants will experience 4 Gs of force on launch and 2-3 seconds of weightlessness. Several other attractions offer simulators that allow participants to feel what life is like in space.
Kids of all ages will enjoy what the U.S. Space & Rocket Center has to offer in Huntsville, Alabama. The center offers a time for families to slow down, enjoy each other and learn a little bit about space along the way. Family experiences provide memories of a lifetime and why not make them in Huntsville, Alabama?
by Sara, Travel with Sara
Museum of Science and Industry, Chicago, IL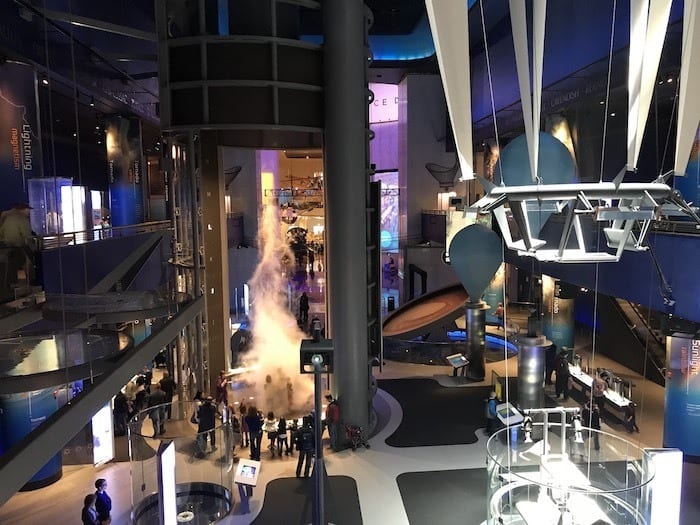 Chicago's Museum of Science and Industry is one of the most unique museums in the world. It covers all aspects of science, from weather to transportation, but it has one of the coolest space collections we've ever found. The Henry Crown Space Center has everything from rocket models to actual space capsules. It is home to the Apollo 8 capsule (the first manned spacecraft to orbit the moon) and the Aurora 7 module. This is the place to bring your space loving kids because they can learn about the different space missions and the journey behind the scenes to get astronauts into outer space.
One of our favorite things to do is head to the hands-on International Space Station. It is a re-creation of the real one, and kids can touch buttons, try on space suits, and even learn about astronaut food. There's a newer exhibit called "VR Spacewalk" where visitors can feel like they are taking a space walk outside the space station through virtual reality goggles. The spacewalk is additional, but if your kid loves space, it's definitely worth it for the experience.
Strategic Air Command and Aerospace Museum, Ashland, NE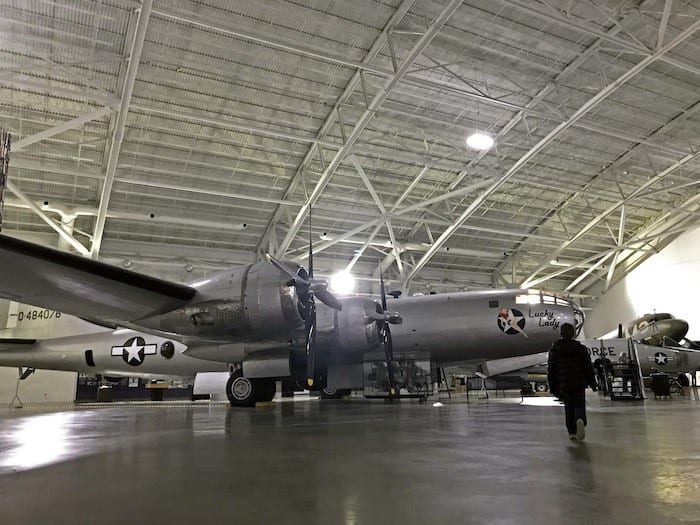 Families have been going to the
Strategic Air Command & Aerospace Museum
in Ashland, Nebraska, for decades for one reason: To get up close to a lot of space craft and planes, including the world's fastest plane, the SR-71 Blackbird. Many of the artifacts on display tell the story of how Strategic Air Command helped preserve peace during the Cold War.
While a lot of the historic aircraft are "look, but don't touch," there are some that are open for you to climb into and snap a fun picture inside the cockpit. As a Smithsonian affiliate, the museum occasionally hosts traveling exhibits. I find they're typically more interactive than most of the permanent exhibits at the museum so I make a point to time visits to when there is a traveling exhibit open.
When visiting with young kids, don't skip the Children's Learning Center, which is a hands-on space to learn about science, technology and space travel. While there, kids can build structures out of different materials and test them on a race track or earthquake table; learn about flight through building aircraft; and launch tennis balls. Expect to spend a good chunk of time there. There are a few add-on experiences like simple mini rides for little kids and a pretty cool flight simulator for older kids and adults.
Space Center Houston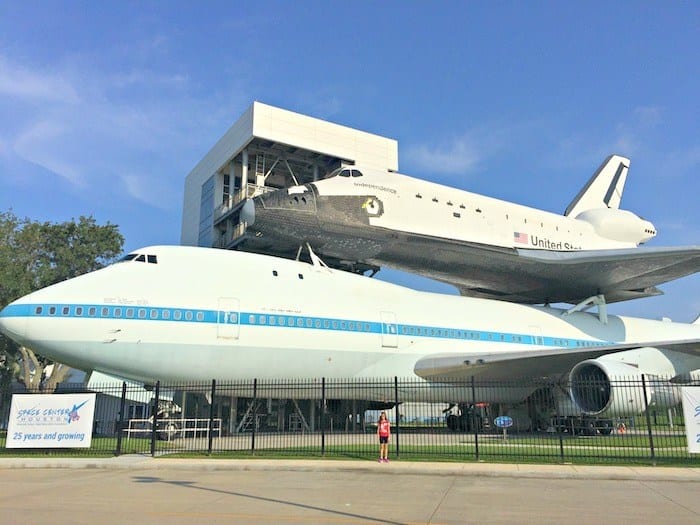 A trip to Space Center Houston is like no other. As we turned into the parking lot, we were greeted with a life-size replica of space shuttle Independence mounted on top of the original NASA 905 shuttle aircraft carrier, the same one which carried shuttles 223 times in its lifetime. You won't find that anywhere else.
The center surprised us at every turn, providing educational opportunities and plenty of fun. A favorite memory – touching the moon. A moon rock, that is, one that was 3.8 billion years old. There are only eight moon rocks available to touch in the entire world, so take advantage. Space Center Houston surprisingly has the largest public display of moon rocks in the world deep within its Lunar Samples Vault.
Along with housing three actual spacecraft which have flown in outer space, the center also is home to President Kennedy's podium where he famously spoke at a Houston campus of heading to the moon. But the real treat was discovering that our admission included a tram ride into Johnson Space Center.
TIP: If you can, avoid visiting in July and August when the heat and humidity can be a bit unbearable in Houston. Why? Access and queues to the shuttle replica, shuttle aircraft carrier, and both tram tours, though covered, are outside.
By, Debra from Finding Debra
Western States
Spaceport America, NM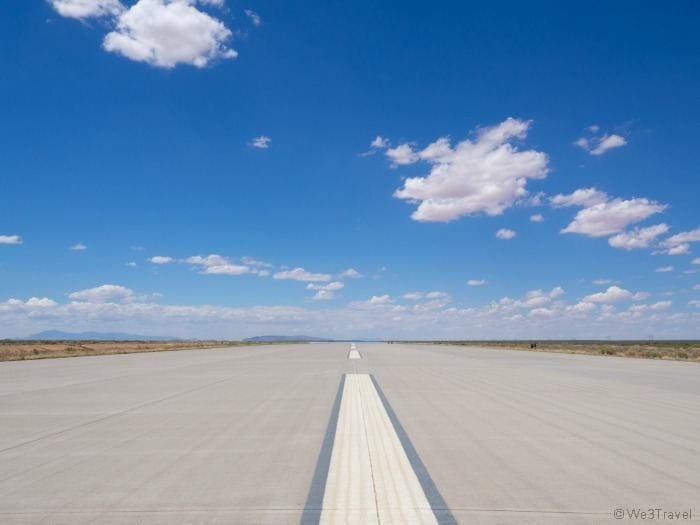 Spaceport America, located in the high desert of New Mexico, is the first purpose-built commercial spaceport. Home to Virgin Galactic, SpaceX, UP Aerospace, and EnergeticX, Spaceport represents the future of space travel.
Tours of Spaceport start at the Visitor's Center in Truth and Consequences, New Mexico (not far from White Sands National Monument.) You then board a shuttle for a 45 minute ride out into the desert. The tour includes a stop at Spaceport headquarters, home of mission control, and a ride out onto the Spaceway (the runway for space craft.) When we visited in June 2018, there wasn't a lot going on. But with Virgin Galactic since moving in and starting trials in preparation for the first passenger space travel, things are going to get more exciting. This is a stop for hard-core space fans.
Very Large Array, Socorro, NM
The Karl G. Jansky Very Large Array is a radio astronomy observatory located approximately two hours from Albuquerque in New Mexico. Most people know this site from the movie Contact, in which actress Jodi Foster was "listening" for sounds from space. The Very Large Array (VLA) actually "listens" in a different manner. It uses radio waves to map black holes, track space craft, and make discoveries about the origins of the universe.
It is a long drive for the casual observer, so the trek is best made by those with a serious interest in astronomy and space exploration. The visitor center is fairly small, but the documentary narrated by Jodi Foster goes far in explaining how the VLA operates. After touring the visitor center, you can follow a self-guided path past a sundial and up to the dishes. Just keep in mind that phones need to be turned completely off to not interfere with signals. When you go, try to time your visit on the first or third Saturday of the month to participate in public tours. Also check out their listings of special events.
Flandrau Science Center & Planetarium, Tucson, AZ
The
Flandrau Science Center & Planetarium
on the University of Arizona campus in Tucson is a fun stop for kids and adults alike. Its compact size means you can see everything, including a planetarium show in about 3 hours. My kids' favorite stop is the 'Puzzles, Proofs and Patterns: Experience the World of Mathematics' exhibit. There you will find lots of interactive math-based activities, so many that you may have to drag your kids away. The 'Critical Zone' exhibit right next door also features hands-on activities that kids will enjoy as they explore earth science and our environment.
The Eos Foundation Planetarium Theater offers a variety of shows throughout the day. Planetarium shows geared towards kids under 12 are typically only scheduled on weekends but they do offer general audience shows every day. With the popularity of the Tucson Gem and Mineral show every February, it's no surprise that you'll find a large mineral collection here as well. The UA Mineral Museum on the bottom level of the Flandrau showcases over 2,000 mineral specimens including gems, meteorites, and fossils.
If the night's sky is your thing, inquire about the Flandrau's observatory which is free to visit and features a 16-inch telescope. Volunteer astronomers are on hand to help you find Saturn's rings, the Andromeda galaxy and more. The days and hours are limited for this specifically because it's a volunteer operation.
If you are a member of your local science museum, check to see if they are part of the Association of Science and Technology Centers. You could receive free admission to the Flandrau Science Center through the ASTC Travel Passport Program.
Griffith Observatory, Los Angeles, CA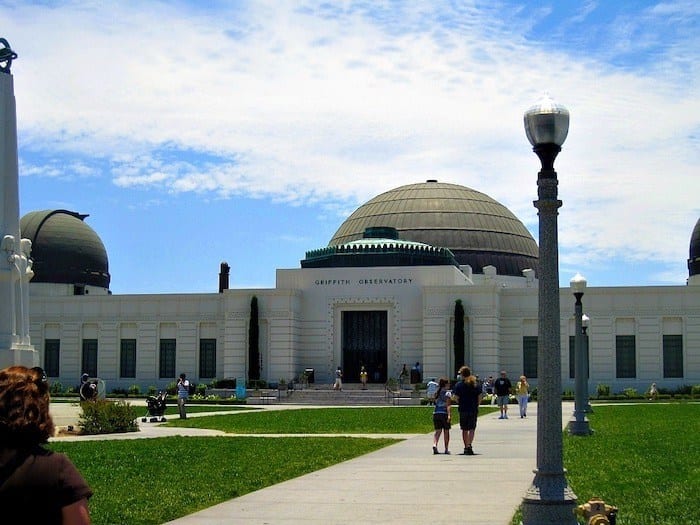 Griffith Observatory, located in Los Angeles, California, is a favorite destination for astronomy enthusiasts of all ages. In addition to gorgeous views of the city of Los Angeles below, as well as a birds-eye view of the famous Hollywood sign, the grounds of the observatory feature a scale model of our solar system, marble statues that pay homage to famous astronomers such as Copernicus, Newton, and Einstein, and an armillary sphere and sundial.
The observatory is home to the Samuel Oschin Planetarium, known as the finest planetarium in the world. The observatory uses state-of-the-art technology to brilliantly display the universe and all its wonders in a 290-seat theater. Griffith Observatory also features a mesmerizing two-story Foucault pendulum in its main rotunda, a working tesla coil, and the Leonard Nimoy Event Horizon theater. Exhibits in space exploration, telescopes, solar and lunar research, planetary alignment, and more inspire awe and curiosity in visitors.
Film buffs may recognize Griffith Observatory from several movies, including The Terminator, La La Land, Transformers, and Back to the Future, but none is more famous than the 1955 movie, Rebel Without A Cause, starring James Dean and Natalie Wood, and Dean is memorialized with a bust on the west lawn of the observatory, facing the Hollywood sign.
A few tips: Admission to the observatory is free, but there is a charge for planetarium tickets. Parking at the observatory can be challenging as there is limited parking spaces, so most opt to park on the road leading up to the observatory and hike up. There is a fee for parking in the lot closest to the observatory, but lower parking is free. The observatory hosts educational programs and public star parties, so be sure to check their calendar for a schedule of events.
By Julie, A Cork, Fork and Passport
PIN THIS FOR LATER