I have learned two important lessons from our family trips to Washington DC: 1) you can't pack it all into one trip; and 2) you need to do some advance planning or you will find yourself wasting time in lines or not getting into all the attractions you want to visit. With so many museums, monuments, and attractions to choose from, you might need some help putting together a Washington DC itinerary. To get you started, I've combined the best from our trips to create a fun-filled itinerary for 3 days in Washington D.C.
If you are flying into visit Washington D.C., you may be tempted to stay for more than a long weekend and stretch the trip to a full week. My only caution would be that it is very easy to get museum fatigue. If you are going to spend the week, combine it with a trip to Baltimore or a road trip down to Williamsburg or Charlottesville.
Otherwise, it can actually be more fun to split up visiting the D.C. attractions over a couple of trips. If you do decide on a weeklong trip to DC, be sure to space out your museum visits and give yourself plenty of opportunity for downtime.
When to Visit Washington DC
The prettiest time to visit Washington DC is during the Cherry Blossom Festival, but it is also one of the most popular times, which means more crowds. Cherry Blossom season varies from mid-March through mid-April and the National Park Service predicts the peak blossoms about ten days before, so if your travel is flexible be sure to check back often.
The National Cherry Blossom Festival incorporates multiple events including the Blossom Kite Festival, Japanese Street Festival, and the Southwest Waterfront Fireworks. There are also ranger programs and tours and musical entertainment that take place in the Tidal Basin Welcome Area.
If you do visit for the Cherry Blossom Festival, be prepared for crowds! We recently visited Washington DC over Easter Weekend and the combination of the holiday weekend, plus the Blossom Kite Festival on the National Mall made the crowds crazy. So you really need to ask yourself if seeing the cherry blossoms is worth it.
Shoulder seasons are really the best time to visit Washington DC since summer can be hot and humid. Winters may not be frigid, but if a snowstorm does hit, the city can easily shut down.
See more tips about visiting Washington DC on a college tour!
Where to Stay in Washington DC
Note: This post contains affiliate links. If you click a link and make a purchase, I may receive a small commission.
DC is an expensive city, but at least there are plenty of public transportation options if you decide to stay further outside of the city center to save money. We have enjoyed staying downtown within easy walking distance to the White House and National Mall.
For a splurge, we have stayed at the St. Regis Washington DC, which is just two blocks from the White House. On our last trip, we found a very reasonably-priced Junior Suite (which was huge!) just a few blocks further at The Darcy Washington DC, a Curio Collection by Hilton Hotel.
Washington DC Itinerary: Day 1
There is so much to do in Washington DC with kids and Washington DC with teens is even better as they have more knowledge of U.S. history. If you are going to spend 3 days in Washington DC, don't overdue it with too many museums in one day. I would recommend doing no more than one or two Smithsonian museums a day and pairing them up with another sort of attraction or tour.
Pro tip: be prepared to go through security checks at each attraction including bag checks and x-ray machines.
Morning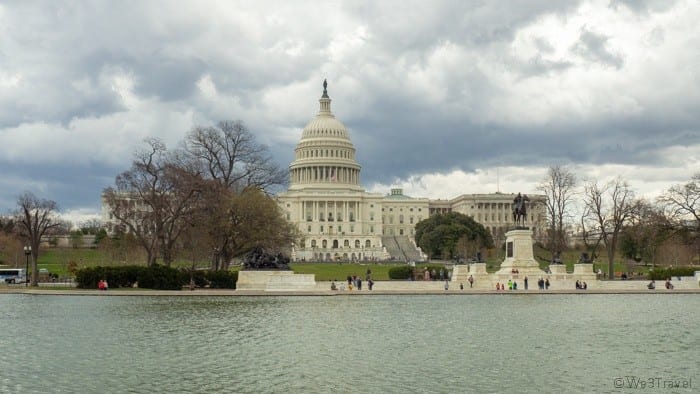 Plan a visit to the White House or Capitol Hill. This is something that you are going to have to plan in advance by contacting your state representative. I would recommend getting in touch three months in advance and no later than 21 days prior to your visit for White House tours.
Be prepared to submit copies of your passport or ID and your social security numbers for background checks. Once approved, you will get specific instructions about preparing for your visit.
For the White House, you cannot bring any bags (even purses) and need to present your paperwork and identification. You will need to arrive early at the Visitor Center to get through security.
To tour the U.S. Capitol, you can make arrangements through your state representative or directly through the Capitol Visitor Center. Same-day tour passes may be also available at the Visitor Center, but to ensure entry make arrangements in advance.
Afternoon
After touring one of these landmarks, pick a fun museum for the afternoon. Younger kids love either the Smithsonian Institution National Museum of American History (especially those Night at the Museum fans) or the National Air and Space Museum.
Evening
The National Monuments can get very crowded during the day, especially ones like the Lincoln and Jefferson Memorial. However, if you visit at night, not only do you get to beat the crowds, but they are also just so beautiful illuminated at night. It is a very special way to see the monuments. Looking at the reflection of the Washington Monument in the Reflecting Pool from the top of the stairs at the Lincoln Memorial is a memory you won't forget.
Washington DC Itinerary: Day 2
Morning
I would start your morning with a visit to the National Archives or the Library of Congress. The National Archives is home to the original Declaration of Independence and Constitution. Since this is a popular attraction, I would recommend going online and booking a timed-entry ticket in advance so that you can skip the general admission line. It is just $1.00 per ticket to make the reservation.
The main attractions (the Declaration and Constitution) are located in the Rotunda. Be prepared to queue up and find the crowd to see these precious documents. Just don't be too disappointed by the condition of the documents. They are quite faded so it is hard to see much, but you can see Alexander Hamilton's signature on the Constitution.
Looking through the other exhibits in the main exhibits, you realize how important is that we preserve these documents. After all, anyone can interpret history according to their own perspective, but only by looking at the original documents can we find the truth.
While we visited, there was also an excellent exhibit about the Vietnam War. This was timely since Hannah had just studied Vietnam in eighth grade history. Since I was small during the war but it never made it into my school text books, she actually knew more than I did and it was a nice refresher course.
Another option would be the Library of Congress, located behind Capitol Hill. In the Thomas Jefferson Building, you can see one of the original Gutenberg Bibles. When we visited, there was also an interesting exhibit about the Mayans and Aztecs. But unfortunately, the main reading rooms are off limits except for official researchers. You can still queue up to visit the balcony overlooking the main reading room.
The Library of Congress houses over 38 million books on 838 miles of bookshelves. While you can't walk among them, it is cool to see. And, the architecture of the building is stunning. Unfortunately, there isn't an option to skip the line. However, if you want to take a tour, I would check the website for times they are available and arrive at least 30 minutes before the tour to wait in line and proceed downstairs to sign up for a tour.
Afternoon
Just behind the National Archives, you will find the Newseum, which is still on our list but I've heard it is terrific. Younger kids also love the International Spy Museum. Our personal favorite from this trip was the National Museum of the American Indian.
We loved everything about this museum from the design, to the exhibits, to the gift shop — but especially the cafe! Even if you don't visit the museum, plan to eat lunch here one day. The cafeteria is set up with different cuisines from various destinations representing Native American tribes including Pacific Northwest, Southwestern, Meso American, and Great Plains. I highly recommend the fry bread! Overall this is the best museum cuisine that I've experienced for a self-service cafeteria.
On our next trip, we definitely want to visit the National Museum of African American Culture and History. This time, tickets were sold out a couple of weeks in advance. You can still get online early (like 6am) on the day of your visit and see if they have any last-minute tickets available. Otherwise, be sure to plan in advance!
Evening
If you get lucky and you visit on a Sunday, see if there are any special guided tours at Ford's Theater. If not, you can also see about taking in a show at this legendary theater, the place where Abraham Lincoln was assassinated.
I would also highly recommend getting tickets in advance for a Ranger Talk at the site, which are available from 9:30 to 4:00 pm at select times. Advance tickets are required for busy times and plan to arrive about 10 minutes prior to your tour time.
After your tour, I would recommend tapas dinner at Jaleo by Jose Andres. This is one of my favorite chefs and we had an amazing meal at his Bazaar Restaurant in Miami a couple of years ago. Jaleo met those high expectations. See if you can request one of the fusball tables!
Washington DC Itinerary: Day 3
Morning
Try to visit the United States Holocaust Memorial Museum during the week as the crowds can be overwhelming and really distract from the impact of the experience. You will need to reserve tickets in advance as entrance is limited. Even so, the crowds can be intense — they really need to limit attendance even more to all everyone to fully engage in the museum.
I would also caution parents to delay taking children until they are old enough to fully comprehend the material and be emotionally equipped to handle it. For us, this was thirteen. We saw many families with younger children and also many school groups of teens that weren't truly focusing on what they were seeing.
Despite these warnings, this is an important museum to visit with teens. For younger kids, try one of the other museums like the National Museum of American History, or another mentioned above.
Afternoon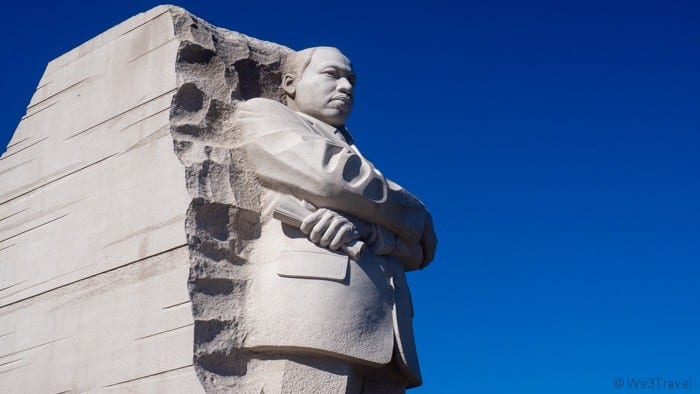 After such heavy material in the morning, it is nice to spend the afternoon on the National Mall and visiting some of the other memorials you may not have gotten to in the evening. We had actually signed up for a bike tour of Tidal Basin, but had to cancel because Hannah got sick, but this is a fun way to cover some ground and explore the Tidal Basin or Memorials. You can also rent pedal boats from the Tidal Basin Boathouse as a way to relax.
If it is not a nice day, it is also a great time to visit one of the art museums like the National Gallery of Art (be sure to enjoy the outdoor sculpture garden) or the more modern Hirshorn Museum.
Getting There
If you are flying in, I would recommend flying into Washington Reagan National Airport, as you will be 15 minutes and a cheap Lyft ride (or Metro ride) downtown. You can also take the train directly into Union Station. If you are visiting Washington DC as part of a road trip, make sure you think about the cost of parking. It may be worthwhile to stay outside of town and take the Metro in.
Washington DC is one of our favorite cities and there is always something new to see. Plus, we have barely begun to scratch the surface of the dining scene. If you have any favorite museums, restaurants, or tips to add, please drop them in the comments below.
PIN THIS FOR LATER