Charlottesville is home to the University of Virginia, making it a hip college town with a surprising number of dining options. Perhaps that is influenced by the large number of wineries that stretch across the surrounding area. Yet while the vibe may trend towards teens and older, there is plenty of things to do near Charlottesville VA with kids.
In fact, this area is steeped in history, with the drafter of the Declaration of Independence, the father of the Constitution, and the only person to have served as both Secretary of State and Secretary of War at the same time, all hailing from nearby towns.
If you are looking for what to do in Charlottesville, I'd recommend blending a mix of historic attractions and outdoor activities to keep kids happy. Also check out these recommendations on the best places to stay in Charlottesville.

What to do in Charlottesville with Kids
Stroll through the downtown pedestrian mall. The pedestrian mall's brick street is lined with a variety of shops and restaurants, which cater to the college crowd and visitors alike. Younger kids might enjoy a stop in the Virginia Discovery Museum, while older kids will enjoy popping into the shops (mine loved the store for cat lover's) or eating at one of the many restaurants with sidewalk seating.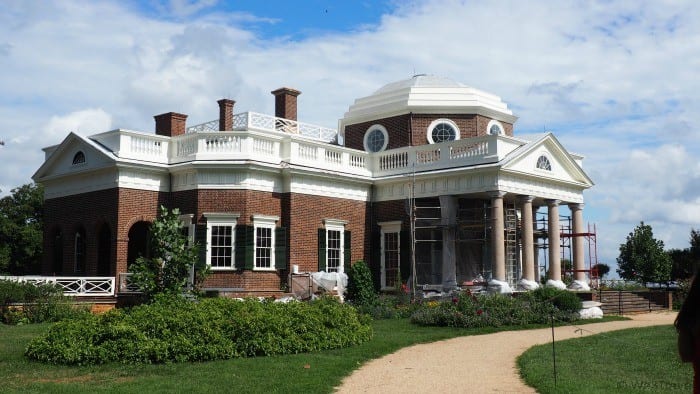 When Monroe was 35 years old, he purchased the land where Ash Lawn-Highland stands today to be near his close friend, Thomas Jefferson. The original home, Highland, was where he lived for 24 years with his wife and children. The larger yellow house in front, Ash Lawn, was added later and Monroe never lived there. The tour takes you through the original house, lets you explore the exhibits in the parlor of the new house, and provides you free reign to explore the gardens, kitchens, and slave quarters on your own. Similar to Jefferson, Monroe spoke out against slavery, calling it, a "still remaining evil," yet never freed his 49 slaves. If you have two days or more in Charlottesville, Ash Lawn-Highland is a good historic attraction to add to your itinerary.
We only had two days to explore Charlottesville attractions, but these were some of our favorites. I'd love to go back again with the whole family to also visit some wineries and sample some of the cuisine downtown — Hannah can't wait to go back for the Ramen and Donuts restaurant in the Downtown Mall. She can't believe that combination of goodness.
PIN THIS FOR LATER
Note: Our visit was hosted by Visit Charlottesville, including our stay at the Graduate Hotel, visits to local attractions and some meals. All opinions are my own.