Charlottesville is a charming college town that is steeped in history and located just a short drive away from award-winning vineyards, the beautiful Shenandoah National Park, and Blue Ridge Parkway. If you only have a few days to spend, there are some important things to do in Charlottesville that you really shouldn't miss — and I'll tell you all about them!
About Charlottesville, VA
But first, let's learn a little about Charlottesville and why you should visit. Charlottesville is a small city located in central Virginia, 2.25 hours southwest of Washington D.C. and one-hour northwest of Richmond. It is home to the prestigious University of Virginia, which was founded by Thomas Jefferson in 1819.
The university gives the city its college-town feel, with a lively and diverse arts and music scene, and numerous restaurants and cafes. The downtown area is particularly vibrant, with many shops, boutiques, and historic landmarks.
Charlottesville also has a rich history, dating back to colonial times. The city played an important role in the American Revolution and the Civil War, and visitors can explore numerous historic sites, including Monticello (Thomas Jefferson's home), Ash Lawn-Highland (James Monroe's home), and Michie Tavern (a restored 18th-century tavern).
In addition to its history and culture, Charlottesville is also known for its natural beauty. The city is located in close proximity to the Shenandoah National Park and the Blue Ridge Mountains, offering abundant opportunities for outdoor recreation including hiking, biking, fishing, kayaking, and camping.
If you are looking for things to do in Charlottesville, I'd recommend blending a mix of historic attractions and outdoor activities.
Things to do in Charlottesville
Note: Our visit was hosted by Visit Charlottesville, including our stay at the Graduate Hotel, visits to local attractions, and some meals. All opinions are my own.
Stroll through the Historic Downtown Mall
The downtown pedestrian mall's brick street is lined with a variety of shops and restaurants, which cater to the college crowd and visitors alike. Younger kids might enjoy a stop in the Virginia Discovery Museum, while older kids will enjoy popping into the shops (mine loved the store for cat lovers) or eating at one of the many restaurants with sidewalk seating.
The downtown mall is also home to several theaters, including the Paramount Theater and the Violet Crown Cinema, which offers indie films and art-house releases. You can also visit the Jefferson Theater, a historic movie theater that dates back to the 1920s. There are many events that take place on the mall throughout the year, including live music, art festivals, and farmers' markets.
Tour Thomas Jefferson's Monticello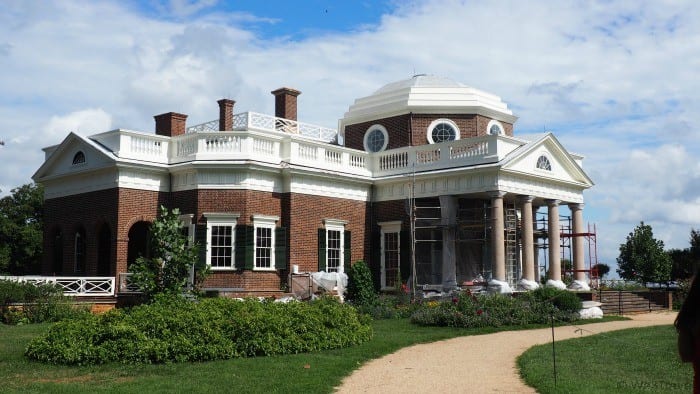 Thomas Jefferson is one of the United States Founding Fathers. He was a drafter of the Declaration of Independence, penning the famous words declaring that "all men are created equal" and have the right to "life, liberty, and the pursuit of happiness." And yes, he was also an enslaver. Even though he spoke out against slavery, he remained a slaveholder until he died.
He was also a scientist, an architect, and a strong believer in the value of education. Not only did he found and design the University of Virginia in his retirement, but he also paid for his grandsons' educations, even when he really couldn't afford it. He was a significant figure in history, serving as a delegate to the Virginia General Assembly, governor of Virginia, minister to France, secretary of state, vice president, and the U.S.'s third president.
With that complicated history, it makes sense to visit Monticello, the home that Thomas Jefferson so lovingly designed and built, and try to reconcile these conflicting accomplishments and his horrible crimes against humanity.
There are multiple options for visiting Monticello, and it is recommended that you book tickets online in advance for all. The Highlights tour is a 45-minute guided experience that includes the first-floor spaces, the West Lawn, and the South Wing. Families may want to consider the Family-Friendly tour, which highlights Jefferson's ideas and accomplishments and share stories of the people, both free and enslaved, who lived on the property. There is also the "From Slavery to Freedom" tour, which is a 2.5-hour, guided, small-group, interactive tour that explores Monticello through the perspectives of enslaved people who labored on the property.
Kids may also enjoy the mobile Scavenger Hunt, which encourages you to use your smartphone to complete unique challenges such as snapping photos, exploring new spaces, testing your knowledge, and sharing your thoughts.
Our visit started at the Visitor Center, but we quickly boarded a shuttle bus for a short ride up the hilltop to Monticello. Tours run every five minutes, but when you exit the shuttle you are lined up according to your tour time. We started off in the Entrance Hall, where we were given a bit of background about Jefferson and his family.
Thomas Jefferson was born just two miles away from Monticello and inherited the land when he was 21. He began building Monticello at 25, using his own design. The house that you tour today is still 80 percent original, so you get a very good idea of what it was like in Jefferson's time.
One of the most fascinating features of the entrance hall was the clock designed by Jefferson. It is a seven-day clock, but when Jefferson installed it in the home, the measurement was off and the bottom of the clock extends into the basements. The hall also contains artifacts from Jefferson's life including European art, maps, Native American pieces, and souvenirs from the Lewis & Clark expedition. Because so many furnishings are original to the period, visitors are warned against leaning or touching, which can be a bit challenging for kids.
Although the house has 21 rooms, including 12 bedrooms and a nursery which were later utilized by Jefferson's children and grandchildren, you only visit a few of these rooms on the tour. Jefferson was married for only 10 years of "unchecked happiness" to his wife Martha, who died giving birth to their sixth child. His daughter Martha later moved in and had six girls and five boys to fill those rooms.
When we stepped into the book room, Jefferson's love of education was clear. He was educated at the College of William and Mary, followed by five years spent studying the law. He could read and write in seven languages and owned 7,000 books in his time, which formed the foundation for the Library of Congress. In fact, education was so important to Jefferson that instead of including his presidency on his gravestone, he requested the following engraving:
Here was buried
Thomas Jefferson
Author of the Declaration of American Independence
of the Statute of Virginia for religious freedom
& Father of the University of Virginia
After the book room, we moved into Jefferson's private study and bedchamber. It was powerful to see the place where Jefferson penned over 1,300 letters in one year. It was also a bit strange to be able to see the bed where this six-foot-two-and-one-half-inch president slept.
As we stepped through the parlor, with its many religious paintings and parlor games, people were brimming with questions, but because the tours follow each other so closely, there isn't a lot of time for answers.
After the house tour, visitors can also wander around much of the estate's 5,500 acres, exploring the slave quarters and vegetable gardens. If you have the time and energy, you can take the Slavery to Freedom tour or Gardens and Grounds tour, which are included in the price of general admission.
It is really amazing that the estate has been maintained at all. Because Jefferson died in debt, his estate was sold off six months after his death. Luckily in 1923, it was sold to the Thomas Jefferson Foundation by the Levy family in a desire to preserve it out of respect for Jefferson's views on religious freedom.
Tips for Visiting Monticello
Book your tickets in advance if you are going during a busy time to get the time slot you want.
Consider visiting in the morning, before it gets hot, especially if you are visiting in the summer
Take in the film at the Visitor's Center, but save the rest of the exhibits for after the tour, just in case the kids are at the end of their attention span
Give yourself plenty of time to take the shuttle up the hill and arrive at the meeting spot before your tour departs
Large bags and backpacks are not allowed, so leave those in the car
Photos are not permitted inside the house, so you may want to just leave your big camera behind too
After you are done touring the house and ground, kids might enjoy burning off some energy with a walk down the hill to Jefferson's Grave and/or the Visitor's Center instead of taking the shuttle back.
A good way to fill up before or after the tour is a mid-day meal at the colonial-era Michie Tavern just down the road.
Have Lunch at The Michie Tavern
Lunch at Michie Tavern is more than just a colonial feast, but is also a chance to experience history. There aren't many restaurants near Monticello, so it was a perfect place to eat when you are visiting Thomas Jefferson's home.
The Michie Tavern is an 18th-century tavern, which was moved from a nearby Buck Mountain and recreated in its current location in 1928, becoming a Virginia Historic Landmark.
Today, you can take a self-guided tour of the oldest section of the Michie Tavern. Before entering, visitors are invited to dress up in colonial garb to make the experience feel more authentic. They have all different sizes, including one that was perfect for my little Colonial girl.
Downstairs, you can try your hand at some 18th-century tavern games, which may then look familiar when you visit Thomas Jefferson's Monticello. You can also check out the kitchen and the tavern room where travelers were fed. If you head upstairs, you can see the bedrooms where the lodgers stayed or the main entertaining room. Since we were given a guided tour, we even had a chance to learn a bit of the Virginia Reel.
It was a fun experience and created an added appreciation of the colonial feast of which we partook for lunch. The Michie Tavern is only open for a mid-day meal, but with its all-you-can-eat buffet, it may be the only meal you need.
Lunch itself is based on 18th-century recipes, including southern fried chicken, hickory-smoked pulled pork, and marinated baked chicken. Keeping up with modern times, the pulled pork and baked chicken are both gluten-free, and most items are peanut-free (always check with your server for the latest info though!) They also offer a full spread of side dishes, from my favorite, biscuits, to mashed potatoes and gravy, black-eyed peas, stewed tomatoes, green beans, cole slaw, beets, and cornbread.
You will definitely NOT leave hungry but try to save a little room for dessert. The homemade peach cobbler a la mode comes in a nice small serving that is easy to squeeze in, even after such a large meal, because it is so delicious.
In addition to the Tavern, there are other unique stores that are housed in historic buildings, making it fun to explore. We really enjoy the distinct craftsmanship of the Metal Smith Shop, with goods in pewter, silver, copper, brass, and tin. We spent plenty of time exploring the games, both new and old, at the Game and Toy Shop, and cashed in our token for a free candy stick at the General Store. Kids can also participate in Mr. Michie's Treasure Hunt, searching for items throughout the stores. If they complete the quiz, they will receive a bag of chocolate gold coins at the General Store or Tavern Gift Shop.
Tour Ash Lawn-Highland
James Monroe, the fifth President of the United States, the author of the famous Monroe Doctrine (which basically decreed that the U.S. would stay out of Europe if they would stay out of the West), the negotiator behind the Louisiana Purchase, and the only man to have held the position of Secretary of State and Secretary of War at the same time, made his home near Charlottesville at Ash Lawn-Highland.
When Monroe was 35 years old, he purchased the land where Ash Lawn-Highland stands today to be near his close friend, Thomas Jefferson. The original home, Highland, was where he lived for 24 years with his wife and children. The larger yellow house in front, Ash Lawn, was added later and Monroe never lived there.
The tour takes you through the original house, lets you explore the exhibits in the parlor of the new house, and provides you free reign to explore the gardens, kitchens, and slave quarters on your own. Similar to Jefferson, Monroe spoke out against slavery, calling it, a "still remaining evil," yet never freed his 49 enslaved people. If you have two days or more in Charlottesville, Ash Lawn-Highland is a good historic attraction to add to your itinerary.
Watch the Sunset at Carter Mountain Orchard
The best sunset viewing in Charlottesville has got to be at Carter Mountain Orchard. Located just down the road from Monticello and minutes from the Michie Tavern, you will wind up and around the mountain, and just at the crest, find the country store and bakery.
From here, you can see sweeping views of Charlottesville in the valley below. On some evenings in the summer, Carter Mountain offers a free music series, featuring local artists. Locals and visitors are welcome to spread out their picnic blankets and enjoy the music and view.
Adults can stop into the Prince Michel Wine Shop at Carter Mountain to pick up a bottle of local wine to enjoy with their picnic. No picnic? No problem. Carter Mountain also offers a Mountain Grill with light snacks and a country store. I highly recommend the peach cider and peach cider donuts!
Go Kayaking on the James River
A bit further out of town, in the nearby town of Scottsville, Virginia, nature lovers will appreciate a break from history with some time outside. James River Reeling and Rafting offer kayaking, river tubing, fishing, canoeing, rafting, and camping along the scenic James River.
The river runs the quickest in the spring, but our late summer visit still provided us with a leisurely float down the river. They drop you off upstream and then pick you up a few hours later, depending on how far you want to kayak (or tube, etc.) We managed a few miles in under two hours, taking our time to enjoy the scenic views.
While you are in Scottsville, you can visit Dave Matthews' Blenheim Vineyards or enjoy a great pub meal at the Tavern on the James.
---
We only had two days to explore Charlottesville attractions, but these were some of our favorite things to do. I'd love to go back again with the whole family to also visit the Monticello wine trail and spend more time hiking in Shenandoah National Park.
If you have more time, be sure to see my recommendations for things to do in Shenandoah Valley, like visiting the Luray Caverns or Shenandoah Caverns. Maybe you will get lucky and see some black bears along Skyline Drive as we did!
Where to Stay in Charlottesville
Note: This post may contain affiliate links. If you click a link and make a purchase, I may receive a small commission. All opinions are my own.
We enjoyed our stay at the Graduate Charlottesville. We have stayed at many Graduate Hotels in college towns across the country and I love that each is uniquely personalized to match the local culture and vibe. Also, check out these recommendations on the best places to stay in Charlottesville.
Frequently Asked Questions
Is Charlottesville, VA worth visiting?
Absolutely, Charlottesville is definitely worth visiting. It is a beautiful and charming city with a rich history, vibrant arts and culture scene, and stunning natural scenery. Here are some reasons why you might want to consider visiting Charlottesville:
History: Charlottesville is steeped in history, from the founding of the University of Virginia by Thomas Jefferson to its role in the American Revolution and Civil War. Visitors can explore numerous historic sites, including Monticello (Thomas Jefferson's home), Ash Lawn-Highland (James Monroe's home), and Michie Tavern (a restored 18th-century tavern).
Culture: Charlottesville is known for its vibrant arts and culture scene, with numerous museums, galleries, and music venues. The city also hosts several festivals throughout the year, including the Virginia Film Festival and the Tom Tom Founders Festival.
Natural Beauty: Charlottesville is located in close proximity to the Shenandoah National Park and the Blue Ridge Mountains, offering abundant opportunities for outdoor recreation. Visitors can hike, bike, fish, and camp in the park and enjoy breathtaking views of the surrounding mountains.
Food and Drink: Charlottesville has a thriving culinary scene, with many farm-to-table restaurants and local wineries and breweries. Visitors can take a tour of the wineries or breweries, or simply enjoy a meal at one of the many local restaurants.
Overall, Charlottesville is a wonderful destination with something for everyone. Whether you are interested in history, culture, outdoor recreation, or simply relaxing and enjoying good food and drink, Charlottesville is definitely worth a visit.
How long should you spend in Charlottesville, VA?
The amount of time you should spend in Charlottesville, VA depends on your interests and the purpose of your visit. However, I would recommend spending at least 2-3 days in Charlottesville to fully experience and appreciate all that the city has to offer.
During this time, you could visit some of the city's historic landmarks such as Monticello or Ash Lawn-Highland, explore the downtown area, and enjoy some of the local restaurants and shops. You could also take a hike in the nearby Shenandoah National Park, visit some of the local wineries or breweries, or attend a concert or festival if there happens to be one taking place during your visit.
If you have more time, you could extend your stay and explore the surrounding areas, such as the nearby Blue Ridge Mountains, which offer even more opportunities for outdoor recreation and stunning scenery.
What is the best time of year to visit Charlottesville, VA?
The best time of year to visit Charlottesville, VA depends on your personal preferences and what you want to do while you're there. Here are some factors to consider for each season:
Spring (March-May): Spring is a popular time to visit Charlottesville due to the blooming flowers and mild temperatures. This is a great time to visit the local wineries and breweries, take a hike in the nearby Shenandoah National Park, or attend one of the many festivals that take place in the area.
Summer (June-August): Summer in Charlottesville can be hot and humid, but it's a great time to enjoy outdoor activities such as swimming, tubing, or kayaking on the local rivers. There are also many outdoor concerts, events, and festivals that take place during the summer months.
Fall (September-November): Fall is a popular time to visit Charlottesville because of the stunning fall foliage in the nearby Blue Ridge Mountains. This is also harvest season for the local wineries, and many of them host special events and tastings during this time.
Winter (December-February): Winter in Charlottesville can be cold and snowy, but it's a great time to enjoy the city's cozy restaurants and cafes, as well as the local holiday events and decorations.
What is there to do indoors in Charlottesville?
There are plenty of indoor activities to enjoy in Charlottesville, VA. Here are some ideas:
Museums and Art Galleries: Charlottesville is home to several museums and art galleries, including the Virginia Museum of Fine Arts, the Kluge-Ruhe Aboriginal Art Collection, and the Fralin Museum of Art at the University of Virginia. These museums and galleries offer a variety of exhibits and collections to explore.
Historical Sites: Charlottesville has a rich history, and there are several historical sites to explore, including Monticello, the home of Thomas Jefferson, and Ash Lawn-Highland, the home of James Monroe. Visitors can also explore the historical Downtown Mall, which features shops, restaurants, and live music venues.
Performing Arts: Charlottesville has a vibrant performing arts scene, with several theaters and music venues offering concerts, plays, and other performances. Some popular venues include the Paramount Theater, the Sprint Pavilion, and the Jefferson Theater.
Shopping: Charlottesville offers a variety of shopping options, from the historic Downtown Mall to the Barracks Road Shopping Center. Visitors can find everything from locally made crafts and goods to high-end fashion and accessories.
Indoor Activities: Charlottesville has plenty of indoor activities to keep visitors entertained, such as bowling at Kegler's Bowling Alley, playing laser tag at the Lazer Tag and Games of Charlottesville, or visiting the IX Art Park, which features a variety of indoor art installations and exhibits.
Is Charlottesville safe to visit?
Charlottesville, like any city, has its share of crime and safety concerns, but overall it is considered a safe place to visit. The city has a low crime rate compared to other cities of similar size. However, it's always important to exercise caution and be aware of your surroundings, especially if you're traveling alone or at night.
Is Charlottesville racist?
Charlottesville gained national attention in 2017 when white supremacists and neo-Nazis gathered for a "Unite the Right" rally that turned violent, resulting in the death of a counter-protester. This event drew attention to the racial tensions and issues of racism that exist in the city and the country as a whole.
While Charlottesville, like any city, has its share of racial tensions and challenges, it is important to note that Charlottesville is a diverse city with a rich history, and many residents and community organizations work to promote equality and social justice.
When we visited, we found Charlottesville to be a generally progress town. That said, we did also see many Confederate flags when driving through the countryside in the Shenandoah Valley.

PIN THIS FOR LATER