So if I say Shenandoah Valley, what do you think of? Probably Shenandoah National Park? Maybe the Skyline Drive and the Blue Ridge Parkway? You aren't wrong, but there is more to the Shenandoah Valley than just scenic drives and hiking in the National Park. Wondering about the things to do in Shenandoah Valley, Virginia? I've got you covered…from the small towns to visit to the best attractions for families, keep reading for reasons to plan a trip to Shenandoah.
Where is Shenandoah Valley?
The Shenandoah Valley stretches from Harpers Ferry, West Virginia to Roanoke, Virginia. Located in the western part of the state of Virginia, the Shenandoah Valley covers an area of approximately 200 miles in length and 20 miles in width, bordered by the Blue Ridge Mountains to the east and Allegheny Mountains to the west.
During the Civil War, this region was nicknamed the "breadbasket of the Confederacy." Today, this area is an outdoor wonderland, with bucolic farms and country roads. There are natural wonders like the Luray and Shenandoah Caverns, and Natural Bridge, as well as gorgeous scenic drives along the Skyline Drive and Blue Ridge Parkway.
The Shenandoah Valley also includes Shenandoah National Park and the popular Bryce Mountain and Massanutten Resorts. There are plenty of outdoor adventures to be had including biking, hiking, paddle sports, and horseback riding.
This region has been memorialized in songs like "Oh, Shenandoah!" I remember my first time driving the Skyline Drive as a kid and thinking…so there is where "oh purple mountain's majesty" is referring to in This Land is Your Land.
How to Get to Shenandoah Valley
To get to the Shenandoah Valley, there are several options depending on your starting point and if you want to travel north to south or vice versa. If you are coming from Washington, D.C., you can take Interstate 66 west for approximately 70 miles until you reach Front Royal, which is considered the gateway to the Shenandoah National Park. From Front Royal, you can access Skyline Drive, which runs 105 miles along the crest of the Blue Ridge Mountains and through the Shenandoah National Park.
Another option is to take Interstate 81 south of Winchester, Virginia, which is located approximately 75 miles west of Washington, D.C. Winchester is located in the northern part of the Shenandoah Valley, and is considered a good starting point for exploring the region. From Winchester, you can head south and explore the many small towns, historic sites, and scenic drives that make the Shenandoah Valley such a popular destination.
If you are coming from Richmond, Virginia, you can take Interstate 64 west for approximately 100 miles until you reach Charlottesville, Virginia. From Charlottesville, you can continue west or northwest to Staunton or Harrisonburg in the Shenandoah Valley.
Things to do in Shenandoah Valley
Note: This post may contain affiliate links. If you click a link and make a purchase, I may receive a small commission. All opinions are my own.
We spent a lot of time exploring Shenandoah Valley as part of our two-week, mother-daughter Virginia road trip. Since we traveled from south to north, that is how I have laid out these things to do in Shenandoah Valley. Our visit was hosted by Harrisonburg and Shenandoah, Virginia. All opinions are my own.
If you are planning a visit to the Shenandoah Valley with kids, check out the Shenandoah Valley Kids Trail, designed to let kids steer the family vacation.
Drive the Skyline Drive & Visit Shenandoah National Park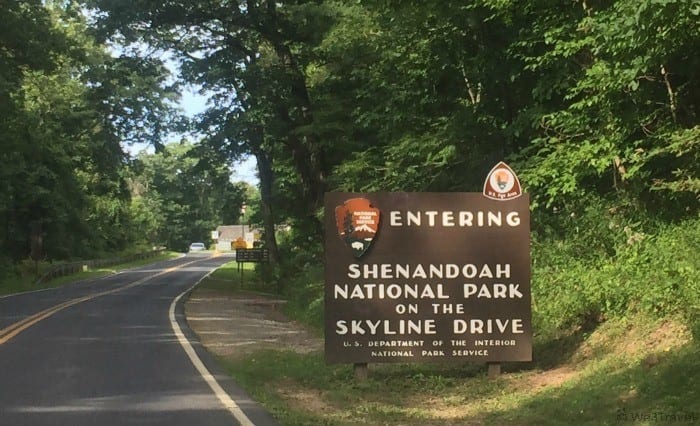 The Skyline Drive is the 105-mile scenic byway through the Blue Mountains of Virginia, which serves as the only road through Shenandoah National Park. This byway starts in Front Royal in Northern Virginia and ends at Rockfish Gap, where Route 64 crosses the Blue Ridge Mountains. South of Route 64, the highway becomes the Blue Ridge Parkway. There are four entrances and numerous surrounding communities that provide services to the park at Front Royal, Thornton Gap, Swift Run Gap, and Rockfish Gap.
Driving the Skyline Drive is a quintessential American road trip, offering gorgeous views and access to the scenic Shenandoah National Park. The park covers 200,000 acres through the Blue Ridge Mountains, named for the hue created by water evaporating from the plants and trees. Along the Drive, there are 75 overlooks across the park, as well as a chance to view some of the wildlife that makes it home in the park such as deer, black bear, wild turkey, and other woodland animals.
With a speed limit of 35 mph, it takes about three hours to drive the length of the Skyline Drive. The Skyline Drive is open 365 days of the year but can close for inclement weather and at night during deer-hunting season, so it is best to check with the park before you head out by calling the park's recorded information line: (540) 999-3500. Just keep in mind that park services are only open from mid-March through late November.
If you want to spend more time hiking and exploring Shenandoah National Park, I would recommend dedicating at least two days to this area to fit in a few of the more popular hikes and attractions. Keep in mind that there are over 500 miles of trails to explore! The Appalachian Trail goes right through Shenandoah for 101 miles.
If you're looking for a great hike in the park, two trails that come highly recommended are the Old Rag Mountain Trail and the Hawksbill Summit Trail. The Old Rag Mountain Trail is a challenging 8.8-mile hike that takes you to the summit of Old Rag Mountain, the highest peak in the park.
The trail is rated as strenuous, with steep climbs, rock scrambles, and narrow passages. You should be prepared with good hiking boots and plenty of water. A day-use permit is required to hike Old Rag Mountain from March through November, and parking can be limited, so it's recommended to arrive early or take a shuttle from the Old Rag parking area.
The Hawksbill Summit Trail is a moderate 2.9-mile hike that takes you to the highest point in the park at Hawksbill Mountain. The trail offers stunning views of the surrounding mountains and valleys, making it a great choice for photographers and nature lovers. Parking is available at the Hawksbill parking area, but it can fill up quickly during peak season, so it's best to arrive early.
There are also a number of hikes that are good for kids, including Blackrock Summit, Stony Man, and Lands Run Falls. If you are looking for waterfalls, Dark Hollow Falls is one of the most popular waterfalls in the park. The falls cascade 70 feet down a series of steps, creating a stunning display of water and mist. The hike to Dark Hollow Falls is a moderate 1.4-mile round-trip hike, and the trailhead is located near mile marker 50 on Skyline Drive. The trail can be busy, especially on weekends, so it's best to arrive early to secure a parking spot.
We entered the Skyline Drive at the southernmost entrance at Rockfish Gap, on our way from Charlottesville to Harrisonburg, VA. If you are driving without stopping for hikes, you can definitely get scenic overlook fatigue if you stop at each and every overlook, but you just never know what you might find.
Click on the photos below to enlarge them:
Our most exciting moment in the park happened at a scenic overlook on the northbound side. We were standing near the car taking some pictures when I heard a loud rustling noise. I looked around and didn't see anything. But when I heard it again, I noticed a tree maybe a hundred feet down a slope from the overlook swaying wildly.
I immediately thought — that's no bird! I scanned the area for danger and didn't see anything nearby so we stayed near the car to observe. Soon, a black head poked out of the tree and the face of a small black bear was clearly visible. We were very excited to see a bear in the wild — but also in a situation where we felt very safe, standing right next to our unlocked car.
I got out my zoom lens for a better view and started snapping some pictures. Another car soon pulled up and they were going to just drive away when I gestured to them to point out the bear. We all observed quietly as the bear proceeded to break off the top branches of the tree to eat the leaves. At one point there was quite a crash and I thought the bear was going to fall right out of the tree but it caught itself. It was definitely the thrill of the trip to observe this bear in its element, but I have to say it made me think twice about the preparations I'd need before doing much hiking in the park.
Explore downtown Harrisonburg, Virginia
Since we drove the Skyline Drive, we had to skip visiting Staunton, which I've heard is quite a lovely town. If you have more time to spend in the park and Shenandoah, I would recommend adding on a day in Staunton as well. For us, Harrisonburg was a nice introduction to the small towns of Shenandoah Valley.
Located just minutes from Shenandoah National Park, Massanutten Resort, and the Skyline Drive, Harrisonburg is also the home to James Madison University, giving it that distinct college town vibe.
Start your visit with a stroll through the Harrisonburg Farmers Market and a stop at the Hardesty-Higgins House Visitor Center. From there, stroll down Main Street. Downtown features a number of small museums, such as the Explore More Discovery Museum, the Valley Turnpike Museum & Civil War Orientation Center, Harrisonburg Fire Department Museum, and the Virginia Quilt Museum, and plenty of college-student friendly, locally-owned restaurants.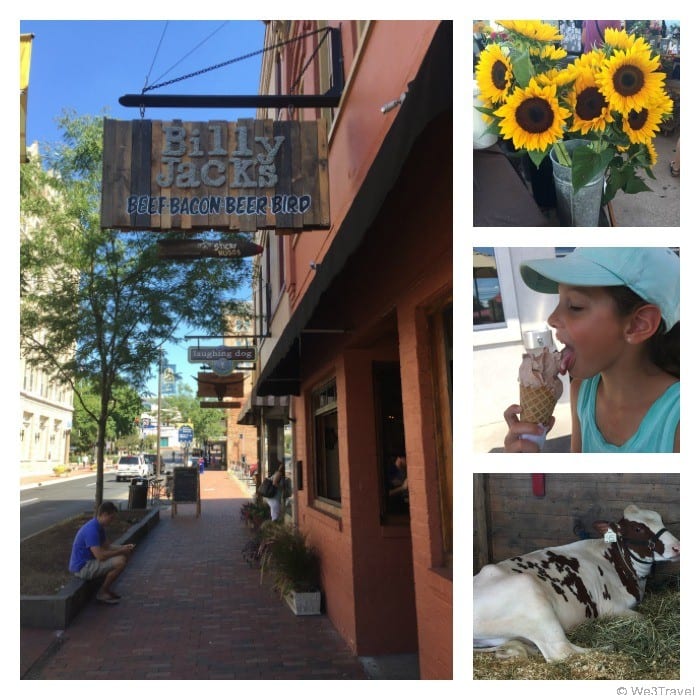 Nearby, visitors can enjoy hikes at the Edith Carrier Arboretum at James Madison University, Hillandale Park, and the Grand Caverns Grottoes. We had hoped to explore a bit more but after a week on the road, we need an afternoon of relaxation. Instead, we stopped for ice cream at Klines Dairy Bar, which is an area institution and must-visit when in Harrisonburg. We were also lucky enough to visit during the Rockingham County Fair and got to experience an authentic county fair experience, which was a great introduction to our visit to the Iowa State Fair during our midwest road trip.
A great spot to stay in this area is the Massanutten Resort. The Massanutten Resort is a popular all-season vacation destination located just a short drive from the Shenandoah National Park. The resort boasts over 6,000 acres of land, including two golf courses, a water park, skiing and snowboarding slopes, zip lines, and many other activities for visitors of all ages.
In the summer, guests can enjoy outdoor activities such as hiking, mountain biking, horseback riding, fishing, and golfing. The resort's water park, the Massanutten Indoor/Outdoor WaterPark, is open year-round and features an indoor wave pool, tube slides, a lazy river, and other water attractions.
In the winter, the resort transforms into a winter wonderland, offering skiing and snowboarding on 14 slopes, snow tubing, ice skating, and other snow-related activities.
Explore Woodstock, Virginia
Woodstock is actually the fourth oldest town in Virginia and is centered along Route 11 with a small but quaint downtown district. Since we were to spend a few days enjoying Shenandoah Valley from our home base in Woodstock, we had the opportunity to spread out and enjoy our surroundings in a vacation rental cabin in the woods.
One of the main attractions in Woodstock is the historic courthouse, which dates back to 1795 and now serves as a museum showcasing the history of the area. Other notable historic sites include the Woodstock Museum, housed in the former Shenandoah County Jail, and the Old Valley Pike Driving Tour, which takes visitors on a scenic journey through the Shenandoah Valley.
If you visit in mid-August, you can also enjoy the famous Route 11 Yard Crawl, which features 43 miles of antiques, yard sales, and local business sales.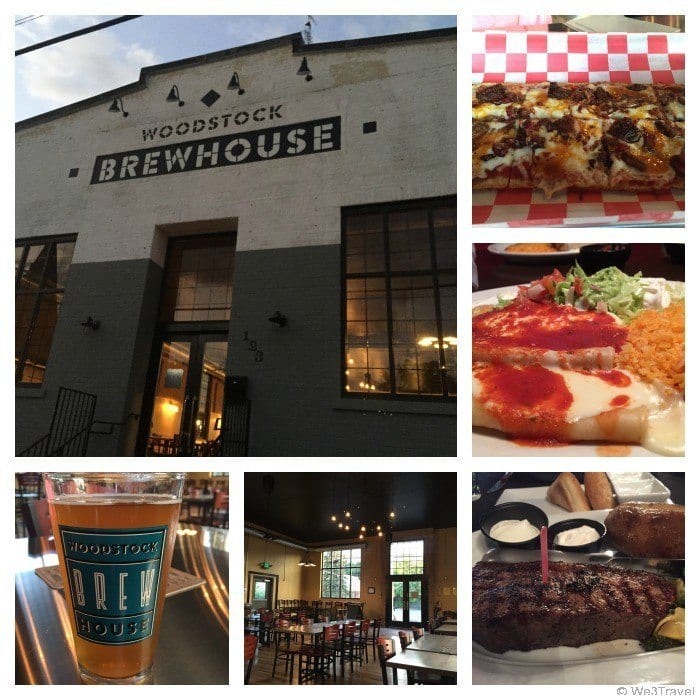 Or a small town, there was some surprisingly good food in Woodstock, starting with Sunday brunch at The Woodstock Cafe and Shoppes. This cute cafe in downtown Woodstock is part country store and part cafe, full of local characters and flavors.
Our favorite stop in Woodstock though had to be the Woodstock Brewhouse. This converted denim factory has a hip interior that I would expect to see in…well, frankly a hipper town…like maybe Charlottesville. They have a limited food menu because the focus is on their craft beers, but if you happen to be in town when they are smoking some brisket or making BBQ then YOU MUST GO! We had leftover BBQ brisket on a flatbread pizza and it was delicious.
Climb the Woodstock Tower
Our time in Shenandoah County was all about enjoying the outdoors and local culture. We climbed to the top of the Woodstock Tower, high up on the mountain, overlooking a few of the seven bends of the mighty Shenandoah River and Seven Bends State Park. The Woodstock Tower is a 93-foot tall stone observation tower offering panoramic views of the surrounding countryside.
Located on the mountaintop, you can drive to the top and park in the lot at the base of the tower. From there, it is a short uphill walk to the tower. There are also picnic tables and a small playground area near the tower. Keep in mind that the access road is narrow and winding, so take caution when driving.
Kayak or Tube on the Shenandoah River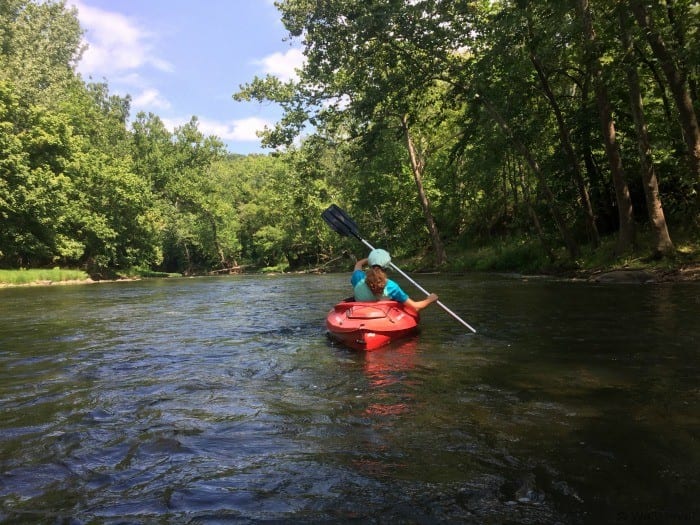 The Iroquois view a blue heron as an omen of good luck, so when we encountered a heron soon after splashing out into the Shenandoah River on our kayaks, I took it to be a positive sign for a good day ahead. Initially we were disappointed that after kayaking along the James River earlier in the week, we weren't able to try out river tubing the way we had planned.
But the heron is also a symbol of going with the flow, and that is what we needed to do. And in August, the flow along the Shenandoah in Virginia is pretty slow and low. So unless we want to scrape our bottoms along the river rocks, kayaking was the better choice.
Little did I know that the heron was going to be our guide down the river. Yet every time we got close enough to attempt a photo, he swept away in majestic flight to a spot further down the river. Again and again, our heron guide lured us down the river as we attempted to understand his silent message.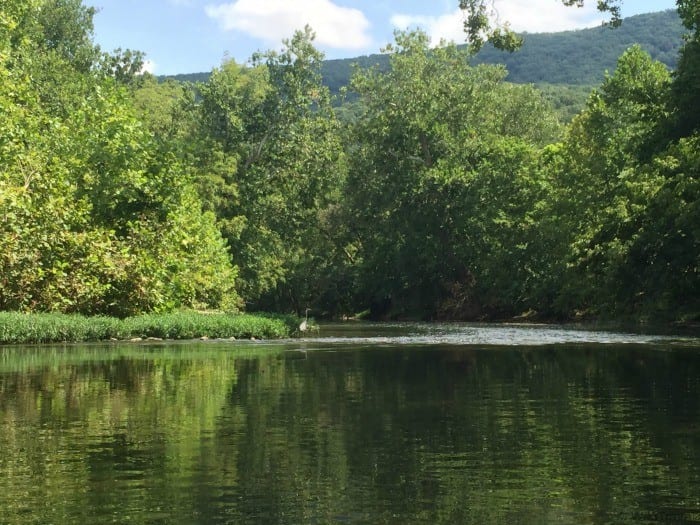 Our day started with a short safety briefing at Route 11 Outfitters, before they loaded up our rented kayaks to drop us down the river a bit. If you do want to try tubing, spring is definitely the time, when winter melt off has the river running strong.
During the sweltering summer days of August, the river is low and even getting through with our kayaks took a bit of work. Since I sit a little lower in my kayak then Hannah, we had a few laughs as mommy got "beached" on rocks or sandbars. Usually a bit of scooting or pushing off with my foot outside of the kayak got me moving again, but a few times I had to climb out and give the kayak a push.
Our adventure was more of a workout than I anticipated, but not because of the rowing, just because of the pushing. Still, there is rarely a day out on the water in a boat of any type that I don't enjoy and this was no exception.
Our friendly heron guide wasn't the only wildlife we encounter on our trip. We seemed to attract beautiful creatures like a magnet that day. Hannah picked up a hitchhiking butterfly early in our trip and it stuck around for nearly an hour. After the heron left us for good, we rounded a corner just to see some large black shapes in the river up ahead.
After our near encounter with a black bear in Shenandoah National Park, and discussions about how bears are common in this area, my heart skipped a couple of beats before I realized that the beasts up ahead were too big to be bears — they were cows. And before we could get too close, they all climbed back on land.
There is something so peaceful and rewarding about kayaking down a river. I'm not one for meditation or spirituality but the combination of physical exertion and appreciation of the outdoors creates a certain type of zen and a connection with nature.
Go Underground at the Shenandoah Caverns
Click on any photo in the gallery to enlarge it:
Our adventures continued underground at the Shenandoah Caverns. There are many caverns in this region, including the Luray Caverns and Skyline Caverns, but Shenandoah is close to Woodstock and offers elevator access. The caverns have been open since 1922 and welcome visitors through a one-mile circuit on one-hour tours.
The Caverns are a steady 56-degree in the summer or winter, so visitors should bring a sweater or sweatshirt. These were not too terribly different from other caverns we have visited, but they did have one special feature I haven't seen before — cave bacon! They are interesting rock formations that look temptingly like bacon.
Our guide walked us through other features like the Rainbow Lake, Capital Dome, Cardross Castle, and the Breakfast Bacon. The teenage guide seemed to think it was a virtue to repeat his spiel by rote memory, with heavily-practiced intonations, driving us a bit crazy, but we tuned him out as much as we could while being shepherded through each area.
Next door, we popped into the surprisingly interesting American Celebration on Parade — a collection of parade floats from the Rose Parade, Presidential Inaugurals, and the Thanksgiving Day Parades covering 40,000 square feet. This exhibit is open only seasonally, along with the Gemstone Mining Sluice. The Caverns also offer a cafe, gift shop (of course) and a children's playground on the property.
Visit the Route 11 Potato Chip Factory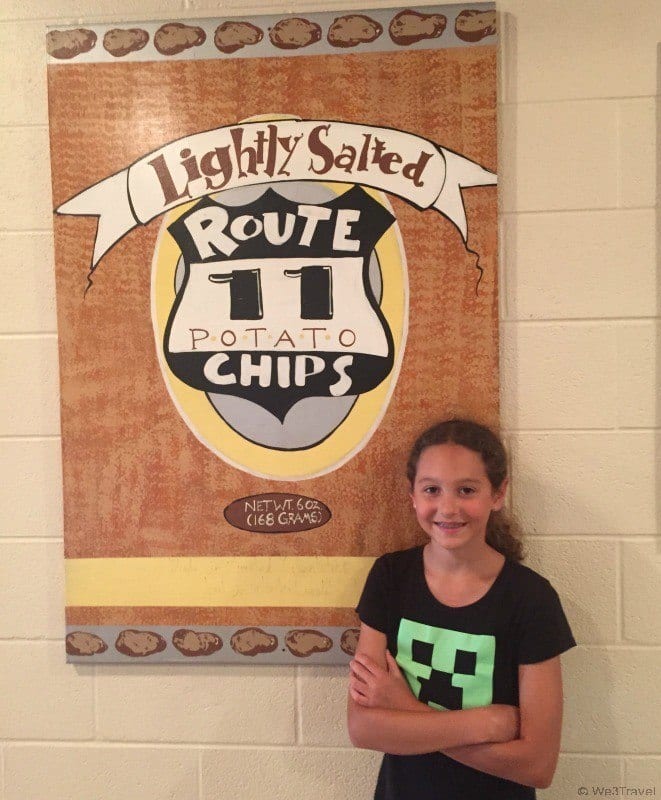 If you visit the Caverns, take a few minutes to stop at the Route 11 Potato Chips Factory nearby. You will find these chips throughout the Shenandoah Valley, but with a factory visit, you can sample more flavors and possibly get a glimpse of the production. You can't take pictures but you can look through the windows at the production line. The factory is open to the public Mondays through Saturdays, from 9 am to 5 pm, except for major holidays.
Have a Thrill at Bryce Mountain Resort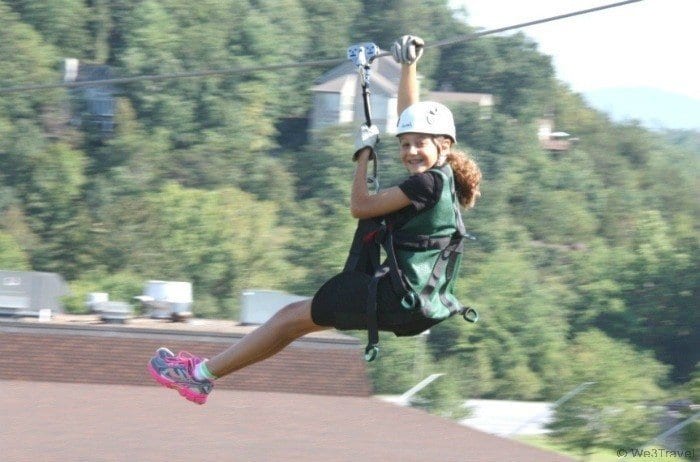 Since I had a little adventure seeker as a travel companion, we got our thrills in at the Bryce Resort. A ski resort in the winter, in the summer Bryce transforms into an adventureland with mountain biking, scenic lift rides, disc golf, regular golf, swimming, and more. They switch their activities up so check the website for current offerings.
When we visited, we were able to go ziplining and grass tubing, which was a ton of fun, but I'm not sure they are still offering them. The ziplining was easy as a ski lift took us to the top and then we proceeded down the mountain on a series of ziplines — none of which were too high or too fast.
Hannah loved the grass tubing, which is really on a plastic netting and they wipe the bottom of the tube with silicone to make it go faster. I did a couple of runs but then appointed myself as photographer. Since I sit a little lower in the tube than she does, I didn't like the way my bottom bumped along.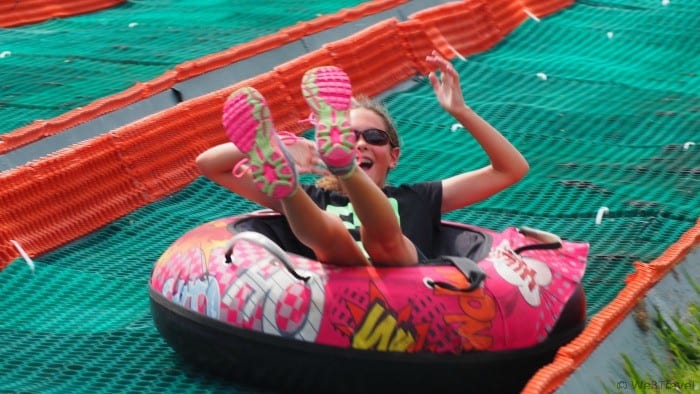 Visit with Llamas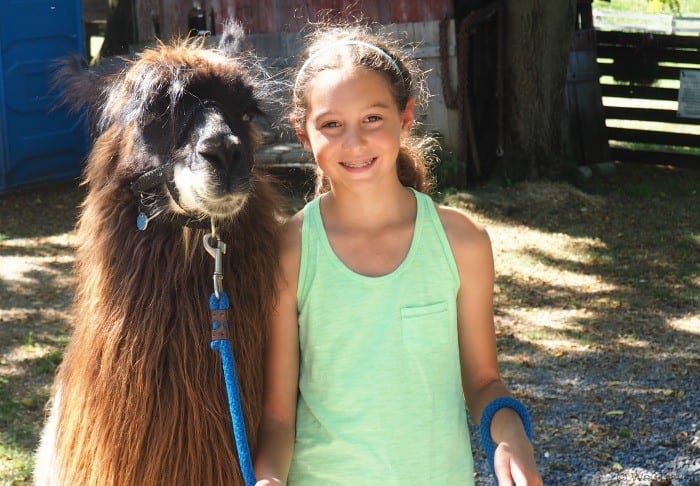 If you plan on heading out to the Shenandoah Wine Trail, you may also want to schedule a stop at the Posey Thisisit Llama Farm in Toms Brook, Virginia. They offer tours and a chance to meet and feed their llamas, and they also have handcrafted items and llama wool for sale. We were surprised to learn that llamas aren't actually nasty, as we have been led to believe, but that it all depends on how they are treated. These llamas were very well loved and it showed with their friendliness.
Explore Winchester, Virginia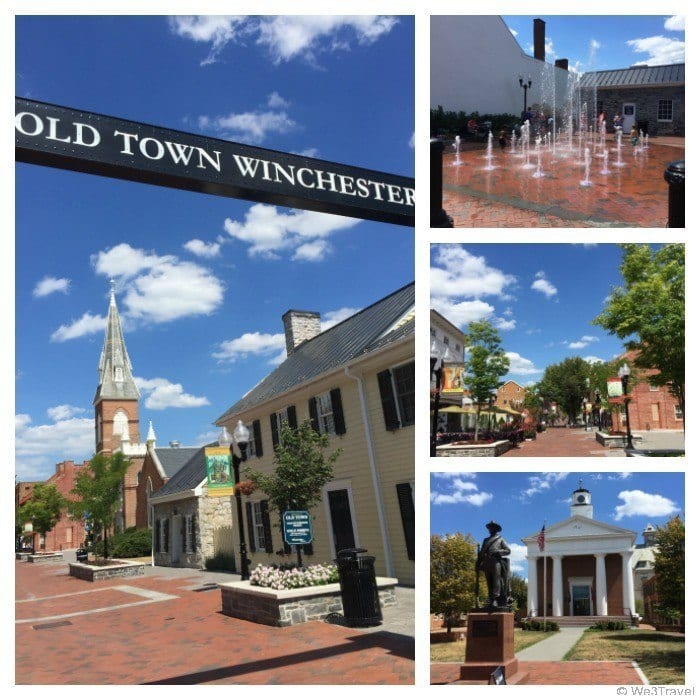 At the northern end of Shenandoah Valley, be sure to stop at Winchester, Virginia. This town is just full of history, largely from the Civil War but some dating back to George Washington's early days. In fact, some historians claim that this small town changed hands up to 72 times during the Civil War, going back and forth between the North and the South! Just walking through the quaint downtown, you can learn about some of this history at the George Washington's Office Museum or the Old Court House Civil War Museum.
Nearby, you can also visit Stonewall Jackson's Headquarters, the Cedar Creek Battlefield, and the Museum of the Shenandoah Valley. Kids should love the Shenandoah Valley Discovery Museum. We peeked in and it looked super fun, but geared primarily for kids 10 and under. Since we only had a short time to spend in Winchester, we gravitated to the Historic Downtown.
Winchester has a pedestrian mall, very similar to what we saw in Charlottesville, which is lined with shops and restaurants with outdoor tables. We found a yummy Thai restaurant for lunch and then cooled off a bit at the community splash pad.
Winchester was the prettiest of the towns we visited in the Shenandoah Valley and I wish we had more time to explore here, but if we head back down Interstate 81 someday, I'll be sure to stop in.
Visiting Virginia? Read more:
PIN THIS FOR LATER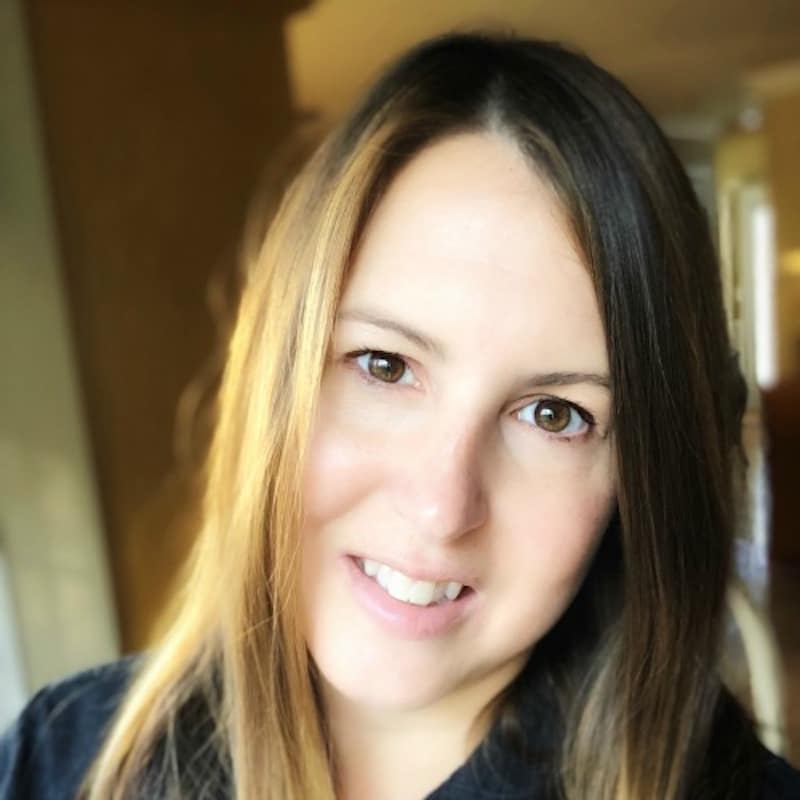 Tamara Gruber is the Founder and Publisher of We3Travel. A former marketing executive and travel advisor, Tamara is an award-winning travel writer and recognized expert in family travel. She is also the publisher of YourTimetoFly and the co-host of the Vacation Mavens travel podcast.