As I found myself splashing through the choppy water of the Chincoteague Bay aboard a pontoon boat on a chilly spring day in April, I hunkered down into my borrowed fisherman's slicker, my butt already soaked through to the skin from the waves washing over the side, and thought to myself, "this is how much I love my daughter."
But who was I kidding? Ever since I read Misty of Chincoteague as a girl, I too have wanted to see the wild ponies of Chincoteague, Virginia. After rereading this classic children's novel with our mother-daughter book club, we added Chincoteague, VA and Assateague, MD to our travel wish list. I soon discovered that there were other fun things to do in Chincoteague VA, making it a great stop on our mother-daughter Mid-Atlantic road trip to Lancaster, Gettysburg, and Ocean City.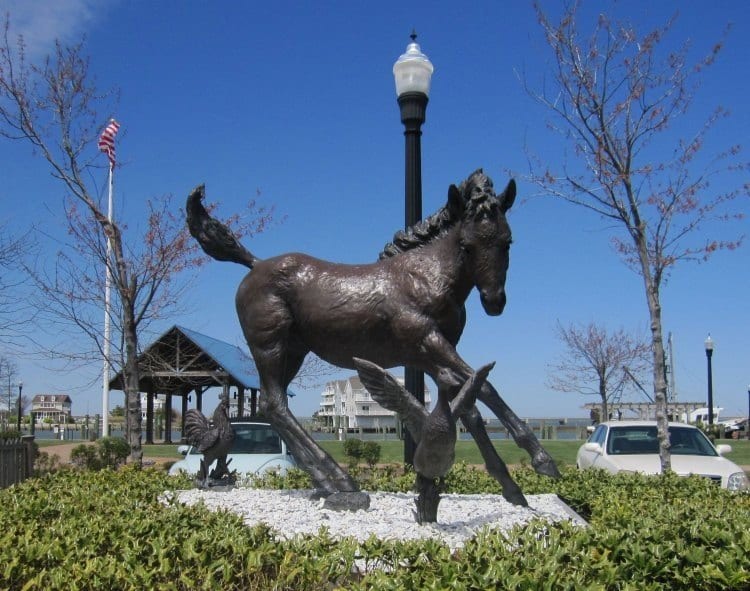 Where is Chincoteague, VA and Why is it Famous?
Chincoteague is a small town located on the eastern shore of Virginia, just south of the Maryland border. It is situated on Chincoteague Island, which is part of the Assateague Island National Seashore, a protected area that encompasses both the Virginia and Maryland portions of the barrier island.
People visit Chincoteague for its beautiful beaches, natural beauty, and wildlife. The island is most known for its wild ponies, which are believed to have been brought to the island by Spanish sailors in the 16th century. The ponies are now protected by the Chincoteague National Wildlife Refuge and are a major attraction for visitors to the area.
In addition to the wild ponies, Chincoteague is also famous for its oysters and other seafood, which are a popular local delicacy. The town has a rich maritime history and is home to several museums and historic sites that showcase the area's heritage. Visitors also enjoy outdoor activities including kayaking and fishing.
What are the Chincoteague Wild Ponies?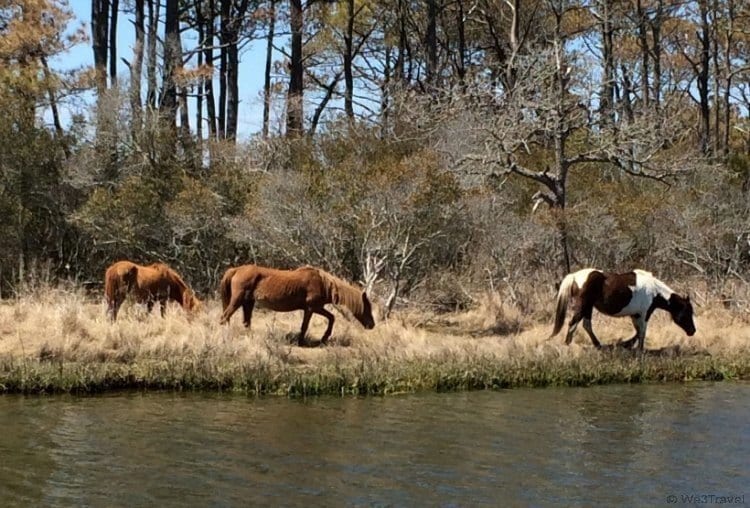 For those not familiar with the wild ponies, they are fabled to be descendants of horses that survived a shipwreck of a Spanish Galleon centuries ago. Today there are two herds that live on Assateague Island with about 300 horses in total — one north of the fence in Maryland and another south of the fence in Virginia.
The Maryland herd, known as Assateague horses, live within the Assateague National Seashore. The other 150 ponies that live in Virginia are known as the Chincoteague ponies and live within the Chincoteague National Wildlife Refuge, but are owned by the fire department.
In 1835, islanders began the process of pony penning, by rounding up some of the ponies and bringing them to the mainland to prevent overcrowding. In 1924, the first formal Pony Penning Day was held by the Chincoteague Volunteer Fire Department, where ponies were rounded up and auctioned off to raise money for fire equipment. This practice continues to this year, with an annual "pony swim" in July of each year, a tale so aptly told by Marguerite Henry in Misty of Chincoteague.
Things to do in Chincoteague, VA
Your first choice when visiting the area is deciding whether you are going to visit the Assateague National Seashore or the Chincoteague National Wildlife Refuge (or both). Just keep in mind that while they are both on Assateague Island, you cannot get through the fence separating the states so you need to either enter the Assateague National Seashore in Maryland (about 15 minutes south of Ocean City), or enter the Chincoteague National Wildlife Refuge through the bridge at Chincoteague (about 1 hr 15 mins south of Ocean City, MD.)
While Assateague is arguably one of the most beautiful stretches of beach on the East Coast, we were Misty fans, so we were heading to Chincoteague.
Take a Boat Tour to Search for Wild Ponies
Forewarned by my mom, who had taken a bus trip to see the ponies, and my sister, who had driven through the wildlife refuge earlier in the year, I knew the ponies could prove elusive and I wasn't driving eight hours for a distant glimpse. I wanted a sure thing and the only way to get that was with a guaranteed pony tour from Captain Dan's Around the Island Tours.
This is how I wound up getting soaked on a boat during one of the coldest Aprils in recent years. You see, Captain Dan doesn't wait for the ponies to come to you, he takes you to the ponies.
Growing up on the island, Captain Dan's Around The Island Tours has a passion for ponies that is infectious. He knows where to find the ponies because he understands how they live. He can recognize most of the stallions by sight from their markings and coloring, and he knows how many mares are in each herd and which ones are expecting or recently gave birth to foals.
Before visiting, I just thought of the horses as the Chincoteague Ponies — so I was surprised to not only learn that they have names, but that some visitors come back again and again in hope of seeing their favorites.
After our wet ride out, which was really only choppy because of the recent rough weather in the area, we moved into calmer seas and soon approached our first herd.
After spending some time observing this small herd from a distance, we wound our way through the inlets of the island, almost all the way up to the Maryland border, until we found a couple more herds close to the water. This is what we came for, and this is where Captain Dan really delivered on his promise of guaranteed pony sightings.
While we were watching the second herd, one of the wild ponies came running through the woods and out into the open area, like it was calling to the rest of the herd. After watching them lazily strolling around nibbling on grass, it was surprising to see how fast their small legs can run.
The next herd gave us yet another surprise when we saw a baby foal, just days if not hours old, slowly make its way up onto four legs and trot away after its mama.
When we had finally gotten our fill (or at least our 2.5 hours worth), it was time to head back to the dock and explore the rest of what Chincoteague had to offer. If you aren't able to take a pony boat tour, there are other places you can find the wild ponies including
At the "Wild Pony Overlook" on the Woodland Trail in the Chincoteague Wildlife Refuge (we didn't see any there)
Across the fence line on Beach Road
Between the lighthouse and the Woodland Trail (we saw a few from a distance there)
From atop the Assateague Lighthouse (we saw a few from far away)
Hiking the Chincoteague Natural History Association service trail
At the Chincoteague Pony Center
While most people come to Chincoteague with at least some interest in seeing the ponies, there are plenty of other ways to enjoy Chincoteague and Assateague.
Explore the Chincoteague National Wildlife Refuge
Covering over 14,000 acres, the Chincoteague National Wildlife Refuge is home to a diverse array of wildlife, including migratory birds, wild ponies, and sea turtles. Visitors can explore the refuge's many trails and observation decks to spot wildlife and take in the stunning natural beauty of the island.
In addition to the Bateman educational and information center, the refuge offers numerous hiking and biking trails. The Woodland Trail is a 1.6 mile loop through the woods (obviously) with a viewing platform over the marsh. The 3.2 mile wildlife loop is open from 3pm to dusk to vehicles. You can also take one of their wildlife bus tours, which run from April through November (tickets can be purchased in advance or on-site.) This 7-mile Refuge Trek follows a service road and you can see some of the area's wildlife including horses, white-tailed deer, sika elk, birds and more.
Visit the Museum of Chincoteague Island
This small museum is dedicated to preserving the history and culture of Chincoteague Island. Visitors can explore exhibits on the island's maritime heritage, the famous wild ponies, and the history of the local fishing industry.
The Museum of Chincoteague Island is located at 7125 Maddox Blvd., Chincoteague Island, VA 23336
Climb the Assateague Lighthouse
Located within the Wildlife Refuge, Assateague Light can be found at the end of a short .25-mile trail and is generally open from 9 am to 3 pm. For a small entrance fee, you can climb to the top of the lighthouse for panoramic views of the island.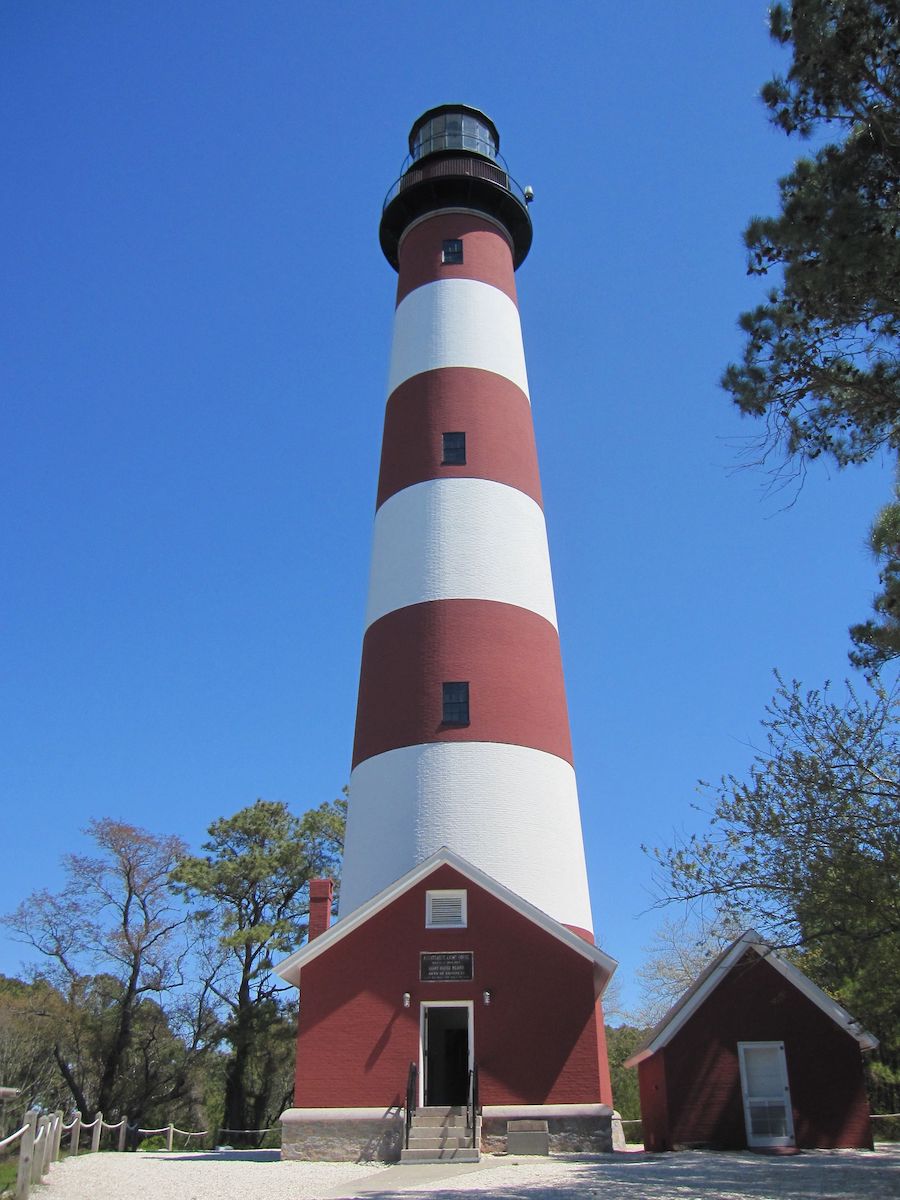 Take an Eco Boat Tour
Captain Barry's Back Bay Cruises offers interactive boat tours on a teaching vessel that serves as a floating classroom. Guests can dig for sea creatures at a sandbar, pull crab pots, collect shells, hunt for jellyfish, learn how oysters grow, identify birds, and even taste the world-famous Chincoteague salt oysters. Captain Barry also offers sunset cruises.
Stop at the NASA Visitor Center at Wallops Island
The NASA Wallops Flight Facility Visitor Center is a great place to learn about NASA's missions and scientific research. The center has numerous interactive exhibits that highlight NASA's work in areas such as Earth science, space exploration, and aeronautics.
The center hosts a variety of events throughout the year, including rocket launches, stargazing parties, and workshops. Guided tours of the facility are also available, giving visitors a behind-the-scenes look at NASA's work. Be sure to check out the outdoor exhibits such as the Antares rocket and the Orbital Sciences Corporation's Cygnus spacecraft.
Go Kayaking with Assatague Explorer
Assateague Explorer offers sunset cruises, nature dolphin cruises, and kayaking tours. The Assateague cruise & kayak tour is located on Chincoteague Island. The tour is operated between Assateague & Chincoteague Island in the protected Assateague Channel, taking you to the best spots for wild ponies, eagles, and other shorebirds.
Have a Thrill at Iron Pony Adventure Park
The Iron Pony Adventure Park features an aerial adventure course with over 30 obstacles on two levels. The obstacles include ladders, tight ropes, balance beams, wobbly bridges, cargo nets, and the 26-foot high "pony plunge."
Enjoy a Beach Day
Assateague Island National Seashore has over 37 miles of beachfront, where visitors can swim, sunbathe, surf, and fish. The park is also home to a variety of wildlife, including wild horses, deer, foxes, and waterfowl.
Some people like to tent or RV camp in the park (reservations are recommended) or drive out to Toms Cove (the overland vehicle area). The park has several trails for hiking and biking, including the Assateague Island National Seashore Bike Path and the Life of the Marsh Trail.
When visiting with kids, be sure to stop into the Visitor Center to learn about the Ranger-led programs, including guided hikes, campfire talks, and beach walks.
Rent a Bike
Rent a bike from Jus' Bikes and spend the day biking through town and the wildlife refuge. This family-owned company has been operating since 1995 and offers beach cruisers, kids' bikes, child-seats, trail-a-bikes, kiddie karts, tandems, and 3-wheelers.
Enjoy Family Fun at Funland
Funland Amusements offers arcade games, bumper boats, go-karts, mini golf, and inflatables to amazing family fun.
Funland Amusements is located at 6528 Maddox Blvd, Chincoteague, VA 23336
Explore Downtown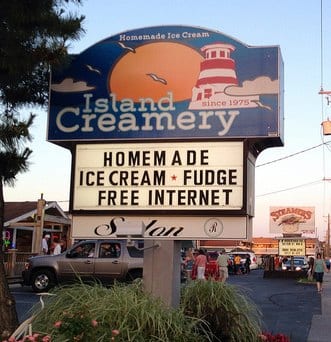 Make sure to leave time to explore downtown Chincoteague. My sister loves to visit every February for the town's "Death by Chocolate" scavenger hunt event. You can ride the Pony Express Trolley to explore downtown and the rest of the island. Make sure to include a stop at the Island Creamery Ice Cream and try their famous Marsh Mud flavor, if you love chocolate. Craft Beer lovers should also stop for a tasting at the Black Narrows Brewing Company.
Where to Stay in Chincoteague
There are many options for where to stay in Chincoteague, from budget beach motels to charming bed and breakfasts, campgrounds, vacation rentals, and family-friendly hotels. A few options include:
Island Manor House – This charming bed and breakfast is located just steps from the waterfront and features comfortable rooms and a delicious breakfast each morning.
Chincoteague Bay Field Station – This rustic retreat is located on the edge of the Chincoteague National Wildlife Refuge and offers visitors a unique opportunity to immerse themselves in the natural beauty of the island. You can register for one of the family camp offerings.
Hampton Inn and Suites Chincoteague-Waterfront – Located right on the waterfront, this modern hotel offers comfortable rooms and stunning views of the bay.
Frequently Asked Questions
What is the best time to visit Chincoteague?
The best time to visit Chincoteague Island is during the spring or fall when the weather is mild and the crowds are smaller. However, you will find more activities and attractions open longer hours during the peak summer season. If you want to be there for the annual pony swim, plan on visiting in late July.
How long should I plan to stay in Chincoteague?
Chincoteague makes a great weekend getaway or a 2-day stop on a longer Virginia road trip. During the warmer weather, you can easily spend a week relaxing on the beach, exploring Chincoteague Island, and enjoying the many outdoor activities.
What should I pack for my trip to Chincoteague Island?
Chincoteague is a casual beach destination so you don't need to pack anything fancy. Be sure to bring comfortable clothing and shoes for exploring the outdoors, as well as sunscreen, bug spray, and a tick removal kit.
Save this to Pinterest
SaveSave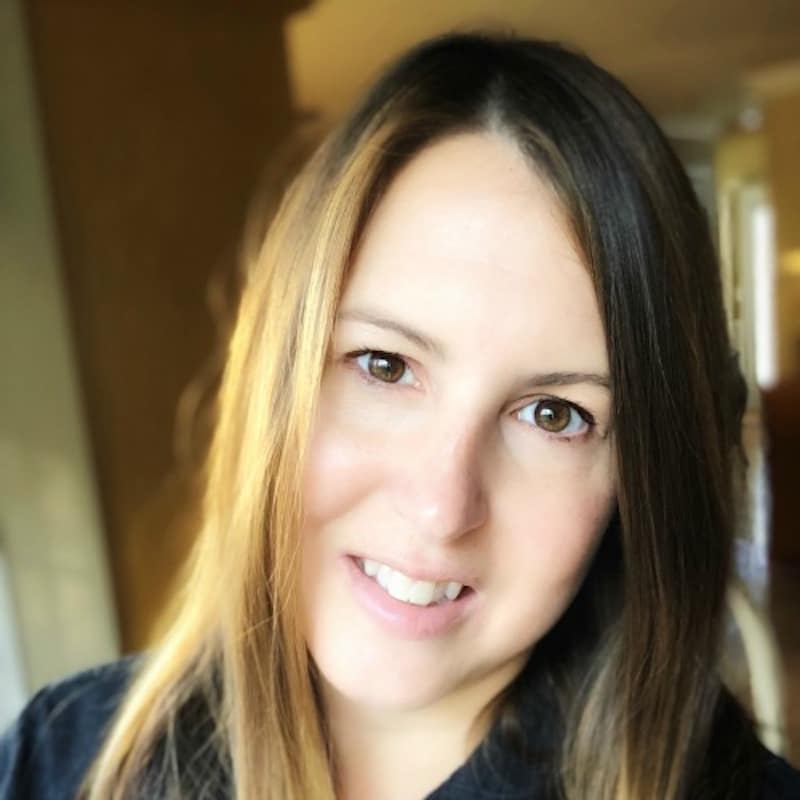 Tamara Gruber is the Founder and Publisher of We3Travel. A former marketing executive and travel advisor, Tamara is an award-winning travel writer and recognized expert in family travel. She is also the publisher of YourTimetoFly and the co-host of the Vacation Mavens travel podcast.