When planning a road trip this spring we pulled out a map and took a look at all the possible sites within four hours drive from our family in New Jersey and Gettysburg, PA captured the interest of my nine-year-old. Since kids typically study the Civil War in eighth grade, I wasn't sure how much she would get out of it so I took some steps to prepare her for our trip to visit Gettysburg.
To be honest, I wasn't even sure what there was to do besides look at the Battlefield. After doing research and getting some help from Destination Gettysburg, we were able to put together a jam-packed itinerary for 2 days in Gettysburg that had something for everyone and showed us that there was so much more to Gettysburg than just the Battlefield.
Furthermore, we were able to see that the Battlefield wasn't just a field in south central Pennsylvania, but a place that impacted history, touched our hearts, and ended up being a highlight of our trip.
So if you are planning a family trip to Gettysburg, PA, here is a sample itinerary with some ideas of how to balance your time between history and family fun.
2 Days in Gettysburg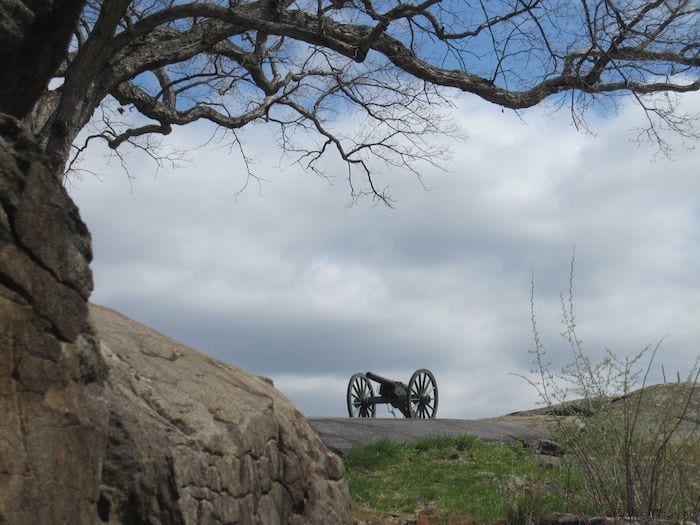 Disclosure: Our visit, including hotel, attractions, tours and some meals were generously hosted by Destination Gettysburg and the Hilton Garden Inn Gettysburg but the opinions are entirely my own.
Day One
Visit the Gettysburg National Military Park – I always think it is a good idea to start off your day with museums when kids are fresh and fed versus later in the day. As you drive through Gettysburg you can easily get caught up by glimpses of various monuments and want to get right out on the Battlefield,
However, I believe that spending time in the Gettysburg National Military Park Museum to see the cyclorama, tour the museum and possibly take part in some of the Junior Ranger programs will help create a better understanding of the events leading up to the battle and foster better comprehension during your Battlefield tour.
The visitor center is located on Baltimore Street, just south of downtown Gettysburg. Plan on spending 1.5-2 hours at the park museum and visitor center.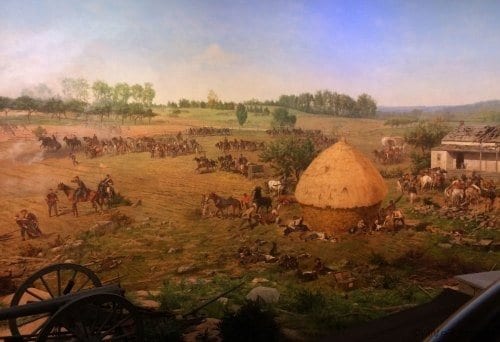 Lunch at The Pub & Restaurant– Located at 20 Lincoln Square, right in the heart of downtown Gettysburg (5 minutes from the Battlefield), and offers a very extensive menu that should keep the whole family happy.
Exploring Downtown Gettysburg – After lunch, take some time to stroll through downtown Gettysburg and do a little shopping. Be sure to stop and take your picture with Abraham Lincoln right in the square.
Visit the Shriver House Museum – in the morning, you will learn a lot about the Battle of Gettysburg, but a visit to the Shriver House Museum will show you what it was like for the civilians in town. From guides in period dress you will learn how Mrs. Shriver left their home and saloon and took her family out to the family farm into the heart of the battle.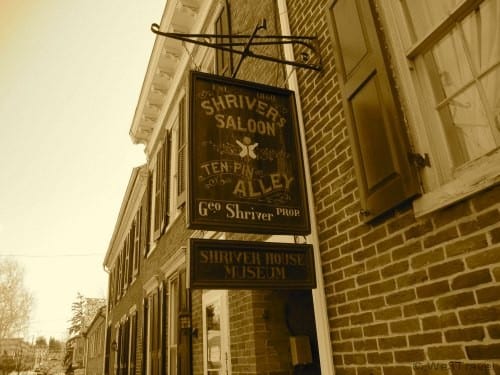 When the family returned they found their house had been shot up, turned into a hospital, and used by Confederate sharpshooters during the battle. The museum is located between downtown and the visitor's center at 309 Baltimore Street. Tours run every half hour and take approximately one hour.
The Shriver House Museum shows the civilian side of the battleDinner at the Dobbin House – at 89 Steinwehr Ave., there are two dining options at the Dobbins House; the downstairs Springhouse Tavern for casual dining and the upstairs dining rooms for fine dining in a period atmosphere.
We opted for the period dining upstairs and I was so happy to see their children's menu had options besides the typical chicken fingers and french fries. I had the chicken and shrimp dish (delicious) and my daughter chose strip steak (from a kid's menu that offered Pasta, Baked Chicken, Baked Shrimp, Filet Mignon and Strip Steak.) If you visit you should also check out their museum upstairs that shows how the Dobbins House was a stop on the Underground Railroad.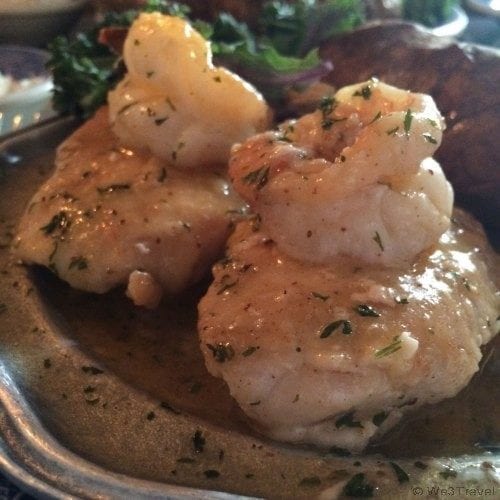 Take a Ghost Tour – apparently professionals think there is a lot of paranormal activity in Gettysburg, which is conceivable with what has happened there. If you are interested in exploring the paranormal, there are a number of ghost tours available in Gettysburg. I have a daughter that is easily spooked so we didn't take advantage of these tours.
Day Two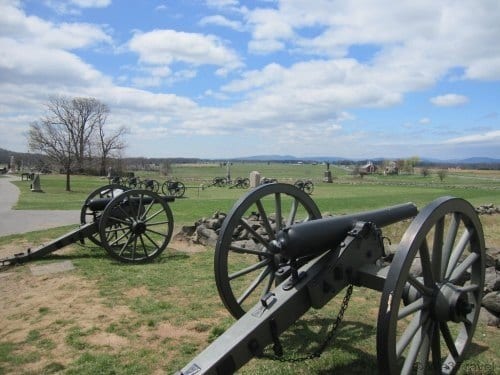 Breakfast at the hotel or Mom's Coffee Pot
Tour the Gettysburg National Military Park – there are many ways to tour the Battlefield including bus tours, self-guided CD-based auto tours, segway tours, horseback tours, and bike tours but I recommend the Licensed Battlefield Guide Service. If you go this route, make your reservations at least 3 days in advance by calling 877-874-2478.
Our guided tour of Gettysburg National Military Park was incredibly informative and moving. I would highly recommend reserving a registered guide.
Lunch at One Lincoln at One Lincoln or El Costeno Mexican Restaurant at 39 York Street.
Visit the The David Wills House – where Lincoln stayed the night before his famous Gettysburg Address at 8 Lincoln Square.
Take a drive out into the country – visit some of the farms, markets and wineries along the Gettysburg Wine and Fruit Trail and stop at Mr. Ed's Elephant Museum and candy shop.
Dinner at The Garryowen Irish Pub – there are plenty of places in town to have dinner but if you are in an Irish mood (or particularly like bacon and want to try their Tuesday Bakon Nights), the Garryowen at 126 Chambersburg St. is an authentic pub with Irish fare and music.
Looking for more ideas? See my suggestions on what to do in Gettysburg by season!
PIN THIS FOR LATER