When planning a family road trip we pulled out a map and took a look at all the possible places to go within four hours drive from our family in New Jersey, and somehow Gettysburg, PA captured the interest of my nine-year-old. I wasn't sure how much she would get out of it since I wasn't sure what there was to do there besides look at the Battlefield and kids typically don't even study the Civil War until eighth grade.
Once I started looking into it though, I was surprised by all the things to do in Gettysburg, even for kids! After doing research and getting some help from Destination Gettysburg, we were able to put together a jam-packed itinerary for 2 days in Gettysburg that had something for everyone and showed us that there was so much more to Gettysburg than just the Battlefield.
Beyond that, we found the Gettysburg Battlefield to be way more impactful than a field full monuments. The area's devastating history had a profound impact on us, touched our hearts, and ended up being a highlight of our trip.
So if you are planning a family trip to Gettysburg, PA, here is a sample itinerary with plenty of fun things to do in Gettysburg with kids and a nice balance between history and family fun.
Things to do in Gettysburg, PA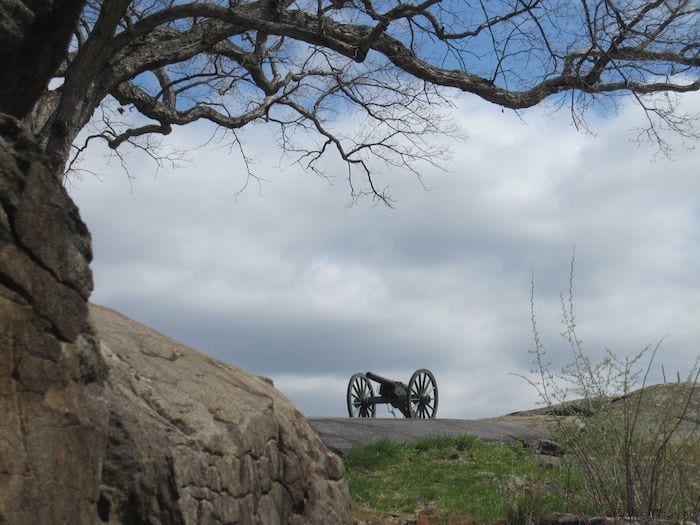 Day One
Disclosure: Our visit, including hotel, attractions, tours and some meals were generously hosted by Destination Gettysburg and the Hilton Garden Inn Gettysburg but the opinions are entirely my own.
Visit the Gettysburg National Military Park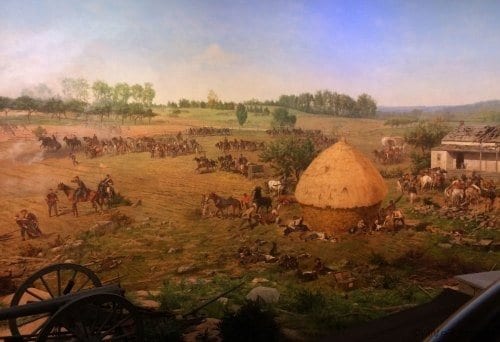 I always think it is a good idea to start off your day with museums when kids are fresh and fed versus later in the day. As you drive through Gettysburg you can easily get caught up by glimpses of various monuments and want to get right out on the Battlefield,
However, I believe that spending time in the Gettysburg National Military Park Museum will help create a better understanding of the events leading up to the battle and foster better comprehension during your Battlefield tour.
If you haven't done so already, book your tours and check out the Junior Ranger and National Park programs when you arrive. You will want to start your visit with the Cyclorama. Before we went to Gettysburg many friends and relatives said, "You HAVE to do the Cyclorama," but I had no idea what it really was.
Basically before there were IMAX theaters, there were cycloramas, which are 360 degree paintings that depict a scene (in this case, the Battle of Gettysburg ) and are surrounded by artifacts and landscaped foregrounds to create a three-dimensional effect. Painted by Paul Dominque Phillipoteaux and his assistants, the Cyclorama of the Battle of Gettysburg was first displayed in Chicago in 1883.
Before you enter the actual Cyclorama, you will visit a theater to watch a 20-30 minute film about slavery and the issues leading up to the Civil War, an overview of the main events of the Civil War leading up to the Battle of Gettysburg, culminating with an overview of the three days of fighting that happened in July 1863.
From there, you will move upstairs to a theater housing the Cyclorama. Position yourselves anywhere along the rail and when the presentation begins, you will hear how the last day started with Pickett's Charge. Using light to highlight portions of the painting and sound the scene will come alive. Afterward, you will have a few moments to move around and look at the other portions of the painting. Be sure to look for a man standing near a tree holding a sword, this is where painter Phillipoteaux put himself into the picture.
After taking in the Cyclorama, you will want to spend about an hour exploring the Gettysburg Museum of the Civil War. To help you understand the timeline, the museum leads you through the exhibits starting with the events leading up to the Battle of Gettysburg and the through each of the three days of the Battle and the aftermath. Each section features a video that takes excerpts from what you saw in the Cyclorama and expands upon them to give a better understanding of who is who and the Battle timeline and locations.
The museum should keep your kids intrigued with so many multimedia exhibits. In addition to the videos, there are many touchscreen, interactive exhibits throughout the museum to bring history to life. It is also a great preparation for a visit to the actual Battlefield. After exploring the museum, visitors can also stop in to the resource center to research any ancestors that may have fought at Gettysburg.
The visitor center is located on Baltimore Street, just south of downtown Gettysburg. Plan on spending 1.5-2 hours at the park museum and visitor center.
Downtown Gettysburg
After the museum, you may start to get a little hungry. I'd recommend heading into Downtown Gettysburg. Located at 20 Lincoln Square, right in the heart of downtown Gettysburg (5 minutes from the Battlefield), The Pub & Restaurant is a Gettysburg classic that offers a very extensive menu that should keep the whole family happy.
After lunch, take some time to stroll through downtown Gettysburg and do a little shopping. Be sure to stop and take your picture with Abraham Lincoln right in the square.
Visit the Shriver House Museum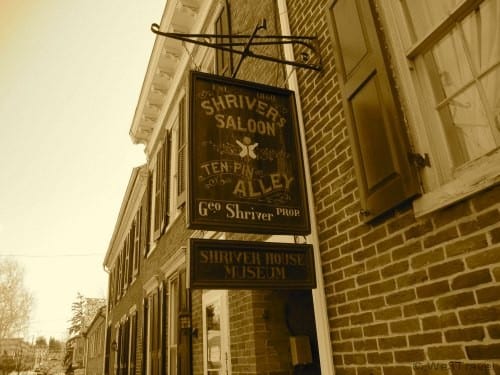 In the morning, you will have learned a lot about the Battle of Gettysburg, but a visit to the Shriver House Museum will show you what it was like for the civilians in town. From guides in period dress you will learn how Mrs. Shriver left their home and saloon and took her family out to the family farm into the heart of the battle.
When the family returned they found their house had been shot up, turned into a hospital, and used by Confederate sharpshooters during the battle. The museum is located between downtown and the visitor's center at 309 Baltimore Street. Tours run every half hour and take approximately one hour.
Dinner at the Dobbin House Tavern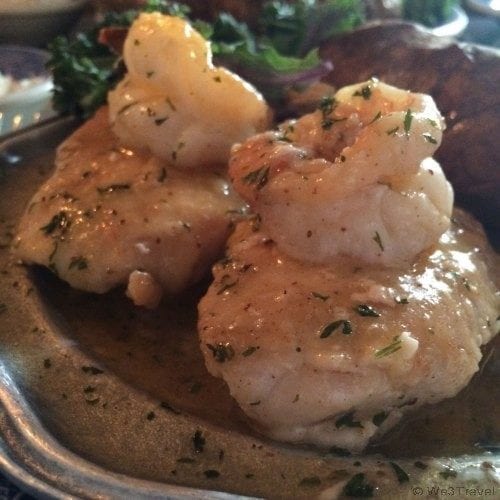 When you are ready for dinner, a great historic options is the Dobbin House. There are two dining options at the Dobbin House; the downstairs Springhouse Tavern for casual dining and the upstairs dining rooms for fine dining in a period atmosphere.
We opted for the period dining upstairs and I was so happy to see their children's menu had options besides the typical chicken fingers and french fries. I had the chicken and shrimp dish (delicious) and my daughter chose strip steak (from a kid's menu that offered Pasta, Baked Chicken, Baked Shrimp, Filet Mignon and Strip Steak.) If you visit you should also check out their museum upstairs that shows how the Dobbin House was a stop on the Underground Railroad.
Dobbin House Tavern is located at 89 Steinwehr Ave, Gettysburg, PA 17325.
Take a Ghost Tour
Apparently professionals think there is a lot of paranormal activity in Gettysburg, which is conceivable with what has happened there. If you are interested in exploring the paranormal, there are a number of ghost tours available in Gettysburg. I have a daughter that is easily spooked so we didn't take advantage of these tours.
Day Two
Tour the Gettysburg Battlefield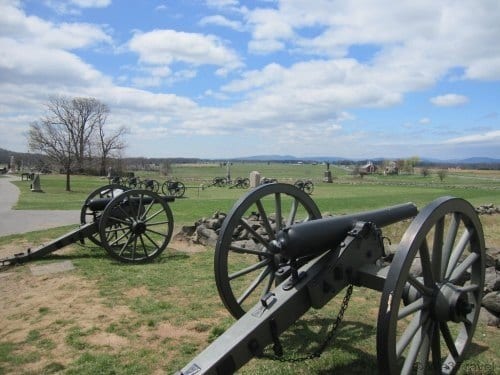 There are many ways to tour the Battlefield, including bike tours, horseback tours, bus tours, audio self-driving tours, and even segway tours! But the way I'd recommend for your first visit to Gettysburg with kids would be with an official Battlefield Guide. If you go this route, make your reservations at least 3 days in advance by calling 877-874-2478.
Our guided tour of Gettysburg National Military Park was incredibly informative and moving. I would highly recommend reserving a registered guide. Renae MacLachlan, our Licensed Battlefield Guide, really brought history to life for us with graphic descriptions of the sounds and smells of the Battle of Gettysburg to capture our attention, because only by applying our imagination to all of our senses could we begin to fathom the scale of this devastating battle.
"During the Battle the bullets were flying so fast and thick it sounded like thousands of hornet nests, yet after the battle no birds could be found, they were all scared away," explained Renae. "People lay dying for days as they only saved those worth saving, not burying the last person until April of the following year — the stench could be smelled as far away as Harrisburg."
"The sulphur from gunpowder burnt the inside of soldier's and local's noses and affected their sense of smell for up to five years after the battle." Renae didn't just tell us about the battle logistics, she took us back to that day and helped us imagine what it was like to be a soldier and a civilian during the Battle of Gettysburg.
I asked Renae what it took to become a Licensed Battlefield Guide and she gave me a glimpse into the effort it takes to attain this position. It isn't just for history buffs. In addition to reading and studying a stack of books, candidates are screened to see how they interact with visitors, including families.
They need to know how to engage the know-it-all history buff while still making it interesting for their teenage kids, and how to keep the attention of school-aged children by making the historical sights accessible to all ages and interests. Not only that, she needs to know the location of all 1,320 monuments and memorials to help visitors that are looking for certain states or ancestors.
That's nearly 6,000 acres of land to cover in just two and half hours in a way that is meaningful, engaging and educational. Not an easy job, but they do it and they do it exceptionally well because they aren't just guides, they are storytellers.
The story begins with the approach of Lee's army, thinking they would encounter just a few Union soldiers and surprised by the size and strength of the force they encountered. We literally saw the advantage that the high ground afforded Union General Meade, as we embarked on a path following the three-day battle step-by-step.
Suddenly the monuments began to make sense as we started to identify which belonged to which army based on the location and the direction they were facing (matching the position of the appropriate army and regiment.) We learned how regiments customized their monuments with symbols like a Celtic cross or their dog mascot. Renae also described how to identify which of the 410 cannons were original versus reproductions.
With Renae driving our car, we were able to focus on all the information she was relaying, while feeling free to look around and imagine the armies marching across the fields. And even though I wasn't driving, we were still able to stop and explore any of the areas we thought looked interesting, including climbing up to the top of Little Round Top, scrambling around the rocks at Devil's Den, and taking in the view from the top of the Pennsylvania Memorial.
In case you haven't surmised it already, I couldn't have been more impressed with our visit to Gettysburg with a Licensed Battlefield Guide.
Lunch at One Lincoln
After all that battle talk, you are going to need to decompress a bit in the afternoon. Start with lunch at One Lincoln in the Gettysburg Hotel.
Visit the The David Wills House
If you have energy for a little more history, after lunch you can stop by the David Wills House, where Lincoln stayed the night before his famous Gettysburg Address, at 8 Lincoln Square.
Take a Drive out into the Country
Next, it is time to visit some of the farms, markets and wineries along the Gettysburg Wine and Fruit Trail. There are many places to sample local wine and ciders. One of my favorites is Hauser Estate Winery.
In early October, families will also love taking part in the National Apple Festival, which has been celebrated in Gettysburg for over 50 years! Here you will find arts and crafts vendors; antique and classic cars; hayrides; a petting zoo; pony rides; pie baking and eating contest; scarecrow building; and tractor square dancing.
On weekends in September and October, families can enjoy the corn maze, hayrides, petting zoo, pumpkin picking, zipline and other activities at Fields of Adventure.
Explore Mr. Ed's Elephant Museum & Candy Shop
One of the best stops for those that love quirky attractions is at Mr. Ed's Elephant Museum and candy shop. Where else can you find 12,000 elephants but in Gettysburg? Once you are done browsing through his extensive display, you can have fun shopping at the over 700 varieties of candies and fudge.
Dinner at The Garryowen Irish Pub
There are plenty of places in town to have dinner but if you are in an Irish mood (or particularly like bacon and want to try their Tuesday Bakon Nights), the Garryowen at 126 Chambersburg St. is an authentic pub with Irish fare and music.
If you Have More Time in Gettysburg
If you have more than three days, there are more fun things to do in Gettysburg including:
Land of Little Horses
The Land of Little Horses is a cute interactive animal park. Open April through October, the Land of Little Horses has a large herd of miniature horses, as well as other farmyard animals. Visitors can meet the animals, see daily performances, and even play in the replica western town.
Carlisle Sports Emporium
This mega entertainment complex has over 75,000 sq. ft. of indoor and outdoor fun for all ages with three go-kart tracks, two 18-hole themed miniature golf courses, a 2-story lasertron laser tag arena, an arcade, an indoor rock climbing wall, roller skating and café.
Liberty Mountain
If you are visiting in the winter, nearby Liberty Mountain offers skiing, snowboarding and tubing for the whole family.
Eisenhower National Historic Site
Dwight Eisenhower was stationed near Gettysburg in World War I and when he wanted a place to settle down, he returned and bought a farm very close to the Battlefield. After becoming President, Eisenhower hosted many famous guests here including Premier Nikita Khrushchev of the Soviet Union, President Charles de Gaulle of France, Prime Minister Winston Churchill of Britain, and Gov. Ronald Reagan of California.
Go Biking
Healthy Adams Bicycle/Pedestrian (HABPI) offers a variety of bike ride options in town, on the battlefield and throughout the county.
Horseback Riding
National Riding Stables allow you to see the battlefield from a different perspective by riding the actual trails where offers rode and infantry marched during the great battle.
Food Tours
I love exploring a new place through my belly and food tours are a great way to do this. There's no better way to see the town you're visiting than to eat your way through it. With Savor Gettysburg Food Tours you can explore the historic downtown area and taste your way through history.
Steam into History
Ride a replica of the steam engine that brought Lincoln to his now famous Gettysburg Address on the Steam into History train. Along the way, you'll hear about the towns and villages he passed along the way and the skirmish at Hanover Junction prior to the Battle of Gettysburg.
Before you Visit Gettysburg with Kids
Note: This post may contain affiliate links. If you click a link and make a purchase, I may receive a small commission. All opinions are my own.
While you can certainly visit Gettysburg without having first studied the Civil War, a little background is helpful. Since kids usually don't study Gettysburg and the Civil War until 8th grade, reading up on slavery, Abraham Lincoln, the Civil War, Gettysburg, and the Gettysburg Address is a good way to create some context.
Recommended reading for younger kids includes:
Older Kids might also enjoy:
Find a Place to Stay in Gettysburg
PIN THIS FOR LATER