Nearly 10 million people visit Lancaster each year, many of these families interested in taking a break from the hustle and bustle of daily life to see the simpler lifestyle the Amish and Mennonite communities in PA Dutch Country. After a short stay in Lancaster, I can see why so many are drawn to this region. Not only are the rolling hills and manicured farmlands an idyllic setting, but there is so much to do in Lancaster County. But since the main draw for families is PA Dutch Country, it is a good idea to start with introducing kids to Amish history and culture.
We started our trip at the Hans Herr House and Museum, which was built in 1719 and is the oldest Mennonite meetinghouse in the Americas and the oldest home in Lancaster County. Hans Herr was one of six Anabaptist families that fled persecution in Switzerland and Germany to start a new life in America where they could practice their religious beliefs freely.
The house tour kicks off with a historical overview of the movement and the difficulties they had getting to and surviving in America. Once you step inside the sandstone house, that served as both home and meeting house, you are transported back in time. You enter into the chilly main hall, which also serves as a kitchen for preparing food, and witness the German ingenuity in creating cups from cow horns and raised hearths for simpler and safer cooking.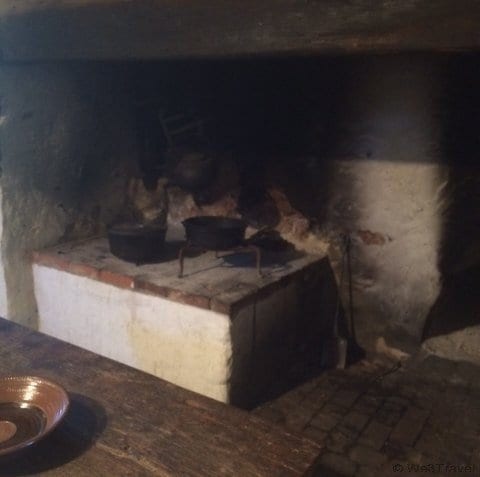 You will also explore the main room and bedrooms where the original property of the house has been maintained and restored in loving detail. In fact, one member of our tour remarked that the butter churn from the 1700s looked so well preserved that it could be something you buy at Pottery Barn (not sure what the guide thought of that comment!)
Upstairs your kids will get an appreciation for the cozy beds and possibly think that sharing a bedroom isn't so bad as they see the sleeping attic where all seven kids slept, the four girls in one bed and the three boys in the other. Visit on a cold day and they might be especially grateful for your home's heating system when they hear how the Herr children would wake up snow covered in the winter from snow that swirled in through gaps in the roof shingles.
Downstairs in the basement, the kids can also gain an appreciation for modern conveniences like refrigeration when they learn how the Herr family stored vegetables, smoked meats, and barrels of sauerkraut down there to make it through the winter.
After your tour you can explore the grounds, which include a blacksmith shop, two barns, a smoke house, and an outdoor bake oven. You can also tour a recently built Native American longhouse to honor the first neighbors of the Herrs; the Conoy, Lenape, Nanticoke, Seneca, Shawnee and Susquehannock peoples. We were hoping to take this tour as well since the little one's fourth grade class is currently studying Native Americans but we didn't have time on this trip.
Even if your kids are the type to yawn and fidget through history lessons or museums, the tour guide comes up with enough interesting facts to keep everyone engaged. For example,
Food was stored in baskets made from rye because it has a bitter taste that mice don't like and won't chew through (maybe that could help with today's pest problems!)
Insulation was also made of wood wrapped in rye straw for the same reason
"Sleep tight, don't let the bed bugs bite" comes not just from the straw mattresses that had bugs in them, but also from the string beds which sagged in the middle if the ropes weren't kept tight
"Burning a candle at both ends" comes from using rushes dipped in tallow (animal fat) and using a stand with a clamp in the middle to light the lamp from both ends for more light
Clothes were much more valuable than furniture as it took a whole field of flax to produce enough thread for one outfit of clothes, which took a year and a tremendous amount of effort from the children, weaver, and women to produce the fibers to twist the thread to spin the cloth to sew the clothes.
A visit to the Hans Herr House is a good introduction to the Amish history, but you'll want to continue on your cultural journey by getting up close to the way the PA Dutch live today. I'd recommend both a farm tour and a buggy ride if you get a chance! As you drive through Lancaster, your kids will probably have plenty of questions about why they use buggies, why they dress the way they do, and other customs. Instead of prying into personal lives, it would be helpful to acquaint yourself with some background before you go on the Amish history, beliefs and culture as a resource.
I would like to thank the Hans Herr House and The PA Dutch Convention and Visitors Bureau for hosting us on our tour.