Thanksgiving is a time when we reflect on the blessings in our lives and spend time with family. For me, part of this tradition is to remember how lucky we are to live our lives as comfortable, safe and free Americans. This leads me to think of others throughout the world that don't have the same privileges, those that have fought to support these freedoms, and the very roots upon which our country is founded. In today's world of political vitriol and excessive consumption, it is easy to forget that we take our basic comforts for granted.
If your child's knowledge of Pilgrims is limited to making funny hats out of construction paper and they are more into turkey and football than giving thanks, maybe a trip to the birthplace of Thanksgiving will help them appreciate how hard Native Americans and Pilgrims had to work just to survive. Perhaps seeing how early settlers lived will evoke a little thankfulness for our modern comforts. While Florida, Texas, Maine and Virginia each lay claim to hosting the first Thanksgiving, the three-days of rejoicing, feasting, prayer and thankfulness that took place in Plymouth, MA in 1621 have become the indisputable birthplace of today's American Thanksgiving. (Learn more about Thanksgiving History.)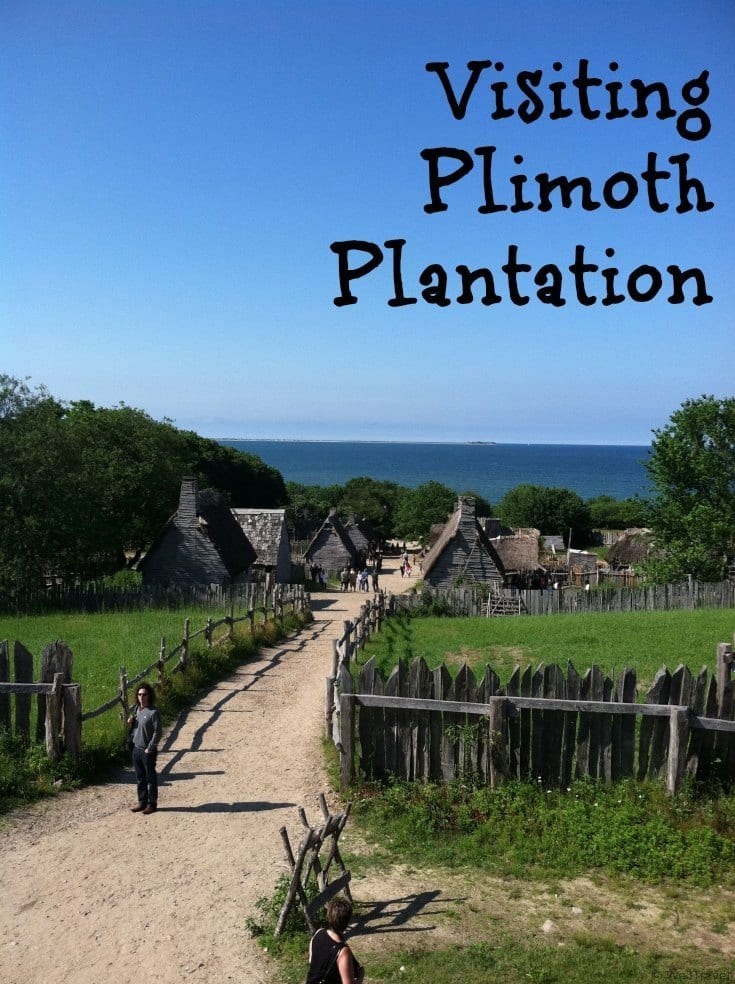 The town of Plymouth, MA, where you can visit the Mayflower II and see the historic Plymouth Rock, is located an hour south of Boston and is an easy add-on to a visit to Boston, Cape Cod or Providence, RI. Plimoth Plantation, where you will find an authentic Wampanoag Native American Homesite and a 17th century village, is just 10 minutes outside of the town of Plymouth.
You can start your visit at either location, but when we visited we decided to start at the beginning of the Pilgrims' journey to the new land with The Mayflower II. As you might expect, the original Mayflower no longer exists, but a full scale replica was created in Devon, England and sailed across the Atlantic in 1957. You can explore the decks, the living quarters, and even peek into the hold where supplies were stored. Onboard, you'll meet role players in period dress that will tell you about "their" journey across the Atlantic. They speak from the perspective of the original passengers and life aboard the Mayflower. It must be hard to stay in charcter in today's modern world. I remember asking one woman if I could take her picture and she had a response like "If you have some device that creates a permanent image then yes, you may do so."
It doesn't take long to explore the Mayflower II because frankly, it isn't that big. And that is what strikes you — how did 102 people survive crossing the Atlantic in such close quarters only to arrive in poor health and with few supplies and need to create a brand new life for themselves in the "new world?"
If you have a full day in Plymouth, take some time to enjoy this quaint village by poking into some shops and enjoying some seafood by the water. As unexciting as it may be, you'll also need to take a look at Plymouth Rock.
Maybe it is images that were found in textbooks, coloring sheets and countless Thanksgiving decorations that make you think of Plymouth Rock as some giant boulder that the Pilgrims heroically crested upon landing in the New World. But in reality, it is just a small rock with 1620 carved into it. But still, nearly one million people from around the world visit Plymouth Rock each year, making Pilgrim Memorial State Park one of the most visited state parks, so you might as well take a peek at it while you are in town. The park is located right on the waterfront, just down the road from the Mayflower II.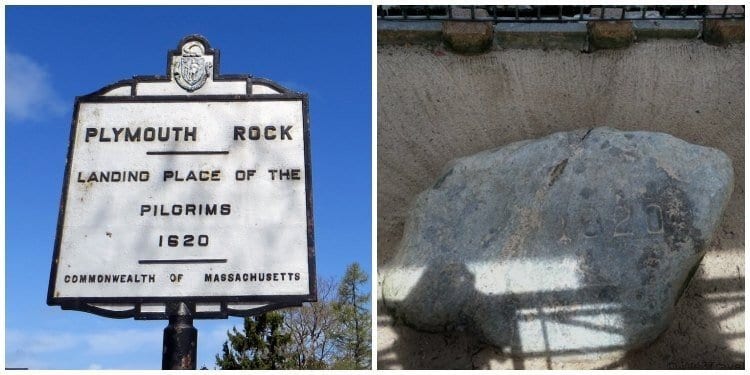 When you are ready to continue your exploration, move on to Plimoth Plantation. You will begin your visit at the Hornblower Visitor Center, where you will buy tickets and can watch an orientation film created by the History Channel. If you didn't eat in town, you can stop at the quick service restaurant, the Patuxet Cafe, which features dishes from both the Colonial English and Native cultures, as well as the more familiar snacks and meals.
The first exhibit you will encounter is the authentic Wampanoag Homesite. Unlike the people you encounter on the Mayflower II, or in the 17th Century English Village, these are not actors or role players, but Native People, either of Wampanoag or other descent, dressed in historically accurate clothing. They are happy to share their history and traditions. We were able to observe men carving out a tree using fire in order to make a boat or canoe. Women and children were weaving baskets, cooking over open fires, and tending their gardens. The homesite includes quite a few mat-covered homes, as well as a bark-covered long house. During our visit, we were also invited to take part in a traditional dance.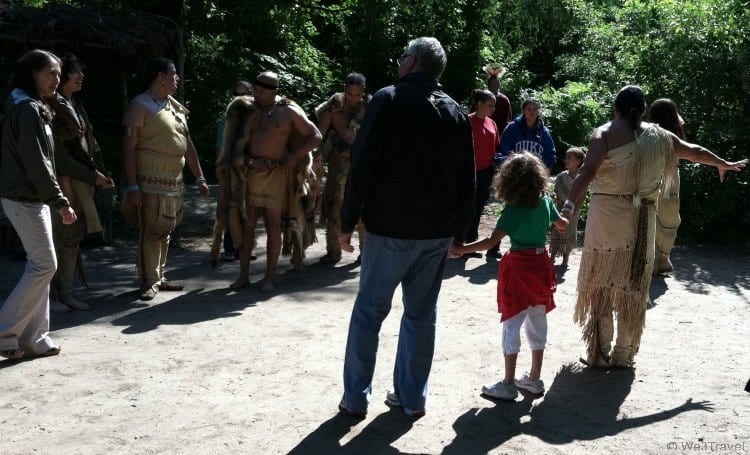 Your next stop will be a step back in time…to 1627 and into a replica of an 17th century English farming and maritime village, very similar to what the Plymouth Colonists (commonly called Pilgrims today) would have established after making a home in the New World. Here the people that you meet are costumed role players portraying residents of the Colony. You can explore the small village on your own and wander through the houses and encounter "villagers" working in the gardens or tending the animals. Each will be happy to tell you their tale and about life in the 17th Century. Seeing how hard they work splitting wood and doing the countless chores around the village will hopefully evoke a new appreciation for the luxuries of our modern lifestyle.
If you really want to spend Thanksgiving in Plymouth, reserve a space for Thanksgiving Dinner at the John Carver Inn & Spa in Plymouth, MA. If you decide to stay overnight in Plymouth, the John Carver Inn is a great place to stay with families, as it is within easy walking distance to the waterfront and features a Pilgrim Cove indoor theme pool for some family fun after learning a bit of history.
The Mayflower II is open 9am-5pm seven days a week and Plimoth Plantation is open 9:30am-5pm seven days a week, from the third Saturday in March through the Sunday after Thanksgiving. Combination tickets for all three locations are $35 for adults and $21 for children 5-12. Admission is free on Veteran's Day to Veterans and discounted or free passes may be available from your local library for Rhode Island residents.
Featured image of the Plymouth Harbor used at the top of this post is courtesy of vv_ldzenl via Flickr Creative Commons License.