Everyone associates Maryland with crab, but I wondered what else are the must-try foods in Ocean City, Maryland? When we headed down to Maryland in April, I consulted with locals and did some experimentation to find out. Here is our shortlist. Join in with your suggestions in the comments below.
Must Try Foods in Ocean City
1. Crab – you can't go to Maryland and not eat crabs! Since we tried steamed crabs last year in Baltimore, we focused on crab cakes, crab imperial, and just about anything else stuffed with crab. If you are wondering where to go, locals suggest the crab cakes at Coins Pub & Restaurant and others swear by the steamed crab from the Crab Bag. Hoopers gets high marks for its all-you-can-eat crab fest as a "must do", but others feel it is past its prime.
2. Rockfish – also called a striped bass, rockfish is the official state fish of Maryland, so clearly it needs to be a must try when visiting Ocean City. A flaky white fish, rockfish can be prepared in many ways so just pick one you like and go for it.
3. Fractured Prune Donuts – these always hot, fresh dipped donuts are all the rage in Ocean City and I can't wait until they make their way north. Instead of rows of donuts, you pick your flavor and they crank them out and glaze them right in front of you with mouthwatering flavors like OC Sand, S'more and Peppermint Patty.
4. Thrasher's Fries – these fries have been tempting Ocean City visitors since 1926 and are still a favorite boardwalk food made from the simplest ingredients…potatoes, peanut oil, apple cider vinegar and salt. Since french fries are my favorite food and diet downfall, I was crushed that Thrasher's was closed when we visited recently in the off-season. So enjoy a bucket in the summer, but then run a few length of the boardwalk to work them off.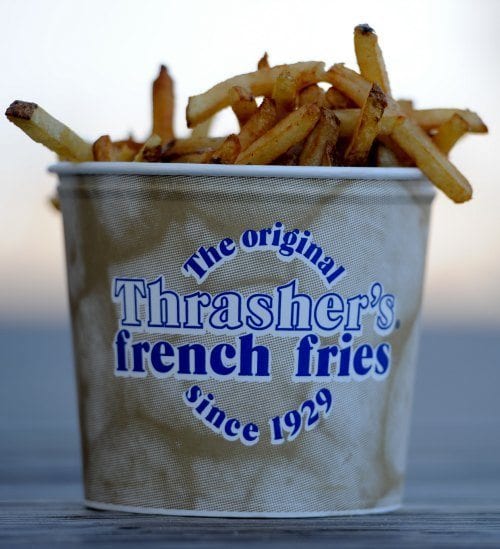 5. Fisher's Popcorn – Fisher's is another boardwalk staple since 1937, specializing in caramel popcorn but also offering other flavors like Caramel with Peanuts, Cinnamon Caramel, Butter flavored, White Cheddar and Old Bay.
A Few More Must Try Foods:
1. Peach dumplings from baked dessert cafe — the official dessert of nearby Berlin, MD is delectable, but get there early before they run out. You can always go kayaking to work off those calories!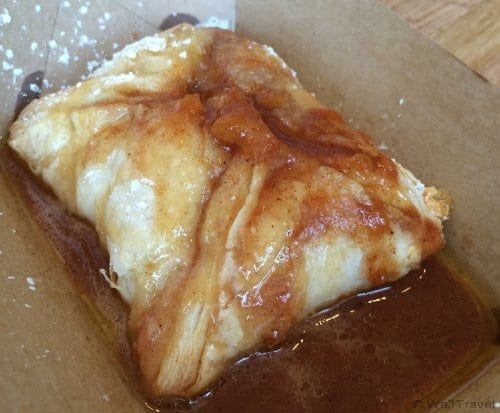 2. Marsh Mud Ice Cream — If you are up for a side trip from Ocean City, the Island Creamery in Chincoteague, VA is so proud of their Marsh Mud ice cream they even made up t-shirts with the flavor on it. This super chocolatey flavor is homemade and a great way to top off a day of pony watching.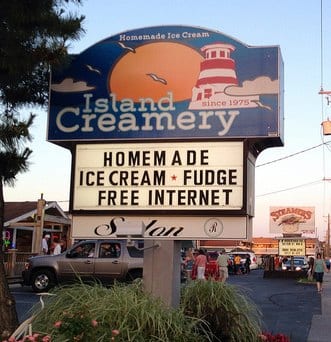 3. Dumser's Dairyland – right in Ocean City, MD is another ice cream option. Dumser's has been selling its ice cream on the boardwalk since 1939.
PIN THIS
Photo Credits:Thrasher's Fries courtesy of BigBirdz on Flickr via Creative Commons License, has been edited for size. Fisher's Popcorn photo courtesy of Austin Kirk via Creative Commons License and has been edited for size. Island Creamery photo courtesy of Paulo Ordoveza via Flickr Creative Commons License and has been edited for size.
Thank you to Worcester County Tourism and the Quality Inn for hosting our recent stay in Ocean City, MD.