When it comes to Maryland food, everyone immediately thinks of crab. It is like a scene from Forest Gump, except the myriad of crab preparations instead of shrimp. But what are some of the other must try Maryland foods?
When I went to Ocean City, Maryland, I consulted the locals and did a lot of experimentation to come with a shortlist of the best Ocean City Maryland foods (and where to find them!) So loosen your belt buckle and forget about beach bodies and get ready to eat.
Must Try Ocean City Maryland FOod
Blue crab a beloved and iconic symbol of Maryland, with a history of crabbing going back to when Native American tribes harvested and consumed the local blue crab. In the mid-1800s, commercial crabbing became prevalent in the Chesapeake Bay region and the crab industry grew in importance throughout the 20th century, with Baltimore becoming a major hub for crab processing and distribution.
Today, the blue crab is not only a staple food in Maryland cuisine but also an important part of the state's economy and cultural identity, with annual festivals and events celebrating the beloved crustacean.
Steamed Crab
If you haven't ever used a mallet to bust open steamed Maryland crab cooked with plenty of Old Bay seasoning and spread out on a paper tablecloth, you need to change that! In Ocean City, local favorites for steamed crab are the Crab Bag for the "best crabs in Ocean City" and Hoopers Crab House also gets high marks for its all-you-can-eat crab fest as a "must do", while others feel it is past its prime.
Crab Cakes
Don't want to work for your supper? Crab cakes make it easier and in Ocean City, they make them the right way — with plenty of chunks of crab and minimal breading. If you are wondering where to go, a popular restaurant for its "famous" crab cakes is Coins Pub & Restaurant, which also offers crab dip and cream of crab soup.
Crab Imperial
Another way to try your crab is in Crab Imperial. This classic seafood dish consists of lump crab meat mixed with mayonnaise, seasonings, and other ingredients such as bread crumbs, Worcestershire sauce, and Old Bay seasoning. The mixture is then baked in a casserole dish until golden brown and served hot.
In Ocean City, restaurants often feature their own variations of crab imperial, adding ingredients such as cheese, peppers, or even lobster meat. We had a delicious version at Harrison's Harbor Watch Restaurant.
Rockfish
Of course, Maryland food is not all about crab. Rockfish, also called a striped bass, is the official state fish of Maryland, so clearly it needs to be a must try when visiting Ocean City. The fish has a mild, sweet flavor and a firm, flaky texture, making it a popular choice for grilling, frying, and baking. Since it can be prepared in so many ways, if you are a seafood love, pick one you like at any of the many seafood restaurants in Ocean City and go for it.
Thrasher's Fries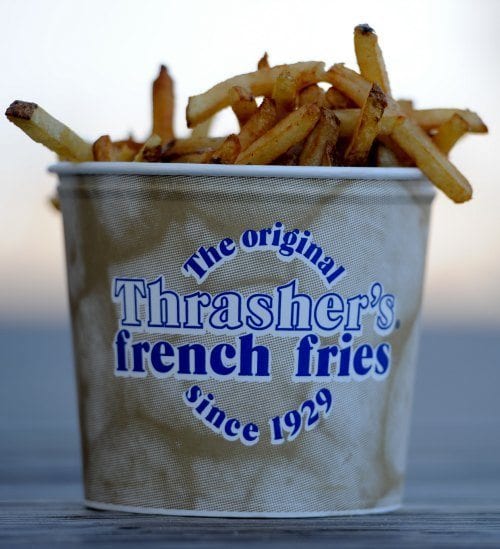 Thrasher's fries have been tempting Ocean City visitors since 1926 and are still a favorite boardwalk food made from the simplest ingredients…potatoes, peanut oil, apple cider vinegar and salt.
Since french fries are my favorite food and diet downfall, I was crushed that Thrasher's was closed when we visited in the off-season. So enjoy a bucket in the summer, but then run a few lengths of the boardwalk to work them off.
Fractured Prune Donuts
Fractured Prune Donuts are always hot and freshly dipped with tasty toppings and they are all the rage in Ocean City. Instead of rows of donuts, you pick your flavor and they crank them out and glaze them right in front of you with mouthwatering flavors like OC Sand, S'more and Peppermint Patty.
Fisher's Popcorn
Fisher's is another boardwalk staple since 1937, specializing in caramel popcorn but also offering other flavors like Caramel with Peanuts, Cinnamon Caramel, Butter flavored, White Cheddar and Old Bay.
Smith Island Cake
Smith Island Cake is a dessert that originated in Smith Island, a small island community located off the eastern shore of Maryland in the Chesapeake Bay. It is believed to have been created by the women of Smith Island, who would bake the cakes for special occasions and holidays.
The cake's popularity spread beyond the island, and it was officially declared the state dessert of Maryland in 2008. The cake consists of multiple layers of thin yellow cake with a creamy frosting in between each layer, typically made with a mixture of sugar, milk, flour, and butter. The cake is then covered in a chocolate glaze or more frosting.
While Smith Island is the most famous place to get the cake, it can be found in various bakeries and restaurants throughout Maryland and the Eastern Shore region, including some locations in Ocean City such as The Original Smith Island Cake Company and Higgins Crab Cakes.
Maryland Pit Beef
Maryland pit beef is a unique style of barbecue that originated in the Baltimore area, made with thinly sliced beef that is grilled over high heat until charred on the outside but still pink and juicy on the inside. It is then served on a Kaiser roll with raw onions and a spicy horseradish sauce, although other toppings such as cheese or barbecue sauce may also be added. It may not be fine dining but it is delicious.
While Maryland pit beef is most commonly associated with the Baltimore area, one popular spot to get pit beef in Ocean City is the Bull on the Beach, a local place with multiple restaurants in Ocean City that serves up their own take on the classic dish.
Chesapeake Bay Oysters
The Chesapeake Bay is the largest estuary in the United States and oyster farming and harvesting has been a major industry in this area. These oysters are known for their unique flavor profile, which can vary depending on the location and season in which they are harvested, but they are typically plump and meaty with a slightly briny taste and a sweet finish.
Maryland was actually the first place that I tried oysters and they were a bit too plumb for my taste, but I've since come to love oysters. When in Ocean City, try oyster shooters at Ropewalk and the raw bar at Seacrets and BLU Crabhouse and Raw Bar.
Peach Dumplings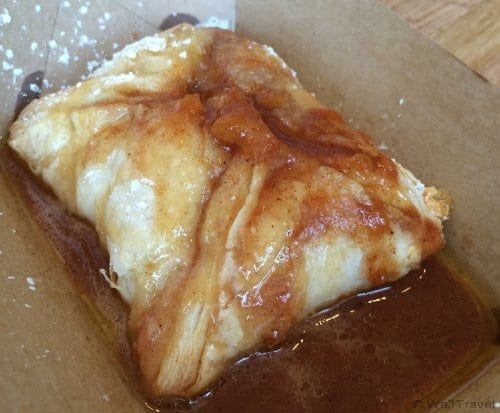 If you are willing to venture a little out of Ocean City, take a day trip to the charming small town of nearby Berlin, Maryland. Baked Dessert Cafe makes the most amazing peach dumplings and they have been named the official dessert of Berlin. Just get there early before they run out!
Marsh Mud Ice Cream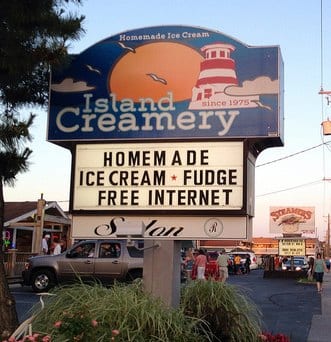 If you are up for a side trip from Ocean City, the Island Creamery in Chincoteague, VA is so proud of their Marsh Mud ice cream they even made up t-shirts with the flavor on it. This super chocolatey flavor is homemade and a great way to top off a day of pony watching.
Dumser's Dairyland
Dumser's Dairyland is a beloved ice cream parlor in Ocean City, Maryland, known for its delicious homemade ice cream and vintage charm. The retro ice cream parlor first opened in 1939 as a small soda fountain and has since grown to become a local institution.
Today, Dumser's Dairyland serves a wide variety of ice cream flavors, including classics like chocolate and vanilla, as well as more unique flavors like blueberry pie and apple caramel crunch. The ice cream is made on-site using fresh ingredients and traditional methods.
Save this to Pinterest
Photo Credits:Thrasher's Fries courtesy of BigBirdz on Flickr via Creative Commons License, has been edited for size. Fisher's Popcorn photo courtesy of Austin Kirk via Creative Commons License and has been edited for size. Island Creamery photo courtesy of Paulo Ordoveza via Flickr Creative Commons License and has been edited for size.