To fully experience all that Colonial Williamsburg, Virginia has to offer, you should plan on spending at least two to three days in the area. With two to three days, you can visit all the shops, city sights, and historic homes. You'll even have time to take in the reenactments, enjoy a carriage ride, and possibly take a ghost tour or theater performance.
Stay even longer if you want to also see Jamestown, Yorktown, Busch Gardens, Water Country USA, and other area attractions. However, while it is ideal to spend at least 2-3 days, you can easily enjoy a visit to Colonial Williamsburg in a day, or even less! Here is how:
How to do Colonial Williamsburg in a Day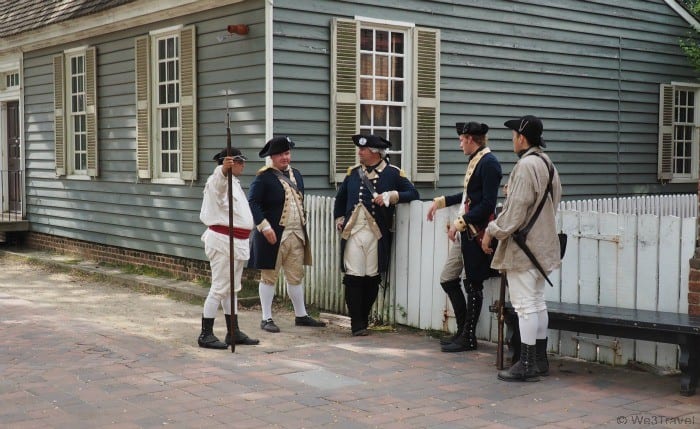 When you Arrive
When visiting Colonial Williamsburg, if you only have one day it helps to get an early start. Keep in mind that the shops and historic attractions open at 9 am and close up at 5 pm.
Start off at the Visitor's Center, which offers free parking and a shuttle into town (or you can walk in about 10 minutes.) If you want to really go at it hard, purchase the one-day pass, which provides access to all the sites. If you have more time and want to take a more leisurely pace and not feel pressure to "fit it all in," I'd suggest the Multi-Day Ticket, which covers all the attractions over three consecutive days.
If you have younger children with a limited attention span, the one-day pass is a good way to get to peek inside a few of the historic places without inundating them with history. Plus, you can still extend your day with an evening ghost tour, theater performance, or dinner at a historic tavern.
Keep in mind that you don't need a ticket to walk through Colonial Williamsburg, only to get access to the inside of certain attractions. This means you can still get a sense of Colonial Williamsburg even if all you do is walk through town and observe some of the reenactments.
To get the most out of your day, download the Colonial Williamsburg Explorer mobile app before you go. The mobile app will help you organize your day as well as purchase tickets, find out where characters are located, look up maps and directions, see the event calendar, and get access to exclusive coupons.
Start your Day
The walk from the Visitor Center brings you past the Governor's Palace and Market Square, down to the Courthouse on the Duke of Gloucester Street, which is the main street through the preserved town. You can pick up a map at the Visitor Center, which clearly marks which attractions require an admission ticket, or download the Colonial Williamsburg Explorer app in your App Store.
The map contains the hours of operation for each attraction as well, but most importantly, if you flip the map over you can find all the daily tours and programs. These are marked as either T – Additional Ticket Required, R- Free reservation required, or Family Program.
The fun part is — a lot of these re-enactments and programs are free and open to the public, you just need to know where you need to be and at what time. I'd recommend starting off near the courthouse and getting the obligatory photo opportunity in the stocks — because who doesn't want to put their kid in stocks at some point?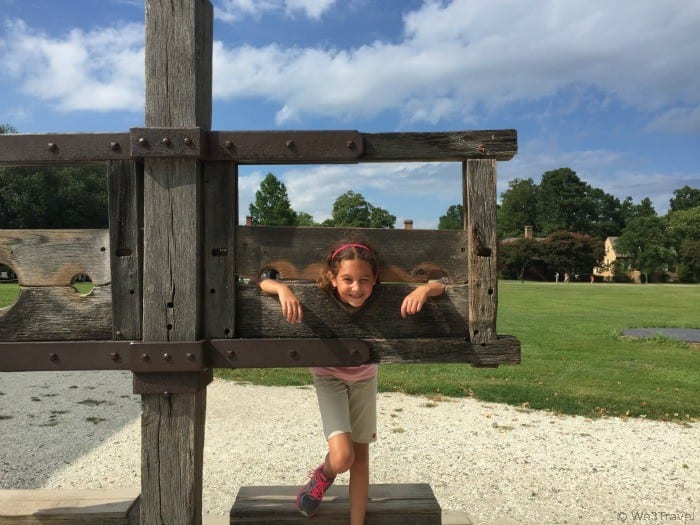 If you then walk down the Duke of Gloucester Street, there are many Colonial-style shops to pop into including a grocer, silver shop, pottery and housewares, an apothecary, and a bakery, along with quite a few full-service tavern restaurants. Some of these shops that include demonstrations, like the silversmith's do require a ticket to enter.
As you walk along, you will see living history actors playing their parts of townspeople, soldiers, and rabble-rousers. When I would overhear snippets of conversations, I always wondered how much was scripted and how much was ad-libbed as they go.
Afternoon in Colonial Williamsburg
If you have less than a day in Colonial Williamsburg, I'd recommend visiting in the afternoon to make the most of the re-enactments. On the day we visited, one of the "officers" addressed the citizens of the town as if it was September of 1781, and they were recruiting a militia to fight the British.
After a 15-minute address and training session, these new "recruits" (kids love this!) were marched up the road to Market Square and the lawn behind the Courthouse.
If you can, get over to the Courthouse early to line up along the field's perimeter to watch the militia review and the fife-and-drum cannon salute. This is definitely a visit highlight — and it is free.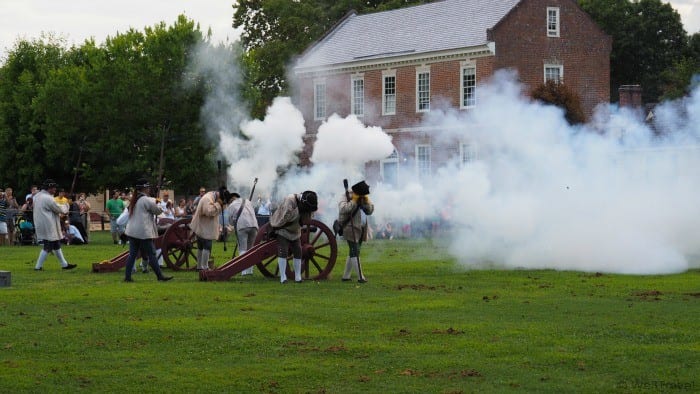 Evening in Colonial Williamsburg
Even if you aren't participating in one of the evening ghost tours or theater performances, you can either have dinner in one of the colonial taverns or walk up Duke of Gloucester Street to Merchant's Square.
Here you will find shopping, like the not-to-be-missed Wythe Candy and Gourmet Shop, enjoy sandwiches along with wine and cheese at The Cheese Shop, or take advantage of happy hour oyster deals at the outside bar at Berret's Restaurant & Taphouse Grill.
Read before you go
To get the most out of a visit to Colonial Williamsburg, it might help kids to know a bit of history before you go. Here are some suggested books to read to prepare for your trip:
Where to Stay in Williamsburg
For a luxury stay within walking distance of Colonial Williamsburg, book at room at the Williamsburg Inn or Williamsburg Lodge, an Autograph Collection Hotel. For more affordable options, look at the hotels closer to the highway.
Related Articles:
PIN THIS FOR LATER
SaveSave