Perched on the bank of the James River, in a quiet and unremarkable location, sit the remains of the Jamestown Fort at Historic Jamestowne, the site of the first English colony in what is now the State of Virginia. Nearby, you will find a town recreation, replica ships of those that brought the original settlers, and a state of the art visitor center. So the question is, which should you visit? Jamestown Settlement or Historic Jamestowne?
When we were visiting nearby Williamsburg, we knew we wanted to see Jamestown too, but weren't sure which one would be a better experience, especially with kids. So, I decided to visit both and break it down to help you decide.
History of Jamestown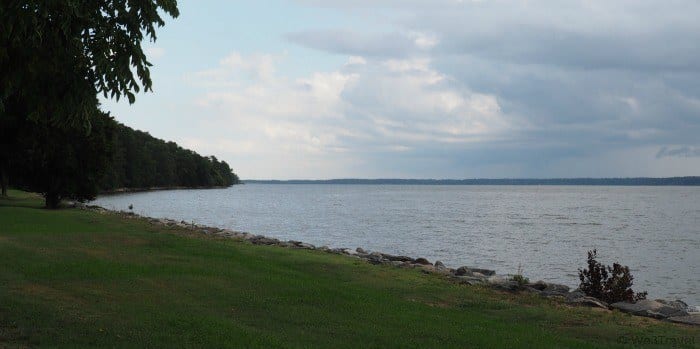 First, lets look at the history of Jamestown so you can see why a visit is relevant. In May of 1607, Captain Christopher Newport arrived from England on the Susan Constant, Godspeed, and Discovery to establish the colony of "James Cittie" for the Virginia Company of London. After first landing in the Chesapeake Bay, they followed their charter to move upriver to an island that they could secure, which they found at Jamestown.
From the beginning, the colonists were beleaguered by the lack of fresh water, disease and attacks from the native Powhatan nation. While Newport headed home with mineral samples that they hoped contained gold and would make the colony as rich as the Spaniards, Captain John Smith traveled upriver in search of food and was captured by Opechancanough, brother of Chief Powhatan.
It was then that the Chief's daughter, Pocahontas, intervened and saved Smith's life. But unlike in the Disney fairytale, Pocahontas and Smith don't fall in love and ultimately live happily ever after.
As a matter of fact, Smith returns to England in 1609, after leading the colony for a time, never to again step foot in the New World. Pocahontas on the other hand, married settler John Rolfe in 1614 after being held prisoner by the English and eventually converting to Christianity.
She then took the name of Rebecca, meaning "mother of two peoples" after her peace-making marriage. Rolfe, Pocahontas, and their son journeyed to England in 1616 and, unfortunately, Pocahontas dies before ever returning to her homeland.
The colony struggled for its survival through multiple starving periods, cannibalism, disease, attacks from Native Americans, and in-fighting. The colony's numbers dropped as low as 38 at one time, despite new boats of settlers arriving over the years.
Ultimately, it was John Rolfe's experimentation with tobacco which turned the tide and provided the settlers with a good to trade and ability to prosper. In 1619, the arrival of the first enslaved Africans enabled this new industry to grow — and therefore dug the roots of slavery so deep into the Virginia soil that only a civil war could uproot them.
Yet despite the growth of the New Towne around Jamestown, and Virginia being made a Royal Colony in 1624, today we associate early American Colonial history with Jamestown's nearby neighbor of Williamsburg.
While the hordes descend on Williamsburg, I strongly encourage you to take a day and explore its neighbor of Jamestown. Of course, even when you plan a day in Jamestown, you are still faced with the confusing question of whether to visit Jamestown Settlement or Historic Jamestowne. Located right down the street from each other, it isn't immediately apparent what the differences are between the two, or the whether or not you should visit them both. So let me give you the inside scoop…
Jamestown Settlement
Note: We were provided complimentary admission to Jamestown Settlement and Historic Jamestowne on behalf of Visit Williamsburg. All opinions are our own.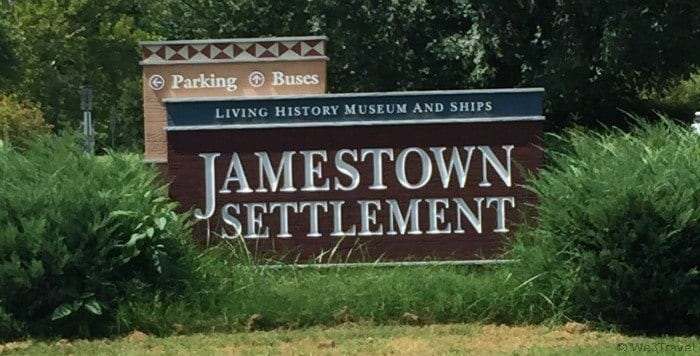 The Jamestown Settlement is a perfect place to start with your exploration of Jamestown. The important thing to recognize is that this 46-acre site is a living history museum with recreations of the Jamestown Fort, Powhatan Indian Village, and three ships — not the actual site of the original settlement.
The actual historic site can be found just down the road at Historic Jamestowne. However, if you are visiting with kids, the Jamestown Settlement is more visual and hands on, and provides a great introduction to the area's history.
Jamestown Settlement chronicles the history of America's first English colony from its beginnings in the Old World through its first century of existence — including the Powhatan, English and west central African cultures that converged there. You can begin with the indoor theater and gallery exhibits.
The theater shows the film, "1607: A Nation Takes Root," which gives an overview of the first two decades of Jamestown. The museum exhibits then walk through a timeline from 1600 to 1699, when the capital of Virginia moved to Williamsburg, using very well-designed displays and more than 500 artifacts.
When we visited, we headed outside first, as rain was threatening and we wanted to see the outdoor exhibits before it rained. When we headed back inside, we ended up moving through the museum in reverse chronological order, which made the museum much harder to take in. I'd recommend starting with the film and museum first, and then exploring outside at your leisure.
As impressed as we were with the museum, the real highlight of the Jamestown Settlement is outside at the living history museum. Because the Native American village was our favorite at Plimouth Plantation, we headed first for the Powhatan Indian Village.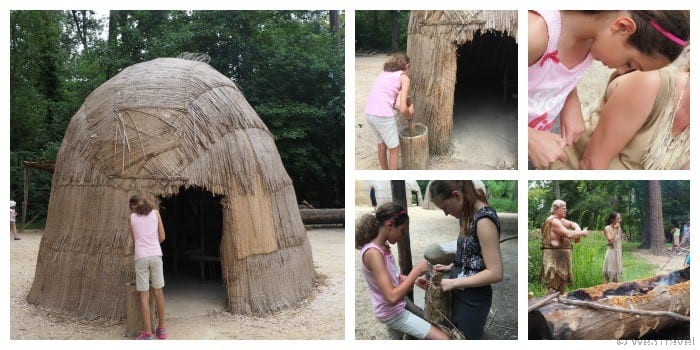 The village was designed based on archeological findings at a site once inhabited by the Paspahegh Indians, the Powhatan tribal group closest to Jamestown, and descriptions recorded by the English colonists. We were able to explore several houses and the household items inside, like mats, animal hides, arrows, tools, and pottery.
The site is staffed with friendly and helpful staffers dressed in period dress, which explained the Powhatan customs and gave us a chance to learn by doing. Hannah was able to weave a basket, carve a fishing hook, and grind corn. We were also able to observe a log being burned out and carved to form a canoe. We had so much fun in this area, it was hard to move on.
Following a path out of the village, we made our way down to a pier on the James River, where we found replicas of the Susan Constant, Godspeed, and Discovery ships, which brought the original Jamestown colonists in 1607. Here we climbed aboard each ship and asked questions of the interpreters about the ship, cargo, and the journey from England.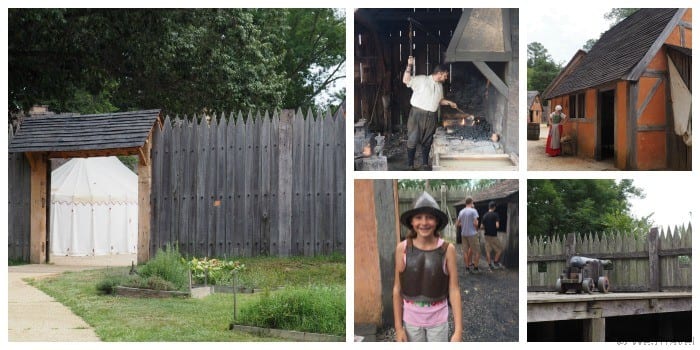 Our last stop outside was the re-created James Fort. The Fort recreates life in Jamestown from 1610-1614, a few years after the original fort was built. We looked inside the fort's buildings, including dwellings, an Anglican church, a storehouse, a merchant's house and a governor's house.
Since the Settlement offers special demonstrations throughout the day, like the making of a dugout canoe, ships artillery, woodworking, and more, we were able to see musket demonstrations and watch metal objects being formed at the blacksmith's forge (always a favorite!) There was even armor to try on for size.
We spent about three hours exploring the Jamestown Settlement, and could have easily stayed longer, so plan on at least a half day. If you want to take a meal break, the cafe at the Visitor's Center offers some tasty options, including chicken pot pie, cornbread, and other colonial favorites, in addition to traditional fare like pizza, hamburgers, and sandwiches.
If you have young children, they will definitely get more out of a visit to Jamestown Settlement than Historic Jamestowne. For older children, I'd recommend a stop at both.
Jamestown Settlement is located at 2110 Jamestown Road, Williamsburg, VA
Historic Jamestowne
Just a few minutes down the road from the Jamestown Settlement, you will find Historic Jamestowne. Run by both the National Park Service and the Colonial Williamsburg Foundation, Historic Jamestowne is the actual site of the original Jamestown fort and town.
While not as interactive and visually captivating as the exhibits at the Jamestown Settlement, Historic Jamestowne is where you go if you really want to see history being unearthed before your eyes. Literally.
In 2010, student archaeologists began probing the center of the historic James Fort near a slice of land located next to the statue of Captain John Smith. Soon, they uncovered postholes, partially revealing the church, built in 1608, where Pocahontas married John Rolfe in 1614.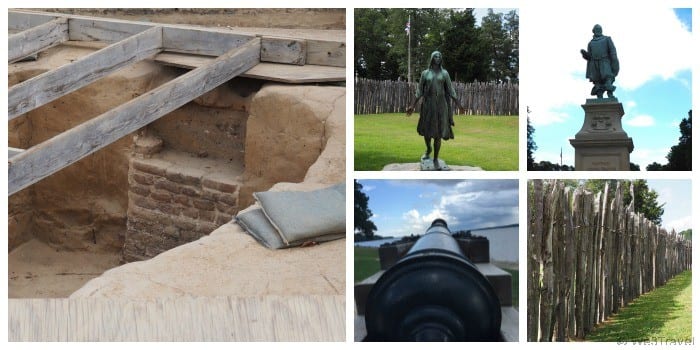 When we visited, they had not only outlined the entire church, but they had also discovered the graves of settlers which were known to have been buried inside.
Jamestown history is pretty gruesome, as starvation, disease and attacks from Native Americans threatened the colony. The brave men and women survived by any means possible, including cannibalism.
Archeologists recently unearthed a partial skull and tibia of "Jane," an estimated 14 year old girl that was a victim of survival cannibalism, as indicated by the chips to the cranium and cuts on the jaw and cheek bones.
As horrifying as this piece of history is, it is also fascinating that they were able to discover that "Jane" has consumed a European diet of wheat and meat and the layer in which she was found indicates that she arrived in Jamestown in August of 1609, just before the worst "starving time."
While there isn't much to see at Historic Jamestowne outside of archeology digs and crumbling structures t0 engage younger kids, older children and students of history will no doubt be fascinated by this violent and tragic history.
I'd highly recommend you join in on one of the daily archaeology tours (free with admission) to get the most out of your visit. We arrived a bit late to join in but we still found a docent inside the church and she spent at least 20 minutes with us, providing the background, showing us the active archeology digs, and filling us in on the history.
Visiting families can also encounter a settler through the living history programs, participate in a scavenger hunt, earn a Junior Ranger badge (booklet available for sale in the museum store), visit the Archaearium (archeology museum) and view more than 1,000 artifacts that have been excavated from the fort, or take a walk on the trails to observe bald eagles, turtles and other indigenous wildlife.
Once kids have gotten excited about the archeology digs taking place, they can follow along online with the Jamestown Rediscovery Project.
Historic Jamestowne is located at 1368 Colonial Pkwy, Jamestown, VA 23081
So which should you visit…Jamestown Settlement vs Historic Jamestowne? Why not both? You can easily squeeze them into one full day. If you have young children, they will probably enjoy just a visit to Jamestown Settlement as a nice add-on to a trip to Colonial Williamsburg.
Read before you go
To get your kids ready for a visit to Jamestown, you may want to check out some of the following books from your library before you go.
PIN THIS FOR LATER