Miami is a great travel destination because it works well for so many types of trips. It's perfect for a weekend getaway or a long, relaxing week on the beach. It's an ideal place to warm up in the winter or over spring break, but it's equally as fun in the summer, even when temperatures soar. Miami has even become a great cruise port to explore before embarkation.
Perfect for couples, singles, or for families traveling with children, Miami's cultural attractions and nature can be tailored to visitors of all ages and interests. If you decide to spend an upcoming vacation in South Florida, here are some things you shouldn't miss when sightseeing in Miami.
Ideas for Sightseeing in Miami by Neighborhood
Things to do North of Downtown Miami
Wynwood Walls
Home to some of America's most famous street art, Wynwood Walls makes for one of the most exciting experiences in Miami. Murals line many of the streets the Wynwood neighborhood and lead to Wynwood Walls, an open-air public art space with a great collection of modern art and additional murals.
Some of the art is lively, and some is brooding. Wynwood Walls and the Wynwood neighborhood itself are beautiful places to walk around during the day and the night. Guided tours are available or you could just explore on your own.
The neighborhood also offers some of the best and innovative restaurant options. It's well worth an entire afternoon and evening, as there's a lot of shopping at quirky places to be done, too.
Where to Eat in Wynwood
Kyu is an amazing Japanese fusion restaurant that specializes in wood-grilled items
Coyo Taco is a great, inexpensive spot for Mexican street food classics
Caja Caliente is famous for its Cuban-style tacos
El Patio is a lively, semi-open-air bar with reggaeton)
Midtown Creamery offers homemade, artisanal ice cream with vegan options
Little Haiti
Although best known for its massive Cuban diaspora, Miami is also home to a large Haitian community that originally grew around the area today known as Little Haiti. Like Little Havana, Little Haiti is best just for walking around or even shopping. It's also a great place to experience authentic Haitian culture and cuisine right in Miami, like at the Little Haiti Cultural Center.
Museum-goers will also find attractive options here, like the Haitian Heritage Museum and Miami's Institute of Contemporary Art, currently exhibiting some of Yayoi Kusama's work with limited free admission on a first-come, first-served basis on Thursdays. Just be aware that if you want to see Kusama's work you need to get tickets in advance or line up very early in the morning.
South and West of Downtown
Little Havana
The original home of Miami's famous Cuban diaspora, Little Havana is a great place to experience Cuban-American culture. Pay a visit to the American Museum of the Cuban Diaspora to learn more about the Cuban diaspora's lasting impact in Miami.
Calle Ocho, the main drag and most important street in the neighborhood, is home to a wide range of Cuban specialty stores selling traditional foods and goods, including cigars. It's worth exploring to get a good sense of the area, especially if you're visiting in March, around the time of Carnaval Miami, one of the largest Hispanic cultural festivals in the United States.
Where to Eat in Little Havana
While Miami has lots of great Cuban food in many of its neighborhoods, Little Havana is the most authentic place to sample Cuban classics, from traditional dishes and drinks to pastries and baked goods.
Little Havana's most famous spot is Versailles. The restaurant and the adjoining bakery are legendary for classics like ropa vieja (shredded beef), mojitos, flan (custard pudding), and tres leches (cake made with condensed milk).
La Carreta is another well-known option for great Cuban food.
The Vizcaya Museum and Gardens
Built in the early 1900s, the villa and gardens that once belonged to a prominent real estate mogul are now one of Miami's most beautiful attractions, located in laid-back Coconut Grove.
Set on the water, a visit to the museum and a walk through the gardens feels similar to a visit to the Breakers in Newport, Rhode Island, but with sunnier weather. The gardens as well as the walk to the museum can be family friendly with a little bit of research.
Miami Beach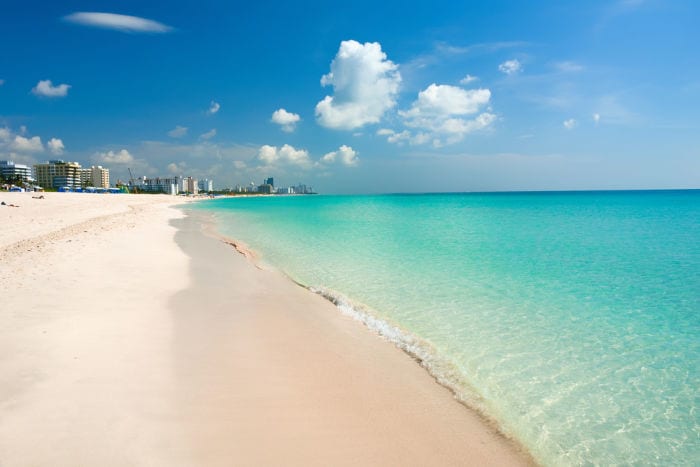 Lincoln Road Mall
One of the most iconic attractions in Miami Beach, Lincoln Road Mall is a fun place to do some vacation shopping if you're looking to do so. Shops range from more mainstream brands to higher end ones, with some specialized locations thrown in as well, like Laduree.
An outdoor mall, Lincoln Road Mall is basically a boulevard closed to vehicle traffic. Lined with palm trees, the mall has a nice ambience, and it's a perfect spot just for walking and exploring a bit of Miami Beach even if you aren't there for the shopping.
Collins Avenue and Miami's Art Deco Scene
Collins Avenue is another important stretch of Miami Beach that needs to be walked to get a sense of the area. Lined with some of Miami's most beautiful Art-Deco hotels like the SLS South Beach (dating from 1939) and the Delano (dating from 1947), Collins is an architectural gem that shouldn't be missed.
If you're really interested in the style, consider checking out Miami Beach's Art Deco Center. Many of these hotels and establishments are located in the neighborhood of South Beach itself, a crazy scene both by day and by night.
Jungle Island
Not exactly in Miami Beach, but not far away, Jungle Island is an interactive, eco-adventure park geared towards children. It's a great option for families looking for additional, kid-friendly activities in Miami.
Where to Eat in Miami Beach
Havana 1957 is an admittedly kitschy but excellent option for Cuban food
Dirt Miami offers innovative vegetarian and vegan health food
Sazon is another well-known Cuban option in North Miami Beach
Delano's Sunday Brunch is also quite famous
Breakdown of the Miami Beaches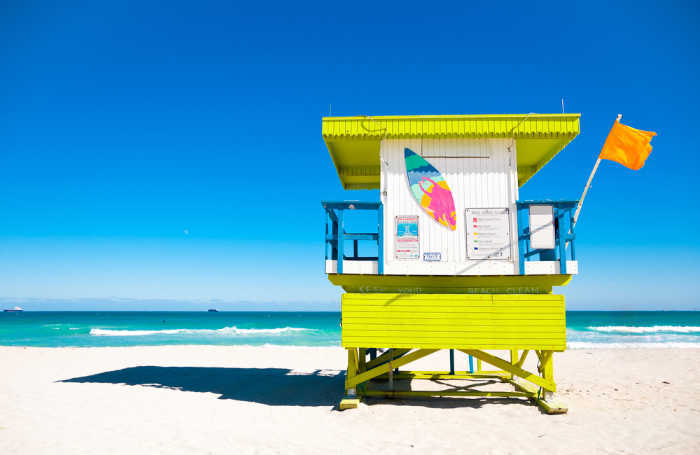 Beaches are probably the number one reason that people come to Miami. Deciding where to go to the beach in Miami really depends on whether you only want to experience one beach during a long stay and beach hop around Miami.
South Beach
South Beach is Miami's most famous beach. Of course this means it is crowded with people from all walks of life by day and filled with partygoers getting ready to hit up clubs near the beach by night.
While crowded, South Beach has a lot of spots to sunbathe since it is so wide, and it's great for swimming. South Beach is the place to go for experiencing quintessential Miami Beach culture.
If you don't mind a crowded beach with lots of music, then South Beach can be a great place to walk, relax, swim, or pass time however you desire. Many of Miami Beach's most famous hotels and art deco buildings are located on or near South Beach.
If crowds aren't your scene, though, South Beach (and its hotels) might not be for you. It probably isn't the best option for families, especially those with young children. South Beach is much more of a party vibe, and if that's not what you are looking for, then you should look elsewhere.
Mid Beach
Not far from South Beach, Mid Beach isn't as broad or as crowded as South Beach. Lined with fewer hotels than South Beach, Mid Beach has more condos and apartment buildings, as it's somewhere where older locals might tend to go.
Equally as nice as South Beach but certainly a lot quieter and much less crowded, Mid Beach is great for families and older travelers. Families looking to spend a lot of time in Mid Beach should consider booking a hotel or renting an apartment on Mid Beach.
Key Biscayne
More removed from the rest of Miami Beach is the quiet islet of Key Biscayne just to the south. Key Biscayne offers a secluded, village-like feel compared to the rest of Miami Beach, even though it's just a short distance from Downtown Miami over the Rickenbacker Causeway.
Made up of more condos and apartments than hotels, Key Biscayne can be a really great spot for a family-oriented vacation. The beaches are less crowded than South Beach and even Mid Beach, although they are a lot narrower and perhaps not as picturesque. Key Biscayne still is a great option if you're looking for a quieter, more secluded beach experience in Miami.
Water Sports
If you are looking for a fun, thrilling way to spend some time in Miami, booking a water sports activity might be for you. Each company usually operates a specific type of activity, like paddleboarding, jet skiing, sailing, and more, so it's best to book according to what appeals most to you.
If you're looking to sample everything at once, private boat tours with many different activities on board can be rented, although it's best to book these types of services in a group, as they can be pricey and a waste for groups that are too small. Highly rated Miami Watersports Paradise offers packages in addition to individual services.
Water sports can be great fun for families with children, but make sure to look out for age requirements, as some activities and packages have minimum age cut-offs for participation.
Ideas for Extra Time in Miami
Coral Gables
Located southwest of Downtown Miami, Coral Gables is a relaxing spot to add on a day or two to your visit to Miami. The Venetian Pool, a massive swimming facility created from a coral rock quarry in 1923, is a great place for families looking for a fun pool experience (though visitors should take note of holiday closures, daily admission quotas, as well as age and height restrictions).
Popular among golfers due to its numerous golf courses, Coral Gables is also a great place to visit the Fairchild Tropical Botanical Gardens.
Everglades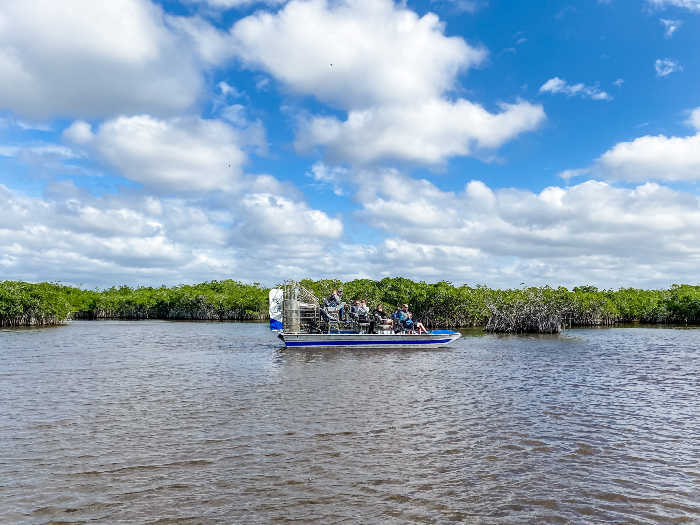 Looking to extend your stay to experience some more of South Florida's great natural beauty? A tour of Everglades National Park is great for outdoorsy people. The Eastern edge of the Everglades is just under an hour's drive from downtown Miami. S
ome of the common attractions in the National Park like the Gator Park can be toured solo, but there are also many tours that offer activities like kayaking and airboat rides.
If you are looking to extend your trip, you may want to consider adding on a Florida Keys road trip or at least an overnight in Key West. Or, head up to Fort Lauderdale for the day to experience a difference beach environment.
Looking to hear more about what to do in Miami with kids? Be sure to listen to this episode of the Vacation Mavens podcast.
PIN THIS FOR LATER
Today's guest post is written by Max Levine. Max has been traveling with his family as long as he can remember. As a teen, he was the one planning vacations for his family and for himself, from researching airfare and railway tickets to crafting itineraries. Max has traveled extensively in both in the US and internationally and has also developed a penchant for writing. As a Georgetown student, Max hopes to continue pursuing opportunities to travel and write both in college and beyond.