Last fall I attended a family travel conference where research was presented showing that families spend an average of $1585 on a family vacation. That seemed really low to me, even after hearing that only nine percent of families fly to their destination (those that fly spend a bit more.) For those that manage a family vacation for that price, I salute you. I don't know if you are camping or staying with family and friends but whatever it is, you are a rocking budget traveler. My friend Kim from Stuffed Suitcase has found that the average family vacation costs more like $4300 for seven nights. So for those of you that have a bit more to spend but are still not in the luxury travel strata, I've come up with five spring break destinations for a family vacation under $5,000.
Of course, prices can vary depending on where you live and when you have your spring break. To create an even playing field, I've based these ideas off of a family of four traveling from the Boston area for spring break. These are all destinations that are family friendly and offer a good value.
I also tried to go beyond some of the common spring break destinations like California, Myrtle Beach, Daytona Beach, Panama City Beach, Florida, amusement parks/theme parks and waterparks to avoid the college students and to help you think outside of the box. If you want more ideas or help booking a trip, be sure to check out my travel planning services.
One of my first steps in finding cheap spring break destinations is looking at the budget airlines in my area (see my recommendations on the best budget airlines for families) and where they fly that could make a good spring break vacation. So if these ideas don't add up for your home base in the same way, this is another way to start brainstorming. Also, if you have been collecting airline miles or credit card points, it is a good first step to figure out where you can use those miles and where those airlines fly from your home city.
Spring Break Destinations Under $5000
This post contains affiliate links. If you click a link and make a purchase, I may receive a small commission.
Washington DC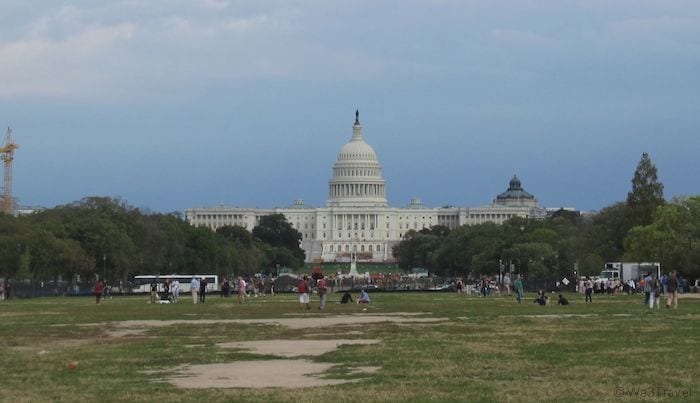 Washington DC pops up on a lot of spring break lists and that is with good reason. First of all — cherry blossom season! It has been my dream to visit Washington DC during cherry blossom season and this year we are (hopefully) going to make it happen. I just booked a short visit over Easter weekend. We were able to book The Darcy Washington, a Curio Collection Hotel, with a king bed premiere studio suite with a pull out sofa for $182 per night for a Hilton Honors advance prepaid rate (note: if you are not a Hilton Honors member, you can sign up for free to take advantage of member rates.)
While Washington DC is possibly driveable, to save time for a shorter trip we decided to fly. If you leave Wednesday and return Monday, you can find flights on Southwest as cheap as $156 round trip from Providence to Washington Reagan. You can also fly into Baltimore-Washington International, which is a Southwest hub and often part of their cheap $49 fare sales.
Luckily in Washington DC, so many of the museums are free, which makes it a great cheap spring break destination.
Here is my breakdown for a family of four:
Airfare from Providence to Washington Reagan: $624
Hotel (round up to cover taxes/fees): $225 x 5 = $1,125
Food: $200 x 5 = $800
Activities: $100
Miscellaneous (cabs, Metro, tips, etc.): $100
Total: $2,749
Gulf Shores, Alabama
Gulf Shores Orange Beach Alabama is a very family-friendly beach destination for spring break and they work hard to keep the partying spring breakers out. I've been there at the end of March/beginning of April and the weather was beautiful. As with all beach destinations, once you get there and pay for the hotel, it doesn't cost much to enjoy some beach time! Of course, one of the things that I love about Gulf Shores and Orange Beach is some of the fun things to do like sunset catamaran sails, dolphin cruises, kayaking and more. Plus, they have some of the best food around with fun venues like The Gulf, The Hangout, or Lulu's.
There are plenty of vacation rental options, but if you are looking for a family-friendly hotel right on the beach, the Hampton Inn & Suites is a good choice. Plus, I love a hotel that includes free breakfast! The biggest challenge for those of us in the Northeast is getting there as there aren't any direct flights. But if you look, you can find a deal.
Airfare from Boston to Mobile, AL: $503 x 4 = $2,012
Hotel: $220 x 7 = $1,540
Food: $160 x 7 = $1,120
Attractions: $300
Total: $4,972
Clearwater Beach, Florida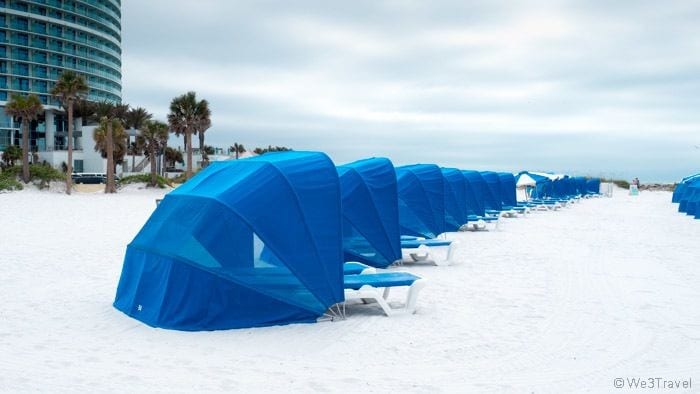 Clearwater Beach definitely has one of the prettiest beaches around and activity options like pirate cruises, dolphin tours, sunset festivals with free movies, and the Clearwater Marine Aquarium (home of Winter the dolphin.) There are many great family-friendly resorts in Clearwater, Florida. I have stayed at a couple on a recent press trip but if you are on a budget, the Residence Inn is a great choice. Not only does it include breakfast, but they are spacious suites just across the road from the beach.
Airfare from Providence to Tampa: $207 x 4 = $828
Hotel: $325 x 7 = $2,275
Food: $160 x 7 = $1,120
Attractions: $400
Total: $4,623
Punta Cana, Dominican Republic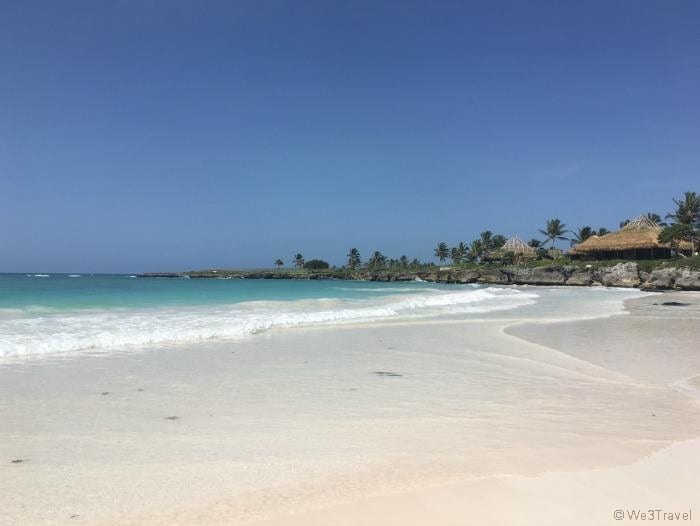 There is a reason why Punta Cana is such a popular destination. Its wide inventory of all inclusive resorts makes it a great budget destination for families. Plus, there are a number of direct flights from many destinations. There are so many all-inclusives that it can get a bit overwhelming as some are really not great quality and others are not family friendly.
The Dreams resorts are fairly reliable for families looking in this budget range. If you are willing to stretch the budget a tiny bit, a round trip, five-night, all-inclusive vacation to Dreams Palm Beach Punta Cana for four is $5,243.64 from Classic Vacations. If you want to go more upscale, I loved our trip to Eden Roc Cap Cana and you can also usually find great deals to Caso de Campo.
Martinique
Norwegian Airlines offers really cheap rates (as low as $59 each way — before bags and fees) from Providence and New York to Martinique, a French island in the Caribbean. This is a seasonal flight only offered through March. We recently won a trip there from Norwegian and Martinique Tourism, so that is where we are headed this spring break.
The tourism board is putting us up for three night at the 5 star La Suite Villa. We are then spending an additional three nights at Club Med Buccaneer's Creek, the most family-friendly resort on the island, an all-inclusive on one of the island's prettiest beaches.
Airfare from Providence to Martinique: $228.60 x 4 = $914.40
Club Med (5 nights): ($1,035 x 2 adults = $2,070) + ($724.50 x 2 children = $1,449) = $3,519
Transportation: $200
Total: $4,633.40
If you are interested in jumping over to Europe for spring break, make sure to check out these 15 European spring break ideas for families.
I'd love to hear about your cheap spring break destination ideas (and your budget saving secrets!) Leave a comment below with your favorite spring break destination!
Note: this was originally published in February 2018. Prices are subject to change and are to be used as a guideline only. Please research prices yourself before booking.
PIN THIS FOR LATER
SaveSaveSaveSaveSaveSave
SaveSave
SaveSave
SaveSave
SaveSave
SaveSave
SaveSave
SaveSave
SaveSave