After three trips to Gulf Shores and Orange Beach, Alabama, I've had a chance to explore much of this 32-mile stretch of beach along the Gulf Coast and experience some of the best things to do in Orange Beach. While visitors come from near and far for the gorgeous white sand beaches, if all you do is hang out on the beach or float in the lazy river at your resort, you are missing out.
Whether you are visiting Alabama's beaches on a family trip or a girlfriend getaway, you will find plenty to do beyond the beach.
There are a host of water sports, outdoor activities, and entertainment for families. After seeing and doing a lot of it, these are the 10 things that really stand out as the best way to spend your time and money while on vacation in Gulf Shores or Orange Beach.
Of course, one of my favorite things to do in Orange Beach is eat all the delicious seafood. Be sure to check my guide to the best restaurants in Orange Beach.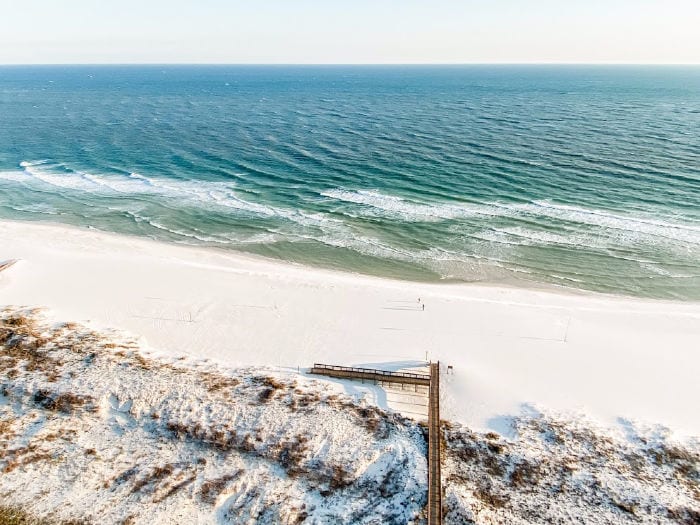 Things to do in Orange Beach
Note: My trips have been hosted in part by Gulf Shores and Orange Beach Convention and Visitor's Bureau for editorial purposes. Some activities have been hosted by the respective tour operator or business. All opinions are my own.
Sunset catamaran with Sail Wild Hearts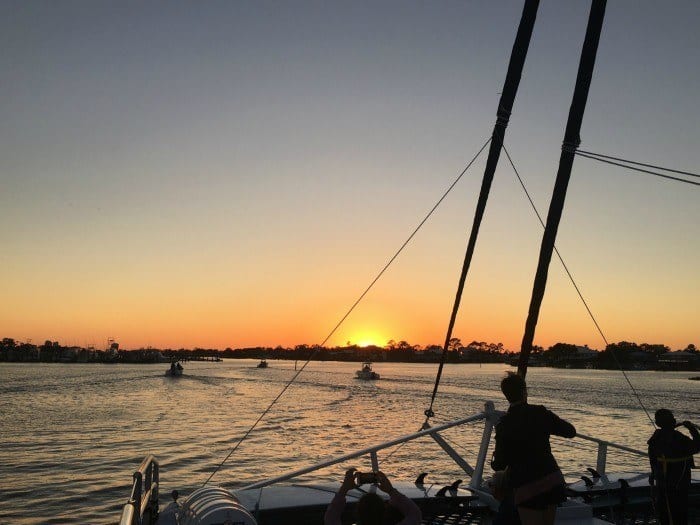 If I could pick just one splurge for your Orange Beach vacation, I would recommend booking a sunset catamaran cruise with Sail Wild Hearts. You will head out about 1.5 to 2 hours before sunset for a beautiful sail along the coast.
Along the way, you may see some dolphins frolicking near the boat and you will return just as the sun is dipping below the horizon. Water, soft drinks, and munchies are provided and adult beverages are permitted in small soft coolers.
Kayaking
Orange Beach is a fabulous place to go kayaking in the calm, clear waters of the intercoastal. Coastal Kayak Excursions will transport you out to some of the small islands via pontoon boat and then launch you on your way for a guided tour around Robinson Island or kayak rental.
If you are staying in Gulf Shores, you can also kayak through the lagoon and waterways with Down Under Dive Shop.
Ride bikes at Gulf State Park
There are many options for scenic bike rides in Gulf Shores and Orange Beach. The Hugh S. Branyon Backcountry Trail system goes past freshwater lakes, coastal swamps and wetlands. Along the way you can spot deer, otters, birdlife, and even alligators. Bike rentals are available at the shop at the Rosemary Dunes trail head.
Gulf State Park also offers 28 miles of paved bike trails 28 miles of paved in the 6,100 acre state park. Bring your own bike or borrow one for free with the new bike share program.
Enjoy beach time
Gulf State Park has two miles of beaches, along with a spacious campground, and a eco-friendly new new Lodge and Conference Center. There are paid public lots along the coast, with some of the largest at Gulf State Park.
Alabama's beaches are public, with access points along the coast to enjoy the white quartz sand and blue-green Gulf waters. Of course it is best if you can rent a place right on the beach, like the luxury vacation rentals at Turquoise Place.
You can swim, parasail, jet ski, or just enjoy long walks on the beach and hours spent building sand castles.
Listen to live music at the Flora-bama
Gulf Shores and Orange Beach have many fun beach bars like The Hangout and Tacky Jacks, but the most famous is the Flora-bama. This roadside honky tonk draws huge crowds both young and old. With multiple bars and multiple bands, you can find a room with a vibe that works for you.
Keep in mind that it is adults only at night and if you are looking for something a little more refined, try the Yacht Club or Ole River Grill across the street, which also offer great sunset views from the deck.
Eat a cheeseburger in paradise
If you want a fun day and a great meal, head to Lucy Buffett's LuLu's in Gulf Shores. Way more than a restaurant, LuLu's offers all sorts of entertainment from a ropes course to an arcade to a sand and water play area for toddlers. Adults will enjoy the live music, great drinks, and delicious food.
Allergy families will appreciate the attention to detail Lucy Buffett offers with a separate allergy menu. Everything is good — from the smoked fish dip to the fried green tomatoes. But I would recommend the Pa-Menna burger with pimento cheese, bacon, and topped with a fried green tomato. I can't say for sure, but I wouldn't be surprised if it inspired Lucy's brother's song Cheeseburger in Paradise.
Shopping and fun at The Wharf
The Wharf is a shopping, dining, and entertainment complex in Orange Beach. There are bars, coffee shops, restaurants, boutiques, and entertainment options like a Ferris Wheel, axe throwing bar, mini golf, movie theaters, and even zip lining.
One of my favorite spots was High Cotton Bath Co., where you can design your own fragrance and make your own bath products. A perfect activity for an Orange Beach girls' trip.
Zipline with Hummingbird Ziplines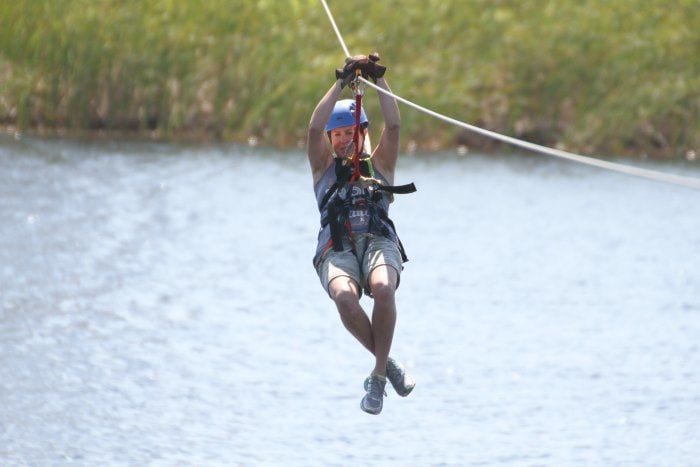 When I first visited Gulf Shores, I went ziplining at Gulf State Park with Hummingbird Ziplines. They have since moved over to The Wharf. There are eight ziplines running over 6,000 feet. The tallest is from a 115 foot high tower. This is perfect for active kids and teens that want a little adventure on their laid back beach vacation.
Relax at the spa
If relaxation is a priority for your vacation, be sure to book yourself in for a massage or facial at The Spa at The Beach Club down by Fort Morgan. Start off with complimentary mimosas, enjoy a variety of services, and finish up with a soak in the hot tub in the relaxation room.
Take a dolphin watch cruise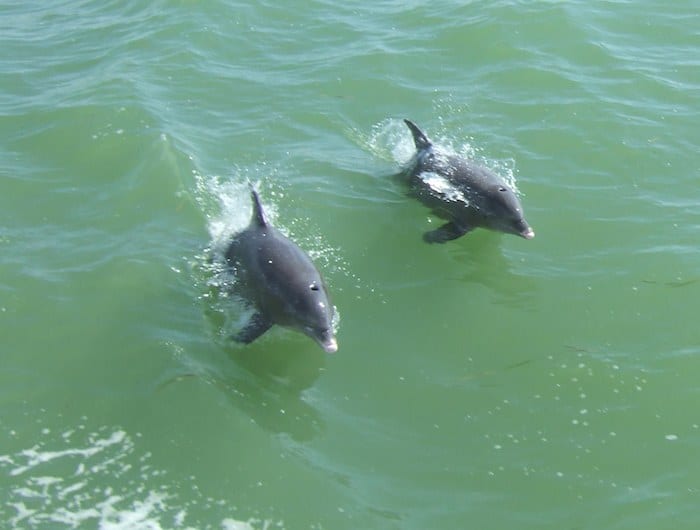 Whether it was in Key West, Captiva, or Orange Beach, getting to see dolphins always brings a smile to my face. If you have some animal lovers in your family, be sure to book a dolphin watching cruise on your vacation itinerary. There are plenty of options from smaller boats to larger "booze cruises."
Where to Stay in Orange Beach
Orange Beach is primarily a vacation rental town, although you will find a few hotels popping up including the Hotel Indigo and the new Lodge at Gulf State Park. But if you are staying in town for more than a couple of days, you will likely want to find yourself a spacious vacation rental. You can find some vacation homes in Gulf Shores, but the condo resorts offer amenities like indoor and outdoor pools, lazy rivers, and on-site dining.
I have stayed at:
Crystal Tower in Gulf Shores
Caribe Resort in Orange Beach
and my favorite, Turquoise Place in Orange Beach
Turquoise Place is right on the beach and offers multi-bedroom condos with gourmet kitchens, laundry facilities, and spacious balconies (some with grills and a hot tub) overlooking the Gulf. There are also indoor and outdoor pools, a lazy river, fitness room, and on-site daily activities.
Have you been to Gulf Shores and Orange Beach? What are your favorite things to do?
Save this on Pinterest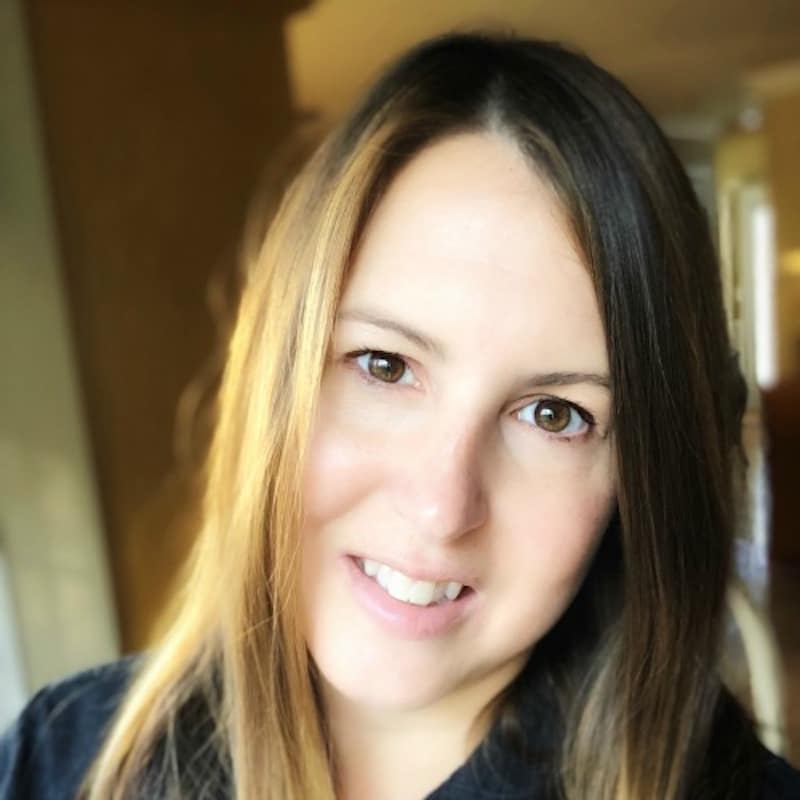 Tamara Gruber is the Founder and Publisher of We3Travel. A former marketing executive and travel advisor, Tamara is an award-winning travel writer and recognized expert in family travel. She is also the publisher of YourTimetoFly and the co-host of the Vacation Mavens travel podcast.