Since I first visited Orange Beach and Gulf Shores Alabama five years ago, I keep returning again and again. Granted, those white sand beaches are quite the draw. But honestly, I love the food just as much. I'm always pleasantly surprised by the new restaurants that keep cropping up, and I love returning to my favorite places to eat in Orange Beach as well.
It is good that there are so many things to do in Orange Beach, including biking, kayaking, sailing, and ziplining, because you need to work up an appetite. Get your hunger going so you can take full advantage of every meal at some of the best restaurants in Orange Beach.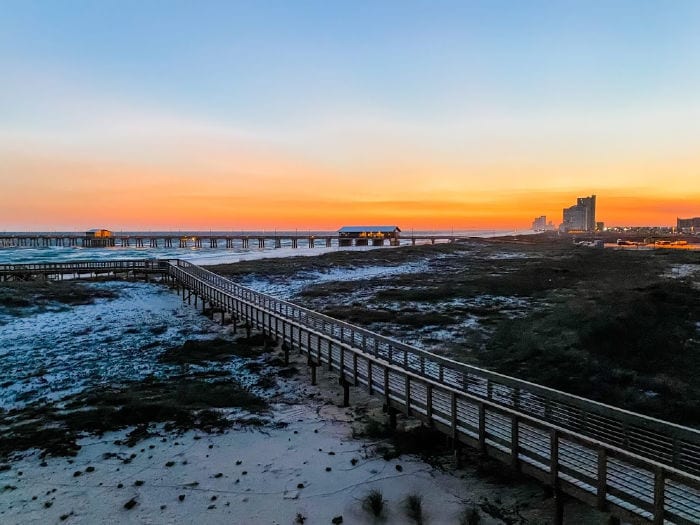 Must Try Foods on the Alabama Coast
I always like to ask the locals what the "must try" foods are in the area. The cuisine along the Alabama Gulf Coast is primarily seafood-focused, with a mix of Creole, Southern, and Key West influences. Asking around about what to eat in Orange Beach, I came up with this list, and I did my best to try them all.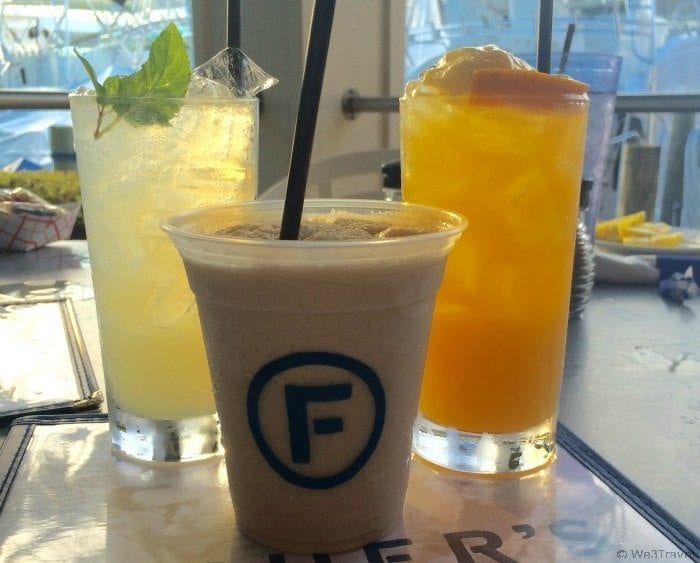 Bushwhackers – not technically a food, this drink could qualify as a dessert as it is a blend of rum and ice cream. Give them a try at Fisher's at Orange Beach Marina, LuLu's, and the Florabama bar.
Grouper – grouper is one of the most popular local fish, and I've had grouper topped with crab over risotto and grouper accompanied by local vegetables — all delicious.
Red Snapper – another popular local fish, you can find red snapper on just about every menu on the gulf coast.
Shrimp – fried shrimp, BBQ shrimp, shrimp gumbo…ok that sounds like a scene from Forrest Gump, but you will find your share of shrimp, especially many delicious varieties of shrimp and creamy grits. The shrimp and grits from Ginny Lane were actually listed as one of the 100 Dishes to Eat in Alabama Before you Die they are so good.
Oysters – there are a number of oyster farms along the Alabama gulf coast and you will find oysters of every variety on the menus. Expect them to be small and sweet. You will find them raw, grilled, fried, and broiled.
Crab Claws – blue crab claws are another Gulf Coast specialty, especially fried or BBQ style. I particularly loved the BBQ crab claws at Cosmos.
Wickles – I'd tried fried pickles before but never heard of wickles until I was on the Alabama Gulf Coast. These spicy fried pickles have quite a kick!
Key Lime Pie – I have tried quite a few versions while in town, some having a cheesecake consistency and others limier than others. I'm not sure I found a favorite – I need to go back and keep testing. So far nothing beats the chocolate-dipped frozen key lime pie on a stick I had in Key West.
Bread Pudding – bread pudding is another dessert that you'll find on most menus in Gulf Shores and Orange Beach in Alabama in different varieties. The white chocolate bread pudding at Ginny Lane is delicious, no surprise the recipe is so special it was willed to the restaurant by their pastry chef.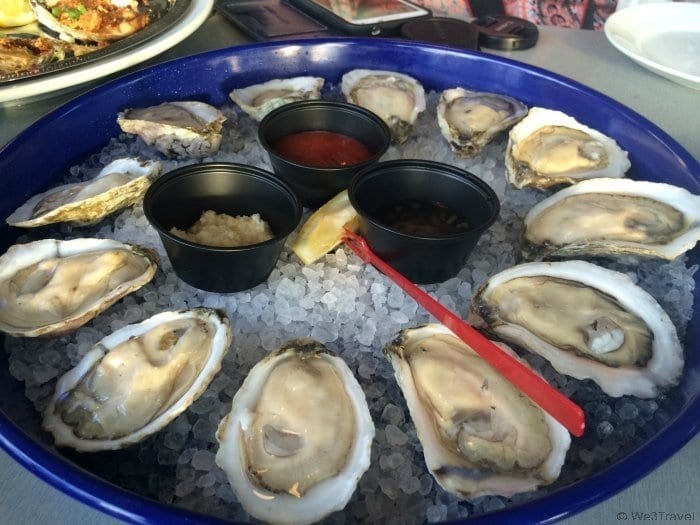 Best Places to Eat in Orange Beach and Gulf Shores
Note: I was hosted by many of these restaurants or by Gulf Shores Orange Beach Tourism for the purposes of facilitating this review. All opinions are my own.
Best Breakfast in Orange Beach & Gulf Shores
Brick and Spoon
Brick and Spoon is definitely the place to go for breakfast in Orange Beach. Not only were they recently named one of the Top Breakfast Restaurants in the U.S. by Travel + Leisure, but they also offer the most extensive build-your-own bloody mary menu I've ever seen with options for vodkas, vegetables, cheeses, meats, herbs, rims, spice, and garnishes.
If the cool modern design of the interior doesn't grab you, the food certainly will. My cornmeal-dusted soft-shell crab with poached egg, Canadian bacon, and creole hollandaise over an English muffin was so unique. The crispness of the crab with the softness of the egg and the saltiness of the bacon was a perfect match. I also couldn't get enough of the "Deviled on the Bayou" starter featuring cornmeal-crusted oysters on deviled eggs with Sriracha.
Brick and Spoon is located at 24705 Canal Rd, Orange Beach, AL 36561.
Ruby Slipper Cafe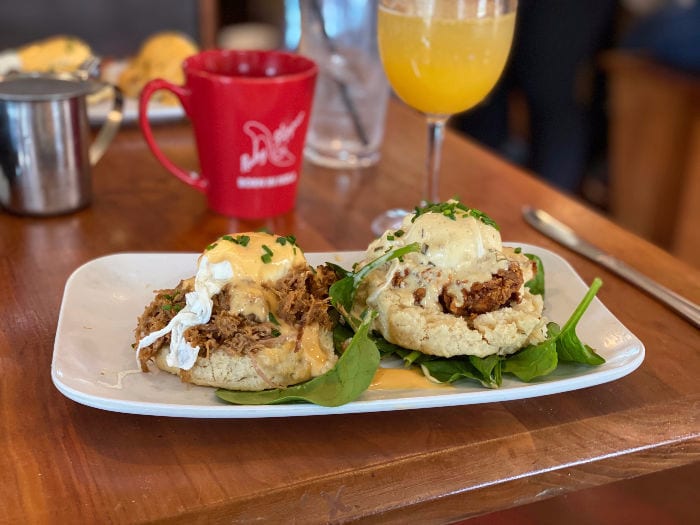 Ruby Slipper started in New Orleans and has since become immensely popular, expanding throughout the south including Orange Beach. Further north in Franklin, TN, you will find its sister restaurant, Ruby Sunshine. Specializing in breakfast and brunch, this is the place to be in the morning. To avoid waiting in long lines, be sure to put your name on the waitlist before you arrive using the Yelp mobile app.
The mimosas are large and so are the portions so come hungry and plan on skipping lunch. My favorite was the Chicken St. Charles Benedict, with small chunks of fried chicken over a homemade buttermilk biscuit, topped with poached eggs and a tasso ham cream sauce. Luckily if more than one option catches your eye, you can mix and match your Eggs Benedict options with the Peacemaker, and try two at once.
Ruby Slipper Cafe is located at 24151 Perdido Beach Blvd, Orange Beach, AL 36561.
Southern Grind Coffee House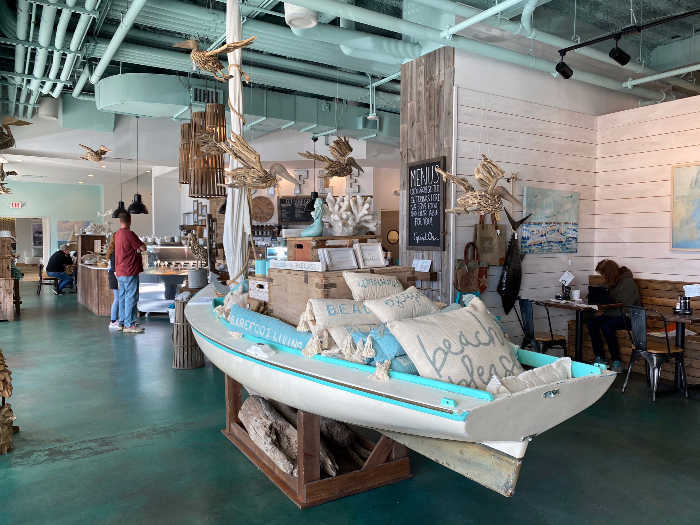 There are two Southern Grind locations in Orange Beach, one in Hotel Indigo and the other in The Wharf. Both offer coffee, breakfast, lunch, and gelato in a sunlit coffeehouse featuring modern beach house decor.
While Southern Grind offers healthy options beyond the biscuit, I couldn't resist trying the poached eggs and bacon over fried green tomatoes. Because…when in the south, right?
Southern Grind Coffee House is located at 22843 Perdido Beach Blvd.
Orange Beach, Alabama at Hotel Indigo and 4751 Main Street Suite 116
Orange Beach, AL 36561 at The Wharf.
Best Places for Lunch in Orange Beach and Gulf Shores
Fisher's Dockside at Orange Beach Marina
Whether it is Fisher's Orange Beach Upstairs or Fisher's Dockside, you can't go wrong. But the more casual Fisher's Dockside is a great option for lunch. First off let me start by saying how much I love the decor, which is accented with hand-carved table bases and handmade light fixtures.
Service at Fisher's is always phenomenal. I would recommend a duo of Cajun roasted oysters and Murder Point raw oysters. The crispy crab claws or boudin balls are also a nice lunch option. Fisher's boudin balls are breaded, fried, and served with homemade mustard and pickled peppers. The shrimp and grits are another winner at Fisher's Dockside.
Fisher's Dockside is located at 27075 Marina Rd #100, Orange Beach, AL 36561.
The Gulf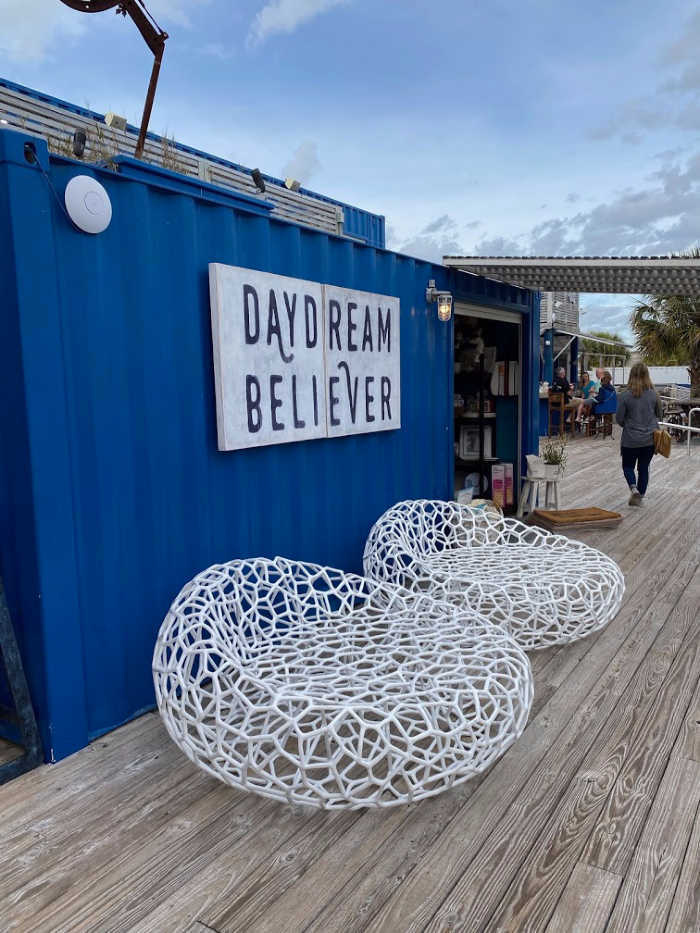 The Gulf is one of the coolest beach bars around. Made out of recycled shipping containers, The Gulf serves up fresh seafood and fish tacos, along with cocktails and craft brews with stunning views of the water. Grab a picnic table or hang out at one of the many lounge-like outdoor seating areas and plan to spend the afternoon enjoying the food, drink, and view.
The Gulf is located at 27500 Perdido Beach Blvd, Orange Beach, AL 36561.
Lucy Buffett's LuLu's Gulf Shores
Lucy Buffett's LuLu's Gulf Shores is more than just a dockside restaurant, it is an entertainment destination. LuLu's attracts big crowds but there is certainly plenty to keep you busy while you wait for a table. There are multiple bars to hang out at, a live outdoor music stage, an arcade, a ropes course, a gift shop, and a play area for young children.
While in Gulf Shores, I simply have to go and have a Cheeseburger in Paradise and while LuLu's offers plenty of options, I can't resist their specialty — the pa-menna burger. This burger is topped with fried green tomatoes, pa-menna cheese and bacon. The cheese has a garlicky flavor to add to the saltiness of the bacon and juiciness of the burger — paradise!
LuLu's Gulf Shores is located at 200 East 25th Avenue, Gulf Shores, AL.
The Hangout
The Hangout combines a beach bar with an entertainment venue for one good time! While I didn't get to sample the food at The Hangout, we did stop by for drinks and to enjoy some live music before dinner one night and it seems like the perfect spot for a fun afternoon or evening.
And the fun isn't just for grown-ups, there are family-friendly activities like the "bubble party", outdoor games, and even a sand pit. If you go, be sure to try the Shark Bite cocktail! Check out my friend Tammilee's post for more info on all there is to do at The Hangout.
The Hangout is located at 101 E Beach Blvd, Gulf Shores, AL.
Best Places for Dinner in Orange Beach and Gulf Shores
Fisher's Upstairs at Orange Beach Marina
Fisher's Upstairs at Orange Beach Marina is beautifully designed for elegant fine dining worthy of the Hamptons. Start with one of the mixologist's concoctions at the bar before settling into a delicious meal. It is no wonder that the chef was recently nominated for a James Beard award.
We had so many amazing dishes including grouper and strawberry shortcake cannolis, but the most exceptional was Oysters Earle — roasted Bon Secour oysters with garlic leek butter. It was truly a perfect bite.
Fisher's Upstairs at Orange Beach Marina is located at 27075 Marina Rd #300, Orange Beach, AL 36561.
Perch at Gulf State Park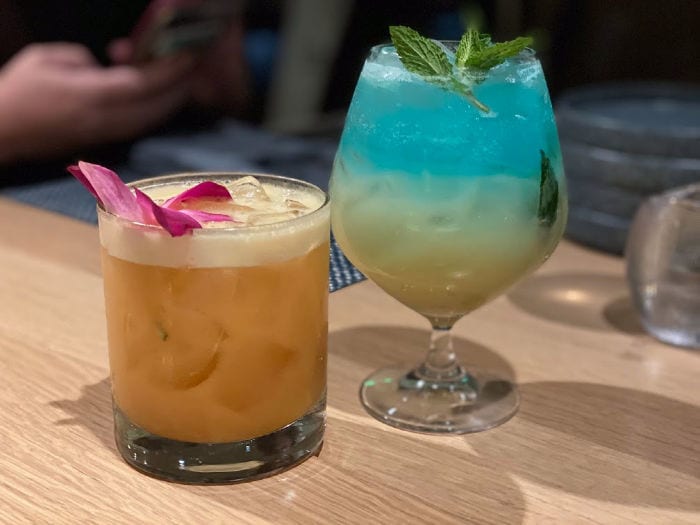 Perch is the perfect spot for cocktails while enjoying the sunset. Located next door to the recently opened Lodge at Gulf State Park, Perch features local ingredients and regional specialties. The second-floor large patio features fire pits and live music on many nights, for a fun but upscale sunset celebration.
Inside you can dine on the freshest ingredients from local fishermen and farmers including local oysters and creative cuisine such as Chiang Mai curry-crusted scallops with roasted Moroccan cauliflower, apple mint slaw, and red curry carrot.
Perch is located at 21196 E Beach Blvd, Gulf Shores, AL 36542.
Ginny Lane Bar and Grill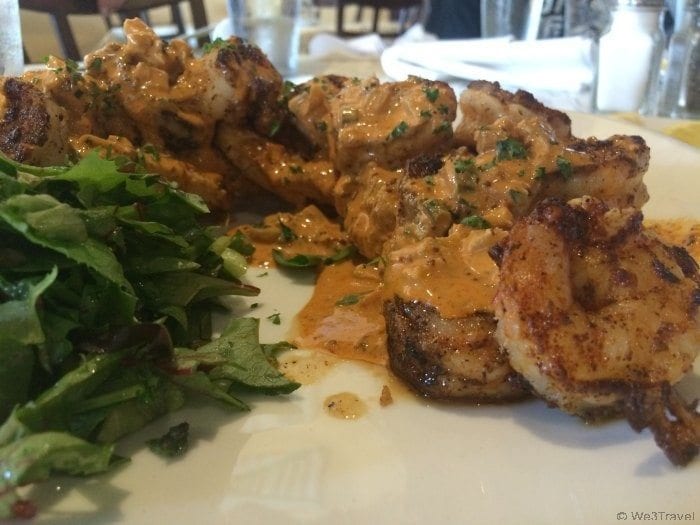 If you want to spend the evening enjoying the shopping and entertainment district at The Wharf, begin your night at Ginny Lane. The blackened shrimp and fried green tomatoes at Ginny Lane are exceptional.
The shrimp are perfectly done with just the right amount of heat. The tomatoes are crispy on the outside but so tender and juicy on the inside. But the magic of this dish was the remoulade. I'm always on the hunt for a good remoulade and I'll tell you if Ginny Lane bottled this stuff I'd order a case.
And as I mentioned earlier, you should make sure to leave room for their famous bread pudding!
Ginny Lane Bar & Grill is located at 4851 Wharf Parkway E, Orange Beach, AL.
Cosmos
This colorful restaurant features a blend of Southern favorites with eclectic global cuisine. I love the BBQ crab claw appetizer with rich creole butter. Alabama Food has named Cosmo's banana leaf-wrapped fish one of "the top 100 dishes to eat before you die."
Cosmos is located at 25753 Canal Rd, Orange Beach, AL 36561.
Safari Club
While you may not expect fine dining in a zoo, you also don't need to enter the Alabama Gulf Coast Zoo to eat at the Safari Club. Recently named Alabama's first green-certified restaurant, the Safari Club features global cuisine with an African flair.
The Safari Club actually reminds me a lot of Tiffins in Disney's Animal Kingdom, because of the decor and atmosphere. The food ranges from empanadas to chicken satay, to generous cuts of steak or wood-fired pizzas. There is surely a dish to suit all taste buds.
Safari Club is located at 20499 Oak Rd E, Gulf Shores, AL 36542.
PIN THIS