A recent study conducted by the Family Travel Association in conjunction with New York University found that 55 percent of parents with children under 18 don't take all of their paid vacation days. The number one reason given? Affordability of vacations. This made me want to tackle this issue head on with one of the most popular family destinations — Florida. So let's talk about how to plan a family trip to Florida on a budget.
And when I say "on a budget", I realize that every trip has a budget. Some are $2,000 and some are $20,000. But for these purposes I'm going to look at a limited budget that is reasonable and practical — offering family fun while not going so far as to require couch surfing or camping in someone's back yard.
Planning a Budget Family Trip to Florida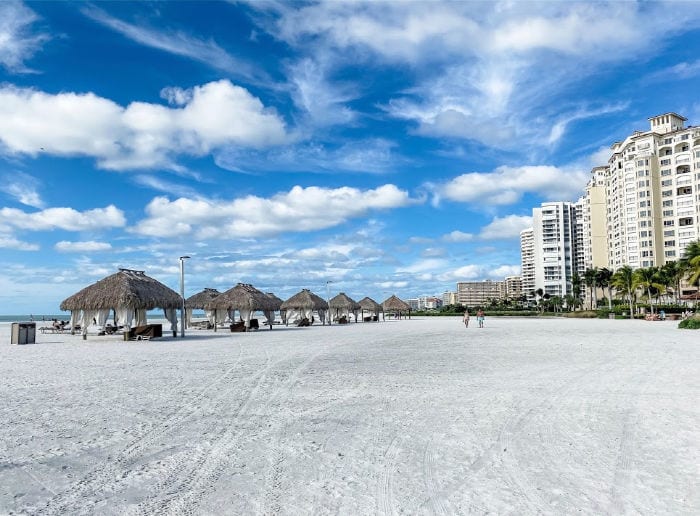 Since often a big chunk of the vacation budget is the transportation cost of getting there, transportation costs also play into where to go. For example, if you can find a cheap flight to Orlando, it might pay to go there versus flying to a smaller airport like Panama City.
If you are driving to Florida, you may want to look at the Panhandle and places like Destin or Fort Walton Beach. Of course you have a lot more flexibility when you are driving versus flying, although some destinations will eat into your time more due to distance.
The major airports in Florida are:
Orlando, which services central Florida and over to the Space Coast/Daytona Beach on the East Coast
Fort Lauderdale, which services south Florida including Hollywood, Delray Beach, and Boca Raton
Miami, which services Miami up to Fort Lauderdale and down to the Florida Keys
Tampa, which services Tampa, St. Petersburg, Clearwater Beach, Anna Maria Island, Siesta Key, and beyond
Southwest Florida Airport, which services Fort Myers, the barrier islands including Sanibel Island and Captiva Island, Naples, and Marco Island
Map of Main Florida Airports
There are plenty of other options, including Jacksonville, which is great for getting to places like Amelia Island and St. Augustine, West Palm Beach, Pensacola, and Northwest Florida Beaches Airport. Options are just a bit more limited for direct flights to these airports unless you live in a hub city like Charlotte, Atlanta, or near BWI. And smaller airports with connecting flights tend to get a little pricier. The definite exception can be flying Southwest into Jacksonville, as I've found some good deals on that route in the past.
So let's start by looking at where you get fly to in Florida on a budget.
Finding Affordable Airfare
Luckily, Florida airports are well-serviced by budget carriers and some of the larger hubs also have competitive rates from legacy carriers. Let's look at a few examples.
Spirit Airlines
Love them or hate them, Spirit Airlines offers affordable fares, especially if you aren't particular about your seat assignment and pay for the add-ons like luggage when you book. Spirit has over 40 direct flights to Orlando, over 50 direct flights to Fort Lauderdale, about 15 nonstop flights to Fort Myers, over 20 nonstop flights to Tampa, and 3 nonstop flights to Jacksonville.
Frontier Airlines
Frontier is another low cost carrier which, especially with its "Kids Fly Free" deals, offers great value to families. Frontier offers direct flights into Fort Lauderdale, Fort Myers, Orlando, Pensacola, Jacksonville, Miami, Sarasota, and West Palm Beach.
Southwest Airlines
Southwest also can offer competitive fares with over 30 nonstop flights into Tampa, over 40 into Fort Lauderdale, over 40 nonstops into Orlando, 20 into Fort Myers, and even 10+ into Panama City Beach/Northwest Florida Beaches.
The first step would be to consider what airlines fly out of your home airport and see which offer direct flights at affordable prices. Keep in mind that if you can be flexible with your dates and times, you will be able to save money. Signing up for fare deal alerts or using services like Dollar Flight Club also help you take advantage of great fare sales.
Receive Low Fare Alerts for Flights with Airfarewatchdog
Finding Affordable Accommodations
Once you have decided where you can fly to within your budget, then it is time to find an affordable place to stay. Of the various airports we discussed above, you are going to find the most options for affordable accommodations in Orlando.
Although if you are headed to Orlando, you may then be tempted to splurge once your kids realize they are so close to Disney, Universal Orlando, and Legoland. Of course, even some of the off-the-beaten path Orlando attractions can get a little pricey.
To save some money but still have fun, I would recommend looking for an Orlando hotel with a great pool. Keep in mind that Kissimmee and Central Florida are also full of vacation rental homes. If you could travel with another family and share the cost of a vacation rental, you not only keep your costs down, you also have built in playmates for the kids!
Another alternative is to stay at a beach known for affordable lodging so that you can focus on beach and pool time, with just a few other paid activities scattered in. If you fly into Orlando, it is only an hour drive over to Cocoa Beach or New Smyrna Beach, which are known to offer affordable accommodations. You could even split up your trip between Orlando and the coast to have a bit of beach time plus a bit of play time.
Flying into West Palm Beach or Orlando, you could head over to quieter, and affordable Vero Beach or Port St. Lucie on the Atlantic Coast.
If you fly into Tampa on the Gulf Coast, you can find great deals (and free activities) in Clearwater. You can enjoy the warm waters of the Gulf of Mexico and the soft white sand beaches.
And if you fly into Miami, head down to family-friendly Marathon Key in the Florida Keys for some laid back living in a vacation rental or traditional motel. Plan a day trip to Key West and hang out at Bahia State Park.
To find hotel deals in any of these destinations, I typically turn to the following:
Vacation home rentals – I search VRBO or look at the local tourism board's website for listing from local real estate agents that specialize in vacation rentals.
Hotels – for hotel deals, I tend to check for deals on Priceline, Hotels.com, or Booking.com.
For last minute bookings, I look on Hotel Tonight (which actually gives pricing up to seven days in advance). Get $25 off your booking with my referral code TGRUBER7.
You can also look for time share rentals by owner on sites like SellMyTimeShareNow or RedWeek. Just be sure to do your due diligence and use a platform that offers some consumer protections.
Be sure to read reviews carefully! On many of these platforms, you can also search for hotels that have money saving amenities like free parking, free breakfast, and free WiFi. Beware of hidden fees like resort fees and valet or on-site parking.
Saving Money on Activities
A little Internet sleuthing using blogs and Pinterest will give you a good idea of the things to do in your destination, and some ways to save money. These are my go-to resources for saving money on attractions.
Undercover Tourist – if you will be visiting theme parks or other attractions, you can usually find discount tickets to Disney, Universal, SeaWorld, Busch Gardens, and more using Undercover Tourist.
CityPASS – if you are visiting Clearwater, Tampa, or St. Pete, the Tampa Bay CityPASS includes admission to Busch Gardens, The Florida Aquarium, ZooTampa, Clearwater Marine Aquarium, and either the Museum of Science & Industry or Chihuly Collection and can save you up to 54% on admission.
Groupon – always check the local Groupon for deals on dining, attractions, and other local entertainment
Best of Orlando – if you are going to Orlando, Best of Orlando offers deals on theme dining, attractions, and activities like airboat rides.
AAA – if you are a AAA member, chances are you can get a discount at certain attractions. It never hurts to ask or look for the AAA symbol. Same can be said for AARP and other membership organizations.
Reciprocal memberships – if you are a member of a zoo, aquarium, or children's museum in your home city, check to see what reciprocal arrangements they may have with attractions in the area you are visiting.
Another way to save money on attractions is by booking online. So many waterparks, airboat tours, and other attractions offer discounts when you buy tickets or book online. You can do this in advance or when you arrive.
Also grab some of those brochures you find at visitors' centers or restaurants and see if you can find any coupon codes. It never hurts to do a Google search for "attraction name coupon code" or "attraction name promo code" and see what shows up too!
A final tip is to check out the website for the local tourism board (usually found by searching "Visit + Destination Name" or "Destination name + tourism board." Many offer discount passes or coupon booklets.
Last but not least, check the tourism website for articles on free things to do in that area, or search Google/Pinterest for "free things to do in destination name." You will find info on parks, museums, and other attractions that are free to the public — or at least free on certain days/times.
I hope that this gives you some ideas of affordable vacation destinations in Florida and ways to save on your family trip to Florida. If you are still having trouble finding the budget for a vacation, maybe this will help.
How to Win a Free Vacation
If you take the Family Travel Association's #TakeFamilyTime pledge, you will be eligible for a free, four-night stay for four guests at one of three FTA member Arizona dude ranches, including lodging, meals and activities.
PIN THIS FOR LATER