Planning a trip to Universal Orlando is not nearly as overwhelming as planning a Disney World trip, but there are still things it helps to know before you go. After visiting a number of times and assisting others with their trips, I've decided to share my top Universal Orlando tips with my readers.
We fell in love with Universal Orlando and the amazing theming in the parks, especially the Wizarding World of Harry Potter. Some families are die-hard Disney fans but for us, Universal is our favorite! With three parks and seven hotels, there are many choices to consider and decisions to be made. Be sure to read through these tips so you can get the most out of your visit.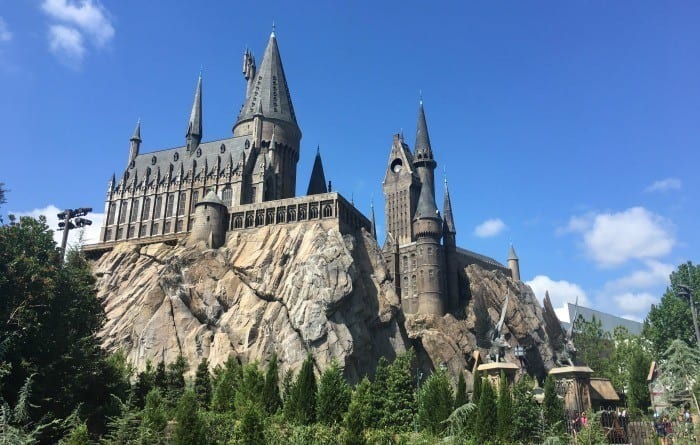 Top Universal Orlando Tips and Tricks
1. Stay on property
Staying on site in a Universal Orlando resort will get you free shuttle transportation to all the parks, early entrance to The Wizarding World of Harry Potter and Universal's Volcano Bay, and, depending on where you stay, other perks like Unlimited Express Passes.
Premier Resorts
The top tier, or Premier, resorts are the Loews Portofino, Loews Royal Pacific, and the Hard Rock Hotel. The Premier resorts included Unlimited Express Passes and Priority Seating at select restaurants.
Loews Portofino — keep in mind that this is a high-end, more elegant resort. Expect fine dining and opera in a more hushed atmosphere. Good for families that want a feel of Europe and a relaxed, low stimulation atmosphere.
Hard Rock Hotel — the vibe at the Hard Rock is much livelier, living up to the rock and roll reputation with live music at the pool (and even music under the water.) This hotel may appeal to Millennials, but kids also love the waterslide and parents love the proximity to the parks.
Loews Royal Pacific — the Royal Pacific offers the largest pool, but no slide, so more for swimmers and loungers than those looking for poolside entertainment. However, you can take the bridge over to Sapphire Falls and hop a water taxi or shuttle over to the parks.
Preferred Hotels
The Preferred hotels are the next tier, which now is just the Loews Sapphire Falls since Loews Royal Pacific was bumped up to Premier. Loews Sapphire Falls does NOT include Express Passes or Priority Seating, but you can still take a water taxi to the CityWalk and the Universal Theme Parks instead of a shuttle bus.
Loews Sapphire Falls— with a distinct Caribbean vibe, the pool at the Loews Sapphire Falls offers both a slide and sandy area. You can also find corn hole and table tennis nearby for entertaining little ones.
Prime Value Resorts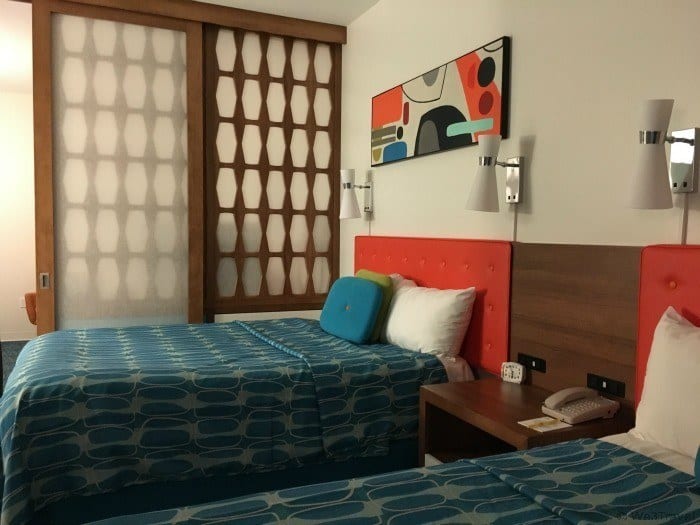 Next are the Prime Value resorts of Cabana Bay and the new Aventura Hotel. As the name suggests, these hotels are more value oriented and do not include Universal Express Passes. The bonus, however, is that both are within walking distance to Volcano Bay water park.
Aventura – Opened in 2018, the Aventura is a modern, stylish hotel within walking distance to the Volcano Bay waterpark.
Cabana Bay — This 50s-themed hotel offers tons of entertainment, from multiple pools, water slides, a lazy river, a fire pit and even a bowling alley. Just don't expect to find fine dining (but you can get a kitchenette!) (Read my full Cabana Bay review.)
Value Resorts
Universal now offers a new Value category with the opening of the Endless Summer Resort. This resort requires a shuttle bus ride to any of the parks or CityWalk. It is divided into two sister properties.
Surfside Inn and Suites – Opened in late 2019 and features a relaxed surf vibe with a beach feel. In addition to standard rooms, this hotel features 2-bedroom suites that sleep up to six, making it the perfect spot for larger families looking to save money.
Dockside Inn and Suites – Opening in March 2020, the Dockside is a larger hotel with two towers and two large pools, but also features family-size suites and standard rooms.
2. Figure out if you need Express Passes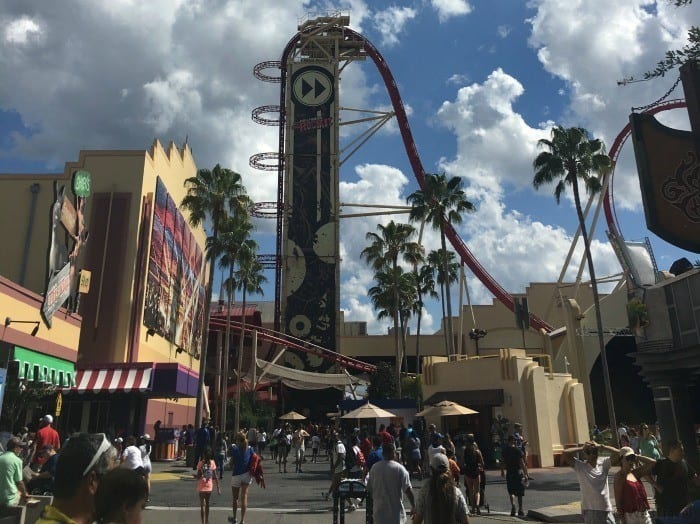 If you haven't been to Universal Orlando before, let me first explain what Express Passes are. Express Passes allow you to skip-the-line (or at least join the shorter Express Pass queue), similar to Disney's FastPass+ system except you don't book individual ride passes in advance.
Express Pass is used in Universal Studios Orlando and Universal Islands of Adventure (Volcano Bay has their own system.) Express Passes can be used on many — but not all — rides (unlike at Disney where you book 3 FastPasses and then can add more after that). They do not give you an assigned time, you can go whenever you want and join the shorter Express Pass queue.
With a standard Express Pass, you can only use it once per ride. With an Unlimited Express Pass, you can go back and use it as many times as you like. See which rides current offer an Express Pass queue.
Here is my tip — go through the website and see what rides you think your family would want to ride. Then, download the Universal Orlando mobile application. Start to look at the average wait times at different points of the day for the rides you want to go on. If the lines are usually longer than you want to wait, then an Express Pass is the way to go.
Just keep in mind that Express Passes are purchased in addition to your ticket, the price varies based on how crowded they expect the park to be on the day you are visiting, and you can always add on Express Passes while you are there (if they are still available.)
If you are visiting during a peak time, like a holiday break or long weekend, chances are you will appreciate paying extra to get Express Pass access. However, if you plan on spending a few days in the park, you may not mind spreading it out a bit and waiting a while longer.
The best way to get Unlimited Express Passes without paying a bundle is to stay at either the Loews Portofino, Hard Rock Hotel, or Loews Royal Pacific. Then Unlimited Express Passes for your whole family are included in your stay.
If you are a family of four or more, it will likely make sense to pay for the more expensive hotel and get the included Express Passes if you were going to get them anyway.
If you are a family of two or three, it may be cheaper to stay at a value resort and just purchase the Express Passes — but be sure to price out the differences.
3. Buy Park-to-Park Tickets (or not)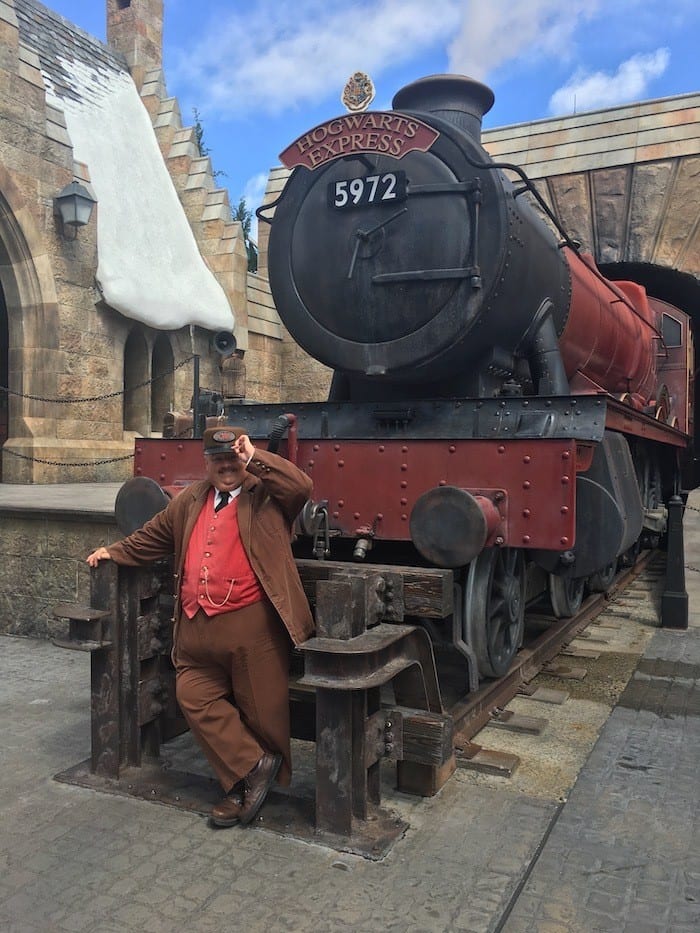 If you are a Harry Potter mega fan, or if you only have one day to spend in Universal, the Park-to-Park ticket is a must. The only way you can ride the Hogwarts Express between Universal Studios and Universal's Islands of Adventure is if you have a Park-to-Park ticket.
And, a Park-to-Park ticket lets you visit both parks in one day. Purchase discounted Park-to-Park tickets from our affiliate partner Getaway Today.
4. Don't over or under stay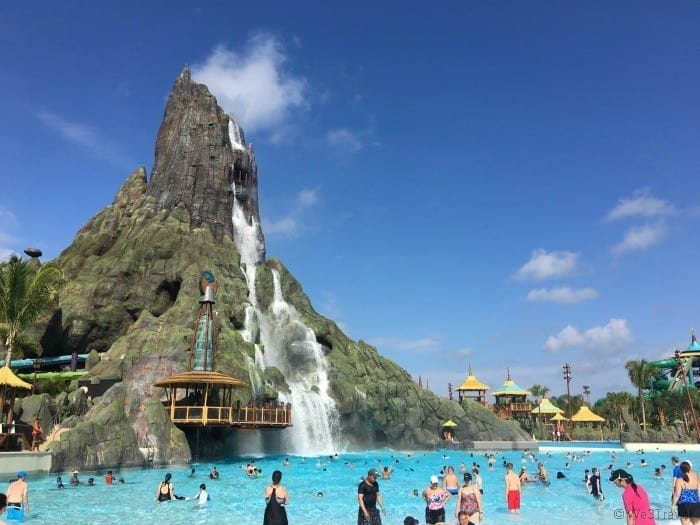 For me, the ideal Universal Orlando vacation would be three days, four nights. I would spend one day at Volcano Bay and two days at the other parks.
If you are not really into rides, you can do Universal Studios and Universal's Islands of Adventure in one day, especially if you have an Express Pass (and a Park-to-Park ticket of course.)
However, the upcharge in ticket price between a three-day, three-park pass and a four-day, three-park pass is less than $12…so you may just want to add on that extra day.
5. Think about when to go.
Summer is HOT and crowded, but we don't all have the flexibility in going in the off seasons. I was surprised that it wasn't crowded when we went at Thanksgiving, plus we got the benefit of seeing the park decorated for the holidays.
Plus, they have added new holiday decorations to the Wizarding World of Harry Potter and they will use projection to make Hogwarts sparkle. I'd love to see that!
There are also other special events like a Celebration of Harry Potter and Halloween Horror Nights.
If you do visit in the summer, just get there early in the morning, plan to cool off on the two water rides in Islands of Adventure or some of the indoor rides in Universal Studios, and be prepared for afternoon thunderstorms.
5. Book a package
If you book a package through a registered Universal Orlando travel agent, you may be able to get package discounts that may not be available booking direct online. (Let me know if you need a referral to a good agent!)
There are also exclusive package add-ons you can include such as transportation between Disney resorts and Universal. Others add-ons include dining plans, transportation, Blue Man Group tickets, VIP experiences and photos.
6. Consider a dining plan
The average lunch in Universal Orlando will cost you close to $20, but with the quick service dining plan you will get one quick service meal (including an entree and non-alcholic beverage), a snack (such as popcorn, ice cream or a non-alcoholic frozen beverage) from food carts or quick service locations, plus an additional non-alcoholic beverage for $24.49 per adult and $15.97 per child (at time of writing.)
Note: both restaurants in the Wizarding World of Harry Potter (Three Broomsticks and the Leaky Cauldron) are included in the quick service dining plan. You can also choose some days with the Full Service dining plan if you are going to be eating dinner or lunch in CityWalk and mix and match your plans. (See more Universal dining options.)
If you purchase a dining plan, you can also add on the Coca Cola Freestyle refillable, insulated cup. On our last trip, we did not do the dining plan, but we still purchased a cup for $14.99, which could be refilled throughout the day (although it won't allow you to refill it too quickly one after the other.) We still bought one and shared but if you are really thirsty, everyone might need their own.
7. Make dining reservations in advance
If you are doing a character breakfast, you need to reserve it in advance by calling 407-224-7554 (EST 7:30am – 10pm Mon – Sat; 7:30am – 9pm Sun) up to 24 hours before arriving to confirm the table or making a reservation on OpenTable.com.
Unfortunately not all restaurants take reservations but some do, like Emeril's for example. It is so nice after a long day walking around to NOT have to wait to eat. You may also want to check out my Universal Orlando dining reviews.
The restaurants within the parks that accept reservations online are: Mythos (Universal Studios), Finnegan's Bar & Grill (Universal Studios), Confisco Grill (Islands of Adventure), and Lombard's Seafood Grill (Universal Studios).
8. Reserve priority seating or cabanas at Volcano Bay
I talked about this in my Volcano Bay tips post, but if you want to reserve chairs or a cabana at the waterpark, you'll need to do this a minimum of two weeks in advance as they sell out quickly.
9. Arrive early
On-site guests get early entrance to both Volcano Bay and the Wizarding World of Harry Potter. I recommend getting to the gates before opening time. Many times they will let you into the park before official opening and you can be lined up and at your ride when the park officially opens. It helps to have reviewed the maps of the parks before you go so you know exactly where to head.
I'd recommend lining up for the wand choosing ceremony at Ollivanders as the line gets really long later. Plus, if you are one of only a few people in the first demonstration, you will have great odds that someone in your group will get "picked" for the ceremony. See all my tips for Harry Potter world.
10. Download the App
I'd recommend downloading the Universal Orlando mobile application so that you can check wait times and set alerts for when you favorite rides reach a certain wait time threshold.
11. Join the Jimmy Fallon Virtual Queue
Race through New York starring Jimmy Fallon, also uses some of the latest technology. This fun (and funny) simulator ride uses a Virtual Queue. You can join the queue from the mobile app and you will be assigned a time to show up. Simply scan your phone on arrival and in you go!
12. Eat dinner early
If you can't get reservations, the way to beat the crowds (in two ways) is to eat early. For example, we really wanted to go to the Toothsome Chocolate Emporium but knew it would be mobbed during prime dinner hours.
So, we had a light breakfast (we were in a hurry to get the park early), early lunch, and then an early dinner. We arrived around 4pm and had to wait about 15 minutes for our table. By the time we ordered and our food was served, it was nearly 5pm.
When we got back to the parks, the crowds had thinned and the wait times were much shorter than early in the day.
13. Visit Diagon Alley early (and late)
Diagon Alley can feel REALLY crowded in the middle of the day. Also, some of the interactive spells don't work as well in full sunlight (like the water feature over the bathrooms).
I like to be there either early in the morning and/or in the evening. I find there is a really special feel to Diagon Alley in the evening. The light adds to the magic and when the dragon breathes fire, it is even more impressive.
14. Ride Hogwarts Express both directions
If you have a Park-to-Park ticket, you should ride the Hogwarts Express in both directions as they are two different experiences. And don't miss the visual effect when people walking through the wall to Platform 9 ¾ in Kings Cross (see my video over on this post.)
15. Be smart about your souvenirs
I've written a post about the best Harry Potter souvenirs (and some fan favorites to buy before you go), which you should be sure to check out. Just keep in mind that they really add up (check out my budget post).
I'd recommend giving each kid a souvenir budget so they can make smart choices. Make sure you read about the best place to buy a Pygmy Puff.
16. Store your stuff
On many of the "big " rides, you can't bring on backpacks, purses, etc (like Gringotts and Forbidden Journey.) Universal offers free lockers for about the amount of time it should take you to get through the ride.
You need to store your stuff BEFORE you queue up and note that these locker rooms can be mad houses. First you need to go to a locker rental station and use your fingerprint to open a locker. You only have a few seconds to identify the locker and store your stuff. You may need two lockers if you have more than two day bags so two people should line up at the rental station. When you come off the ride, you need to go back to the same locker rental station to open your locker so remember where it is!
For rides like Harry Potter's Forbidden Journey, you will be dipped and tipped and jostled around so be sure to stow your hats, phones and other loose items. It is really tempting to bring your phone to take pictures inside Hogwarts and Gringotts but you have two options.
Either make sure you can later secure it in a zipped or buttoned pocket, or after the ride, grab your stuff and go back through to take a closer look (and just skip the ride.)
There are also paid lockers in different spots, like conveniently near Popeye and Bluto's Bilge-Rat Barges (where you will get totally soaked by the way!) But note that on the Barge ride, there is a storage area under a fastened down tarp to store phones, wallets and small bags so don't pay for the lockers if you don't need them.
17. Don't wear sneakers on water rides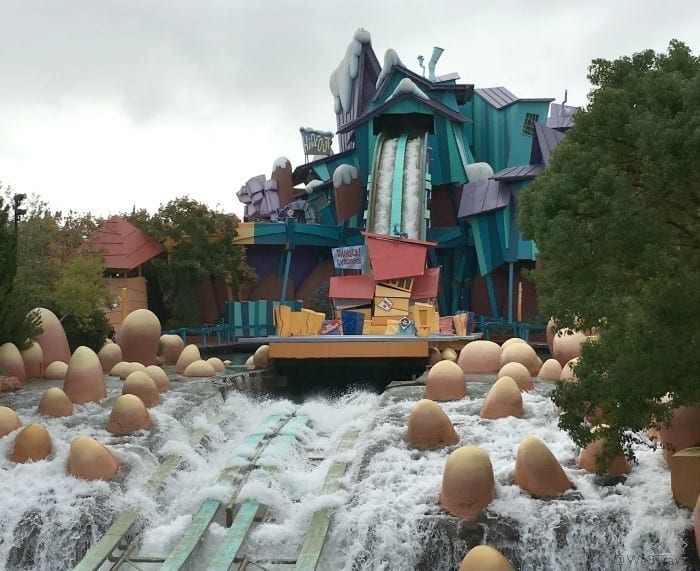 That seems obvious right? But on rides like Popeye and Bluto's Bilge-Rat Barges you will get soaked and you have to wear shoes. So even if you just bring a cheap pair of flip flops in your bag, switch out your shoes before the water rides. Oh, and there are "people dryers" if you really need them.
18. Not just for big kids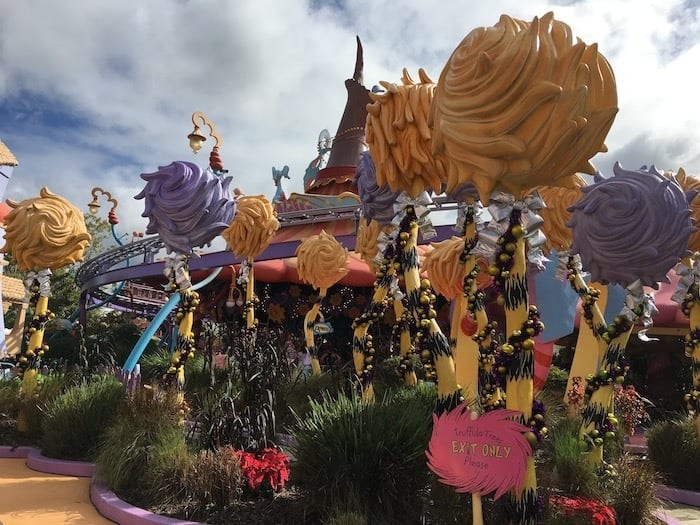 I know the Universal Orlando advertising targets families with "big kids" but even younger kids — or chickens like me that don't like rides very much — can still have a great time. So while people think Disney is for young kids and Universal is for teens, both work for both (see my teens favorite rides at Disney.)
First, Seuss Landing is like stepping into a dreamland, or the pages of a Dr. Seuss book. Little ones can enjoy time playing here while the "big kids" head off to the Hulk or King Kong.
Plus, the "big" rides offer a child swap option so the rest of the family can ride the ride while one waits with the younger one and then switch places when they get off without waiting in the long line again.
Of course, in my case it is more of a parent swap and I just walk through and enjoy the features of the queue and then wait for the kids to get off the ride. I also make an excellent bag holder.
19. Bring your own food?
If someone in your party has a food intolerance/allergies, you are allowed to bring in your own food in a soft-sided cooler bag in plastic containers (no glass.) Good news for allergy families! You just need to tell the guard at security that you have a family member with a food allergy.
20. Other ways to skip the line
Another way to "skip the line" is to join the no motion queue on some of the simulator rides (like Minions.) You won't feel any motion in these seats but you can still experience all the 3D effects of the ride, without the long wait.
Some rides may also offer single rider lines so if you are the only one that wants to ride the line, listen for them calling out for single riders and jump to the front of the line.
BONUS TIP!
My last tip for Universal Orlando is don't forget to download your Harry Potter photo scavenger hunt for Universal Orlando!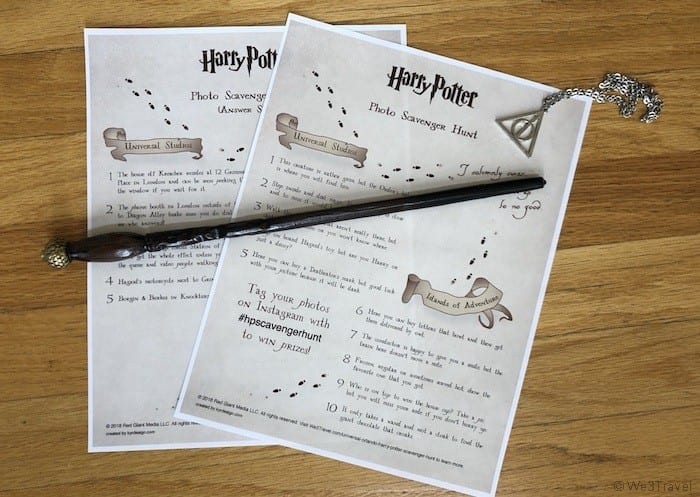 PIN THIS FOR LATER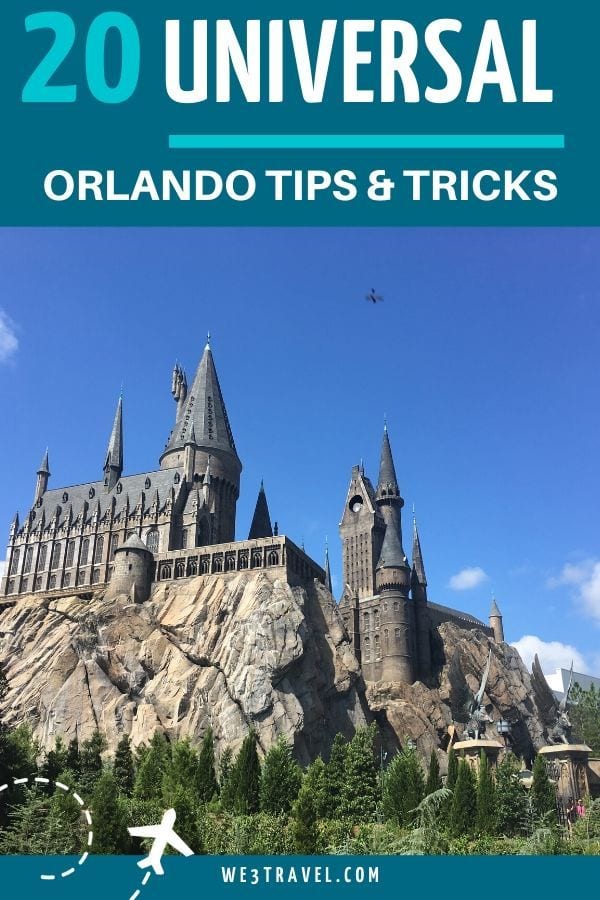 SaveSave
SaveSave
SaveSave
SaveSave
SaveSave