Are you heading to Universal Orlando? Are you a Harry Potter fan? Then I have a Universal Orlando Harry Potter scavenger hunt and photo challenge for you. As a major Harry Potter fan, we can't get enough of Universal Orlando's spot on theming. It always feels like we are stepping into the movie set when we visit. We especially love seeking out those spots that only true Harry Potter fans will fully appreciate.
Of course part of the fun is capturing photos of all of the too-good-to-be-real props and buildings that make it seem like you are a student at Hogwarts. Whether it is your first visit to the Wizarding World of Harry Potter or your tenth, this Universal Orlando photo scavenger hunt will make it extra fun!
Plus, to kick it up a notch, I'm offering a photo challenge. Post your photos from the challenge to Instagram with the hashtag #hpscavengerhunt and each month I will pick one winner to receive a $50 Amazon gift card (for U.S. residents only. Winners will be contacted through Instagram and need to provide their email or mailing address to receive the prize.) Have fun and good luck!
Printable Harry Potter Universal Orlando Scavenger Hunt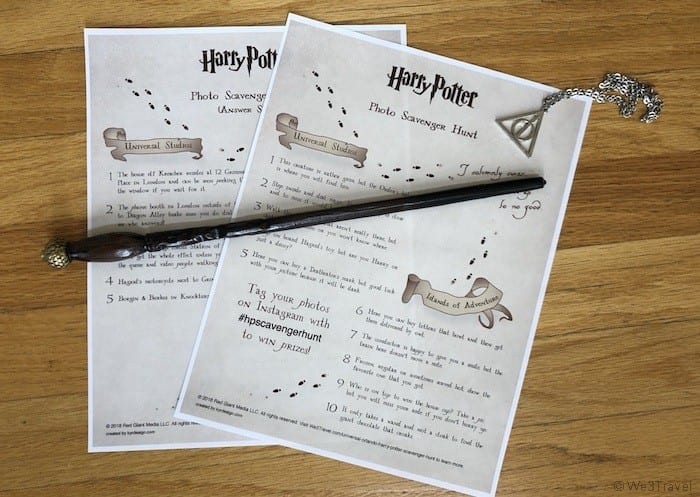 How to play
Solve the riddles and take a picture at each iconic location in Universal Studios and Islands of Adventure in Universal Orlando. If you want, post your photo to Instagram and use hashtag #hpscavengerhunt for a chance to win our monthly giveaway!
Just print out the clue sheet printable by clicking on the image or link below, or you can download it and save it to your device to reference while you are in the park.
Harry Potter Scavenger Hunt Printable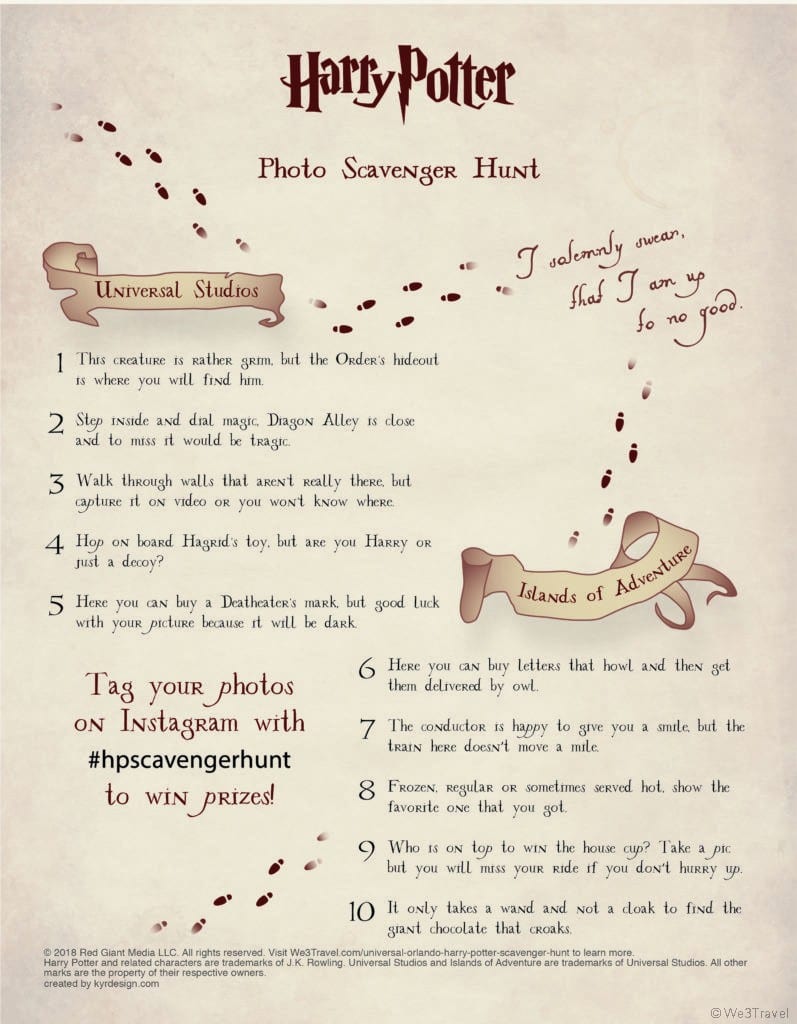 Download the Harry Potter Scavenger Hunt printable here.
Harry Potter Scavenger Hunt Clues
Islands of Adventure – Hogsmeade
Here you can buy letters that howl and then get them delivered by owl.

The conductor is happy to give you a smile, but the train here doesn't move a mile.

Frozen, regular or sometimes served hot, show us the favorite one that you got.

Who is on top to win the house cup? Take a pic but you will miss your ride if you don't hurry up.

It only takes a wand and not a cloak to find the giant chocolate that croaks.
Universal Studios – Diagon Alley & London
This creature is rather grim, but the Order's hideout is where you will find him.

Step inside and dial magic, Diagon Alley is close and to miss it would be tragic.

Walk through walls that aren't really there, but capture it on video or you won't know where.

Hop on board Hagrid's toy, but are you Harry or just a decoy?

Here you can buy a Deatheater's mark, but good luck with your picture because it will be dark.
Need help?
If your little witches and wizards are having trouble solving the clues, you can also download our cheat sheet of photo scavenger hunt locations throughout the park. Good luck!
Download the Harry Potter Universal Orlando photo scavenger hunt hints and locations cheat sheet here:
[plan-trip]
Want some additional advice for planning your trip to Universal Orlando?
[/plan-trip]
PIN THIS FOR LATER
Note: This is not officially associated with Universal Orlando or Harry Potter, all trademarks are property of their respective owners.
SaveSave
SaveSave
SaveSave
SaveSave
SaveSave
SaveSave
SaveSave
SaveSave
SaveSave
SaveSaveSaveSave
SaveSave
SaveSave