There is always something new and exciting opening in Orlando and this June it is the recently-opened Margaritaville water park — Island H20 Live! Located next to the Margaritaville Resort Orlando and just minutes from Disney in Kissimmee, Florida, Island H20 Live! has some unique features that set it apart from other Orlando water parks.
Island H2O Live water park is all about integrating technology to pump up the fun, making it a great option for families with tweens and teens. But don't worry, there is plenty of fun for all ages.
Margaritaville Water Park: Island H2O Live! Review
Note: We received complimentary admission to the water park as part of a media preview day, which coincided with our stay at the Margaritaville Orlando Resort. All opinions are my own.
I recently visited Orlando with my teen daughter and her friend, on a mission to explore some of Orlando's activities beyond the theme parks. We stayed at the newly-opened Margaritaville Orlando Resort (see my full review here.) I knew I wanted to build in one day to visit a water park in Orlando, so the opening of Island H2O Live! was perfect timing and we were happy to get an invite to the media day.
Island H2O Live! is within walking distance from the hotel (about a 5 minute walk) or they will shuttle you over to the entrance. Island H2O Live! is within the resort property that includes the Margaritaville hotel and Sunset Walk entertainment district. However, you don't need to be a guest of the hotel to visit the waterpark.
In fact, even guests need to purchase admission tickets. As of the opening, daily tickets are $49.99 + tax ($42.99 + tax for seniors or kids under 48″). You can save $5.00 a ticket if you purchase in advance online. Locals, especially residents of the villas at the Margaritaville Resort Orlando, may also want to look into annual passes, as two visits more than pays for itself.
Smart Bands & Island H2O Live! App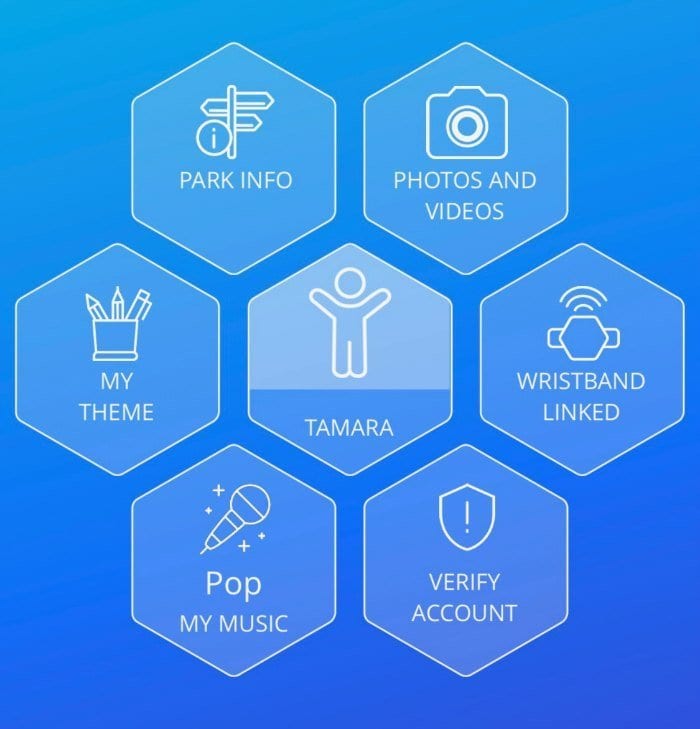 As I mentioned, the thing that sets Island H2O Live! apart from other Orlando theme parks is the innovative use of technology. When you arrive, you are given a smart band to wear throughout the day. You link this smart band to the Island H2O Live! mobile app (it helps to download this before you arrive.)
If you are familiar with Volcano Bay's Tapu Tapu bands, you may think these are used for a virtual queue, but that is NOT the case at Island H20 Live! Instead, they are used to track location, personalize your experience, and connect to your account to capture photos and videos.
Make My Day Personalization
First up, you can set your music preferences. Some of the slides feature music and before you board, you scan your band and then your musical selection will play during your ride. Pretty cool, right? You can select from a wide array of genres. I guess it is no surprise that I picked the 80s.
Family & Friends
Next, you can link your band with family and friends. This is an amazing feature for parents! Once your kids' bands are linked to your app, you can see which section of the water park they are in at any time through the find friends feature on the app.
This makes it soooo much easier to track down your kids! After all teens and tweens don't need to be monitored every second, especially if they are with a buddy/sibling, but trying to find them in the lines and crowds can be nearly impossible at a waterpark.
This feature made my day so much more relaxing as I could hang out in the shade near the wave pool but check in with them from time to time. Plus, they will soon add a feature that will send an alert if your child leaves a designated area!
Photo Pass
You can also take pictures throughout the park at various Selfie Shack stations and, if you purchase a photo pass for your group, these are then added to your app and available to download.
Plus, when you ride the slides, if you scan your band on slides with a camera icon, it should also capture images of you on the slide and add them to your account. This didn't always work for us, but I'm sure they are just working out the kinks.
Park Perks
Another really cool feature at Island H2O Live! are Park Perks. Basically you earn points by doing various activities and rides. The more points you earn, the more prizes you can earn. From free snacks on up. You can use the app to see the points value for various rides, see the redemption values, and check your balance. It is a cool way for the park to incentivize people to ride different slides and manage park crowd control.
Island H2O Live! Rides & Attractions
The park is divided into seven or eight main sections. One of the other technology features that I enjoyed at the park were the large screens set up throughout each section, showing the approximate wait times for each ride. This allows you to make good choices about how you want to spend your day.
First up, you have the wave pool area, with plenty of seating in the shade. In the afternoon a live DJ rocks out the tunes at the wave pool, "Live! Lagoon". Small children need to wear provided life jackets and heights will be checked by lifeguards when entering the pool. If the frequent alarm signal of the start of the wave action is going to disrupt your chill, you may want to find seats elsewhere.
A good bet would be the adults only pool, "Private Domain." It is reserved for those 21 and up.
Between the wave pool and the adults pool you will find the Reply Racers. These are mat slides where you compete head to head to see who can get to the bottom first. Maximum weight is 300 pounds with a 42″ minimum height. This is also where you will find the drop slides including Drop Down and Live Streaming (300 lb max and 48″ minimum height for both.)
Beyond the adult pool, you will find the tube slides. The Downloader is a two-person tube ride that offers audio and visual playlist personalization. Follow Me Falls can be ridden solo or with a friend, and is more of a water coaster with a tall vertical wall. Reload Rapids is the third tube slide in this section, and features tight corners and turns for tons of fun.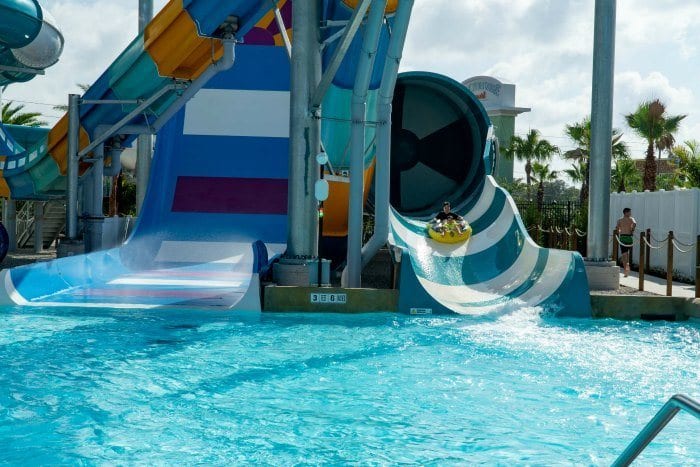 At the far end of the park, you will find the main thrill slides — Hashtag Heights and Profile Plunge (get the whole social media, technology angle?) Hashtag heights is a 3-6 person raft ride, but the more people the better because the weight makes it go faster. It features a boomerang with a steep drop that makes you feel weightless for a second before plunging back down.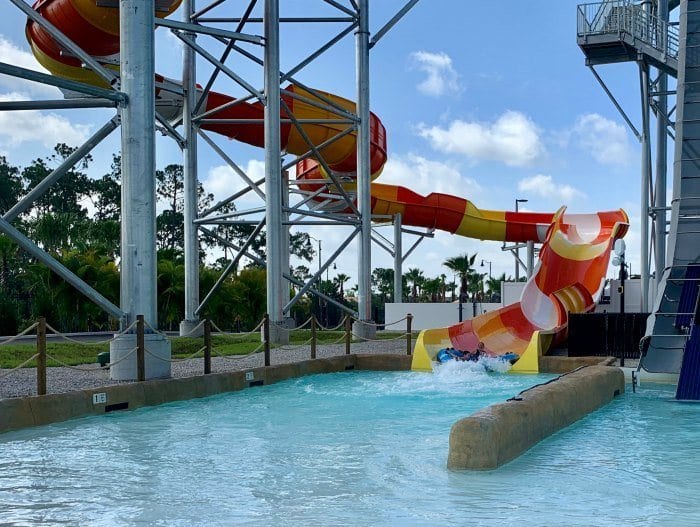 Profile Plunge is the other raft ride, and more my style. It fits 3-6 people and is fairly gentle with small drops and turns, including an enclosed section with a fun light show.
The littlest visitors (36″ minimum height requirement) will enjoy Candy Stripe Cove. This small area offers little slides and rides and areas for splashing.
In the middle of the park you will find the play area for younger tykes. Surrounded by the Chat Creek Lazy River, Pelican's Paradise offers slides, splash zones, climbing areas, and, of course, splash buckets. Nearby you will find Level Up, an area with in-water basketball nets and floating lily pads to climb across using the overhead rope net.
What you Need to Know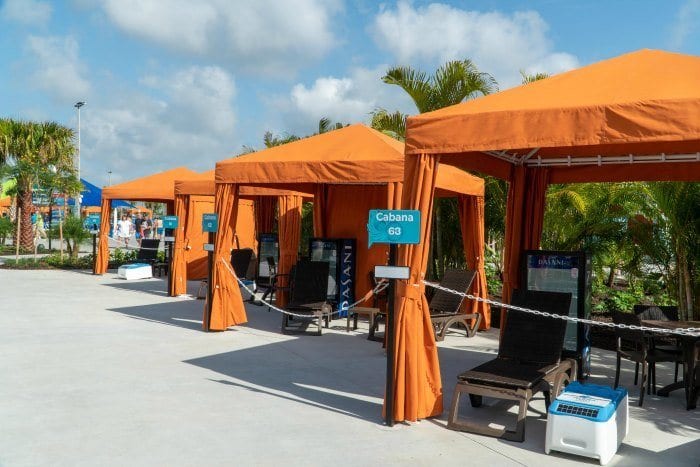 Lockers – lockers are available to rent and there are various sizes available for various prices.
Food – you will need to go through a security check and I don't believe coolers are allowed, but I was able to enter with my refillable water bottle and a few snacks. There are two main snack bars. Megabytes has a wide array of food, while Apps & Eats near the wave pool has a slightly smaller selection (like pizza and egg rolls). Adult beverages are also available at Tag Shack near the adult pool.
Beverage stations – there are CocaCola Freestyle machines near each snack bar. While the ice wasn't working on the day we went, you can refill your bottles or cups with water and ice for free. There are also refillable souvenir cups that you can purchase and use throughout the day.
Bring a towel – you can buy souvenirs at MEMEntos, but towels are not provided so be sure to bring your own.
Shoe cubbies – are provided in front of each of the main slide areas. Water shoes are not permitted on the slides.
Cabanas – there are a good number of cabanas available for rent as well. A standard cabana fits six people and includes food and beverage service, a refrigerator, four bottles of water, a table for four, two lounge chairs, a private locker, and charging station, starting at $99.99 for a weekday and $119.99 for a weekend. You can also reserve an adult cabana in Private Domain or a Cabana Suite, which fits up to 16 people.
I expected that we would spend half a day at Island H2O Live!, but we ended up being there for nearly eight hours. The girls both loved it and, even though it was opening day, the lines were never too long. That may change as word gets out but we thought Island H2O Live! was a perfect way to spend a day in the sun and water.
It doesn't quite beat out Volcano Bay for the best water park in Central Florida, but if you are staying in Kissimmee, this is a great option.
PIN THIS FOR LATER