The Margaritaville Resort Orlando brings a taste of island life to Central Florida. No passports are required, yet you feel like you are stepping onto a Caribbean island from the time you enter the resort. From the welcome rum punch to the beach theme to the endless loop of Jimmy Buffet over the sound system, the chill vibe puts you immediately in a vacation state of mind and makes it easy to forget that you are in the overstimulation hub that is the Orlando, Florida area.
We were really impressed by the decor at the Margaritaville Orlando Resort. So frequently hotels can take the beach theme too far. Not so here. It is beachy and chill, but with the taste and quality that you would expect at a 4+ star resort. The quotes from Jimmy Buffet songs scattered throughout the property remind you that you are in Margaritaville.
If you are looking for a fun place to stay near Disney or just an Orlando destination resort, read this Margaritaville Resort Orlando review to see if this is the right fit.
Margaritaville Resort Orlando Review
Note: This post contains affiliate links, if you click a link and make a purchase, I may receive a small commission.
Location. Location. Location.
Located in Kissimmee FL just off Highway 192, Margaritaville Resort Orlando is only 15 minutes from Magic Kingdom or Hollywood Studios at Walt Disney World Resort, and 10 minutes from Animal Kingdom. And it is only about 30 minutes from Universal Orlando theme park and all the other fun things to do in Orlando with kids. Keep in mind that the Margaritaville Resort is different than Camp Margaritaville.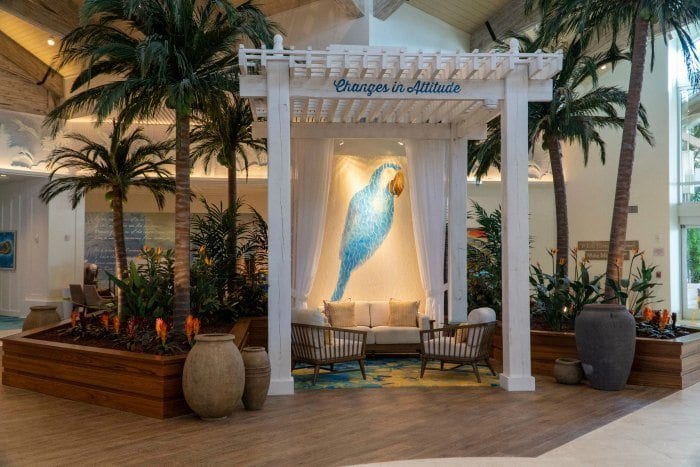 While this family-friendly resort makes a great home base for exploring the Disney Parks, there is enough to do on-site that you don't need to leave the property if you don't want to.
However, if you want to combine a visit with a trip to Disney, the hotel does offer a free shuttle bus to and from Disney's Transportation Center three times in the morning and four returns in the evening. There are also shuttles to Animal Kingdom, Hollywood Studios, SeaWorld Orlando, and Universal Orlando Resort. The shuttle is free, but you need to book it as early as the day before up until one hour before. See more information about shuttle services here.
Alternatively, you can take an Uber or Lyft to the Disney Parks for $10-15 (subject to change) each way. That's the way that we went to save on the fees for parking at the parks and the $20 per night parking fee at the hotel. Sixt Car Rental also has a desk in the lobby if you want to just rent a car for one day.
Rooms at the Margaritaville Orlando Resort
The Margaritaville Orlando Resort offers 265 guest rooms and suites spread throughout multiple buildings. Suites are also available, including the 2,400 square foot Jimmy Buffet suite, which has its own private kitchen and large terrace.
If you really love it, vacation cottages are also available with one to eight bedrooms, full kitchens, dining rooms, and living areas. Cottage guests have full access to the resort amenities and can choose from optional services including daily housekeeping and/or grocery delivery.
The rooms feature a casual-luxe beach decor, with large bathrooms featuring double sinks and a large walk-in shower. The rooms use a tranquil color palette with fun pops of color. All rooms have a balcony overlooking Fins Up Beach Club.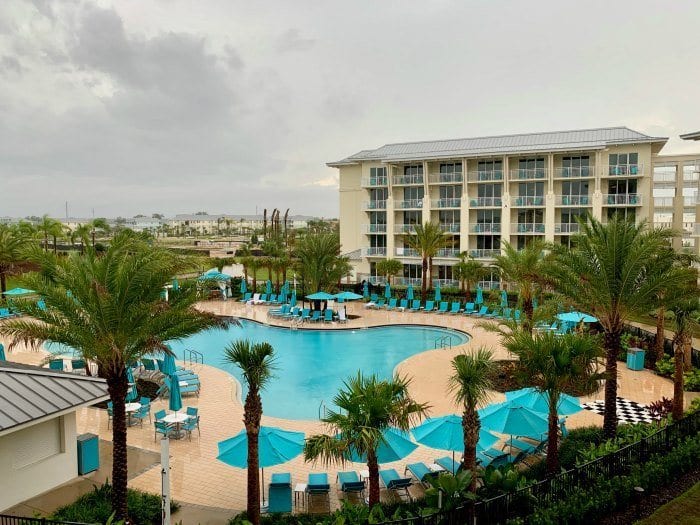 Families will enjoy the space and amenities such as the dorm-style refrigerator, coffee maker, in-room safe, flat-screen TV, a large closet, and even a robe. My only complaints were the limited outlets near the beds (although the in-room tablet did offer two USB ports) and that there weren't enough robes for everyone in the room.
They even offer the in-room amenity that makes this thirsty girl happy — complimentary water that was replaced daily.
Dining at the Margaritaville Resort Orlando
There are three main dining options on the property, but so many more at the adjacent Sunset Walk dining and entertainment district. On the property you have the following: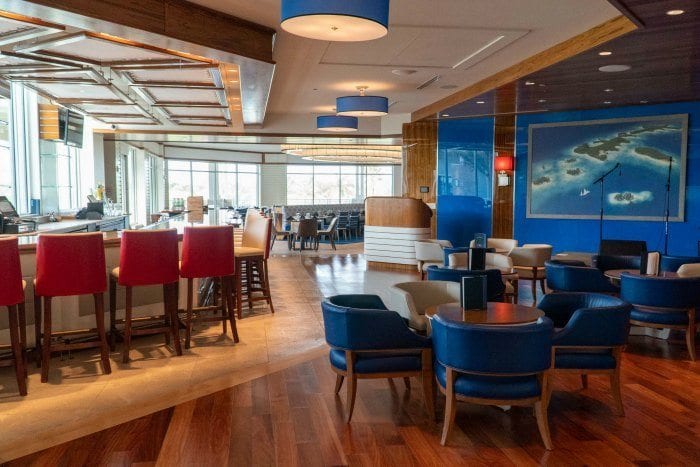 Euphoria Fish House: Euphoria gets its name from Jimmy Buffett's beloved yacht. This lounge and restaurant is off the main lobby and features fresh seafood and grill fare from the open-air kitchen. They also feature live music most afternoons/evenings. In addition to dinner, they also serve breakfast and dinner.
Provisions: also located off the main lobby, Provisions is a fast-casual restaurant offering grab-and-go options. This is your spot for morning coffee or smoothies when you are racing out to catch the shuttle to Disney. But if you want to stop by for lunch, they also have packaged salads and sandwiches, pizza, empanadas, Cuban sandwiches, and more.
Salty Rim Bar & Grill: located poolside, this bar is only open to guests. Margaritas are the main jam, but you can also get light bites and grilled favorites. Keep in mind that a cocktail is going to set you back $10-15 a pop.
Sunset Walk
Another nice thing about Margaritaville Resort Orlando is that they have also built out a dining and entertainment district, Promenade at Sunset Walk, within walking distance of the main hotel. Dining options include burgers, BBQ, Mexican, Asian, Brazilian Steakhouse, and more.
We spent our first night checking out Studio Movie Grill, where you can eat while enjoying a movie in a luxury recliner. There are twelve theaters in all, along with a bar/restaurant in the lobby. It was such a fun experience — and such a comfortable way to watch a movie!
Wasting Away (a day) in Margaritaville
Margaritaville Orlando Resort isn't one of those mega-resorts like the Atlantis, which can actually feel overwhelming. But that doesn't mean you will be bored — far from it. The resort offers three heated pools at the Fin's Up Beach Club, a spa, an on-site waterpark, and a shopping/dining district.
Fins Up Beach Club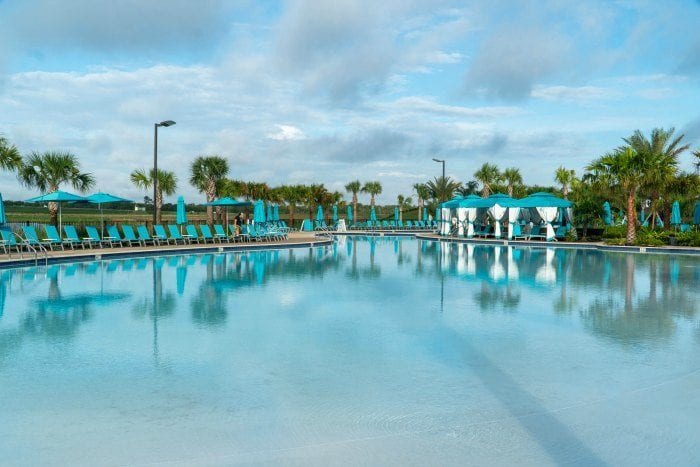 The Fins Up Beach Club is open to Margaritaville cottage owners and registered guests of the hotel or cottages. The Beach Club features warm lagoon pools, one with a zero-entry, and a beach. The heated pools are ringed with comfortable lounge chairs and palm trees. I particularly appreciated that there were small tables between every couple of lounge chairs, as those can sometimes be hard to find.
There are also full-service cabanas available to rent. Servers are on hand to deliver umbrella drinks and cheeseburgers in paradise. Beside the pool, you will find a life-size chess board, corn hole, and other games.
St. Somewhere Spa
The St. Somewhere Spa offers eight treatment rooms, a sauna, and a steam room. I was very tempted to spend an afternoon enjoying a "It's 5 O'Clock Somewhere" massage or "Stars on the Water" signature facial.
Island H20 Live!
Note: I was invited to a grand opening media event at H20 Live, which included complimentary tickets to the waterpark. All opinions are my own.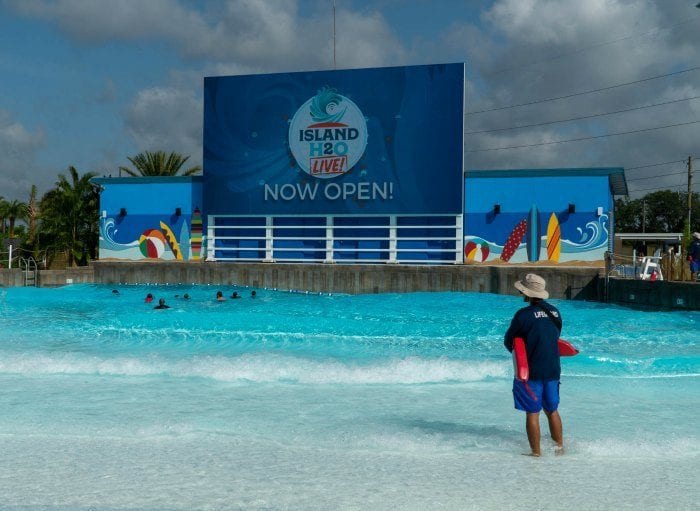 I wrote a separate post about our day at Island H20 water park, however, I can provide a brief overview here. Island H20 opened in June 2019 to much interest because of its innovative integration into technology. Island H20 offers nine different thrill rides, including drop slides, a wave pool, tube slides, and two raft rides.
Each guest is provided with a Smart Band to use throughout their day at the park. The Smart Band is linked to the Island H20 mobile app. Visitors can then utilize their app to customize the music that plays on some rides, link with friends and family so they can find them throughout the park, and view photos.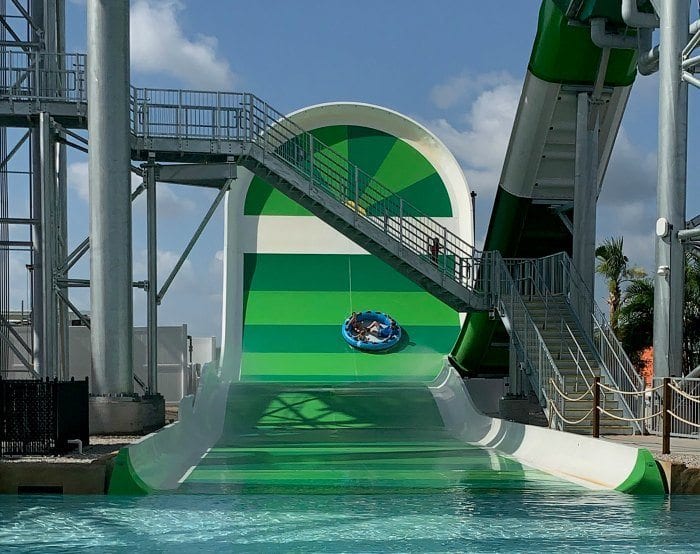 Guests can scan their band before getting on a ride, which will trigger music, lights, and/or photos or videos that are captured on the ride. There are also selfie stations set up throughout the park where guests can scan their bands and download photos through the app (family photo package required.)
Affordable Casual-Luxury in Kissimmee
We found the Margaritaville Resort Orlando offers good value, especially compared to expensive on-site Disney hotels. Just keep in mind that in addition to the typical taxes, they also charge a per-night resort fee on top of the nightly rate (it was $30 when we visited.) (Rates are subject to change, please check current rates.)
PIN THIS FOR LATER