The Atlantis Bahamas advertising, which seems ubiquitous here in the Northeast from November through March, make this mega resort look so enticing for a winter getaway. The water slides, pools, dolphin encounters, casinos, restaurants, and advertised "great deals" sound like a dream come true. After little debate and glancing at the Atlantis Bahamas reviews, we booked a room at the Atlantis Resort for a multi-generational family vacation over President's Day weekend.
Our extended family of 14, made up of four families with ages 4-70, booked a four night stay in the Coral Towers and flew in from Florida and Boston for the long weekend. Now I'll lay out the good and the bad in this Atlantis Bahamas review below, but let me start by saying that we all enjoyed our time together. I'm not going to bash the property with a negative review, but the adults all agreed that we wished we spent our money elsewhere.
That just means that we didn't fall in love with the Atlantis Bahamas like we have other properties, but it doesn't mean it isn't the right choice for YOU. However, if you are looking for a relaxing, laid-back, authentic Caribbean experience, don't go to the Atlantis. If you love cruises, mega resorts, water parks, and gambling then the Atlantis might be for you. Read on to find out.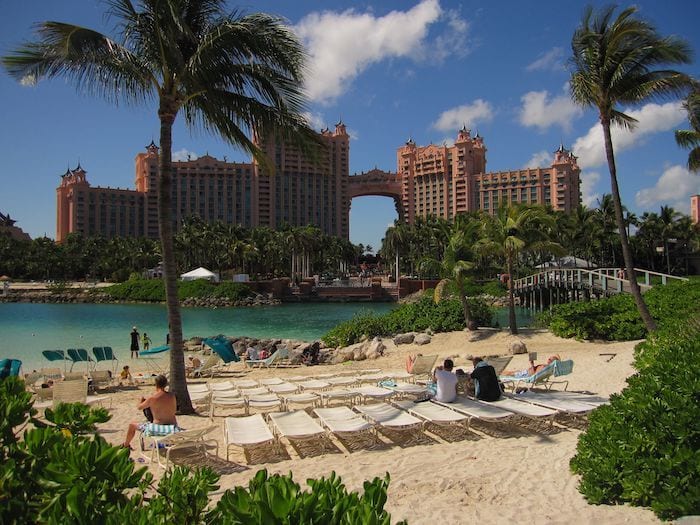 Atlantis Bahamas Reviews
I have done my best in this review to lay out the good and the bad about the resort, at least from our collective perspective. Of course these are our opinions and others may feel differently, so please take a look and make a choice for yourself. The comments below may also prove helpful in making your decision.
Let's start with the Good
The Waterpark
Included in a stay at the Atlantis is admission to their massive Aquaventure waterpark, which covers 141-acres with Atlantean-themed towers, water slides, a mile-long rapid river ride, 20 swimming areas, a kids water-play fort and 11 swimming pools. There is so much to do that you can stay busy all day.
You can float down the less-than lazy river, shoot through tubes underwater surrounded by sharks, slide through the dark, or splash down the baby slides. There were quite a few little ones in our group so we staked out chairs near the splash area, but close enough to the more thrilling slides to satisfy the older kids (and adults).
Everyone loved the time we spent at the waterpark, especially the thrill seekers. Although my daughter still holds a grudge about not getting to do one of the thrill slides because she wasn't tall enough (measured at home before we left she seemed to meet the height requirement.) The downside to the waterpark is the sheer size.
If you are traveling with younger kids, it is really hard to keep track of everyone. It is a lush environment, with pockets of chairs tucked into various areas around the different attractions. It makes for a much more pleasant environment than large rows of chairs, but it can make it more challenging for large groups to find chairs near each other (unless you get out there early) and it is very hard to keep eyes on multiple kids at once.
It is even challenging to keep eyes on kids when you accompany them to various attractions. For example, I took my young nephew to a smaller waterslide and watched as he waited his turn on the slide, but then had to run around to find where the slide emptied out and tried to find him in the crowd.
This is something to be aware of to make a plan on where to meet, how to handle if kids can't find you, and how they deal with strangers before you go. I would also highly recommend life jackets for younger children. Maybe sometime they will implement a location app like they have introduced at the H2O Live water park at the Margaritaville Orlando.
Marine Habitat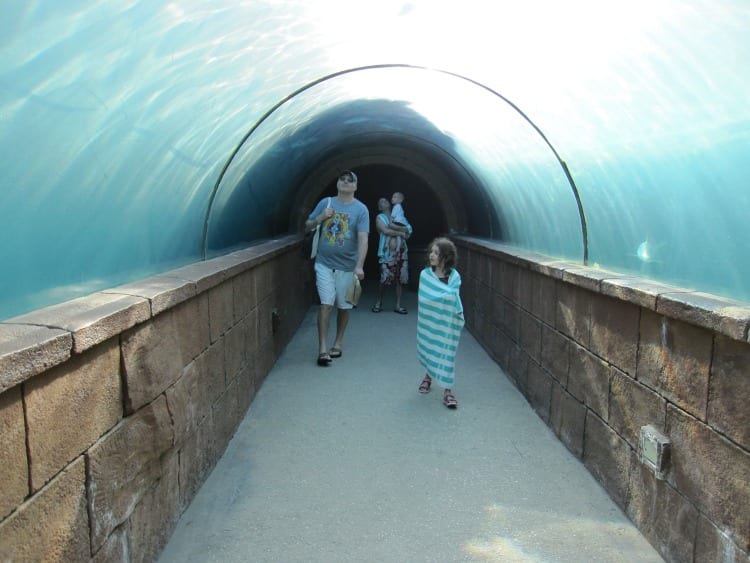 I think one of the reasons why the Atlantis is so expensive is to pay for the upkeep of their marine habitat. The resort offers 14 lagoons, eight million gallons of salt water and more than 50,000 aquatic animals representing over 250 marine species.
These exhibits are spread throughout the grounds with displays like The Dig (a psuedo-underwater archeological discovery featuring giant manta rays and other sealife), the predator tunnel (where you walk surrounded by the sea's scariest creatures), and a number of different lagoons offering stingray feedings and dolphin encounters.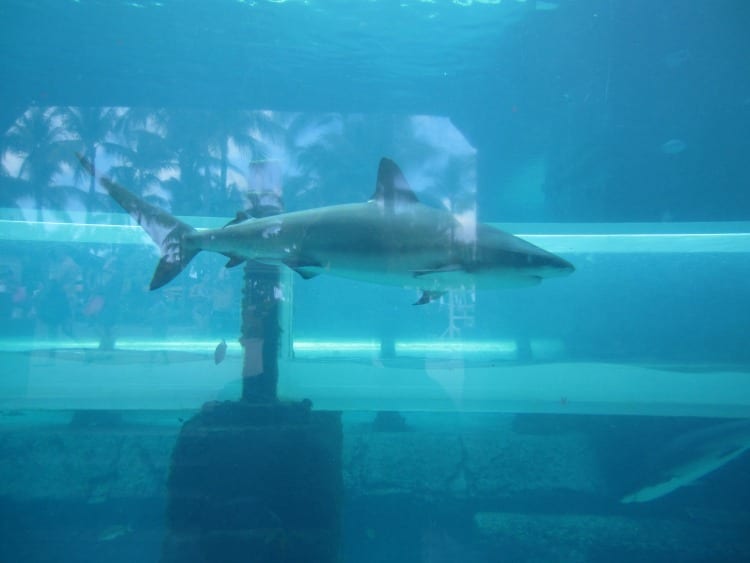 It is like having an aquarium built into your hotel. The Atlantis Bahamas also offers many types of marine experiences from hands-on stingray encounters, snorkeling in the ruins lagoon, walking with the sharks, and touch encounters for little kids. These experiences are add-on premium experiences, but great for animal lovers and adventure seekers.
Dolphin Cay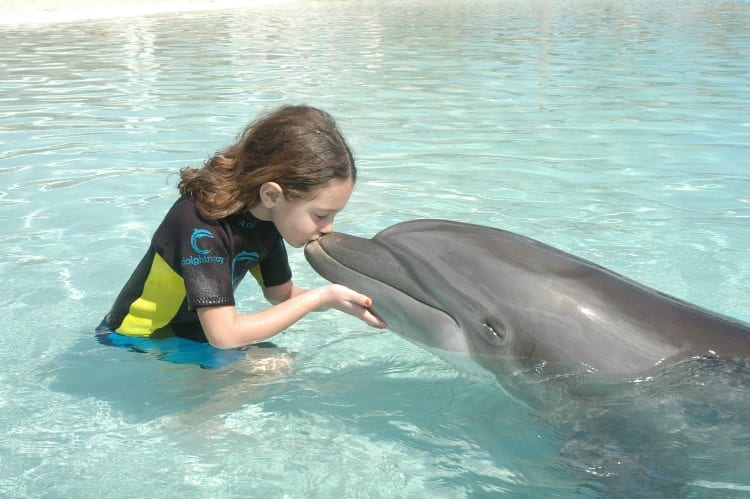 If you have ever dreamed of swimming with dolphins or frolicking with sea lions, you can fulfill your dreams at Dolphin Cay. Prepare to pay through the nose, have less time than you hope for, and be totally ripped off if you want to purchase the pictures…but…the smile on your and your child's face is truly priceless.
We did this experience because of our love for dolphins, but have since become more savvy about the impact of these animal encounters on wildlife. I would encourage you to think about the impact of keeping animals in captivity and also evaluate the ways in which they are cared for.
Currently Dolphin Cay has 17 stranded dolphins and 10 sea lions whose home in Gulfport, Mississippi was destroyed by Hurricane Katrina. Visits support the Atlantis Blue Project Foundation, with a focus on coral reef and habitat conservation, and Atlantis tries to keep interactions educational.
There are a number of in-water experiences in both shallow and deeper water, as well as behind-the-scenes tours available. If you do want to swim with the dolphins, be sure to book early as this is a very popular cruise-line excursion and fills up early.
Something for everyone
The Atlantis is a lot like a cruise ship on land…just much bigger. You really can find something for everyone…teen dance clubs, cooking classes, swimming, waterpark, gambling, kids clubs, game room, water sports, spa, rock climbing, and more. There is even a pottery studio, theater, tennis courts, and day trips and excursions.
In the evenings, guests can enjoy fine dining, laugh at a comedy club, dance at a night club, hit the casino, or take in one of the many live events. Just keep in mind that all this is spread out across multiple towers so it might feel like you have to walk a mile or more from your room to your selected activity.
Now, let's take a look at the Bad
Food & Dining Options at the Atlantis Bahamas
Theoretically, the Atlantis offers great food options, including restaurants from Jose Andres, Todd English, and Nobu Matsuhisa. However, since you will probably only splurge for one meal at these fine dining establishments (unless you win big at the casino), the rest of the food is overpriced and just mediocre.
Since we were going with a large group of 14, we opted to try the meal plan, since it seemed like it offered a cost savings. What we weren't told was that not all of the casual dining options were included and that room service also wasn't not included in the meal plan. Since sometimes those options are just easier when traveling with kids (especially when they get sick), we ended up double paying for certain meals.
The other options, like the chinese restaurant and steakhouse were just average and quite overpriced. The other downside about the food was the lack of Bahamian or Caribbean flair. Out by the waterpark, all the snack bars offered the same fare. It was very generic theme park food with hamburgers, hot dogs, veggie wraps, etc.
I left craving conch fritters or something authentic. I understand that now there is a Bahamian cuisine restaurant. However, I wish more Bahamian cuisine was wrapped into the other dining options instead of just creating familiar dining experiences that make U.S. guests comfortable.
The Crowds
The Atlantis is big, really big. Looking out my window at night was disconcerting. I was in the Caribbean right? Why was I looking out and seeing hotel towers lighting up the sky? Was this Las Vegas?
But while the Atlantis can hold thousands of people, what you don't realize at first is that the Atlantis is packed not just with people staying there, but it is also filled with cruise ship passengers or those staying nearby that have bought a day pass to enjoy the Atlantis waterpark and facilities. Scores of cruise ship passengers and visitors from neighboring hotels fill the Atlantis.
Day passes range from $40 to access the grounds to $167 for a full-day water park pass.
The Rooms
Even with the amazing "deals" the Atlantis offers, the rooms were still over $500 per night in the non-centrally located Coral Towers. For that price, we expected something more. We knew we weren't getting a beach view, but I expected a much nicer room.
The rooms we stayed in were very bland and in need of a renovation. They were spacious but more inline with an old Marriott or Hilton, not those of a luxury hotel.
From what I understand, the rooms are better in the Royal Towers and the Cove, but those rooms are even more expensive. Bottom line is that for $500 a night, we expected something nicer.
The Beach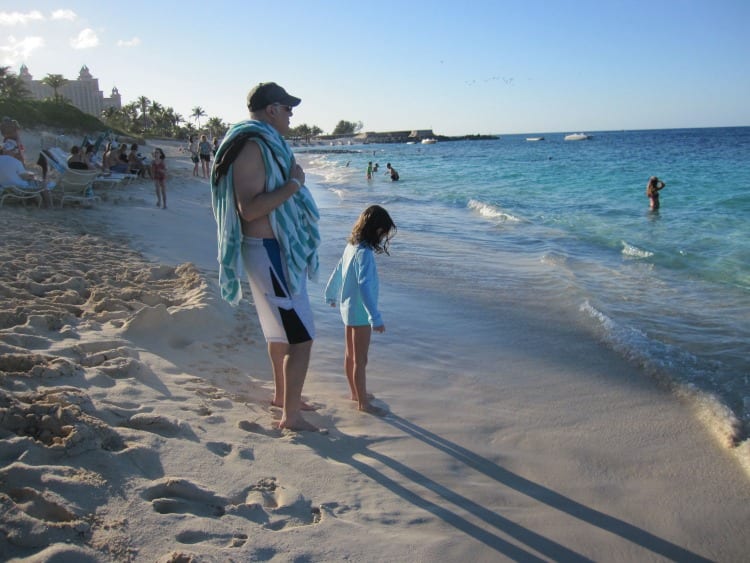 There are certainly more pools than you can swim in during your vacation but if you come to the Caribbean, you probably would also like to spend some time at the beach. There are three ocean beaches at the Atlantis — the Cove Beach, Atlantis Beach, and Paradise Beach. There is also a Lagoon beach on the manmade lagoon in the center of the property.
There are apparently five miles of beaches, but we found the Atlantis beach to be quite small and under-serviced at the time that we visited. If a gorgeous beach is your priority, I would pick Beaches Resort Turks & Caicos over Atlantis.
The Bottom Line about the Atlantis Bahamas
The kids absolutely loved the Atlantis — especially the water park — actually mostly because of the water park. Now that our group is made up of teens and tweens, I think they also would have been a bit more discerning about some of the other aspects of the resort. But in general, whenever the cousins have time to play and relax together they are happy.
The eight adults of the group all felt that the Atlantis Bahamas was overpriced for what you got, too big, and too commercial for our tastes. This is probably why we picked the Four Seasons in Costa Rica for our next multigenerational trip.
What about you? Have you been to the Atlantis? Did you love it, hate it or in between?
Looking for other family-friendly resorts in the Caribbean?
Be sure to check out our review of Beaches Turks and Caicos, Club Med Martinique, Eden Roc at Cap Cana in the Dominican Republic, and the Grand Velas in Riviera Maya.
You may also want to consider alternates like Bermuda or Hawk's Cay in the Florida Keys.
PIN THIS FOR LATER