Beaches Turks and Caicos is a bucket list vacation destination for many families. The beaches are beautiful, the water is breathtaking, the entertainment and dining options seem endless, and best of all, it was designed from the ground up to be family friendly. Plus, there is the Sesame Street partnership. Who doesn't love the Sesame Street characters?
Yet when you read Beaches Turks and Caicos reviews, you start to wonder, is Beaches Turks and Caicos worth the money? After all, it isn't cheap and with so many other all-inclusive resorts in the Caribbean, should you spend upwards of $800-1000+ per night? Is it really worth it?
I think the answer really depends on a number of factors. As a family travel writer I have had the opportunity to visit a large number of hotels and resorts around the world. Plus, after spending three years as a travel advisor helping families pick the right match for their travel style, I've gotten a sense for what some personalities will like and or dislike, so I can help answer this question.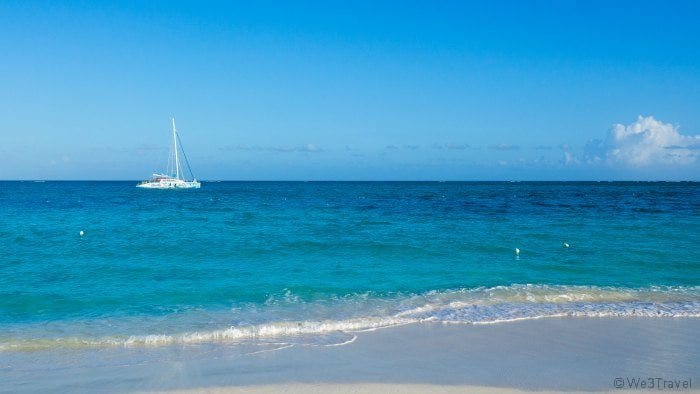 I was recently invited to Beaches Turks and Caicos as part of the Beaches Moms Social Media on the Sand Conference. I wasn't hosted, but I did receive a discounted rate to attend. Even though my family couldn't join me, I was eager to experience this property ever since I first saw pictures of those award-winning Turks & Caicos beaches.
One of our first family vacations was actually to Beaches Ocho Rios in Jamaica when Hannah was only 18 months old. This was waaayy back (nearly 13 years ago), before the redesign and expansion of that property.
We picked it at the time because it was the only resort that I could find that offered child care for babies and toddlers and Beaches is such a great bucket list resort for families with toddlers. She was a tough baby and without any family nearby to help out, I felt like when we went away I wanted at least one afternoon to relax and one evening to go out for an adults-only dinner.
We stayed in a one-bedroom suite right on the beach, so we would have a separation of space to hang out after she went to sleep and easy beach walk out capabilities. I also loved that we upgraded to the butler service, who restocked our fridge with milk and whatever else we needed.
Plus, there were the Sesame Street characters. I'm not sure who was more excited about it, her or us. But I'll tell you that footage of her dancing on stage made it into her Bat Mitzvah montage video. And so did a picture of her cringing a bit when getting a hug from Cookie Monster (silly girl.)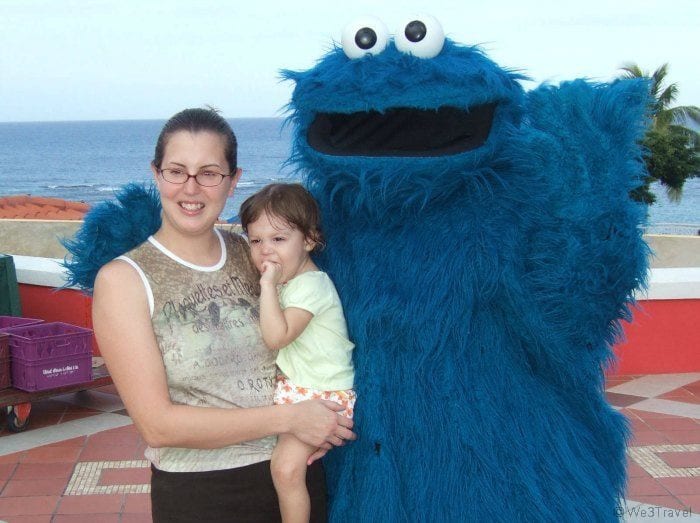 My point of the story is that as young parents, this was a great choice. Did we like the food? No. Was the beach amazing? No. Did the rooms need updating at the time (they have since remodeled)? Yes. But that wasn't our main priority. Our primary goal was to get a chance to relax and have fun in an atmosphere that even a toddler can enjoy without it being too stressful or too much work.
In that goal, Beaches delivered. So it really depends on your goals and your state of mind/stage of life when deciding if Beaches Turks & Caicos is right for you. But first, let me walk you through some of the basics.
Beaches Turks and Caicos Review: What you Need to Know
Note: This post contains affiliate links. If you click a link and make a purchase, I may receive a small commission.
Beaches Turks and Caicos is an all-inclusive resort located about 15 minutes from the Providenciales international airport. There are direct flights from Miami, Atlanta, Toronto, New York, and other major cities so getting there isn't too hard and you don't need to worry about an expensive inter-island flight. If you don't want to stay exclusively on the resort, there are other things to do in Turks & Caicos.
The resort is laid out in four villages: French, Caribbean, Italian, and Key West. Each village has its own pool and restaurants, although guests are allowed to visit any pool or restaurant on the property (just note that some are adults only or have age minimums.) The only village that doesn't have some beachfront access is the French Village.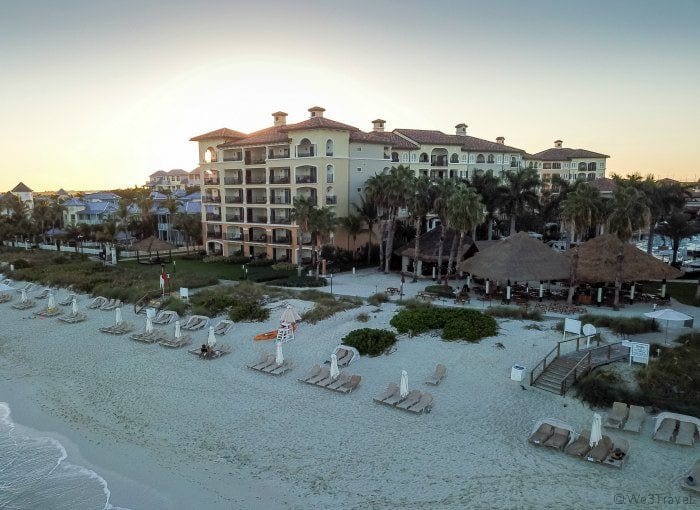 The French and Caribbean Villages are the oldest, and also the least expensive (although parts of the Caribbean Village have been updated.) For example, for three nights in November, a deluxe double in the Caribbean Village for two adults and two children would be just over $800 per night.
French Village would be over $900 per night, a Key West Grand Luxe Concierge room would be over $1,100 per night, and an Italian Village Concierge Suite with kids room is over $1,600 per night.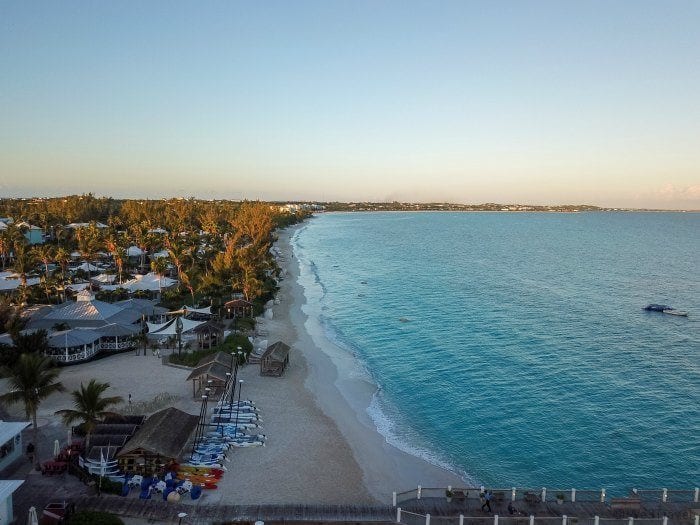 There are all sorts of room configurations, suites, etc. as well as concierge and butler level services to choose from. All of the Beaches call center staff are Beaches employees that know each property and can answer questions about accessibility, configurations, and more. (Check current pricing and promotions!)
Those prices are a lot to swallow when comparing to a hotel. And if you look around the room in the French Village where I stayed, you will notice wear and tear that makes you wonder about paying $800+ a night.
But keep in mind that this is an all-inclusive which includes all food, beverages (including top shelf liquors), kids club, land activities, and water sports (including motorized water sports.) It isn't just about the room. Even gratuities are included (except at the spa.)
My friends who brought their kids to Beaches Turks and Caicos found that they loved the kids programs. There are options for all ages and tweens and teens are able to go in and out at will (with parental permission). The teen lounge includes ping pong, air hockey, and pool tables. There is also a massive X Box Lounge with more X Box stations than I could count.
The Kids Kamp has a full program of activities, including sailing and snorkeling, which I found amazing. I was so pleasantly surprised to see that kids weren't just in a room with toys/video games, a playground, or a small kiddie pool.
They really got to experience the resort and make friends in such a fun way. While waiting for our plane I saw a friend's boy hanging out with a buddy he made at the resort. It made me wonder if this kid's club would change my teen's mind about going to one.
There are also 22 dining options and 15 bars at Beach Turks & Caicos. You will find all the regular suspects, like Japanese, Italian, French, Caribbean, and a few buffets. But you will also find things like an Indian fine dining restaurant, British pub, American diner, and even a Mac and Cheese food truck by the Pirate's Playground waterpark.
In addition to all the sports, clubs, and activities, there are also daily shows in the evening at the French Village stage, and Sesame Street character activities throughout the day. If you do want to get off of the resort, there are plenty of things to do in Turks & Caicos.
I put together a short video to give you a sneak peek:
(Check current pricing and promotions!)
Beaches Turks and Caicos: The Good & The Bad
To get a better sense of the resort, let me break down the good and not-so-good parts.
The Good
Activities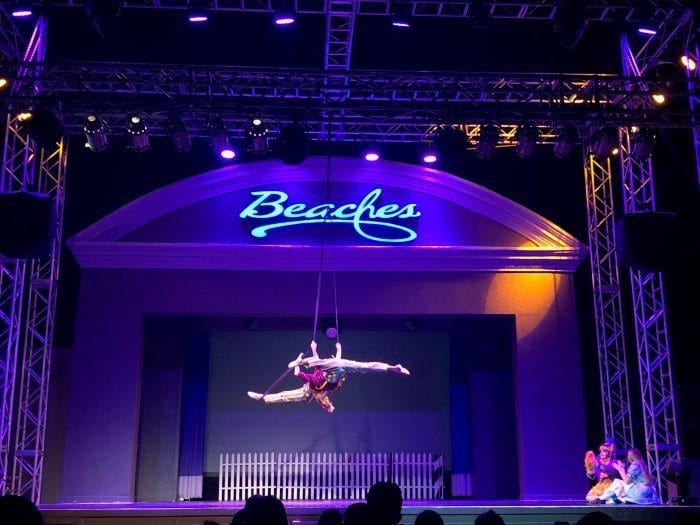 As I outlined above, there are so many activities to choose from at Beaches Turks and Caicos. However, it isn't like a cruise ship where there are constant announcements about activities happening on the Lido deck.
And while there is a daily schedule given out at turn down service in the evening, you generally don't need reservations for activities so you don't need to feel like you are on a schedule. You can pick and choose as you see fit and there is a little bit of something for everyone, although everything is family focused.
The Beach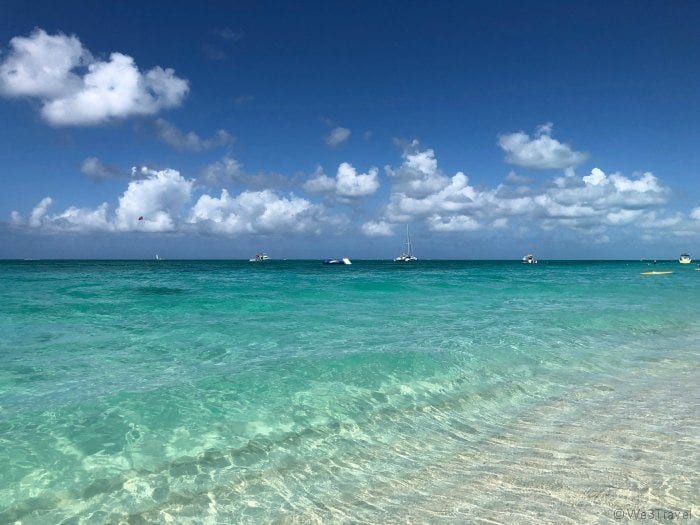 The beach is simply gorgeous. Although the resort suffered damage due to the hurricane in 2017, it has recovered beautifully. The beach isn't wide but the sand is soft. Not powder soft but certainly not rocky or too coarse.
There are enough comfortable lounge chairs, some with umbrellas and others with canopies, that you don't have to worry about getting to the beach at 8am to reserve a chair.
The water has enough wave to it that you don't want to leave toddlers unattended, but not enough for body surfing. There is a quick drop off so I would watch younger children and put them into a life jacket.
Up and down the beach you will find multi-person, in-water floats for relaxing in the water. You can also borrow snorkel gear and go snorkeling right from the shore (or book a place on board a snorkel boat.)
Chair service isn't great, but servers will come around eventually. However, no part of the beach is very far from a nearby bar where you can pick up drinks and towels.
Pools/Waterpark
As I mentioned, each village has its own large pool (many with swim-up bars). I liked the pool at the Italian Village the best, although if you are trying to escape for a while the quiet pool near Key West is the place to go.
The waterpark also has multiple water slides, a lazy river, and a splash area for little ones. There is also a swim up bar for kids and fun food options right there. The waterpark is conveniently located between the French and Italian Villages, and not far from the Caribbean as well.
Buildings
Another thing that I really liked at Beaches Turks and Caicos is that you don't find any high rise buildings. This was one thing I really disliked about the Atlantis.
So while the resort is spread out, things are actually closer than you think at first, once you find your way around. But avoiding high towers gives the resort a much more laid back and relaxing feel.
Family-friendly Vibe
I have been to some resorts where the atmosphere seemed to encourage every to drink as much as possible, because it was included. I thankfully did not feel that at Beaches at all.
It was very family friendly — not party all the time. I didn't see any stumbling drunks or hear inappropriate language. I saw a couple of people smoking near the pool and not in the designated smoking areas, but they were at least trying to hide it.
I really appreciate that Beaches is fostering an atmosphere the is welcoming and comfortable for families. This is one of my big hesitations over all-inclusive resorts and that was assuaged seeing the resort in person.
The Bad
Some of the Food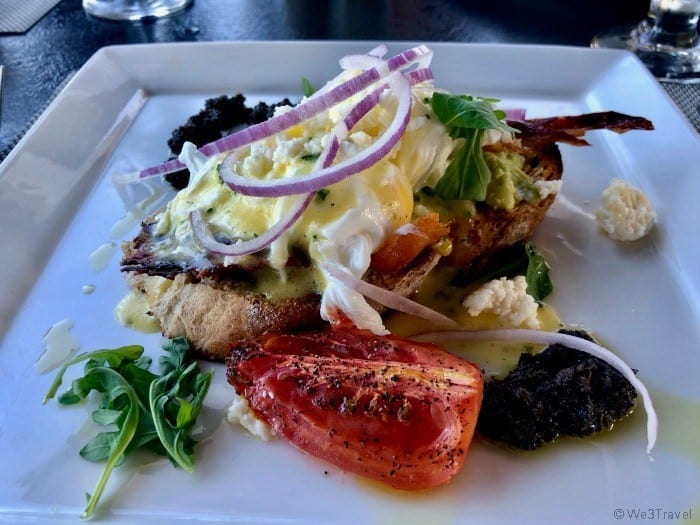 Let me start with two caveats. One: I'm a foodie. Two: The food wasn't really bad. Some was bad, some was "meh", and some was actually quite good. I'm putting it in this category because if you are a foodie, you may be disappointed. I would put it a step below the Grand Velas Riviera Maya and about on par with the Moon Palace in Cancun.
My tip for foodies would be to eat in Key West village. Neptunes was excellent for breakfast and Sky was terrific for dinner (plus had a fantastic view before the sun sets.)
Kimono's was fun for a hibachi experience (the only restaurant that requires reservations.) I also enjoyed the make-your-own taco bar at Arizona's at lunch. It was a quick and easy meal before heading to the beach. For a quick morning breakfast, you can also pick up a pastry and coffee at Cafe de Paris.
Since I was only there for four nights, I didn't get a chance to try all 22 dining options. My only other recommendation would be that the kids will love the diner food and milkshakes at Bobby Dee's, but grown ups will not be too thrilled with their burger and fries. However, this is one of the only places open late if you arrive at night.
So while the food wasn't categorically bad, it also wasn't categorically good so I need to point out that if you are a foodie, you may be disappointed unless you stick to the Key West Village restaurants (and perhaps a few others that I didn't get to try.)
Some of the Rooms
I did not get a hotel tour when I visited so I can't speak to the quality of all the rooms. I think this is a resort where you will have a very different experience depending on where you stay. Of course, you are also paying a very different price tag.
I stayed in the French Village and the rooms were large and comfortable, but not fancy. This village could use a refresh soon. There was wear and tear on the walls, small ants in the sink, banged up furniture, and a lamp fixture that nearly exploded when a bulb blew.
These things actually weren't a big deal but even little things like no outlets near the bed show that it is just a little dated.
If you took the room only at face value, you wouldn't be happy to spend $800+. However, you really need to look at the resort, and not just the room. Yes I have stayed at much nicer resorts for under $800 per night (like the Eden Roc at Cap Cana), but that was before food and without as many activities.
So you really need to ask yourself how much you would typically spend on food a day at a resort? (Do you like fine dining or are the kids happy with kids meals?) And how much will you use those added activities?
Perhaps the rooms in Key West Village feel more luxurious, but then again you are paying much more. You really need to figure out how much you value the extra amenities and if that value is worth the cost.
One extra note — if you do decide to stay in the French Village to minimize costs, keep in mind that you will be the furthest from the beach (about a 10 minute walk.)
Also, you will be within hearing distance of the French Village stage, where evening shows take place. If you have little ones that go to bed early, it might be a little noisy for you.
Recycling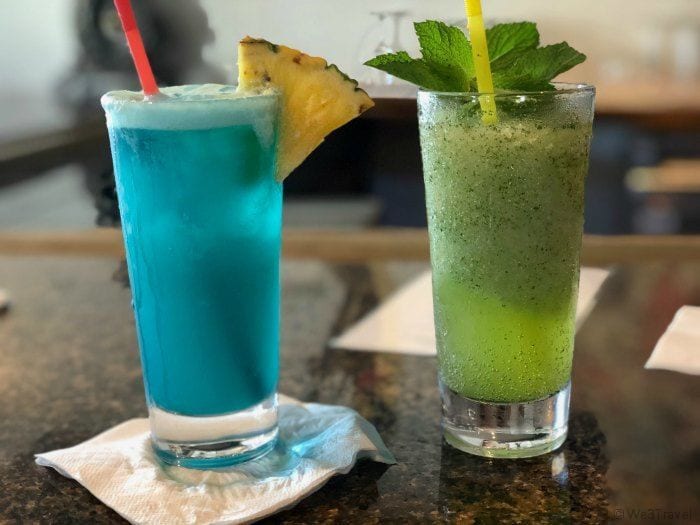 I was glad to see that as of November 1, 2018, the resort is getting rid of plastic straws, as I saw too many drink cups left in the sand with plastic straws that could easily get washed out to sea. I have heard that in 2020 they will be doing something to eliminate all the plastic water bottles. I couldn't find a water bottle refilling station anywhere and it drove me crazy!
There is also not any easy recycling for all of those water bottles. I drink a lot of water and felt incredibly guilty about throwing six to eight empty plastic bottles a day into a regular trash can.
In a presentation the owner of Sandals Resorts said that getting rid of plastic straws was just the beginning of what they are looking to do. I truly hope they address the plastic water bottles soon. I'm glad to see them at least moving in the right direction.
Beaches Turks and Caicos: Who is it Good for?
Based on this information, who do I think would be a great fit for a Beaches vacation?
Multi-generational Families
Beaches Turks and Caicos is an amazing destination for a multi-generational trip. First, there a homes and multi-bedroom suites in Key West if you all want to stay together. Even if you don't there are options for each family.
Because Beaches Turks & Caicos is relatively flat, with accessible rooms, it is also good for people that have some mobility issues. With a full range of activities from babies through teens, it can make everyone happy.
There are babysitting options and kids clubs so that adults can get their grown up time. The resort is also safe to let older kids wander in groups on their own and check themselves in and out of the teen club. This freedom can be so fun for teens!
Families with Babies and Young Children
Beaches is still one of the only resorts that offers child care options for all ages. Families with young children will love having fun together at experiences like Baking with Cookie Monster and the Sesame Street Character breakfast (extra fee required.)
Big Bird, Elmo, Cookie Monster — these are often the first characters that kids get to know — way before Mickey makes an appearance. So imagine their joy at seeing these characters in real life (or if not joy, at least curiosity.)
With kids' clubs for all ages, a range of activities, pools for all ages, and butler or concierge service, Beaches is truly the leading resort for families with young children. There is even a mini choo choo train to ride through the resort!
Families with Active Tweens and Teens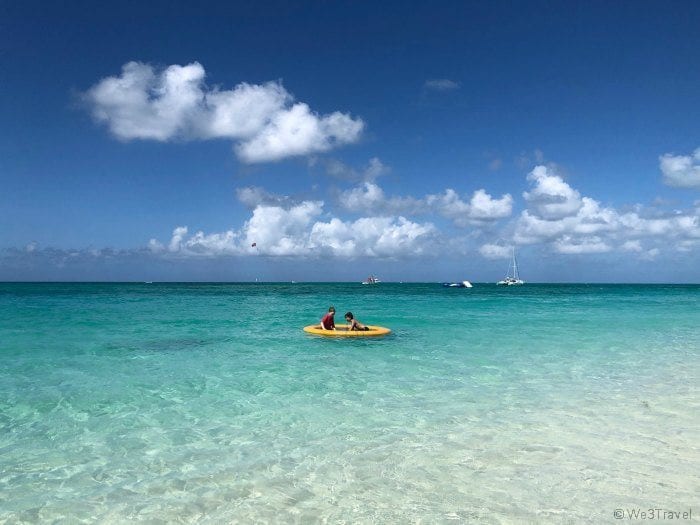 When your tweens and teens get to that cynical stage when everything is boring, I can assure you that they won't be bored at Beaches Turks and Caicos. Video game lovers will be begging to go to the X Box Lounge.
Siblings, cousins, and outgoing tweens/teens will love socializing in the teen lounge. And even introverts can get involved with fun scheduled, outdoor activities like snorkeling.
Even if they ignore the clubs, there are so many things to do as a family to stay busy and active. Just be warned that the WiFi coverage is not great. So try to think of it as an unplugged vacation.
Families with Kids on the Spectrum
Beaches Resorts has taken great strides to make the resorts Autism friendly. The entire staff has gone through IBCCES training so that everyone from the front desk staff to the kids camp staffers are trained to care for kids on the Spectrum.
All Kids Camps Staffers & Nannies are IBCCES certified. I have personally met a number of Autism moms who emotionally described the feeling they got when their family was warmly welcomed and cared for at Beaches.
Scuba Divers
Certified divers can enjoy included scuba diving in one of the best diving destinations. Beaches offers top-of-the-line equipment, highly-experienced dive masters and captains, and a customized fleet of boats – all-included. If you aren't certified, Beaches also offers a resort course for $100, or you can enroll in the PADI eLearning program. You can complete the 8-hour classroom portion before you arrive and take the practical exam on site. Then you can enjoy up to two dives a day on the resort.
Who is it not good for?
Singles
Couples (that is what Sandals is for — did you know that some Sandals Resorts offer over water bungalows?)
Foodies
Budget travelers
Luxury hotel aficionados
Tips for Visiting Beaches Turks and Caicos
Passports are required to visit Turks and Caicos
Turks and Caicos is an Overseas British Protectorate so they drive on the left, but don't worry, transportation shuttles to and from the airport are included
Airport shops take credit cards (make sure to use one that doesn't charge an international fee) and the U.S. dollars so you don't need to exchange cash
If you enjoy a teppanyaki/hibachi dining experience, book a reservation at Kimono's as soon as you arrive
(Check current pricing and promotions!)
PIN THIS FOR LATER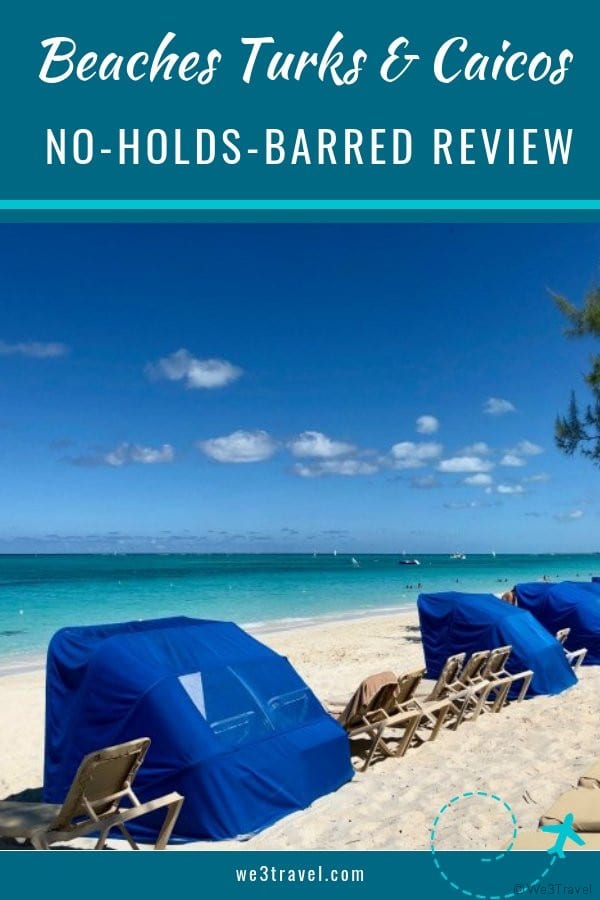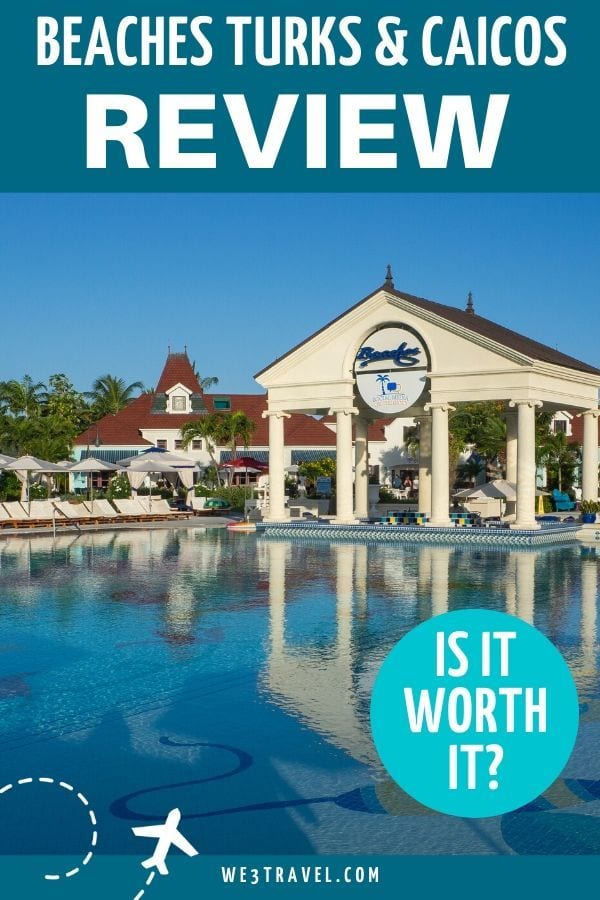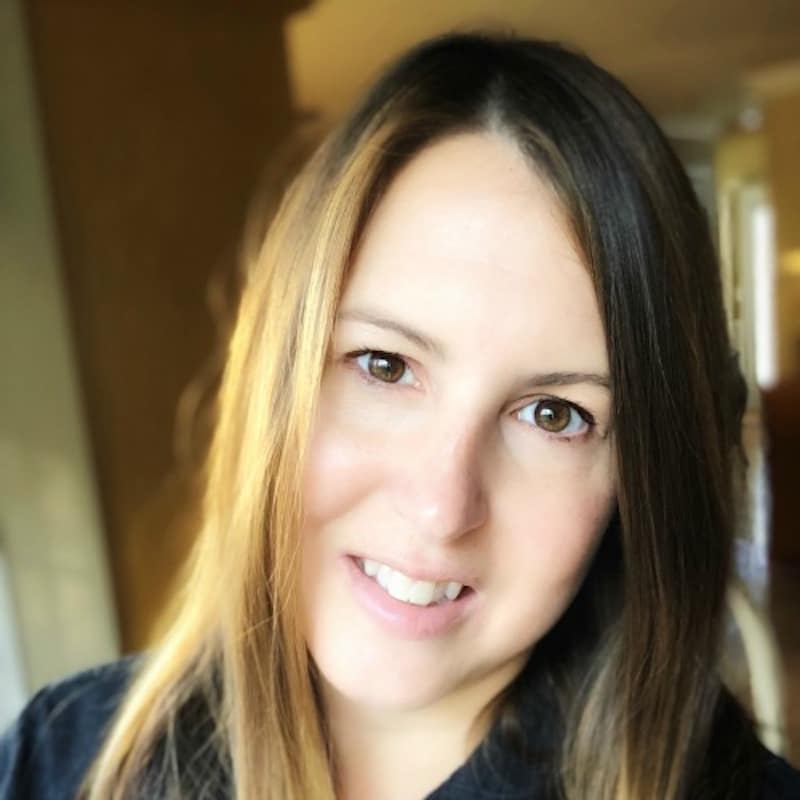 Tamara Gruber is the Founder and Publisher of We3Travel. A former marketing executive and travel advisor, Tamara is an award-winning travel writer and recognized expert in family travel. She is also the publisher of YourTimetoFly and the co-host of the Vacation Mavens travel podcast.