Before our recent trip to Club Med Buccaneer's Creek in Martinique, I had never visited a Club Med. My only reference point had been my husband telling me stories about his visit to Club Med in Cancun during college spring break. Therefore, the words "Club Med" evoke images of singles mixers, line dances, and lots of alcohol consumption.
That said, Club Med has clearly evolved over the years since our college days. The activities gear toward family-friendly and some even offer kids' clubs. The alcohol consumption may not have changed, but that seems to be true of most all-inclusive resorts. I hope this Club Med Martinique review will help you decide if this affordable all-inclusive resort in the Caribbean is the right fit for you.
We ended up at Club Med Martinique when I won a Martinique vacation from Norwegian Airlines and Martinique Tourism. Our trip included two nights at La Suite Villa hotel, but I decided to extend our trip a few more days to experience more of the island.
Note: This post may contain affiliate links. If you click a link and make a purchase, I may receive a small commission. All opinions are my own.
I wanted a different experience than our stay at La Suite Villa, so I decided to try the all-inclusive Club Med Martinique to make things easier for our mother-daughter trip.
Outside of our family trip to Grand Velas Riviera Maya, Hannah has never stayed at an all-inclusive and hasn't spent much time in the Caribbean. Since Club Med Buccaneer's Creek (or Club Med Les Boucaniers – check spelling as they say in French) is located on one of the nicest beaches on the island, it seemed a natural choice.

Club Med Martinique Review
Checking In at Club Med Buccaneer's Creek
Our arrival at Club Med Buccaneer's Creek did not go as smoothly as I would have hoped. Since we were moving from La Suite Villa in Trois Ilets down to Sainte Anne, my thought was that we would get up, have breakfast, check out and take a leisurely drive down to Sainte Anne, located at the southern tip of the island on the Caribbean coast. Even though I knew that Club Med was all-inclusive, I just figured we may not be able to eat lunch there and I assumed our room wouldn't be ready right away.
So my plan was to sit on the beach for a while until check-in time and our room was available. Yet when I arrived at noon at the Club Med gate, through broken French and English we were told that we were not allowed on the property until 5 pm. I was a bit aghast at that extreme measure. And also glad we hadn't been dropped off by a taxi to sit in the hot sun on our luggage for five hours.
Through a little more conversation, we were eventually allowed in and told to report to reception. There I needed to show my boarding pass to prove that we were leaving early Thursday morning and would not be using the resort facilities that day.
We were finally awarded our wristbands and shown the changing room, allowing us to use the facilities without paying a day fee, and told to return at 3 pm. It definitely wasn't the warmest welcome and surprised me that it seemed an entirely new scenario that someone would arrive before check-in time. I really wish this had been made very clear when booking or on the confirmation so that I could have avoided this awkward start to our stay.
Accommodations at Club Med Martinique
I had booked one of the lowest room categories, the standard (non-view) Superior Room. Since this was an unbudgeted, last-minute trip and I didn't want to spend a lot. Even though there are plenty of affordable accommodations on the island, I felt that the approximately $400 per night for the two of us for an all-inclusive was a fairly good deal.
As expected, the room was far from reception and the main restaurant and was located in one of the older-looking buildings, but the room was perfectly fine. It was clean and fairly large for the two of us with two twin beds pushed together and a single daybed/couch.
The very large balcony offered partial sea views and views of the gardens. Plus, it was very close to the watersports activities, steps to the beach, and not far to L'Ô, the fine dining restaurant, and the beach bar.
The bathroom was quite large with a huge walk-in shower with a rainshower and a handheld showerhead for feet washing. There was a large double sink vanity with storage underneath and a separate water closet.
We didn't have the upscale toiletries and soft robes that we had at La Suite Villa, but it was fully functional. (Just bring your own conditioner. I don't know anyone that finds "conditioning shampoo" useful for beach hair.)
The room also featured a small TV, a safe (that we couldn't get to work), and a dorm-style fridge. Unfortunately, it wasn't stocked with anything, which I found unusual for an all-inclusive. However, they did provide a large bottle of still water in the room each day.
This was a huge relief for me because I actually found it a bit tricky to find water throughout the resort, again, unusual for an all-inclusive. Note: eventually I discovered a water machine near the main bar and water machines in the buffet area.
One of my biggest complaints was the painful slowness of the WiFi. It can be useful in making you disconnect and relax but made you want to tear your hair out when trying to get something done. There is premium WiFi available for 5 euros per day or 30 euros for the week. However, I couldn't get this to work even after eventually breaking down and purchasing a premium code.
First, you can't just upgrade to premium online like at most hotels. Instead, you need to stop by reception to purchase a code (which can be challenging without a good French vocabulary.) I HIGHLY recommend you do this at check-in BEFORE you first connect to the WiFi. The first time you log in, you have the option of entering your premium code. Trying to purchase it after the fact, as I did, was futile.
I was told to visit a particular website address to disconnect and then reconnect and enter the code. However, this didn't work as described. I was able to disconnect but then had to register through a long-form and it automatically reconnected me to the same free WiFi – nowhere was the opportunity to enter the premium code. I couldn't imagine trying to communicate this in French so I just let it go and wasted the five euros.
Food
At the Club Med in Martinique, there are only two dining options. The main restaurant, Pays Meles, which is a buffet open for breakfast, lunch, and dinner, and L'Ô, the fine dining restaurant that requires reservations.
Upon check-in, they did not make it clear that L'Ô requires reservations so I would highly recommend making them when you check in as they book up days in advance. We were finally able to get in at 8:30 on our final night.
I would also request a program of activities, which lists the restaurant and bar hours. I would have expected this information to be in our room or provided at check-in, but it wasn't so it took me a day to figure things out, once I finally requested a copy.
Pays Meles Buffet Restaurant
As the main restaurant, its main seating areas fill up quickly so I highly advise you to go when they open for meal service or wait about an hour after opening or you will not be able to get a seat. Service is very spotty. It is basically seat yourself and then go to the buffet, but the staff is particular about where you sit.
They didn't want our party of two taking up a table for four. We were shooed away and bounced back and forth between seating areas quite a few times. It was also very difficult to capture their attention to get table settings, wine service, or most importantly, a carafe of water. I did finally find that you can get water (still or sparkling) at the machine inside the buffet.
Also note that you can get white, red, or rose wine with dinner but all other drinks are at the bar. There are upgraded wines that you can purchase with a supplement, but you need to set up an account first. Again, that seems like something they would do at check-in but for us, they did not and they could not do it in the evening, so I needed to return to reception on our second day to get this set up.
The food is a typical buffet: fruits, bread, cheeses, desserts, grilled items, pizza, pasta, meats, rice, vegetables, salad bar, and some other local specialties. The offerings vary but not greatly. The quality was on par with other buffets that I have experienced at 3-4 star all-inclusive resorts.
Our favorite items were the fried fish or shrimp fritters and the guava sorbet. Surprisingly for a French country, the pastries and bread were just so-so, and sometimes the bread was stale.
As a foodie, I would get extremely bored if I needed to eat there longer than a few days. Also, I think it would be challenging for guests with certain dietary restrictions and allergies. It isn't something I inquired about but I saw a lot of cross-contamination with serving utensils.
L'Ô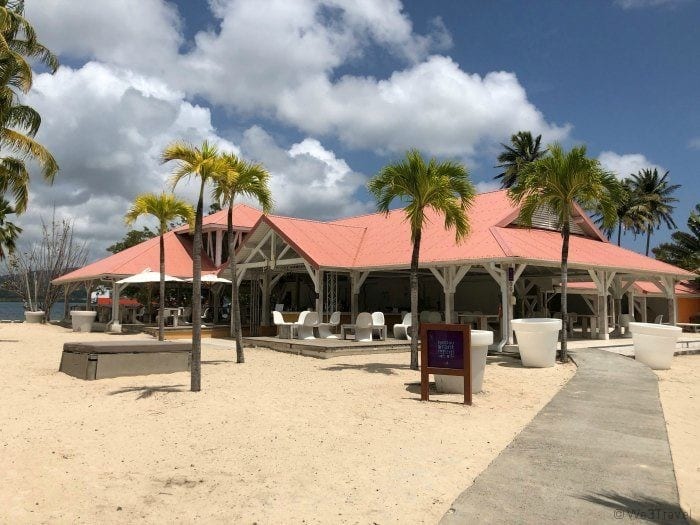 On our last night, we dined at L'Ô on the beach. When I made the reservation, I was asked if we wanted to order the lobster for a supplement. I also thought that was awkward as I didn't know the other entrée options, but apparently, it has to be ordered in advance (I opted not to as we get New England lobster frequently enough at home.)
L'Ô offers a limited three-course menu. When we visited, the first courses were butternut squash soup, salmon, and one other option. The main courses were beef, fish, and lobster (that needs to be pre-ordered.) We both picked the seabream with guava sauce since we wanted to pick a local dish.
The fish was meatier than I care for but the sauce was tasty, nothing like the amazing seabream Hannah had at our other hotel on Martinique. The desserts were a little disappointing too, as we selected the options of a fruit plate and a pina colada dessert. The setting was nice though and perfect for a date night or quieter evening than the bustling buffet.
Activities at Club Med Martinique
There are plenty of water sports and land activities to keep families busy. Water sports included in the all-inclusive price are snorkeling, paddleboarding, kayaking, and windsurfing. Jet skis and scuba diving are also available, but I didn't inquire about those prices. They also offer water skiing lessons from the main dock.
Land activities include tennis, beach volleyball, a soccer/football field, ping pong, a workout room (for those 18+), and outdoor workout classes.
There is also live music at the bar, occasional music at the beach, and other activities going on in the bar/stage area. We generally avoided those since we wanted to relax (and we don't speak French!)
The nice thing about the pool and beach is that there are plenty of chairs available. The beach stretches along the resort so, while it isn't wide, if you walk down a bit you are sure to find some open chairs and each area doesn't feel crowded. In fact, generally, the resort feels quite quiet and peaceful. We were visiting during spring break in France so it was fairly crowded but never felt that way (except when trying to find a table in the restaurant.)
Two things you need to know about the beach though. They do not recommend being on the beach at sunrise, after 5 pm, or after it rains because of the presence of yenyens, tiny sand mosquitos, which cause painful bites. They also don't recommend bringing towels back to the room. To prevent bites, they recommend roucou oil, which of course they sell in the boutique (when it is open.) We made sure to leave the beach by 5 pm so this didn't impact us.
The second item is about beach/pool towels. At check-in, upon creating an account, you should be given a card that you give in exchange for a beach towel at the laundry. Again, I'm not sure why this was overlooked in our check-in process but we didn't receive a card and couldn't get towels until I went back to reception to inquire.
You will receive one card per person and only get one towel per card. You can return your towel to exchange it for another or get your card back for the next day. It is a bit of a hassle, frankly, given how spread out the beach is and it seems a bit stingy but they are very strict about this policy.
Overall the beach is very pretty. Not white sand but not nearly as rocky as you would find in other places throughout Martinique. And the water was clear and calm. Not great for those that like to body surf but if you are like me and just like splashing around where you can see the bottom and there isn't a lot of seaweed — you will be happy here!
The pool has an infinity edge and overlooks the ocean. There is a lifeguard on duty (but not at the beach.) It is not a zero entry. In fact, you need to climb a ladder into the shallow section and then it slowly slopes into the deep end. There are four built-in benches in the shallow end for sitting and relaxing. The pool looks a bit worn, with chips and missing tiles, but it offers an alternative to the beach. Since most guests prefer the beach, it is also quite empty most of the day.
Watch the Video
Bottom Line
Would I recommend Club Med Buccaneer's Creek? I think for the right guest. It is an affordable Caribbean destination. Understand that I would classify this property as a three-star level. Other Club Meds may be different. But the hotel rooms are on par with chain hotels such as Hampton Inn, Days Inn, etc.
There are activities, but if you are looking for a kid's club and more entertainment options, look elsewhere (if you have the budget Beaches Turks & Caicos has an amazing kid's club.) Also, despite the island's reputation for its cuisine, I would suggest that foodies look elsewhere.
I would also recommend that you speak and understand a bit of French to make your stay more enjoyable (I do not and that definitely impacted my stay.) Then again, if you want an all-inclusive that doesn't cater to Americans so you can feel like you have really "gotten away" then Club Med in Martinique is a good option.
If you are planning a trip to Martinique, please be sure to read my tips for what you need to know when planning a Martinique vacation!
PIN THIS FOR LATER
SaveSave