Finding an all-inclusive resort with good food, luxurious accommodations, and activities that will satisfy everyone is no easy feat, even with the wealth of options in the Riviera Maya, Cancun, and Playa del Carmen areas. We hit the jackpot with the Grand Velas resort. But read our whole Grand Velas Riviera Maya review to see if it would be right for you!
We visited the Grand Velas Riviera Maya during a March spring break with our extended family of fourteen people, ranging from tweens to seniors. Our last multi-gen family trip to the Four Seasons in Costa Rica was a huge success, but this time we wanted to try something new. Plus, with fourteen of us for seven nights, the Four Seasons would cost a fortune.
When researching options for our multi-generational trip, we were looking for an all-inclusive resort that offered:
Luxury accommodations
A wide-variety of food options to cater to both picky eaters and foodies that are seasoned independent travelers
A kids' club and teen club
A beautiful pool area that is easily accessible for those with mobility issues
Beach activities
Things to do nearby off-property for those that wanted to explore
Close to an airport that offered direct flights from Florida and Boston
I know that is quite a wish list but we managed to find it all at the Grand Velas Riviera Maya with a bonus of an amazing spa! In this Grand Velas Riviera Maya review, I will cover accommodations, dining, spa, and activities.
You may also want to check out these suggestions for the best Mexico resorts for large families and if you are looking for an adults-only luxury resort, take a look at this Le Blanc Los Cabos review.

Grand Velas Riviera Maya Review
We were deciding between a few resorts, but ultimately the Grand Velas Riviera Maya won out because we heard the food was good, the spa was fantastic, and, unlike the nearby Rosewood Mayakoba, they had a teen's club. There is also a Grand Velas in Nuevo Vallarta if it is easier for you to fly to the west coast.
But the nice thing about staying at an all-inclusive is knowing what you are getting going in. Instead of shelling out $700-1000 a night for a luxury resort and then adding on the expensive food and drink tabs, everything except premium wines, spa services, and tips are included at the Grand Velas Riviera Maya.
The Grand Velas Riviera Maya is a gorgeous resort and it is extremely family-friendly. The kids couldn't have been happier and it turned out to be a perfect pick. The 24-hour suite service may have spoiled them for life — I think the kids will all be calling the house landline to order dinner delivered for a while and my nephew will definitely miss the constant resupply of the mini bar's stash of Oreos.
While the kid's club and teen club turned out to not be as important, I'm pretty sure we got our money's worth with how much these kids ate from the mini bar and room service.
As soon as we arrived, we were greeted with a warm welcome and a true resort experience — which was sooo much better than the standard hotel check-in we had recently at the Ritz-Carlton Aruba.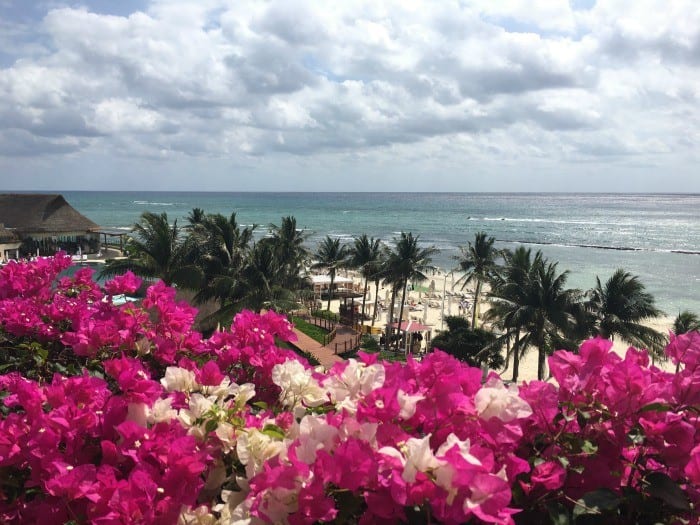 Location
The Riviera Maya is located south of Cancun on the Yucatan peninsula, facing the Caribbean Sea. About 45 minutes from the Cancun airport, the Riviera Maya is a strip of secluded resorts in the midst of the mangrove jungle. Each hotel entrance is gated and the resorts are not visible from the road. It makes sense in these parts to stay at an all-inclusive resort since it isn't so easy to drive into Playa del Carmen or Cancun for dinner.
If you do want to get off the property, you can arrange a tour of the Tulum Mayan ruins, visit one of the Xcaret Parks, or check out one of the many cenotes near Cancun.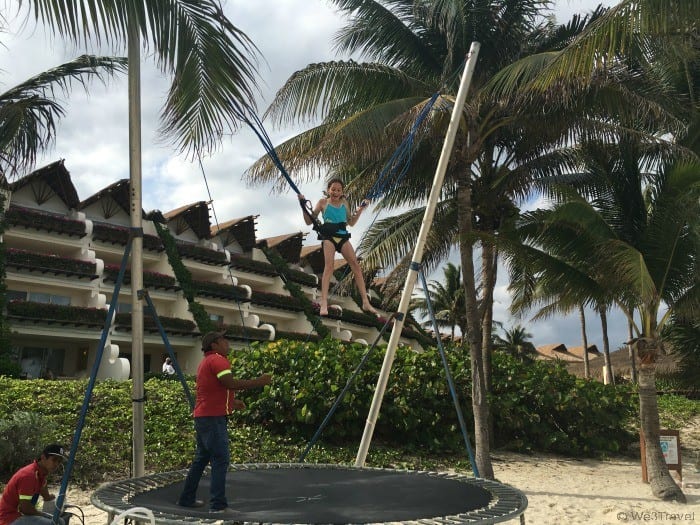 Amenities
The Grand Velas Riviera Maya has three main buildings: Zen, Ambassador, and Grand Class. The Zen section has three buildings and is also home to the resort's conference center. It has its own gym, is home to the resort's spa, has a miniature golf course, kid's club, and Zen pools, and houses the Chaka and Sen Lin restaurants, as well as the Koi bar. The spa is spectacular and offers a unique water journey — the best spa experience I've ever had, but more on that later.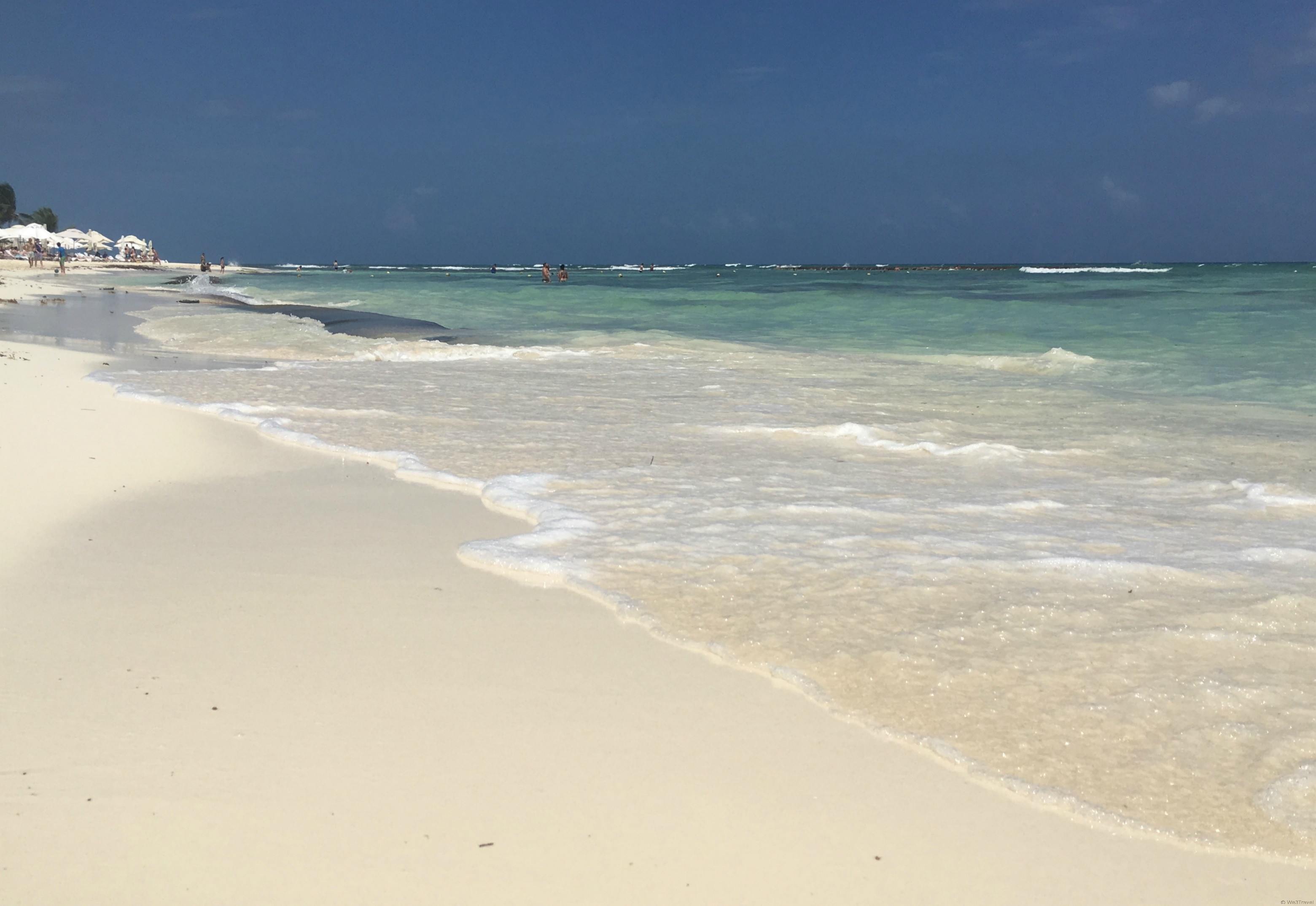 The beachfront property is the Ambassador building, and adjacent to it is the Grand Class, which is the adults-only building. The Ambassador building features a large pool, including a zero-entry toddler section, and a large beachfront, with chairs, service, and a beach bar. Just be aware that the pool is not heated and even in March, it was pretty chilly!
Despite the temperature, the kids loved ordering juice and smoothies at the swim-up bar and I was surprised by how many people participated in the water aerobics, hamster ball, and other pool games like water polo.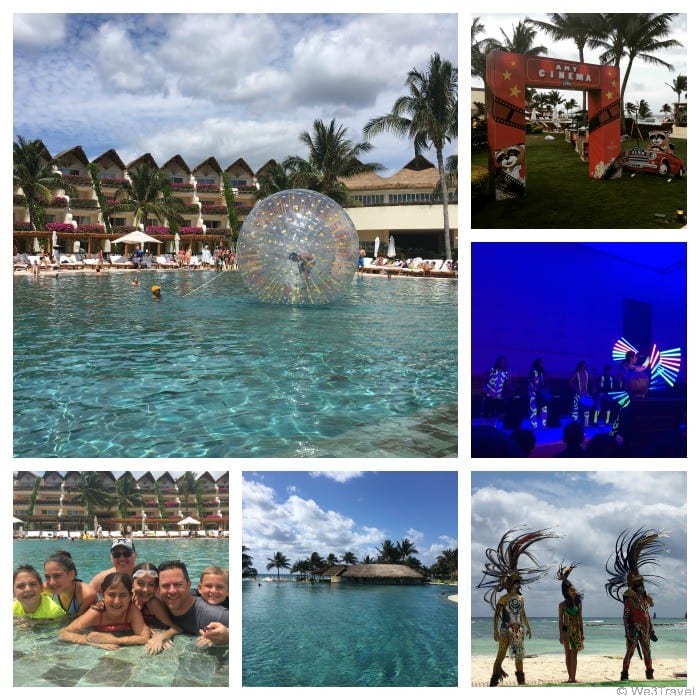 At the Ambassador, you can also find a second kid's club and a very cool teen's club. The teen's club is open during the day for families but is reserved for those over 12 in the evenings until 11 pm (although we saw a few younger kids in there at night.) It offers ping pong, foosball, pool, and video gaming pods. At the kid's club, they offer activities throughout the day and evening, as well as video games, movies, and other games.
For kids, there are also all sorts of scheduled activities throughout the week from outdoor movies, to shows like Mayan dancers, a magic show, and a light show, as well as organized games. On the beach, they also offer volleyball and Euro Bungy.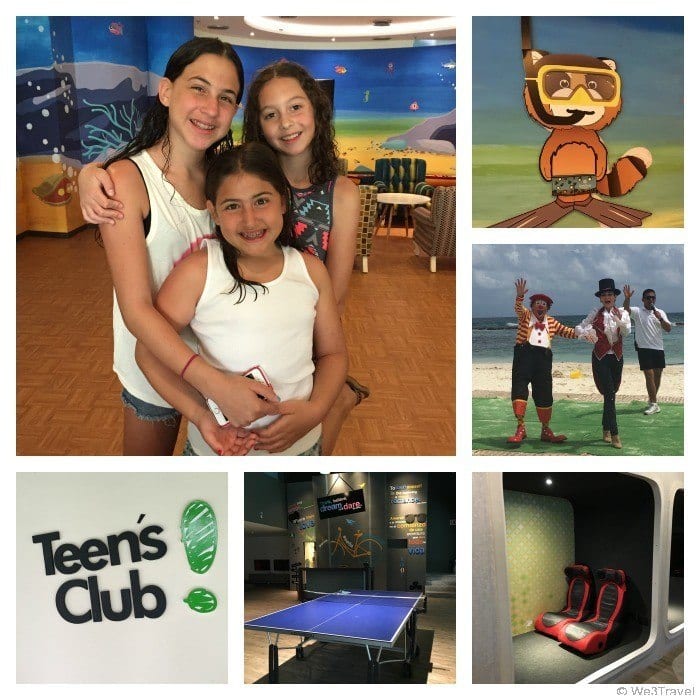 The Ambassador offers the most family-friendly dining options including Azul, a buffet restaurant offering breakfast, lunch, and dinner; Frida, with modern Mexican cuisine; and Lucca, featuring popular Italian cuisine. There is also a piano bar, and a karaoke bar, which is open for kids until 10 pm when it becomes adults only.
The Grand Class section has three restaurants, the Bistro, which is open for breakfast, lunch, and dinner; Piaf, a French-inspired fine dining restaurant; and Cocina de Autor, a four-diamond restaurant that offers a gastronomy experience, all of which are adults over 16 only.
Accommodations
Our family stayed in the Ambassador building, but they were kind enough to give me a tour of the entire property.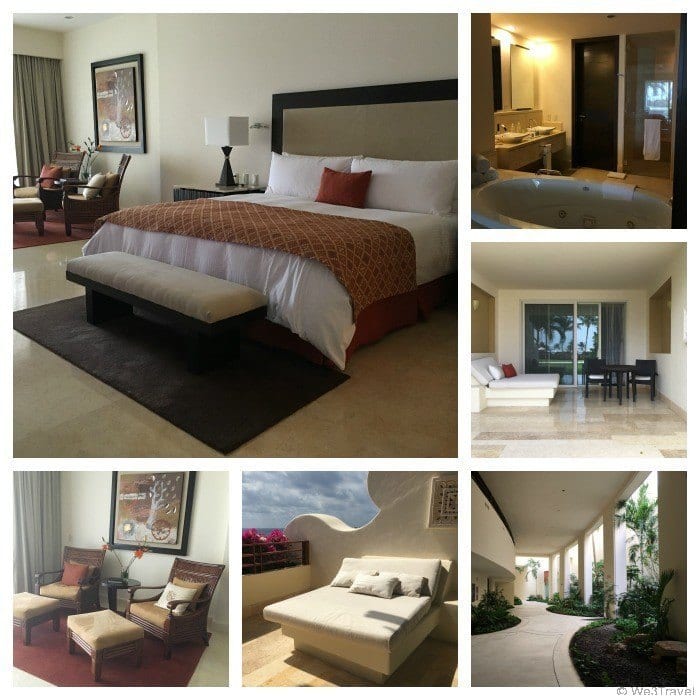 Ambassador
All the rooms at the Grand Velas Riviera Maya are quite large, with 1270 square feet to spread out. Even rooms with two queen beds have enough space for a large rollaway bed. All rooms also offer a private terrace with views of the sea. The Ambassador is great for families not just because of the beach and pool, but also because 80 percent of the rooms in this section are interconnecting suites to accommodate families.
The suites offer Jacuzzi tubs, walk-in closets, large showers, a double sink vanity, and sliding doors to separate the tub/bathroom from the rest of the suite to make views possible even from the tub. They also offer mini-bars (all complementary!), 42″ plasma TVs with premium cable (for English language shows and movies), a CD/DVD player, and free WiFi (no password or login required.)
I definitely loved being able to sit on our veranda and relax or work. If not for the mosquitoes and safety concerns (being on the ground floor), I would have slept out there!
If you have small children, I'd recommend requesting a high floor. Not only will you have wonderful views, but they are also a little quieter. The stone hallways on the ground floor really amplify the noise of people walking by after dinner or late nights at the bar. The noise between the rooms is minimal, but the noise from the hallway can be quite loud.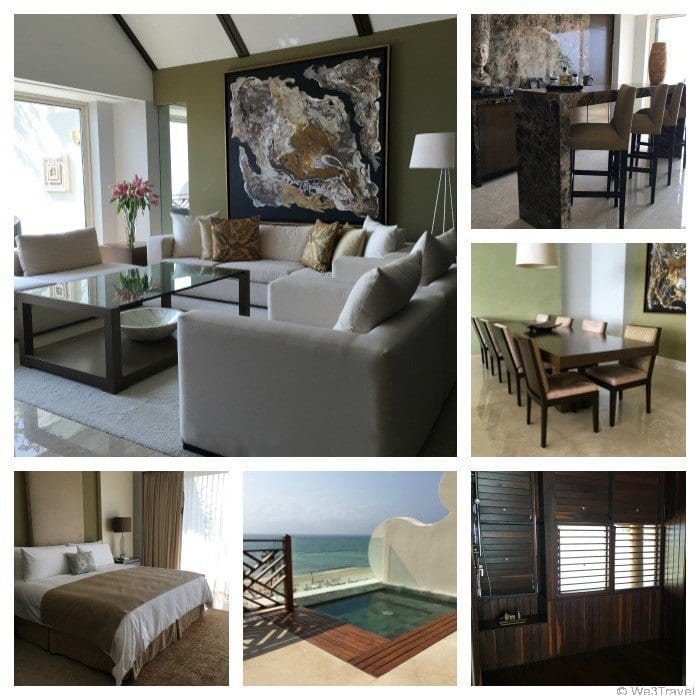 Grand Class
Rooms in the Grand Class section are even larger. These 90 suites are adults only, or for families with teens 16 and up. All suites are oceanfront and offer private plunge pools on the terrace. These suites also feature lounge areas, 42″ plasma TVs, walk-in closets, CD/DVD players, and Wi-Fi, as well as a Jacuzzi tub and rain shower.
The most breathtaking are the Presidential Suites, which have two bedrooms and a huge living area with a full dining table, bar, and living area. The feature that really blew me away was the outdoor shower. In the bathroom, next to the large walk-in shower, there is a non-airconditioned second "outdoor" shower, where you can open the louvered windows for a fresh air experience.
Zen
The Zen rooms are the smallest of the lot (slightly under 1200 feet), but offer the same amenities These 254 suites are decorated with red accents, and embrace the Zen aesthetic. Set in the natural landscape of the Riviera Maya jungle, the Zen section is just a 5-minute shuttle ride from the Ambassador section. The private terraces overlook either the peaceful jungle or are pool front, and some offer a private plunge pool.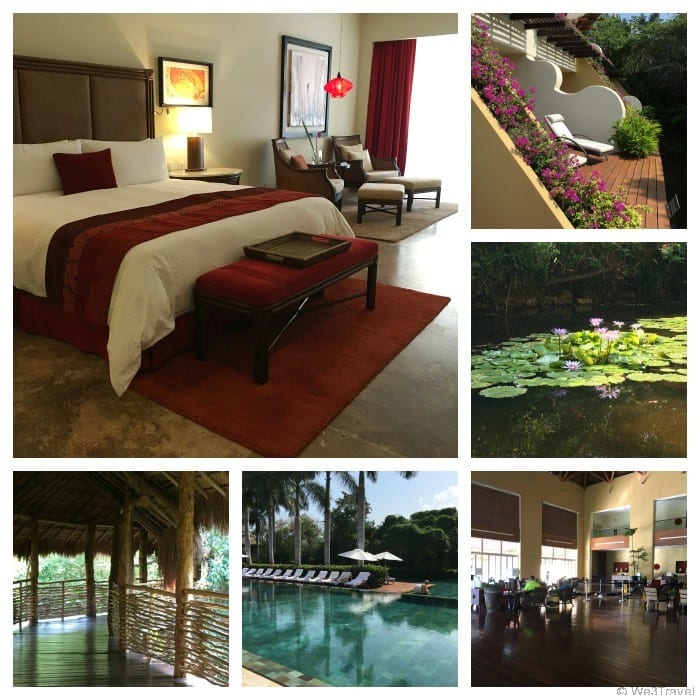 Dining at the Grand Velas Riviera Maya
I've only stayed at a few all-inclusive resorts before — Beaches in Jamaica, the Moon Palace in Cancun, and a few cruises. Most of these sorely disappointed me when it came to the food. In all fairnesses, all-inclusive resorts aren't usually known for their food.
Typically, visitors are looking for value and convenience — not fine dining options. However, you may have already picked up on the fact that our family enjoys good, local food and it is an important part of our travel experience.
This priority was multiplied on our trip to the Riviera Maya in Mexico because, among our extended family of fourteen, we have picky eaters, kids with food allergies, and gourmands all rolled up into one group.
The food options at the Grand Velas Riviera Maya were definitely good for an all-inclusive, but let me break it down by restaurant so you know what to expect and how to plan your stay.
As I outlined above, the resort has eight main restaurants — three in Ambassador, three in Grand Class (adults only), and two in Zen. A few of the bars include the swim-up bar at the Ambassador pool, the Karaoke and Piano bars in the Ambassador (karaoke for kids until late night), the beautiful Koi bar in Zen (with a huge screen for watching games), and a beachfront bar.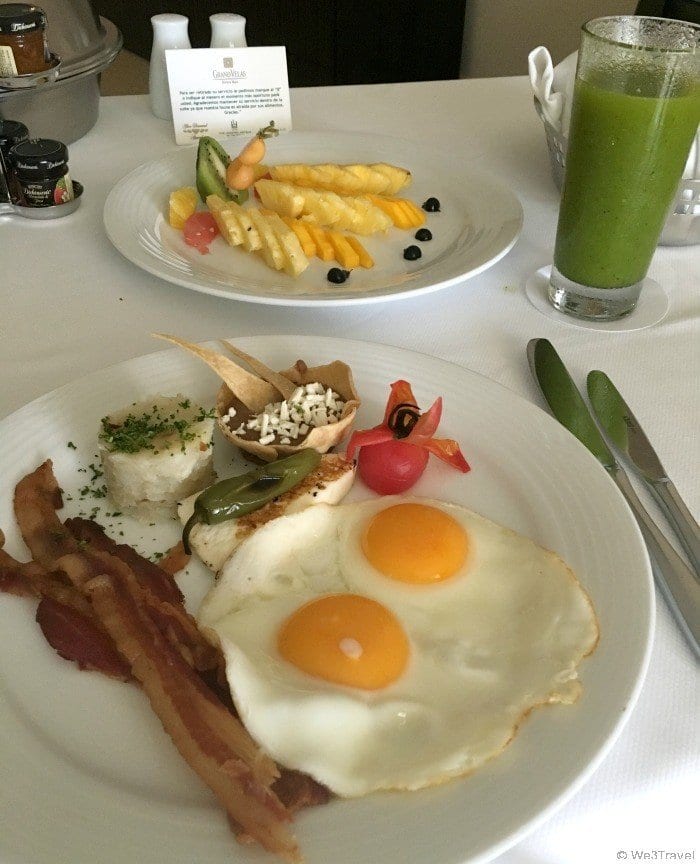 what you need to know before you go
Everything is all-inclusive except if you want to order a special bottle of wine — house wine by the glass is included. A few of the house wines are terrible but most are fine
Room service is available 24/7 and is probably the fastest option you will find
They ALWAYS ask if there are any food allergies
Reservations MUST be made in advance. Except for the buffet restaurants, if you wait until you get here you will end up eating at 9:30 pm or later. Reservations can be made by calling 1-877-418-2963 or you can request reservations online.
Most restaurants require men to wear long pants and collared shirts. For women, the dress is also resort casual — but casual is nice — not shorts or flip flops.
You will NOT spend the week eating Mexican food. There are different cuisines at each restaurant and none of them resemble the tacos, enchiladas, and burritos that Americans think of as Mexican food. (But you can get a quesadilla from room service or at the pool)
Each family-friendly restaurant offers a kids' menu, which has your typical options of pizza, pasta, chicken fingers, mac n cheese (usually), filet mignon (tiny), and grilled chicken.
Portions are very small (e.g. main course = 3 scallops or 4 shrimp)– if you are starving, go to the buffet or order a snack from room service
Plan on dinner service taking two hours — EVERY TIME. Seriously. The restaurants were never full but on one occasion we waited an hour before our amuse-bouche was served. Luckily, they bring out the kids' meals very quickly. Not so good, then they have to sit there waiting for the adults. And…if one kid in your party orders an adult meal (like mine), she has to wait with the adults while the kids all eat around her. If your kids can't handle that, either go to Azul (with a dinner buffet) or run the kids over to the kid's club while you finish eating.
The Kids Club and Teen Club are open until 11 pm so that parents can dine on their own. Sometimes there are special buffets and events for kids and other times they will take the kids to Azul for a group dinner
You will still need to sign a check and have an option for leaving an optional gratuity. The staff works hard at all-inclusives and doesn't always get tipped so I would recommend leaving at least a 15% gratuity on your checks
All the restaurants are very dark — so bring your phone for the flashlight and don't think you are going to get any good food shots (as you can tell by this post's lack of food pictures)
The butter is always cold — or really, frozen
The minibar in the room is also included, however, you only get one bottle of tequila, red wine and white wine per stay
Zen Building Restaurants
Chaká
Chaká is open for a breakfast and lunch buffet seasonally and features international cuisine. Located in the jungle section of the Zen building, this open-air restaurant also features Mayan cuisine at night. We ate here on our first night and started with a sampler of Mayan appetizers including some yummy pork empanadas. I had the shrimp dish, Hannah had the salmon and Glenn had the scallops. All the dishes were beautifully presented but tiny — four shrimp for me, and two tiny pieces of salmon for Hannah. Even the kids' meals were tiny. The food was good but didn't wow us, and the menu was tough for the picky eaters.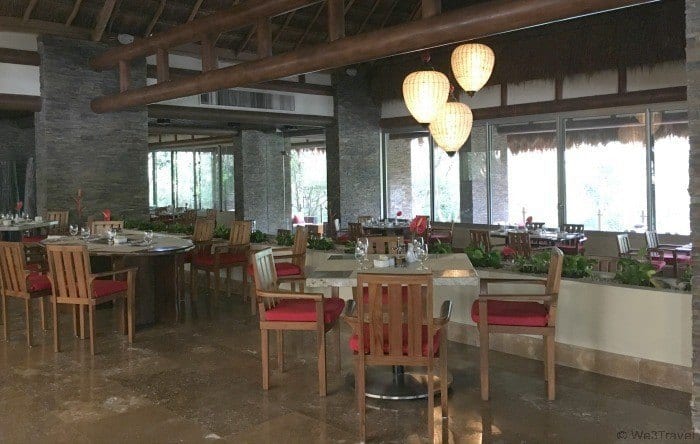 Sen Lin
Sen Lin is one of the top Asian restaurants in Riviera Maya. Unfortunately, it is also the only family-friendly option at the Grand Velas that doesn't offer a kid's menu, so that ruled it out with our crowd. Luckily Hannah got her Asian fix with sushi every day at the pool and an Asian buffet night at Azul. At Sen Lin, they offer fusion cuisine from northeast and southwest Asia, including China, Japan, Korea, Vietnam, Malaysia, Cambodia, and Thailand.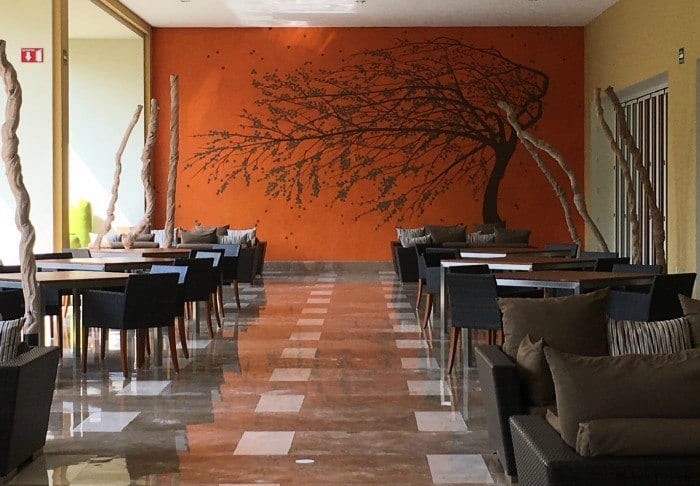 Ambassador Building Restaurants
Frida
Frida has received the AAA Four Diamond Award for its family-friendly Mexican fine cuisine. Named after celebrated Mexican painter Frida Kahlo, Frida is a beautiful restaurant with live music and features creative Mexican cuisine. Again — a tough choice for picky adult eaters.
I started with the crujiente de pescado, which was sort of like a spring roll with minced fish inside, accompanied by a spicy sauce, which was tasty. The corn soups were interesting and a popular choice with our group.
For my main course, I selected the short rib in marrow sauce, with cotija cheese salad, mashed potatoes, and black corn. The short rib was very rich and tender and the cheese salad, which possibly also has some tomatillo, was delicious. The tiny dollop of mashed potato and black corn were more of a garnish than an accompaniment. For dessert, I tried the fritters with chocolate mousse. The mousse had an undercurrent of spice and the "fritter" was a crispy sliver of pastry dough, more like a cracker, and overall the dessert didn't satisfy.
Lucca
Lucca, the Italian option, was one of our favorites and the only dinner restaurant that we returned to more than once. It is also tough to get into (because who doesn't like Italian?) so make sure you book in advance. Featuring fine Mediterranean/Italian (not your typical spaghetti and meatballs), the house specialties include agnello de Lucca, Gnocchi Al Ragu Di Anatra, Filetto Di Manzo Con Burro Alla Senape served with mustard sauce, red wine reduction, potato "tortino" and portobello.
My sister-in-law loved her appetizer of eggplant parmesan, but the puff pastry with asparagus starter seemed to disappoint some others. For the main course, I had fettucini al pesto with green beans and potatoes. It was both good and filling (for a change!) Others really enjoyed the Cipriani-style pasta and the spaghetti alla chitarra. On the second night, I tried the spinach and ricotta tortellini with porcini mushrooms and it was delicious. The desserts were a bit disappointing, but Glenn liked the tiramisu.
Azul
Azul is the buffet restaurant in the Ambassador building, open for breakfast, lunch, and dinner. You can also order from a menu upon request, but the buffet is your simplest and fastest option. For breakfast, you'll find an omelet station, waffles or pancakes, bacon or sausage, and some other brunch/lunch options. There is also a selection of bread and pastries, fresh fruit, yogurt, cereal, meats and cheeses, salads, and desserts.
Lunch is very similar, with a selection of hot food. The food is fine…nothing you will rave about but it gets the job done. The shrimp quesadillas are good, as are the shrimp ceviche and the guacamole. Some nights, there are special themed dinners like Asian night with sushi, gyoza, rice, and other Asian dishes.
Pool-side Dining
During the busy seasons, they set up a poolside buffet with hot dogs and hamburgers. There is also a buffet on the beach with hot dogs, hamburgers, chicken fingers, pizza, kebabs, and more; plus you can order food and drinks to the chairs, including sushi, quesadillas, and an assortment of ceviche.
Grand Class Building Restaurants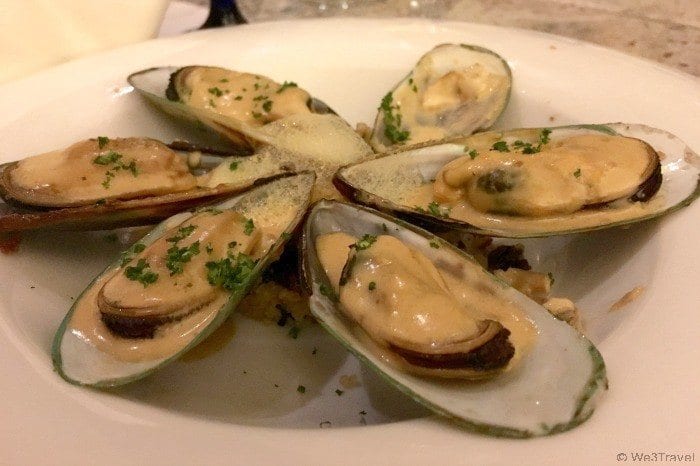 Bistro
Bistro is the Grand Class section's option for breakfast and lunch, but they are also open for dinner (adults only). They start you off with a refreshing cocktail spritzer with cucumber and lime, followed by an amuse-bouche from the chef. A few of us ordered the fresh mozzarella appetizer, which was made with basil in the cheese and is something I could eat every day of my life.
It was so creamy and delicious! Luckily, I enjoyed the first course because the main dish left me hungry, and not just because of the size. I ordered the stuffed Cornish hen stuffed and I found it very bland. The stuffing just tasted like breading and the grains it rested upon seemed too al dente for my taste. For dessert, I ordered the chocolate duo. I'm not really sure what the duo part was because it was three small pieces of chocolate cake layered perhaps with white chocolate with a crunchy bottom. All of it tasted wet and flavorless to me.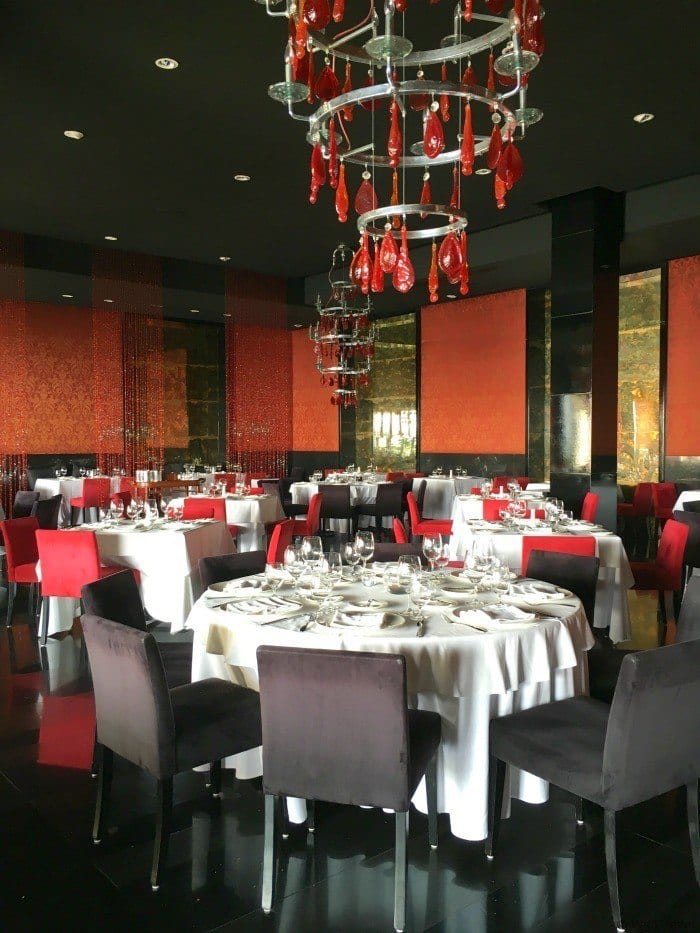 Piaf
The prettiest and also one of the tastiest options we tried was French-inspired Piaf. Named in honor of the famous singer Edith Piaf and beautifully decorated in tones of red and black, with stunning chandeliers and sparkling curtains made of Swarovski crystals, this space transports you to the Parisian luxury of the 1940s. Piaf has also been awarded 4 diamonds by AAA.
I started off with the French onion soup, which was traditional and delicious. Some others really enjoyed the salad with brie, puff pastry, and mushrooms — although it was quite rich. I again tried the short ribs, which were very tender and good. For dessert, we ordered the Grand Marnier and chocolate souffles. The Grand Marnier was good but the chocolate was — just not chocolatey at all. However, the truffles they delivered to the table to finish more than satisfied my sweet tooth.
Cocina de Autor
Cocino is the only restaurant we didn't visit during our stay. Although it looks beautiful, its focus on molecular gastronomy and eclectic cuisine wasn't a good fit for our group's pickier eaters.
The food at the Grand Velas Riviera Maya aspires to greatness and achieves goodness. Personally, for a family-friendly resort, I thought they could use one or two fewer "fine dining" options and add another casual, non-buffet restaurant.
Grand Velas Riviera Maya Spa
Before we even left for Mexico, I'd heard that the Grand Velas Riviera Maya Spa was amazing and I was looking forward to trying it out. Yet it is one of those things that until you experience it yourself, you can't really imagine what would make one spa so special. I soon discovered for myself why they won all their awards and kicked off our family vacation with the best spa experience of my life!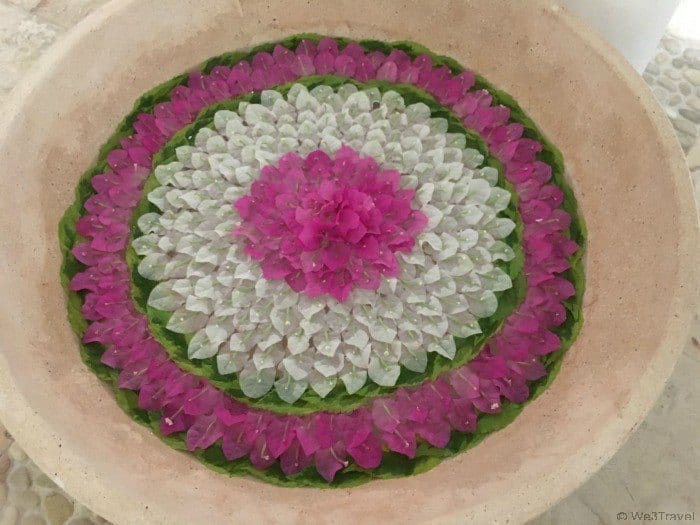 The experience at the Grand Velas Riviera Maya Spa was perfection from start to finish. I was greeted in reception with water and a cold cloth to cool my face. Next, I was brought into the inner sanctum to fill out my health questionnaire and provided another refreshing beverage with filling chia seeds. After confirming my service selection, I was then ushered downstairs to begin my Water Journey.
The Water Journey features separate hydrotherapy facilities for men and women and is included with any treatment of 50 minutes or more. The Journey itself takes about an hour and is composed of seven different water experiences. This experience is a big part of why The Spa at Grand Velas Riviera Maya was voted "Best Spa in the World" by Virtuoso in 2010.
The Riviera Maya Spa Water Journey is designed for relaxation and calm, with chaise lounges edging a hydrotherapy pool in a jungle-like setting. The level of service is unsurpassed as you are personally escorted from station to station, with fresh towels, cold water, and healthy snacks available throughout the 45-90 minutes you spend immersed in this experience.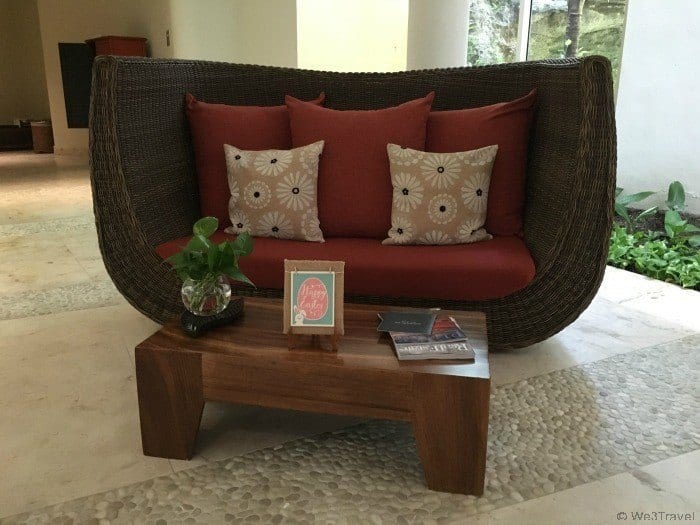 The Journey starts off with a sauna for five to ten minutes and in between stations are warm and cold showers. After the sauna, the Ice Room was a welcome and rejuvenating shock with chilly freshness and ice-coated towels to cool your body. Other offerings include a color steam room, which is almost like stepping into a spaceship with pinpoint LED lights in the ceiling and a circular bench around the perimeter. In the Clay Room, you can coat your face and body with exfoliating clay and an aloe vera gel before spraying off and moving on.
After I finished these steps, it was time to move on to the hydrotherapy pool. When they told me that the first step was to walk across the sensory pebble pathway nearly knee-deep in warm water and then turn and walk back in the parallel walkway in cold water, I thought, no way. I don't like stepping into cold water. And I was supposed to do this three times? My first few steps had me gasping but by the time I reached the end my legs were tingling and felt fantastic so I decided to keep going.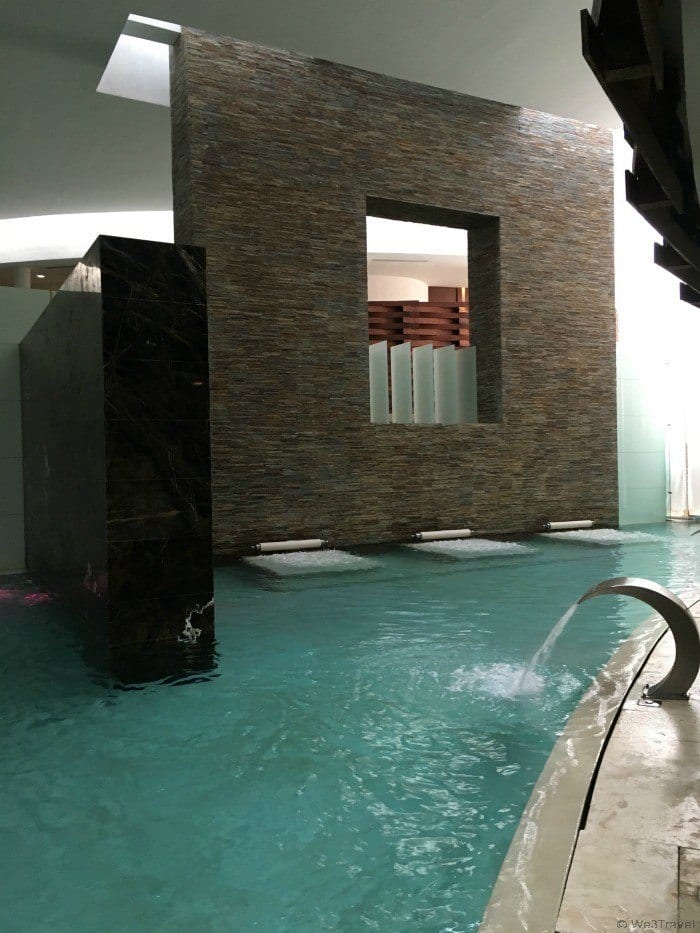 After that, I moved into the main pool, which featured shoulder-high massaging jets, jets to hit the lower back and legs, and a water bubble bed. After all that I couldn't have been more relaxed so instead of using the jacuzzi and cold plunge pool, I decided to read until it was time for my treatment.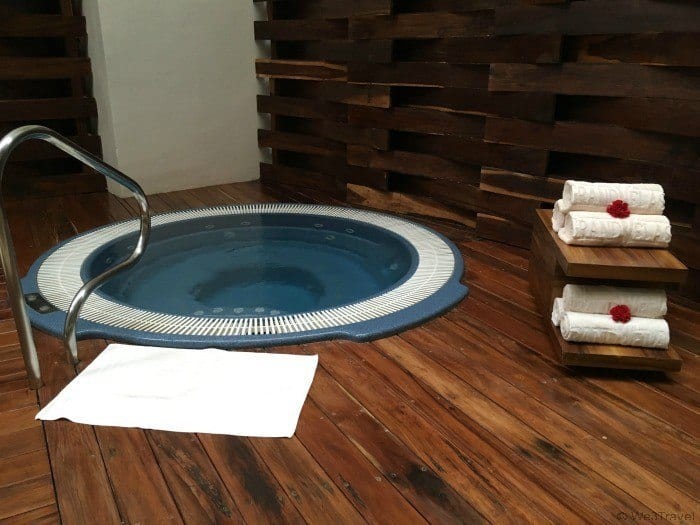 When my time came, I was again escorted up to one of the 42 treatment suites, where I was to receive a Bacal Massage. Utilizing Mayan traditions, this treatment started by soaking my feet in a basin of rice or seeds, while breathing in incense, which was surprisingly relaxing.
The Bacal Massage was a combination of a scrub and a massage. The scrub utilized dry corn and honey to exfoliate and soften the skin, followed by a gentle essential oil massage using corn cobs to apply pressure. I was worried that the 50 minutes would go too quickly and it wouldn't be relaxing but I was dead wrong. The massage was so relaxing that I nearly fell asleep.
When I finally emerged in a haze of relaxation, I finished up my journey with a Vitamin C shower and came out feeling refreshed. It is easy to see how the Spas at Velas Resorts have won numerous industry awards. It was by far the best spa experience I've had to date and can't recommend it highly enough.
If you get a chance to go, you may want to book in advance to get your ideal time. And, be sure to leave plenty of time (at least an hour) before your massage to enjoy the water journey experience — it is worth it, trust me! If you really can't break away for that long (but remember, there is a kids club!), the Grand Velas Riviera Maya also offers poolside massages either at your chair or in the relaxing cabanas. They even offer express massages for kids poolside. My daughter and her cousin were in heaven after theirs!
Tips to Plan your Trip
You will want to fly in and out of Cancun International airport, which has direct service from JetBlue, American Airlines, Delta, United, and others
If you arrange for hotel transportation in advance (for an additional fee), just proceed all the way out of the doors after picking up your luggage to meet your driver. There will be people trying to intercept you along the way to set you up with transportation or sell you on activities, just keep going and look for the guy with the Grand Velas sign
As an alternative, you can take a shared transportation option like Super Shuttle or Best Day, but I'd recommend arranging it in advance
The trip from the airport takes approximately 45 minutes
Families will probably enjoy the Ambassador section the best but request a high floor
I'd strongly encourage you to make dining reservations in advance through the online request form
While the hotel supplies a small spray bottle of bug spray, I'd encourage you to bring a bug spray with DEET to avoid mosquito bites, especially with Zika and other mosquito-borne illnesses in the area
The gift shop is more of a boutique, so try to bring along any of the toiletries and over-the-counter medications you may need
Kayaks and boogie boards are included but other water sports are not
If you are traveling with a baby, the Grand Velas offers a baby concierge, including cribs, high chairs, strollers, and other amenities for babies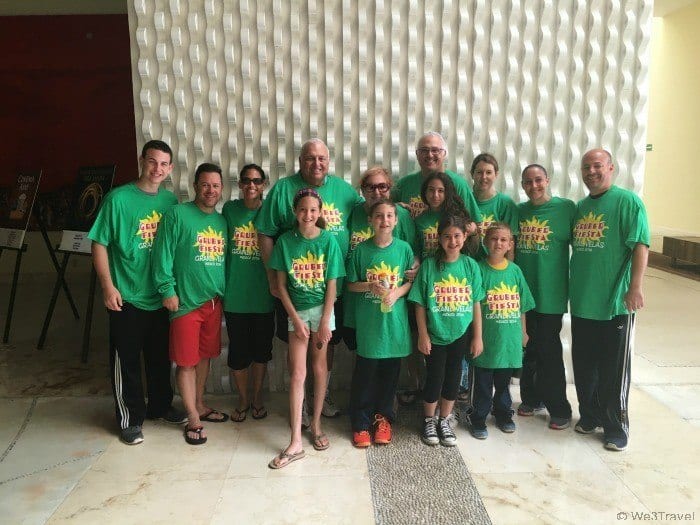 We had a wonderful trip and everyone enjoyed their stay — from the oldest to the youngest. The Grand Velas is definitely well-appointed for a multi-generational stay for families that enjoy that large resort feel. Lots of amenities, spacious rooms, high-touch service without being super-luxe or stuffy — plus loads of activities and amenities to keep families entertained. It was large enough to offer a broad range of services but small enough to not feel like a mega, impersonal resort. The kids are already clamoring to return!
PIN THIS FOR LATER
SaveSave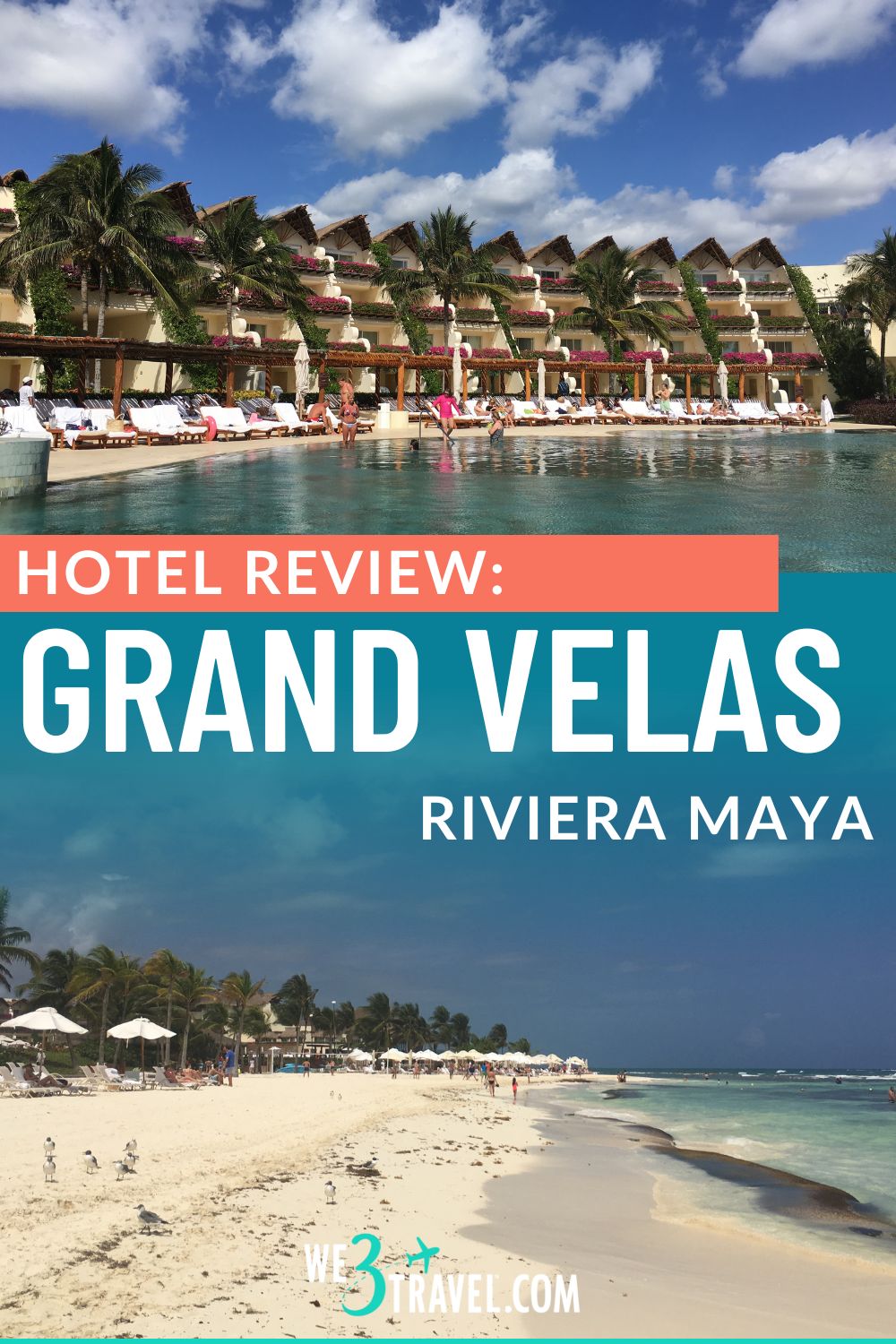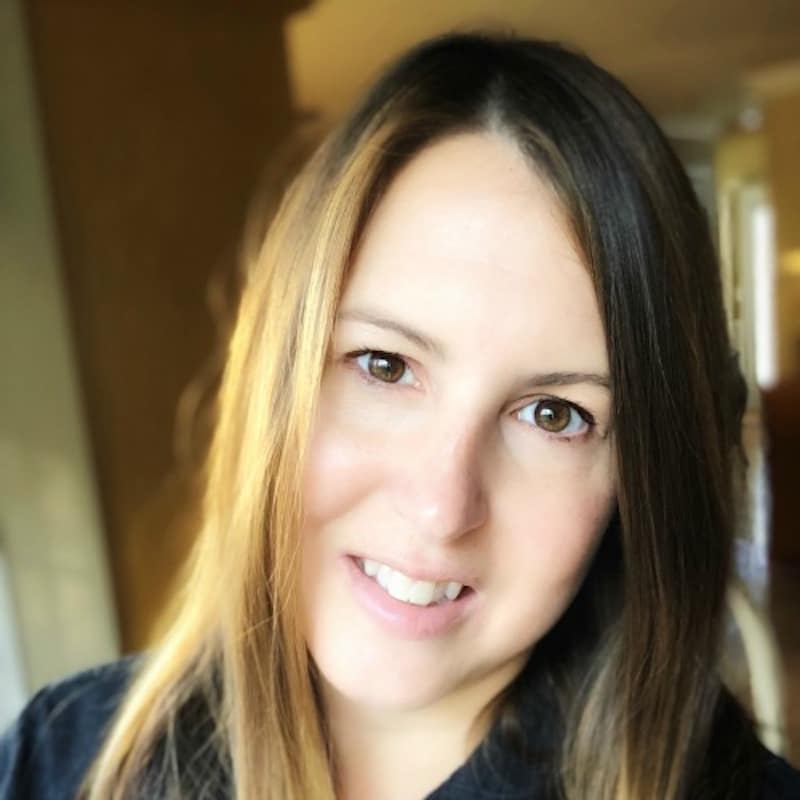 Tamara Gruber is the Founder and Publisher of We3Travel. A former marketing executive and travel advisor, Tamara is an award-winning travel writer and recognized expert in family travel. She is also the publisher of YourTimetoFly and the co-host of the Vacation Mavens travel podcast.