When it comes to choosing a destination for a multi-generational trip, finding a resort that has something for everyone can be the biggest challenge. Add the desire for luxury accommodations and fine dining in a location that is easily accessible by direct flight from Florida and Boston and the selection gets even smaller. Our last multi-gen family trip to the Four Seasons in Costa Rica was a huge success, but this time we wanted to try something new. Plus, with fourteen of us for seven nights, the Four Seasons would cost a fortune.
Our search led us to the Riviera Maya, where we could find everything we were looking for: luxury accommodations, beautiful beach, kid-friendly pool, kid's club AND teen's club, fine dining and…for a bonus, a wonderful spa. Here is our Grand Velas Riviera Maya review. See also these suggestions for the best Mexico resorts for large families and if you are looking for an adults-only luxury resort, take a look at this Le Blanc Los Cabos review.

Grand Velas Riviera Maya Review
We were deciding between a few resorts, but ultimately the Grand Velas Riviera Maya won out because we heard the food was good, the spa was fantastic, and, unlike the nearby Rosewood Mayakoba, they had a teen's club. There is also a Grand Velas in Nuevo Vallarta. While the Grand Velas Riviera Maya is a four-star resort, it would only cost a small fortune for our crowd, where rooms in the Ambassador building start around $900 per night.
But the nice thing about staying at an all-inclusive is that you know what you are getting going in. Instead of shelling out $700-1000 a night for a luxury resort and then adding on the expensive food and drink tabs, everything except premium wines, spa services and tips are included.
The Grand Velas Riviera Maya is a gorgeous resort and is extremely family friendly. The kids couldn't have been happier and it turned out to be a perfect pick. The 24-hour suite service may have spoiled them for life — I think the kids will all be calling the house landline to order dinner delivered for a while. While the kid's club and teen club turned out to not be as important, I'm pretty sure we got our money's worth with how much these kids ate from the mini bar and room service.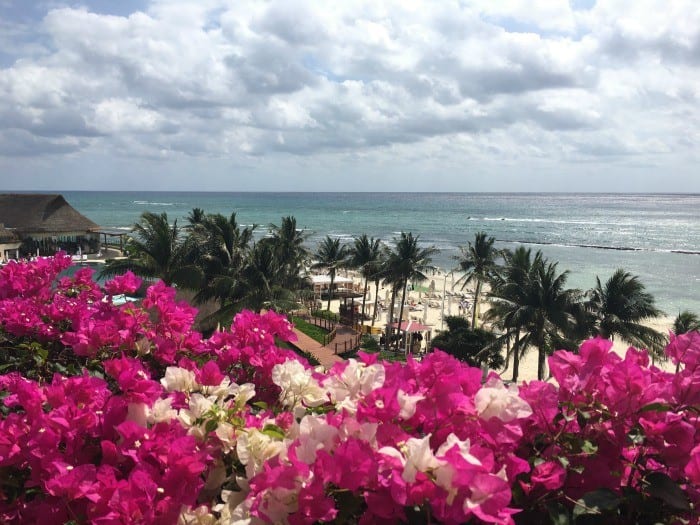 Location
The Riviera Maya is located south of Cancun on the Yucatan peninsula, facing the Caribbean Sea. About 45 minutes from the Cancun airport, the Riviera Maya is a strip of secluded resorts in the midst of the mangrove jungle. Each hotel entrance is gated and the resorts are not visible from the road. It makes sense in these parts to stay at an all-inclusive resort, since it isn't so easy to drive into Playa del Carmen or Cancun for dinner.
If you do want to get off property, you can arrange a tour of the Tulum Mayan ruins, visit one of the Xcaret Parks, or check out one of the many cenotes near Cancun.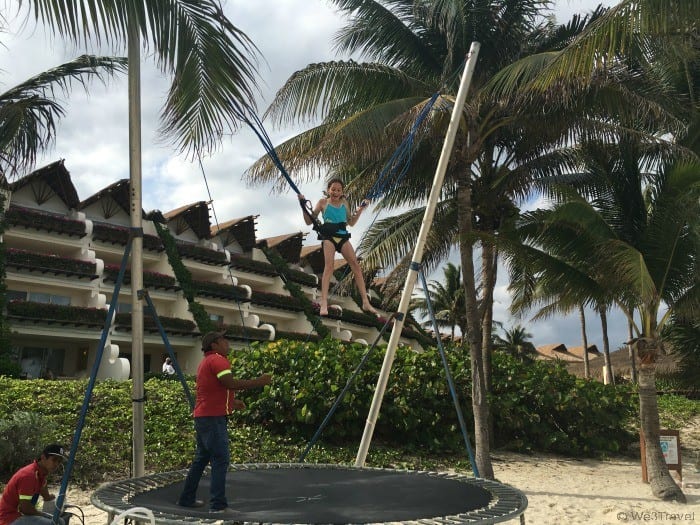 Amenities
The Grand Velas Riviera Maya has three main buildings: Zen, Ambassador, and Grand Class. The Zen section has three buildings and is also home to the resort's conference center. It has its own gym, is home to the resort's spa, has a miniature golf course, kid's club and the Zen pools, and houses the Chaka and Sen Lin restaurants, as well as the Koi bar. The spa is spectacular and offers a unique water journey — the best spa experience I've ever had.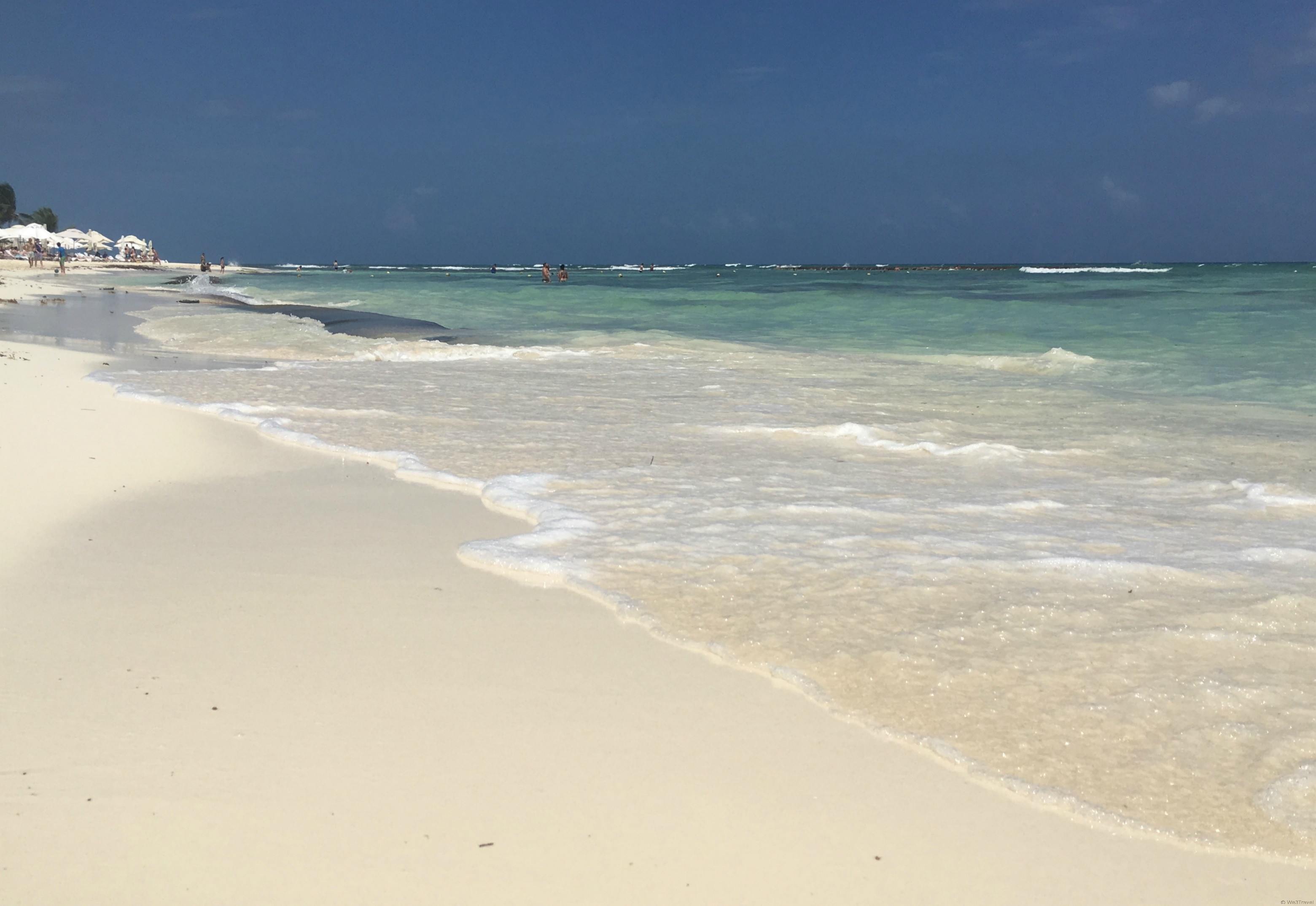 The beachfront property is the Ambassador building, and adjacent is the Grand Class, adults only building. The Ambassador building features a large pool, including a zero-entry toddler section and a large beachfront, with chairs, service and a beach bar. Just be aware that the pool is not heated and even in March, it was pretty chilly! Despite the temperature, the kid's loved ordering juice and smoothies at the swim up bar and I was surprised by how many people participated in the water aerobics, hamster ball, and other pool games like water polo.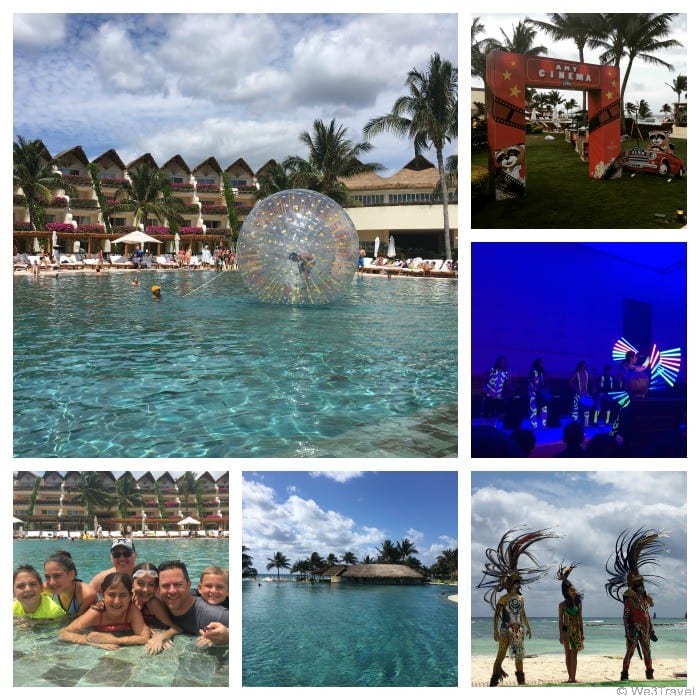 At the Ambassador, you can also find a second kid's club and the very cool teen's club. The teen's club is open during the day for families, but is reserved for those over 12 in the evenings until 11pm (although we saw a few younger kids in there at night.) It offers ping pong, foosball, pool, and video gaming pods. At the kid's club, they offer activities throughout the day and evening, as well as video games, movies, and other games.
For kids, there are also all sorts of scheduled activities throughout the week from Amy Cinema outdoor movies, to shows like Mayan dancers, a Michael Jackson show, magic show, and light show, as well as organized games. On the beach, they also offer volleyball and Euro Bungy.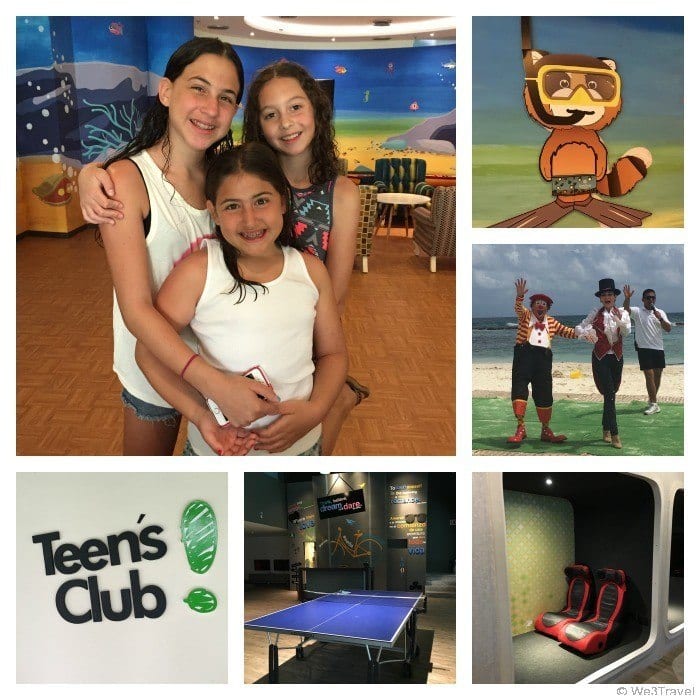 The Ambassador offers the most family-friendly dining options including Azul, a buffet restaurant offering breakfast, lunch and dinner; Frida, with modern Mexican cuisine; and Lucca, featuring the popular Italian cuisine. There is also a piano bar, and a karaoke bar, which is open for kids until 10pm, when it becomes adults only.
The Grand Class section has three restaurants, the Bistro, which is open for breakfast, lunch and dinner; Piaf, a French-inspired fine dining restaurant; and Cocina de Aurtor, a four diamond restaurant that offers a gastronomy experience, all of which are adults over 16 only. (See more about dining at the Grand Velas Riviera Maya.)
Accommodations
Our family stayed in the Ambassador building, but they were kind enough to give me a tour of the entire property.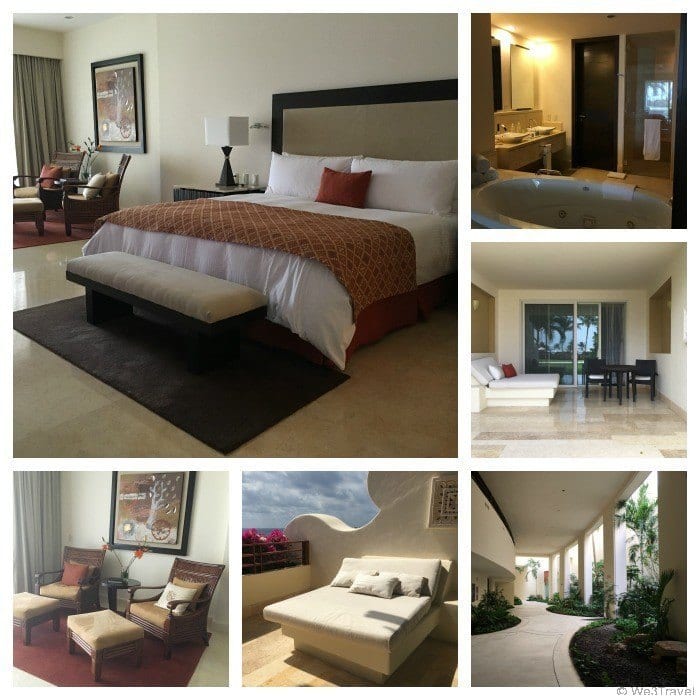 Ambassador
All the rooms at the Grand Velas Riviera Maya are quite large, with 1270 square feet to spread out. Even rooms with two queen beds have enough space for a large rollaway bed. All rooms also offer a private terrace with views of the Sea. The Ambassador is great for families not just because of the beach and pool, but also because 80 percent of the rooms in this section are interconnecting suites to accommodate families.
The suites offer Jacuzzi tubs, walk in closets, large showers, a double sink vanity, sliding doors to separate the tub/bathroom from the rest of the suite to make views possible even from the tub. They also offer mini-bars (all complementary!), 42″ plasma TVs with premium cable (for English language shows and movies), a CD/DVD player, and free WiFi (no password or login required.)
I definitely loved being able to sit on our veranda and relax or work. If not for the mosquitoes and safety concerns (being on the ground floor), I would have slept out there!
If you have small children, I'd recommend requesting a high floor. Not only will you have wonderful views, but they are also a little quieter. The stone hallways on the ground floor really amplify the noise of people walking by after dinner or late nights at the bar. The noise between the rooms is minimal, but the noise from the hallway can be quite loud.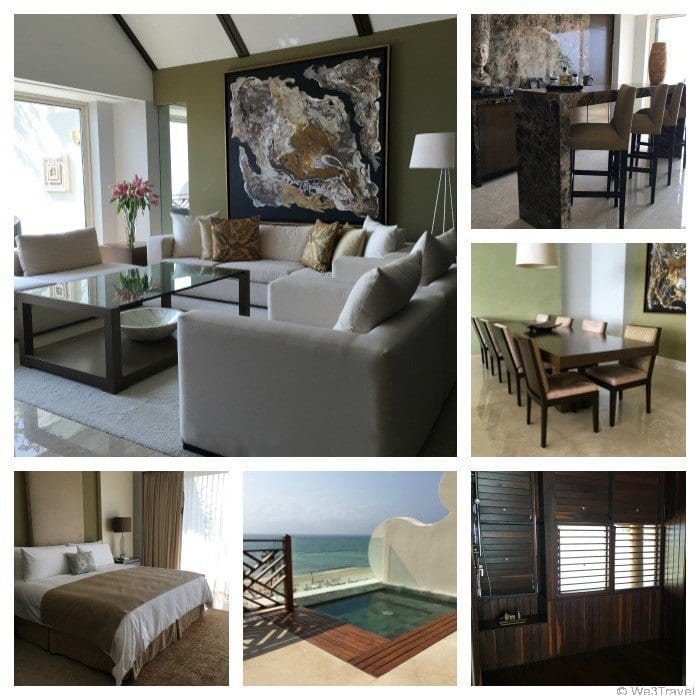 Grand Class
Rooms in the Grand Class section are even larger. These 90 suites are adults only, or for families with teens 16 and up. All suites are oceanfront and offer private plunge pools on the terrace. These suites also feature lounge areas, 42″ plasma TVs, walk-in closets, CD/DVD players and Wi-Fi, as well as a Jacuzzi tub and rain shower.
The most breathtaking are the Presidential Suites, which have two bedrooms and a huge living area with a full dining table, bar, and living area. The feature that really blew me away was the outdoor shower. In the bathroom, next to the large walk-in shower, there is a non-airconditioned second "outdoor" shower, where you can open the louvered windows for a fresh air experience.
Zen
The Zen rooms are the smallest of the lot (slightly under 1200 feet), but offer the same amenities These 254 suites are decorated with red accents, and embrace the Zen aesthetic. Set in the natural landscape of the Riviera Maya jungle, the Zen section is just a 5-minute shuttle ride from the Ambassador section. The private terraces overlook either the peaceful jungle or are pool front, and some offer a private plunge pool.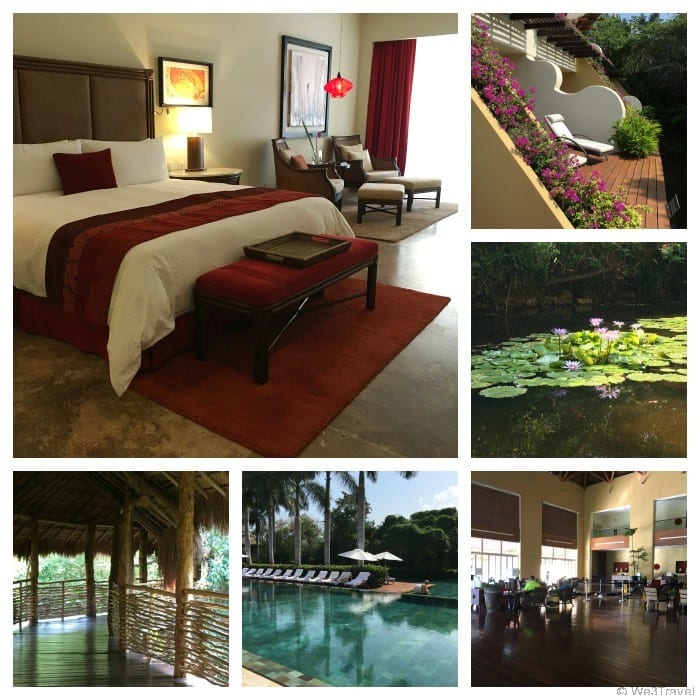 Plan your Trip
You will want to fly in and out of Cancun International airport, which has direct service from JetBlue, American Airlines, Delta, United, and others
If you arrange for hotel transportation in advance (for an additional fee), just proceed all the way out of the doors after picking up your luggage to meet your driver. There will be people trying to intercept you along the way to set you up with transportation or sell you on activities, just keep going and look for the guy with the Grand Velas sign
As an alternative, you can take a shared transportation option like Super Shuttle or Best Day, but I'd recommend arranging it in advance
The trip from the airport takes approximately 45 minutes
Families will probably enjoy the Ambassador section the best, but request a high floor
I'd strongly encourage you to make dining reservations in advance through the online request form
While the hotel supplies a small spray bottle of bug spray, I'd encourage you to bring a bug spray with DEET to avoid mosquito bites, especially with Zika and other mosquito-borne illnesses in the area
The gift shop is more of a boutique, so try to bring along any of the toiletries and over-the-counter medications you may need
Kayaks and boogie boards are included but other water sports are not
If you are traveling with a baby, the Grand Velas offers a baby concierge, including cribs, high chairs, strollers, and other amenities for babies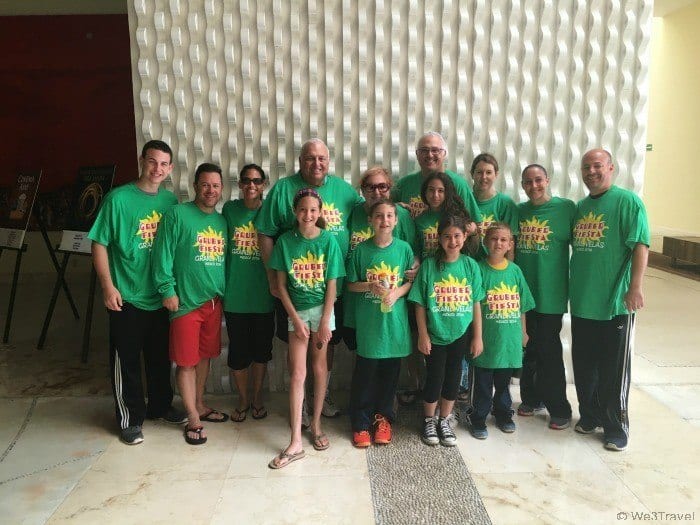 We had a wonderful trip and everyone enjoyed their stay — from the oldest to the youngest. The Grand Velas is definitely well appointed for a multi-generational stay for families that enjoy that large resort feel. Lots of amenities, spacious rooms, high-touch service without being super-luxe or stuffy — plus loads of activities and amenities to keep families entertained. It was large enough to offer a broad range of services but small enough to not feel like a mega, impersonal resort. The kids are already clamoring to return!
PIN THIS FOR LATER
SaveSave