Imagine yourself slogging through traffic in Boston on your way to Logan Airport and then three hours later sticking your toes into the soft pink sands of Bermuda's beaches and looking out at its crystal clear waters. I never realized that this island paradise was so close to home until I recently spent six days in Bermuda. This happy island's proximity, accessibility, friendly people, and stunning beaches make it perfect for a Boston to Bermuda weekend getaway – although I would happily stay longer!
A direct flight from Boston to Bermuda is only about two hours (1.75 hours flying time on the way there), and about the same from NYC, making visiting Bermuda for a long weekend a no-brainer. I don't know why it has taken me so long to figure that out.
5 Reasons to Take a Boston to Bermuda Weekend Getaway
1. Beautiful Blue Water
Located off the coast of North Carolina, Bermuda is in the Atlantic Ocean, but judging by the color of the water, it is easy to think it is the Caribbean. That clear water is thanks to the island not having any rivers to muddy things up. Combined with the reefs surrounding the island providing for relatively calm seas, and shipwrecks dotting that reef, the island is a paradise for scuba divers and snorkelers.
Of course, the lack of fresh water also means that the islanders have to be careful and creative about rainwater collection. Rains wash over Bermuda frequently but rarely last long. Just enough to provide the freshwater needed by locals.
While the island has seen its share of hurricanes, it actually manages quite well and recovers quickly because of the sturdy construction using the island's volcanic stone for building.
2. Pink Sand Beaches
Bermuda is actually made up of 138 islands, which means there are a lot of beaches! Not all beaches feature Bermuda's notorious pink sand, but many have that beautiful hue. The pink sand is caused by small red organisms that live in the reef, mixed with coral and shells and ground up by nature. One of the pinkest beaches on the island is Warwick Beach in the Warwick Parish on the south side of the island.
Horseshoe Beach is one of Bermuda's most famous beaches, located in Southampton Parish near the Gibbs Hill Lighthouse. This stunning beach is postcard-worthy in every way. The sand is a light pink hue. The water is the brightest blue and the horseshoe shape of the bay leads to calm waters that were surprisingly warm, even in October.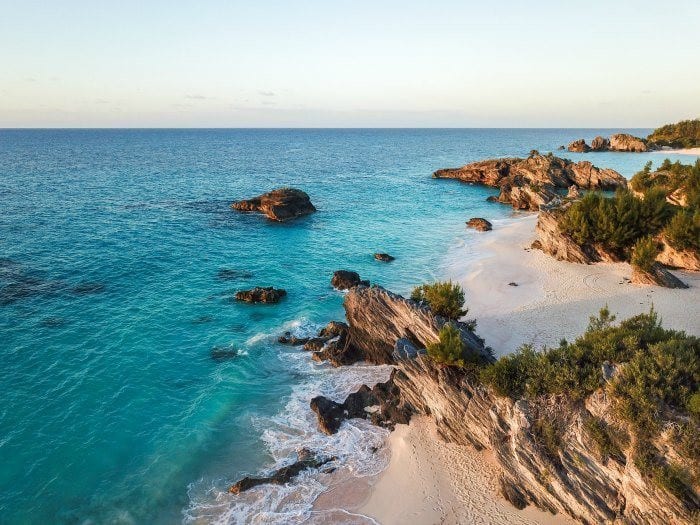 Since I was staying at the nearby Fairmont Southampton, I came down to Horseshoe Bay, and its nearby "hidden" coves to catch the sunrise over the water. During the day it can get a little crowded from cruise ship day-trippers, but at dawn, I had the beach to myself.
3. Friendly Locals
One thing you will immediately notice about Bermuda is that it is a very affluent island. The island is well-established in the re-insurance business and the capital city of Hamilton sees a steady stream of business travelers.
The buildings are well-constructed and the island is very clean and pretty. It may tempt you to think about Bermuda as a retirement destination but start saving now because it is hard for non-residents to own property and houses start at around $1.6 million.
The locals are extremely friendly and helpful. My cab driver on the way from the airport eagerly pointed out many landmarks and attractions along our route.
Our driver on the return trip to the airport was happy to arrange for us to store our luggage at the Swizzle Inn while we visited the nearby Crystal Caves and then come back to pick us up for our return to the airport.
While I was there for a conference and a post-conference press trip put on by Bermuda Tourism, everyone I encountered both during and outside of the press trip was equally welcoming.
If you really want to get a taste of the local culture, I would encourage you to visit during a festival like Carnival, which takes place in mid-June. You can also try to take in a performance of Gombey dancers, which is a mixture of British, West African, and indigenous new-world cultures. There are often performances on weekends in Bermuda.
Quite a few locals I met were also really into Soca music, a genre that originated in Trinidad and Tobago. It was new to me but I've since added some songs to my playlist. This is what I'll need to play when I'm dreaming of Bermuda!
4. Luxury Resorts and Family-friendly Airbnbs
This post contains affiliate links. If you click a link and make a purchase, I may receive a small commission. All opinions are my own. I was hosted at the Hamilton Princess and some of the activities and meals listed below.
Bermuda is not an inexpensive island, but there are still properties for all price ranges. There are luxury resorts, golf resorts (and six world-renowned golf courses), boutique hotels for romantic getaways, and more affordable vacation rentals/Airbnbs.
During my visit, I stayed at the Fairmont Southampton and was hosted at the Hamilton Princess. Both are Fairmont properties and very family-friendly, yet I would tip my preference toward the Fairmont Southampton.
Fairmont Southampton
Located about 30 minutes from the international airport (a $60 cab ride), the Fairmont Southampton is perched on a hill with views of the bay and the Gibbs Hill Lighthouse. The rooms are large and most offer a balcony view of the water (and possibly the pool). See more pictures and read reviews!
The hotel offers a shuttle service down to its beach club, where they offer towels and a beach bar. You can also cross over to the public beach at Horseshoe Bay. It is walkable to the beach, but it may take about 10 minutes, and you will prefer the shuttle ride on the way back up the hill.
I didn't have the opportunity to dine at the resort, outside of some quick purchases at the coffee shop and conference meals, which were quite good for conference fare. However, there are eight options to choose from with cuisines including a steakhouse, sports bar, Mediterranean, and Bermudan cuisine.
The hotel also features a kids' club, spa, Turtle Hill Golf Club, tennis courts, a dive center, and snorkel gear rentals.
While it is a five-star resort, you may find a few things in need of a refresh. However, you will have the amenities, turn-down service, and other options you expect from a luxury resort. My only warning would be to keep your balcony door closed to keep the critters out. I was a little too eager for that warm, island air and caught a cockroach trying to make its way into the room.
Hamilton Princess
Located in the heart of the main city of Hamilton, on a marina, the Hamilton Princess offers a different, more downtown vibe. You can still take a 20-minute shuttle to their beach club and use the two on-property heated pools, but it is more for those looking for a centrally-located hotel with walk-out access to shops and restaurants. See more pictures and read reviews!
The service is top-notch (especially the Bermuda-shorts-wearing doormen), but it doesn't have that beach resort feel. In fact, the hotel has one of the most impressive art collections I've seen, better than many art galleries.
The spacious, well-appointed rooms offer relaxation, with beautiful views and large verandas. I loved having built-in closets in both properties.
The other draw for the Hamilton Princess is the food. 1609 Restaurant overlooks the marina and offers stunning sunset views. And the crispy shrimp is heavenly!
5. Activities Galore
In addition to all of the golf courses and beaches, there are plenty of things to do in Bermuda, whether you are on a romantic getaway or a family trip.
Crystal Cave
Just a few minutes from the airport lies the entrance to Crystal Cave and Fantasy Cave. Bermuda is made of a solid chunk of volcanic rock and throughout the island, you can find different caves and grottos. Crystal Cave is the most popular, although Fantasy Cave is longer and deeper (you can buy a combo ticket to both.)
I have been on quite a few cave tours and what makes this one special is the crystal-clear lake in the cave. You can see right down to the bottom, below the sparkling stalactites. In fact, you can see so clearly that you may spot a few lost phones and sunglasses resting on the rock below.
Cave tours only take about 30 minutes but are worth the investment in time and money. If you are more into impressive rock formations, choose Fantasy Cave over Crystal Cave.
After your tour, get an ice cream at Bailey's or pop across the street to the original Swizzle Inn for some delicious food (if not the healthiest) and their famous Rum Swizzle.
Biking the Rail Trail
Bermuda has over 21 miles of relatively flat and easy bike trails to explore. You can rent your own bikes or book a tour with Social Cycles. Of course, you don't need to bike the whole trail, but the nice thing is that there are so many beautiful stops along the way.
You can also see fun and quirky places like Somerset Bridge, the world's smallest drawbridge, and stop at The Bridge Trading Post, a coffee shop and bakery next door.
Bermudian Picnic
The Bermudian people love a picnic with sandwiches, potato salad, and maybe a few rum swizzles! Scaur Hill Fort and Park offers the perfect spot for a picnic with magnificent views overlooking the Great Sound.
We were treated to an amazing picnic by Utopia caterers and Bermuda Tourism, complete with steel drum music and a view to make you never want to leave.
Royal Naval Dockyard
The Dockyard is where many cruise ships come to port. This is also where you will find attractions like the National Museum of Bermuda, the Commissioner's House (where we had a special event the first night in Bermuda), and Dolphin Quest, where you can swim with the dolphins.
While it offers shopping like the Bermuda Craft Market and Clocktower Shopping Mall, as you might find in a typical cruise port, it is also quite pretty and nice to explore.
St. George & Haunted History Tour
The town of St. George, on the Northern tip of the island, is actually a UNESCO World Heritage Site. While it is a pretty town to explore in the daylight, you can also learn its (sometimes) morbid history on a Haunted History Tour.
Unlike spooky ghost tours, there isn't that much that is very scary about the stories they tell. However, the company does employ a number of actors to join the cast throughout the walking tour so don't be too surprised when a few jump out at you. The tour runs for about an hour and isn't suitable for young children or those very easily spooked.
Wahoo's is a popular spot for dinner before the tour. Don't expect to be wowed by the food, but the view is pretty if you can get a table on the back patio.
Bermuda Aquarium and Zoo
If you are traveling with small kids, or need a rainy day activity, stop into the Bermuda Aquarium and Zoo in the town of Flatts. They pack a surprising amount into a small space, including a restaurant/bar and children's playground (conveniently right near the restaurant.)
However, the real treat is if you can book one of their boat tours of Harrington Sound or their private island – Trunk Island.
Afterward, walk over to the Village Pantry for lunch or dinner. This farm-to-table restaurant offers healthy and delicious entrees and the covered outdoor patio also includes a children's play area.
Charter a Boat
One of the best ways to see Bermuda is by boat. There are many ferries that connect different parts of the island. However, if you can afford it, I would highly recommend chartering a boat for the day. You can explore the Sounds, peek into inlets and coves, and spend time snorkeling by the reef.
I can't think of a more perfect day in Bermuda!
Fort Hamilton
Families that enjoy history will also appreciate a stop at Fort Hamilton in Hamilton. Here kids can crawl through tunnels and look down at the moat, imagining bygone days while learning about Bermuda's history.
While you are in Hamilton, you can pop into some of the local shops like Urban Cottage and Island Sole.
Tips for Visiting Bermuda
While Bermuda is only 21 miles long and no more than two miles wide, there are a few things you should know before you go.
If you are planning your first trip to Bermuda, follow these Bermuda travel tips:
Visitors are not allowed to rent cars on the island, so you are going to need to rely on taxis and the bus system.
As a British overseas territory, they follow the British rule of the road and drive on the left. What does this mean for you besides learning to get into the correct side of the taxi? It means to be careful when crossing the street because cars may be coming from where you don't expect them.
Bermuda does have its own currency, the Bermudian dollar. However, it is pegged to the U.S. dollar on a 1:1 ratio and businesses will happily accept U.S. dollars. However, you may receive change in Bermudian currency.
Food is expensive so be sure to budget accordingly.
Not all cabs take credit cards so make sure to bring some cash and your ATM card.
Remember that Bermuda is not in the Caribbean so the winter is cooler. Expect highs in the upper 60s and low 70s from November through April, and highs in the 80s from May through October.
It is also in the hurricane belt, so purchase travel insurance when traveling in the late summer and fall.
The good news is that Bermuda is Zika-free!
Just remember that while they speak English and take U.S. dollars, you will still need to bring your Passport (and not just a Passport Card.)
If you are looking for island getaways from Boston, I would highly recommend giving Bermuda a go! After all, Conde Nast Traveler named Bermuda the best island destination in the Atlantic & Caribbean.
PIN THIS FOR LATER