I've only stayed at a few all-inclusive resorts before — Beaches in Jamaica, the Moon Palace in Cancun, and a few cruises. Most of these sorely disappointed when it came to the food. In all fairnesses, all-inclusive resorts aren't usually known for their food. Typically, visitors are looking for value and convenience — not fine dining options. However, you may have already picked up on the fact that our family enjoys good, local food and it is an important part of our travel experience. This priority was multiplied on our recent multi-generational trip to the Riviera Maya in Mexico. Among our extended family of fourteen, we have picky eaters, kids with food allergies, and gourmands all rolled up into one group. A big part of our resort selection was based on what we heard about the dining at the Grand Velas Riviera Maya.
But the question still remained, would the dining at the Grand Velas Riviera Maya be good, or just good for an all-inclusive? The answer is a bit of both…but let me break it down by restaurant with Grand Velas Riviera Maya restaurant reviews so you know what to expect and how to plan your stay.
First of all, it is important to know that the Grand Velas Riviera Maya is spread throughout three buildings…the Ambassador, the Ambassador Grand Class, and the Zen buildings. The Ambassador is beach and pool front, and the first choice for families given the amenities and percentage of interconnecting suites. The Grand Class is a short walk away, interconnected to the Ambassador building, but is reserved for adults over 16 (as are its restaurants). The Zen building, also home to the conference center, is one kilometer away and requires shuttle bus transportation (which runs constantly.)
Altogether, the resort has eight main restaurants — three in Ambassador, three in Grand Class (adults only) and two in Zen. A few of the bars include the swim up bar at the Ambassador pool, the Karaoke and Piano bars in the Ambassador (karaoke for kids until late night), the beautiful Koi bar in Zen (with a huge screen for watching games), and a beachfront bar.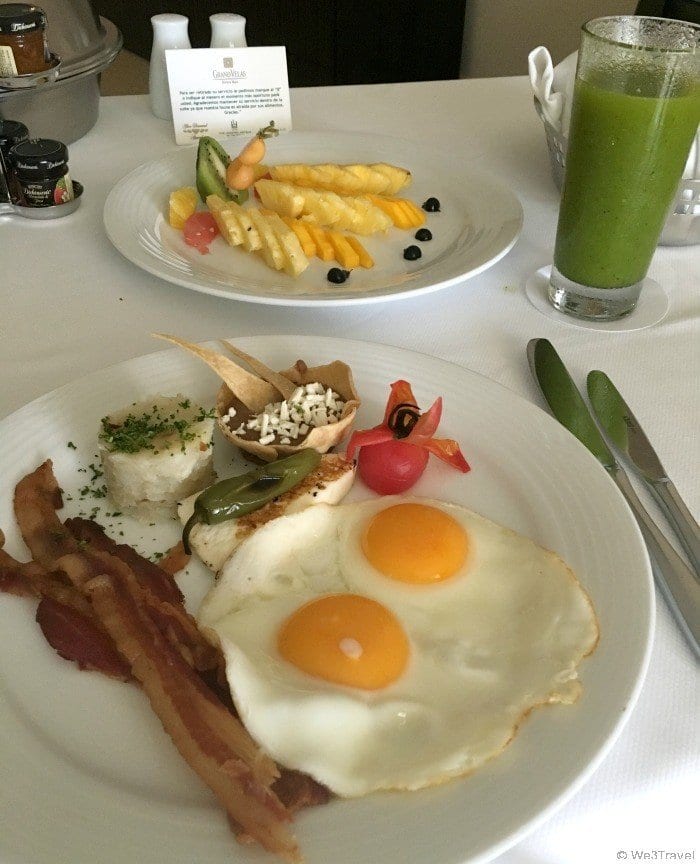 Grand Velas Riviera Maya Restaurant Reviews– what you need to know before you go:
Everything is all-inclusive except if you want to order a special bottle of wine — house wine by the glass in included. A few of the house wines are terrible but most are fine
Room service is available 24/7 and is probably the fastest option you will find
They ALWAYS ask if there are any food allergies
Reservations MUST be made in advance. Except for the buffet restaurants, if you wait until you get here you will end up eating at 9:30 pm or later. Reservations can be made by calling 1-877-418-2963 or you can request reservations online.
Most restaurants require men to wear long pants and collared shirts. For women, the dress is also resort casual — but casual is nice — not shorts or flip flops.
You will NOT spend the week eating Mexican food. There are different cuisines at each restaurant and none of them resemble the tacos, enchiladas and burritos that Americans think of as Mexican food. (But you can get a quesadilla from room service or at the pool)
Each family-friendly restaurant offers a kids menu, which has your typical options of pizza, pasta, chicken fingers, mac n cheese (usually), filet mignon (tiny), and grilled chicken.
Portions are very small (e.g. main course = 3 scallops or 4 shrimp)– if you are starving, go to the buffet or order a snack from room service
Plan on dinner service taking two hours — EVERY TIME. Seriously. The restaurants were never full but on one occasion we waited an hour before our amuse bouche was served. Luckily, they bring out kids meals very quickly. Not so good, then they have to sit there waiting for the adults. And…if one kid in your party orders an adult meal (like mine), she has to wait with the adults while the kids all eat around her. If your kids can't handle that, either go to Azul (with a dinner buffet) or run the kids over to the kid's club while you finish eating.
The Kids Club and Teen Club are open until 11pm so that parents can dine on their own. Sometimes there are special buffets and events for kids and other times they will take the kids to Azul for a group dinner
You will still need to sign a check and have an option for leaving an optional gratuity. The staff works hard at all-inclusives and doesn't always get tipped so I would recommend leaving at least a 10% gratuity on your checks
All the restaurants are very dark — so bring your phone for the flashlight and don't think you are going to get any good food shots (as you can tell by this post's lack of food pictures)
The butter is always cold — or really, frozen
The minibar in the room is also included, however you only get one bottle of tequila, red wine and white wine per stay
Grand Velas Riviera Maya Restaurants — Zen Building
Chaká — Chaká is open for a breakfast and lunch buffet seasonally and features international cuisine. Located in the jungle section of the Zen building, this open air restaurant also features Mayan cuisine at night. We ate here on our first night and started with a sampler of Mayan appetizers including some yummy pork empanadas. I had the shrimp dish, Hannah had the salmon and Glenn had the scallops. All the dishes were beautifully presented but tiny — four shrimp for me, two tiny pieces of salmon for Hannah. Even the kids meals were tiny. The food was good, but didn't wow us, and the menu was tough for the picky eaters.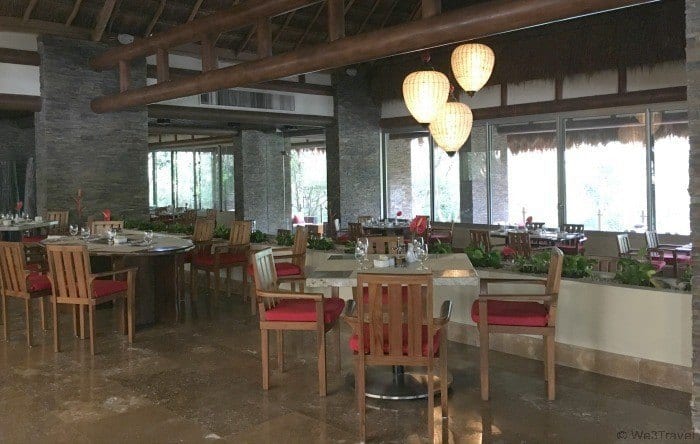 Sen Lin — Sen Lin is one of the top Asian restaurants in Riviera Maya. Unfortunately, it is also the only family-friendly option at the Grand Velas that doesn't offer a kid's menu, so that ruled it out with our crowd. Luckily Hannah got her Asian fix with sushi every day at the pool and an Asian buffet night at Azul. At Sen Lin, they offer fusion cuisine from northeast and southwest Asia, including China, Japan, Korea, Vietnam, Malaysia, Cambodia and Thailand. Dishes include softshell crab marinated in roasted garlic and breaded in tempura, marinated duck in ten spices served with warm plum sauce, and angus beef scallops with rice noodles, vegetables and a lightly spiced peanut sauce.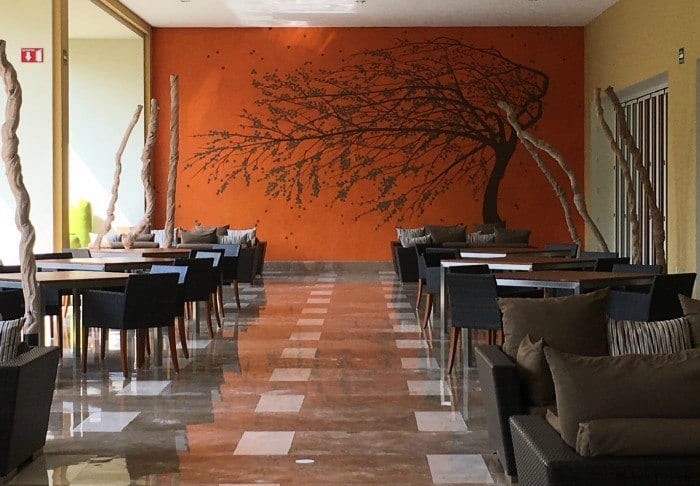 Grand Velas Riviera Maya Restaurants — Ambassador Building
Frida — Frida has received the AAA Four Diamond Award for its family-friendly Mexican fine cuisine. Named after celebrated Mexican painter Frida Kahlo, Frida is a beautiful restaurant with live music and features creative Mexican cuisine. Again — a tough choice for picky adult eaters. I started with the crujiente de pescado, which was sort of like a spring roll with minced fish inside, accompanied by a spicy sauce, which was tasty. The corn soups were interesting and a popular choice with our group. For my main course, I selected the short rib in marrow sauce, with cotija cheese salad, mashed potatoes and black corn. The short rib was very rich and tender and the cheese salad, which possibly also has some tomatillo, was delicious. The tiny dollop of mashed potato and black corn were more of a garnish than an accompaniment. For dessert, I tried the fritters with chocolate mousse. The mousse had an undercurrent of spice and the "fritter" was a crispy sliver of pastry dough, more like a cracker, and overall the dessert didn't satisfy.
Lucca — Lucca, the Italian option, was one of our favorites and the only dinner restaurant that we returned to more than once. It is also tough to get into (because who doesn't like Italian?) so make sure you book in advance. Featuring fine Mediterranean/Italian (not your typical spaghetti and meatballs), the house specialties include agnello de Lucca, Gnocchi Al Ragu Di Anatra, Filetto Di Manzo Con Burro Alla Senape served with mustard sauce, red wine reduction, potato "tortino" and portobello. My sister-in-law loved her appetizer of eggplant parmesan, but the puff pastry with asparagus starter seemed to disappoint some others. For the main course, I had the fettucini al pesto with green beans and potatoes. It was both good and filing (for a change!) Others really enjoyed the Cipriani-style pasta and the spaghetti alla chitarra. One the second night, I tried the spinach and ricotta tortellini with porcini mushrooms and it was delicious. The desserts were a bit disappointing, but Glenn liked the tiramisu.
Azul — Azul is the buffet restaurant in the Ambassador building, open for breakfast, lunch and dinner. You can also order from a menu upon request, but the buffet is your simplest and fastest option. For breakfast, you'll find an omelette station, waffles or pancakes, bacon or sausage, and some other brunch/lunch options. There are also a selection of breads and pastries, fresh fruit, yogurt, cereal, meats and cheeses, salads and desserts. Lunch is very similar, with a selection of hot food. The food is fine…nothing you will rave about but it gets the job done. The shrimp quesadillas are good, as is the shrimp ceviche and the guacamole. Some nights, there are special themed dinners like Asian night with sushi, gyoza, rice, and other Asian dishes.
Pool-side Dining — During the busy seasons, they set up a poolside buffet with hot dogs and hamburgers. There is also a buffet on the beach with hot dogs, hamburgers, chicken fingers, pizza, kebabs and more; plus you can order food and drinks to the chairs, including sushi, quesadillas, and an assortment of ceviche.
Grand Velas Riviera Maya Restaurants — Grand Class Building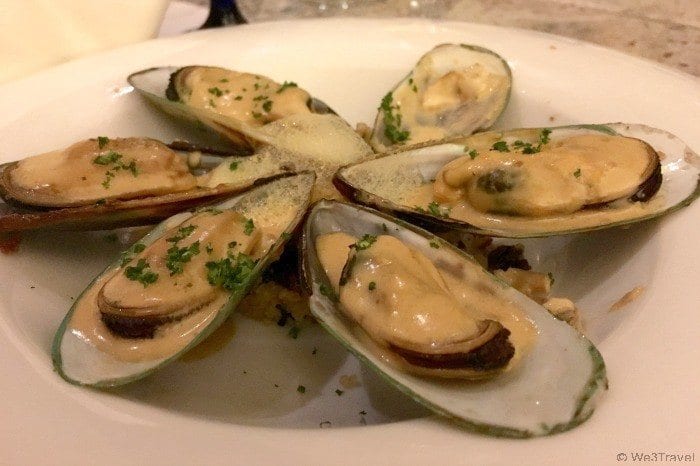 Bistro –Bistro is the Grand Class section's option for breakfast and lunch, but they are also open for dinner (adults only). They start you off with a refreshing cocktail spritzer with cucumber and lime, followed by an amuse bouche from the chef. A few of us ordered the fresh mozzarella appetizer, which was made with basil in the cheese and is something I could eat every day of my life. It was so creamy and delicious! Luckily I enjoyed the first course because the main dish left me hungry, and not just because of the size. I ordered the stuffed Cornish hen stuffed and I found it very bland. The stuffing just tasted like breading and the grains it rested upon seemed too al dente for my taste. For dessert, I ordered the chocolate duo. I'm not really sure what the duo part was because it was three small pieces of chocolate cake layered perhaps with white chocolate with a crunchy bottom. All of it tasted wet and flavorless to me.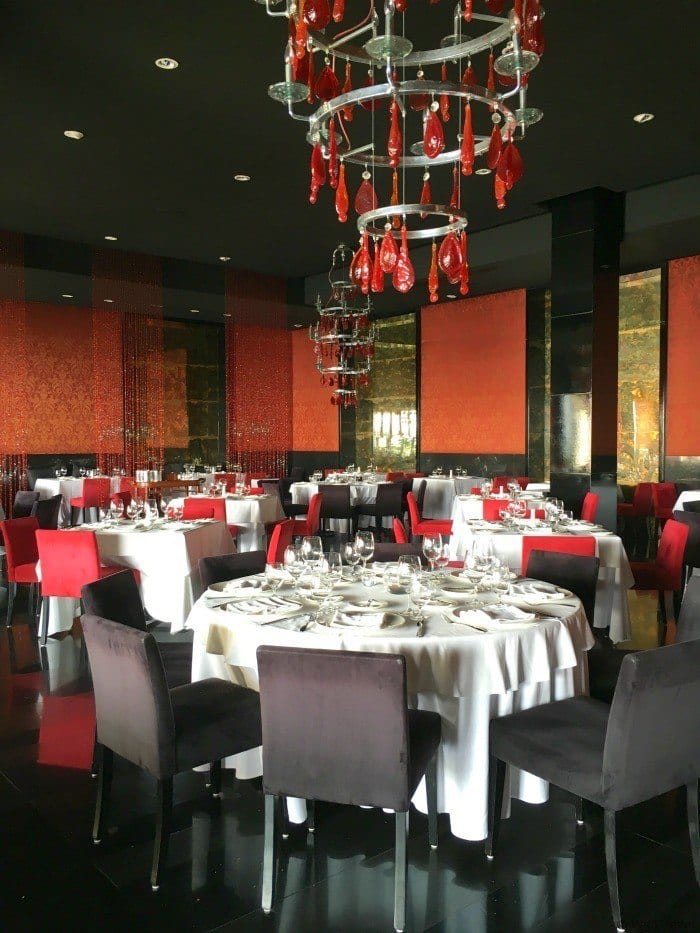 Piaf — The prettiest and also one of the tastiest option we tried was French-inspired Piaf. Named in honor of the famous singer Edith Piaf and beautifully decorated in tones of red and black, with stunning chandeliers and sparkling curtains made of Swarovski crystals, this space transports you to the Parisian luxury of the 1940s. Piaf has also been awarded 4 diamonds by AAA. I started off with the french onion soup, which was traditional and delicious. Some others really enjoyed the salad with brie, puff pastry and mushrooms — although it was quite rich. I again tried the short ribs, which were very tender and good. For dessert, we ordered the Grand Marnier and chocolate souffles. The Grand Marnier was good but the chocolate was — just not chocolatey at all. However, the truffles they delivered to the table to finish more than satisfied my sweet tooth.
Cocina de Autor — Cocino is the only other restaurant we didn't visit on our stay. Although it looks beautiful, its focus on molecular gastronomy and eclectic cuisine wasn't a good fit for our group's pickier eaters.
Bottom Line — The food at the Grand Velas Riviera Maya aspires to greatness and achieves goodness. Personally, for a family-friendly resort, I thought they could use one or two less "fine dining" options and add another casual, non-buffet restaurant.
PIN THIS FOR LATER
Have you stayed at the Grand Velas Riviera Maya? What were your favorite restaurants or dishes?