Perfect Day at CocoCay, the Royal Caribbean private island in the Bahamas, has just reopened in May 2019 after a $250 million renovation and is making quite a splash. I was recently invited on a media cruise to be on one of the first sailings to experience the fully re-opened "Perfect Day at CocoCay" and decided to turn it into a girls' trip. (All opinions are my own.)
Now I'm neither a cruise virgin or a cruise veteran, but with five cruises under my belt, I have a few to compare it to, including our Alaskan cruise last summer. One of the things I have always enjoyed about cruising is being able to experience many different destinations without moving hotels and city/island hopping.
However, now that I have visited a cruise ship private island, I can't imagine doing a Caribbean cruise without that component. Either that or Perfect Day at CocoCay has just spoiled me forever. The private island gives you an island resort experience, but you still get to see other destinations in the Caribbean. Sort of the best of both worlds.
I do have a tug of guilt that we aren't contributing to a local island economy when visiting a private island, but the fact that Royal Caribbean does have 357 employees that live on the island full time makes me feel a little better, as I hope some of them are local Bahamians.
Why I Loved Royal Caribbean's Private Island
I haven't visited private islands owned by other cruise ships, so I don't have those to compare to Perfect Day at CocoCay. However, I was very impressed with the attention to detail given to the design and overall experience.
I have certainly stayed at enough resorts to know the things that make me happy: plentiful seating; easy access to bathrooms, food, and drinks; attentive but not intrusive service; and places to get away from people and just chill.
After years of traveling with kids, I also know that families can't be expected to just sit around a pool or beach all day. They want to be doing and playing, while maintaining a home base to connect and relax.
I found all of this at Perfect Day at CocoCay. The only challenge is trying to fit it all in! This is why I really wish we had two days in port, but at least our ship didn't leave until 7:00 pm so we had a nice long day to enjoy.
The good news is that part of the renovation included the addition of a dedicated pier. So now that you don't have to tender to get to the island, you reduce the risk of having to skip that port because of rough seas. (Unlike the island from Norwegian Cruise Lines next door.) After all, missing Perfect Day at CocoCay would really disappoint passengers!
And while the island looks huge when you look at a map, it really doesn't take more than five to 10 minutes to walk from one section of the island to another (plus, there are handy trams that run every 15 minutes.) It currently has a capacity of 8,000, although it has been designed to feel like it is at low to medium capacity, where you aren't wrestling each other for lounge chairs.
In December 2019, Royal Caribbean will be adding Coco Beach Club and South Beach, and the island will then accommodate up to two cruise ships with a total of 10,000 people on the island at a time. Coco Beach Club will include overwater cabanas, an infinity pool, and a restaurant and bar. South Beach will also include a sports court and sports pavilion, but most of these amenities will be additional (except the sports court.)
What Not to Miss on a Perfect Day at CocoCay
Whether you pick thrills or chills, these are the experiences not to miss so you will have a Perfect Day at CocoCay!
Slide and Splash at Thrill Waterpark
When you enter the island, you can turn left to get to Chill Island or head right into Thrill Waterpark. Entrance to Thrill Waterpark is an added fee ($59.99 at time of opening, but subject to change), but a must do for thrill seekers and water park junkies.
There are 13 waterslides, including the tallest waterslide in North America. Daredevil's Tower rises 135 feet over the island and includes twin Dueling Demons drop slides, twin Manta Raycers open flume slides, the Green Mamba tube slide, and the Screeching Serpent fully vertical speed slide.
Splash Summit has another six slides, including four mat racer slides, one tandem raft ride, and the Sling Shot, a zero-gravity raft ride.
Thrill Waterpark also has the largest wave pool in the Caribbean and an Adventure Pool with obstacles like floating lily pads, a rock wall, and two rope swings.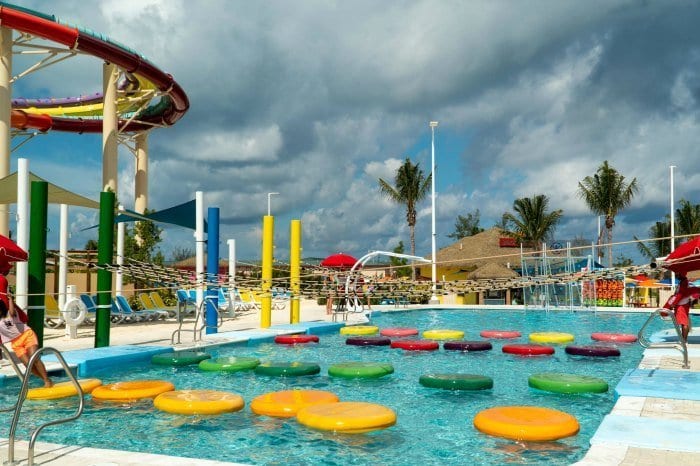 If you want to spend the whole day in the waterpark, you can rent a cabana, which includes entry to Thrill Waterpark for up to six guests. There is also a Snack Shack serving complimentary burgers, hot dogs, salads, and more, so you don't need to leave the water park to eat.
Relax on Chill Island Beach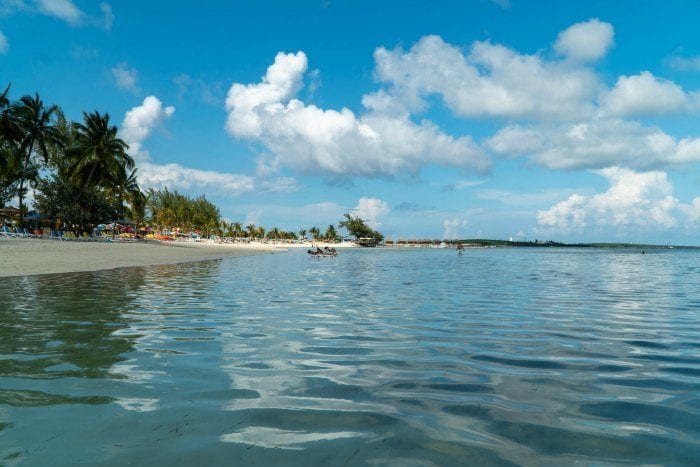 Of course if thrills aren't your thing, head directly to Chill Island and make your way to the beach. There are two options, either the Harbor Beach, which surrounds Harbor Lagoon and is a little closer to the action, or take a dip in the Caribbean at Chill Beach.
Chill Beach is where you will find your shore excursions, snorkel rental, scuba program, and local straw markets (the only thing you need cash for.) There are plenty of lounge chairs spread along the beach, but you can also rent a beach bed, shade tent, umbrella, floating mat, or even a cabana if you want to spend the day on the beach.
When the tide is low, you can walk out pretty far or swim among the sandbars. When you get hungry, the complimentary Chill Grill buffet is not far away and there are two beach bars as well.
Zip Across the Island on the Zipline Take Off
Zipline Take Off is a total of three tower-to-tower ziplines across the waterpark. The last line is the fastest and, if you take the spot on the left, will also splash you through the fountain in the middle of Harbor Lagoon. Just be sure to close your eyes because it is saltwater!
The zipline is an additional fee ($89.99 at opening, prices are subject to change.) Just be sure to allow at least 45 minutes to include gearing up, the safety briefing, and waiting your turn to climb the towers and get clipped in.
Eat Wings and Listen to Live Music at Captain Jack's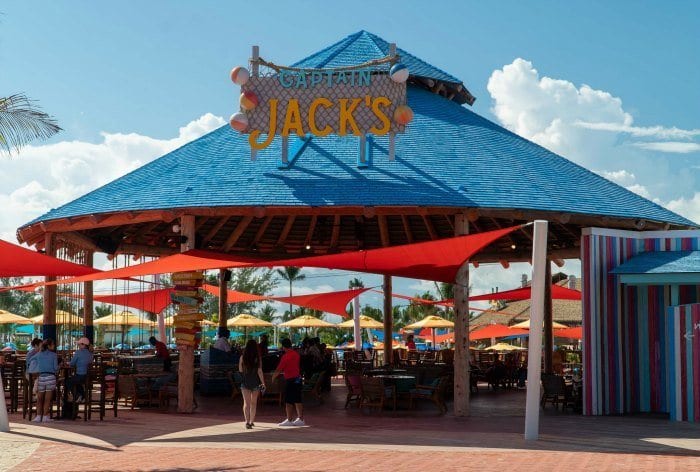 Captain Jack's is a full-service bar right in the center of everything overlooking the Harbor Lagoon. This is the only place that has food that isn't included, but trust me, their jerk chicken wings are worth the small investment.
It is easy to spend some time chilling out at Captain Jack's listening to the live music or playing a game of chess or checkers. The good news is, your drink package extends to the island, so you can indulge all you want in this relaxing setting.
Fly High on Up, Up and Away
If you are more of a medium-chill person, a flight on Up, Up, and Away might be the perfect fit for you. It is a bit pricey for a 10-minute ride ($49.99 at opening but prices are subject to change), but you really can't beat the view.
This helium balloon can fly up to 450 feet, but it all depends on the breeze. The entire experience takes at least a half hour, but it all depends on the weather. If it is too windy, they can't fly so your time slot can get backed up.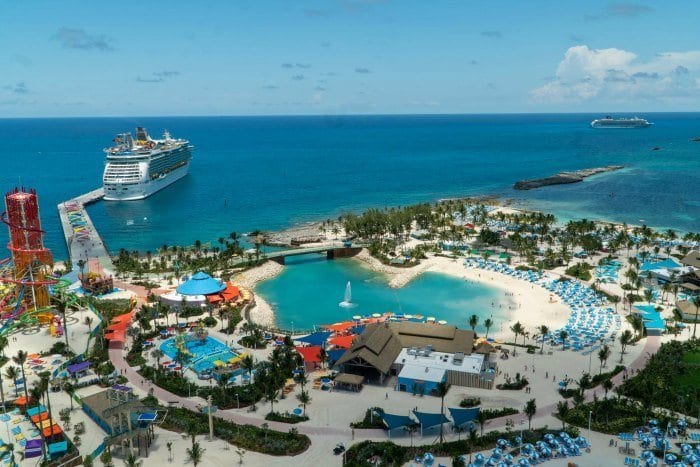 The ride is very gentle, but you will feel a little swaying as you come down for landing. The balloon can take up to 12 people at a time, but again, that is weather dependent.
Stake out an In-pool Lounger at the Oasis Lagoon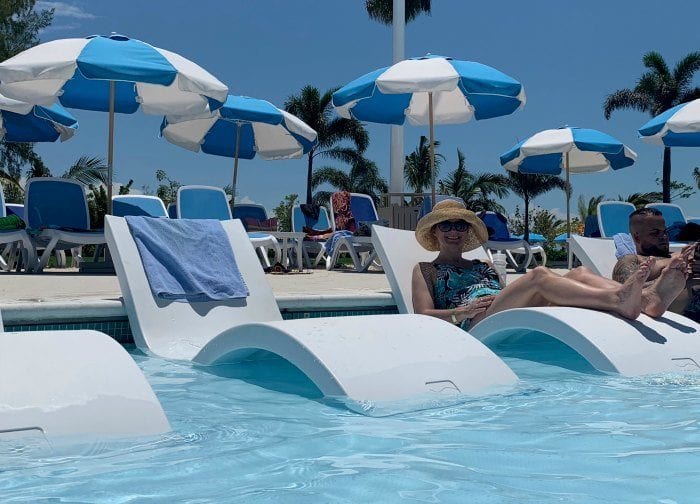 Oasis Lagoon is the largest freshwater pool in the Caribbean. If you arrive early, I would stake out one of the in-pool loungers, as they will fill up quickly. Even though the pool is large, its design means you don't feel overwhelmed with people (unless you are hanging out at the swim-up bar in the afternoon.) There are also three swim-up islands with in-water seating.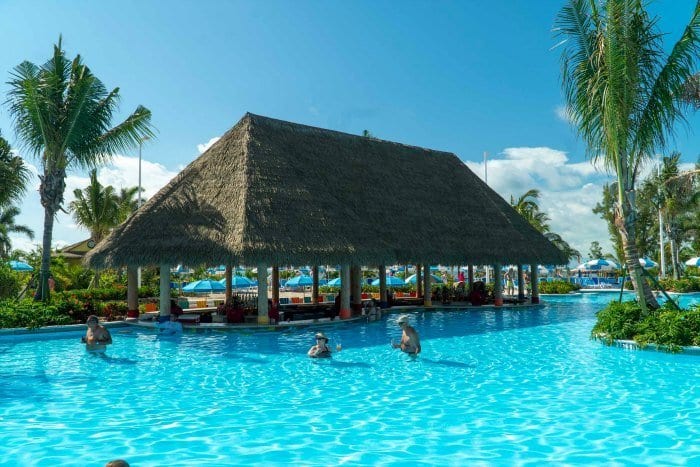 Families may want to grab chairs near the zero-entry side. This is also where you will find the life jackets for little ones and some bubblers to splash in. This side is very close to Splashaway Bay, a complimentary aqua park for younger children with five waterslides, splash fountains, and two large drench buckets.
Oasis Lagoon features underwater music, plus party music at the swim-up bar. But the other side of the pool feels calmer and more chill. My favorite feature is the vinyl padded lining of the pool, which is much gentler on the feet and bathing suit bottom then rough concrete.
Grab at Cocktail at the Floating Bar
When you want to relax, rent a raft or take a stroll out to the floating tiki bar on Chill Island. Because nothing says vacation like boat drinks, palm trees, and the beautiful blue water of the Caribbean.
Play Beach Games on Chill Island
If you get tired of relaxing on the beach, beach games are only steps away on Chill Island. Here you will find beach volleyball courts, corn hole, Jenga, and other beach games.
Fill up on Tacos and Soft-Serve Ice Cream at Skipper's Grill
I was pretty impressed with the quality of the buffet at Skipper's Grill and Chill Grill. Both offer grill stations with hot dogs, hamburgers, chicken, corn, and more. There are also paninis and Cuban sandwiches, fruit, salads, and a full make-your-own taco bar.
In addition to unlimited soft serve, there are also flavored waters and iced tea to enjoy.
Snorkel a Shipwreck
I didn't have time to snorkel, but thrill seekers can rent gear on the island and explore the underwater world just off the beach. When the tide is low, you may be able to swim out to the underwater airplane wreck just 150 feet from the shore, or rent a kayak or take a boat tour.
Nap in a Hammock
After the end of a long, busy day, there are a cluster of hammocks over on Chill Island just calling your name. Even though we were on a full sailing, we never had any trouble finding waterfront lounge chairs or hammocks in the late afternoon as many people start to head back to the boat.
The nice thing about Perfect Day at CocoCay is that there is so much to do that you can't see and do it all in just one day, so it gives you another reason to book another cruise.
PIN THIS FOR LATER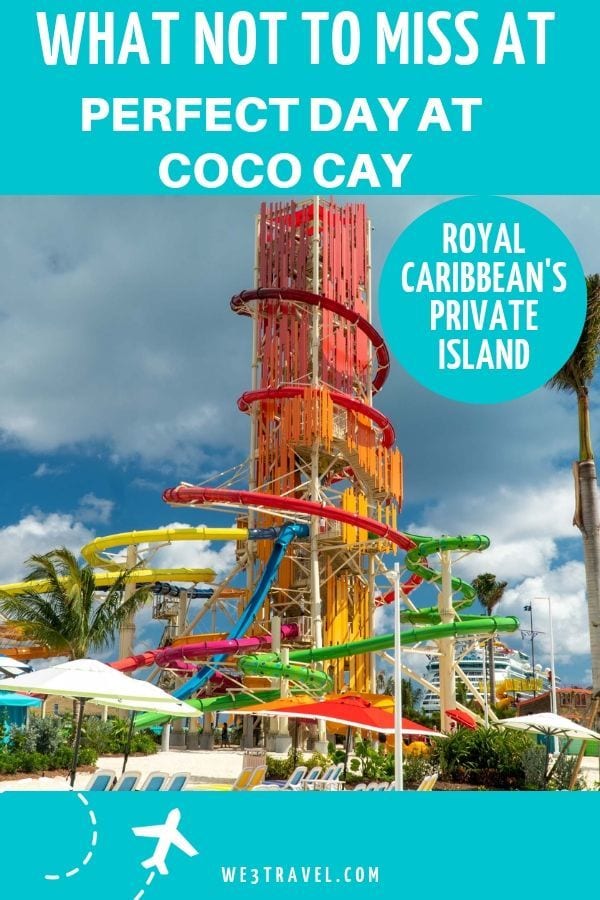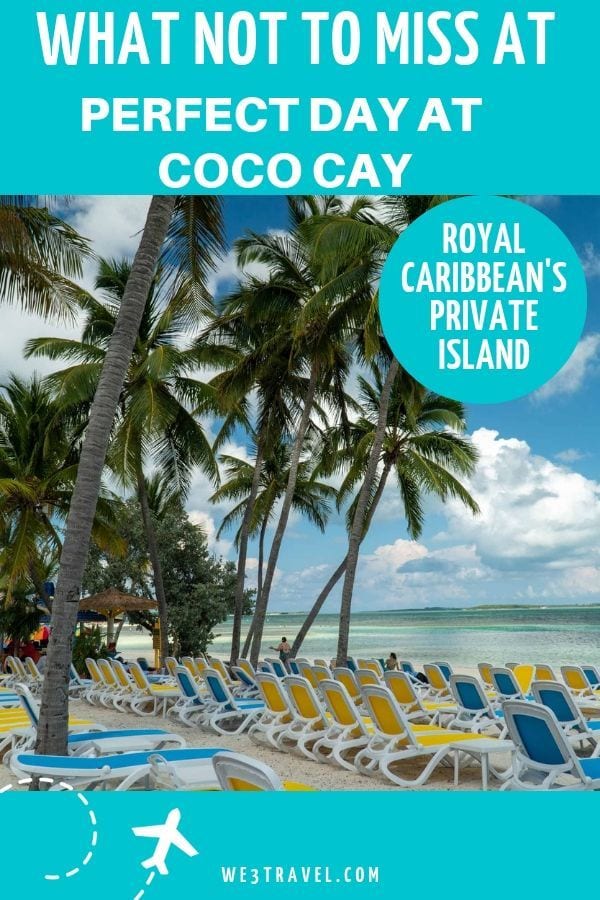 As mentioned above, my cruise was hosted by Royal Caribbean. All opinions are my own.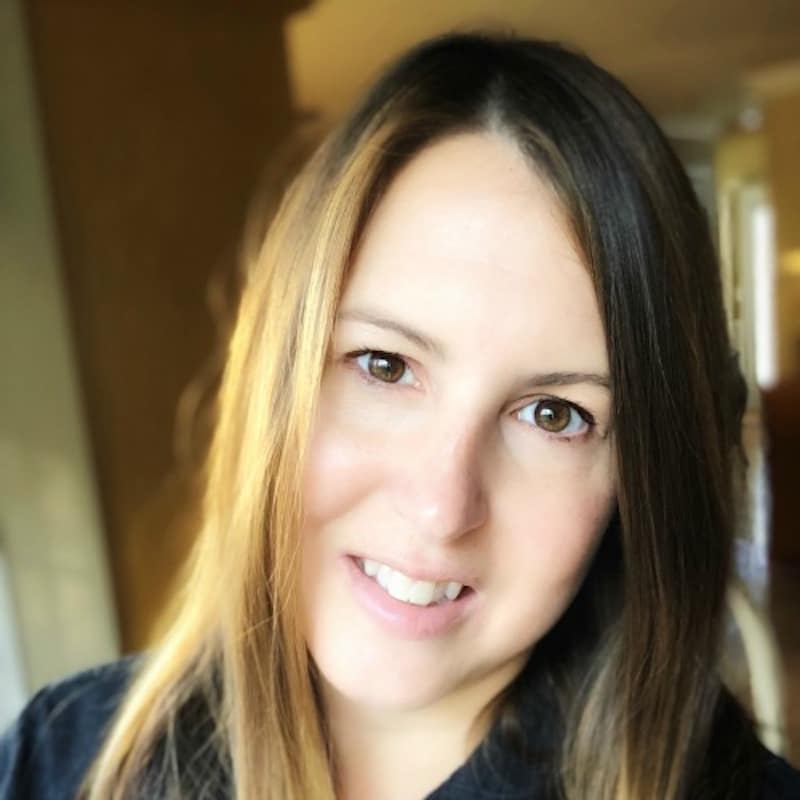 Tamara Gruber is the Founder and Publisher of We3Travel. A former marketing executive and travel advisor, Tamara is an award-winning travel writer and recognized expert in family travel. She is also the publisher of YourTimetoFly and the co-host of the Vacation Mavens travel podcast.