I recently wrote about what to wear on an Alaskan cruise, but then I realized that putting together an Alaska cruise packing list isn't just about what to wear, it is also what to bring along to make the trip as pleasant and stressfree as possible. What we pack to wear is important, but there are also things you need to bring to make the close quarters in the cabin more organized and comfortable, especially if you are cruising with your family.
Even if you are a pro at packing for a Caribbean cruise, an Alaska cruise is a different experience and you may have trouble deciding what to pack. It starts with trading the shorts for rain pants and the sundresses for sweaters. But don't worry, this packing list includes everything you should need for an Alaskan cruise based on our experience aboard the Norwegian Bliss on a summer cruise from Seattle.
Of course, some of what you pack will depend on which Alaska cruise shore excursions you choose (especially if you pick more active excursions) and your ports of call. It always pays to check the weather for your ports ahead of time, but the secret is to be prepared and this packing list will help!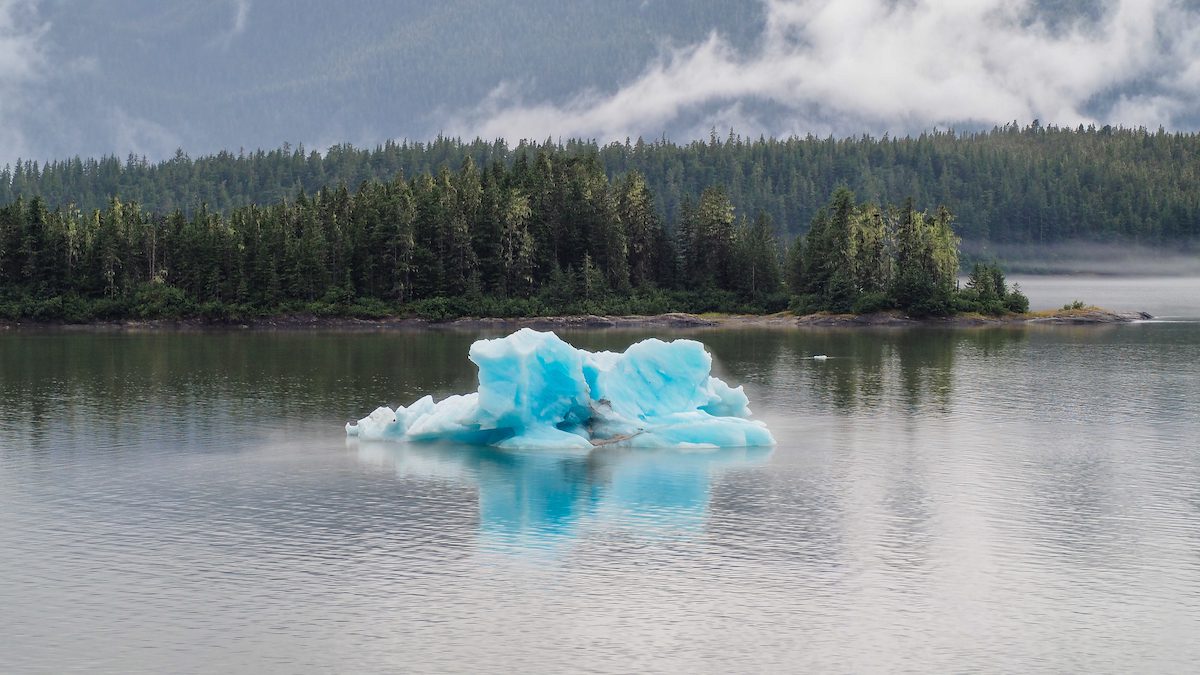 The other thing to keep in mind is that the Alaska weather can vary greatly day by day during the summer Alaskan cruise season. We cruised in late August, and it was pretty cool, windy, and rainy the entire time. I have a friend that cruised a few weeks earlier on Princess Cruises and they had some warm days where it was nice enough to need shorts and t-shirts.
Luckily, since you only need to unpack once and don't need to worry about carting your luggage from place to place, it is easier to choose to go with a checked bag when packing for an Alaska cruise, versus trying to fit everything into a carry-on, as you may be prone to do on more active trips.
The only downside is waiting for your luggage to arrive once you have boarded and needing to pack it up and leave it in the hall for collection before disembarking. This is when it helps to have a change of clothes and some basic toiletries or entertainment packed in a personal bag that you carry on board (like a backpack.)
Download the printable Alaskan cruise packing list!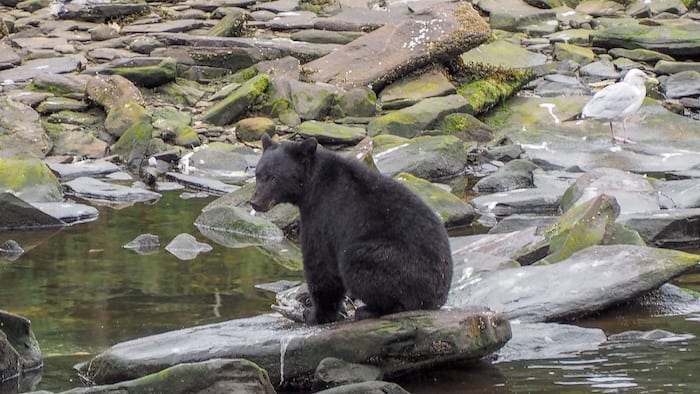 What to Pack for an Alaskan Cruise
Note: This post contains affiliate links. If you click a link and make a purchase, I may receive a small commission.
As an Amazon Associate, I earn from qualifying purchases.
What to Pack for the Cabin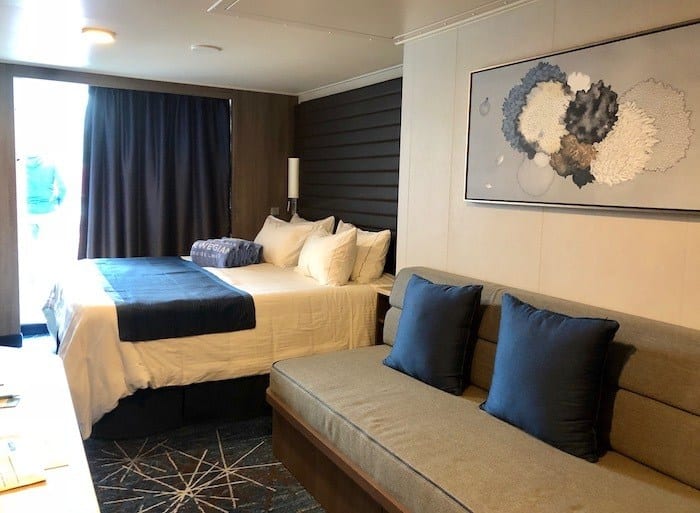 Cruise ship cabins are notoriously small compared to the average hotel room. You don't want to overpack or you will be tripping over stuff whenever you try to move around the cabin. Luckily, most cruise lines provide adequate cabinets and cubbies to fit clothing for three adults or two adults and two children.
Even if you book a cabin with a balcony, you may not spend a lot of time out there on an Alaskan cruise. Although if you bundle up it can be a great place to watch the icebergs float by when you are sailing through the inner passage.
The trick is really to make the most of the space that you have. It helps to unpack as soon as your luggage arrives and store your suitcases under the bed. If you have extra items or things you won't need frequently, feel free to leave those in the suitcase under the bed too.
One of the suggestions I took from my friend Kim over on Stuffed Suitcase, was to include an over-the-door shoe organizer. (Note that not every cruise line will allow you to use over-the-door hooks, which is the reason for the next suggestion.) We were able to hang ours near the door, across from the bathroom, on the two coat hooks built into the wall.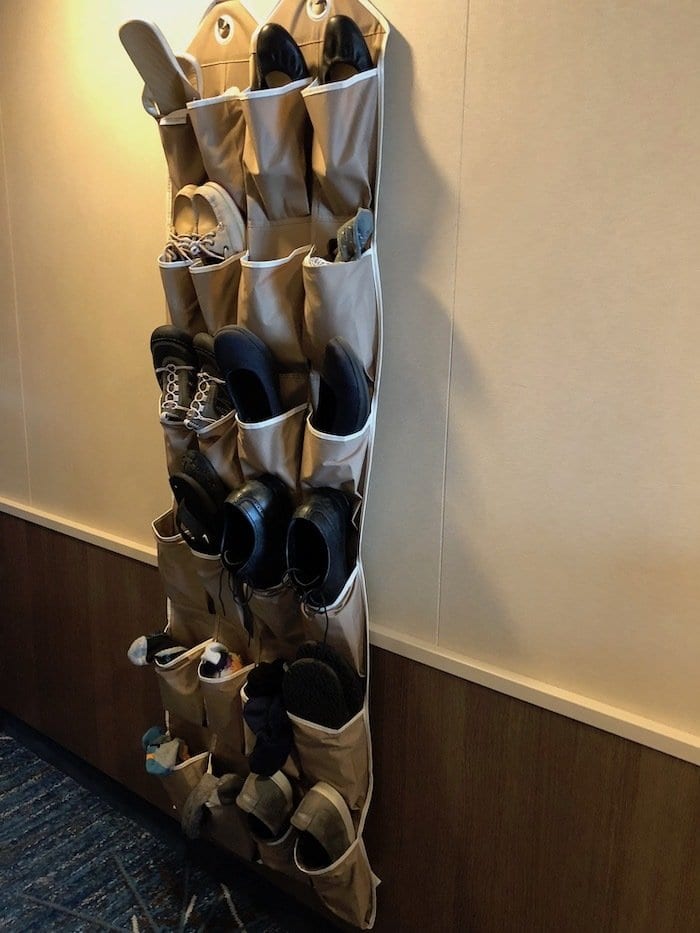 The shoe organizer was very helpful in keeping our shoes out of the way. We also used the extra pockets for hats, gloves, and other small items that were easy to misplace but were often needed when running out the door.
Another tip that I got from my friend Sue was to bring along a set of magnetic hooks. Typically either the cabin door or bathroom door is metal and you can use the hooks here. We found these very helpful for hanging up our coats and sweatshirts. Make sure to get strong hooks that can hold a coat and not just slide down the door. Just keep in mind that these can leave marks on the door if you pull on them. You may want to bring along a Magic Eraser to clean those off.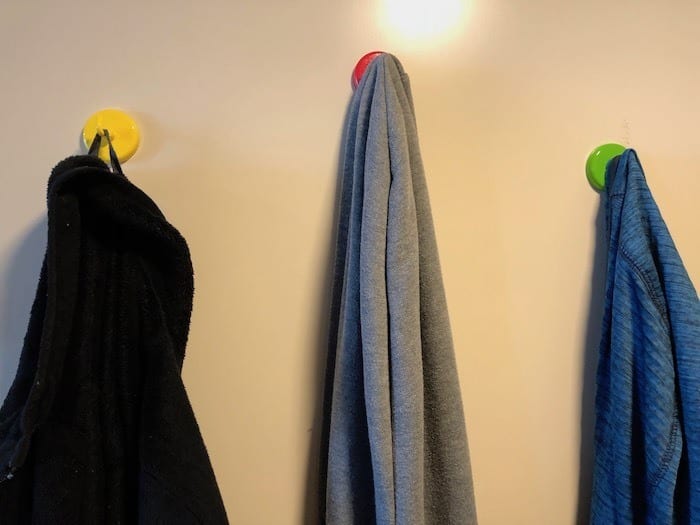 Other essential items to pack for your Alaska cruise cabin include:
What to Pack for the Family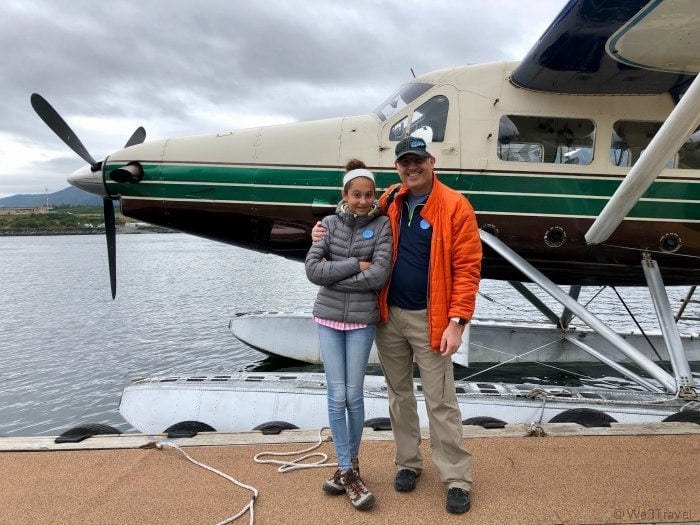 Of course, there are also some things that you need to pack for the whole family. I would recommend keeping some of these that you need for boarding in a carry-on bag for easy access.
Passports
Plane tickets
Vaccination cards and/or test results (if required)
Cruise documentation including luggage tags
Excursion documentation/confirmations
Travel insurance documentation
Medical insurance documentation
Lanyards with sleeve for key cards
Camera & zoom lens (including waterproof case) to capture the beautiful scenery of Southeast Alaska and the Inside Passage
Back up camera batteries & charger
Extra memory camera memory cards
Smartphones / tablets
Back up power banks / portable charger for your cell phone and electronics (I love this one for Apple iPhone users because the built-in lightning cord means I don't need to carry an extra cord)
eReaders or books (my daughter would suggest bringing more books than usual because there is a lot of downtime to read)
Credit card(s) / ATM card
Cash (at least $100-200)
Refillable water bottles (keep in mind that you can't fill these at the water stations but if you fill a glass, you can keep pouring that in to fill it) and/or insulated coffee mug (to bring coffee to your room or to enjoy on deck)
Ear plugs / Sleep Buds (I swear by these for travel and blocking out hallway sounds, loud morning announcements, or port sounds)
Binoculars (for looking for wildlife like eagles, whales, and bears)
Hats (waterproof is best, but a good knit hat might be needed too!)
Face sun screen
Day bag(s) / back pack or dry bag (waterproof is best for activities like hikes as southern Alaska can be very rainy in the summer)
String bag(s) or fanny pack for carrying stuff around ship
Tissues
Toiletries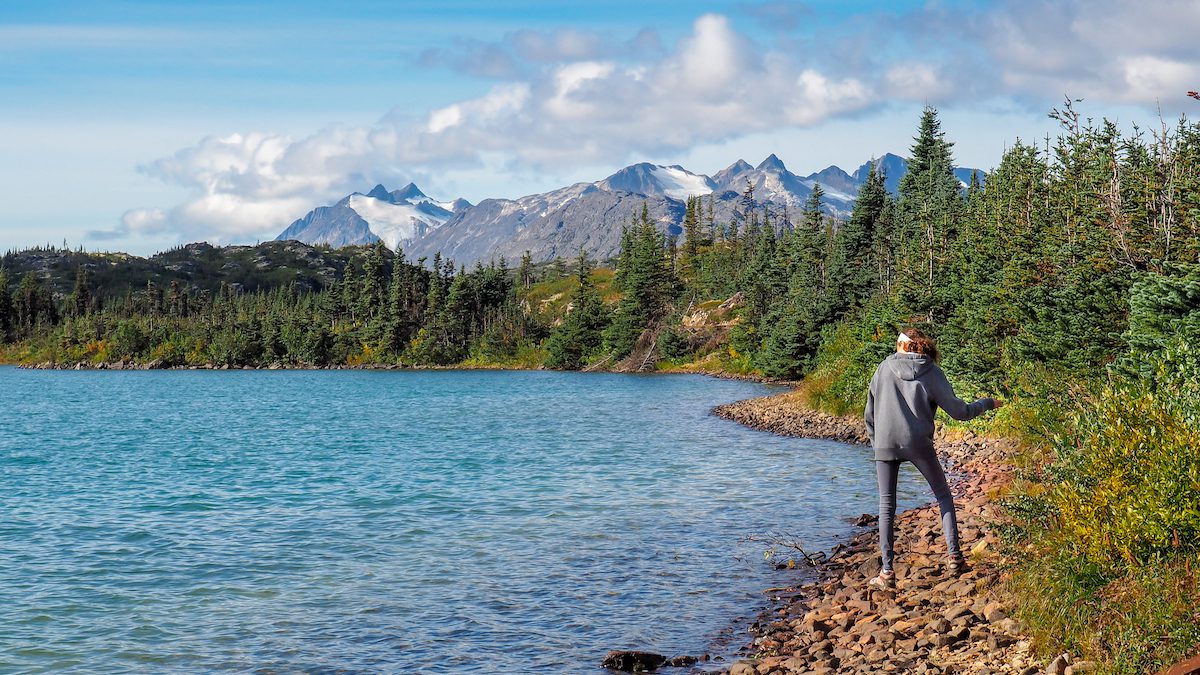 Each cruise line is different but all have limited counter space in the bathrooms. Ours at least had two shelves, but I still worried about items falling off into the toilet or getting wet from the shower. This is one reason why I love this lay-flat toiletry kit for travel.
Most cruise ships will provide hairdryers, just check with your cruise line before you sail. And remember, on an Alaska cruise things are a bit more casual. Usually, there aren't formal nights or they are optional (at least on Norwegian, this can vary by the cruise line) and the dampness will probably mean your hair is going to frizz anyway so why waste time styling it?
If you are prone to seasickness or motion sickness, you may want to talk to your doctor about a prescription for motion sickness patches. I tried this but to be honest, I took it off after a few hours because they gave me a horrendously dry mouth and I just felt generally awful from it, but I tend to be very sensitive to medications. There was a day when I needed to take Dramamine and lie down for a little bit but for the most part, I was ok.
Another important consideration when it comes to medications and travel these days, always make sure to bring an extra 10-14 days' worth, just in case you have the unfortunate luck of being quarantined.
Keep in mind that the gift shop is expensive and limited, so bring what you need on board including:
Dramamine or natural seasickness medication
Cold medication
Upset stomach medication
Pain reliever
Probiotics & vitamins
Essential oils (such as soothing lavender)
Toothpaste & toothbrushes
Moisturizer
Lip balm
Deodorant
Hairbrush / comb
Hair styling products & appliances
Make up / remover
Hair bands / pony tail holders
What to Wear on Excursions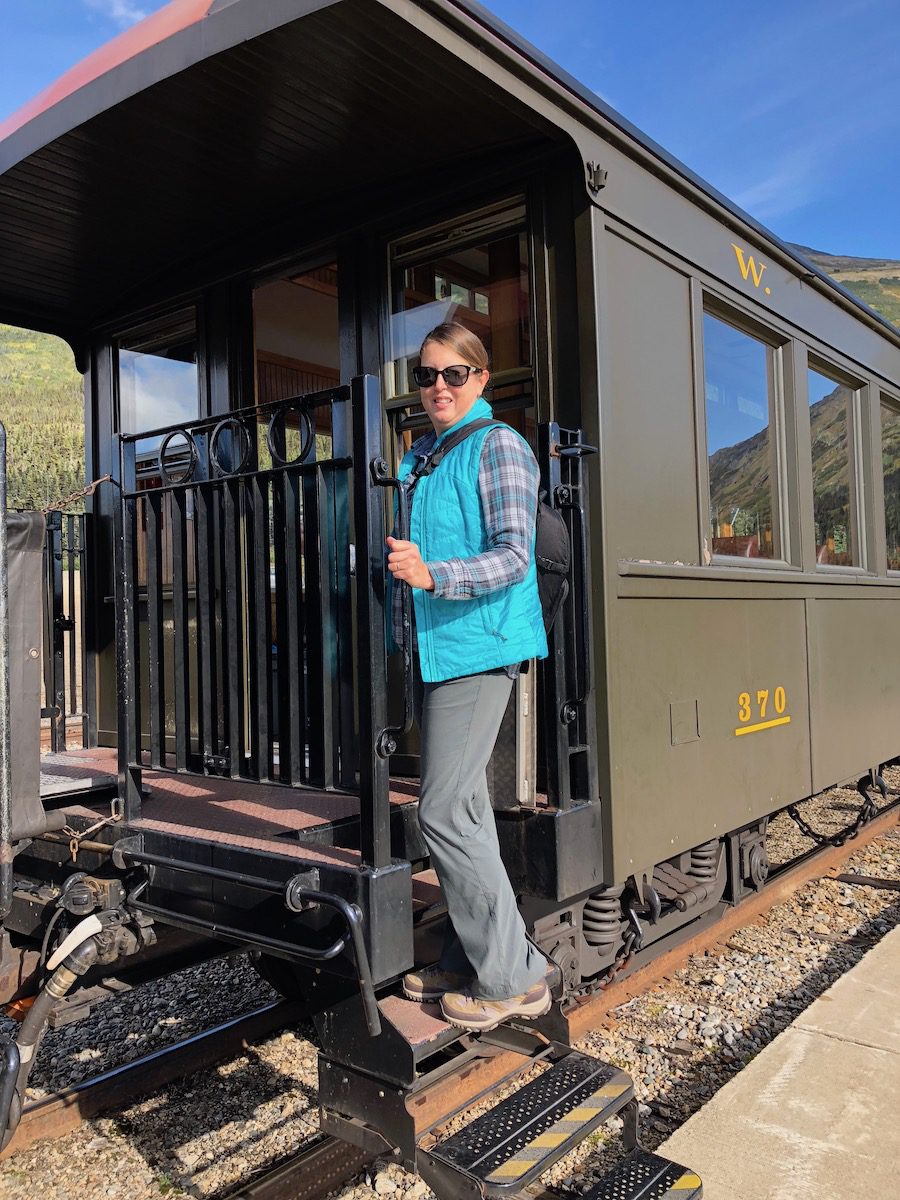 Check out my full post on what to wear on an Alaskan cruise (and why) but this will give you a quick overview. The important thing is to dress in layers to prepare for changes in the weather. I've found the Columbia brand to be affordable and good quality for trips like this, although I've also looked at REI and other outdoor outfitters.
Hiking pants or fleece-lined leggings
Long sleeve t-shirt or thermal base layer
Flannel shirt or hiking shirt to layer
Fleece jacket
Insulated jacket and/or vest
Rain jacket or waterproof shell
Hiking socks
Waterproof hiking boots with good traction
Rain pants / waterproof pants
Puffer coat (something small and packable is ideal)
Baseball hat (waterproof if you can) or knit hat
Day bag / waterproof backpack / dry bag to fit your camera, water bottle, wallet, and other necessities
Refillable water bottle
Umbrella
Knit hat
Thin gloves
Sunglasses
Bug spray / insect repellent
What to Wear at Sea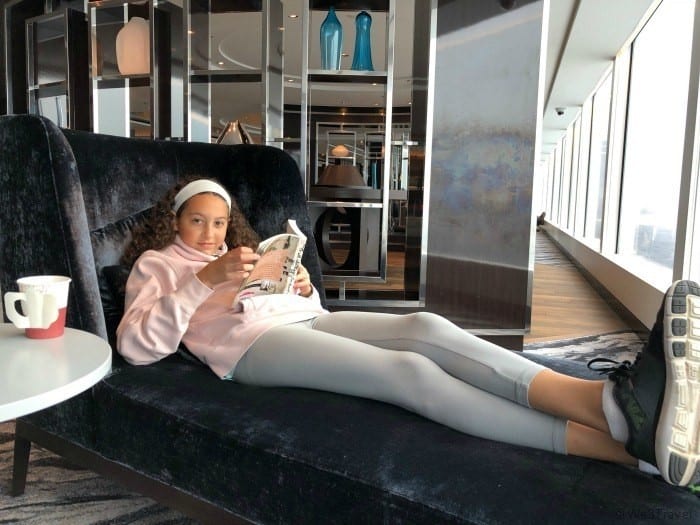 Days at sea are fairly relaxed and you will want to be comfortable. Adults may want to use the spa or fitness center. Kids may enjoy the kid's or teen club, lounge, game room, or, maybe it will be nice enough to use the pool or hot tubs.
Just keep in mind that it may take a few hours for your luggage to arrive so if you will want to change right away to enjoy the pool or other areas, be sure to pack what you need in a bag that you can carry on.
Jeans / leggings / athletic wear
2-3 short sleeve shirts
3-5 long sleeve shirts
1-2 sweaters or sweatshirts
Socks (bring extra!)
Underwear
Gym clothes
Bathing suit
Warm cover up or loose clothing to cover up
Pajamas
Dinner & Evening Wear
In the evening, you will want to dress up a little and avoid jeans and sneakers. However, many Alaskan cruises don't have official formal nights (check with your cruise line on their guidelines) for you shouldn't need real formal wear or cocktail dresses. Also, keep in mind that the main dining room can get chilly and you will need a jacket or wrap to walk around on deck.
If you are interested, you may also want to check with your cruise line and see if they are offering any theme nights. On our cruise, there was a western night at the barbecue restaurant, and we saw one family decked out in cowboy boots and hats. Personally, I wouldn't want to pack anything too bulky just for one event but it could be fun if you already have the gear.
2-3 pairs of dress pants or skirts
5 nicer shirts or sweaters (collared shirts for men, blouses/sweaters for women)
1-2 sweaters/wraps / light jackets
Dress up outfit(s) (optional on many Alaskan cruises)
Evening bag
Shoes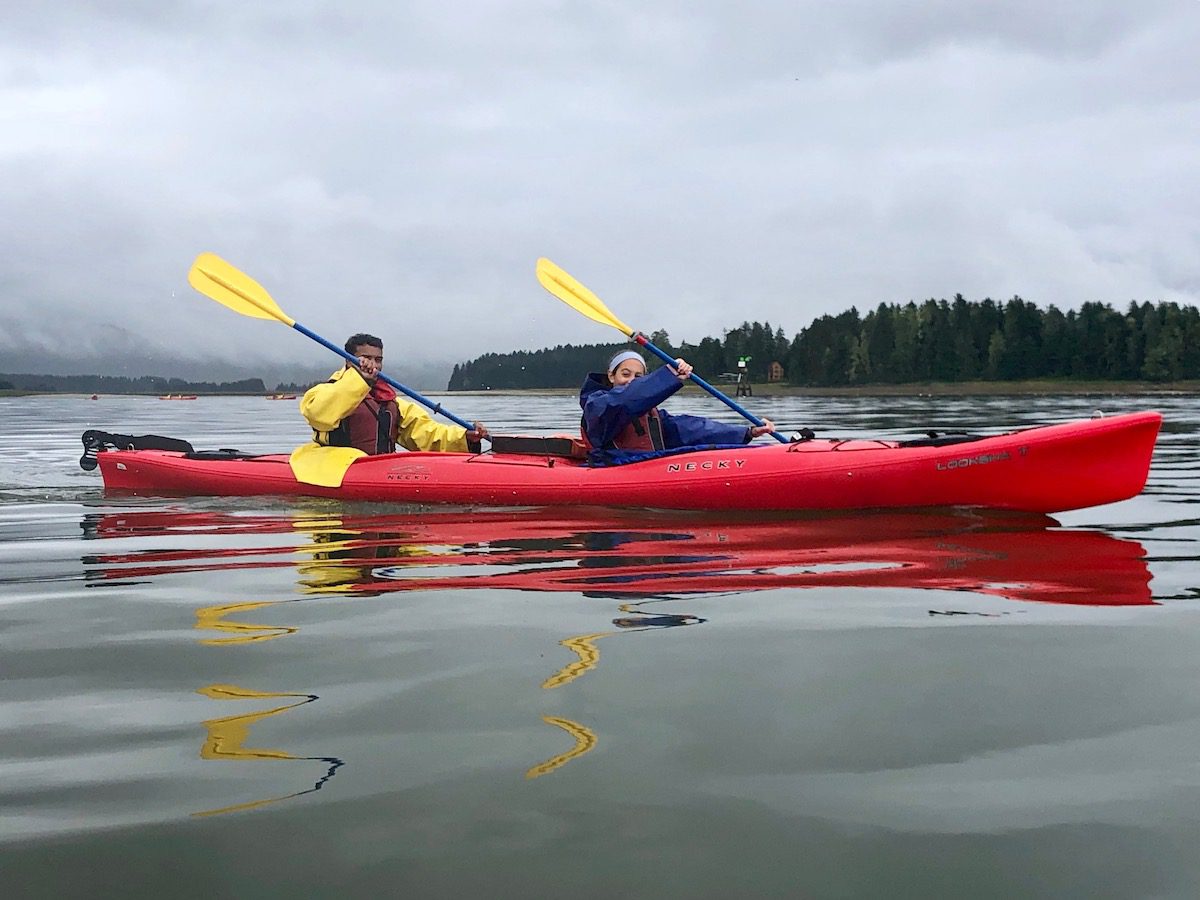 If you are traveling to Alaska, don't forget that rain is very common. Nothing is worse than wet shoes. Ideally, you will wear waterproof shoes or hiking boots on excursions but if not, you will definitely want to bring a pair of backup sneakers. On our cruise, we went sea kayaking, and even though they provided some rain gear and boots, we still ended up soaked because it was pouring as we waited for our shuttle. And we also did a hike excursion and our hiking boots were muddy and wet afterward.
Another tip, bring shoe bags or plastic shower caps to use as foot covers when you are packing up so that the dirty shoes don't get dirt and mud everywhere.
Sneakers (casual or athletic)
Waterproof hiking boots or back up sneakers
Flip flops
Flats / sandals or dress shoes for men
Slippers or cozy slipper socks (optional but highly recommended)
Download the Alaska Cruise Packing List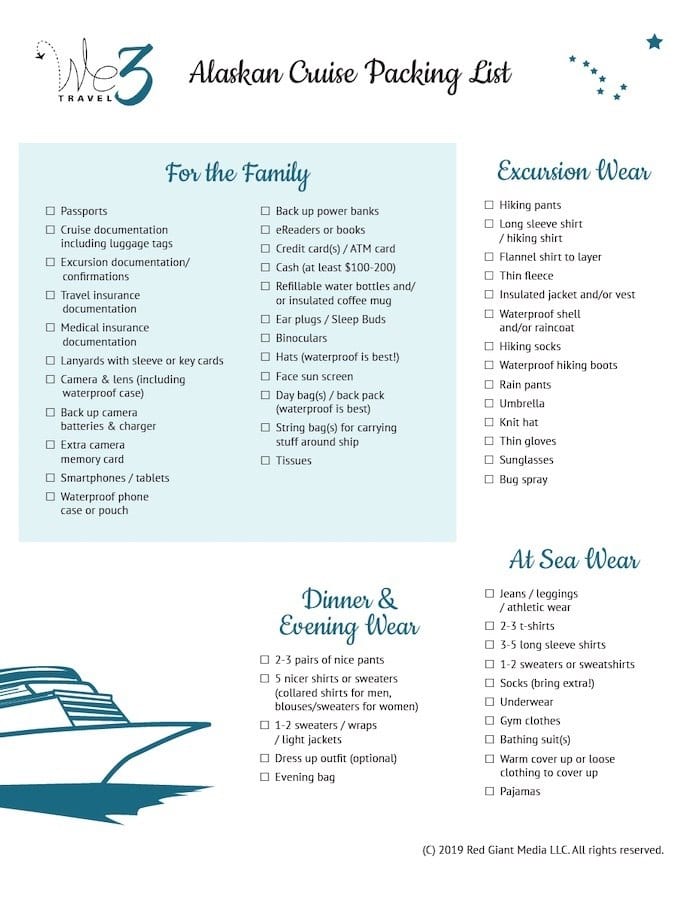 Ready to grab your downloadable Alaskan cruise packing list? Print out this printable packing list for Alaska cruise PDF and let's get ready to pack for your trip to Alaska.
PIN THIS FOR LATER