When on a Norwegian Alaska cruise, you have a lot of time at sea and it often isn't pool weather, so you want to pick a cruise ship that has plenty of non-sunbathing entertainment options. Most cruise ships these days cater to families with each one is trying to outdo the others, and the Norwegian Bliss is no exception.
The Norwegian Bliss, part of Norwegian's fleet of cruise ships, has some features that are meant to wow families including go-karting, laser tag, and two sets of water slides. Since I have a teen who is an only child that doesn't like to join into the fun of a teen club, we spent a lot of effort during our recent Alaskan cruise seeking out all the ways to entertain ourselves.
There isn't always a lot of information about things to do on a Norwegian Alaska cruise online, so I thought I'd lay it out here to help you decide on which ship to pick for your Alaska cruise.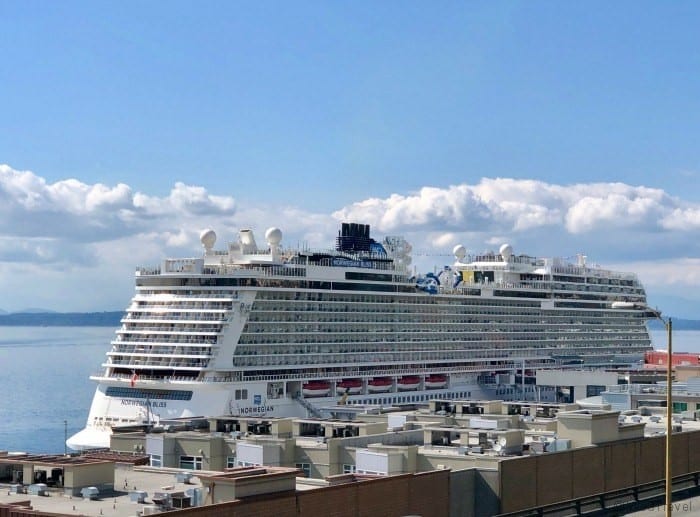 About the Norwegian Bliss
The Norwegian Bliss is a mega-ship in the Norwegian Cruise Lines family, which started sailing in April of 2018 and was refurbished in 2021. The ship can hold up to 4,000 guests on 20 decks with 30 bars and restaurants. While the Norwegian Bliss was built for Alaska cruising, it also services the west coast of Mexico in the winter months.
From May to September, she sails from Seattle on a seven-day cruise to Alaska and back. She returns to Seattle with stops in Sitka, Juneau, Ketchikan, Icy Strait Point near Glacier Bay, and Victoria, British Columbia.
On the Norwegian Bliss Alaskan cruise from Seattle, you have two full days and two half-days at sea. That is a lot of time to kill if the weather is rainy or windy (or just cold!) After all, it is the Pacific Northwest. It seems like there should be endless things to do while on board. And there are, but sometimes you have to look for them and keeping kids entertained may take some work.
If you are planning a Norwegian Alaska cruise on the Norwegian Bliss, you may also want to check out these articles:
Things to do at Sea on a Norwegian Bliss Alaska Cruise
I have focused this article on the things to do on the Norwegian Bliss with kids while at sea. There are many more activities for adults from blind wine tastings to spa indulgences (I did include a bit about the spa for older teens 18+.)
Racetrack
Go-karting will cost you $15.00 per person and reservations book up quickly but racing around a track in the middle of an ocean is an experience you won't often repeat. Make sure to make a reservation as soon as you board to get your preferred time frame. As you can imagine, all of these activities are especially popular during days at sea.
The racetrack is on decks 19 and 20 in the back of the boat. Just keep in mind that the race track is behind the smoke stack so you will get splattered with black soot during your drive if it is windy, so don't wear anything nice. The track can also be closed during inclement weather and your scheduled session may be cancelled or rescheduled.
Laser Tag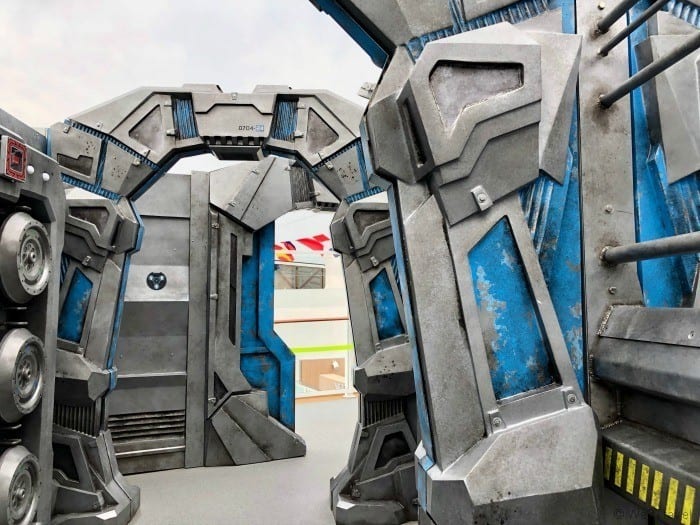 The Norwegian Bliss laser tag set up is larger and more intricate than you would expect to find on a cruise ship. You can sign up for 30-minute sessions, which must be reserved in advance. I would recommend scheduling these as soon as you board with guest services or through the online touch screens near the elevators because the sessions book up quickly, especially for days at sea. Just keep in mind that on the Alaska cruise your session may still end up canceled due to bad weather.
The cost is $9.95 per person. Tip: if you have a teen, the Entourage teen club offered one night activity with unlimited laser tag – for free! If you have a teen that doesn't mind joining a teen club, this might be a good way to try Laser Tag for free. Check and see if they are still offering this and sign up early in the week.
You can find it on Deck 20 at the front of the boat.
Kids' Clubs
The Kids' and Teen Club both offer programming while at sea on Deck 5. The teen club is a drop in space where, once registered, teens can come and go at their leisure. It has video games and an air hockey table. There are also times where they offer set programs. But parents aren't allowed!
Video Arcade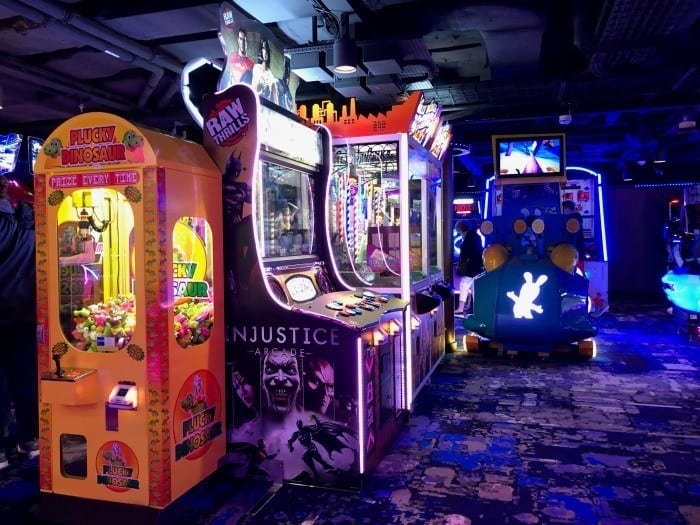 If your family likes skeeball, VR, or other video games, there is a small video arcade near the kid's clubs on Deck 5. There are a range of games from car racing to basketball hoops, to a virtual rollercoaster. All the games are a la carte by swiping your room key but if you think your kids might spend a lot of time in the arcade, especially on bad weather days at sea, you may want to look at purchasing a package.
The package is $10 per person, per day, which will give you unlimited games on certain machines with a green swipe. Seems like a deal if you only purchased it for one day or one person. However, it must be purchased for the entire cruise and for everyone in the cabin. It can really add up fast either way!
Players win tickets that can be exchanged for the typical arcade prizes. Just beware that it gets loud in there!
Game Room
The Library and Card Room is off the Atrium on Deck 6 and offers a quiet space to play ship-supplied Monopoly, chess, checkers, and Backgammon. There are also books that can be borrowed during the hours that the room is staffed.
Aqua Park Water Slides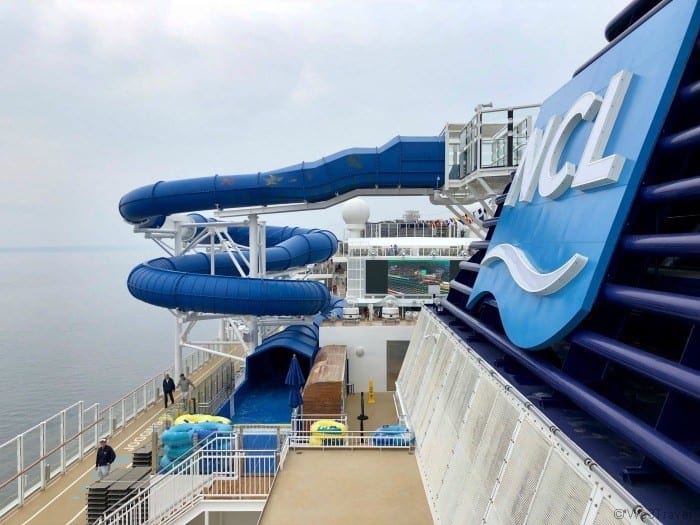 There are two waterslides in the Aqua Park, which also includes a tipping dump bucket and water cannons on a splash pad. Ocean Loops has a clear section and it dips out over the side of the ship. You need to be at least 99 pounds to ride so it isn't an option for small kids and tweens.
The Aqua Racer is a closed tube slide with single- or double-tubes. This is a dark tube slide with lights in the tube, but still maybe not great if your kids are scared of the dark. These definitely look very fun but I'll warn you that it was never warm enough to take advantage of the pools or waterslides during our cruise in August. There were some brave souls but often they were closed anyway due to weather conditions.
Pools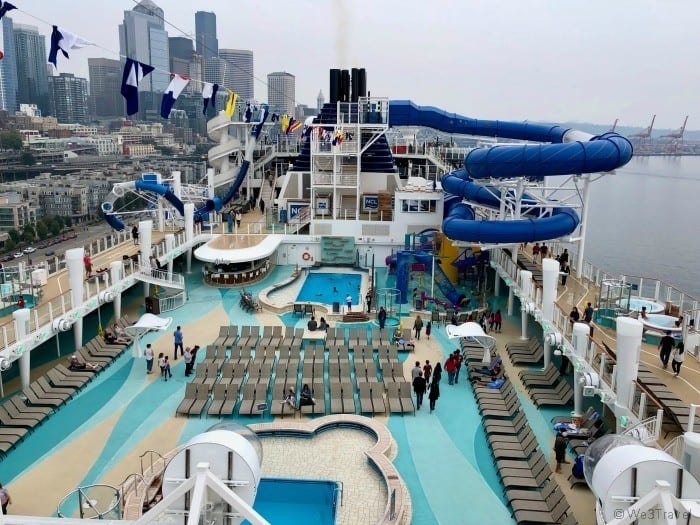 If you are courageous enough to brave the elements when you get out of the water, there are two pools and four hot tubs on the main pool deck and you won't have any trouble getting a deck chair on the Alaskan cruise! Now when the Norwegian Bliss moves south in the winter, I'm sure that is another story.
Movies
The televisions in the staterooms include free movie channels playing action, drama, comedy, and family movies around the clock. However, if you need to get out of the room and move around, they do occasionally play family movies in the Atrium on Deck 6. Check the Freestyle Daily newsletter left in your stateroom each night for details.
Bowling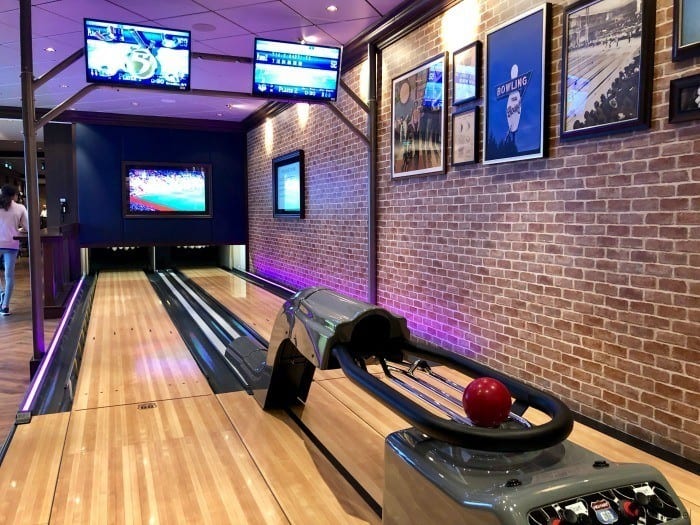 In the Public restaurant on Deck 7, you will find a small two-lane bowling alley. It is not for the serious bowler and it does cost $6 per game. However, it can entertain the kids while you enjoy a beer or drink at the Public, which is an Irish pub-style restaurant that is open 24×7.
Mini golf
I almost hesitate to call the Norwegian Bliss' offering mini golf but you will find five small putting greens at the very back of the boat, above and behind the race track. You have to really look for them as it isn't marked and is easily overlooked. That is suitable though since it feels as if the design of this space was a bit of an oversight.
Giving the kids a scavenger hunt to find it may be half the fun. And hey, at least it is free!
Lectures in the Observation Lounge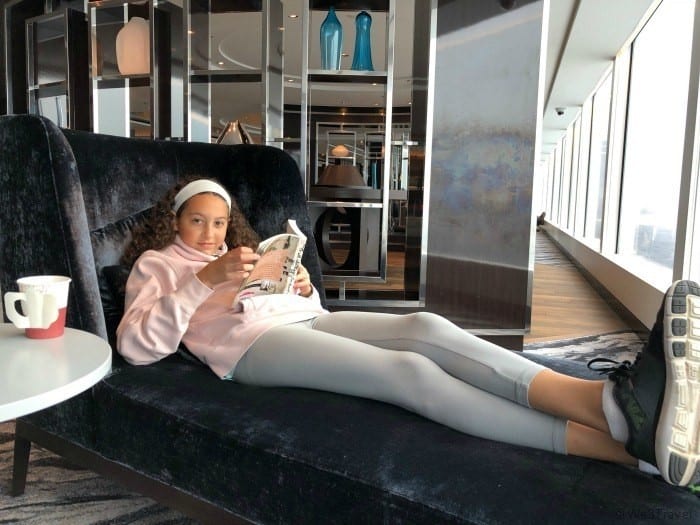 The Observation Lounge on Deck 15 was our favorite space on the boat. It can get crowded at times, especially in the front by the bar, but if you look along the sides you should be able to find a couch, chair, or, if you are lucky, a lounger. They have a bar as well as coffee, tea, and water. There are also snacks put out throughout the day including a light breakfast and lunch, afternoon tea, and after-dinner desserts.
It is a nice space to watch the scenery so stake a claim on a space early if you want to sit there while sailing close to the glaciers. However, there are times on your days at sea when they also play recorded lectures about Alaska geography and wildlife. You will probably want to be in the Observation Lounge while sailing past icebergs in Glacier Bay so be sure to scope out seats early on that day. Otherwise, bundle up and watch up close from your balcony.
Family Games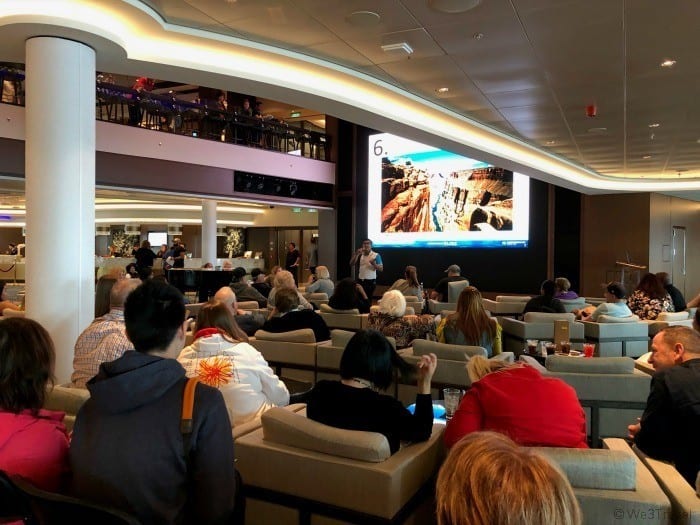 The entertainers in the Atrium do their best to engage the audience with comedy, music, and game shows. It is the silly entertainment that you expect to find in an all-inclusive environment, like the "Family Insanity Game Show."
But if you don't mind letting loose and having fun with it, it could be a good time. Maybe there is a reason there is a bar right there. Check the schedule for activities that seem family-friendly as a few were a little PG-13.
Outside walks / Jogging Track
During our cruise, our teen was missing daily soccer practices so she wanted to keep up her physical routine so she wasn't a hot mess when starting school. However, there is a big sign outside of the fitness center that you must be 16 years old to enter. So scratch that.
To get exercise she mostly ran up and down the stairs. However, there is a small jogging track around the pool. Just keep in mind that it closes to joggers at 9am and it is narrow. It can be refreshing though after spending so much time inside to take walks. Deck 7 is perfect for looping around the boat along the outside of the restaurants.
Sweet Treat
When all else fails, you can always bribe them with a sweet treat and there are plenty of options on the Norwegian Bliss. You can fork over some cash (or really just your ship card but it is still a la carte) for ridiculously-good looking milkshakes and sundaes at Coco's, scoop up gelato, macarons, or cupcakes at Dolce Gelato, or grab one of the goodies at Starbucks.
Just don't forget you can get free ice cream and soft serve in the Garden Cafe and often there are free treats in the Observation Lounge as well. There are enough hidden expenses on the Norwegian Bliss without racking up a bill on sweets.
See a Show
There is plenty of evening entertainment aboard the Norwegian Bliss and some of it is family friendly. The main show is the Broadway musical The Jersey Boys, which tells the true story of Frankie Valli and The Four Seasons.
Just keep in mind the show starting time and whether or not that conflicts with any dining reservations you might have or if it would go too late for an early morning port of call the next day.
---
Bonus: Visit the Spa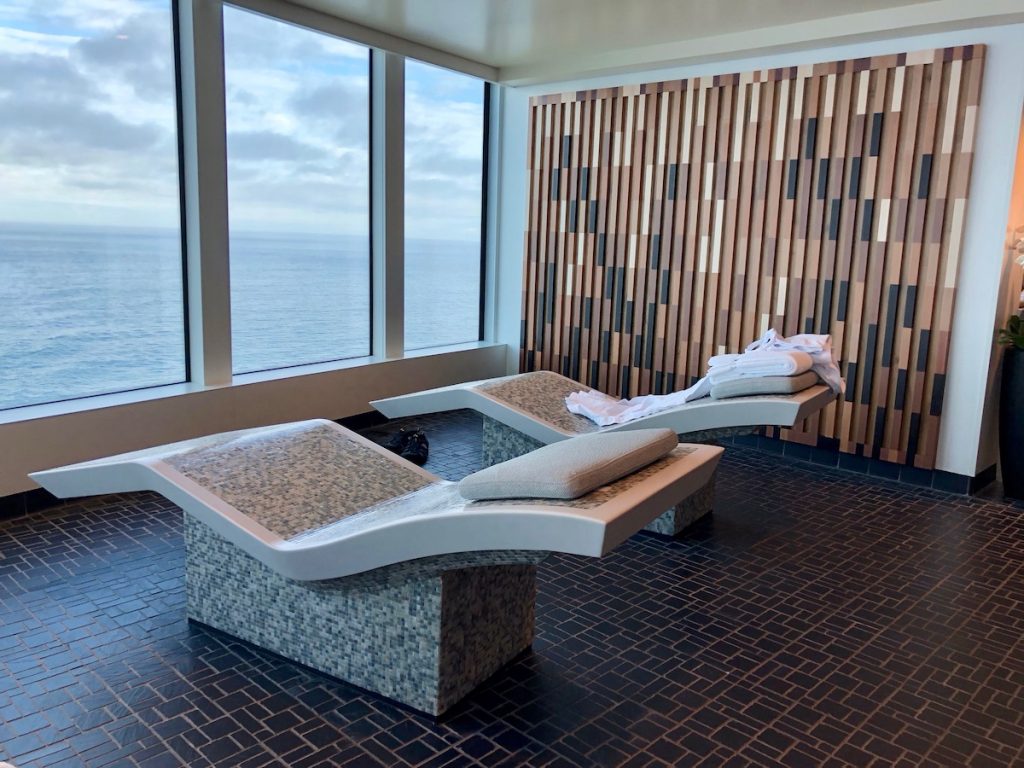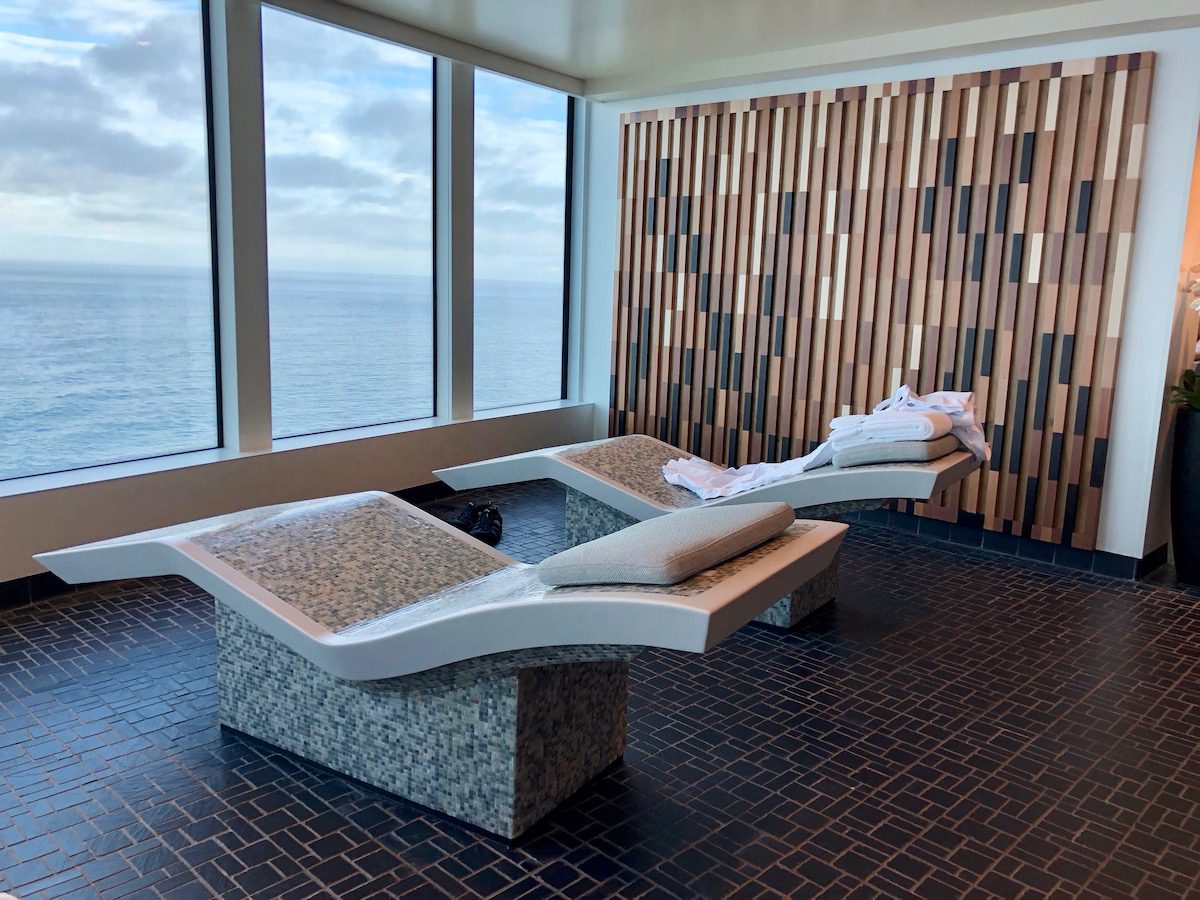 The spa on the Norwegian Bliss is limited to those 18 and up and unlike most spas, a spa treatment does not automatically include access to the thermal suite, which includes a salt room, snow cave, dry sauna, whirlpool, and heated tiled loungers. So you can get a massage but then you are not allowed to go sit in the sauna afterward.
To access the spa facilities, you need to purchase a week-long pass for $269 per person ($249 if you purchase online in advance.) Day passes are not available, otherwise I'm sure everyone would want to purchase it just for the day at sea. So you need to decide how much you want to splurge — although I will say I found those heated tiled loungers very relaxing!
---
When all else fails, consult the Freestyle Daily. I found the daily highlights a bit more adult-oriented than family friendly though. There were options like Latin line dance class, fruit and vegetable carving demo, towel animal folding demonstration (I think our room steward could attend that one), Cha Cha dance class, and the Crew Talent Show. Those weren't a big hit with my teen. She also wasn't particularly interested in the evening entertainment in the Bliss Theater.
Be sure to bring lots of books and offline games, or you could always cough up the money to pay for the WiFi package.
Learn more:
PIN THIS FOR LATER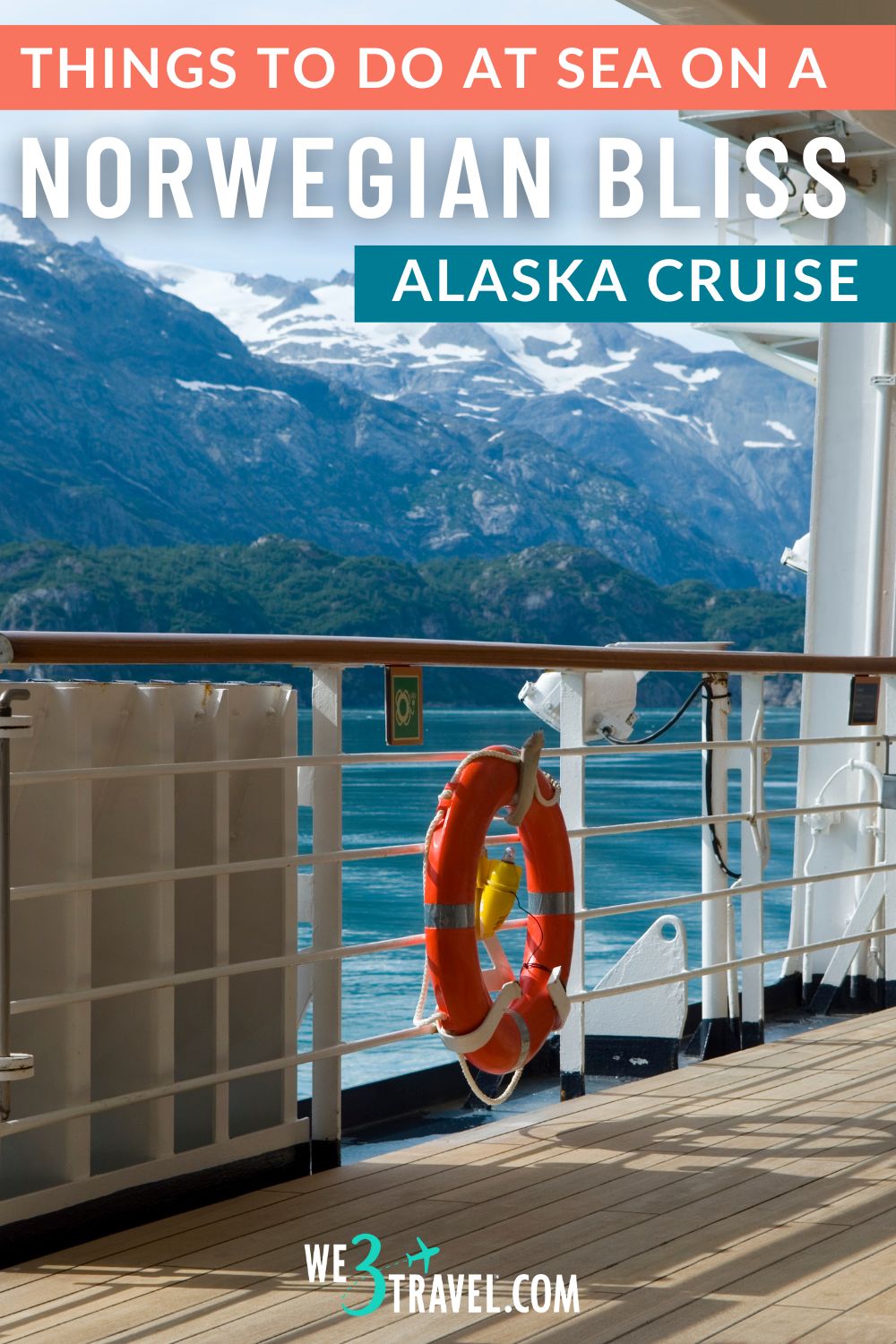 SaveSave
SaveSave