When you talk to most families, Alaska is usually one of the top destinations on their travel bucket list. In fact, according to the US Family Travel Survey conducted on behalf of the Family Travel Association, 37 percent of respondents said they would like to visit Alaska in the future.
With Alaska covering twice the size of Texas, getting there and traveling around is a challenge. This is why approximately half of all visitors coming to Alaska arrive by cruise ship. We made that same choice with our trip to Alaska.
With only a week and a limited budget, an Alaskan cruise from Seattle was what worked best with our schedule and budget. We knew that with so many things to do in Alaska, an Alaskan cruise was just going to scratch the surface and give us a taste of Alaska — which made picking the best Alaska cruise excursions for families even more important.
If your only view of Alaska is going to be during your few days in port, you really want to choose wisely when it comes to the best Alaska cruise excursions for families.
Based on our experience and the advice of a few of my trusted fellow family travel bloggers, I've put together a list of the best family-friendly Alaska cruise excursions and grouped them below by Alaska cruise ports to help you narrow down the wealth of choices.
Of course, now that I've seen that slice of Alaska, I want to return and spend more time inland, so I'm digging into this Alaska travel guide to plan a future trip.
How to Choose an Alaska Cruise Excursion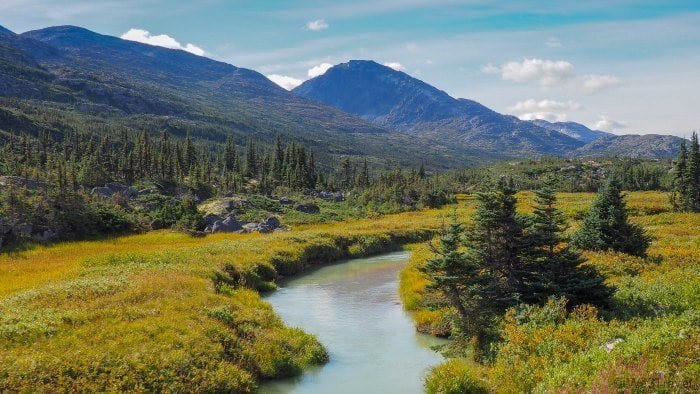 If you are a frequent cruiser, you probably know the deal about choosing excursions in advance and booking through your cruise ship. If you are adventurous, you may even have branched out and booked some excursions direct with outfitters in port. There are a few things to consider when booking through the cruise line or direct.
Unlike booking excursions in the Caribbean, there are a few more factors at play to keep in mind:
Excursions booked through the cruise line are typically more expensive, as much as $20-30 per person
Cruise lines will typically guarantee that they will wait for you if you are on an excursion booked through them (no such guarantee for things booked on your own)
When you book through the cruise line, there is generally a transfer pick-up directly from the pier, whereas if you book direct, you may need to walk or take a taxi to a more central meeting spot
Official tour operators booked through the cruise ship are charged a waiting fee by the cruise line if they get back late, so they are highly motivated to get you back on time anyway
If you book the same excursion that is offered through the cruise directly through the tour operator, chances are you will be on the same trip as people that booked through the cruise so you are likely to get back on time or the boat will be waiting for them too. HOWEVER, if they drop you off in town and drop everyone else off at the boat, you are going to need to scramble to get back to the boat on time
Weather and transportation are big variables in Alaska. Excursions are often canceled because of the weather. Also, you may get on your excursion and have to wait to get back because of the weather. Something to keep in mind when booking direct vs through the cruise. It is much less stressful to know the boat has to wait for you. For example, on our flight plane/bear-watching excursion, we had to wait to return because of the weather. I would have been freaking out if I didn't know that ship had to wait for us.
When you are looking through all the options of the best excursions, I would recommend first sitting down with your family and deciding what the main experiences are that you want to have in Alaska. Do you want to?
See bears in their natural habitat?
See whales?
See glaciers?
Meet sled dogs?
Take in the lush forests, spectacular views, and snow-capped mountains?
Be active?
If you can narrow down the top experiences you want to have, then you can figure out how to prioritize and fit them in. For example, in my family we each picked our top thing that we wanted to do: seaplane ride, get to see bears in the wild, and go kayaking. It made it easy then look at each port and see where we could do each of those activities.
You also need to look closely at your time in port. If you are on an Alaskan cruise from Seattle to Southeast Alaska, like we were on the Norwegian Bliss, then you are going to have less time in port than some other cruises. If you are on Disney Wonder, you will want to see what special character options are available.
Be sure to leave yourself a little leeway on the timing. Even if you have seen enough Diamonds International stores to last a lifetime, you don't want to miss a chance to get lunch of Alaskan King Crab legs in at least one port. And waiting times at restaurants can be very long, especially when you have three or more cruise ships in town. Also, keep in mind my suggestions on what to wear on an Alaskan cruise so you are prepared for the weather and follow my Alaskan cruise packing list and this general cruise packing list.
---
Best Alaska Shore Excursions in Ketchikan
Note: This post contains affiliate links. If you click a link and make a purchase, I may receive a small commission.
For many cruises to southeast Alaska, Ketchikan is the first port of call and there are plenty of shore excursions to see things such as the Misty Fjords National Monument, totem poles at Totem Bight State Historical Park. Potlatch Totem Park or Totem Heritage Center, or see the Great Alaskan Lumberjack Show.
Neets Bay Bear Adventure by Float Plane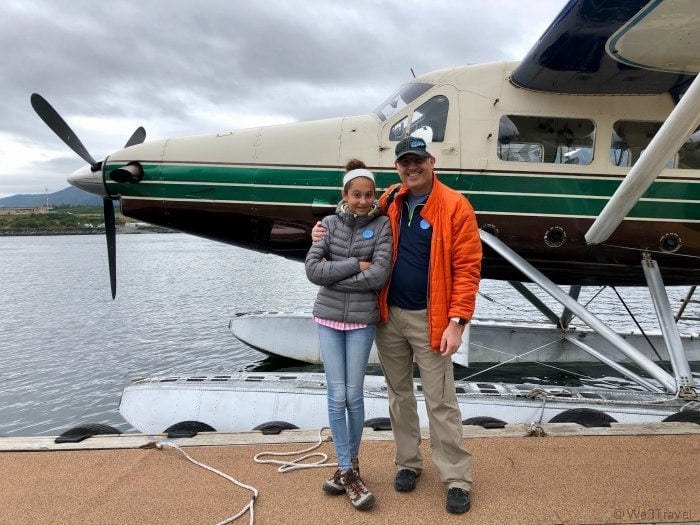 Since my husband has wanted to go on a float plane since watching Fantasy Island as a kid, we knew a float plane excursion had to be on our list. The Neets Bay bear-watching adventure from Taquan Air was the perfect combination of a wildlife tour and a float plane ride. This once-in-a-lifetime experience took a surprisingly smooth 20-minute flight out to Neets Bay, flying over some beautiful scenery, before arriving at a salmon hatchery.
There we met our guide for a walk out to the river where the salmon swim upstream and into the waiting arms of the bears (and fishermen.) Before we barely left the dock, we ran across a bear snacking on the salmon that had beached themselves on the rocks. During the short walk through the woods to the viewing platform, we learned about black bears and the local ecology.
We spent about 30-45 minutes watching the river as various bears emerged from the forest to climb down to the river to do some salmon fishing for lunch. It was an amazing excursion and even left us time to get a lunch of crab legs back in town before heading back to the ship.
Ketchikan Outdoors
With over one-thousand 5-star reviews on TripAdvisor, Ketchikan Outdoors is one excursion not to be missed. Hop on one of their 4-person zodiac boats and head out to explore the raw beauty of the SE Alaska Inside Passage. (Note: you need to be 10+ years of age.) On our excursion, we came across numerous habor seals, came across whales spouting, watched soaring eagles, drove past huge eagle nests and even witnessed an eagle snatch a fish out of the ocean right before our eyes.
Besides the abundant wildlife sightings, our tour guide was incredibly knowledgeable and he shared information about the history of Ketchikan, the native culture, and gave us a tour of the town. This is one adventure that should be on the top of anyone's list who is cruising to Alaska.
From Amber Mamian from Global Munchkins
Nature Hike in Ketchikan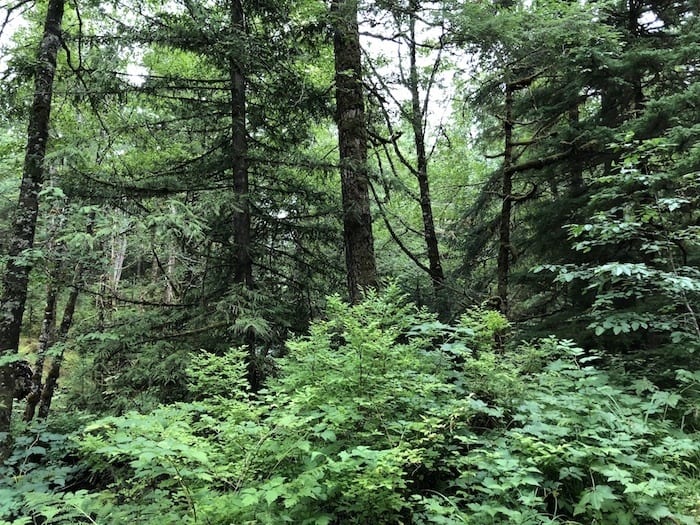 Recently my husband and I sailed on an Alaskan cruise and our first port day landed us exploring Ketchikan. There was a nature hike offered in the Tongass National Forest and we jumped on it. It was a couple of hours in length with a knowledgeable guide (she knew her plants and bears) who trekked along at a pace easy enough for almost anyone to keep up.
There were several stopping points including a couple of breathtaking observation platforms where we saw salmon headed upstream and gorgeous waterfalls. Questions were encouraged and answered thoroughly including: "Are there snakes in Alaska?" And, the answer is no, by the way. We were offered snacks and bottled water and came away with so much wisdom and knowledge about the Tongass Rainforest, its vast wonder, and the habitats held within.
Most people concentrate on the glaciers when in Alaska, and rightfully so, they are fabulous. But, don't overlook a lazy day hike in the rainforest. You'll be pleasantly surprised.
From Becky Beall from Travel Voice by Becky
---
Best Alaska Shore Excursions in Juneau
Juneau is another popular stop on an Alaska cruise, offering Alaska excursions to Mendenhall Glacier, helicopter tours to the Juneau icefield, and time to explore downtown Juneau.
Sea Kayaking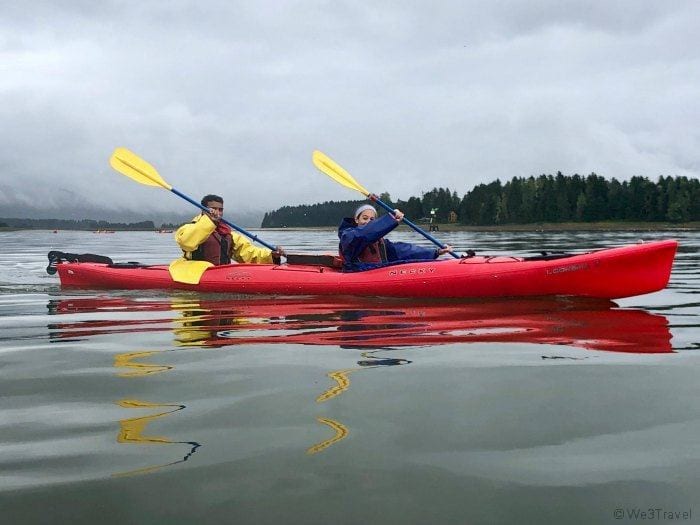 Top of my daughter's wish list for our Alaska trip was sea kayaking. Since Juneau was our shortest time in port, we decided to sea kayak there, with the hope of getting close enough by water to see the glacier faces (and perhaps see some wildlife.) Families that haven't done glacier visits in other destinations (we did glacier hiking in Iceland) may prefer as Alaska shore excursion to see Mendenhall Glacier.
It ended up raining hard when we arrived so we were really thankful for their raincoats, kayak skirt (to cover the opening), and boots, as ours weren't as waterproof as we thought!
The excursion started with a 20-minute drive through town and out to Douglas Island. We then boarded tandem kayaks (Hannah went with a guide) and luckily the rain let up for us to enjoy the fog and mist it left behind. We saw marine life including seals and eagles, but unfortunately couldn't make it close enough to see the Mendenhall Glacier through the fog as they sometimes can.
After kayaking, we warmed up with hot apple cider, cheese, crackers, veggies, and reindeer sausage. The only downside (besides the weather) was that they were all tandem kayaks so you may get paired with someone that you have trouble synching up with.
Whale Watching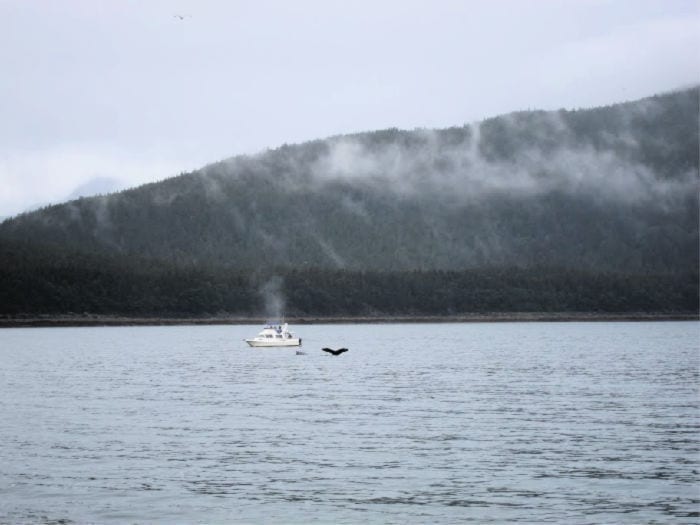 If your Alaskan cruise route includes a stop in Juneau, don't miss taking a whale watching tour with Alaska Tales Whale Watching. You'll be sharing the water with incredible and majestic humpback whales, at a respectful and safe distance of course. The company is so sure that you'll see wildlife that they'll guarantee your money back if you don't see a whale.
Our extended family (including young kids) loved our 3.5 hour tour, where we saw plenty of whale activity and had our questions answered by the on-board naturalist. Did you know that Humpback whales feed in the cold waters of Alaska during the summer months and Alaska cruise season, then migrate thousands of miles to warm tropical waters in Hawaii and Mexico to mate and breed?
(Tip: You can choose to combine this tour with a trip to the Mendenhall Glacier.)
From Claudia Laroye, Claudia Travels
Visiting a Dog Musher's Camp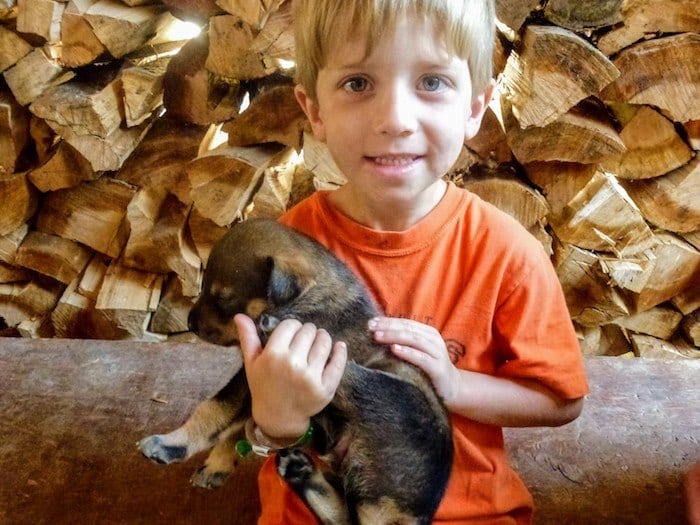 For the cutest Alaskan cruise shore excursion around, a visit to a musher's camp with sled dogs is a must, especially for families. The best part, not surprisingly, was cuddling the adorable newborn puppies!
We loved being pulled through the woods by a pack of twelve well-trained dogs, as we sat in a golf cart-type vehicle, the kids yelling "mush" all the while. We also learned the fascinating history, culture, and techniques of sled dog racing, including all about the iconic Iditarod, as well as how the dogs are cared for and trained.
Our boys had a great time dressing up in a musher's jacket and huge mittens and standing behind a sled, imagining what it must be like in winter for these intrepid racers. We had booked the sled dog and musher's camp outing as part of a fantastic 14-day Inside Passage cruise on Holland America Line's MS Amsterdam, where my siblings and our families celebrated my father's 80th birthday.
This excursion out of Juneau also included a visit to the cute and historic town of Skagway, where we treated our post-puppy smiles to some hot cocoa. While we had many memorable experiences throughout our magical two weeks, meeting the hard-working dogs and adorable puppies melted our hearts and stayed in our memories more than any other.
from Julia Slatcher from Inspire World Travel
---
Best Cruise Excursions in the Inside Passage
Many cruise lines travel through the Inside Passage, but if you really want to get the best views, instead of a shore excursion, consider small ship cruising.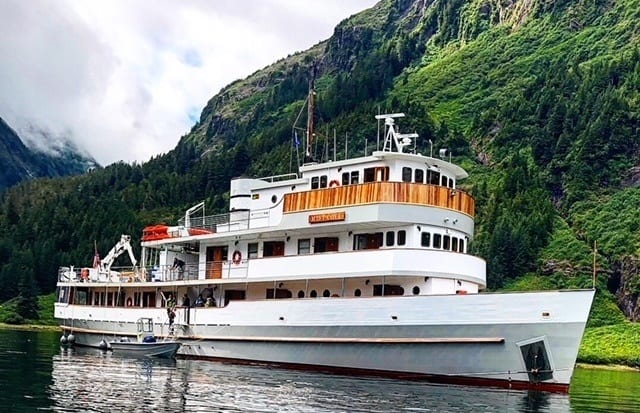 Small Ship Cruising has many advantages, but the best advantage is getting places and staying where not many people ever get to visit. Most recently we traveled on the Mist Cove of The Boat Company during the Orvis Fly Fishing Week.
The ship has 12 cabins and a crew of 14, all experts in the area and simply amazing. Each night Captain found a small inlet to tuck into and the course may change day-by-day based on the 24 passengers' desires, another one of the great advantages of small ship cruising. If the passengers want another hike to a waterfall and stream fishing, the course is changed.
In addition to fly fishing, we visited two wonders of the inner passage. The first was Brothers Island in the mouth of Pybus Bay. The hike through this unique rain forest is mesmerizing and one I waited for our entire trip. The unique mossy terrain takes you from moss beds through the lush rain forest to the rocky beach to explore in high and low tide. Your skiff drops you off and then again picks you up.
After a warm lunch back on shore, it is back in the skiff to watch the Stellar sea lions from afar (to not to disturb them for the second.) We sat for an hour watching them interact, sunbathe, fish and communicate with all their wonderful sounds. On the short ride back to the Mist Cove we saw whales, birds, eagles, and so much more as we passed Brothers Islands.
From Dana Zucker from LifeDoneWell.today
Cruising by Dawes Glacier/Endicott Fjord
The Carnival Legend offers several shore excursions and my favorite happens to be one that happens on the water. We were able to experience the Dawes Glacier/Endicott Fjord due to the normal excursion route still being iced over in early June.
The glacier itself is beautiful, as is the boat ride to and from the glacier. An excursion that includes a glacier is one you will never forget, as the beauty of Alaska is all around. Where else can you get a gorgeous view of your cruise ship floating in the natural beauty of America's 49th state?
From Sara Broers from Travel With Sara
Best Alaska Shore Excursions in Skagway
For some Alaskan cruises, Skagway is the northernmost point of call and often a longer day to explore than the other ports. Some of the popular things to do from Skagway include exploring the Chilkoot trail, White Pass summit and the Yukon suspension bridge, or the Klondike Gold Rush National Historic Park.
Denver Valley Wilderness Hike & White Pass Railway
Many of the cruise excursions from Skagway include some portion of the Whitepass-Yukon railway. Since we had the longest time in port in Skagway, we really wanted to use that time to get into the interior of Alaska and see some of its raw beauty. So we picked a combination excursion from Packer Expeditions.
We started with a 20-30 minute scenic coach short ride to Fraser, British Columbia (Passports required.) We then caught the White Pass Railway as it was headed south back to Skagway. After eating a provided lunch on the train and getting a chance to hang off the back of our car to take pictures of the amazing scenery, the train stopped in Denver Pass before getting to Skagway. (See a full review of the Skagway train tour to the White Pass Summit.)
Here we hopped off and started a four-hour, out-and-back hike through the Denver Valley. The scenery was gorgeous and we ended up resting near a beautiful waterfall and refueling with their provided snacks before heading back to the train tracks. The trip finished off with us catching the train back to Skagway. The train was late so I was very glad we booked through the ship and I knew the boat would be waiting for us.
Scenic River Float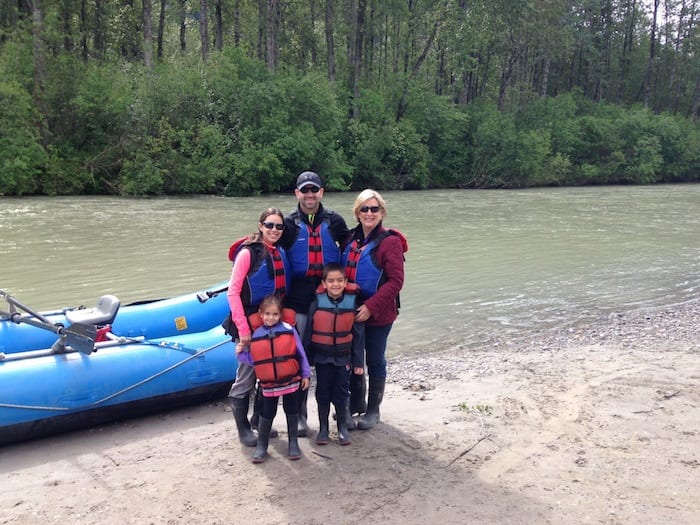 My family did a scenic river float while visiting the town of Skagway, Alaska. Our kids were young (5 and 3) and we wanted a cruise excursion that would be enjoyable for all of us. Being from Florida, the Alaskan wilderness is quite foreign to us, yet nonetheless stunning.
Instead of booking the shore excursion through the cruise line, I did some online research and found several companies that will pick you up from the dock on a bus and take you to the float. The van ride itself was scenic and we soaked in the splendor of the mountains and winding roads.
Once we arrived at the Skagit River, our family of 4 and my mother-in-law were given life jackets and instructions about how to get on and off the raft. While on the raft, we saw plenty of bald eagles, beavers, birds, and even a moose wading on the shore. This is a nice family-friendly activity for those who do not want anything too adventurous or for a gentle scenic float through the Alaskan wilderness.
From Margie DQ from DQ Family Travel
---
Best Alaska Shore Excursions in Sitka
Sitka is a popular cruise destination for wildlife viewing including bears, whales, and eagles.
Alaska Raptor Center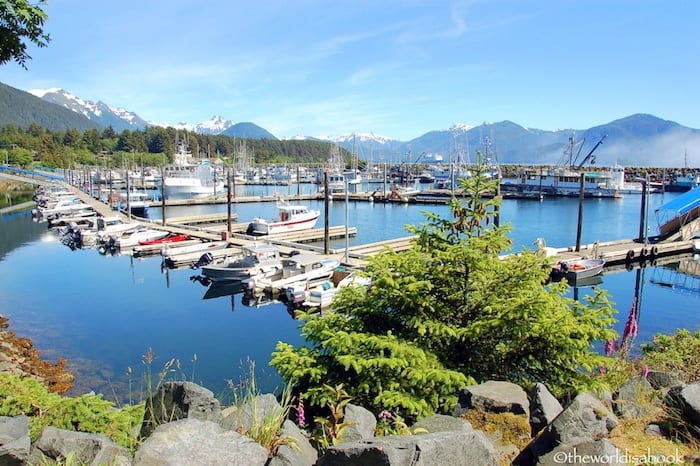 Sitka isn't a common cruise port on most Alaska cruises, but one we'd easily return to for an extended land vacation. Located on Baranof Island and surrounded by majestic mountains, it was a very charming and beautiful town to explore with an interesting history, culture and scenic landscape.
Visiting the Alaska Raptor Center was one of my kids' favorite shore excursion. The center provided care and rehabilitation for injured local birds and eventually released them back to the wild after they were well. Our tour took us to several observation areas to see the birds in various stages of rehab. The highlight was getting to be up close to the resident bald eagle, Sitka, while learning more about the facility. We enjoyed the various interactive exhibits and seeing some of the resident birds in their enclosures.
Sitka National Historical Park
Our favorite DIY excursion was following the waterfront walkway from the town center to Sitka National Historical Park. This site included the history and cultural heritage of the Russians and indigenous Tlingit and the park's natural landscape. The visitor center offered art demonstrations, exhibits and ranger-led programs. Kids can participate in the Junior Ranger Program and earn badges.
We enjoyed walking the one-mile loop Totem Trail through the temperate rain forest. There was a fascinating collection of 18 totem poles carved by native Alaskans. There are ranger-led talks or a self-guided cell phone tour to learn more about these towering poles.
We loved the beach behind the visitor's center. Families can explore tide pools and borrow Discovery Pack backpacks that included buckets, digging tools and magnifying glasses. It was the ideal place to relax, play and enjoy the breathtaking views of the mountains and the surrounding islands.
From Mary Solio from The World is a Book
Fortress of the Bear
No visit to Sitka is complete without a visit to Fortress of the Bear, a sanctuary on a mission to save orphaned bear cubs in Alaska. This 501(C)3 not-for-profit organization has made it their personal mission to look after and care for orphaned cubs that are routinely shot by the Department of Fish & Game for lack of an alternative. While they do an incredible job rehabilitating these cubs and provide them with a life full of enrichment. their dream is to eventually change legislation to allow them to rehab & release these gorgeous creatures back into the wild.
Being a not-for-profit organization they rely solely on admission fees and donations for funding so the public has access to their amazing facilities and is able to view these majestic bears play and communicate with their caregivers in a very intimate setting. It was one of the most amazing experiences I had in Alaska and I highly recommend it.
From Amber Mamian from Global Munchkins
---
Best Shore Excursions to Denali
Backcountry Adventure
When heading to Alaska, it's imperative not to miss Denali National Park. Cruise passengers likely only have a day or two in the park, thus picking the right shore excursion is key. Our best day spent in Denali National Park was on the Backcountry Adventure offered by Pursuit.
We boarded the bus early in the morning and headed down the Denali road, which is only accessible to private busses or the park hop on hop off bus. The driver was knowledgeable and was able to show us an amazing array of animals. Snacks, beverages and a hearty lunch are included on the tour so no extra planning of meals is required.
The tour is surprisingly family-friendly with even younger children being able to withstand that long drive. During the lunch break, there is an opportunity for a nature walk or to go panning for gold. It was the only successful gold panning of our entire trip and my kids were able to bring home their gold on laminated cards as a souvenir. We spotted 4 of the Denali Big 5 missing out only on the elusive wolf. Truly a perfect day in Denali National Park.
From Sarah Pittard from Trekaroo
PIN THIS FOR LATER