We tend to think of cruise ships as all-inclusive resorts on the water. At least that is the way it used to be. Prior to sailing on the Norwegian Bliss cruise ship from Seattle to Alaska, it had been 20 years since my last cruise. Back then, I remember ordering room service at will, grazing at midnight buffets, and indulging in whatever entertainment was offered on board.
While we chose our Alaska cruise carrier because of the Norwegian Bliss cost, which was quite affordable for a family of three, we quickly discovered that some aspects of cruising have changed in recent decades. The ships have gotten much larger and many offer so much more in terms of dining and on-board activities over the years.
With those changes and upgrades, have come quite a few hidden (or at least unexpected for those that didn't read the small print) costs.
For our Alaska cruise on the Norwegian Bliss, we selected the specialty dining package and the unlimited beverage package for two as our included "add-ons" to our package. So my expectation going into our cruise was that it was going to be a fairly all-inclusive experience while on board. I was wrong!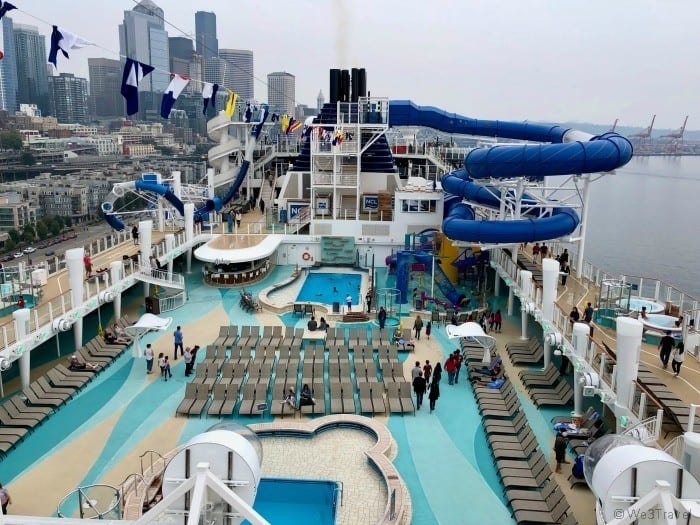 The rule in the hospitality industry these days seems to be a decoupling pricing strategy. The airlines have lowered their flight price, only to decouple fees for baggage, seat selection, entertainment, and food. It seems as if the cruise industry is going in the same direction, at least that was our experience on the Norwegian Bliss.
The Norwegian Bliss is part of Norwegian Cruise Lines' Breakaway Class of ships, which sails to Alaska, the Caribbean, Mexico, the Pacific Coast, the Panama Canal, and more. To continue to raise the bar on amenities, the Bliss has added more amenities and activities including laser tag, water slides, and even a go-kart race track. All of these upgrades cost money.
I remember taking a Princess cruise with a friend in my twenties and we did a wine tasting for free. And when Glenn and I took a Royal Caribbean cruise while we were dating, I don't remember paying extra for mini golf or to use the rock climbing wall. So I'm not sure if this phenomenon is endemic to the cruise industry or to Norwegian in particular.
Still, all the add-on expenses made our Alaskan cruise deal not such a steal after all. When I posted about this on Instagram, I got a number of surprised comments about the non-all-inclusive nature of our experience. So I figured I'm not the only one who would be surprised.
That is why I wanted to provide a list of add-on expenses on the Norwegian Bliss so that others can budget accordingly. I didn't include the obvious ones like spa or salon services and shore excursions, because I think most people are aware that those are additional.
The others may or may not surprise you. We certainly didn't expect everything, like the specialty dining, to be free. However, the limitations of some of the "perks" like the unlimited drink package were definitely a surprise.
Added Costs on the Norwegian Bliss Cruise Ship
Note: prices are subject to change. Check with Norwegian for current pricing and policies as these may change. However, good luck getting the information in advance of your cruise because they are very reluctant to give out this information.
Laser Tag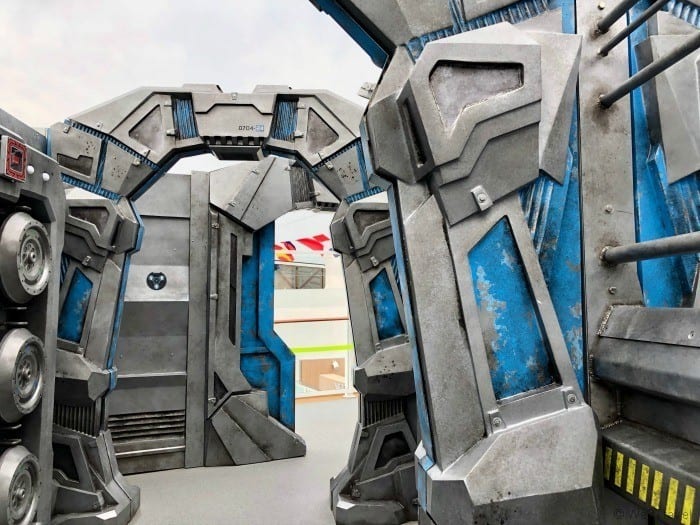 The Laser Tag is an elaborate maze offering 30-minute sessions, which must be reserved in advance. I would recommend scheduling these as soon as you board with guest services or through the online touch screens near the elevators because the sessions book up quickly, especially for days at sea. Just keep in mind that on the Alaska cruise your session may still end up canceled due to bad weather.
The cost is $9.95 per person. Tip: if you have a teen, the Entourage teen club offered one night activity with unlimited laser tag – for free! If you have a teen that doesn't mind joining a teen club, this might be a good way to try Laser Tag for free. Check and see if they are still offering this and sign up early in the week.
Race track
If you would like to take a spin on the two-level race track, you will also need to reserve a time slot early. It is great fun to race against each other and take hairpin turns while at sea.
The cost is $15.00 per person. Tip: the track is behind the smoke stack so you may get dirty, don't wear anything nice and be sure to wash your face and hair after!
Arcade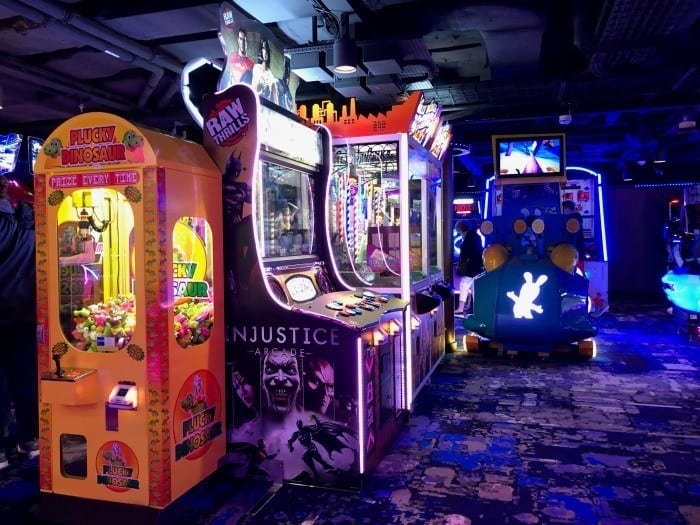 Next to the Kids' Clubs and Teen Club you will find a small arcade. There are a range of games from car racing to basketball hoops, to a virtual rollercoaster. All the games are a la carte by swiping your room key but if you think your kids might spend a lot of time in the arcade, especially on bad weather days at sea, you may want to look at purchasing a package.
The package is $10 per person, per day, which will give you unlimited games on certain machines with a green swipe. Seems like a deal if you only purchased it for one day or one person. However, it must be purchased for the whole cruise and for everyone in the cabin. It can really add up fast either way!
Bowling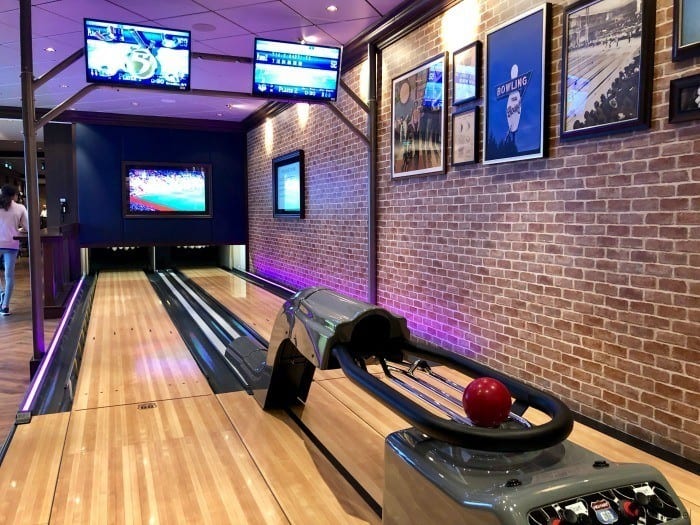 In The Local restaurant, you will find two small duck pin bowling lanes. It is a fun entertainment option, but it costs about $6 a game. Just another way that the entertainment options add up fast.
Specialty Dining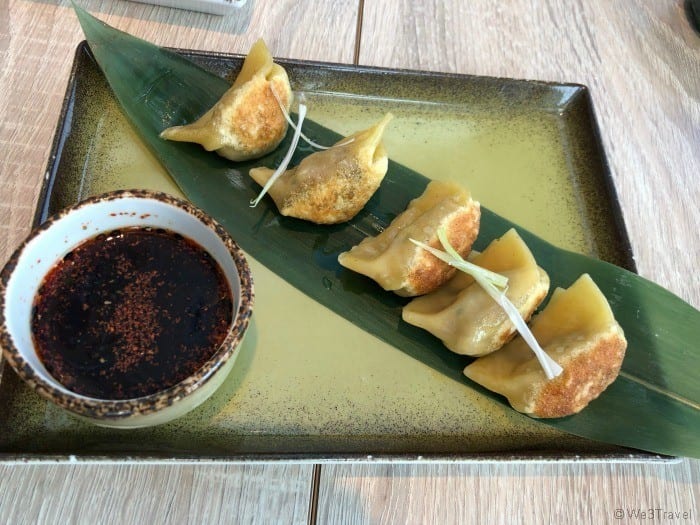 Specialty dining packages can be purchased for the number of meals that you desire, or you can pay either a cover charge at some specialty restaurants (e.g. $14.95 at Margaritaville) or a la carte pricing. This isn't unusual now that many cruise lines offer specialty dining beyond the buffet.
In fact, I'm happy to pay more to get better food. That is why when Norwegian offers the option of two "free" add ons as part of the cruise package, it is such as popular choice.
However, even if you buy or receive for free the specialty dining package, that doesn't mean your meal will be free. For example, Ocean Blue charges an additional $10 per person over and above the dining package.
And, a mandatory 20% gratuity is additional, even though you pay the standard ship service charge separately that covers service in the main dining room.
Unlimited Beverage Package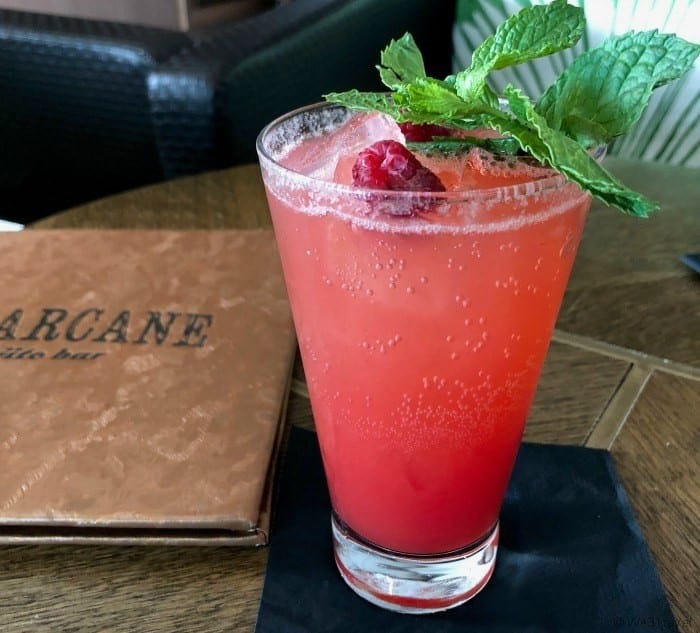 The unlimited beverage package also included a few catches. It only includes drinks under $15. Order something above that and you pay the difference. It works out well for mixed-drink and beer drinkers, but wine and Scotch drinkers often encounter a surcharge. I searched high and low for a wine that I liked below $15 a glass and there was only one. The "better" wines are conveniently priced just above the threshold. You can purchase these at a 20% discount if you have the beverage package.
And the package only includes wines by the glass. If you want a $40 bottle of wine (which includes four glasses at $10 each), but it isn't offered by the glass, then your only option is to purchase a bottle at a 20% discount.
The Unlimited Beverage package also doesn't include gratuities on drinks. So every drink you get racks up a 20% gratuity that is over and above the mandatory service charge that you pay for the cruise staff. Also, when you are in Seattle, you still need to pay state tax on the drinks included in your beverage package. And, there is also a wine station in the Garden Cafe buffet that is not included in the drink package.
Espresso /Cappuccino
If you like a morning cappuccino or after-dinner espresso, you will need to pay extra, even in the complimentary dining rooms. Only regular coffee is included (even with the drink package). The onboard Starbucks is also a la carte. The Starbuck charge wasn't a surprise, but it was a bit shocking that you couldn't get an espresso after dinner in the complimentary dining room. Luckily I'm not a coffee drinker and my husband switched his customary espresso for a standard coffee (but coffee drinkers beware that it isn't great.)
Sweets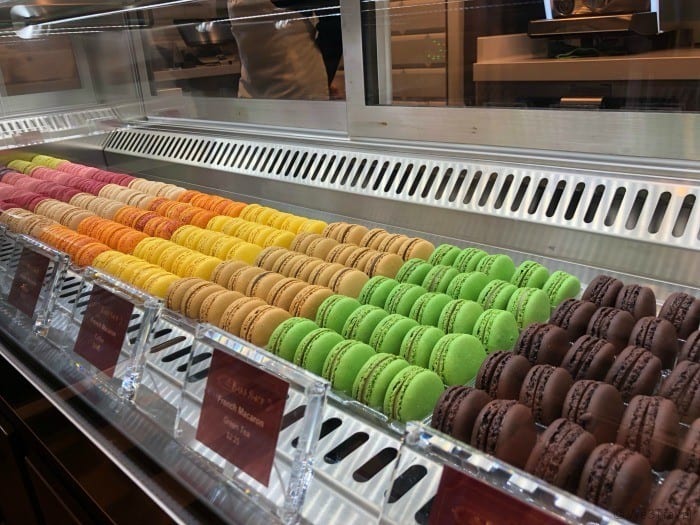 You can get dessert at the buffet or main dining rooms, but if the macarons, gelato, cupcakes, or chocolates at Dolce Gelato or Coco's catch your sweet tooth, they are only available a la carte. And they aren't cheap!
Tastings
The Norwegian Bliss offers multiple alcohol-tasting experiences. These include wine tastings, American whiskey tastings, and Alaskan beer tastings. These are all for an additional fee (cost varies), even if you have a drink package (but you will get a discount.)
Spa Thermal Suite Access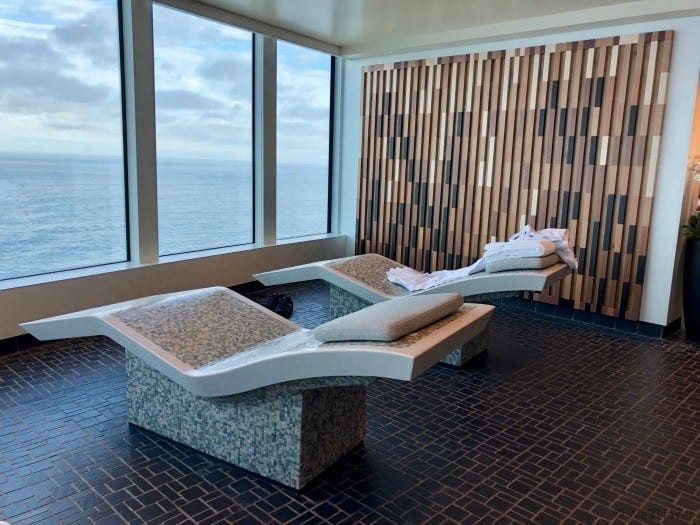 In most resorts, when you book a spa treatment, it includes a day pass to use the other spa facilities. Not so with the Norwegian Bliss. A spa treatment does not include access to the thermal suite, which includes a salt room, snow cave, dry sauna, whirlpool, and heated tiled loungers. So you can get a massage but then you are not allowed to go sit in the sauna afterward. I found that odd but I've never used a cruise spa before so I can only compare it to a standard day spa.
To access the spa facilities, you need to purchase a week-long pass for $269 per person ($249 if you purchase online in advance.) Day passes are not available, otherwise I'm sure everyone would want to purchase it just for the day at sea.
On-board Messaging
They advertise that the NCL app for the Norwegian Bliss includes onboard messaging and calling. This is true, but only if you purchase a messaging package for $9.95 per person for unlimited onboard messaging.
Otherwise, you can purchase the onboard wifi (even pricier) or do things the old-fashioned way and leave each other notes in the cabin. (See my Alaska cruise packing list for ideas on how to do this!)
Adults-only Sun Deck
Vibe is an adults-only area on the pool deck, which is accessed only by purchasing one of a limited number of passes.
Maybe there are other additional expenses on the Norwegian Bliss but in our one week on the ship, these were the ones that really jumped out at me. It became a running joke on the number of things that were additional. The feeling of being nickel-and-dimed put a bit of a damper on the trip as we felt the need to watch the budget and avoid extra add-ons like espresso after dinner or a nicer glass of wine, which we had expected to be included.
To hear my full review of the Norwegian Bliss cruise ship, be sure to tune in to our Vacation Mavens podcast on the Bliss:
Also find out how what to wear on an Alaskan cruise and the best Alaska cruise excursions for families.
Altogether, the Norwegian Bliss cost still makes for an affordable family vacation, even with the added costs. I just think you have a right to know what to expect when it comes to total costs, especially if you have an expectation that a cruise is pretty much like an all-inclusive vacation.
PIN THIS FOR LATER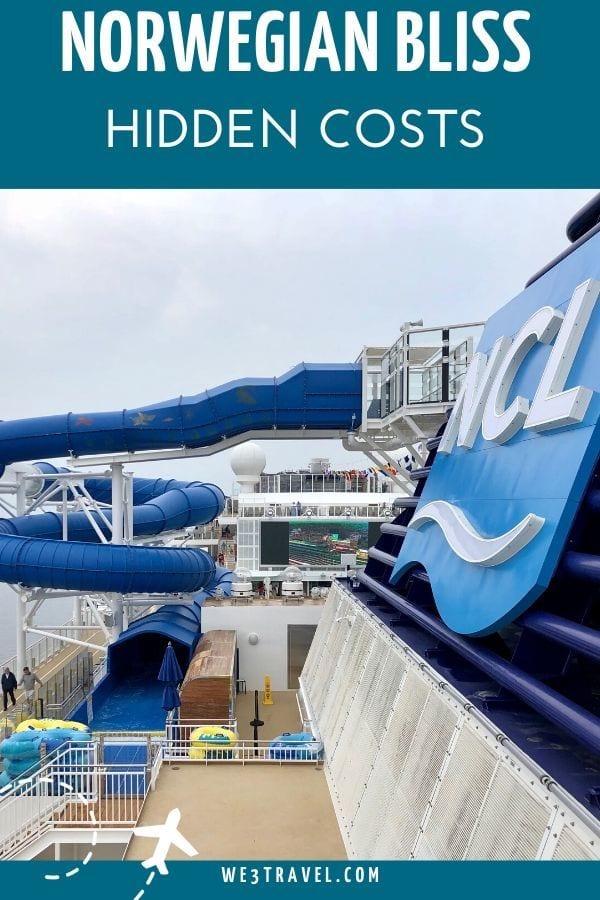 SaveSave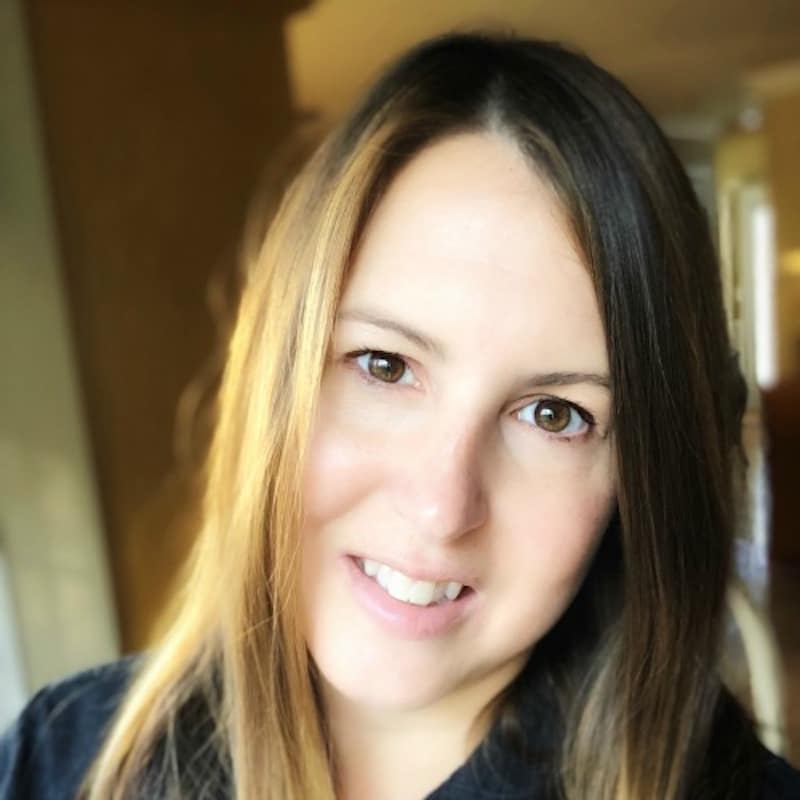 Tamara Gruber is the Founder and Publisher of We3Travel. A former marketing executive and travel advisor, Tamara is an award-winning travel writer and recognized expert in family travel. She is also the publisher of YourTimetoFly and the co-host of the Vacation Mavens travel podcast.