One of the reasons we chose the Norwegian Bliss cruise ship for our Alaska cruise from Seattle was the wealth of specialty dining options onboard. As a foodie, I always worry about the quality of banquet food when being served en masse in a large dining room. But the Norwegian Bliss restaurants are plentiful: five complimentary dining places and 13 specialty dining eateries.
I was pretty sure that breadth and variety of NCL Bliss restaurants would satisfy this foodie family. So I made it our mission to try as many as possible to report back on the good and the bad, and where you should prioritize spending your Specialty Dining dollars.
But first, let's examine how dining works on the Norwegian Bliss.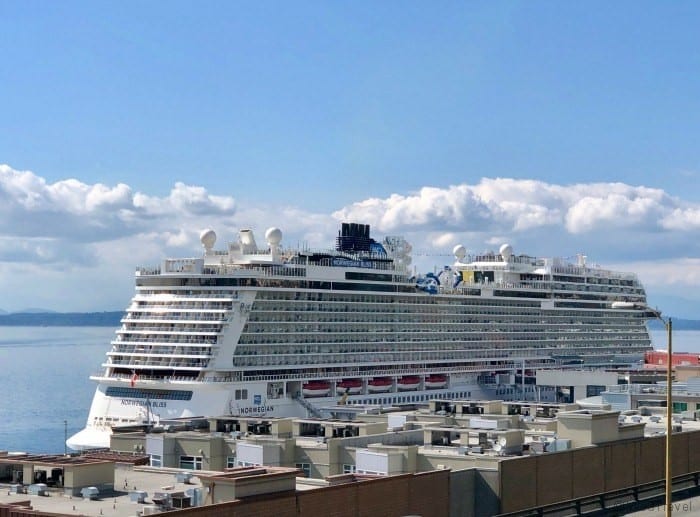 Norwegian Bliss Dining Plans
Norwegian Cruise Line is known for its "freestyle dining." This means that instead of formal dinners with assigned tables and dining times, guests are free to dine where and when they want.
Dinner is also more casual than some cruise lines, with no official "formal" night. The main dining rooms still maintain a no shorts or jeans rule after 6pm, but honestly I'm not sure how strictly that is enforced.
These main dining rooms: Savor, Taste, the Manhattan Room, Garden Cafe (buffet), and Local (pub-style) are all complementary. Except if you want an espresso or specialty coffee with dinner (don't get me started on the hidden expenses on the Norwegian Bliss.) I'll break each of these down a little later.
If you would like to eat at one of the 13 eateries outside of those main dining rooms, known as the Specialty Dining options, you will need to pay.
You can either pay a la carte, which means you order from the menu and pay the price listed. A couple of these restaurants offer a flat per person fee (Teppanyaki $29.95 and Jimmy Buffet's Margaritaville $14.95) for a meal, not including drinks of course.
The other option is to pre-purchase a specialty dining plan in three-to-fourteen meal options. Many times, when you are booking the cruise, Norwegian will offer a "pick two" promotion, which allows you to choose from two free upgrades.
The Specialty Dining option is the most popular upgrade and it offers three specialty dining meals for two people. If you have more than two people staying in your cabin, you will need to purchase a specialty dining meal plan for them if they wish to join you. You also have the option of adding additional meals.
We picked the Specialty Dining and Unlimited Beverage plan options, and added a third Specialty Dining three-meal plan for Hannah. Beyond that, we figured we would test the waters with the complementary options and pay a la carte if we wanted to try anything else.
I tried to use our included Specialty Dining meals strategically at the pricier restaurants, and eat a la carte at the cheaper places. Definitely don't waste a specialty dining meal on a milkshake at Coco's! They may be large enough to be a meal but you are better off with a starter, soup/salad, steak, two sides, and a dessert at Cagney's for the same "price."
I'll explain the best places to use your included specialty dining meals below, along with which restaurants are worth paying a la carte. But first, let's walk through the free options.
Complimentary Dining Options on the Norwegian Bliss
There are five complimentary dining options available on the Norwegian Bliss. Six if you count room service, but since that has a service fee, I haven't counted it. Seven if you are staying in the Haven, since they have their own dining room, but considering this is for a select group of passengers staying in the exclusive first-class Haven, it isn't an option for most of the ship.
Garden Café
The Garden Café is the buffet option, open for breakfast, lunch, and dinner. Located on Deck 16 in the front of the boat, seating is formed in a U-shape on both sides and the very front, with the buffet in the middle and bar at the back.
It is always a bit crazy and trying to find a seat can be a challenge. I would recommend someone saving a table while others hit the buffet. You can enter from either side and will be greeted by a cheerful "washy, washy, smiley, smiley" crew member squirting you with hand sanitizer (there are also hand sanitizing stations at the entrance to every restaurant.)
Some of the stations repeat, but there are unique stations throughout, so it takes some time to scope the whole place out and figure out what you want to eat.
In the morning, you will find scrambled eggs, sausage, bacon, beans on toast, hash browns, fruit, yogurt, pastries, and all your typical morning foods. Hannah really enjoyed the Indian station for breakfast. If you are willing to wait on line, there is also a made-to-order omelet station.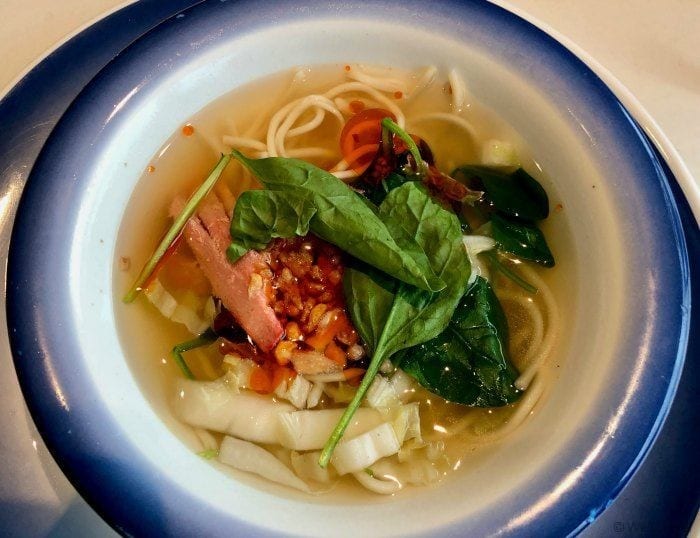 Lunch is also a variety. The grill will serve up hamburgers, really good fries, hot dogs, etc. You will also find pre-made sandwiches, cold cuts, hot foods, carving stations, and the Asian and Indian stations. On a cold day, the noodle soup from the Asian station was perfect!
In the evenings, they host a theme dinner each night including seafood, prime rib, and grill night. For all meals, you will find a wide selection of plated desserts, scooped ice cream, and a self-serve, soft-serve machine.
Personally we found it convenient to skip paying for dessert at the specialty dining restaurants or gelato/bake shop and pop up to the 16th floor for some soft-serve or a piece of cake if we got hungry.
Savor / Taste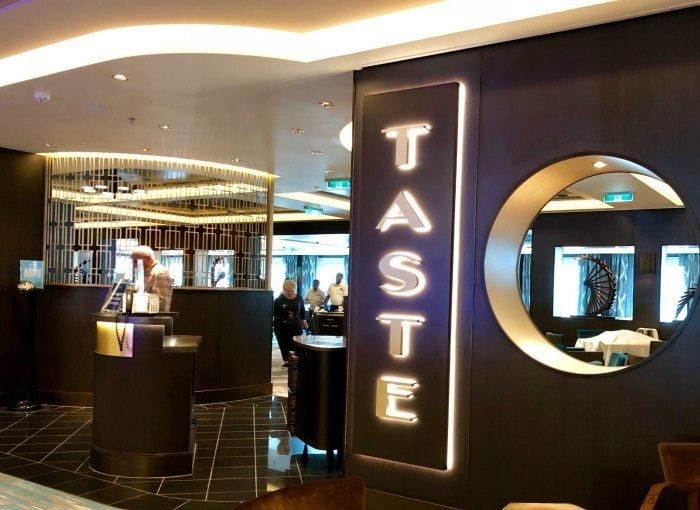 Savor and Taste are right across from each other on the 6th floor, with a bar in the middle. We ate at each of them and the menus were very similar, as are the views. To decide between the two, you really need to just pick whichever has the shorter line. We found both to be just okay for dinner.
The service at Taste was surprisingly rushed and we had the feeling they were trying to turn the tables as quickly as possible. I had a mediocre chicken piccata, but no worse than I would expect.
At Savor, I tried an eggplant parmesan but I really should have saved my Italian cravings for my night a La Cucina. They are decent options but if you have high food expectations, you will want to invest more in specialty dining. However, if you have time for a sit down breakfast or lunch, I'm sure they are much less chaotic than the buffet at the Garden Cafe.
The Manhattan Room
The Manhattan Room on Deck 7 is a bit more glamorous looking so if you want that Titanic feel (without the icebergs), this might be where to go when you want to dress up a bit.
If you can get a table at the back of the boat, you should have great views. Just keep in mind that you will feel the movement more. We didn't eat at The Manhattan Room but I imagine the menu is similar to Savor and Taste.
The Local
If you want more of an Irish Pub feel without paying extra, The Local is where to go. Located on Deck 7 and open 24 hours, this is a much more casual environment. Although with the big screens and large bar, it can also get a bit loud and rowdy.
While you are enjoying a pint or two, the kids can play a few arcade games or bowling (for an extra fee of course.) Overall the food is good, basic pub fare of fish and chips, pot pie, burgers, etc. You get table service without the formality of the main restaurants.
Norwegian Bliss Specialty Dining Restaurants
I will go through our review of each option below, but first I want to get to the bottom line. If I had three specialty dining meals, I would use them at Cagney's, La Cucina, and Teppanyaki or Le Bistro.
I think you will get the most for your "money" at these restaurants. However, overall our favorite restaurant was Food Republic. But since most of the dishes were pretty cheap, and shareable, I think this is one that you can do a la carte.
Keep in mind that when paying a la carte, the prices are already lower than you would expect to find in a similar restaurant on land. One way that Norwegian gets it right is to keep in mind that you have already paid for the cost of the complementary food, which supplements the pricing you will pay at the specialty dining restaurants.
Also, pro tip, I would recommend booking as many restaurant reservations as you can before you board and the rest as soon as you board using the touch screens by the elevators. You can always cancel or change but at least you know you can get in at a reasonable hour.
Ocean Blue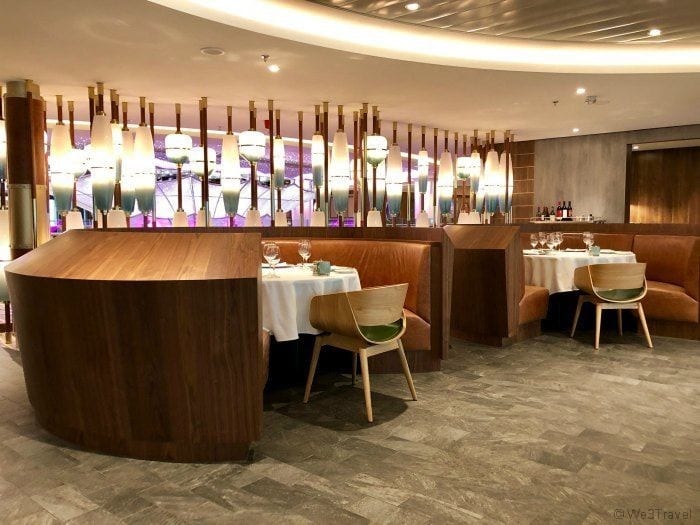 Ocean Blue is the seafood restaurant and the most formal restaurant on the Norwegian Bliss, with pants and collared shirts required. Located on Deck 8, this is also one of the prettiest restaurants, with beautiful, nautical decor in shades of blue and wood.
When I made our reservation in advance, I was shocked to learn that in addition to using our specialty dining meal, there was also a $10 per person supplement. However, I assumed that this would ensure we would get some delicious lobster or Alaskan King Crab legs (after all, this was an Alaskan cruise!). I was wrong.
Our meals were good, but you didn't get as much food as you did at Cagney's, and the menu prices were about the same. There was lobster pot pie, but no whole, steamed lobster. And definitely not an Alaskan King Crab legs.
Overall, I felt a bit cheated to pay the additional $10 per person for a meal that was good but not great and priced the same as food at other restaurants without the supplement. So I wouldn't recommend spending your specialty dining dollars at Ocean Blue.
Los Lobos
Los Lobos is the Mexican restaurant option, located on Deck 8. The restaurant is colorful and large, and getting a reservation here is not a problem. The food is not expensive and the portions are HUGE! Seriously.
When we were at the main dining rooms, the appetizers were pretty small so we expected the same at Los Lobos. I ordered two appetizers for my meal instead of an appetizer plus an entree and it was more than I could eat.
They also do a really nice table side guacamole, although I thought it could have been a little spicier. We really liked Los Lobos because it wasn't overcrowded so our meal felt more relaxed. We weren't being rushed. The wait staff wasn't harried. And the room wasn't loud.
Food Republic
As I mentioned, this was our favorite specialty dining restaurant. Located on Deck 8, it offers a fusion of world flavors from South America to Asia.
The dishes are meant to share and come out as soon as they are ready, like a tapas restaurant. We tried the Korean fried chicken, which was delicious, pot stickers, chicken skewers (also terrific), and kimchi fried rice. It was plenty of food for all three of us and I think only cost about $30 total.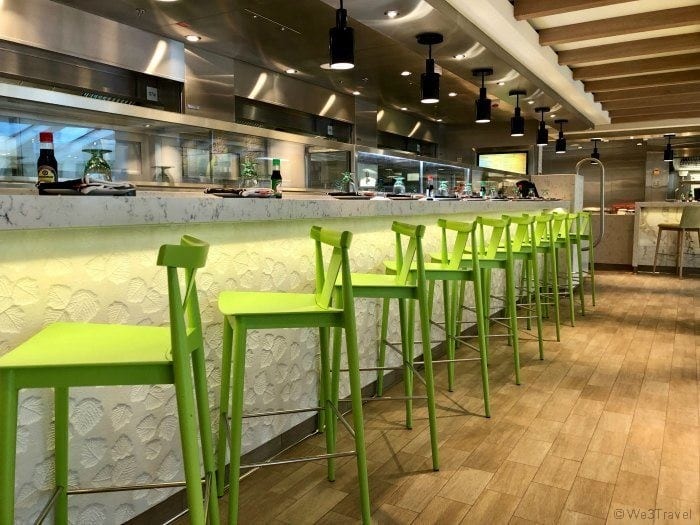 We also loved the decor. It is so fresh with bright colors and a glass-enclosed dining area. Even the drinks are fun and pretty.
Cagney's Steakhouse
Cagney's is a classic steakhouse, with traditional dishes like the wedge salad and steak served a la carte with family-size sides. As I mentioned before, you get a generous amount of food included in the specialty dining plan, which makes using your meal plan a good value.
When dining, you can pick from an appetizer, a soup or salad, an entree, two sides (per person), and dessert. It is definitely more food than you can eat.
The steak is fine. Certainly better than the Longhorn Steakhouse but a definitive step below Ruth's Chris. We also enjoyed the service and atmosphere at Cagney's, making this in our top three restaurants.
Coco's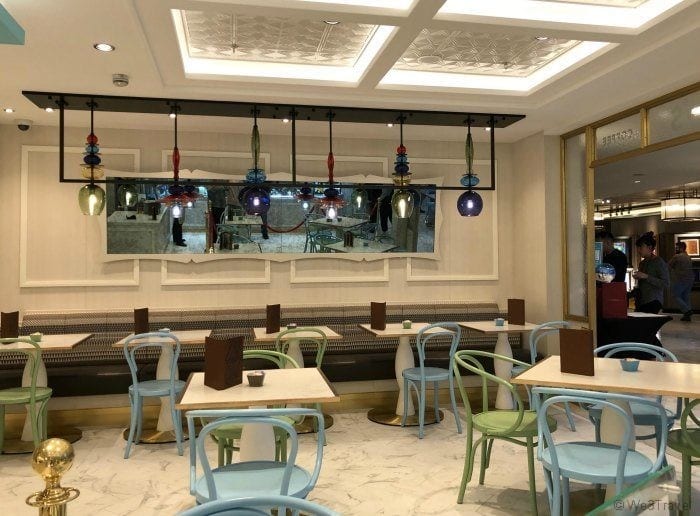 Coco's is where to go to when your sweet tooth needs satisfying. The sweet shop on Deck 6 offers up massive milkshakes, crepes, chocolate, and other treats. Just keep in mind that the treats are pricey! We didn't end up indulging here because there were too many free dessert options elsewhere.
Dolce Gelato / The Bake Shop
Located on the outside of Deck 8, Dolce Gelato scoops up gelato during the day. Just inside, you will find The Bake Shop, which offers macarons and cupcakes (both regular and mini.)
Again, if you want to save some money on unnecessary expenses, find your dessert options elsewhere. Plus they both close pretty early so you can't get your late night munchie fix satisfied.
Jimmy Buffet's Margaritaville at Sea
I imagine that Jimmy Buffet's Margaritaville fits in better in the Caribbean than it did in Alaska, especially with its large outdoor patio. However, if you want to waste away in Margaritaville, it will cost $14.95 per person for a meal. The good news is that you can eat there for free for breakfast!
La Cucina
Italian food is always a favorite so don't be surprised when La Cucina books up early. You may even need to wait a few minutes for your reservation. The restaurant isn't that big (unless you count the outdoor dining area) so you may want to request a booth to get some quiet privacy.
After visiting Italy a number of times, we are picky about our Italian food. We found the pastas to be really good and Glenn really liked the tiramisu as well. Again, it may not be the best Italian I've ever had, which is hard to do when you have been to Italy, but it was worth using our dining plan.
Le Bistro
We had a reservation for Le Bistro, the upscale French restaurant, for the night we were in Victoria, British Columbia. However, we decided to stay in town and cancelled our reservation.
So unfortunately I can't give a first hand account of this one. The way it is tucked away, it is actually easy to overlook, but that probably makes it quieter.
Q
Located on Deck 6 in the front of the boat, it is also a bit hard to find Q, the Texas smokehouse BBQ restaurant. We didn't get to eat here since Glenn spent most of the last year in Dallas so he was tired of barbecue.
However, my friend Kim ate here on her cruise and really liked it. Just listen to our podcast episode about the Norwegian Bliss to hear her thoughts (see below.)
Starbucks
On Deck 6, just off the Atrium, is a standard-issue Starbucks. In addition to coffee, you can purchase their signature sweets. You can even use your Starbucks app! Since Glenn didn't want to splurge on specialty coffees after meals, we did stop in a couple of times for an espresso or latte.
Teppanyaki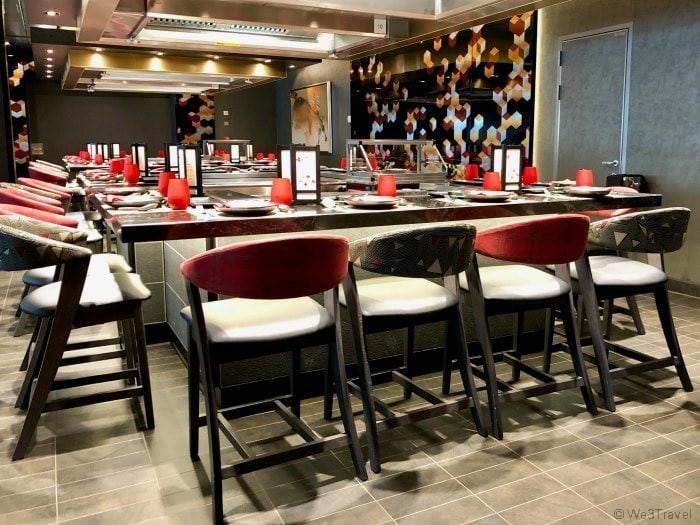 On Deck 6, Teppanyaki is a typical Japanese hibachi restaurant — complete with the flaming onions! I find that these places are always reliable and a big hit with the kids. At $29.95 per person, you can decide if you want to go a la carte or use your third dining meal here.
The District
The District is a brewhouse on Deck 8. I feel like it is a hidden gem. Not just because of the great selection of craft beers, but also for the seating. They have beautiful views with comfy sofas and lounge seating near the windows.
When the Observation Lounge is crowded, it is another option that may be quieter and cozier. I know it is a bar and not a restaurant, but I wanted to be sure to mention it.
Hear more about the Norwegian Bliss:
Also, don't miss my tips on the best Alaskan cruise excursions for families, what to wear on an Alaskan cruise, what to do with kids on the Norwegian Bliss, and the 13 unexpected expenses on the Bliss.
Have you sailed on the Norwegian Bliss? I would love to hear your favorite restaurants!
PIN THIS FOR LATER